The success of your Shopify business depends on your ability to provide prompt, helpful responses to customer inquiries in the ever-changing world of online shopping. Including Shopify documentation apps in your store is an excellent way to improve customer service and reduce support tickets.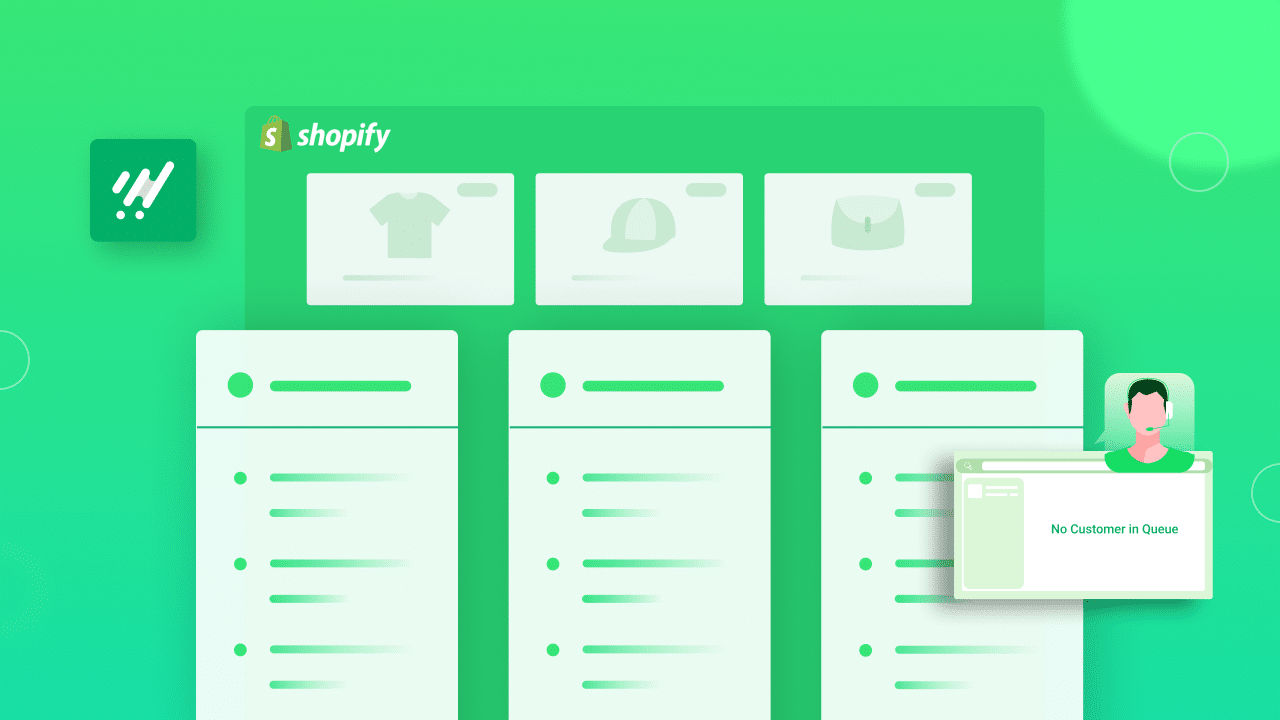 To help your shoppers quickly access the answers to their most common queries, you can use these documentation apps to build in-depth documentation and knowledge bases. Let's explore this blog to learn about the best Shopify documentation apps so you can choose one and take the user experience of your Shopify store to new heights.
🚀 Shopify Documentation Apps: Boost Customer Experience
If you want more returning customers and referrals from happy shoppers, you need to give them a good time when they shop with you. This is significantly enhanced by the convenience that Shopify documentation apps provide. Now, how can they improve your customer experience? Let's find out.
🌟 Self-Service Support: Customers will be more likely to take an active role in solving problems and learning more about your products and policies if they have access to comprehensive documentation. They won't knock your support guys in the first place. This is how you reduce support tickets.
🌟 Quick Problem Resolution: Customers can solve their own issues faster with documentation apps, which means they don't have to call your support team for general issues often. So you can focus more on critical customer issues more quickly.
🌟 Improved Brand Trust: Customers are more likely to be loyal to your brand and tend to purchase and refer more if they have easy access to the information they need to make educated purchasing decisions.
🌟 Boosted SEO & Traffic: A well-organized documentation section can boost a store's SEO and online exposure. When you use keywords, backlinks, and updated content in your documents to optimize your knowledge base for search engines, you'll be found by more individuals searching for relevant products or services.
📝 5 Best Shopify Documentation Apps To Reduce Support Tickets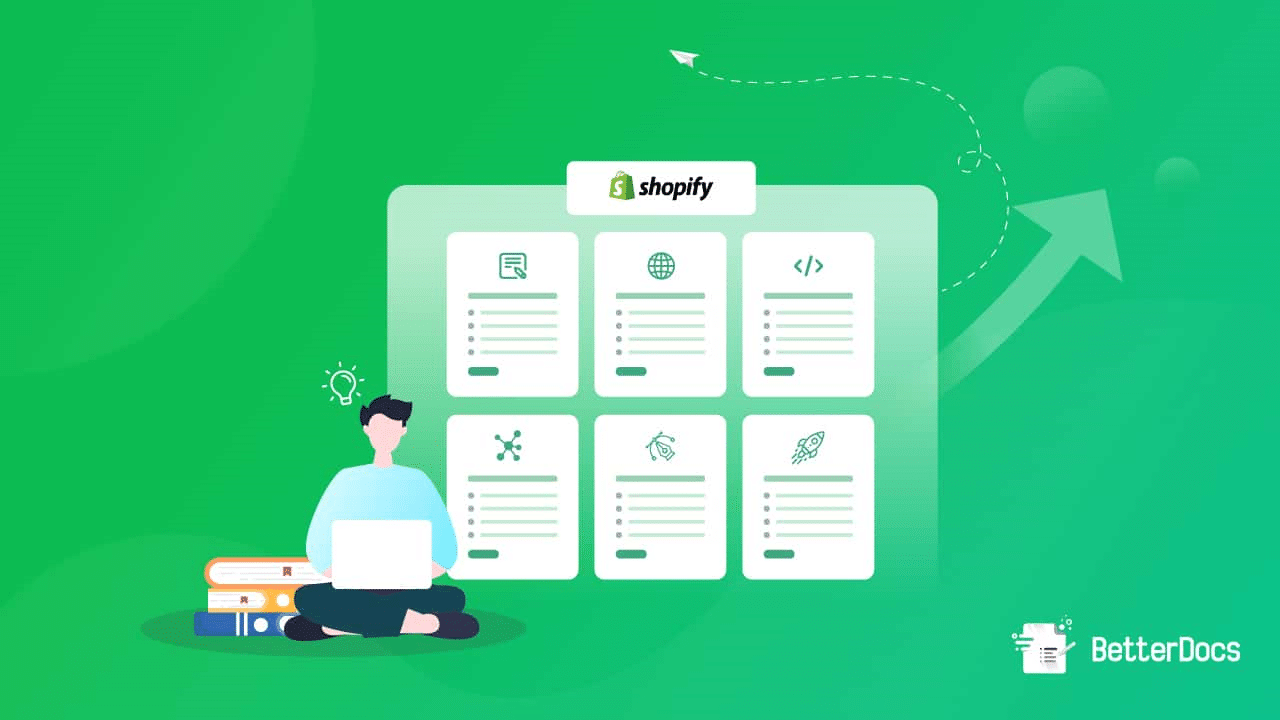 Customers often have trouble understanding things, from purchasing to shipments. Almost every Shopify store and its products are different. If they don't know your store well, you can't possibly expect them to buy something and leave good reviews.
On the other hand, shoppers often tend to knock support teams for general queries. In that case, you might be wasting your time answering similar questions to hundreds or thousands of customers.
But you can change their experience in both scenarios by providing detailed information about your store and services so shoppers can make an informed decision. Now, let's take a closer look at the top Shopify documentation apps, with BetterDocs leading the list:
1️⃣ BetterDocs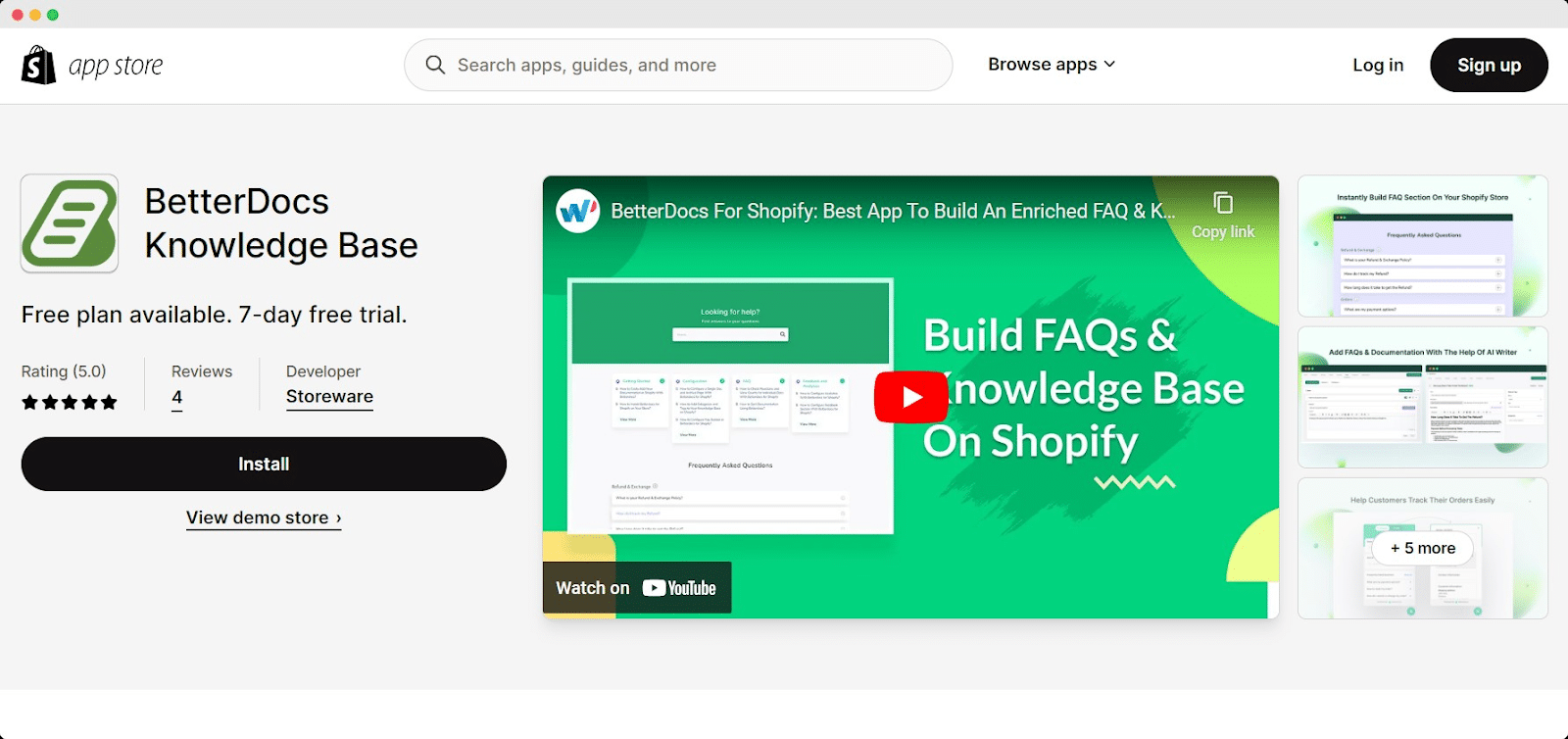 BetterDocs is a powerful documentation app that makes it easy for Shopify store owners to build and handle an extensive knowledge base. It stands out from the crowd because it has an easy-to-use interface that makes building a knowledge base simple.
With its analytics tool, you can identify which documents are performing well and are liked by the readers and improve the rest. Plus, with the customizable templates, your knowledge base will perfectly match your store's tone for a greater customer experience.
Key Features:
👉 Create FAQ sections & build a knowledge base help center
👉 Generate FAQs and documentation instantly using Magic AI Autowrite
👉 Analyze knowledge base performance with an advanced Analytics tool
👉 Integration with WhatsApp & Messenger to enable live chat
👉 Order Tracking feature & instant feedback
2️⃣ HelpCenter | FAQ Chat Helpdesk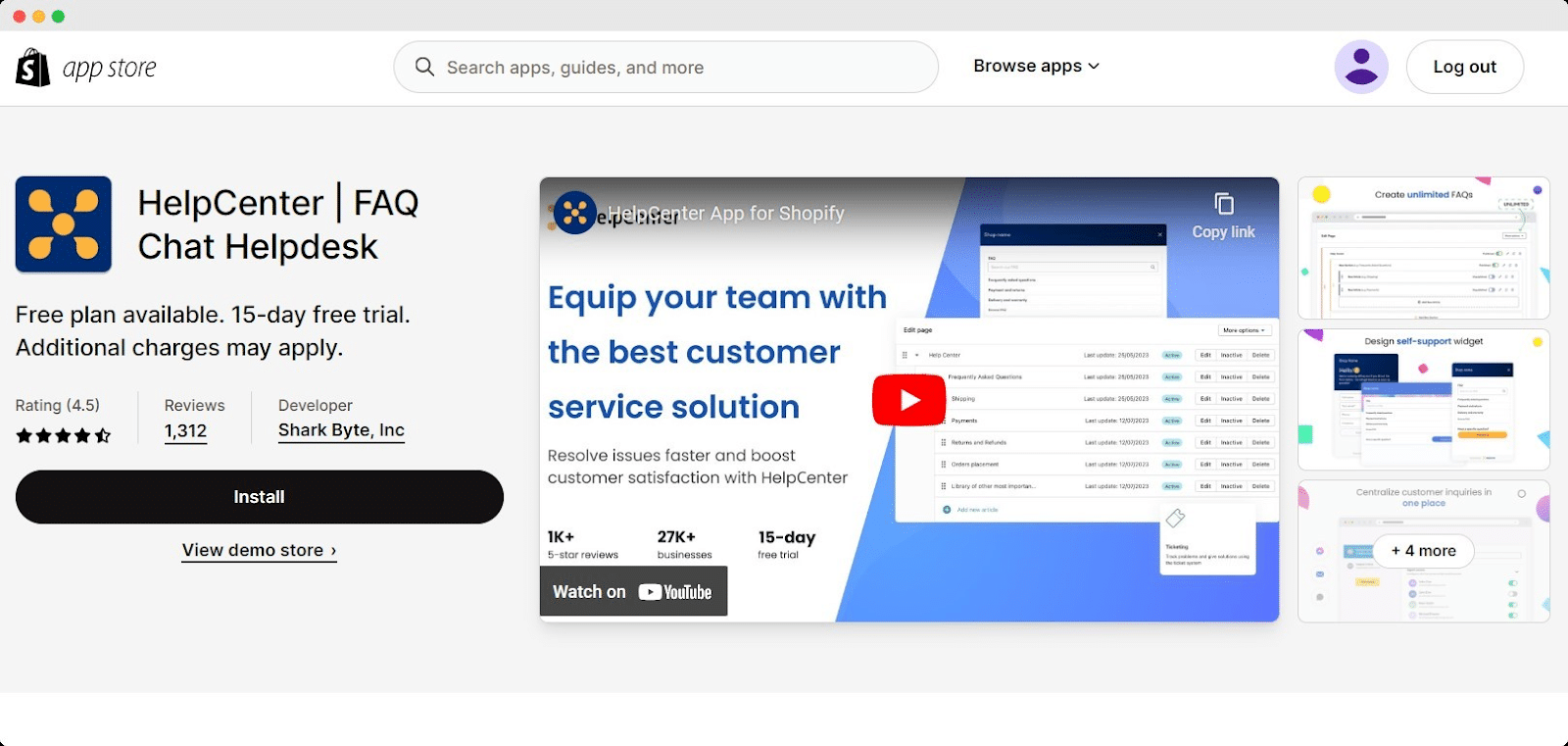 HelpCenter is a flexible app that can help you make and handle both a Frequently Asked Questions (FAQ) page and a full knowledge base for your Shopify store. It makes the process of writing instructions for a knowledge base easier. Because it works with your Shopify business, your customers can get valuable information without leaving your site, which makes shopping more enjoyable overall.
Key Features:
👉 Unlimited FAQs: custom CSS, Google SEO snippets, import/export, FAQ translation
👉 Chatbot & Live Chat app: let your customers contact your business in real-time
👉 Help Desk ticketing system: resolve inquiries from multiple channels in 1 place
👉 Product tabs with descriptions (assign it by product type, collection, or vendor)
👉 Self-service widget, integrated with order tracking, FAQ, and contact form
3️⃣ FAQ Page & Help Center Pro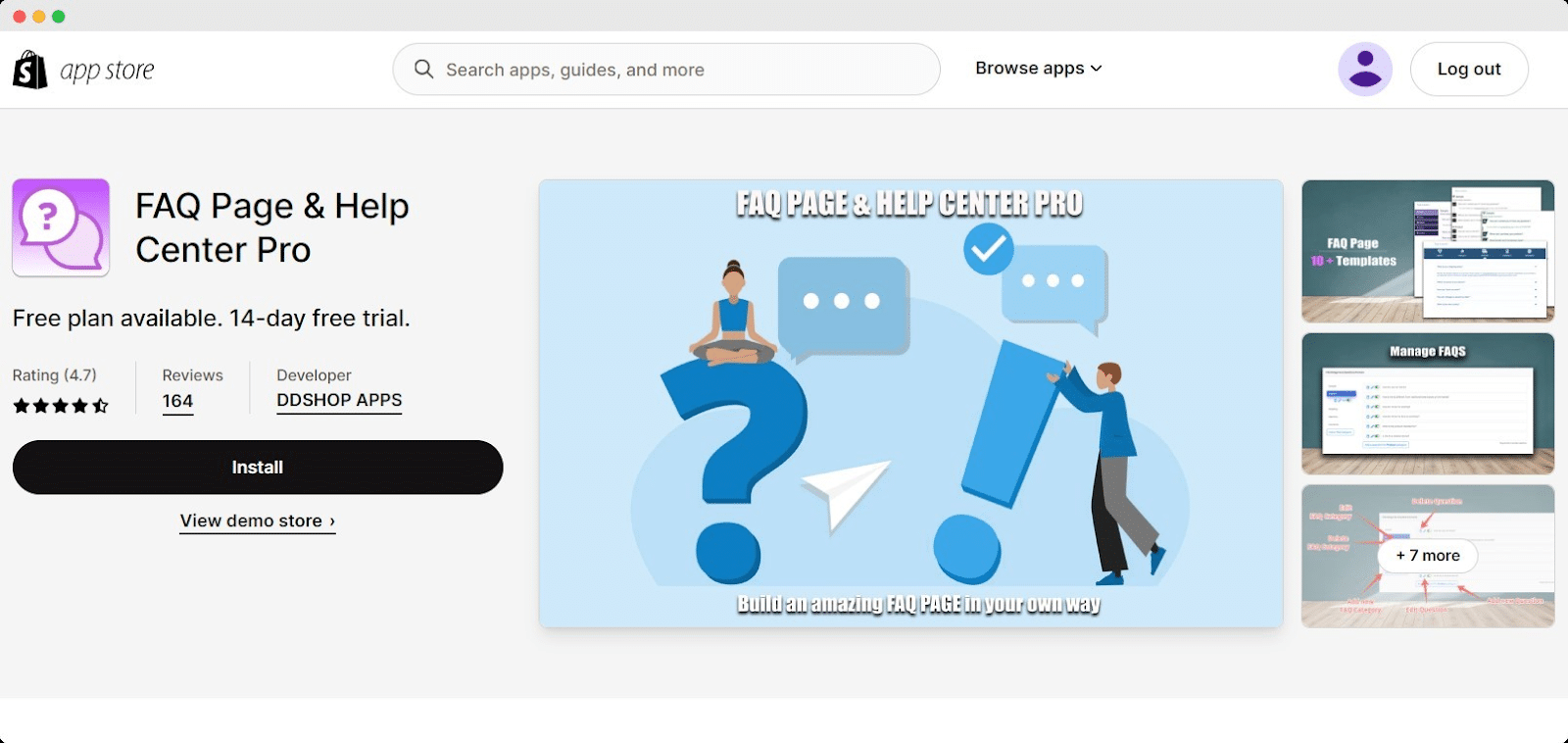 FAQ Page & Help Center Pro makes it easy for customers to find solutions to their problems. With all the easy tools available, store owners can build their own comprehensive FAQ and documentation page optimized for search engines. Once you try out the app you'll understand why so many businesses rely on it.
Key Features:
👉 Show FAQs anywhere: Add FAQs to any page, section, product, or collection
👉 Support Google FAQ Schema: FAQs rich results are available, suitable for SEO
👉 12+ Nice FAQ Templates: Easy to change various FAQ templates
👉 Multi-language FAQs, multiple main FAQs
👉 Easy to create, easy to manage, boosts sales
4️⃣ Corner FAQ Page & Help Center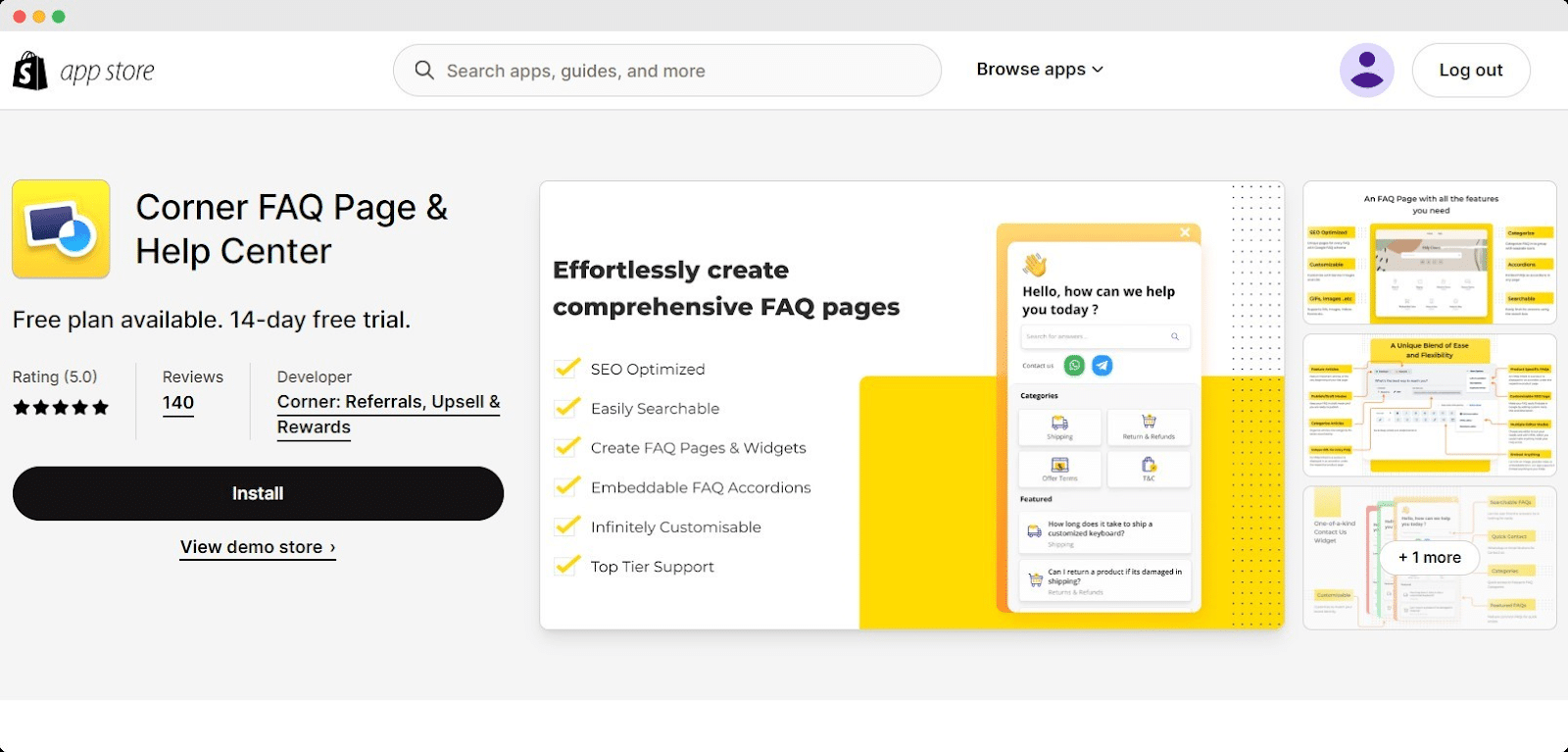 The Corner FAQ Page & Help Centre app is a powerful tool to improve Shopify store's customer service and the overall customer experience. The robust Frequently Asked Questions (FAQ) component is at the heart of its impressive capabilities, making it easy to design and maintain an informative documentation corner.
Key Features:
👉 Organize FAQs into categories like Shipping, Returns, Product related FAQs
👉 Assign FAQs to be shown on specific product pages as an accordion
👉 A unique help widget with built-in contact us options for WhatsApp/Email.
👉 Get free migration and transfer existing FAQs from your old app
5️⃣ EasySlide Accordion Tabs & FAQ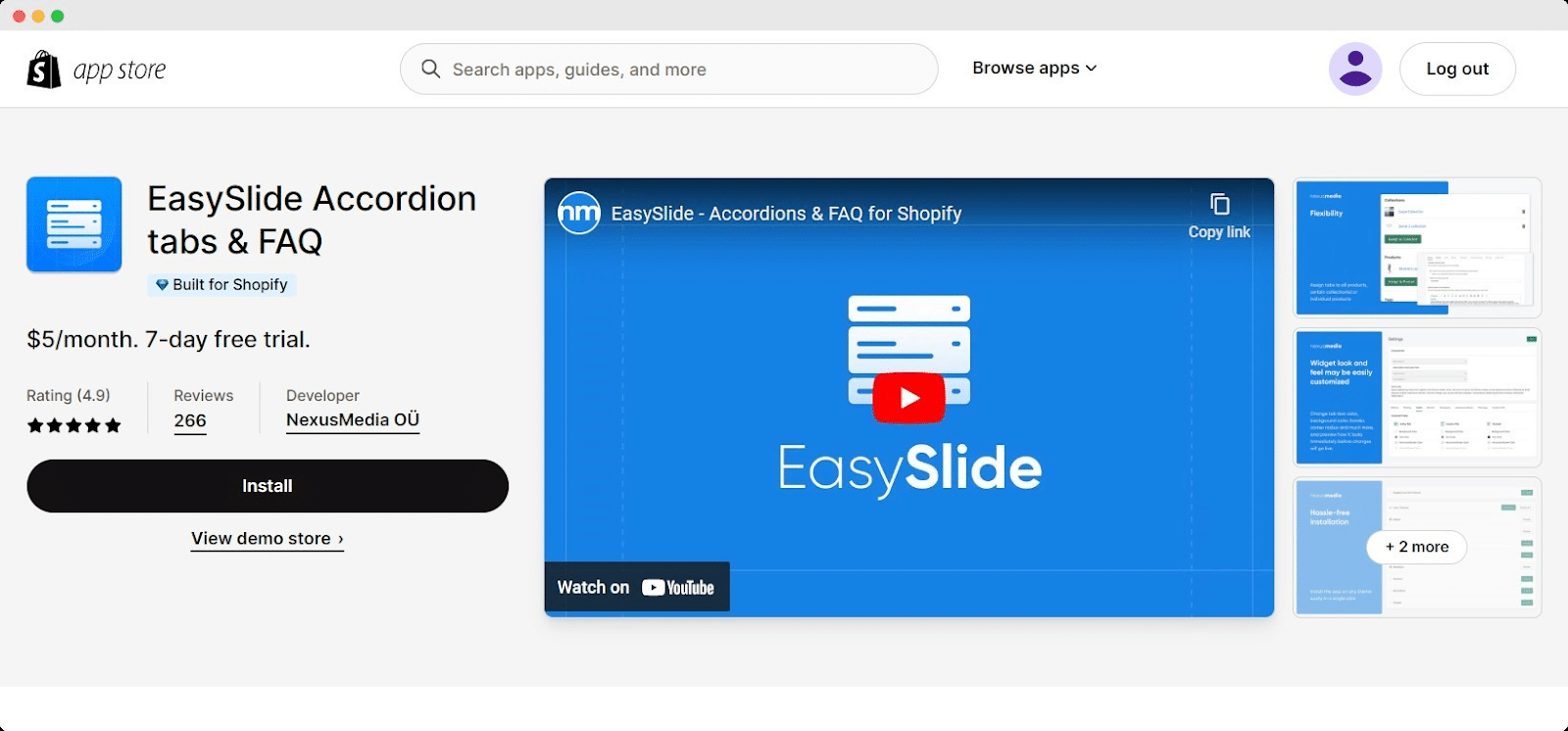 The EasySlide Accordion tabs & FAQ app for Shopify is very flexible and can be used to improve your store's user experience and customer service. Shopify business owners can mostly boost customer happiness and support by using this app to enhance their Frequently Asked Questions area.
Key Features:
👉 Easily organize your long description text or page content with accordion
👉 Add accordions to all your products at once or selected collections only
👉 Add accordion tabs to your product description or create fancy FAQs
👉 Fully WCAG 2.0 / Section 508 compliant accordion widgets
💡 Choosing The Best Shopify Documentation App For Your Store
Selecting the right documentation app for your Shopify store is crucial. Here's a guide to help you make an informed decision:
📌 Features: Look for apps with features that align with your needs, such as customization options, SEO optimization, and analytics.
📌 User-Friendly: Ensure the app is easy to use, allowing you to create and manage your documentation without technical hurdles.
📌 Integration: Check if the app integrates seamlessly with your Shopify store and any other essential apps you use.
📌 Pricing: Compare pricing plans and choose one that fits your budget while offering the necessary features.
📌 Reviews: Read user reviews to measure the app's performance and reliability.
🎉 Build The Best Documentation For Your Shopify Store
With the proper Shopify documentation apps, you can improve your store's customer experience while lowering direct support assistance. BetterDocs and other leading applications can do wonders for your support operation, ultimately leading to happier customers. Pick the one that works best for you, put it into action, and your customer service productivity will skyrocket.
Don't forget to subscribe to our blog for more exciting comparisons, in-depth reviews, and expert Shopify tips and tricks. You can also follow our Facebook community for the latest updates to stay ahead of the curve and ensure consistent growth for your Shopify store.