One of the biggest challenges that a Shopify business might face is ensuring its website ranks high on search results pages. But how would you know which aspect of your SEO strategy to improve if you cannot check what the score is at present? That's when you need an SEO checker to help you boost the scores of eCommerce businesses.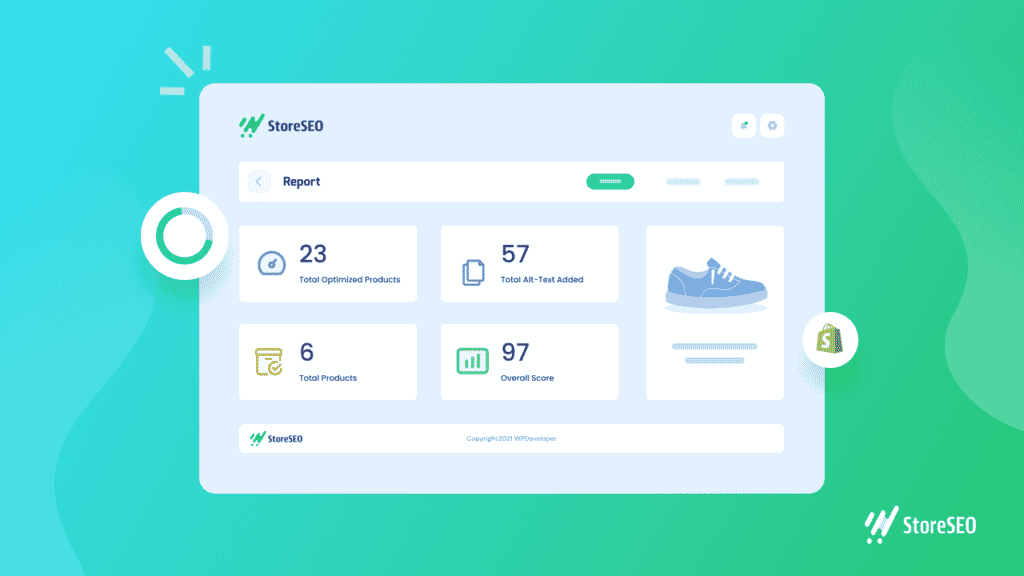 If you want to learn how you can carry out a detailed SEO analysis for your Shopify store and fix all the SEO-related errors immediately, we have the perfect solution just for you. Continue reading this complete guide to find out more.
The Shopify SEO Checklists That You Should Know
If you want to start optimizing the search engine scores of your Shopify store website, you will need to create an SEO checker checklist that you can cross off one at a time. Then, you must make sure that you are adhering to the accepted SEO techniques for your eCommerce stores.
First off, when optimizing your online store for SEO, you should start by making a Basic SEO checklist. Knowing how to conduct keyword research, recognizing your target market and rivals, and, of course, setting up your store with effective solutions and tools like Google Search Console, Google Analytics, and others are all part of being well-versed in the basics of SEO and that you grasp its fundamentals.
But that's not all; other than the basic checklist, there are a few more that you should be aware of and follow:
✅ Keyword Research Checklist ✅ On-Page SEO Checklist
✅ Off-Page SEO Checklist ✅ Local SEO Checklist
✅ Technical SEO Checklist
Check out the ultimate guide for Shopify SEO to learn more and prepare to use the best SEO checker available for your eCommerce store. 
StoreSEO: The Perfect SEO Checker For Your Shopify Stores
Once you have prepared your checklists, you need an SEO checker solution that can help you measure the current SEO scores of each of the Shopify products you have in your store. And we have the perfect Shopify tool for all that and much more: 
StoreSEO is a super simple yet highly advanced freemium Shopify SEO optimization app with tons of features to help your store rank top on different, popular search engines. 
It can be an effortless SEO checker as it lets you not only check the scores for each product in your store, but also provides an interactive SEO condition indicator, provides analytical reports, suggests how to improve your scores, and lets you check the score change live as you optimize.
And the best part? With this SEO checker, you can do all these and much more for free and take your search engine optimization process to the next level with the help of premium features. So, if you want to know more about how you can easily test your Shopify website using Shopify, continue reading!
Indicating Overall SEO Scores With StoreSEO Setup Wizard
As soon as you install and get started with StoreSEO, you will be introduced to the SEO checker's quick and super simple setup wizard. It walks you through a few easy steps to lay out the basic groundwork for optimizing your Shopify store's SEO.
The highlight step of this setup wizard of the SEO checker comes when we walk over to the 'Analysis' tab which helps to quickly check all the products listed on your Shopify store thoroughly. And when the check is done, it shares an overall initial SEO score for your store giving you an idea of what needs to be optimized.
And it's not just that. Following 'Analysis' comes another step – 'Optimization', giving you detailed information on all the SEO issues diagnosed while providing brilliant, all possible optimization solutions. This step also features an 'Auto Fix' button that resolves all the problems diagnosed in minutes.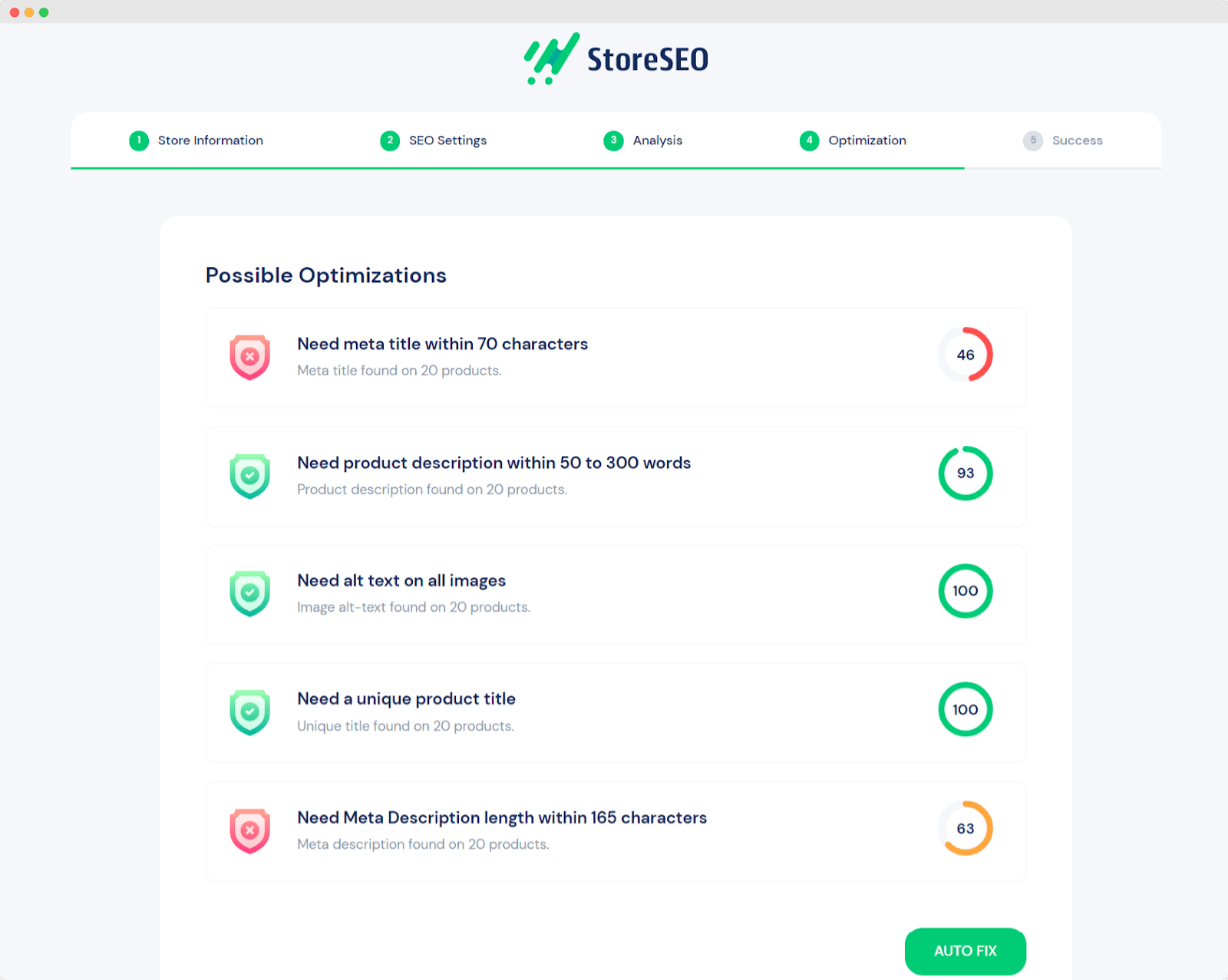 Identifying SEO Issues For Individual Products In Your Shopify Store
However, this was just the setup wizard giving you easy solutions through the best SEO checker for Shopify, StoreSEO. As we explain below, you can also test your Shopify website product scores and optimize them individually from the app's dashboard as needed.
Note: Using the free package of StoreSEO, you can upload and sync up to 50 products.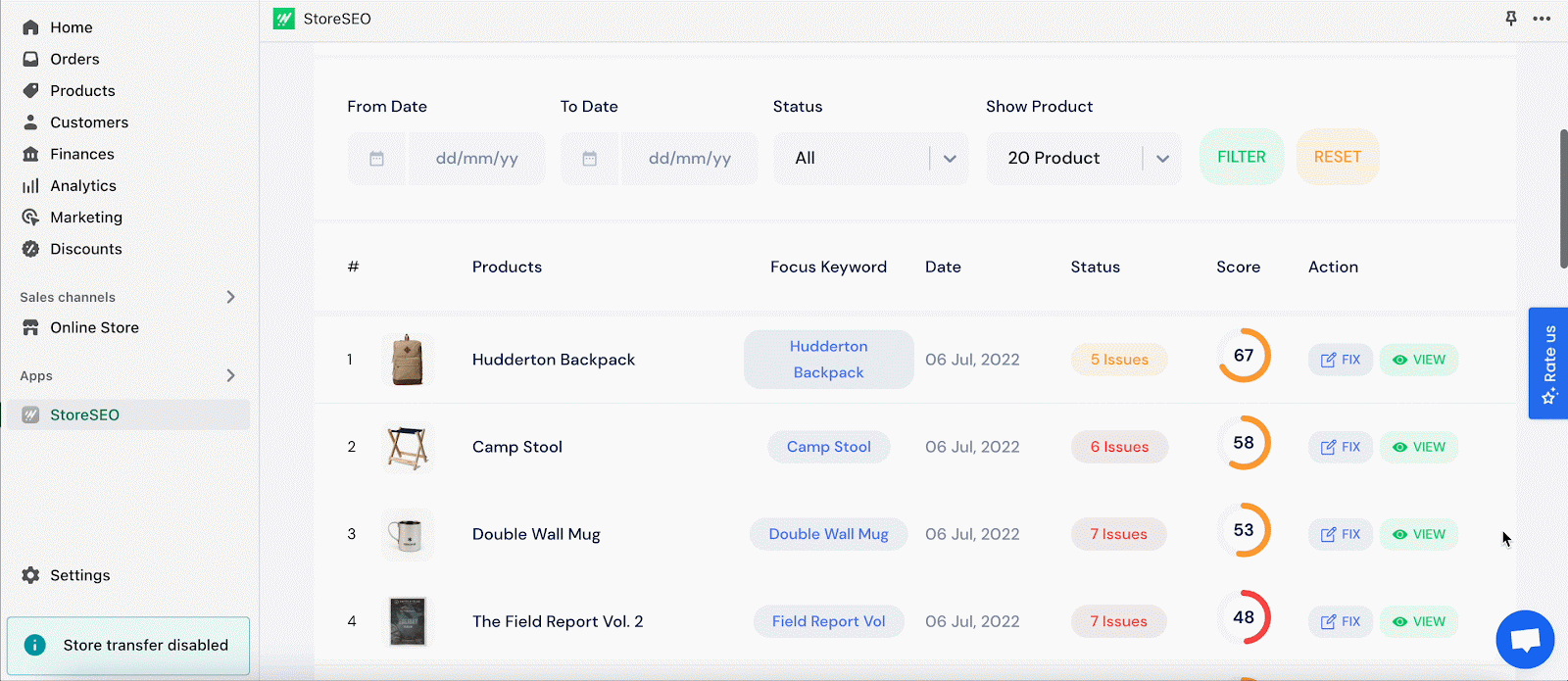 Once you've completed the initial setup process, you can navigate to the app's handy dashboard homepage to get a more detailed look at all your individual products. You will be able to view all information related to each individual product, including the status of the product (the number of SEO issues it contains) and the corresponding score for it.
From this page, you can fix individual products' SEO scores by clicking on the 'Fix' button as shown below. This will take you directly to the product page where you can manually alter the product's details and get it optimized. But more in detail later in the blog.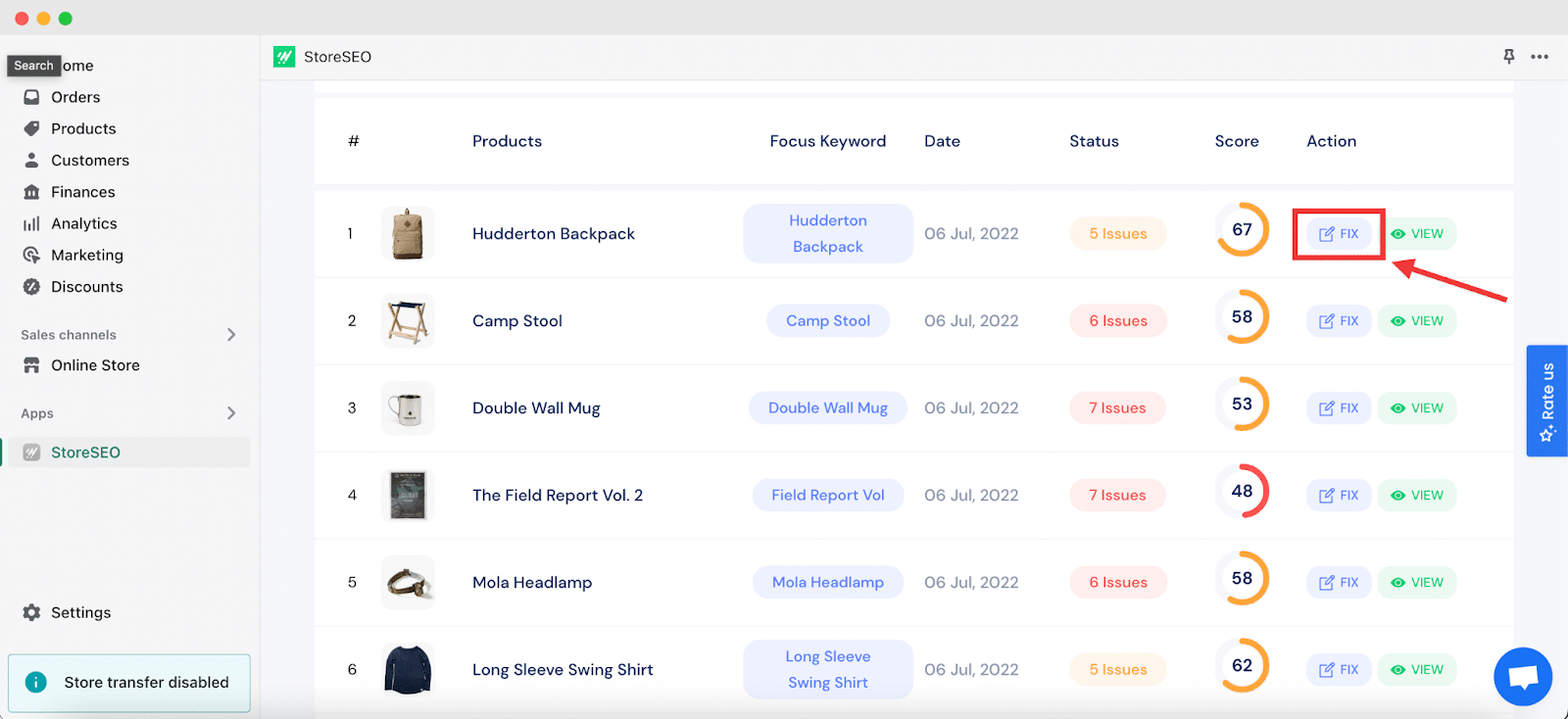 Generating Overall Analytic Reports Using The SEO Checker
Before we move on to how you can optimize search engine scores using the StoreSEO, let's talk about the other special features of this SEO checker that lets you test your Shopify website for free. And that would be the exclusive, dedicated 'Reports' page that provides you a quick look at the overall SEO performance of your eCommerce website on Shopify.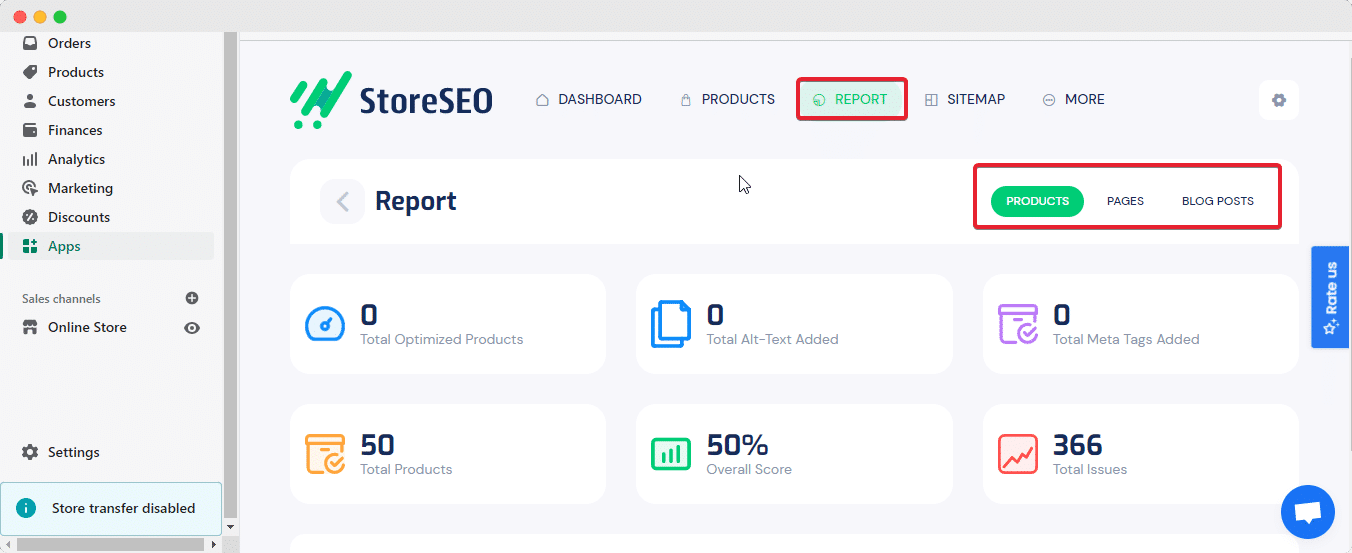 As you can see on the image above, you will find 6 different readings here for your Shopify products:
📊 Total Optimized Product
📊 Total Alt-Text Added
📊 Total Meta Tags Added
📊 Total Products
📊 Overall Score
📊 Total Issues
But it's not just products that you can optimize using this SEO checker solution for Shopify. StoreSEO now allows you to also test your Shopify website completely and even helps you boost the SEO scores on single website pages and blog posts as needed. And since you can do all these for free, it is truly one of the best solutions to check and implement all the right optimization strategies.
How To Apply SEO Strategies To Rank Shopify Products Higher
Now, we can move on to the optimization part of using StoreSEO for the individual products in your store. But even then, you will find outstanding features to test your Shopify website products for SEO issues in further detail than already mentioned above along with all the necessary solutions.
Once you click on the 'Fix' button from the app's dashboard or home page (or Product Tab), you will walk into the individual Shopify product page of your store. Here you can apply different SEO strategies using StoreSEO's amazing facilities.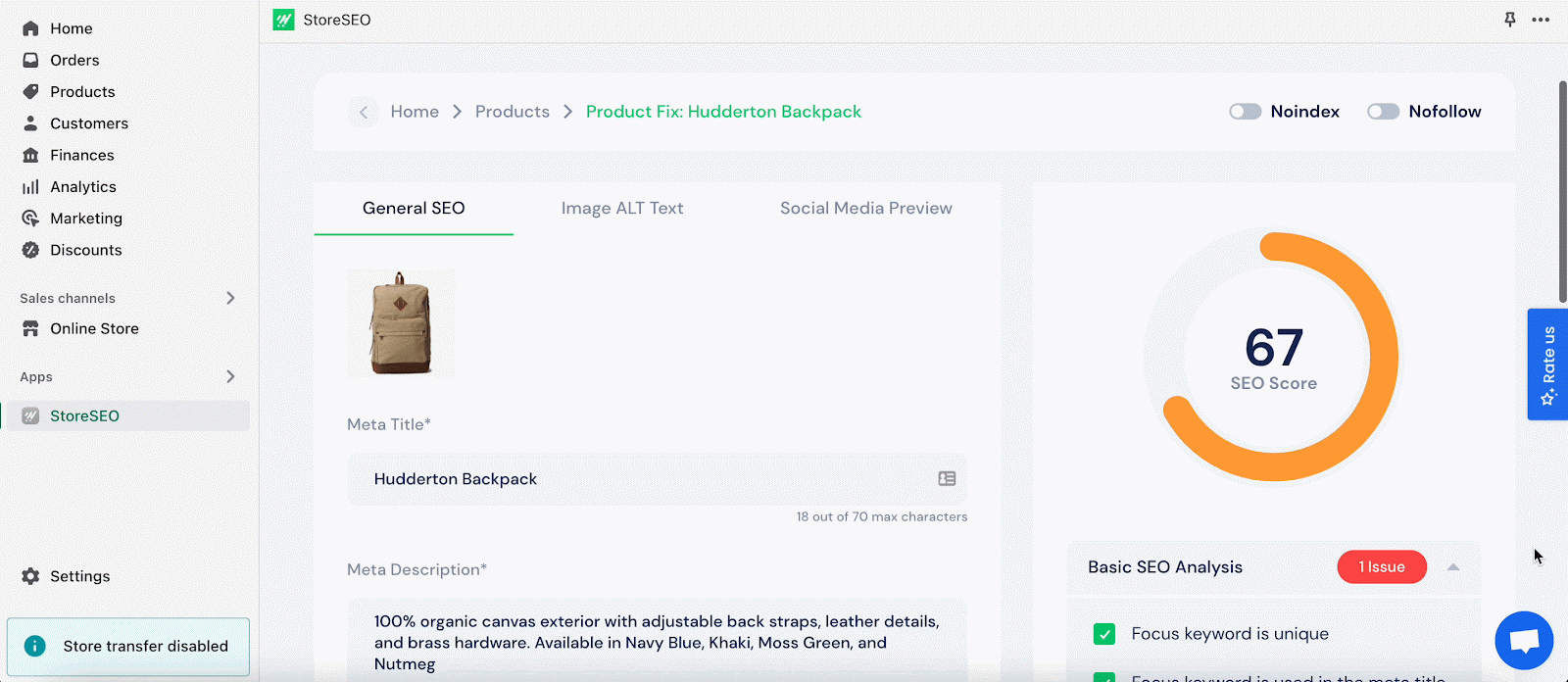 You will find a visual indicator of the current SEO score of the product on your store with a detailed analysis section on the right-hand side panel of the page as you can see above. This is further divided into 'Basic SEO Analysis' and 'Detailed SEO Analysis' providing suggestions for the exact optimization strategies you need to apply. For example, if we look into the image carefully, we will see the original score is 67 and there are a total of 5 suggestions. 
Insert Keywords & Tags To Boost Product Visibility In Search Engines
With the help of StoreSEO, you will be able to add the right keywords and tags for individual Shopify products with complete ease. This helps get the items listed on your product pages to rank better in search engines like Google and be more visual to potential customers, boosting site traffic.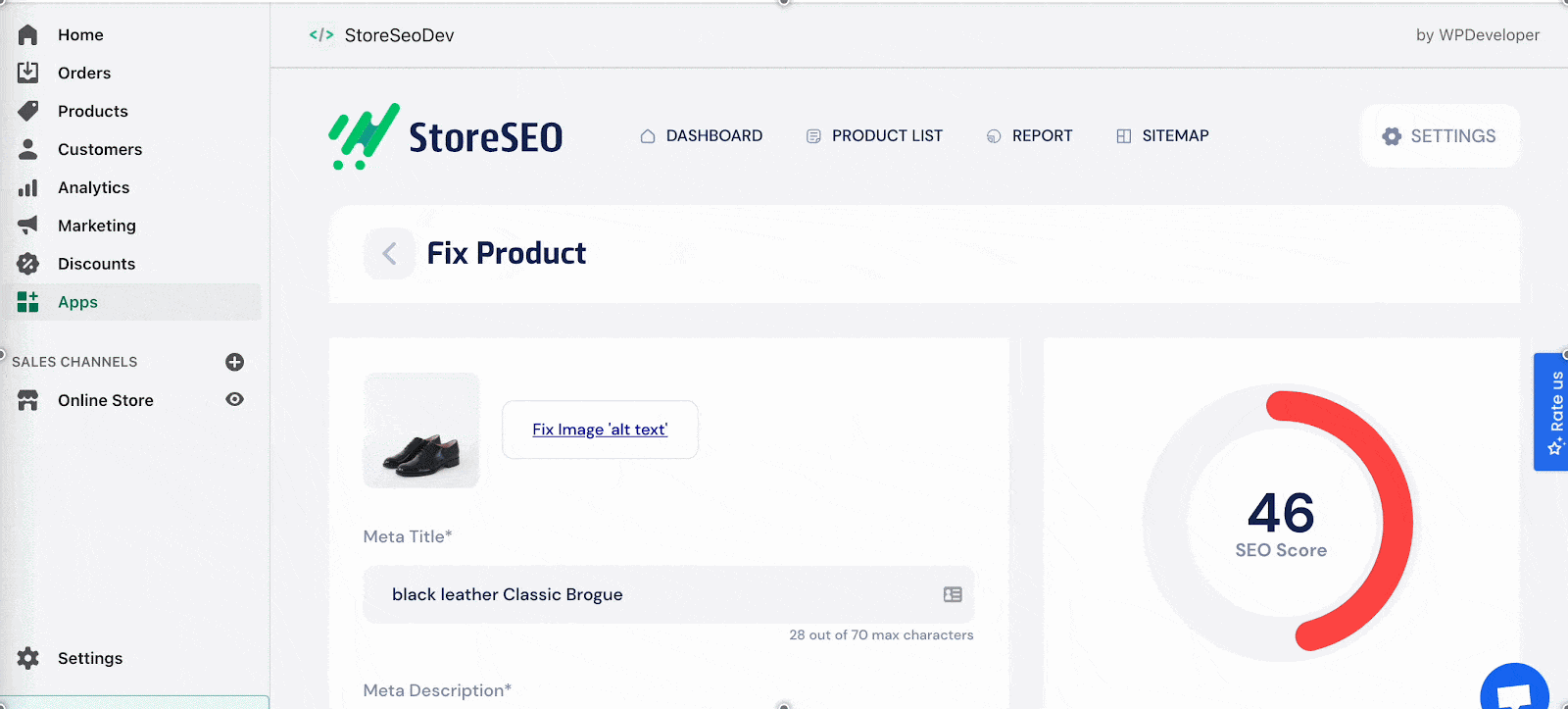 To increase the probability of the items appearing to users, this SEO optimization tool enables you to insert a focus keyword and 4 corresponding tag words to instantly make your product more optimally searchable. And taking these facilities up a notch, the latest version of StoreSEO even brings you keyword suggestions that you can easily choose from and insert in a matter of seconds within a few clicks. 
Write A Click-Worthy Meta Description To Your Shopify Products
Next, the SEO checker allows you to write optimized product meta descriptions for each item in your store. For a fully optimized and click-worthy meta description, it needs to be within a character count of 150-160, and 'must include' the focus keyword used for your product.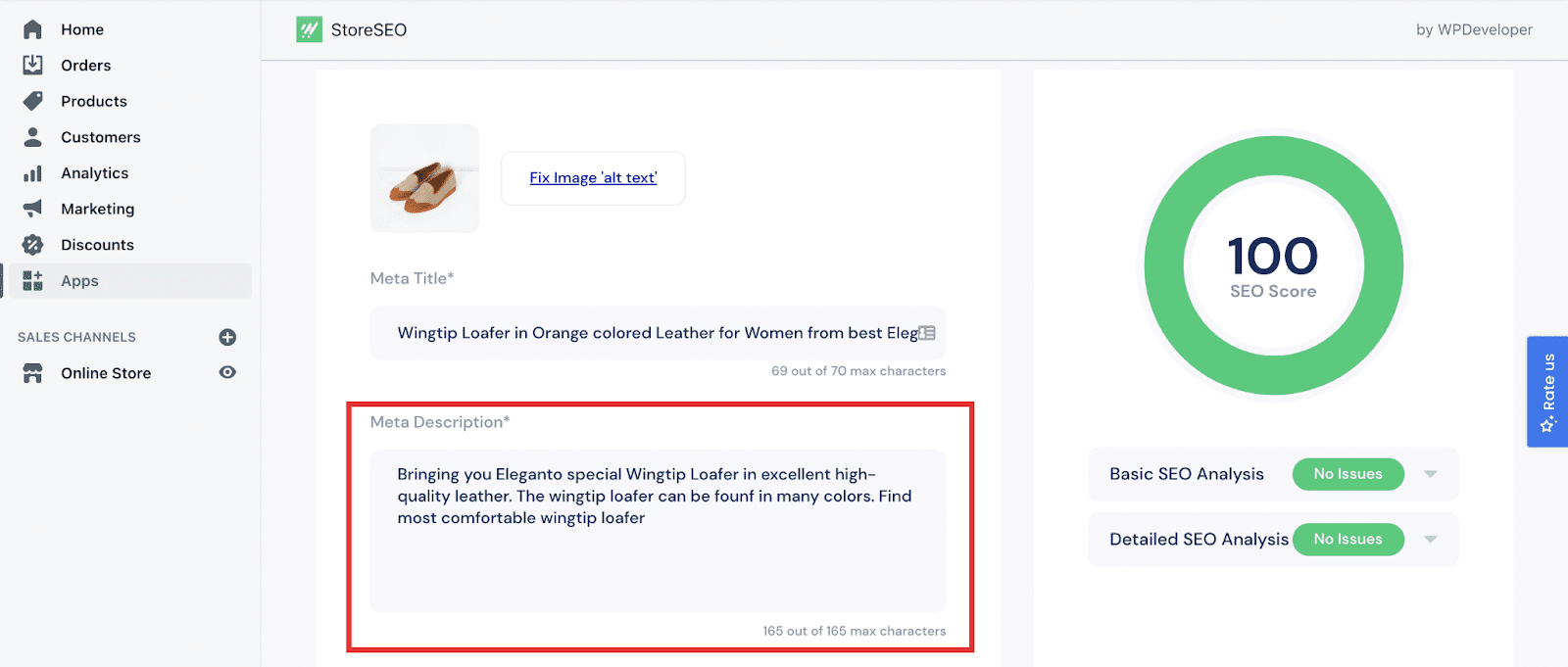 You will find recommendations for this SEO issue in your web page's 'Basic SEO Analysis' section if it is not correctly optimized. And not just this, the initial steps of the StoreSEO setup wizard also let you customize your meta description manually using a fixed template. Read more about this exclusive, yet completely free feature to optimize meta descriptions using this SEO checker from this detailed guide here. 
Bulk Edit Image Alt Text For Your Product Images Instantly
Adding alt texts to each product image is also a big part of SEO optimization for eCommerce stores and is a must-have feature that an SEO checker should provide. And we are delighted to announce that the free package of StoreSEO helps you optimize product images for an improved SEO score as well.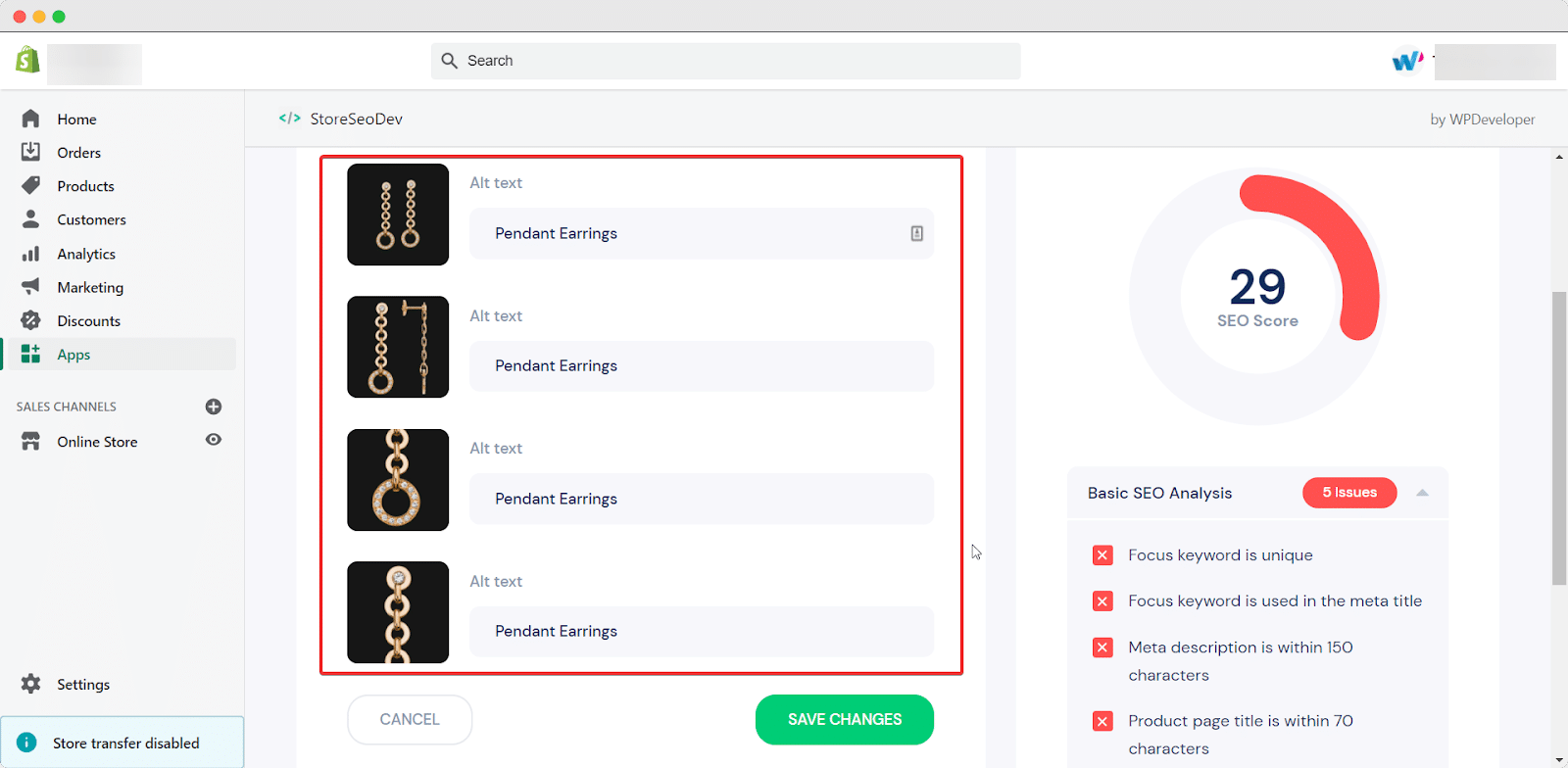 It helps you add image alt texts, which can help increase visibility on search engines. You will be able to add descriptive alt text (including the keyword) for each and every product image on your store to help users and search engines understand the subject of your image. Here is another detailed guide to help you learn more in detail about StoreSEO's image optimization process.
Improve Your Shopify SEO Rankings By Enabling Sitemaps
And finally, you can use this Shopify SEO app to automatically add your goods to the sitemap. Search engine crawlers use sitemaps to find your sites and rank them in search results. Furthermore, you can effortlessly delete a product from the sitemap using this SEO tool if you don't want it to appear on the results pages. As a result, you can easily take control of the store using this outstanding SEO checker and easily rank your products on search engines.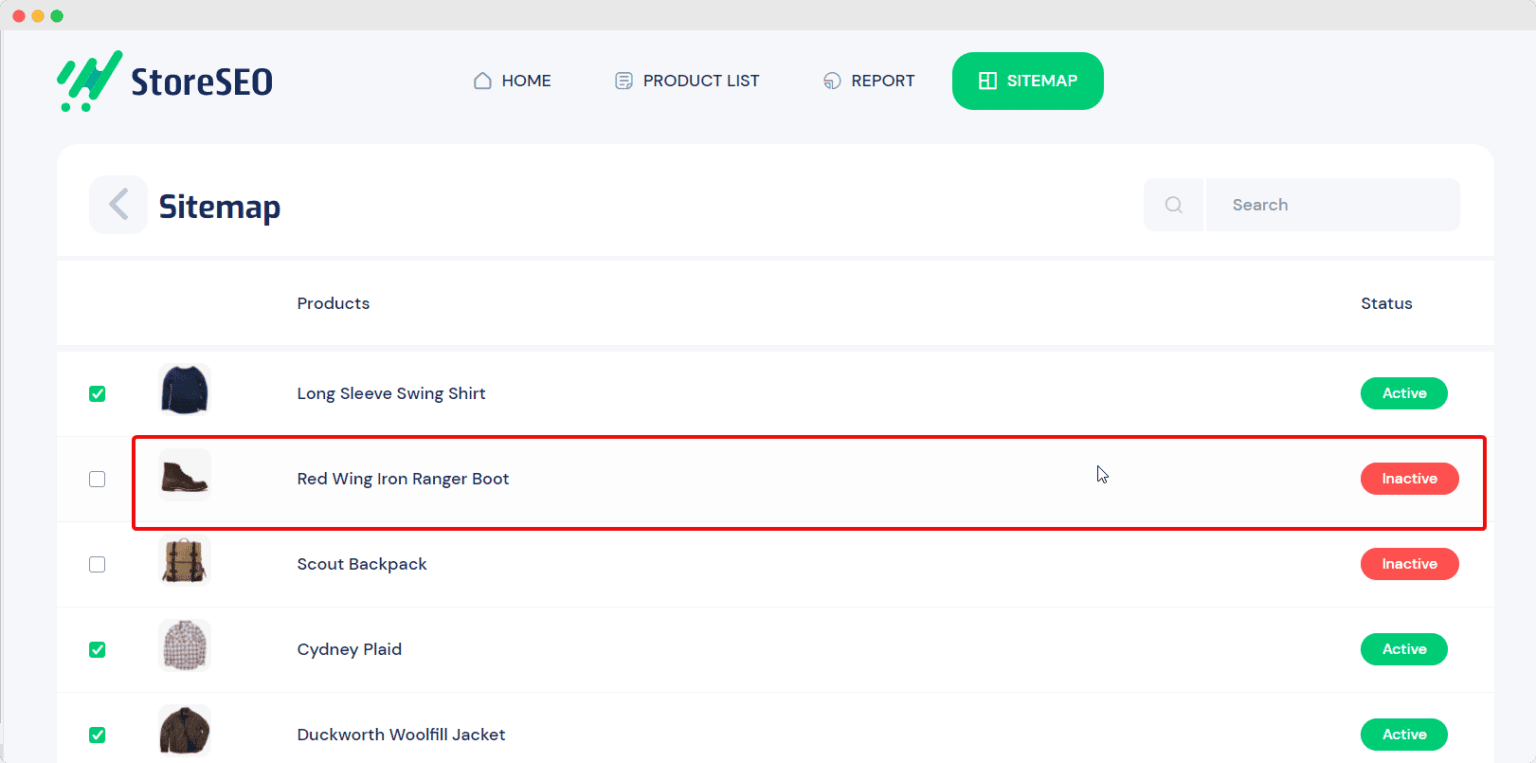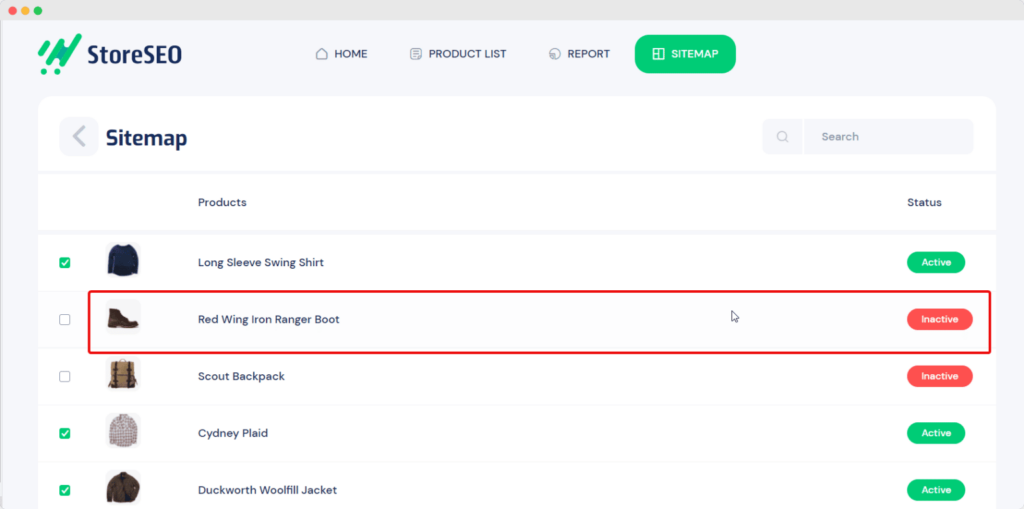 Upgrade To StoreSEO Premium & Take SEO Score To The Next Level
And with that, we come to the end of our complete guide on how you can test your Shopify website for free using the SEO checker and solution, StoreSEO. Install and get started today if you haven't already.
But also remember that all that's mentioned here are features that come with the free pack of this outstanding app. Do not forget that the premium package has many more features that can help you optimize your store even further.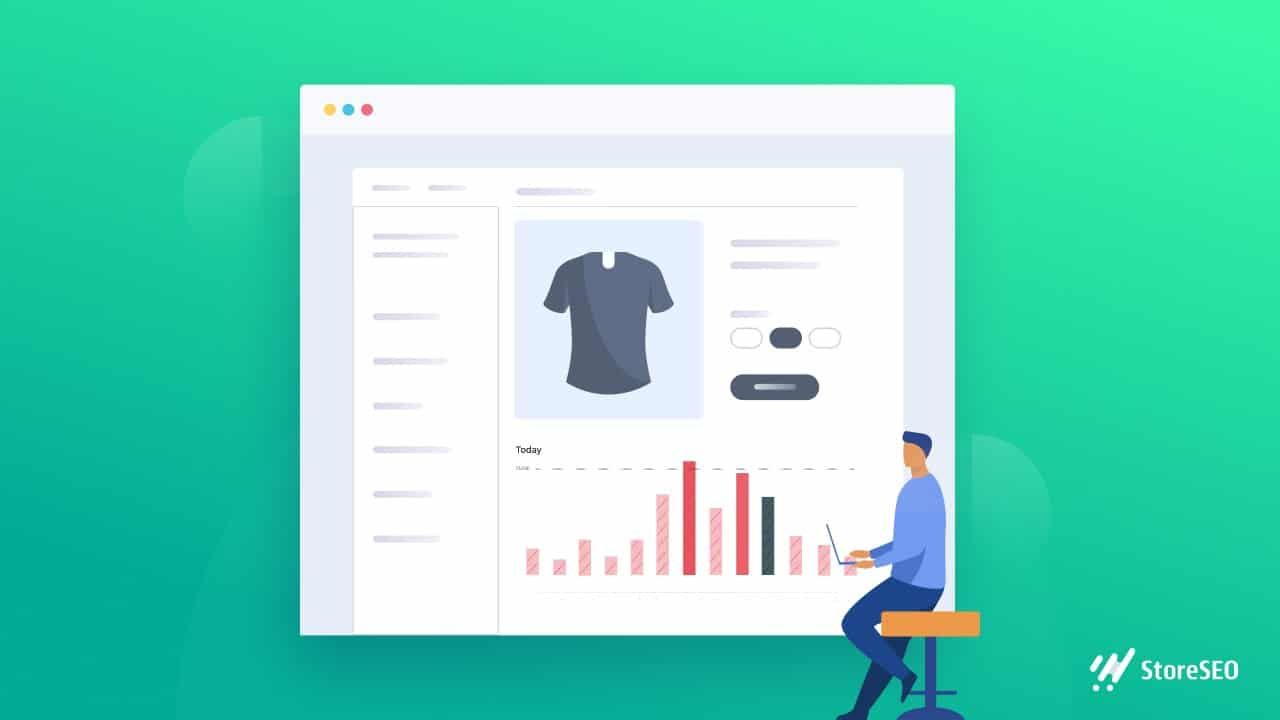 If you find these blogs useful to run a detailed SEO check for your Shopify store, read more blogs like this by subscribing to our blog. To share your views, feel free to comment below or join our Facebook community to join other Shopify users to learn more.