It can be hard to find your way around the world of Shopify SEO apps. StoreSEO and Smart SEO are two big names in this field. Both promise to optimize your online store's visibility and search engine ranking. But which one delivers with an edge? In this head-to-head comparison between StoreSEO vs Smart SEO, we dive deep into the unique features, benefits, and overall performance of these apps. It's time to find out – will it be StoreSEO or Smart SEO that wins the Shopify SEO race? Stay tuned as we unravel the details.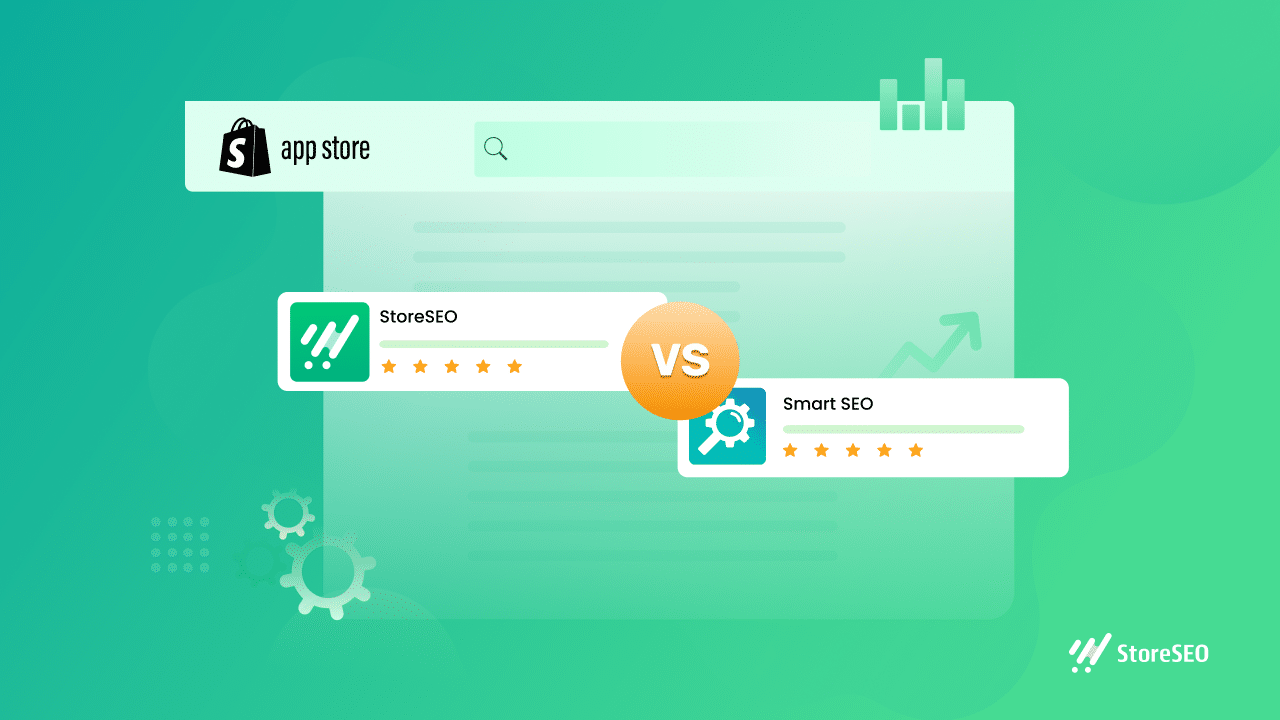 All You Need To Know About Shopify SEO App 'StoreSEO'
StoreSEO, as the name implies, is an app designed to boost your Shopify store's SEO performance. Its core purpose is to help online store owners enhance their website's visibility, drive more organic traffic, and subsequently increase sales or conversion rates in general.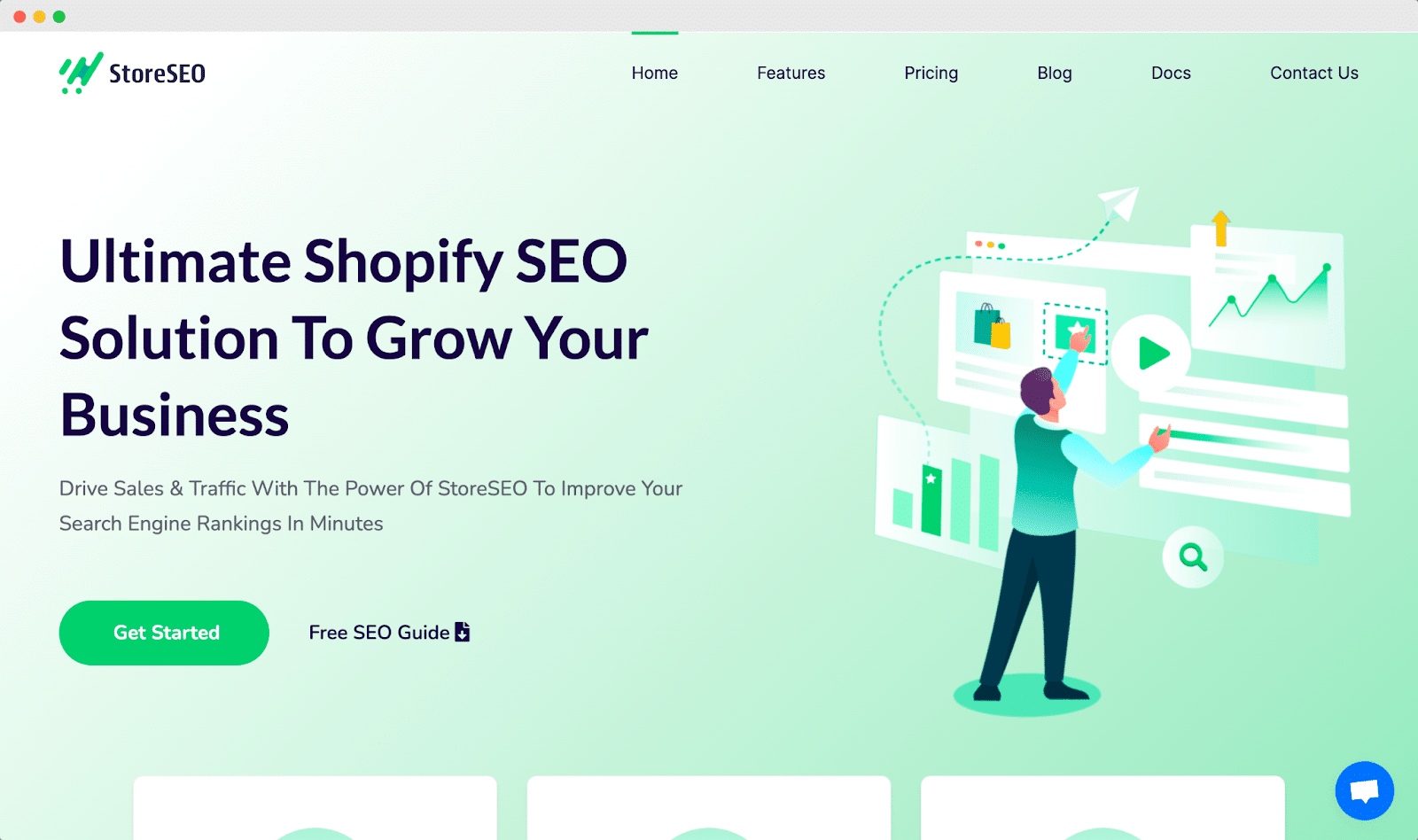 Key Features Of StoreSEO
The Shopify SEO App 'StoreSEO' offers a variety of features aimed at improving your store's SEO scores. Some of its main offerings include:
👉 Keyword Optimization
StoreSEO allows you to seamlessly integrate relevant keywords into your product descriptions and headings. This feature ensures that your store remains competitive in search engine results.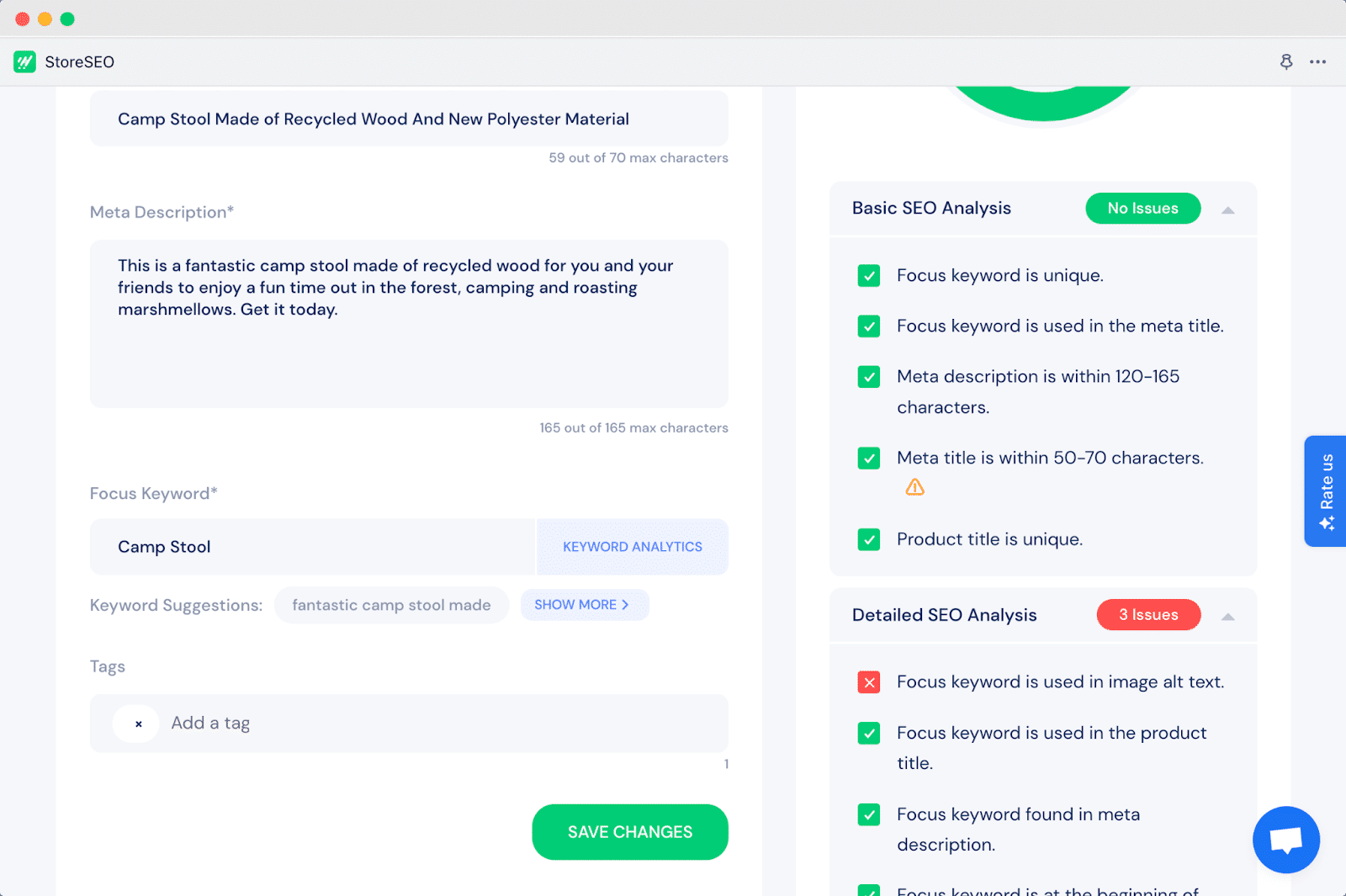 👉 Google Search Console
When it comes to improving your Shopify store for search engines, you need to keep an eye on how it shows up in Google Search results and fix any problems you find. You can add StoreSEO to Google Search Console to handle the technical aspects of your SEO strategies. So, when this advanced feature of StoreSEO is in place, it will be easier for you to list your store on Google's pages of search results.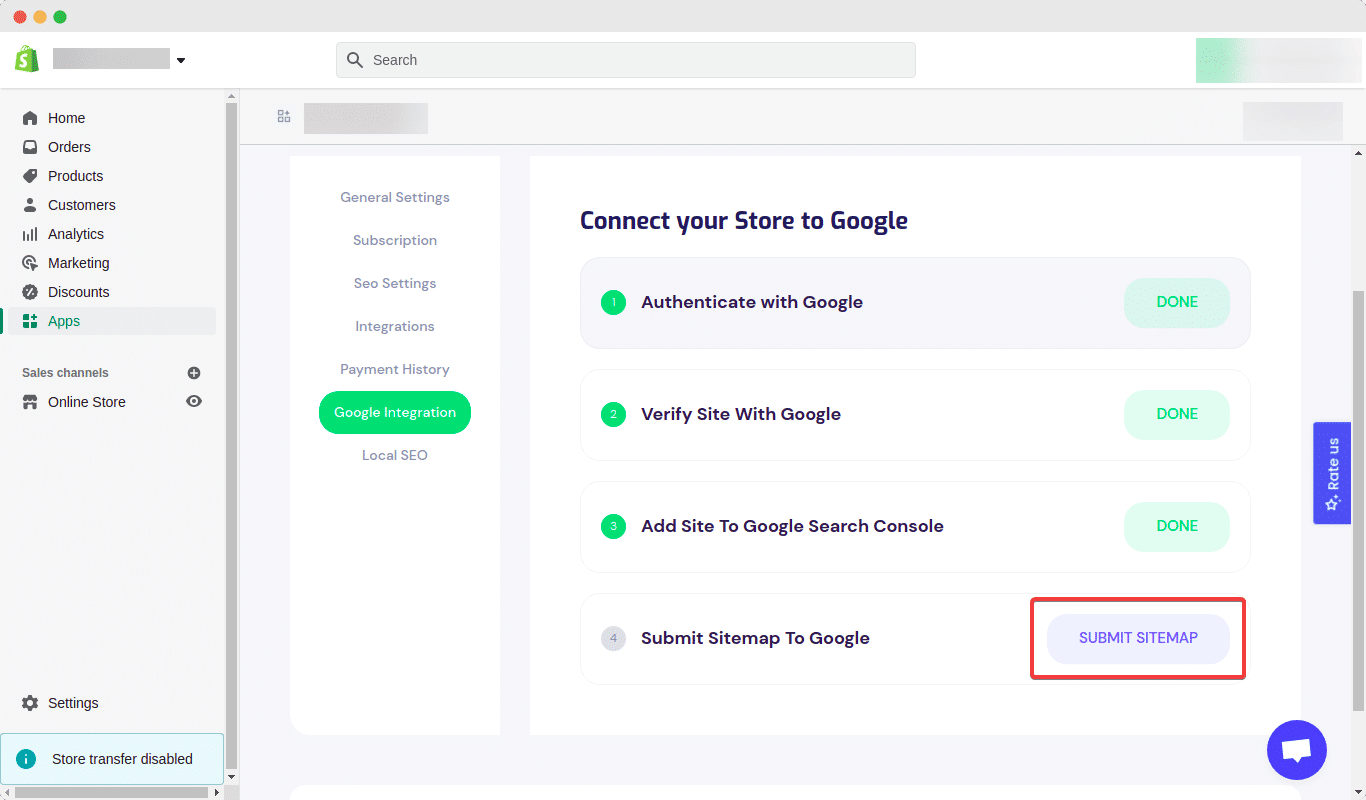 👉 Meta Description Optimization
The Shopify SEO App 'StoreSEO' also provides features for optimizing meta tags and descriptions, increasing the chances of your store being noticed by search engines.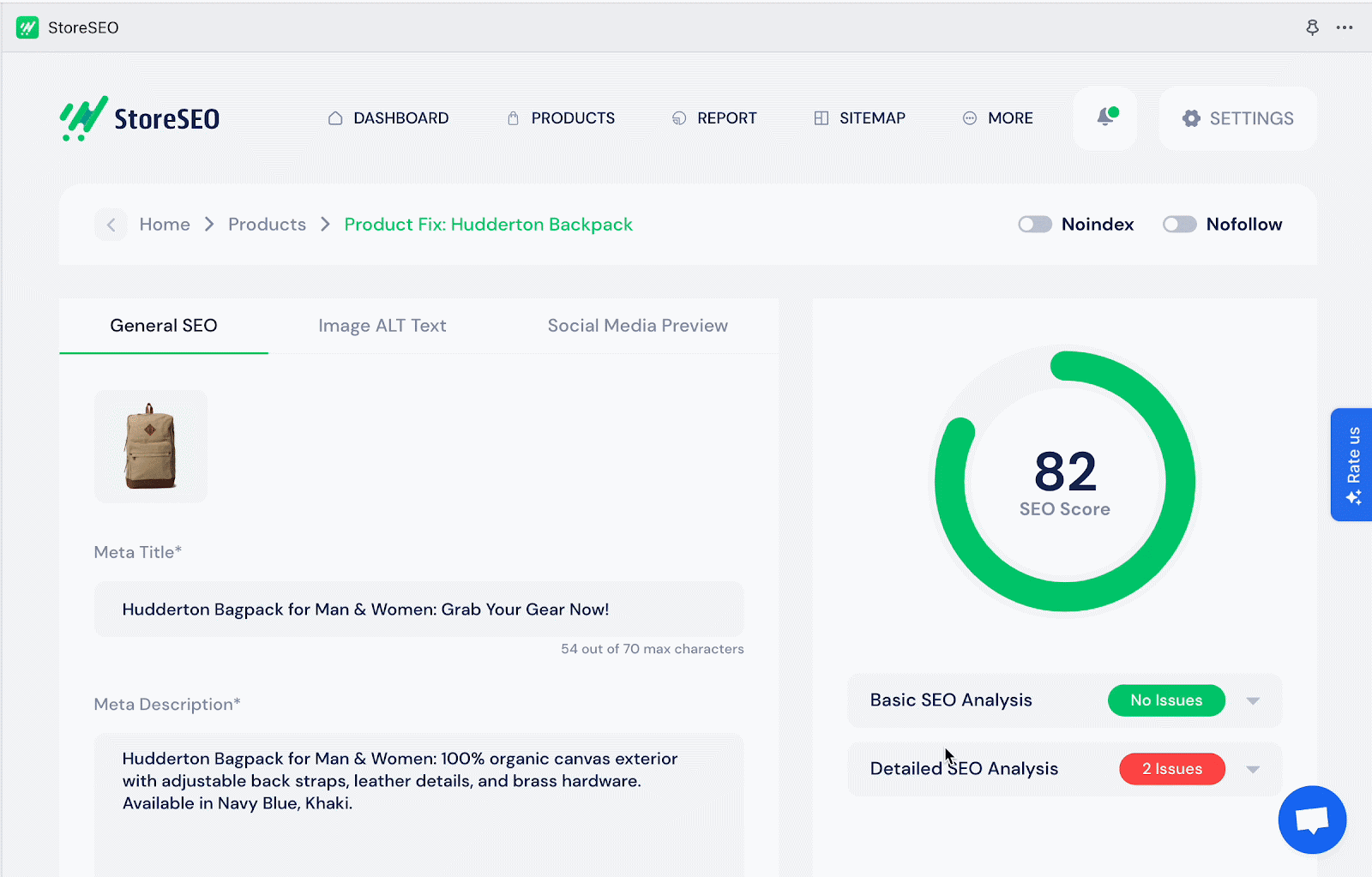 👉 Site Structure Optimization
StoreSEO optimizes your website's structure for search engines, ensuring that it's easily navigable by bots for indexing. By improving elements like URL structure, internal linking, and XML sitemaps, it enhances your site's visibility on search engines. This makes it easier for potential customers to find you, ultimately boosting organic traffic and sales.
📊 SEO Analysis Report
StoreSEO is a useful tool for your Shopify store because it gives you quick SEO analysis and scores when you set it up and on the dashboard homepage. After implementing SEO optimization strategies, it's important to reevaluate the scores, and the platform's full SEO analysis report helps you do just that.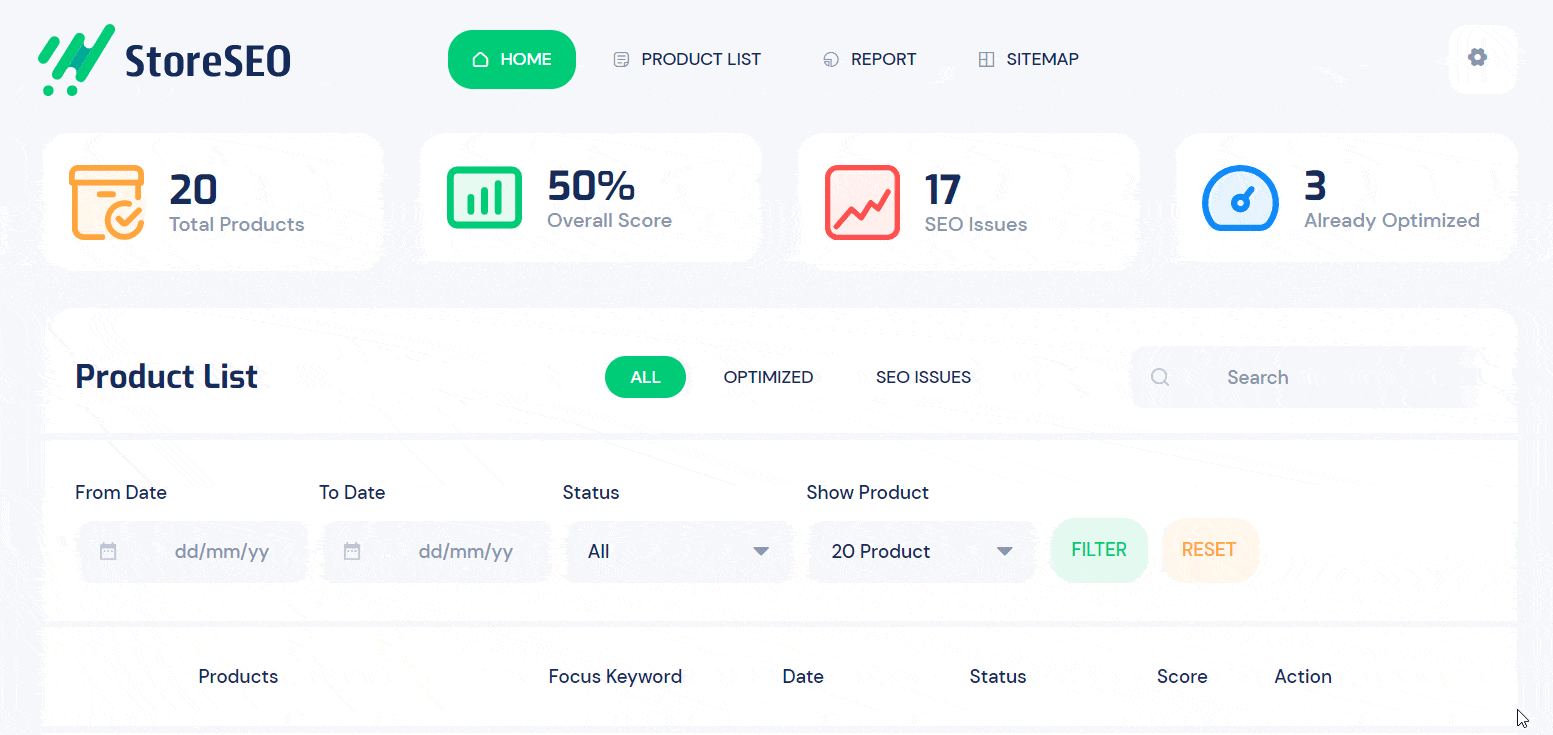 👉 Image ALT Text
StoreSEO also offers the ability to automatically generate ALT text for images, a small but crucial factor in SEO. Search engines can better recognize your images when you add image alt texts with relevant product keywords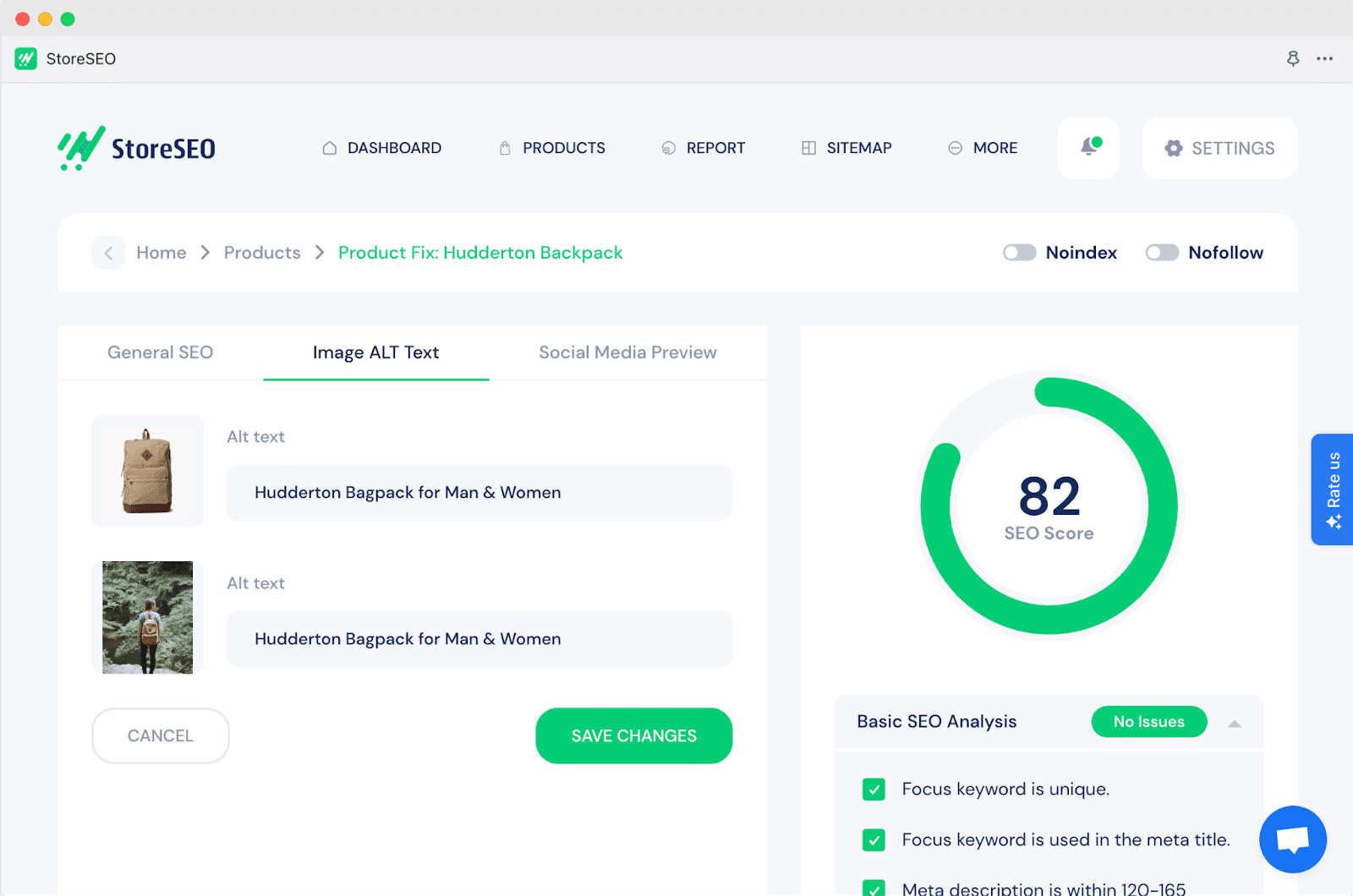 🚀 Benefits Of Using StoreSEO For Your Shopify Store
StoreSEO stands out for its user-friendly interface and comprehensive range of features. It simplifies the complex task of SEO, allowing even those without technical knowledge to optimize their online store.
StoreSEO provides detailed SEO insights, allowing you to understand your store's performance better and make necessary improvements. This potent combination of features makes StoreSEO an attractive option for Shopify store owners looking to improve their SEO.
Shopify SEO App 'Smart SEO': What Makes It Unique?
Smart SEO is another powerful tool aimed at helping Shopify store owners optimize their online presence for search engines. This tool seeks to simplify and automate the process of SEO, making it more accessible to a wider range of users.
Key Features Of Smart SEO
Smart SEO is packed with features designed to boost your Shopify store's SEO. Some key offerings include:
👉 Automated SEO Tagging
Smart SEO provides automated SEO tagging, a feature that streamlines the process of adding meta tags, alt tags, and Google snippets to your store.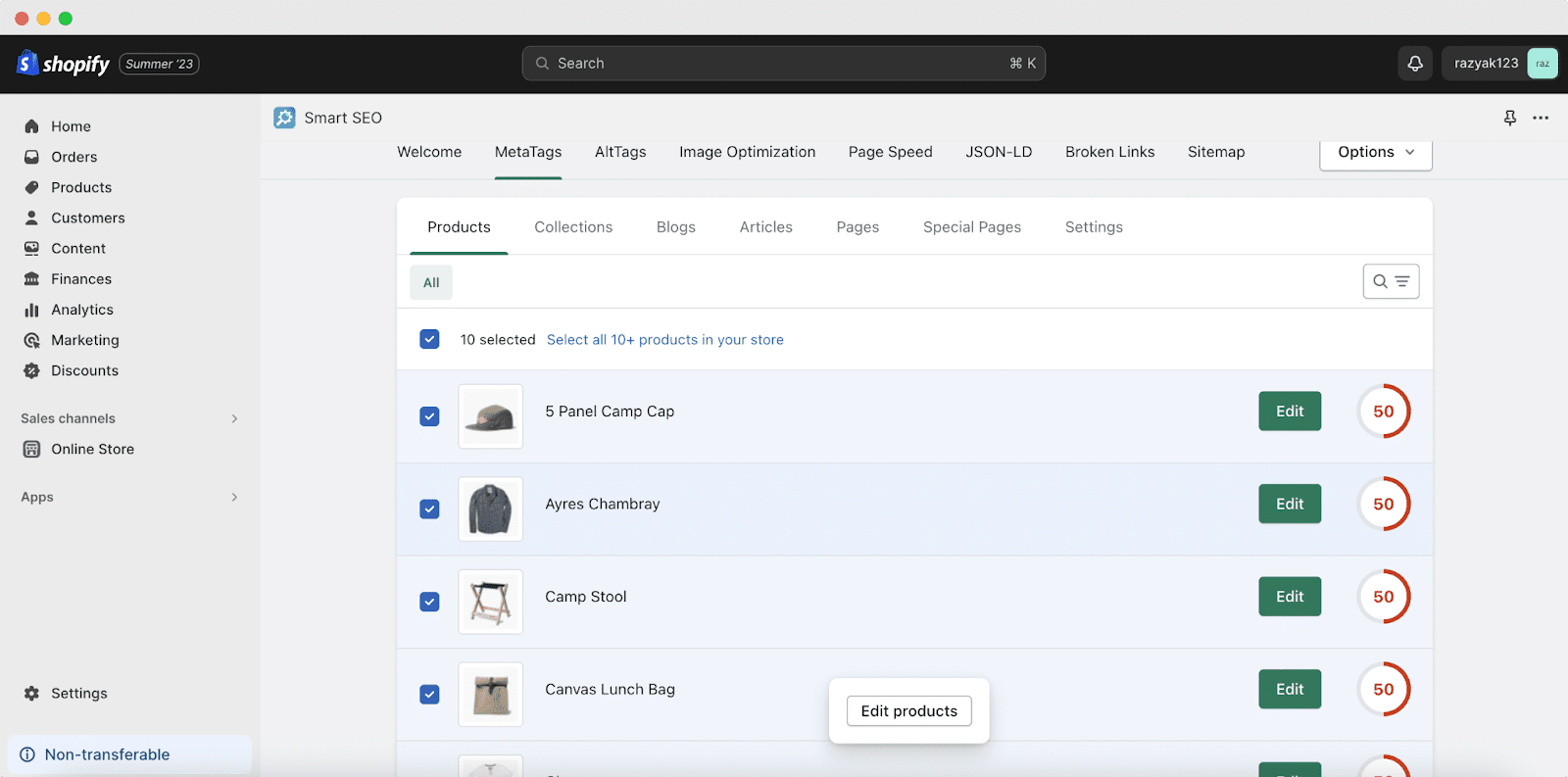 👉 Keyword Suggestions
This tool offers keyword suggestions, helping you to integrate the most effective and high-ranking keywords into your product listings and content.
👉 SEO Score
It offers a unique SEO scoring system, which provides instant feedback about the SEO strength of your page and suggestions for improvement.
👉 Broken Link Management
Smart SEO assists in managing broken links by automatically detecting and fixing them, which is vital in maintaining a healthy and SEO-friendly site.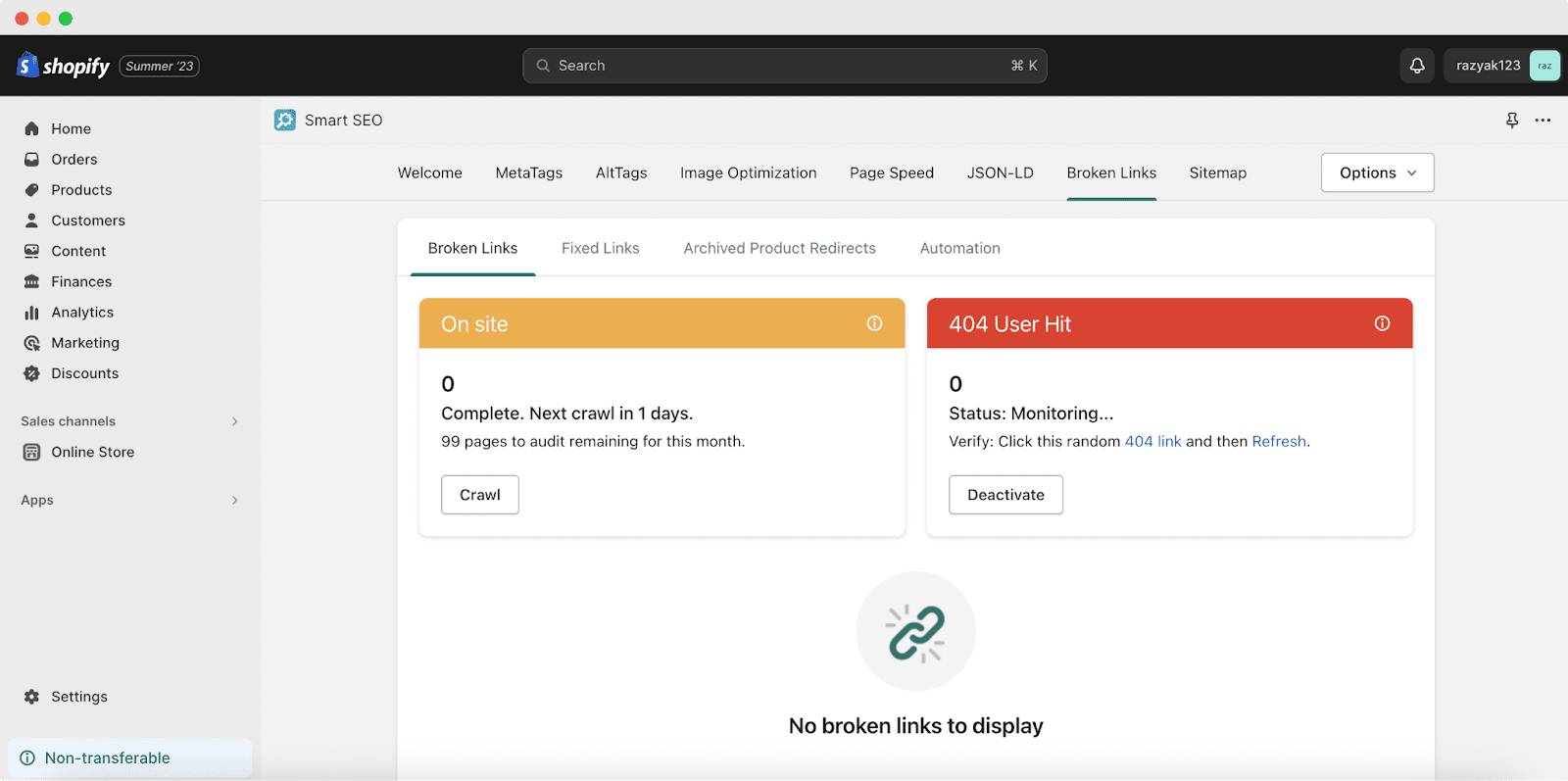 🎯 Advantages Of Using Smart SEO For A Shopify Store
The strength of Smart SEO lies in its automation and user-friendly nature. Taking care of repetitive SEO tasks automatically, allows store owners to focus on other aspects of their business.
Its wide range of features, coupled with its detailed SEO scoring system, allows you to have an in-depth understanding of your store's SEO performance and identify areas for improvement. All these make Smart SEO a robust tool for anyone looking to step up their Shopify store's SEO game.
Direct Comparison: StoreSEO Vs Smart SEO
In this section, we'll compare the two Shopify SEO apps – StoreSEO vs Smart SEO; based on different factors that matter most to online store owners.
💡 Interface And User Experience
Both StoreSEO and Smart SEO are designed with user experience in mind. StoreSEO features a straightforward, minimalistic interface that allows even beginners to navigate easily.
On the other hand, Smart SEO boasts a more intuitive and visually appealing interface, offering easy-to-use tools and a dashboard.
⚙️ Feature Comparison
When it comes to feature comparison between StoreSEO vs Smart SEO, both apps are equipped with keyword optimization, meta description optimization, and alt text for images. StoreSEO sets itself apart with its focus on site structure optimization, providing an SEO-friendly site structure that's easy for search engine bots to crawl and index.
Smart SEO, on the other hand, provides automation for SEO tagging and unique features like SEO score and broken link management. Its SEO scoring system offers valuable feedback on your page's SEO performance, and the broken link management tool ensures your site's health.
💰 Pricing Analysis
Pricing is another crucial factor when choosing an SEO app between StoreSEO vs Smart SEO. While the two apps offer competitive pricing, you'll need to consider which features you prioritize. StoreSEO might be a more cost-effective option if you are looking for basic, straightforward SEO enhancements.
By now, it's clear that both apps provide significant value to Shopify store owners. They come with an array of powerful features, aiming to streamline and improve your SEO strategy.
StoreSEO Vs Smart SEO: Choose The Best Shopify App That Suits Your SEO Needs
The ultimate decision between StoreSEO vs Smart SEO comes down to your unique business needs, budget, and SEO goals. Remember, effective SEO is a continuous process that requires patience and consistency. So, choose the tool that aligns with your business needs the best and continue your SEO journey with confidence.
StoreSEO stands out for its simplicity and focus on fundamental SEO features like keyword and meta description optimization. Its easy-to-use interface and beginner-friendly approach make it a great choice for those new to SEO or those who prefer a more direct approach to SEO management.
Was this blog helpful for you? Share your thoughts and subscribe to our blogs for more insightful Shopify SEO blogs.