If you are all set to create an online store with Shopify, the most trending eCommerce website builder of today, then, you must get a Shopify theme to design your store effortlessly. Due to its popularity, you can find Shopify themes on almost all theme marketplaces. But if you want to get themes from an authentic and credible source, then there is no alternative to the Shopify Theme Store. In this post, we will walk you through the A to Z of choosing a theme for Shopify and hand-pick the best 7 for you. So, without further ado, let's start reading.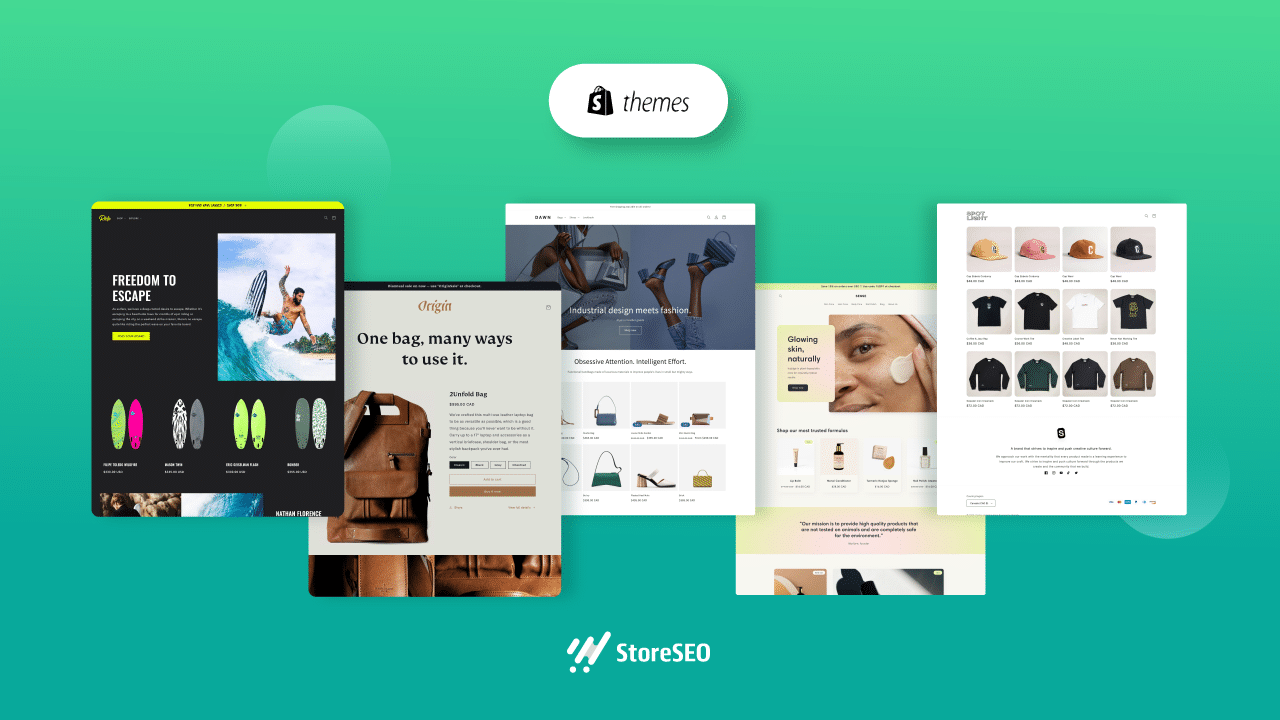 What Is A Shopify Theme: Understanding The Basics
A Shopify theme is a pre-designed template that determines the visual layout, design elements, and overall appearance of an online store built on the Shopify platform. In simpler terms, it's like the "skin" or "look and feel" of your Shopify store. And they play a crucial role in creating a consistent and appealing user experience for your customers.
Shopify themes define the structure of your online store, including the arrangement of product images, text, navigation menus, headers, footers, and other design elements. They can even control how your store looks on desktop and mobile devices, ensuring a responsive and user-friendly experience.
And that's not all, themes can also influence the functionality of your store to some extent. Some themes may include specific features or layout options that cater to certain industries or types of products. However, more advanced functionalities often require the use of additional Shopify apps or custom development.
The Best Place For Online Store Themes: Shopify Theme Store
The official Shopify Theme Store is one of the best sources to buy themes for your Shopify store. A variety of high-quality, expertly created themes that catered to different industries and niches are available here to help you pick the one that matches your specific needs. And the top Shopify themes are actually updated daily.
You can select a free, multipurpose Shopify theme created by the platform itself when you build your online store with Shopify, as well as ones created by reputable Shopify Partners. Here are some reasons why the Shopify Theme Store is a recommended choice:
1. Quality and Reliability
2. Responsive and Mobile-Friendly
3. Variety and Customization
4. User-Friendly Installation
5. Demo Stores For Test & Trial
A Must-Check List For Choosing eCommerce Themes
Choosing the right Shopify theme for your eCommerce store is a crucial decision that can impact your store's success. Here's a comprehensive checklist to help you make an informed choice when selecting a Shopify theme for your online store:
⚡ Build Your Theme Feature Wishlist
You should follow a similar process when choosing the best Shopify theme for your online store as we do when making to-do lists before buying groceries or necessities. Putting yourself in the position of your potential customers and asking yourself, "What kinds of features would they expect on my online store in order to help them make a purchase decision?" is the first action you are advised to take. A sizing chart, a user's handbook, or a lookbook can be on your list.
When you're satisfied with your list of qualities, try deciding which of them are non-negotiable. Then, you can visit the Shopify Theme Store and search accordingly by utilizing the filtering options to focus your search.
⚡ Find Your Brand's Style
The top Shopify themes each have a unique design aesthetic. Consider your desired aesthetic while creating a mental image of your perfect internet store. Examine the color scheme, the details, and the understated movements in the Shopify theme demos carefully to see whether the overall aesthetic fits your brand. As crucial as the content itself can be, make sure the design of your selected Shopify theme expresses your company's image.
⚡ Define Your Budget For Theme Purchase
There are a variety of themes accessible on the Shopify Store, some of which are free and were created by Shopify itself. Every other Shopify theme has been developed by one of our independent theme designers or agencies, all of which have been reviewed and approved by Shopify. Hence you will find both free and PRO options to choose from.
You should consider how much you're willing to spend on the look and feel of your online store when choosing your theme. Usually, premium Shopify themes that range in price from $150 to $350 still represent a great deal.
⚡ Be Sure To Try Before You Buy
You don't truly pay for a purchased Shopify theme until you post it to your store, even if you download it. This means that before choosing a Shopify theme, you can test out a few alternative ones for free. When you've reduced your search to a few prospective themes, try adding your content using the Shopify visual builder to see if you can get the style and feel you want.
The functionality you'll need, the kind of material you'll need to surface, and the overall style you're striving for will all be clear by that point. Choose a favorite Shopify theme after experimenting with several of them.
Check Out The Best 7 Shopify Themes For Your eCommerce Store
The Shopify theme store offers a huge selection of Shopify themes. Because of this, we chose to highlight the important characteristics of some of the finest Shopify Themes.
1. Dawn Online Store Theme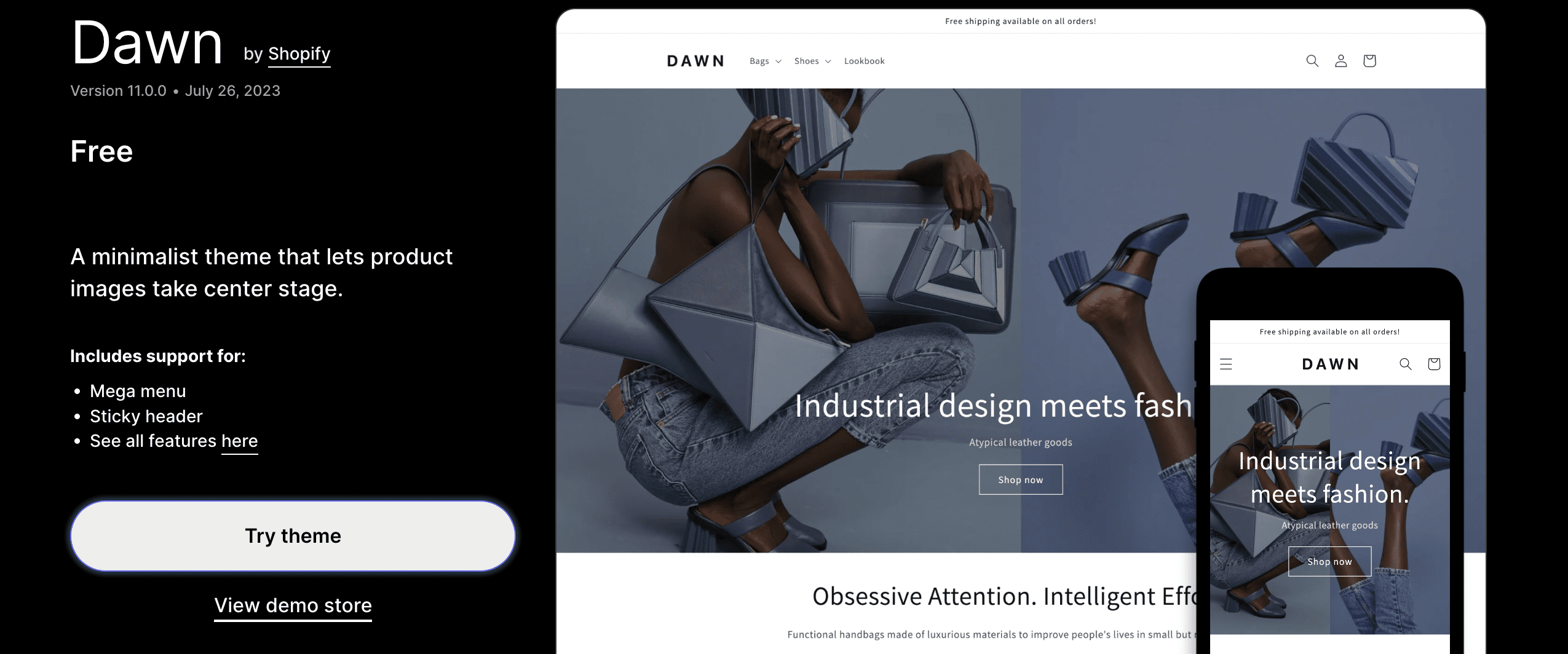 "Dawn" is a free modern and minimalist theme built by Shopify. It is designed to showcase products elegantly while focusing on the user experience. With its clean and responsive design, Dawn ensures seamless navigation across devices and screen sizes. This theme offers versatile customization options, enabling businesses to align the design with their brand identity. Dawn emphasizes product visuals, allowing for stunning product displays and easy exploration.
Built with performance in mind, Dawn loads quickly and offers compatibility with Shopify's latest updates. Its user-friendly interface, integrated with essential eCommerce features, creates a smooth shopping journey for customers. Whether for fashion, lifestyle, or various product categories, Dawn offers a sophisticated platform to create a compelling and functional online store.
2. Impulse eCommerce Website Theme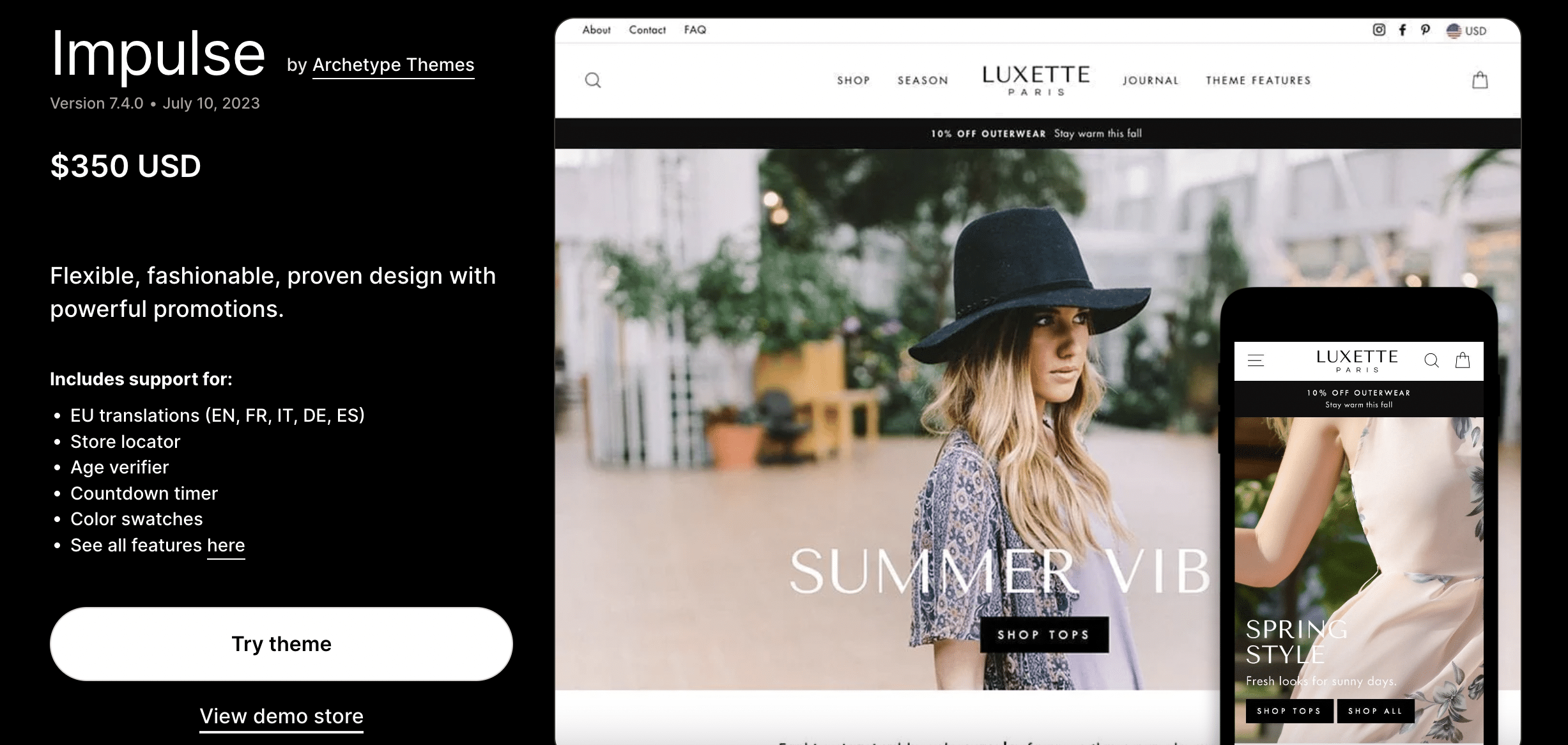 "Impulse" is a dynamic and feature-rich premium Shopify theme tailored for ambitious online retailers who want to set their store apart from the rest. With its striking visual elements and captivating layouts, Impulse aims to grab attention and drive conversions. This theme offers a variety of customizable sections and styles, allowing you to create a unique and memorable brand experience.
Impulse boasts seamless integration with Shopify's advanced features, including product filtering, quick views, and predictive search. Its responsive design ensures a consistent shopping journey across devices, while the emphasis on storytelling helps you engage customers on an emotional level. Whether you're in fashion, electronics, or any industry, Impulse empowers you to build a powerful online presence that resonates with your target audience.
3. Spotlight Online Business Theme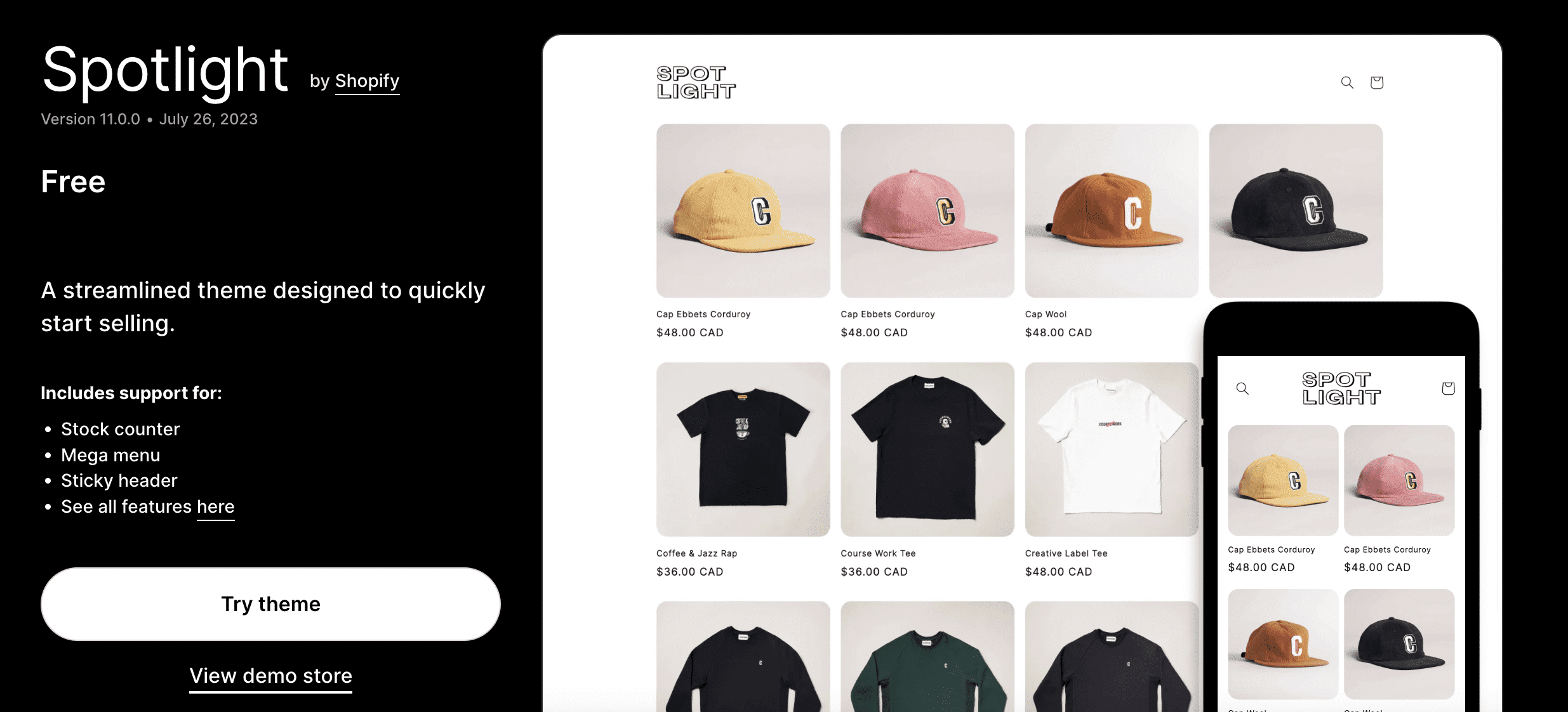 "Spotlight" is a captivating and immersive Free Shopify theme designed to showcase your products in the spotlight they deserve. With its bold and visually engaging layout, Spotlight creates an instant impact on visitors. This theme offers a range of flexible customization options, allowing you to highlight your brand's personality and style. From its stunning product galleries to its interactive elements, Spotlight enhances user engagement and encourages exploration.
Built-in features like quick view and product recommendations make the shopping experience convenient and intuitive. Spotlight's responsiveness ensures seamless browsing on all devices, while its seamless integration with Shopify tools empowers you to deliver an exceptional online shopping journey. Whether you're in the art, beauty, or any niche industry, Spotlight lets your products shine brightly and leave a lasting impression.
4. Prestige Shopify eCommerce Theme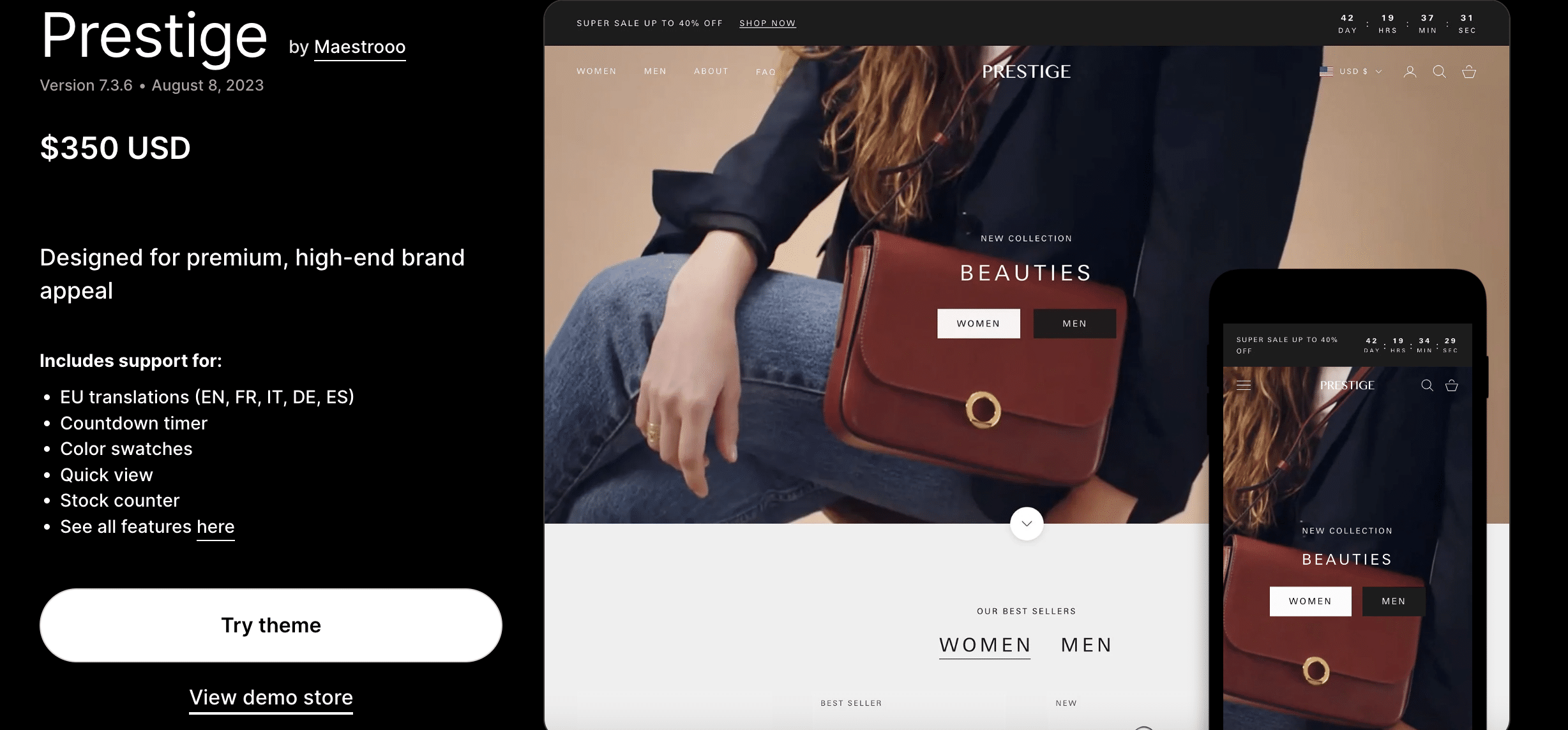 "Prestige" is a premium and elegant Shopify theme tailored for brands that value sophistication and luxury. With its refined design and exquisite layouts, Prestige sets the stage for high-end product presentations. This theme offers comprehensive customization options, allowing you to curate a website that reflects your brand's exclusivity. From its refined typography to its tasteful use of whitespace, Prestige exudes a sense of refinement and prestige.
Advanced features like custom promotions, advanced product filtering, and quick shop options enhance the shopping experience for your discerning customers. Prestige's responsive design ensures that your store's elegance remains intact across all devices, while its integration with Shopify's tools empowers you to deliver a seamless online shopping journey. If you're in the luxury, fashion, or upscale markets, Prestige offers a platform that matches your brand's unique allure and charm.
5. Refresh Shopify Online Store Theme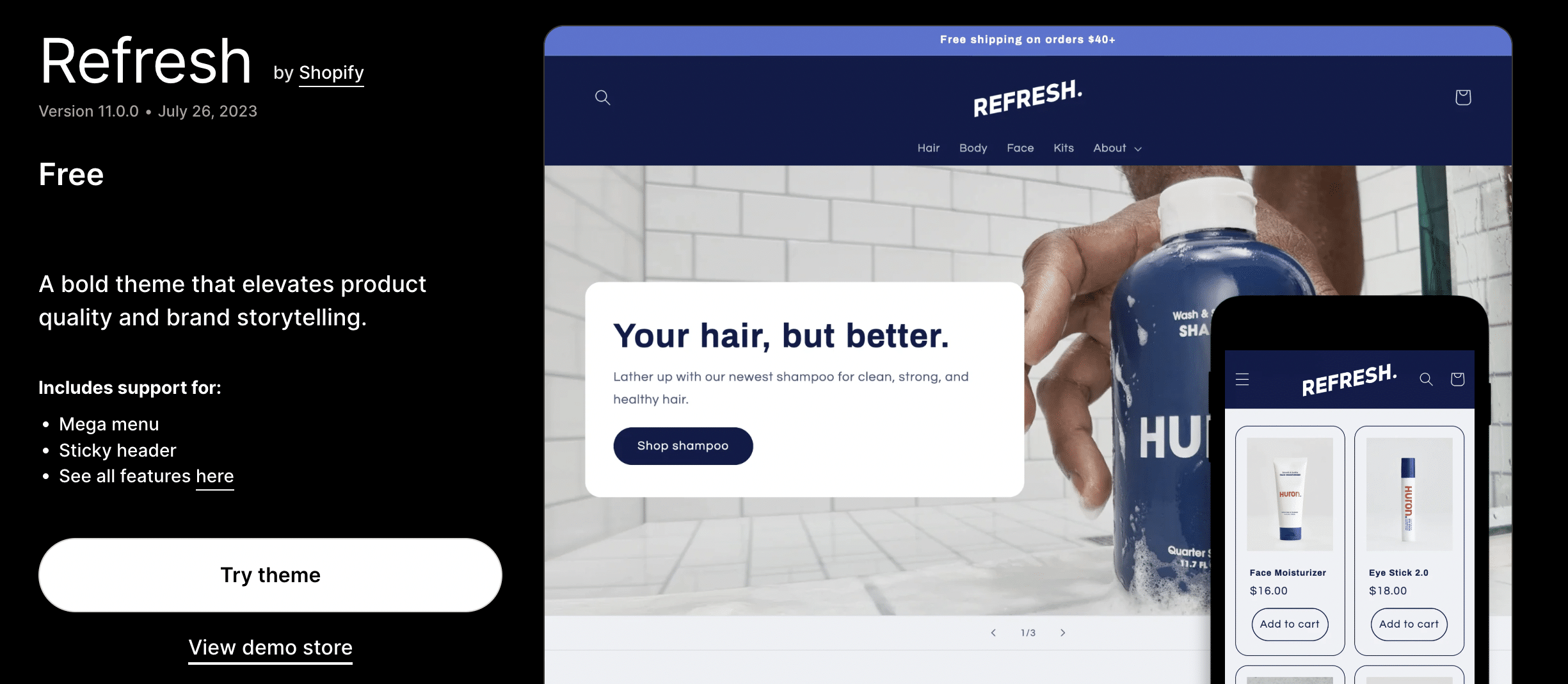 "Refresh" is a contemporary and versatile Free Shopify theme designed to revitalize your online store's aesthetic. With its clean and modern design, Refresh breathes new life into your brand's visual identity. This theme offers a range of customizable options, allowing you to infuse your unique style and personality. From its organized product grids to its minimalist navigation, Refresh prioritizes a clutter-free and user-friendly experience.
Advanced features like predictive search and quick view streamline the shopping process, ensuring convenience for your customers. Refresh's responsive layout ensures seamless functionality across devices, while its integration with Shopify's tools empowers you to provide a refreshed online shopping journey. Whether you're in tech, lifestyle, or any other industry, Refresh offers a canvas for modernizing your store's look and engaging your audience anew.
6. Impact eCommerce Website Theme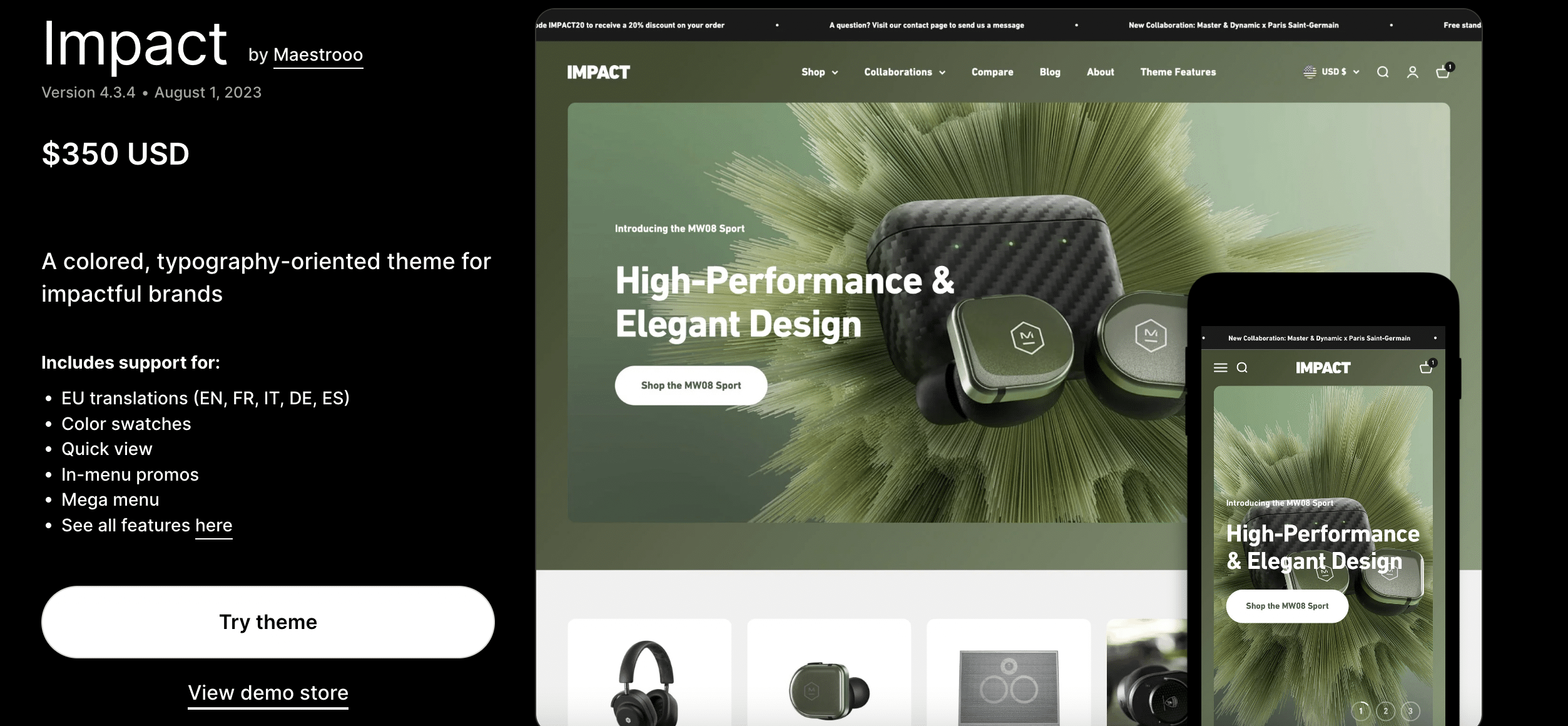 "Impact" is a bold and impactful Shopify theme designed to make a statement with your brand. With its strong visual elements and high-contrast design, Impact leaves a lasting impression on visitors. This theme offers a range of customizable options, enabling you to create a distinctive and memorable online presence. From its striking hero sections to its immersive product displays, Impact emphasizes the power of your products.
Advanced features like integrated video and customizable content blocks allow you to tell your brand's story effectively. Impact's responsive layout ensures a seamless experience on all devices, while its integration with Shopify's tools enhances the overall shopping journey. Whether you're in lifestyle, entertainment, or any industry that thrives on boldness, Impact empowers you to amplify your brand's presence and create an unforgettable impact.
7. Craft Online Business Theme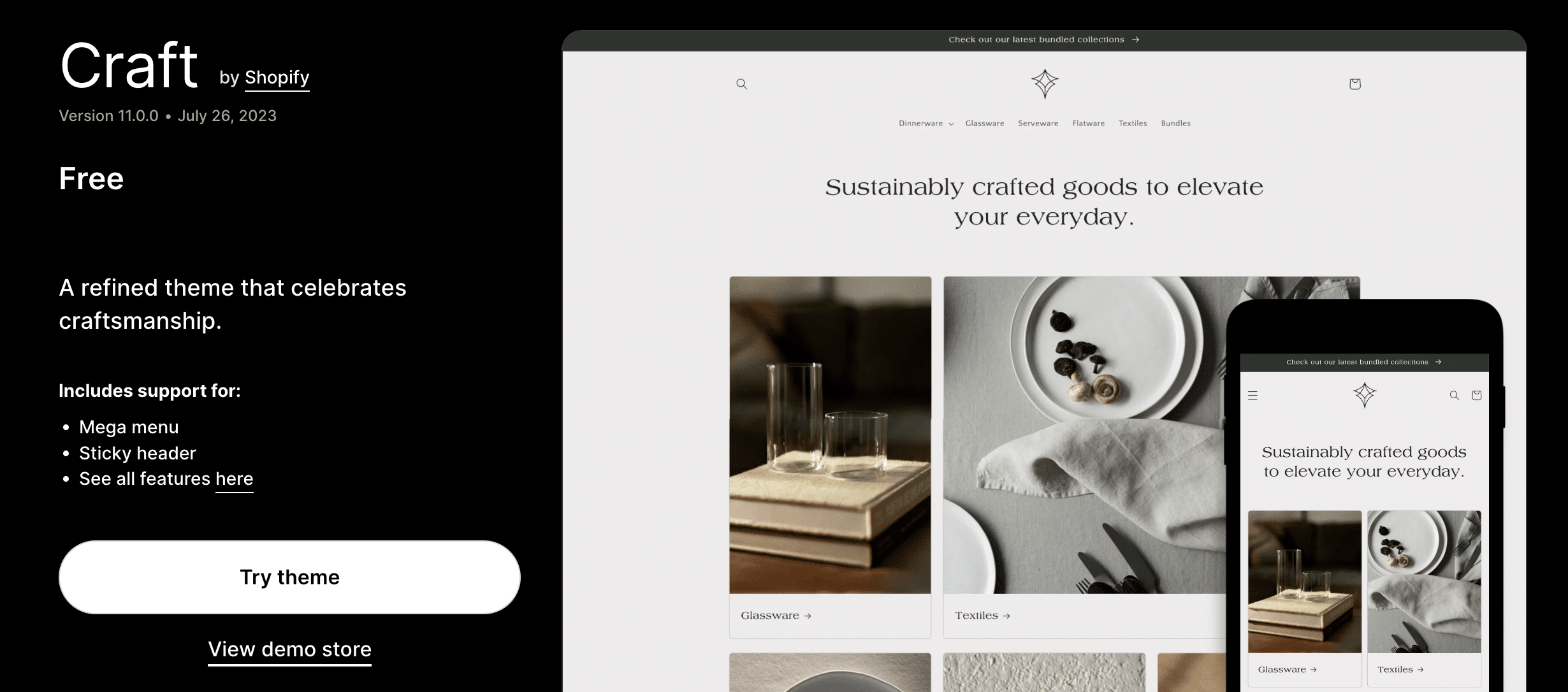 "Craft" is an artisanal and charming free Shopify theme designed to showcase craftsmanship and creativity. With its rustic and handcrafted design elements, Craft evokes a sense of authenticity and uniqueness. This theme offers a range of customization options, allowing you to infuse your brand's handmade ethos into every detail. From its textured backgrounds to its organic typography, Craft brings an artisanal touch to your online store.
Thoughtful features like product storytelling and custom image sections enable you to share the journey behind your products. Craft's responsive layout ensures a seamless experience on all devices, while its integration with Shopify's tools enhances the shopping journey. Whether you're in handmade goods, vintage items, or any creative field, Craft provides a canvas to showcase your craft with authenticity and warmth.
Get Themes Built By Trusted Shopify Partners
The optimal theme for your brand will depend on your industry, products, and unique needs. These themes are adaptable because of their customizability, though. The performance of the theme, which includes site speed and image optimization, is another important aspect to pay attention to. Finally, having excellent customer service is crucial because you can encounter problems when using a theme or require additional help with customization. Hopefully, you will get the right Shopify theme from these chosen ones.
Hope you find this blog helpful. To know more tips, tricks, and detailed insights for your Shopify store subscribe to our blog and keep in touch with us.