Shopify is currently one of the most popular eCommerce platforms worldwide and is helping countless businesses thrive. If you want to grow your business on the platform too, it is important to understand some key facts, figures, and stats about Shopify. To help you out, in this blog, we have listed down all the important latest Shopify Statistics that you should know to learn more about this eCommerce website solution in 2023. So, without further ado, let's dive into the main part of the blog.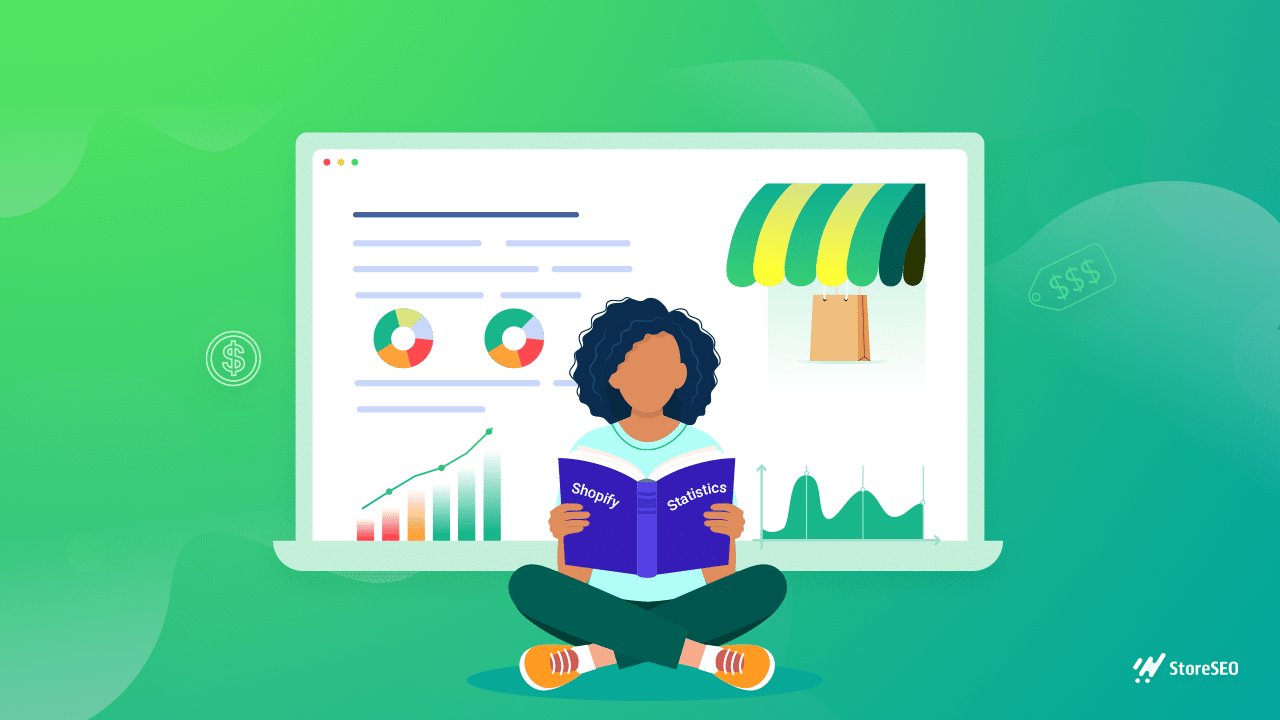 Key Shopify Statistics You Should Know
When introduced to the world in 2006, it was not all sunshine and rainbows for Shopify. However, over time, Shopify has become an eCommerce giant helping businesses all over the world create their own personalized virtual storefronts and sell products and services with ease. Now, let's explore the latest Shopify key facts and stats to understand the impact the platform had on the eCommerce industry over the years.
Jawdroping Shopify Statistics
Shopify has had tremendous success stories as an eCommerce platform over the years. The stats below also prove how much influence Shopify has right now.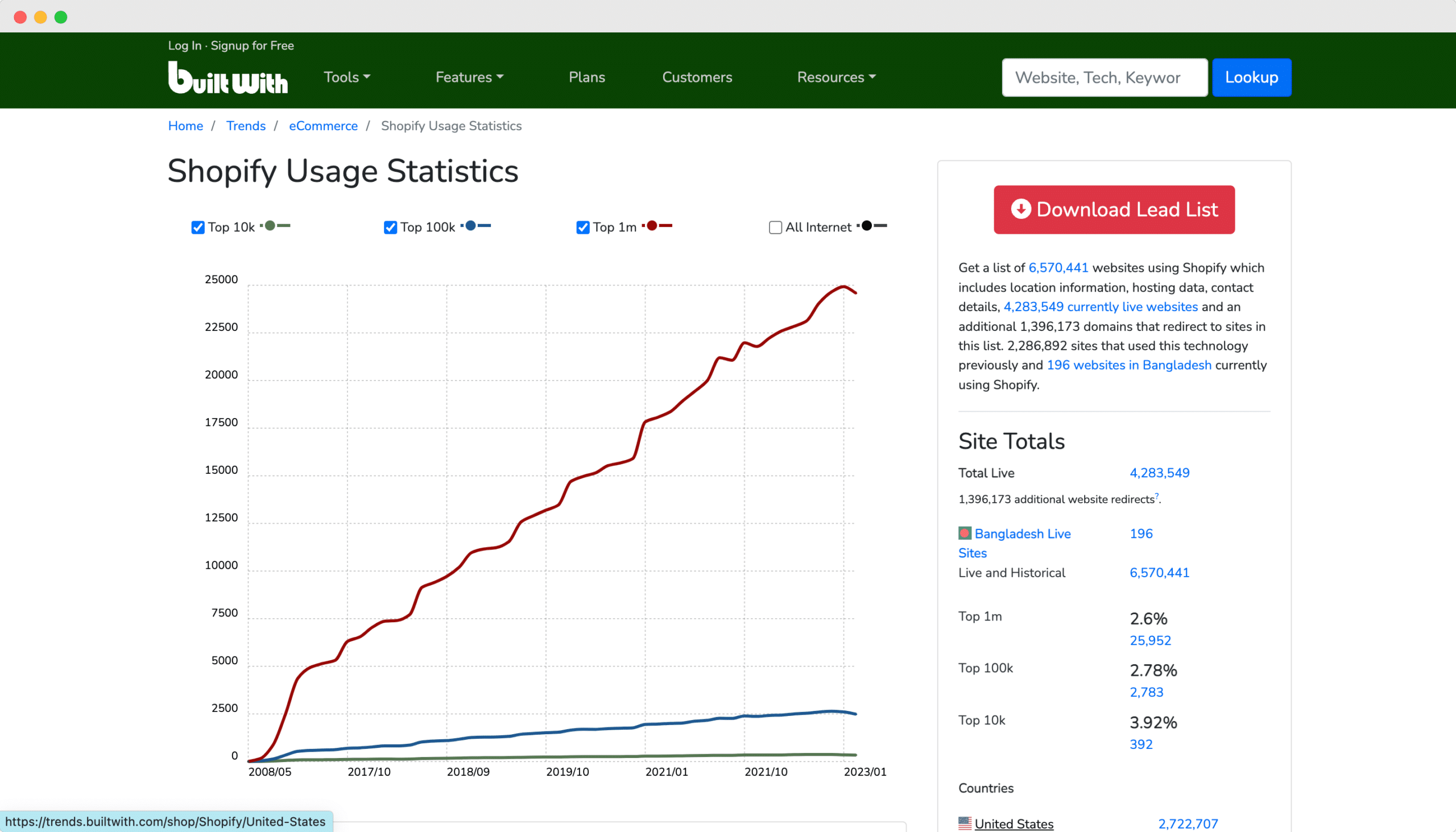 Merchants from 175 Countries use Shopify to sell their products to customers.
According to BuiltWith, 64% of Shopify stores are from the US.
Shopify has more than 11,600 employees working behind the scenes. And more than 780+ experts are available for different tasks.
Shopify's financial report claimed that in 2022 its gross merchandise volume was $197.2 billion.
According to a survey, the average order value for Shopify was $85 in September 2022.
Shopify earned a revenue of $1.735 billion for the quarter ending December 31, 2022.
Global Shopify Statistics
We have already looked into some interesting global stats for Shopify. Let's break them down further to know more about this eCommerce platform.
According to Shopify's Economic Impact Report, their merchants generated more than $307 billion in 2020.
The platform is also helping lower unemployment rates. Shopify claimed that their merchants had created 3.6 million jobs around the world (data collected in 2021).
Shopify is available in 20+ languages which includes the most popular language worldwide, to help both international and local brands flourish easily.
Now, 20% of Shopify merchants use Shopify in multiple languages.
Based on BuiltWith's data, while the biggest market for Shopify is the U.S.A., the United Kingdom stands in second place. And in the USA, California has the largest user base for Shopify.
According to BuiltWith Data, India is on the list of the top 10 largest Shopify user bases.
According to BuiltWith Data, most of the Shopify stores are in the Fashion category all around the world.
One of England's greatest soccer players David Beckham uses Shopify to run his eyewear business online.
British superstar Adele's merchandise store is built in Shopify.
According to Shopify, Kylie Cosmetics – a well-known makeup brand – has been using Shopify since 2014.
Shopify's Revenue Stats
Shopify is growing day by day. This eCommerce platform has seen growth on a regular basis. Let's look at the key revenue stats now.
In 2022, Shopify earned $5.6 billion in annual revenue, 23% more than the previous year.
In 2022, the Gross Merchandise Volume (GMV) on Shopify was $61 billion, which was more than an increase of 12% from the previous year (2021).
The Monthly Recurring Revenue (MRR) for Shopify was $109.5 million in 2022.
For every $1 Shopify earned, their merchants made $38 in revenue in 2021.
The 10% of the best-performing Shopify stores earn $226 in revenue per customer.
In 2022, new Black Friday Cyber Monday records were made by Shopify merchants with $7.5 billion in sales.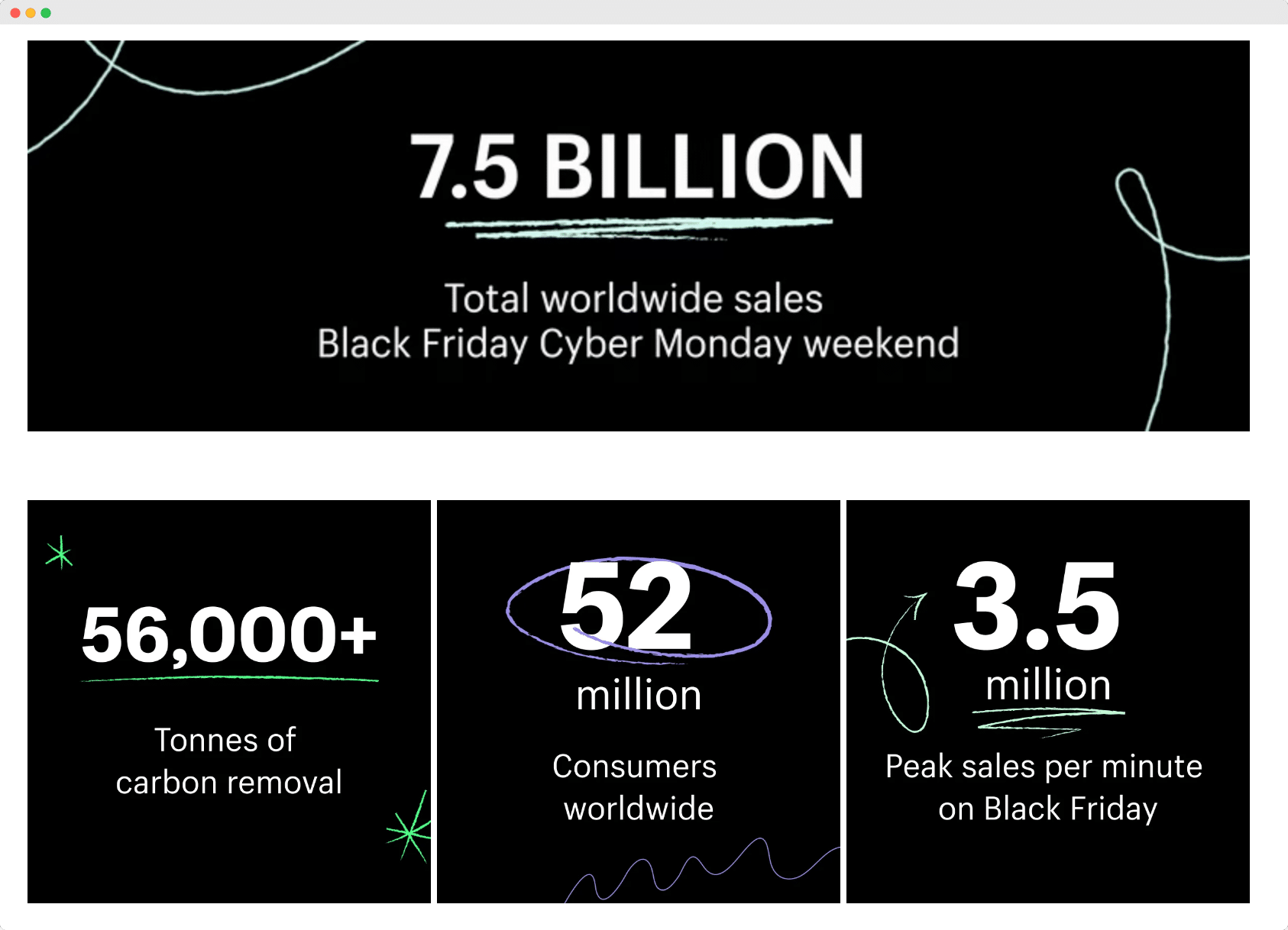 Shopify App Statistics
Shopify apps are built by 3rd party developers. These apps help to power up the Shopify stores. Now, let's have a glimpse at the key app statistics below.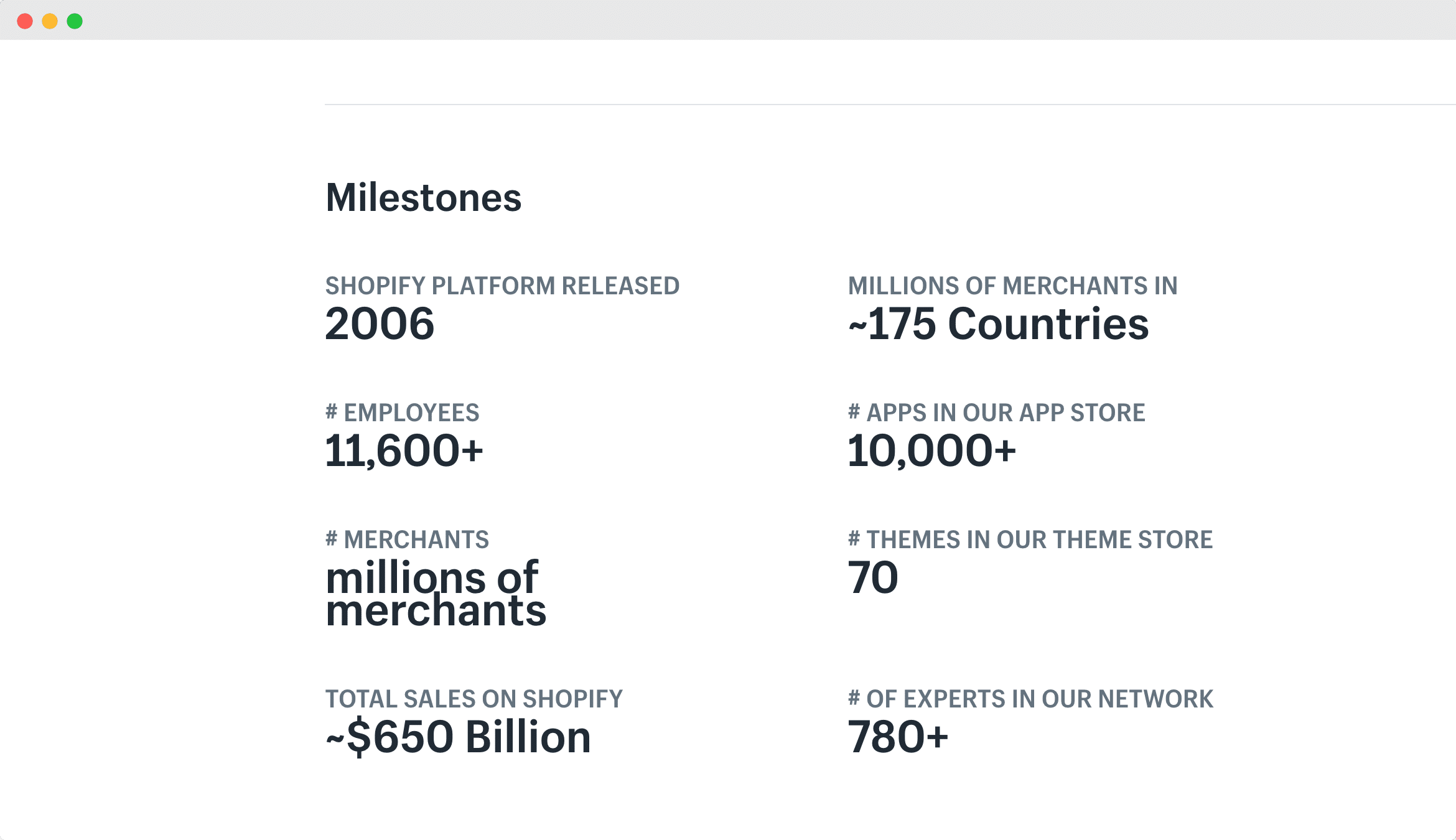 An average merchant uses 6 apps to manage their Shopify store.
In 2021, more than $441 million was paid to developers by the Shopify platform itself.
Shopify released dozens of new B2B features and enhancements in June 2022 to help businesses grow and see success.
In 2020, Shopify app developer partners earned $233 million which was more than two previous years combined.
Over 80% of Shopify websites use 3rd party integrations to boost their growth.
Shopify Statistics For Your Business
Now, let's have a look at some of the key Shopify statistics you should know while using this platform. These stats can help you to learn about the benchmarks of this platform.
According to Statista, Shopify stores experienced more than a $29 increase in sales compared to the global eCommerce market.
According to the Shopify State of Commerce Report, over 62 million buyers purchased from the same store more than once. 
The shoppers from the US buy 6 items from Shopify stores on average, which is nearly twice of any other country.
Japanese shoppers spend an average of around $142 USD per transaction, which is the most from any other nation. 
According to Shopify, online storefronts get over 80% of successful sales. 
The average Shopify eCommerce store conversion rate is 1.4%. 
For Shopify stores, the highest conversion comes from email marketing. It can bring a 4.29% conversion rate for Shopify merchants.
Together Shopify merchants supported 5 million jobs in 2021, the world's largest workforce. 
During 2022 Black Friday, 76% of shoppers were looking for higher-quality products. 
In 2022, 52 million customers made purchases from websites powered by Shopify worldwide. 
In 2022 Black Friday, more than $3.5 million in sales happened per minute on Shopify-powered websites. 
Other Key Shopify Stats
Before finishing this blog, let's have a go at a few more important statistics that you should know as a Shopify user. This data can help you scale your business.
Take Strategic Decision With The Latest Shopify Stats
If you are a Shopify store owner, making data-driven decisions can help you accelerate your growth. So, take advantage of these latest Shopify statistics and adjust your business plan accordingly.
Did you find our blog useful? If you do, please subscribe to our blog for more tips, tutorials, and updates.