With Shopify being one of the most popular eCommerce platforms, it's not surprising that people often migrate to Shopify to take advantage of all advanced features. If you are planning to switch from your current eCommerce platform, then dive into this tutorial where you can learn how to migrate your online store to Shopify.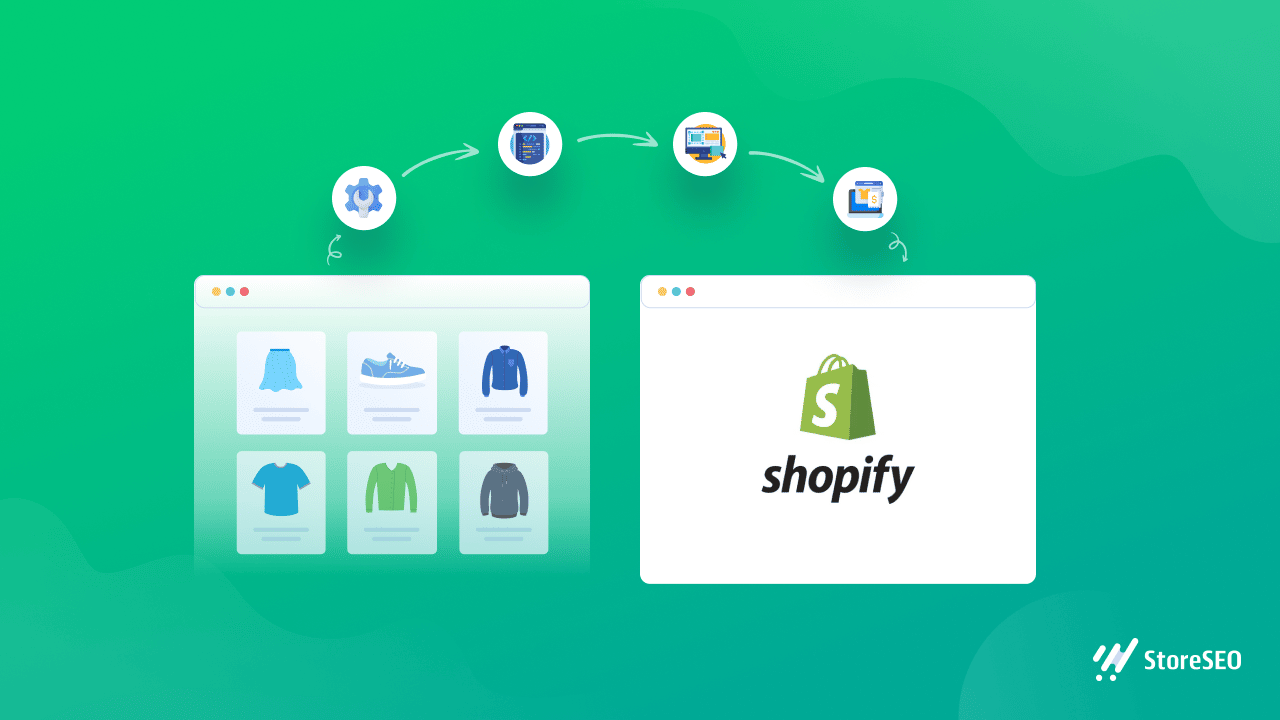 Why Migrate Your Store To Shopify?
When it comes to creating your eCommerce store, you have several options to choose from. However, Shopify is an eCommerce platform with tons of features such as unlimited storage and bandwidth, secured payment gateways, and a vast collection of eCommerce apps to help you run your business effortlessly. 
If you are wondering if you should migrate your online store to Shopify, here are some reasons why more than 11% of the total eCommerce market share belongs to Shopify. 
1. Shopify Has Very Flexible Pricing Plans For All Kinds Of Businesses
When it comes to choosing the right plan for your eCommerce store, Shopify has tons of flexible pricing plans for you to choose from. Regardless of which plan you choose, one great feature about Shopify is that you will get unlimited storage and bandwidth. In contrast, other eCommerce platforms generally impose limits even on their more extensive plans. 
2. Secured Payment Methods Available Across Several Countries
Shopify comes with its own built-in payment provider, known as Shopify Payments, which streamlines the entire purchasing process for your customers. It even helps you track offline payments and supports all popular payment methods such as Paypal or Amazon Pay.
3. Shopify App Store Has Over 6000 Different Apps For Online Businesses
Another reason why you might want to migrate your online store to Shopify, is because it supports many different integrations with various platforms and solutions. In fact, Shopify App Store has a huge collection of over 6000 different apps for you to choose from.
You can look at some of the best Shopify apps here to find out they can help you kickstart a successful eCommerce business.
Step By Step Guide: How To Migrate Your Online Store To Shopify?
Now that you know why you should migrate your online store to Shopify, let's get down to the tutorial. Below, we have shared an easy step-by-step walkthrough that you can follow to migrate to Shopify.
Step 1: Back Up Your Online Store Content
Before starting, make sure you have created a backup of your online store content. Depending on which eCommerce platform you are migrating from, the process of backing up your online store will be different. If your online store is built on WordPress, you can check out this detailed guide on how to backup your website. 
Step 2: Import Your Store Content To Shopify
Next, to migrate to Shopify, you need to import your store content. You can import all of your products into a CSV file format, or you can import your store content using Shopify migration apps from the Shopify App Store. Below are some popular Shopify migration apps that you can use:
LitExtension Store Migration: this Shopify app lets you migrate content from numerous eCommerce platforms to your new Shopify store effortlessly, in just 3 easy steps. You can import product data, blog content, and even reviews, customer orders and much more. 
Matrixify: this is another popular Shopify migration app that you can use to migrate your online store to Shopify with a few simple steps. It supports the majority of the most popular eCommerce platforms like Magento, WooCommerce and BigCommerce.
In addition to this, Matrixify also comes with useful features such as creating backups of your store, scheduling or enabling auto-repeat for imports and exports, and exporting your store data to marketplaces like Google Shopping.
Universal Store Migration App: this one of the top-rated Shopify migration apps that supports many different eCommerce platforms such as Magento, BigCommerce, Wix, WooCommerce and more. 
After you migrate your online store to Shopify, either using CSV files or using Shopify migration apps, you need to check if the importing was successful. Make sure to do the following after you migrate your online store to Shopify:
✅ Make sure your product descriptions, images and links are working properly.
✅ Organize your products into collections so it is easy to maintain them regularly.
✅ Check and adjust your product inventory and transfers in your new Shopify store.
Step 3: Manage Your Domain, Shipping & Other Details
When you migrate your online store to Shopify, you need to manage your domain address. You have two options in this case: you can either get a new domain or transfer the domain of your previous store to your new Shopify website. 
If you want to simply buy a new domain, you can do so directly from Shopify. When choosing a domain name, we recommend making sure that it is unique and reflects your business persona. You can brainstorm ideas for your domain name by looking at these business name generators here. 
On the other hand, if you want to transfer your domain to Shopify, you will need to point your domain to the new Shopify store. You can do this by following the steps given in Shopify's own tutorial here.
After configuring your domain, you will need to set up your shipping details and configure your taxes. Depending on the location you are running your business from, the rules regarding taxes and shipping charge may vary.
Once these steps are done, you can focus on designing your Shopify store to give it a unique and attractive appearance. To help you get started, we have this handpicked list of some of the best Shopify themes you can check out.
Step 4: Thoroughly Test Your Shopify Store And Products
When you are happy with the overall look and feel of your Shopify store, and have checked that all products and content have been imported successfully, it is time to thoroughly test your new Shopify store.
You can run a test order to see if the customer's buying process is fully functional and streamlined to enhance their shopping experience. You can also check if specific interactions such as refunding and canceling an order are working precisely as it should.  
Step 5: Add Link Redirects To Your New Shopify Store
When your entire Shopify store has been tested thoroughly and you are certain that there are no more issues to be resolved, you can now begin to add link redirects to your new Shopify store wherever needed.
This will help ensure that customers who may have bookmarked certain pages or links from your previous store can automatically be redirected to your new Shopify store. 
Migrate To Shopify And Kickstart Your Online Store Effortlessly
As you can see, it can be quite easy to migrate your online store to Shopify with just 5 simple steps. However, the important thing is to make sure that all of your content and links have been appropriately imported during the migration process and that your new store is also tested thoroughly before you begin to promote it to customers.
Enjoyed this post? Subscribe to our blog for more fun tutorials, SEO tips and tricks and Shopify guides, or join our Facebook Community.