Are you tired of seeing potential customers abandon their carts on your Shopify store? You're not alone! In fact, Shopify abandoned carts are a common problem that many online store owners face. According to Baymard Institute's study, 69.99% of shopping carts are abandoned before checkout.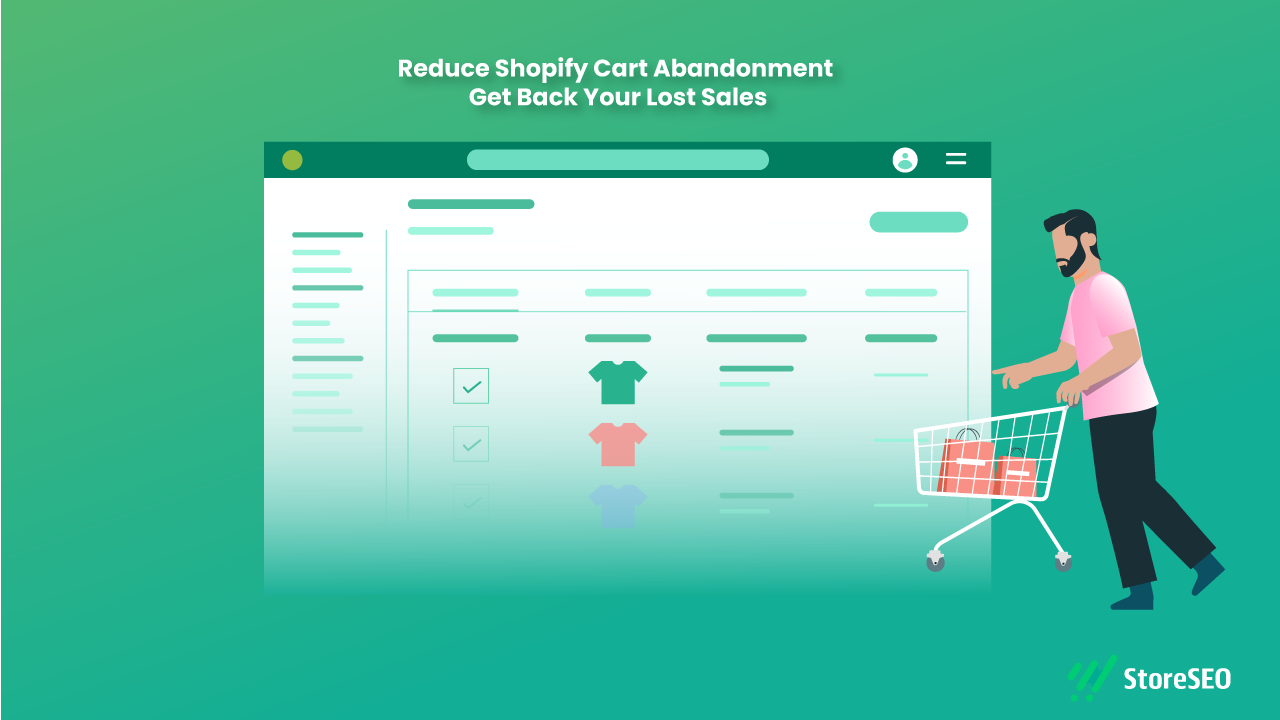 But fear not; in this blog post, we'll dive into why customers abandon their carts, share some hacks to reduce cart abandonment, and provide tips to help recover those lost sales. So, grab a cup of coffee and tackle Shopify abandoned carts together!
💡 Cart Abandonment: Definition & Calculation
When a customer adds items to their online shopping cart but leaves the website or app before finalizing the purchase, it is referred to as cart abandonment. This can happen for various reasons, such as unexpected shipping costs, a complicated checkout process, or simply a change of mind.
To calculate the cart abandonment rate, you can use the following formula:
Cart Abandonment Rate = (Number of completed purchases / Number of shopping carts created) x 100
For example, if 100 customers add items to their cart but only 50 complete their purchase, the cart abandonment rate would be:
(50 / 100) x 100 = 50%
This means that half of the customers who started the checkout process abandoned their cart before completing their purchase.
Measuring the cart abandonment rate can help you identify potential issues with your checkout process and take steps to improve it, such as simplifying the steps, offering free shipping or discounts, or providing clear and transparent pricing information.
📈 Cart Abandonment Statistics: Let's Take A Look
As previously stated, the significant problem for online businesses is cart abandonment, which accounts for about 70% of all shopping carts. Your company's cart abandonment rate may be influenced by the type of device your consumers are using to shop. The average cart abandonment rates per device are as follows, according to the aforementioned study:
✅ Desktop: 69.75%
✅ Smartphone: 85.65%
✅ Tablet: 80.74%
It's worth noting that some cart abandoners (mostly mobile users) eventually return to purchase the items. According to Statista's 2021 report on UK shoppers, here are some intriguing findings regarding consumer post-abandonment behavior:
👉🏻 31% come back to purchase on the same website at a later date.
👉🏻 26% purchased the item online from a different online retailer
👉🏻 23% were not intending to make a purchase and did not return to buy.
👉🏻 8% go to a physical store for an item.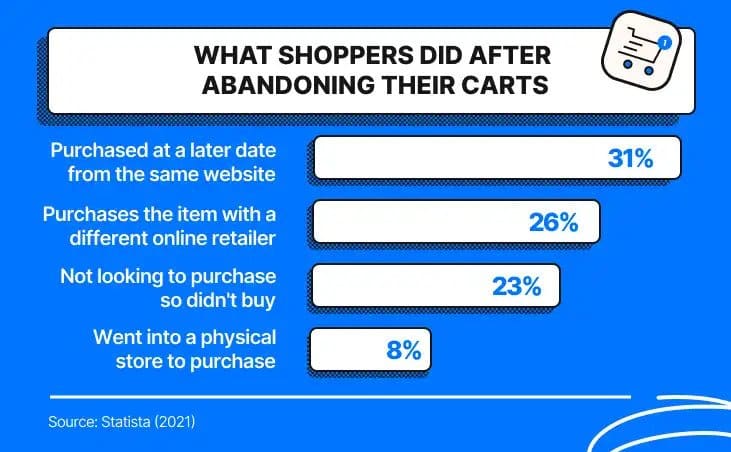 Source: Statista
To determine where your customers fit into these statistics, you must first comprehend why they are abandoning their carts and leaving your e-commerce site without completing their purchase.
🎯 5 Reasons Why Cart Abandonment Happens During Checkout
To minimize the number of abandoned shopping carts, it is critical to grasp the reasons why consumers leave your checkout page. Let's take a closer look at the top five reasons why online shoppers abandon their carts without making a purchase.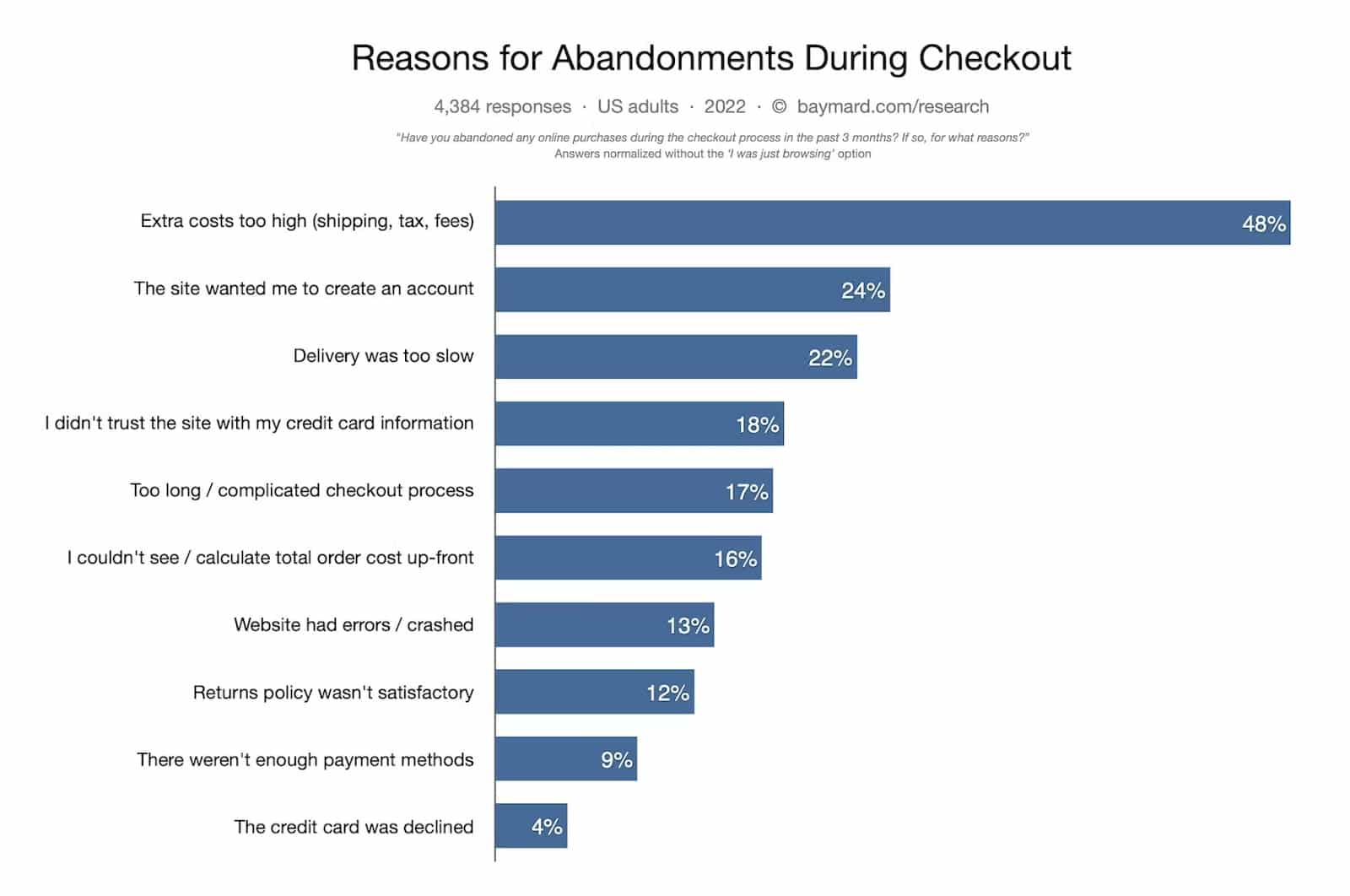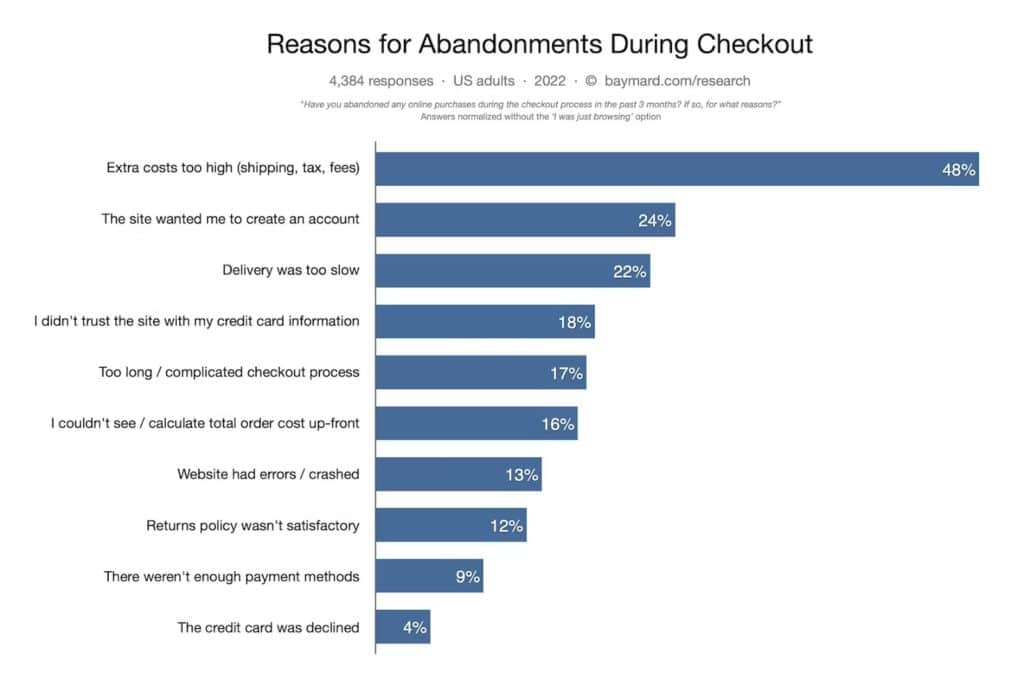 Source: Baymard Research
Too Much Extra Costs (48%)
Extra charges, such as shipping costs, taxes, and handling fees, can discourage customers and lead to cart abandonment, as they can be nearly as expensive as the products themselves.
Creating An Account Required (24%)
Customers desire a seamless checkout experience and are deterred by any friction or frustration during the process. Some customers may find the requirement to create an account and reveal personal details too high a price to pay.
Delivery Process Is Not Fast Enough (22%)
In today's world, customers anticipate quick delivery times. If your shipping duration exceeds a few days, you risk losing customers to larger e-commerce stores that provide same-day or next-day delivery.
Trust Issues With The Site (18%)
Customers are now more concerned about digital theft and identity fraud than ever before. If a website appears untrustworthy, customers are more likely to abandon their carts during checkout, particularly if credit card or personal information is needed.
Too long/Complicated Checkout Process (17%)
Long, complicated forms with numerous fields and requests for information are another source of frustration for customers during checkout.
🏆 Get Back Your Lost Sales: 5 Tips To Reduce Shopify Cart Abandonment
Growing your Shopify business requires effective tactics to reduce cart abandonment, which is one of the biggest obstacles to conversion. Instead of investing heavily in new audiences, maximizing the value of existing visitors is crucial. After all, attracting more visitors is pointless if they don't end up placing orders.
To overcome this challenge, here are our top five tips to reduce Shopify cart abandonment and boost your e-commerce growth:
Make Your Checkout Process As Simple As Possible
Clear navigation is crucial in guiding online shoppers to comprehensive product pages, which is the first step in reducing your Shopify abandoned carts. Product pages should include product images, prices, descriptions, purchase buttons, a checkout page that clearly displays all items in the cart, as well as payment and shipping options.
Product descriptions should focus on the most relevant features to the customer. For example, if selling a t-shirt, describe the materials, size, color, washing instructions, etc. Customers who have confidence in a product are more likely to make a purchase and less likely to abandon their cart.
Test The Full Checkout Process To See If Everything Works
To reduce Shopify abandoned carts, obtaining feedback from objective sources is important during the setup process. When creating your Shopify store, enlist a few individuals to shop and provide feedback on the experience.
Consider A/B testing, also known as split testing, if you want to experiment with different site elements and assess how your site functions on a larger scale. This will help you make informed decisions that can optimize the Shopify experience and reduce cart abandonment rates on your Shopify store.
Create Your CTA Button Clear & Concise
To reduce the Shopify abandoned carts, it's important to ensure that the purchasing process is straightforward for shoppers. Using clear, actionable language to call-to-action buttons is one way to make shoppers feel empowered and create a sense of urgency.
CTA buttons with phrases like 'buy now' or 'add to cart' provides customers with intuitive clues about the next step in the process. This can help shoppers easily navigate the purchasing process and reduce the likelihood of cart abandonment.
Provide Deals To Customers For Opening An Account
In the shopping cart, you can provide a guest checkout option, but consider incentivizing customers to create an account (such as offering 5% or 10% off a future order). While customers can select guest checkout, assure them that creating an account is a quick process that will save time during their next purchase.
Ensure Multiple Payment Options
To minimize the possibility of Shopify abandoned carts, offering your customers a range of popular payment options is crucial. This ensures that they can easily make payments using their preferred payment method, which may vary from customer to customer.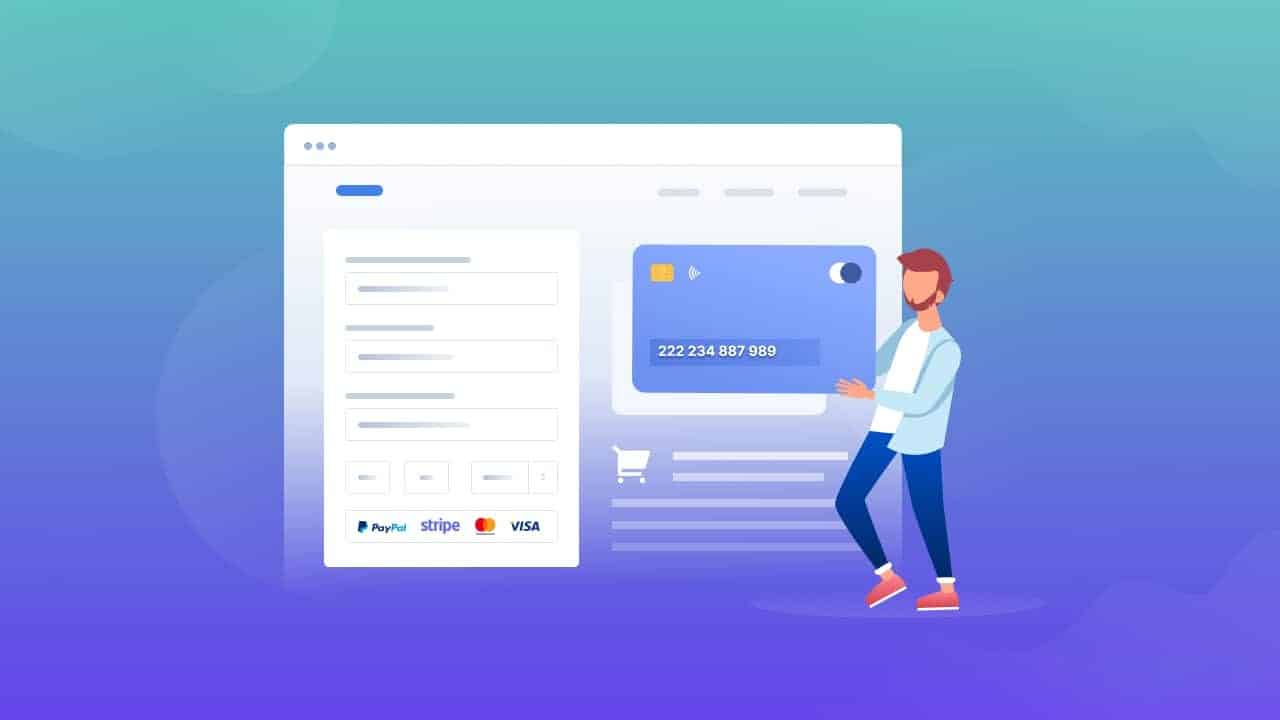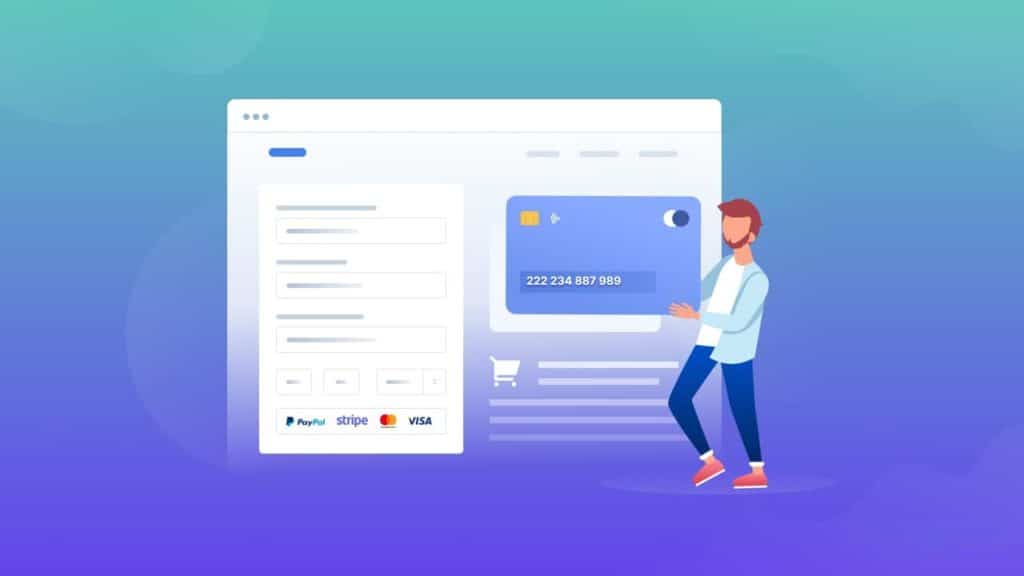 The payment options should be clearly and user-friendly, including popular options such as Credit Cards, Debit Cards, PayPal, Apple Pay, Samsung Pay, Google Pay, and many more. 
However, it's important to remember that certain payment options may require plugins and that the Shopify Payments gateway is only available in specific countries and regions.
📉 Decrease Shopify Cart Abandonment: 3 Tools To Use
Employing additional apps and tools may prove beneficial to reduce the frequency of abandoned carts on your Shopify store and encourage customers to complete their purchases. Let's explore three of those tools that can help you reduce your abandoned Shopify carts.
1. Smile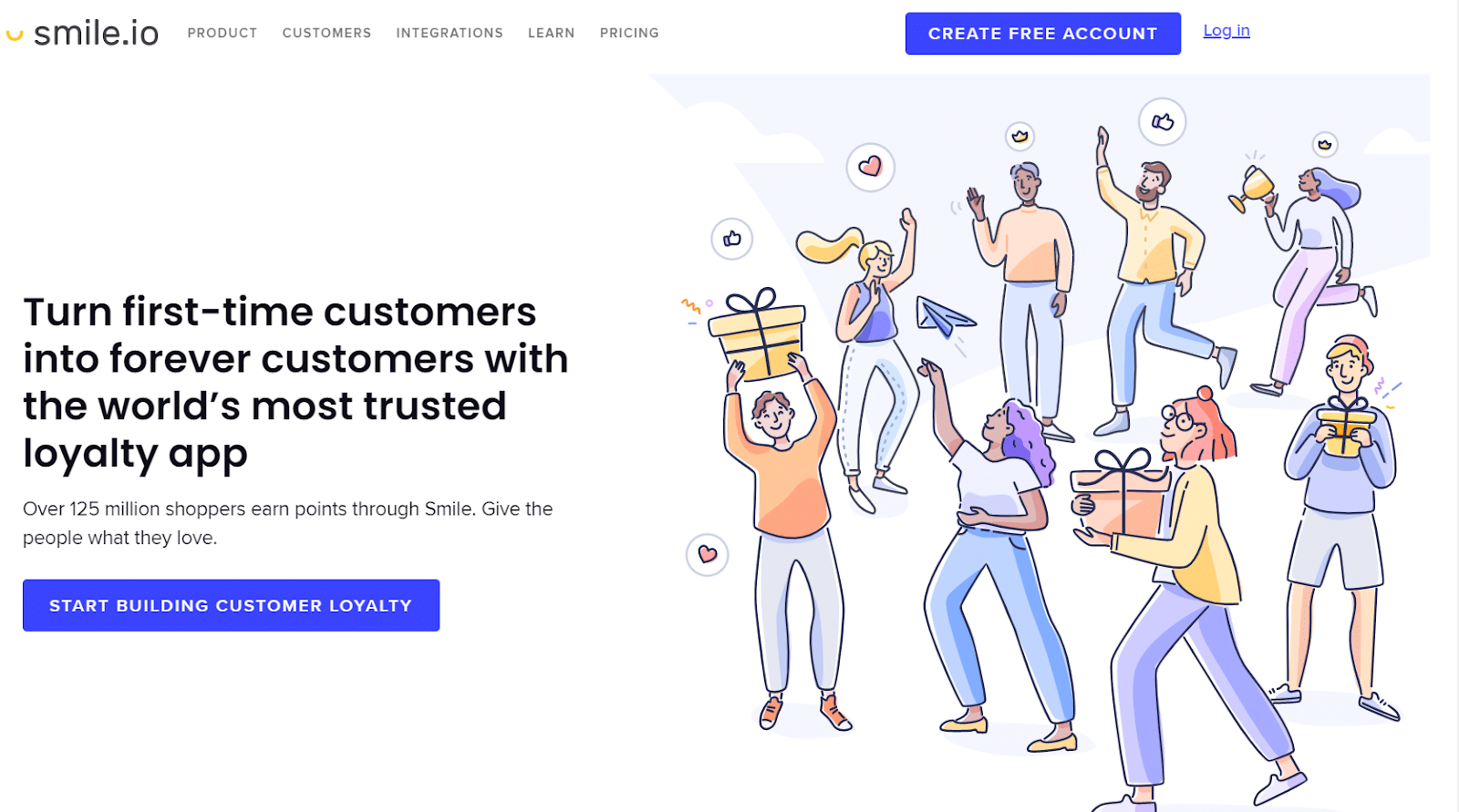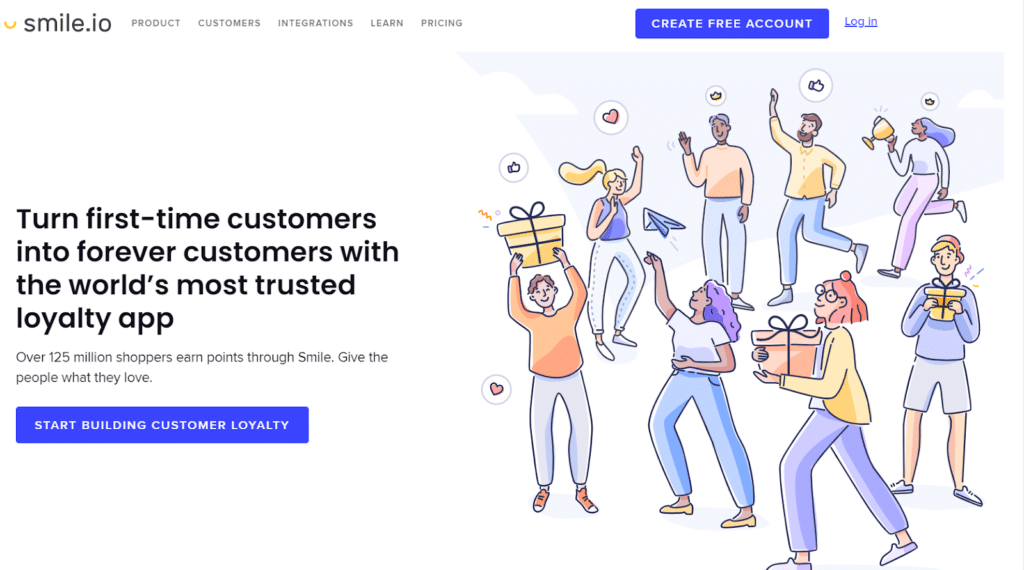 Using the Smile app and platform can greatly improve customer retention for your Shopify store. By incentivizing customers to invite others to sign up for your e-commerce rewards program through points and rewards, you can increase retention rates and the overall lifetime value of your customer base. 
Additionally, the Smile platform offers tools to help nurture customers and encourage engagement with your rewards program, further reducing the likelihood of Shopify abandoned carts.
2. Recart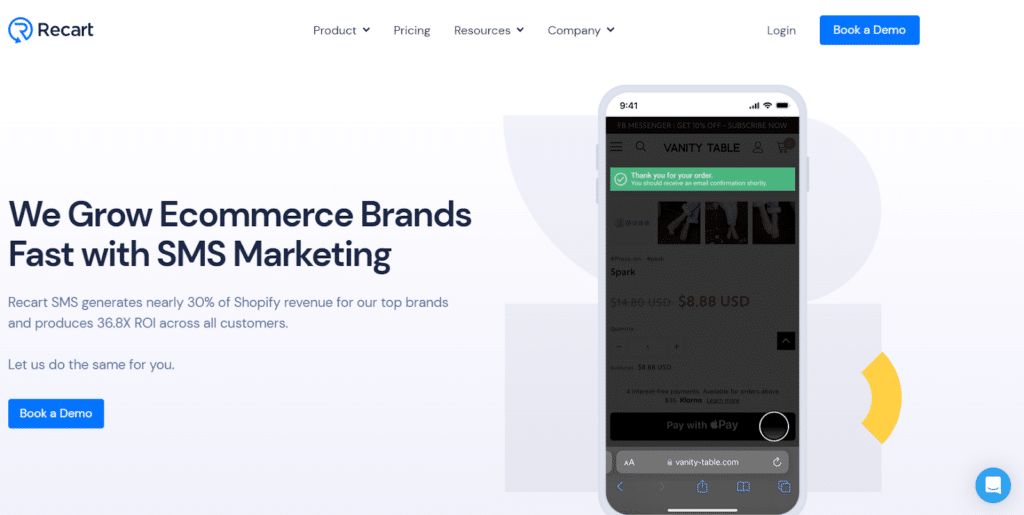 Designed for cart abandonment recovery, the Recart app uses Facebook Messenger to send push notifications to your customers on social media. It has pre-written templates to save time and optimize your e-commerce cart recovery processes. It can send reminders for abandoned carts, shipping notifications, and receipts, all aimed at helping you recover sales.
3. LoyaltyLion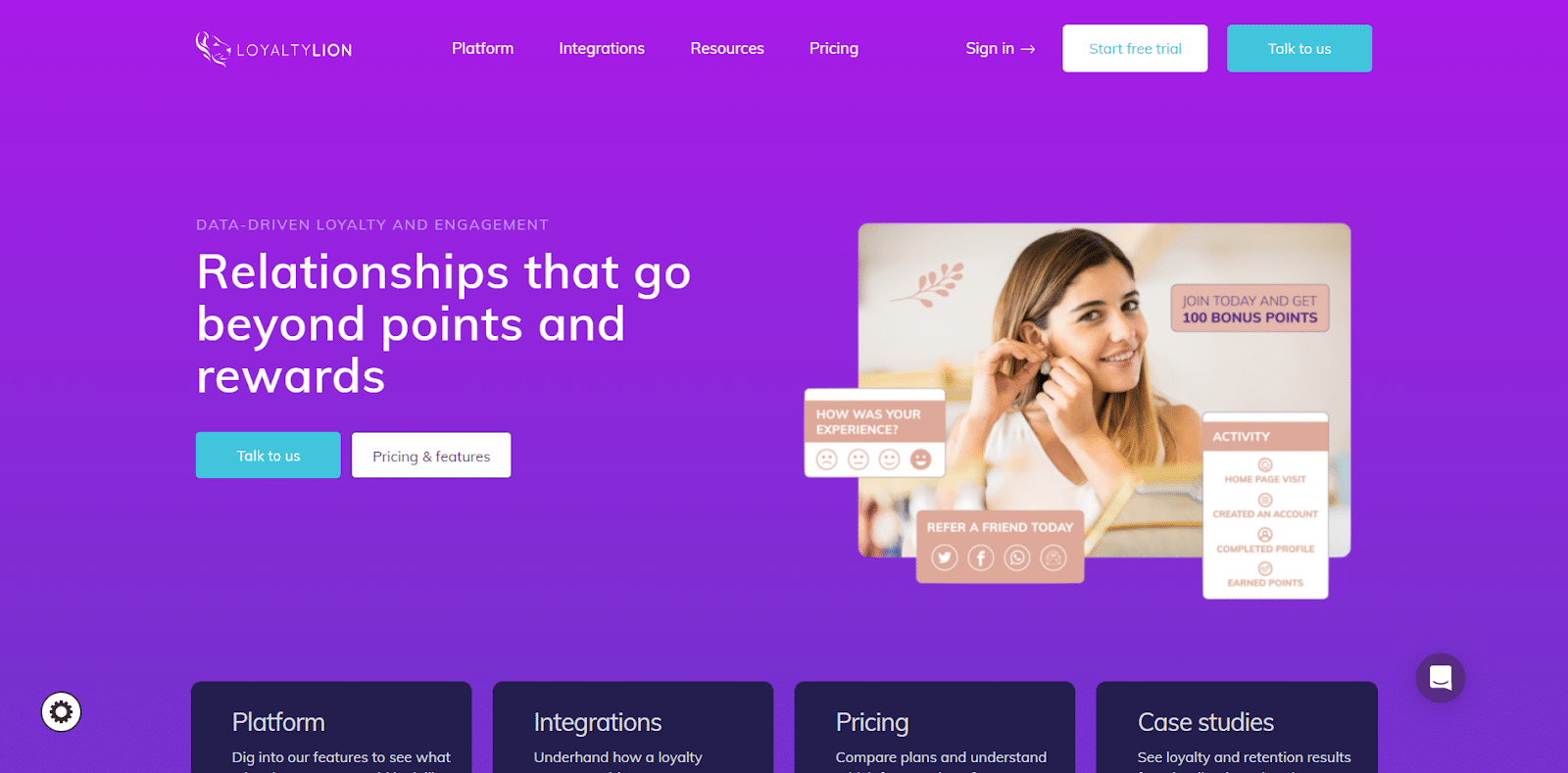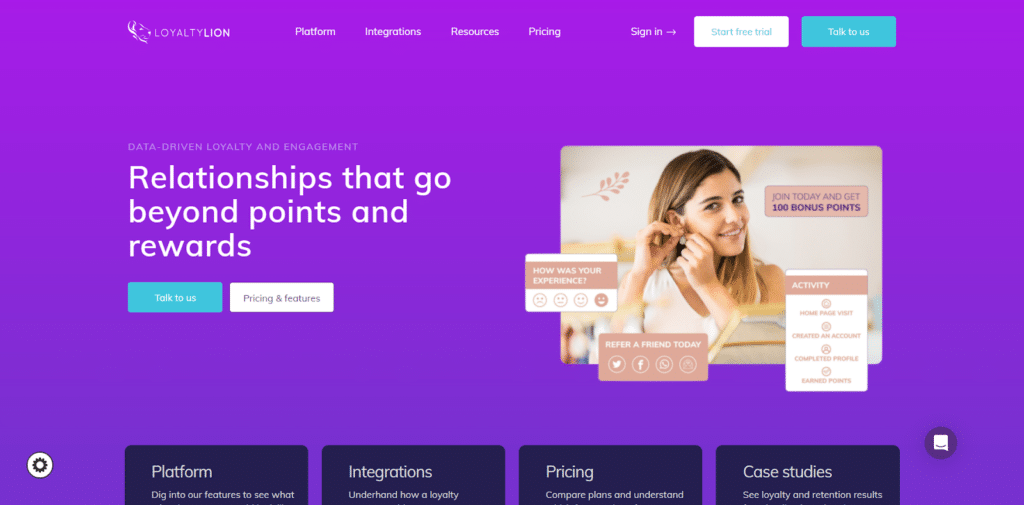 With LoyaltyLion, you can differentiate your business from your rivals and provide exceptional benefits and incentives to your customers, boosting their loyalty. This will help to decrease the likelihood of them abandoning their shopping carts and increase the possibility of their return due to the positive experience and rapport you have established with them.
📣 Reduce Shopify Abandoned Carts & Boost Your Sales Right Away
Shopify abandoned carts can be a real pain for store owners. But understanding the reasons why customers abandon their carts, and implementing effective hacks and tips can help recover lost sales and improve conversion rates.
Remember, the key to success is to make the shopping experience as smooth and enjoyable as possible for your customers. So if you're struggling with abandoned carts on your Shopify store, don't give up!
So, follow the above instructions and keep a little persistence; you can turn those lost sales into happy customers and a thriving online business. To get more Shopify hacks, subscribe to our blog right now.