Here is the season for shopping extravaganzas! As the annual shopping spree kicks in, it is time to turn wish lists into reality and every checkout into a victory lap. Time to brace yourselves for the most exhilarating shopping season – Black Friday and Cyber Monday. And, we are here to open the gift box of discounts for exclusive Shopify apps. Picture your store as a canvas, and our exclusive Shopify Black Friday deals are the stunning brushstrokes that redefine the art of online success at their most affordable yet most powerful state.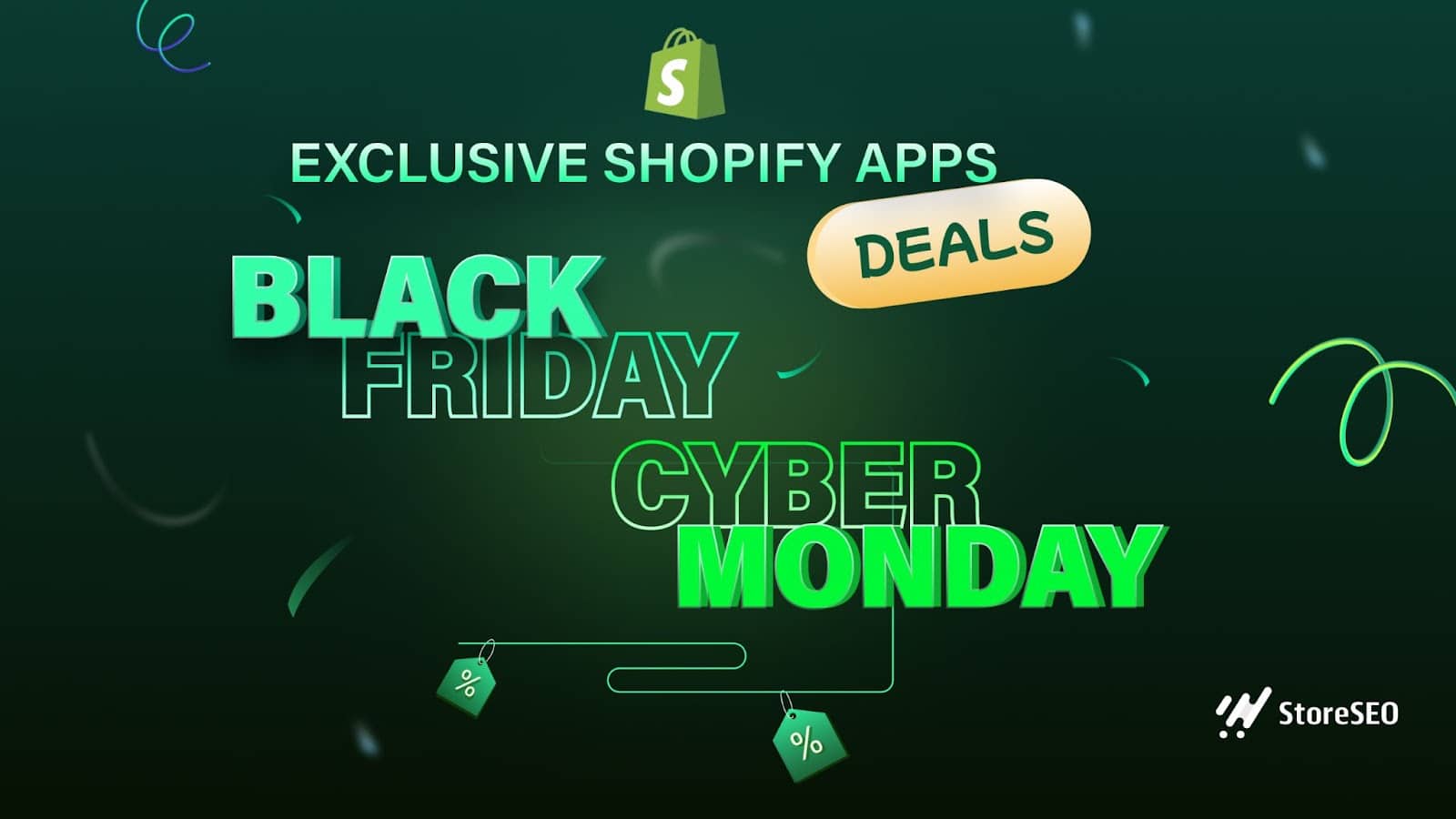 Have trouble finding Shopify Black Friday deals? We have got your back! Save your time with our carefully curated list of the most fantastic Shopify Black Friday and Cyber Monday offers, where incredible discounts await. Each offer promises not just savings but an exciting experience in the future of your Shopify journey.
Shopify Black Friday Deals: Flat 25% Discount On eCommerce Platform
Looking to launch a high-performing eCommerce website or elevate your existing online store to new heights? Shopify is the perfect solution! Shopify is a leading eCommerce platform that enables businesses to create and manage online stores with ease, offering a range of customizable features and tools for seamless online selling. It provides a user-friendly interface and robust solutions for businesses of all sizes.
This Black Friday Cyber Monday, Shopify is offering irresistible discounts that you do not want to miss. Whether you are starting from scratch or aiming for substantial growth, Shopify's diverse plans have got you covered. This year, Shopify offers a FLAT 25% OFF on their Black Friday & Cyber Monday deals. The discounts are more than just savings, these are the keys to unlocking your eCommerce success in this powerful platform. For those looking at long-term benefits, explore Shopify's pricing plans for an even more substantial discount.
Big Deals On BFCM Shopify Apps To Save Your Cash
Shopify Store Owners! It is time to gear up for the biggest shopping event of the year. As you prepare to unleash unbeatable Shopify Black Friday deals and discounts on your products, it is equally crucial to maximize your savings on essential Shopify apps.
In this exclusive roundup, we have curated a list of the hottest Black Friday & Cyber Monday Shopify DEALS on various useful apps that will supercharge your store. Discover the must-have apps, unlock exclusive deals, and ensure your e-commerce venture is poised for unprecedented success this BFCM season.
StoreSEO ‑ Smart SEO Optimizer [UP TO 40% OFF]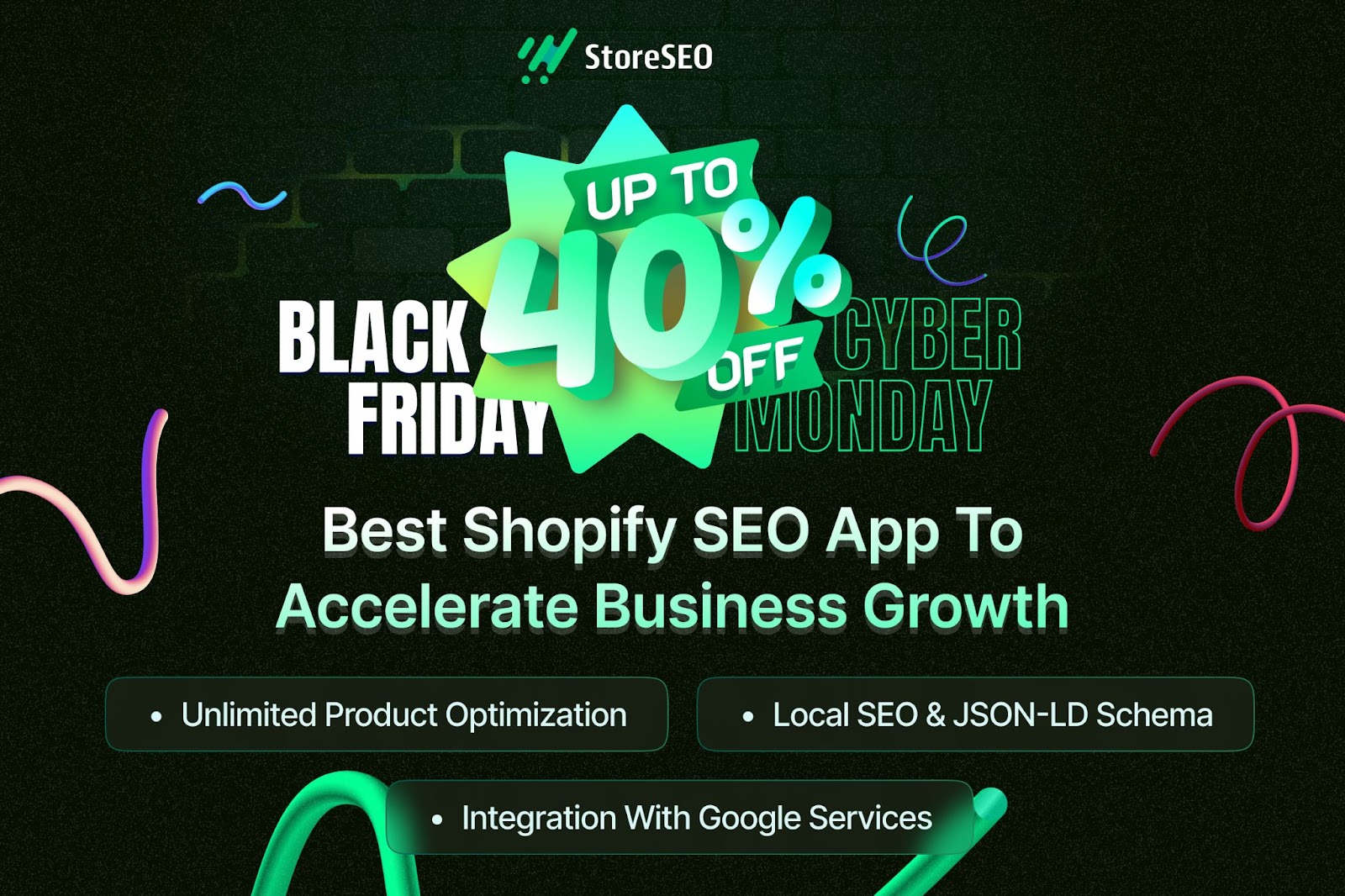 StoreSEO, the smart SEO optimizer is an innovative Shopify app for online businesses. It helps you to grow your business by improving search engine rankings, ultimately driving sales and traffic. With StoreSEO, you can unlock the full potential of your Shopify store by optimizing every element for search engines, ensuring a robust online presence, and enhancing search engine rankings.

This Black Friday, StoreSEO, offers UP TO 40% OFF. It is your time to unlock all advanced features and give your online business a powerful boost with StoreSEO and stay ahead in the dynamic landscape of e-commerce by establishing a competitive edge in the world of eCommerce.
BetterDocs For Shopify [FLAT 20% OFF]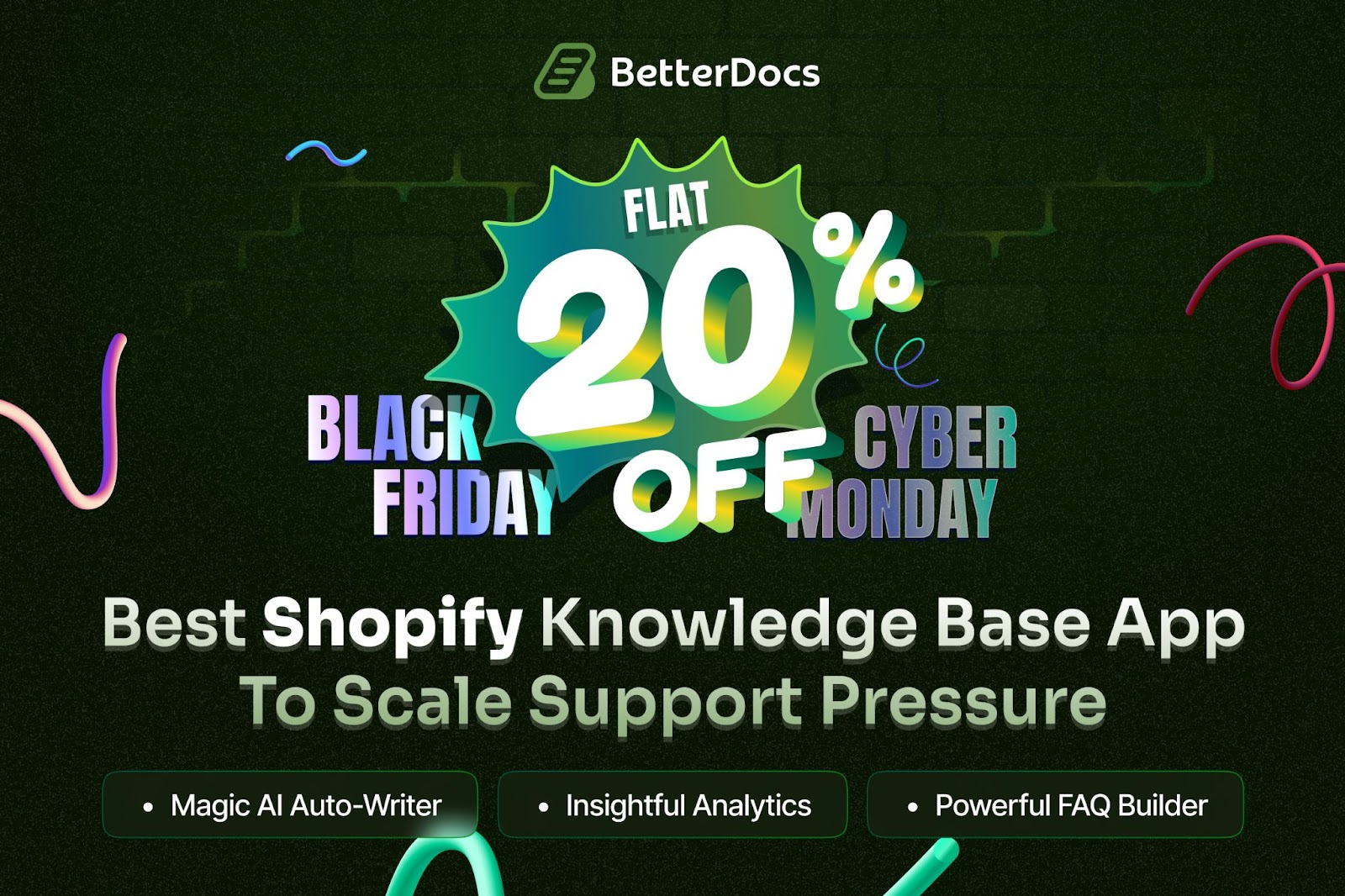 BetterDocs For Shopify is an exclusive documentation and knowledge base solution to improve your store's customer support and reduce support tickets. Designed to seamlessly integrate with Shopify, BetterDocs empowers merchants to create comprehensive, visually appealing documentation that helps customers find answers effortlessly. From product guides to FAQs, BetterDocs for Shopify streamlines information access while enhancing the overall user experience.
The documentation app brings an exclusive deal for you to enjoy this Cyber Monday and Black Friday season. The deal offers a FLAT 20% DISCOUNT on all pricing plans. Now you can boost your customer support strategy with BetterDocs for Shopify with the advanced features that can help your user trust in your brand.
Omnisend – Email Marketing & SMS [30% OFF]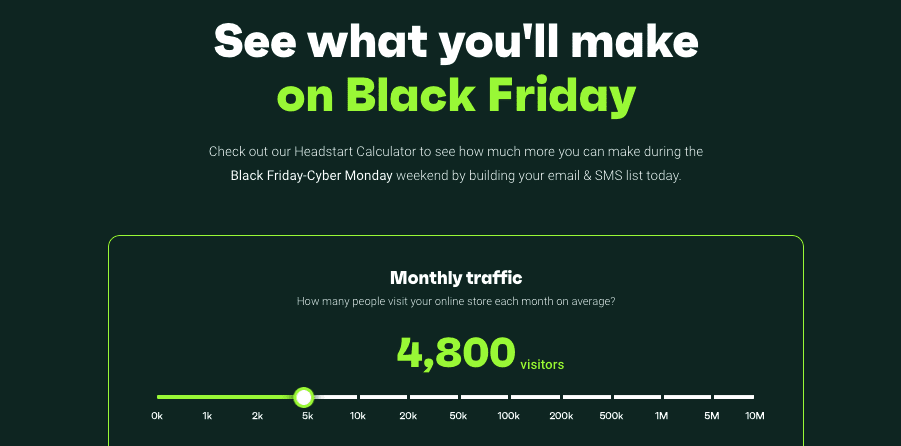 Omnisend is an omni-channel marketing automation powerhouse designed exclusively for eCommerce. Omnisend goes beyond traditional email marketing, seamlessly integrating SMS, push notifications, WhatsApp, pop-ups, segmentation, and dynamic Facebook & Google ad functionalities. You can effortlessly engage your audience through diverse channels, from personalized SMS campaigns to eye-catching pop-ups, all orchestrated with precision.
You can elevate your marketing strategy with this Shopify app and redefine the way you connect with customers across every touchpoint of their journey. This exciting email marketing app comes with an exclusive deal in this shopping season. You have a chance to grab this app on FLAT 30% OFF for 3 months. It is time to collect more subscribers, build brand loyalty, and generate massive sales with email marketing. Enjoy Cyber Week.
UpPromote – Affiliate & Referral [FLAT 20% OFF]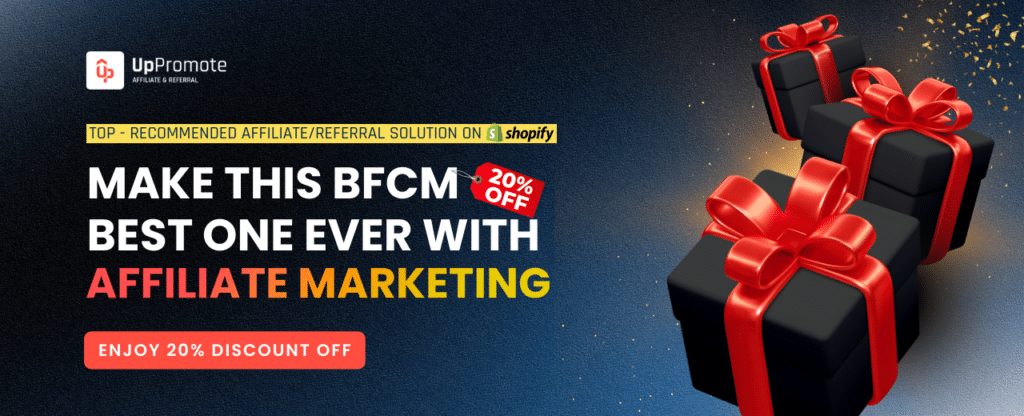 UpPromote is a premier affiliate marketing and referral app for Shopify. This solution empowers you to establish a robust affiliate marketing system perfectly customized to your brand's unique requirements. Beyond just flexible commission options, UpPromote offers automated coupons and affiliate links, setting the stage for success.
Black Friday and Cyber Monday season arrives with an exciting discount. You can avail of a FLAT 20% OFF to enjoy UpPromote's user-friendly interface with advanced features. UpPromote can be the ultimate choice for merchants seeking seamless, high-impact affiliate marketing solutions.
Keep Enjoying Exclusive Shopify Deals On This Black Friday & Cyber Monday Season
Hope this list of offers makes your shopping experience easier and smoother. What's even better? We are committed to keeping this list updated with the freshest deals, so just bookmark this page to effortlessly stay in the loop on the latest and greatest Black Friday and Cyber Monday savings for your Shopify needs. Embrace the savings and let the shopping spree begin!
If you think this blog is helpful, then do not forget to subscribe to our blog to read more blogs, tutorials, tips, and tricks. Or, you can also join our Facebook community where you can connect with others.