Google Analytics is a powerful and free tool that provides a wealth of information about your website's visitors and their interactions. When you connect Google Analytics to Shopify store, you gain access to a treasure trove of data to help you make informed decisions, refine your marketing strategies, and ultimately boost your sales.
And with our newest, we introduce our latest addition: the seamless integration of Google Analytics features into our StoreSEO platform. Welcome to a world where your online presence is empowered by cutting-edge insights, enabling you to make informed decisions that drive success.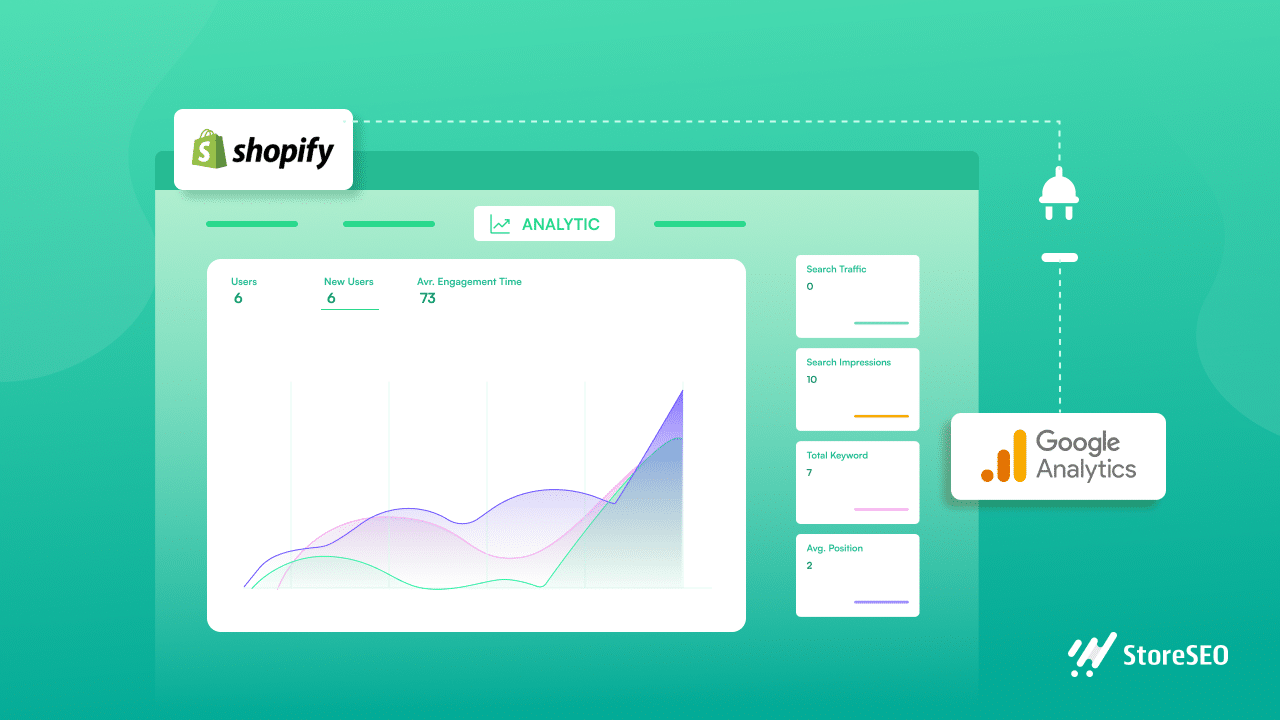 Introducing StoreSEO's Latest Feature: Integrating Google Analytics To Shopify Store
StoreSEO PRO offers an incredible functionality that enables seamless integration between StoreSEO and Google Analytics. This integration allows you to monitor your store's traffic and gain insights into how visitors discover and engage with your online shop, which can be a great means of understanding which part of your store you should improve and how.
Connecting Google Analytics with StoreSEO only takes a few clicks and we are here to bring you the full guide to help you get started that much quicker and easier.
Note: Before you start, make sure you have upgraded to any StoreSEO Premium plan to connect your Shopify store with Google Analytics. 
To kickstart the integration of StoreSEO with Google Analytics, the first order of business is to authenticate your store with Google. Begin by navigating to the 'SETTINGS' → 'Google Integrations' tab from your dashboard. Here, you'll spot the 'AUTHENTICATE' button – give it a click to initiate the process.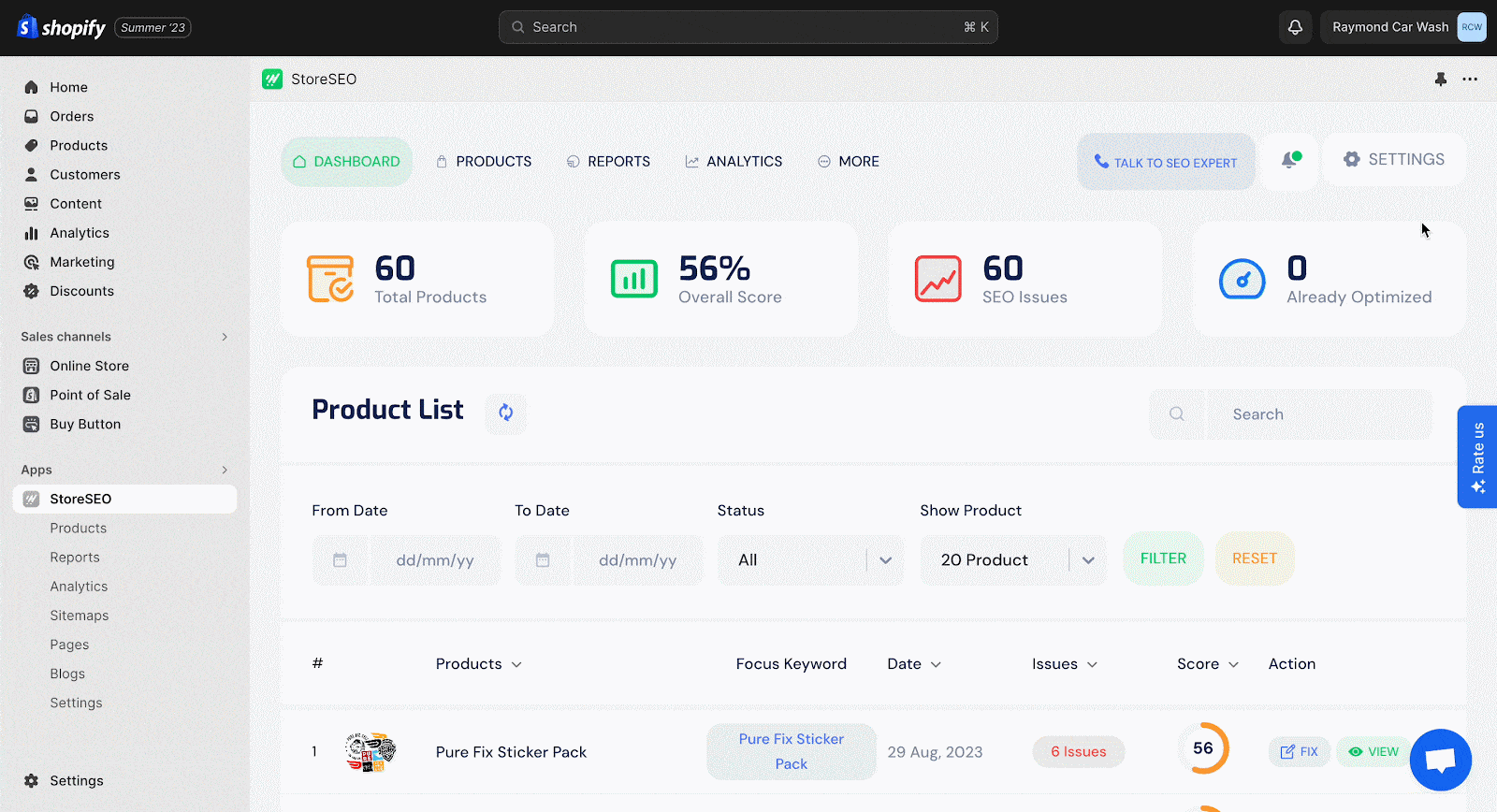 Next, you'll need to choose the Google account linked to your Google Analytics account in the subsequent window. Once you've selected the appropriate account, the authentication will proceed promptly, establishing the crucial connection between StoreSEO and Google Analytics.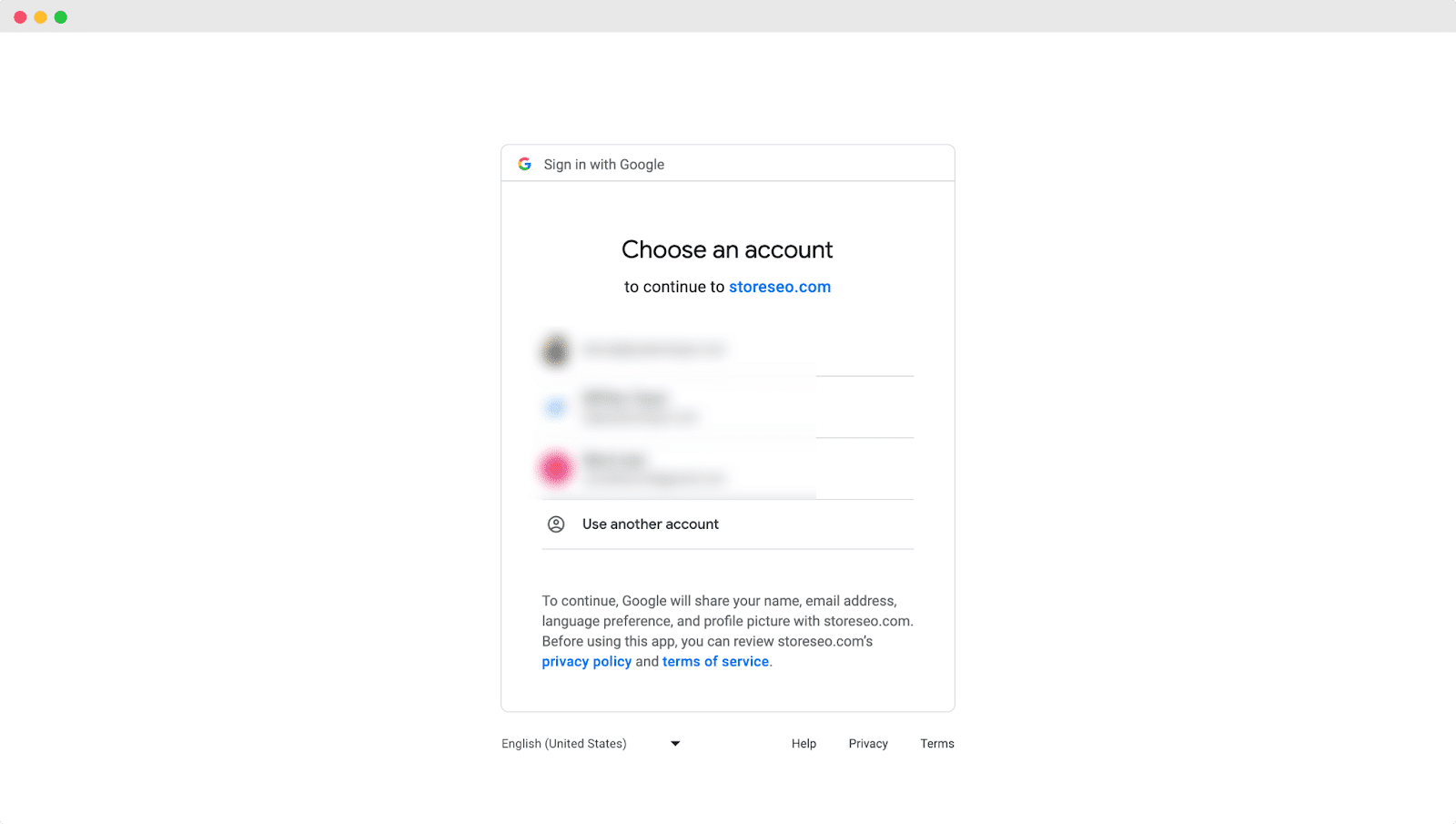 With the authentication completed, it's time to verify your Shopify store website. Click on the 'VERIFY SITE' button, which will prompt a window requesting you to log in to your Gmail account again. Once logged in, your store's verification will be finalized.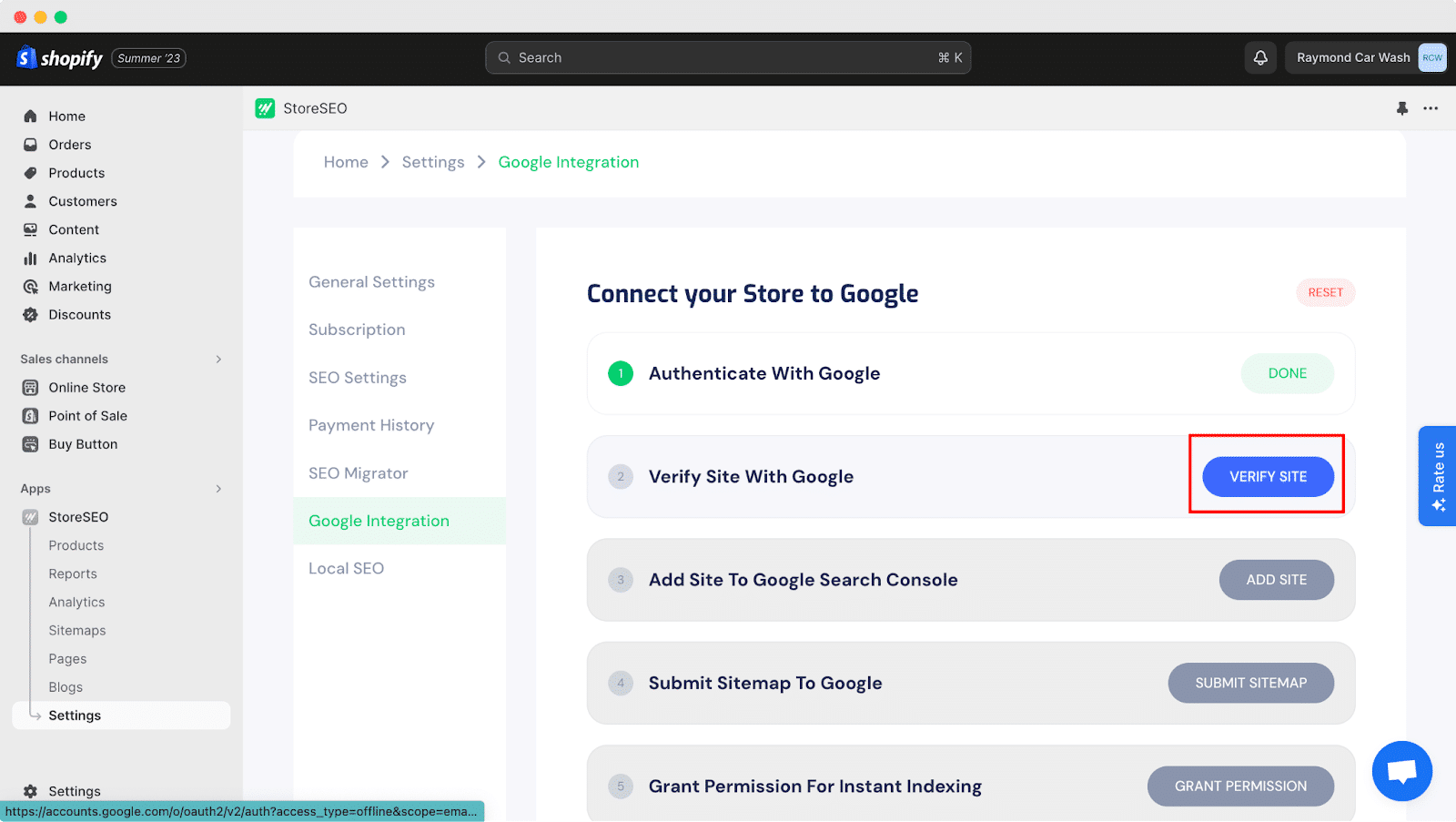 Following the successful site verification, click on the 'ADD SITE' button to integrate StoreSEO with Google Search Console. Awaiting the next window, you'll once again be asked to log in to your Gmail account. After logging in, simply click on 'Allow' to proceed.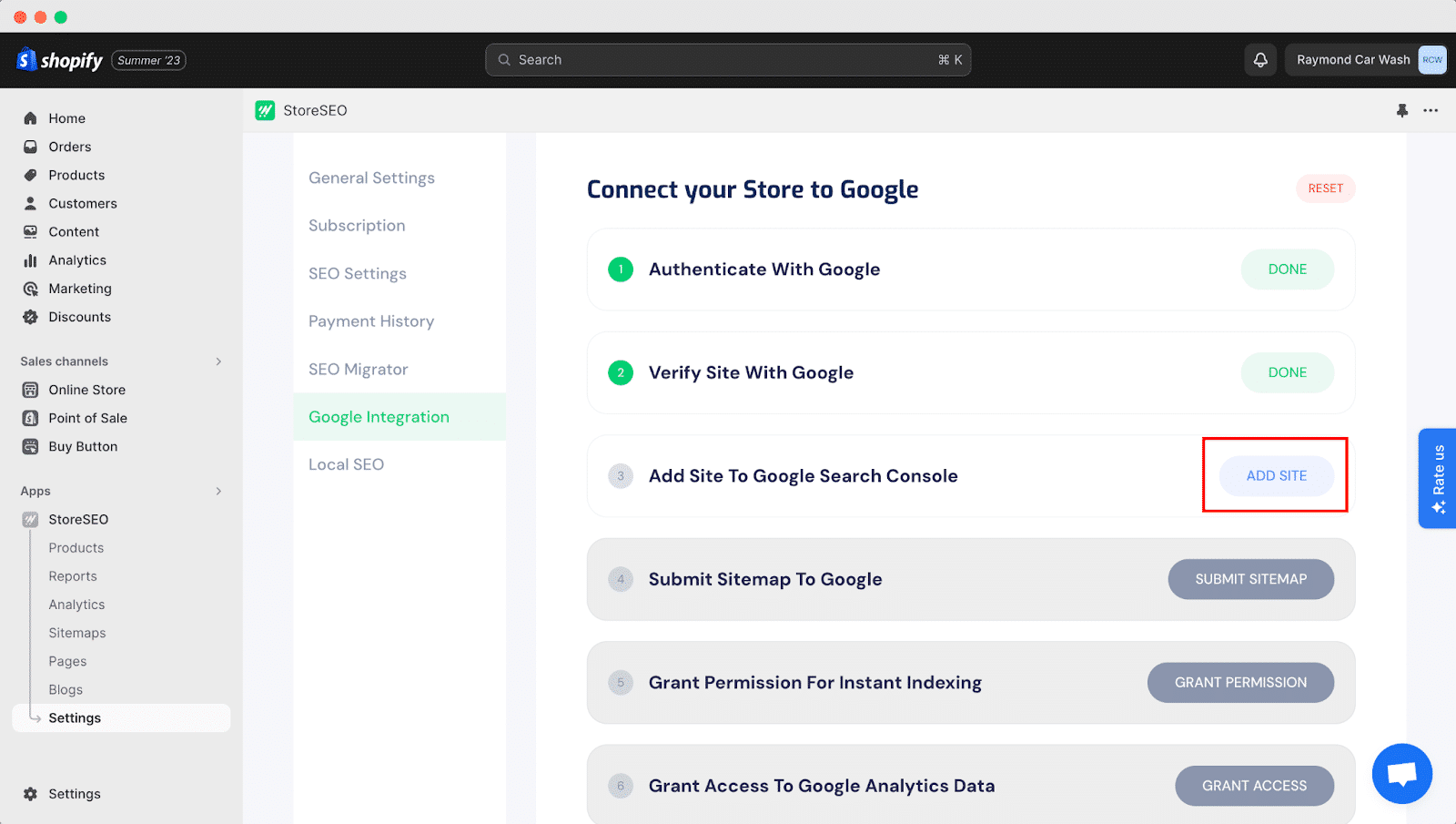 To ensure your Shopify Store is discoverable on Google, hit the 'SUBMIT SITEMAP' button. This action will automatically submit your store's sitemap to Google. As before, you'll encounter a window requiring you to log in to your Gmail account. Once logged in, your store's sitemap submission will be initiated.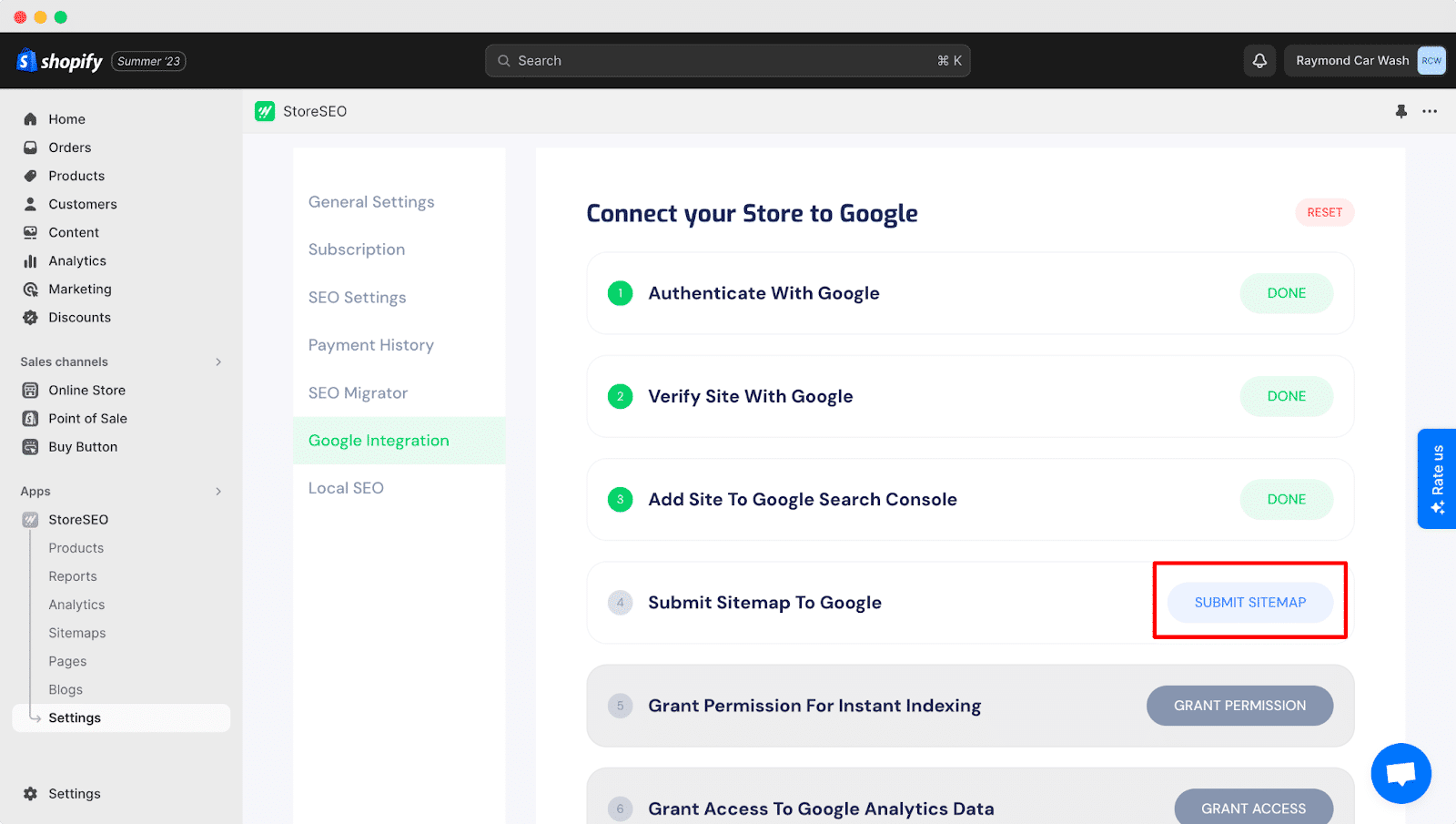 For rapid indexing of your store's pages, click on the 'GRANT PERMISSION' button. This step involves logging in to your Gmail account once more, followed by clicking 'Allow' to provide the necessary permissions for instant indexing.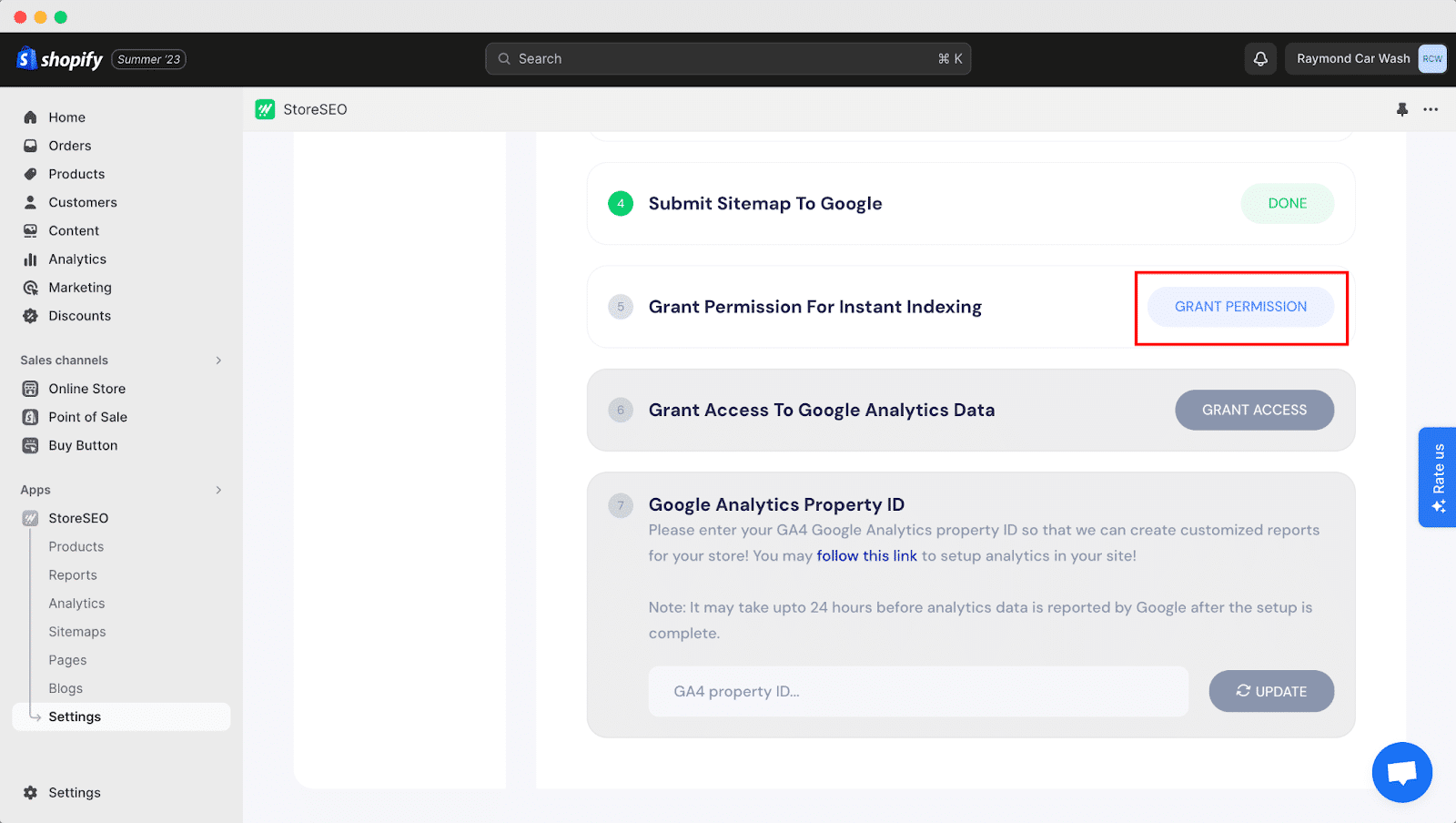 Now, it's time to configure Google Analytics. Click on 'GRANT ACCESS' to authorize access to your Google Analytics data. Like before, you'll need to log in to your Gmail account and hit 'Allow' to grant access.
Afterward, provide your GA4 Google Analytics property ID and click 'Update' to set up analytics for your store. If you're unsure where to find your GA4 Google Analytics property ID, consult our documentation for guidance.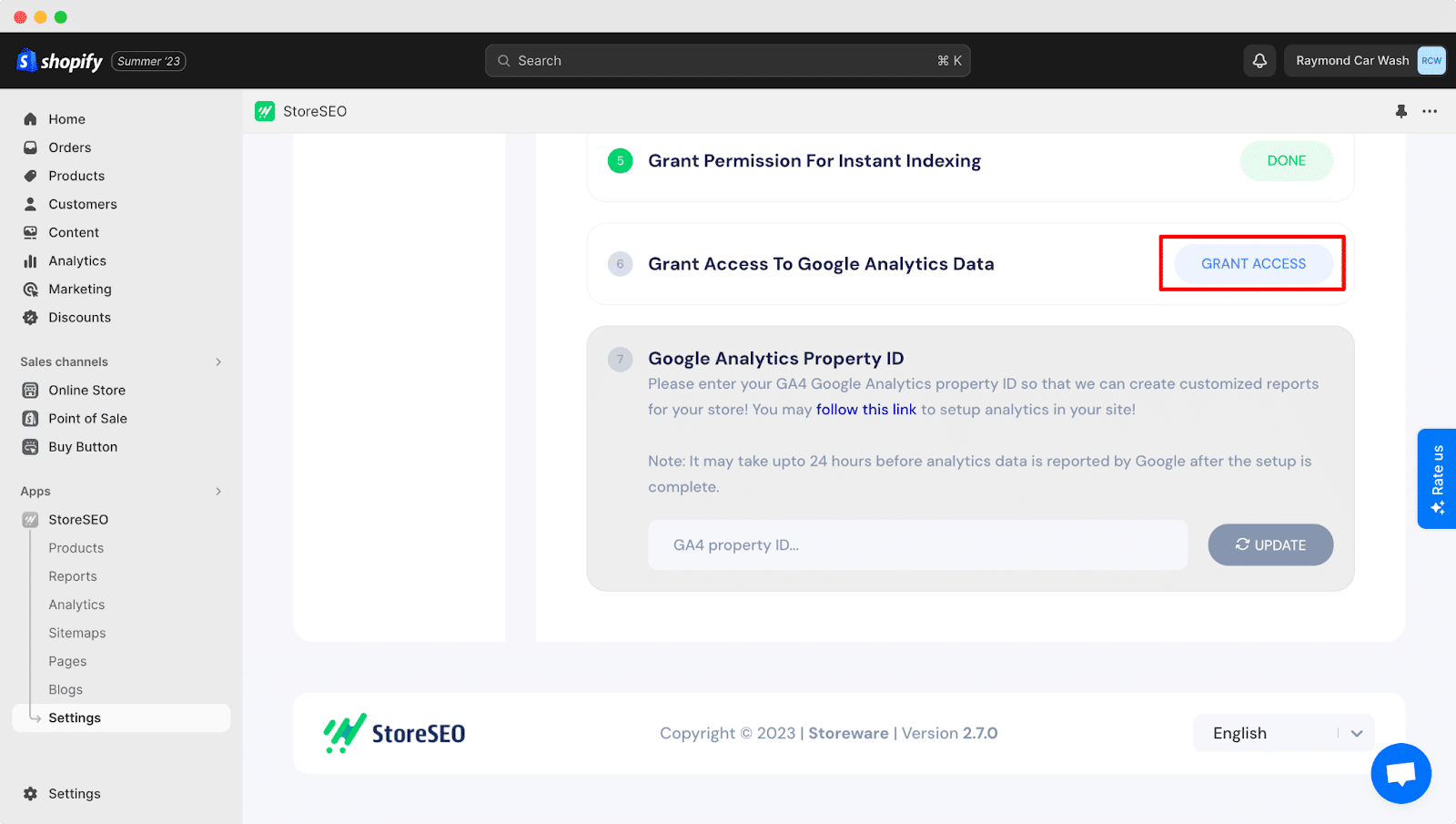 With these steps successfully completed, click on the 'Analytics' button to start tracking user data from your Shopify store. You've seamlessly integrated StoreSEO with Google Analytics, and now you're equipped to gain valuable insights into your store's performance.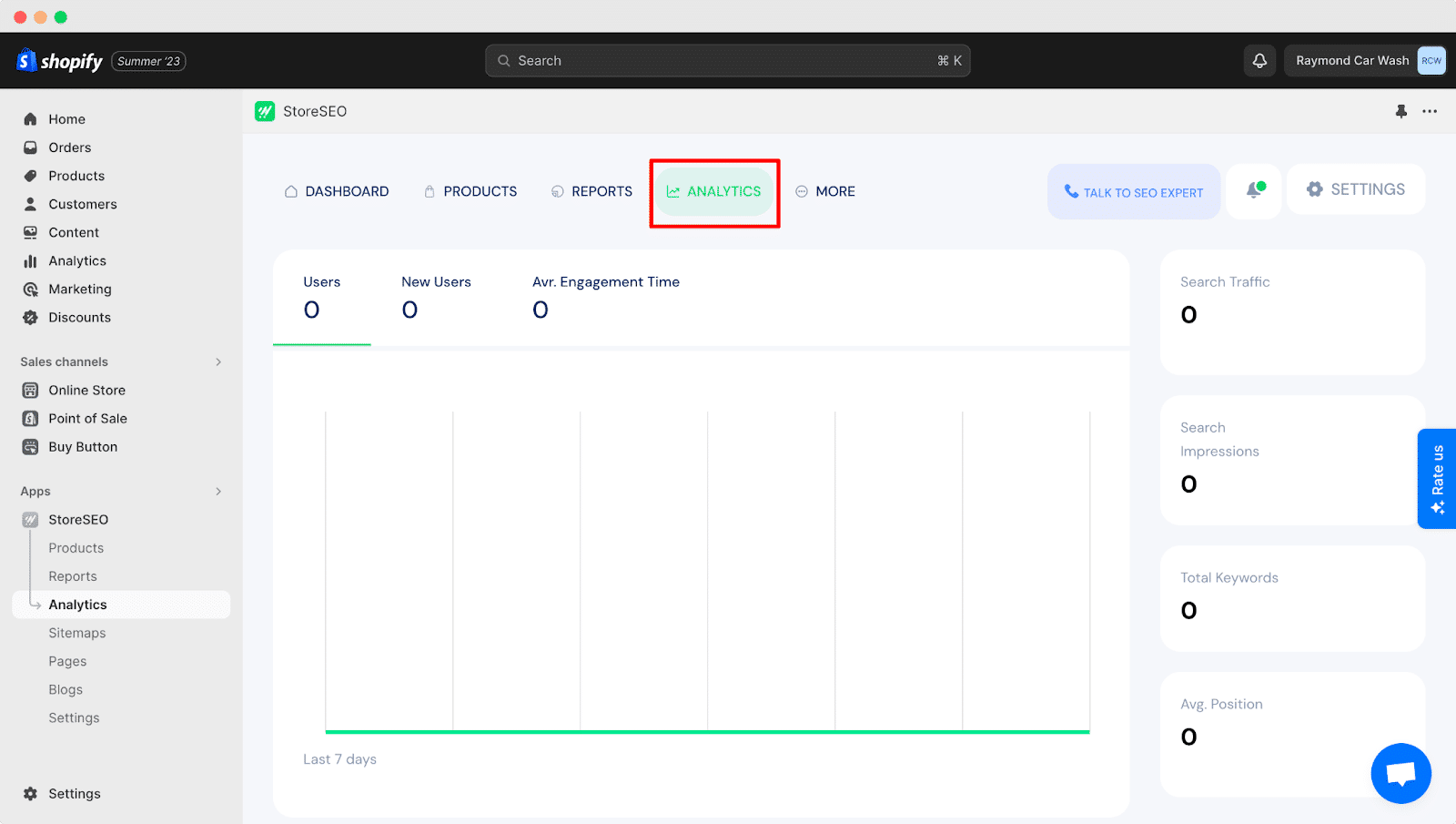 Understanding How Integrating Google Analytics To Shopify Store Can Power Up Your Business
Now that you know how to connect your Shopify store to Google Analytics in just a few clicks, it's take a deep dive into why you should take this step to grow your business. The more you know about your customers, their behavior, and your website's performance, the better you can tailor your marketing efforts and optimize your online store. This is where integrating Google Analytics into the Shopify store can be a game-changer.
Uncover Invaluable Customer Insights
Connecting Google Analytics to Shopify stores opens the door to a wealth of customer insights. You can discover who your visitors are, where they're coming from, and even gain demographic information. This data is invaluable for understanding your target audience and tailoring your marketing strategies to their preferences.
Track User Behavior
One of the most powerful features of Google Analytics is its ability to track user behavior on your website. You can see which pages are the most popular, how long visitors stay on your site, and where they drop off. With this information, you can identify pain points in your user journey and make necessary improvements to boost conversions.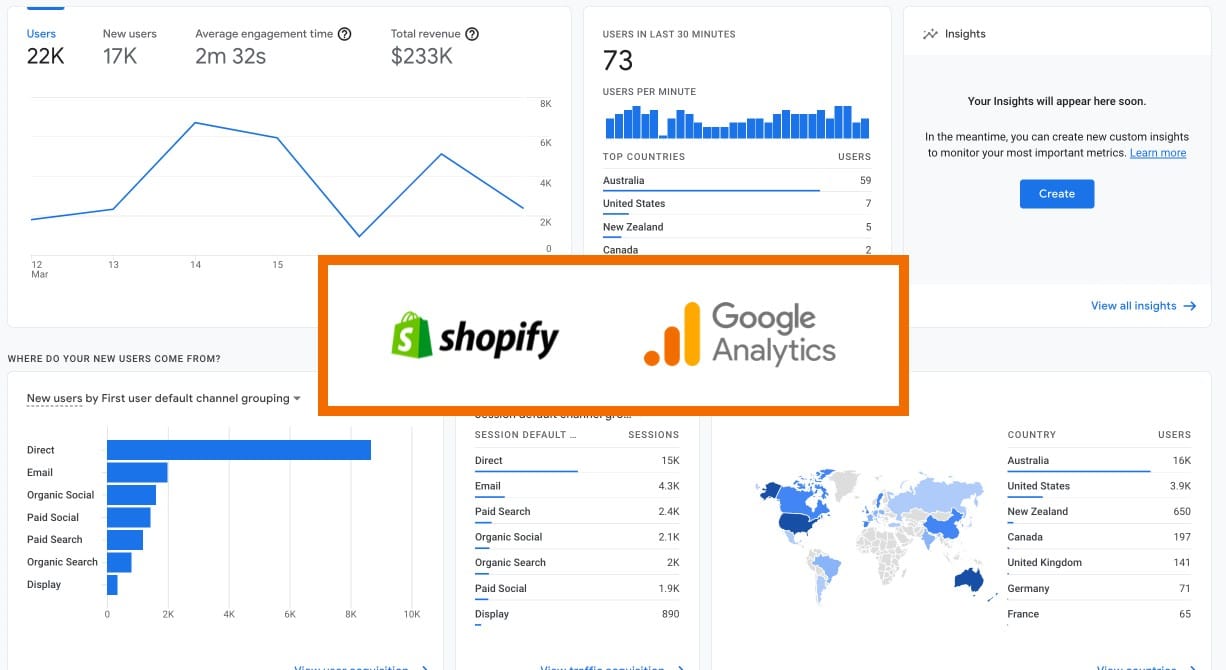 Measure E-commerce Performance
For Shopify store owners, tracking e-commerce performance is paramount. Google Analytics seamlessly integrates with Shopify, providing detailed reports on your sales, revenue, and transaction data. You can analyze which products are selling best, track the effectiveness of marketing campaigns, and optimize your product offerings.
Monitor Traffic Sources
Understanding where your website traffic is coming from is essential for effective marketing. Google Analytics breaks down your traffic sources into categories like organic search, paid search, social media, and more. This insight helps you allocate your marketing budget wisely and focus on channels that bring the most valuable traffic.
Refine Marketing Strategies
With the data collected from integrating Google Analytics into Shopify, you can fine-tune your marketing strategies. Identify which campaigns are driving the most conversions, track the ROI of your advertising efforts, and make data-backed decisions to optimize your marketing spend.
Enhance User Experience
A seamless user experience is crucial for keeping visitors engaged and increasing the chances of conversion. Google Analytics to Shopify store integration can reveal which devices and browsers your customers use, helping you ensure your website is responsive and functional across all platforms.
What Google Analytics To Shopify Integration Brings On The Table?
StoreSEO PRO offers an incredible functionality that allows seamless integration with Google Analytics, enabling you to monitor your store's traffic and gain valuable insights into how visitors discover and engage with your online storefront.
Enhanced Data Insight
Google Analytics Integration with StoreSEO provides customers with a deeper understanding of their website's performance. By analyzing visitor data, customers gain insights into user behavior, including which pages are most visited, how long users stay on the site, and where they drop off. This valuable information helps customers make informed decisions about their website content and user experience.
Performance Tracking
Customers can effectively monitor the success of their marketing efforts through this integration. They can track key metrics such as conversions, sales, and revenue, enabling them to gauge the impact of various marketing campaigns and strategies accurately. This data-driven approach ensures that resources are allocated to the most successful initiatives.
Customized Reporting
The integration allows customers to create customized reports focusing on specific Key Performance Indicators (KPIs) relevant to their business goals. This tailored reporting helps customers keep a close eye on the metrics that matter most to them, streamlining their decision-making process.
Improved SEO Strategy
By aligning SEO efforts with actual user engagement data from Google Analytics, customers can refine their SEO strategies. They can identify opportunities for keyword optimization and content improvements, ultimately increasing their website's visibility in search engines.
Unlock The Power Of Data: Seamlessly Connect Google Analytics To Shopify
Now that you have a clear picture of where your traffic is coming from and how users interact with your site, you can fine-tune your marketing strategies. Allocate your budget wisely to channels that drive the most valuable traffic and optimize your campaigns for better results.
Was this blog helpful for you? Share your thoughts and subscribe to our blogs for more insightful Shopify SEO blogs, and connect with us on Facebook.