For any eCommerce store, it is important to rank better in the search engine result. As Shopify is already powering up more than thousands of eCommerce websites, you need to get your hands on the best Shopify SEO apps that can help you rank better and boost your sales. When you are competing with other companies to appear on the search result, these SEO apps help you out.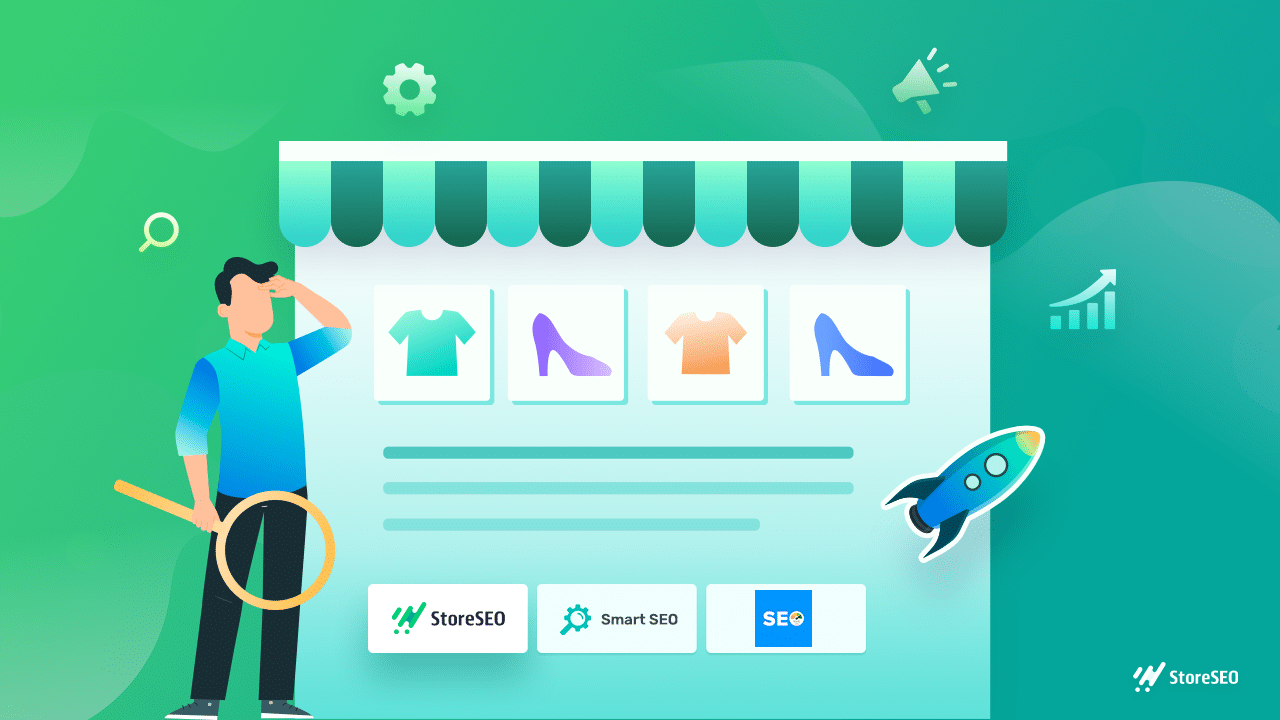 Even if you've followed all of the best practices for increasing eCommerce sales and increasing traffic to your site, your store may not be ranking higher in search results. In that case, Shopify has brought you SEO apps to solve any issue related to search engine optimization. With these best Shopify SEO apps, you can quickly implement SEO best practices and improve your ranking.
Why SEO Optimization Is Important For Your Shopify Store?
SEO optimization can help any website or eCommerce store to be synced with particular search terms that are related to your store niche. Eventually, it helps your store to come up in the search result when someone is searching for related products. Even if you do your keyword research properly and update your store content, your strategy might not appear as fruitful as it should. In that case, the best Shopify SEO apps can help you to actually measure the SEO scores of each Shopify product that you have in your store. The top benefits you can get from optimizing your Shopify store are:
👉 A good SEO strategy assists you to determine the trustworthiness of your website by ensuring that it has quality content.
👉 Your SEO performance will assist you in increasing your click-through rate, which is the number of visitors that visit your store after clicking on the store URL.
👉 Best SEO practices help you to maintain increasing conversion rates by reducing the website's bounce rate.
Shopify SEO Strategies That Help You Boost Shopify Store Sales
While creating a Shopify store, you need to stick to some basic strategies that will eventually help you to rank better in Google search results. The ultimate goal of using these strategies is to drive more sales and decrease bounce rates of your Shopify store. Let's dive in and see how revamping your Shopify store structure and strategies can help you for better SEO performance.
🎯 Improve Your Shopify Store Structure
When you are launching your Shopify store for browsing, you need to organize your content in such a way that site visitors can find their desired products easily. This simple step will also help Google crawlers to crawl through your Shopify store and index properly. As your site is your ultimate storefront, you need to appear as simple as possible to help your customers. When they get their desired products easily, they tend to spend more time browsing through your store. That's how you can keep your customers longer in your store that will help you to have a good ranking in search engine results.
🎯 Try To Enhance Shopify Store Speed
As we all know, search engines prefer websites that load quickly and do not keep users waiting. You can make your Shopify store load faster by reducing the size of product images or using custom codes to personalize and lighten your store. There are multiple best Shopify SEO apps available that can help you to do this task easily.
🎯 Verify Your Shopify Store With Google
Verifying your Shopify store is important for better SEO. If you can verify and register your store with Google, the search engine will recognize your store as an active site and improve your site's visibility. Google will be able to find your store and crawl through it. Shopify has its own way of verifying your store, but you can use the best Shopify SEO apps to do this process easily.
🎯 Submit XML Sitemap In Google Search Console
A sitemap is a blueprint of your Shopify store that you need to submit in Google Search Console to help the search engine crawl, find and index your store content easily. By going through these steps, you can easily make your Shopify store visible to customers. In terms of sitemaps, there are two types of sitemaps that you will come across. Among these, an XML sitemap is the most important one that you can submit to Google Search Console. The use of an XML sitemap allows search engines like Google to better understand how your website is structured and, as a result, fetch relevant content for potential customers more rapidly.
🎯 Research Keywords To Use In Shopify Store
Keyword research is the first and foremost step of practicing good SEO for any eCommerce store. The purpose of using the most trending or relevant keywords is to appear in the search results of potential customers who are searching for the product on the internet. Not just doing the keyword research is enough for good SEO, instead, implementing them correctly is also another factor. There are many best Shopify SEO apps available for free that can help you with keywords and optimize your store effortlessly.
🎯 Input Keywords In The Right Place To Optimize Your Store
Knowing how to use keywords in Shopify store optimization is important for any eCommerce business owner. If you have gathered all the essential keywords for your store already, it's time to learn where to put them in. Starting from the page title, you need to add the keywords in the meta description, item headings, description, page content or product content, alt text of the images, and the URL. From the ecosystem of Shopify applications, you will find many SEO apps to help you with it.
3 Best Shopify SEO Apps You Need For eCommerce Store
Now that you know what SEO strategies you may employ and whether or not there is a Shopify app that can help you with these tasks, let's look at the top best Shopify SEO apps and their features.
StoreSEO – Drive Traffic To Your Business

StoreSEO is a simple yet most advanced free Shopify SEO app that comes with a user-friendly interface with easy-to-implement features. Using this app you can effortlessly increase the SEO score of your eCommerce store and by adding alt text, keywords, tags, meta descriptions, and page title. This app shows the overall result of your SEO condition with an interactive indicator. You can see the SEO score change live.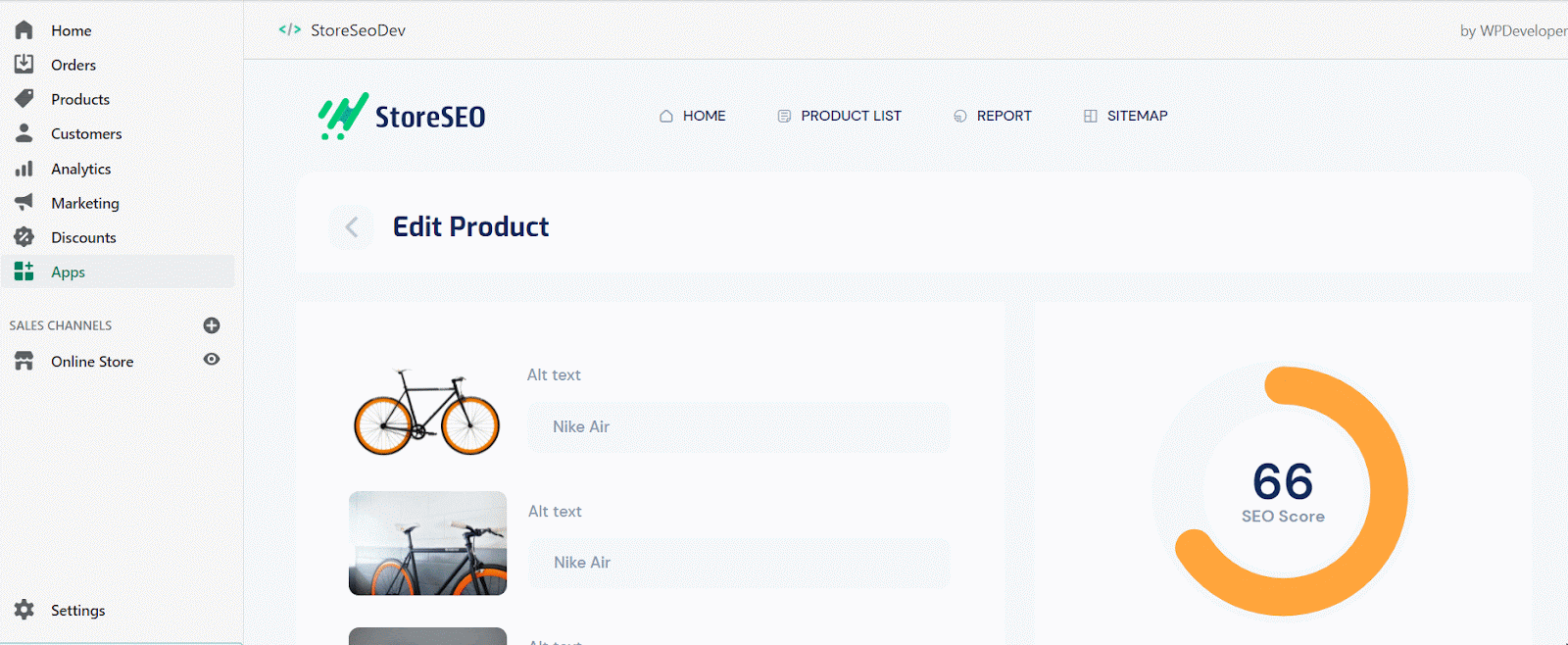 Besides, this app helps you with maintaining your sitemap as well. It collects the XML sitemap data and helps you to submit it to Google Search Console. Thus, not only just adding keywords or tags but also maintaining a proper sitemap is possible using this free and user-friendly best Shopify SEO app.
SEO Expert PRO- All In One

SEO Expert PRO Shopify SEO app helps you to find out all the store on-page issues and fix them immediately. From fixing the broken connections to fixing the SEO issues with images, this app solves it all. It allows JSON Ld on your store to communicate information to Google in a structured manner, resulting in improved SEO rankings. The price starts from $9.99 per month and offers a 7-day free trial to let you test their features.
Smart SEO & Image Optimizer

Smart SEO & Image Optimizer is another Shopify SEO app that will help you to optimize your Shopify store products by adding meta tags, alt tags, fixing broken links, and maintaining a sitemap. Just like SEO Expert Pro, this app also submits JSON LD data to Google to rate it high in the search results. This Shopify SEO app also comes with multilingual functionality in the latest Shopify store languages. You can now receive multilingual customer feedback easily and improve SEO performance instantly.
If you find these blogs useful to start using our suggested best Shopify SEO apps, read more blogs like this by subscribing to our blog. To share your views, feel free to comment below or join our Facebook community to join other Shopify users to learn more.