Are you looking for ways to elevate your Shopify store's user experience? Look no further! We've scoured the Shopify app store to bring you the top 5+ apps that are guaranteed to improve your Shopify user experience. From boosting your conversion rates to creating stunning product pages and enhancing your store's navigation, these apps are designed to help you take your eCommerce game to the next level. So, let's dive in and discover the must-have apps to enhance your Shopify user experience.
📋 Choosing The Best Shopify Apps For Your Store: A Checklist To Tick
In order to improve your Shopify store's user experience, it is important to choose suitable apps. Here, we have outlined 4 key qualities that you should consider before installing a Shopify app.
💰 Firstly, pricing is a primary aspect to consider, and affordability is key. Look for Shopify store apps with a free trial period so you can test the features and ensure that your investment is worthwhile.
👉🏻 Secondly, usability is crucial. An app that is difficult to use is not worth your time or money. Take advantage of video tutorials, screenshots, and example stores to ensure that the app has a good user experience. You can also check app ratings provided by other Shopify users.
🌟 Thirdly, make sure that the app features solve your specific problem without adding extra workload. You can compare the features of similar apps, both free and paid, to see which one meets your needs.
🎯 Finally, customer service is essential. Choose a Shopify app with good customer service, as they will be able to assist you throughout the app installation and upgrade process.
Keeping these qualities in mind, let's explore the best Shopify apps for optimizing your e-commerce website's user experience.
💡 7 Must-Have Apps To Improve Your Shopify User Experience
Improving the user experience of your Shopify store can be a daunting task, especially with over 10,000 apps to choose from in the Shopify app store. With so many best apps on Shopify, determining which app best suits your needs can be challenging.
To simplify the process, we have compiled a list of high-quality apps that will help you improve Shopify user experience and get the store set up for your success. Let's get started with all the apps.
#1 Stage TEN For Live Shopping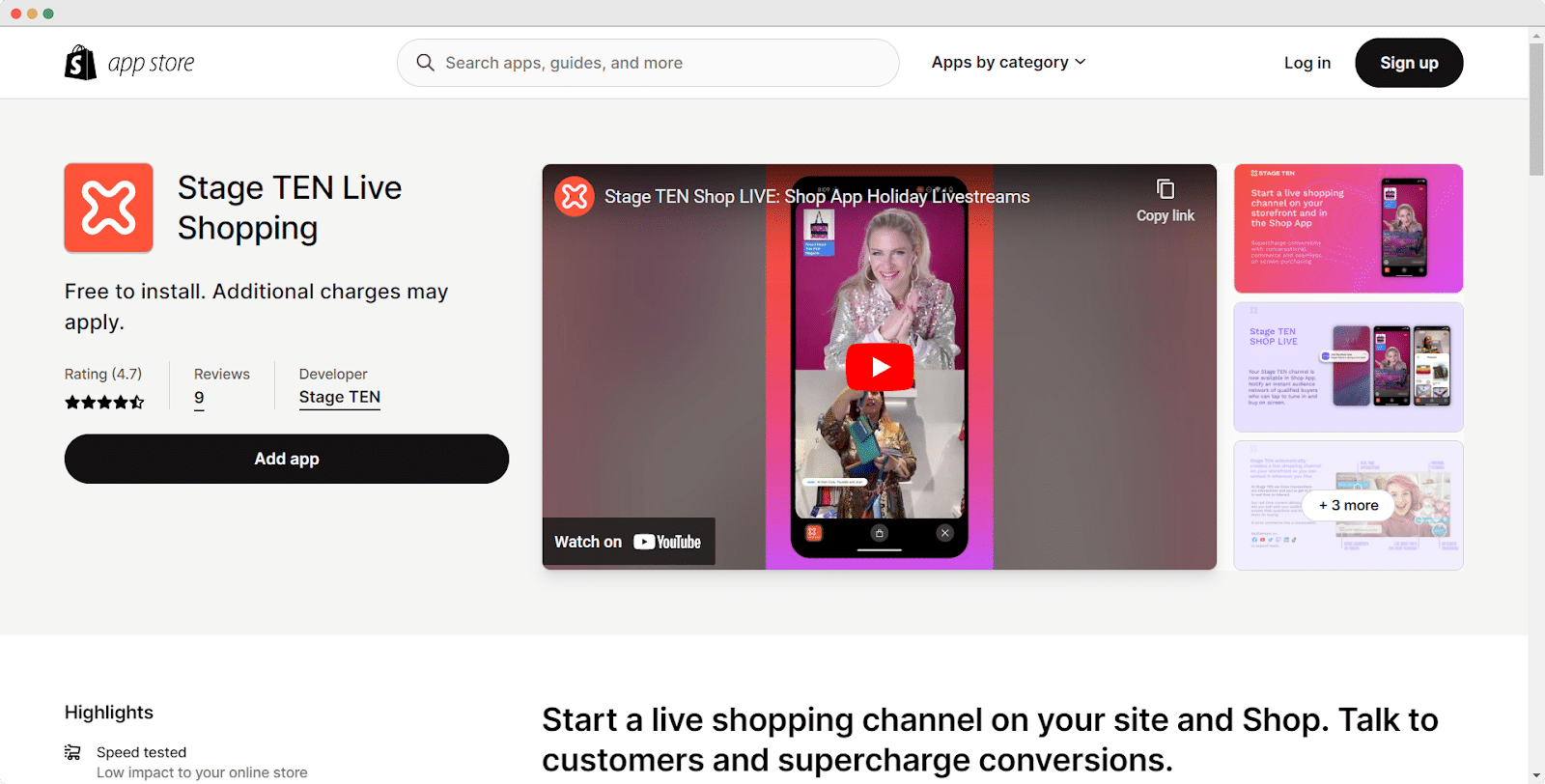 Stage TEN is a live video shopping Shopify app that enables you to create a channel on your storefront and in the Shop app with on-screen purchasing. Once you go live, qualified buyers are notified, and you can talk to customers in real-time, turning your e-commerce into a conversation. This app allows you to improve Shopify user experience and increase conversions effortlessly.
Key Features:
Reach a broad audience on Shop App
Multistream on social media to attract customers
Sell live from your phone or create a multi-source show
Chat with your audience in real-time, play shopping games, and offer discounts
Provide seamless on-screen checkout for viewers to buy during the stream
Pricing: It's free to use! Take 5% of each transaction made from the live video promotion.
#2 Shogun For Landing Page Builder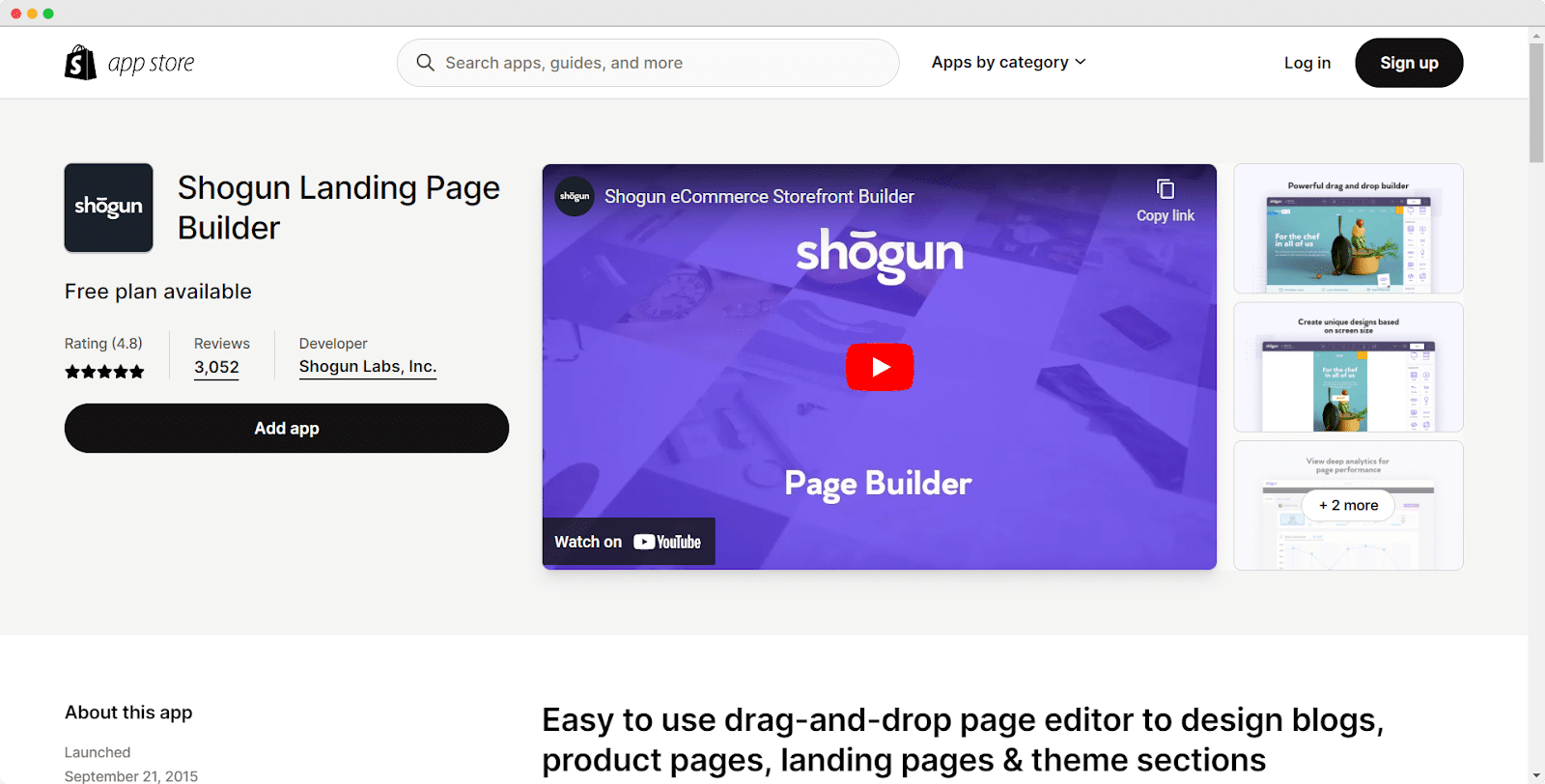 One of the advantages of using Shopify is its user-friendliness, making it accessible to everyone to set up an online store. However, if you aim to make your store unique and visually appealing, you can rely on Shogun Landing Page Builder.
Shogun is a robust drag-and-drop landing page builder that offers ease of use and a swift learning curve. It doesn't matter if you're a novice or a proficient designer, as this tool empowers you to design a captivating and fast-loading landing page that improves Shopify user experience.
Key Features:
Simple drag-and-drop page builder
Advanced customization with optional HTML/Liquid, CSS, and JavaScript
Customize collections, product sections, and blog pages
Pricing: Free to $499/month
#3 Boost Product Filter & Search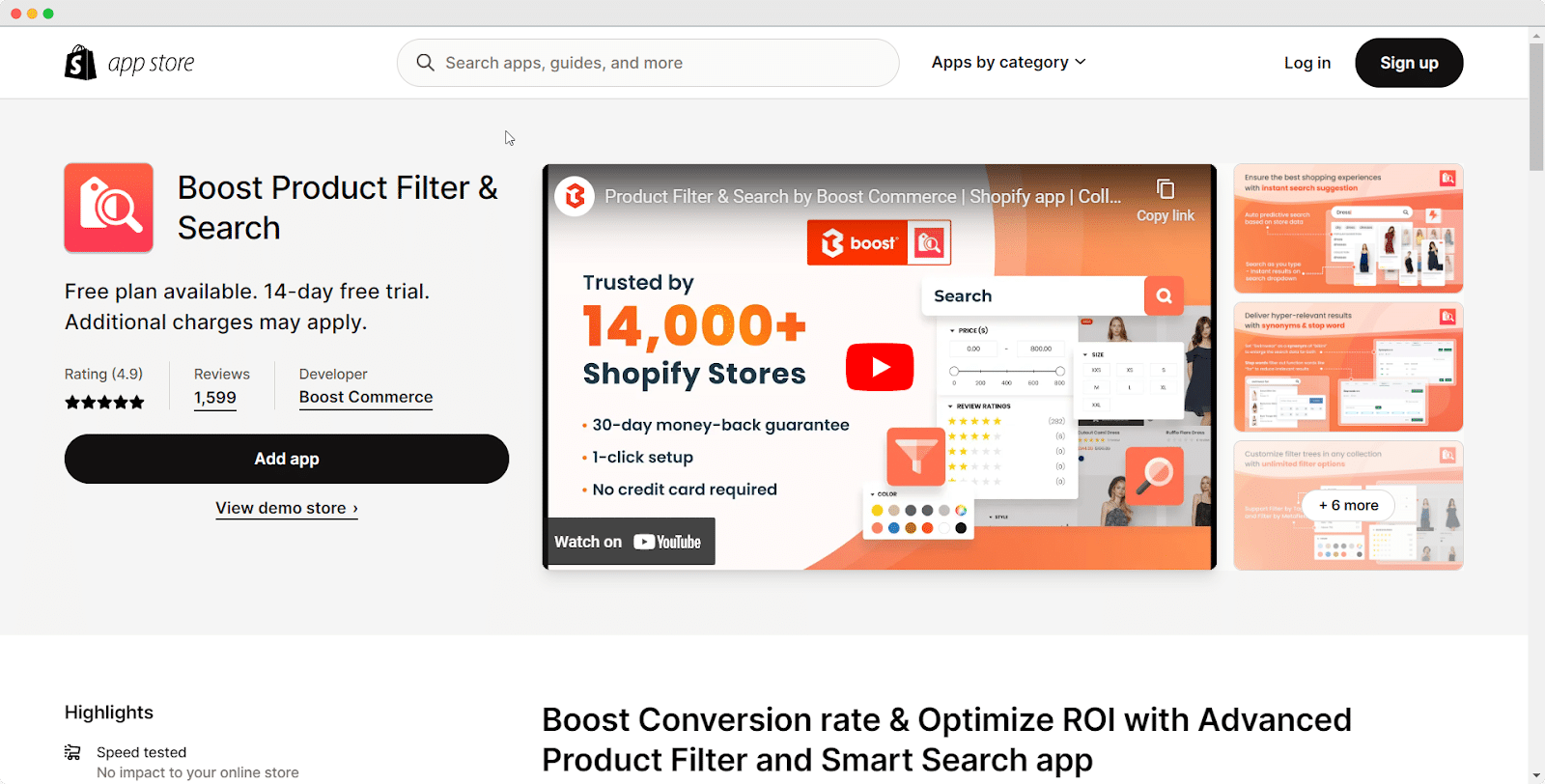 Introducing the Shopify App 'Boost Product Filter & Search' – the ultimate solution for improving Shopify user experience. As a shopper, you'll love this app for its advanced search features and customizable filters that allow you to find exactly what you're looking for within seconds. Here are the top 5 features that make this app a must-have:
Key Features:
Offers blazing-fast search suggestions that allow shoppers to find desired products instantly
Includes a spell check and synonym feature that will suggest alternative search terms
Narrow down your search results to find exactly what you're looking for using customizable filter trees
Offers search redirects that allow you to redirect your search queries to a specific page or collection, saving you time and effort
Includes insightful reports that give you a better understanding of your search analytics, including top search terms, clicks, and conversions
Pricing: From Free To $69/month
#4 Weglot ‑ Translate Your Store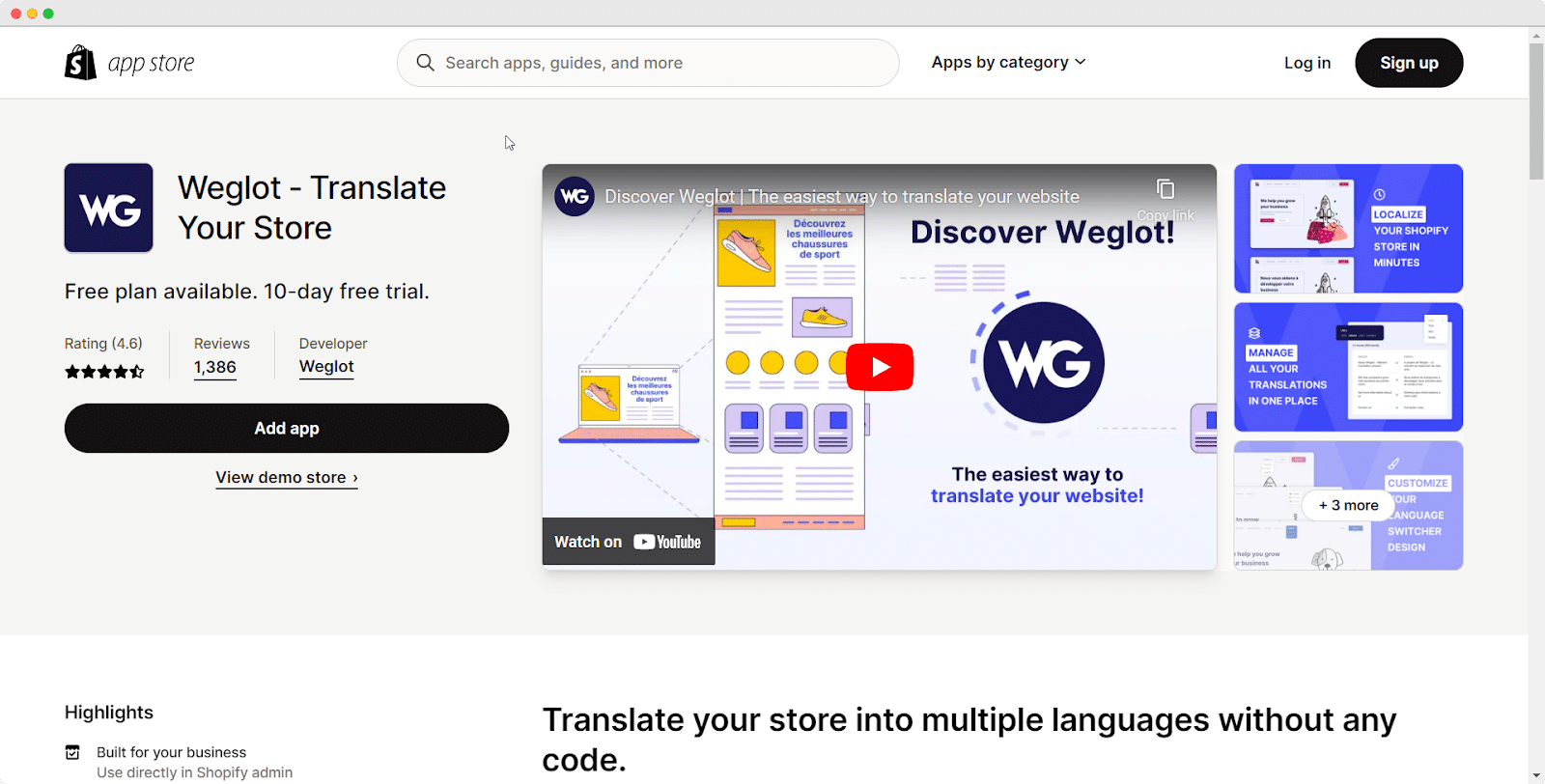 Weglot – Translate Your Store is a must-have Shopify app for anyone who looking to create a multilingual website. This powerful app allows users to easily translate their Shopify store into multiple languages, making it accessible to a wider audience. Here are the 5 major features that make Weglot the go-to app for translating your Shopify store:
Key Features:
Users can easily set up and configure their translations in just a few clicks
Automatically translate your content with state-of-the-art translation technology
Users can easily add a customizable language switcher to their website, allowing visitors to switch between languages with ease
Automatically optimizes your translations for search engines, helping your website rank higher in SERPs in multiple languages
Provides dedicated support to all users, ensuring that any issues or questions are resolved quickly and efficiently
Pricing: From Free To $79/month
#5 Multi-Currency Converter Hero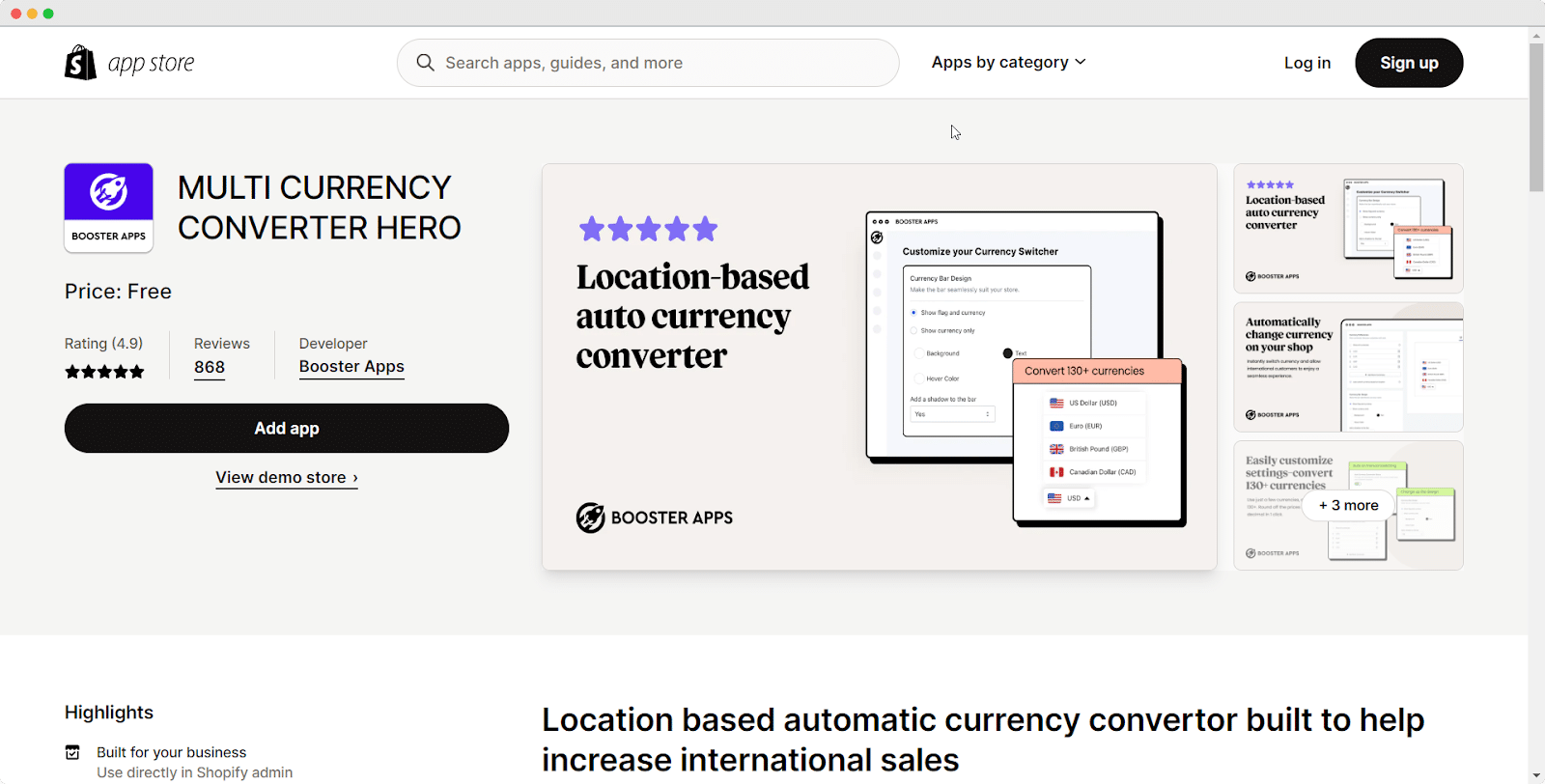 Multi-Currency Converter Hero is the perfect Shopify app to enhance the Shopify user experience and increase international sales. This app provides a seamless shopping experience through its currency switcher, allowing customers to view prices in their preferred currency.
With a floating currency bar that converts currencies based on location and rounds off prices, this app supports over 130+ currencies that can be enabled with just one click. The currency bar displays the customers' local currency while still using your shop currency at the checkout. 
In addition, the floating currency bar can be customized to match your store's branding, ensuring a consistent user experience.
Key Features:
Auto/manual currency switcher based on customer location
Customizable settings for 130+ currency conversion
Match currency switcher design to shop branding
Trustworthy exchange rates based on Shopify's conversion systems/API
24/7 human support via live chat
Pricing: Free
#6 MultiVariants ‑ Bulk Order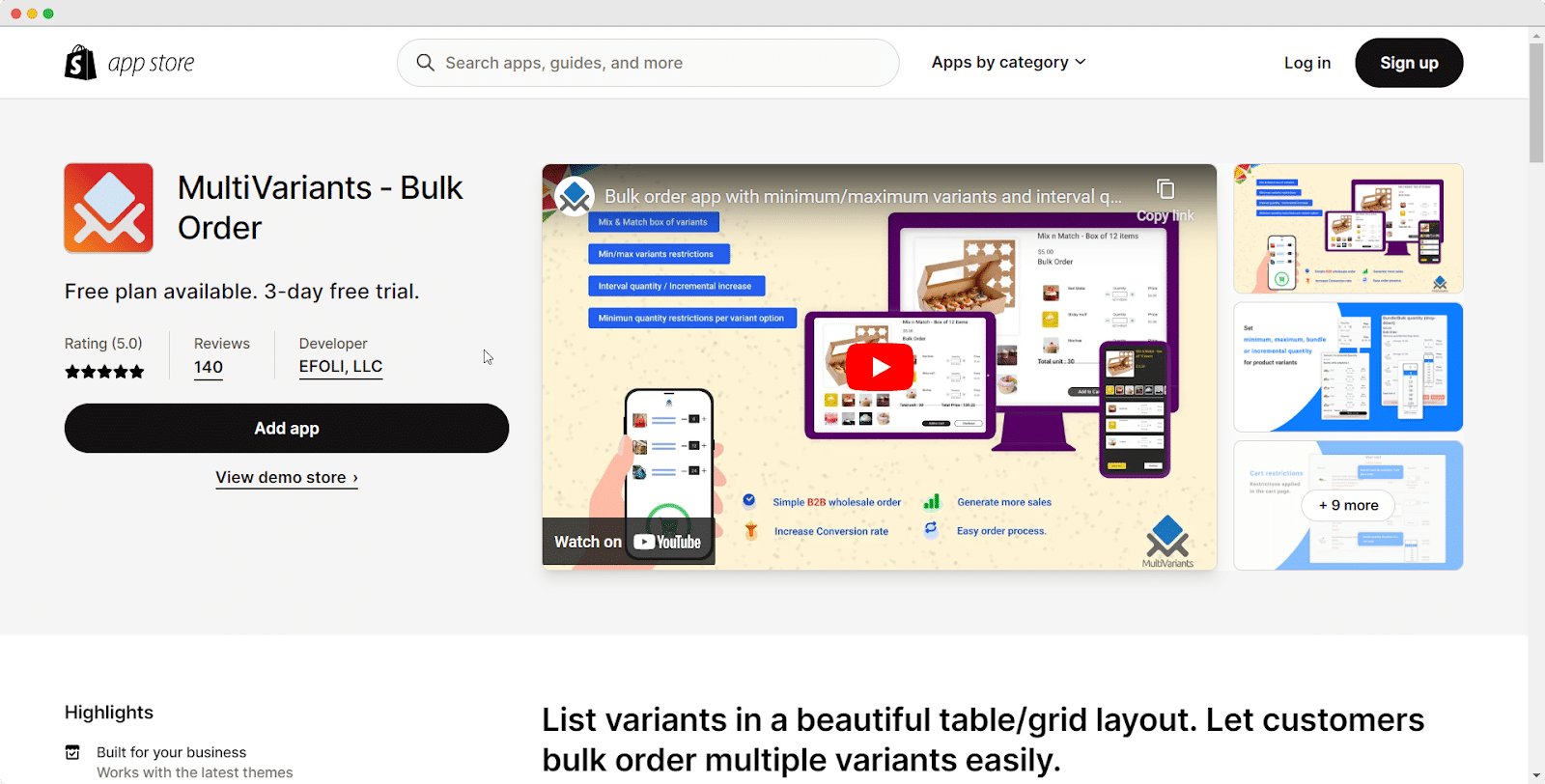 A good Shopify user experience greatly depends on having a smooth ordering process. And with 'MultiVariants – Bulk Order' Shopify app store owners list the product variants in a beautiful table or grid layout. It makes customers bulk order multiple variants easily.
This Shopify app has been designed with users in mind, offering a range of features to make your ordering experience easier and more convenient than ever before. Five major features of the MultiVariants – Bulk Order app that you can look forward to:
Key Features:
Show bundle variants in a matrix or list format to simplify ordering
Set minimum/maximum number of variants for a mixed flavor box
Use a quantity selector drop-down with preset options and 12-unit increments
Enforce minimum quantity limits per variant option, such as a minimum of 12 per color
Implement a grid to define minimum and maximum quantity per variant or for total mixed variants
Pricing: From Free To $19.99/month
#7 Meteor Mega Menu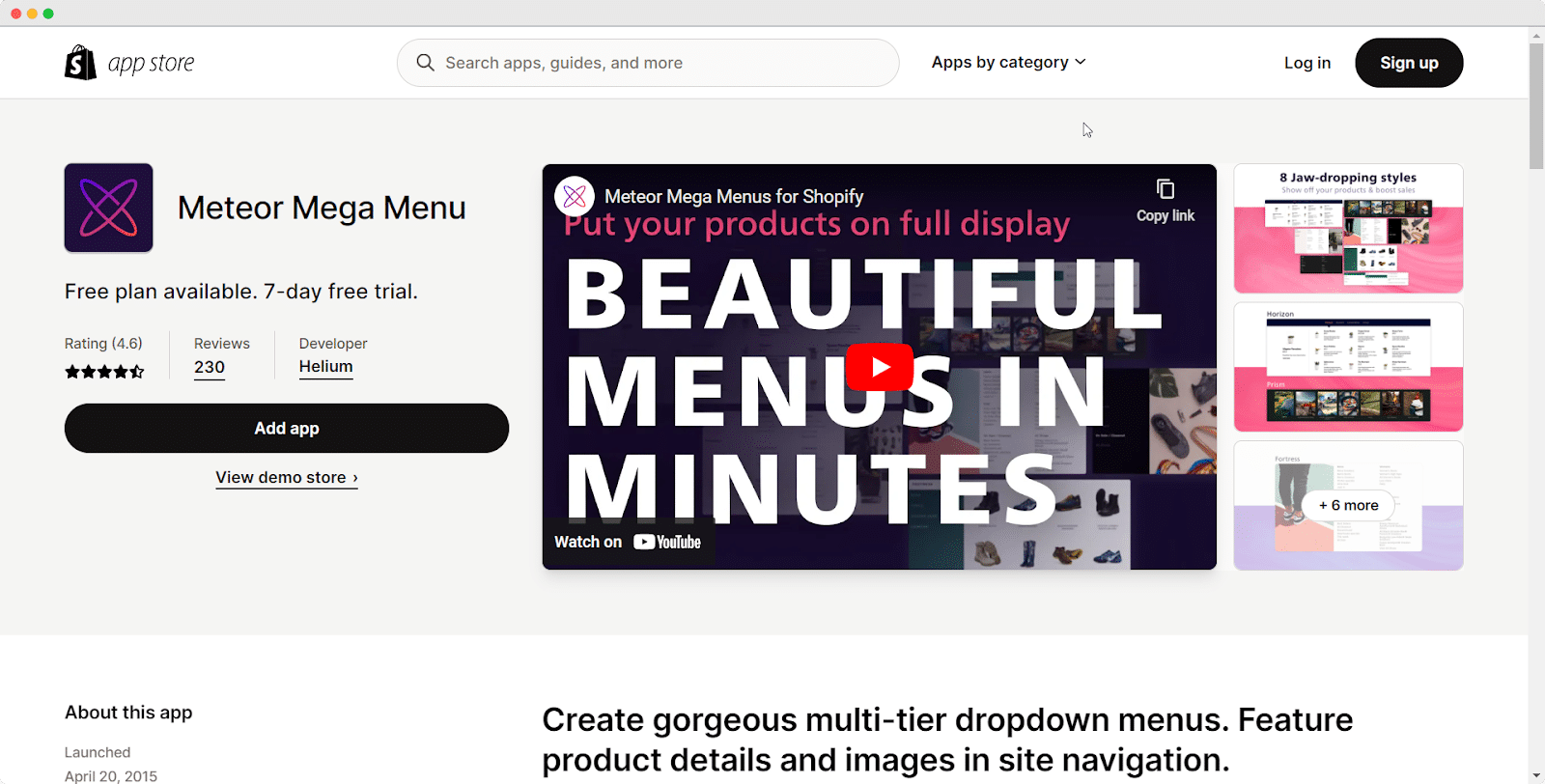 Meteor Mega Menu enables you to create stunning multi-tier dropdown menus that feature product details and images, taking your Shopify user experience to the next level. With a range of beautiful and professional menu templates, you can showcase your products and services with confidence.
Plus, thanks to Meteor's lightning-fast setup time, you can easily integrate it with your existing Shopify navigation settings. Customization is a breeze, and you can preview each of your menus before publishing them. Additionally, Meteor Mega Menu is developer-friendly, offering a JavaScript API and CSS editor for seamless integration into your client's menus and navigation.
Key Features:
Choose from 8 stunning templates
Link Shopify resources: products, collections, blogs, or pages
Display product or collection images in your store's main menu
Streamline setup with pre-existing menus
User-friendly UX for easy navigation
Pricing: From Free To $14/month
📣 Improve Your Shopify Store User Experience & Boost Your Sales
Ultimately, the key to success is to identify the specific needs of your business and customers and choose the apps that align with your goals. With the right apps in your toolkit, you can create a seamless and enjoyable shopping experience for your customers, leading to increased sales and customer loyalty.
The top 7 apps we have explored in this list offer a wide range of features and functionalities that cater to different aspects of enhancing user experience. If you enjoyed this post, make sure to subscribe to our blog for more updates, exciting news, and informative tutorials, or join our Facebook Community to stay connected.