Affiliate partnerships have the potential to transform internet businesses completely. Popular eCommerce platform Shopify includes several useful tools that simplify the process of creating and maintaining an affiliate program. In this article, we'll discuss the best Shopify MLM apps for establishing an effective affiliate network and growing your company.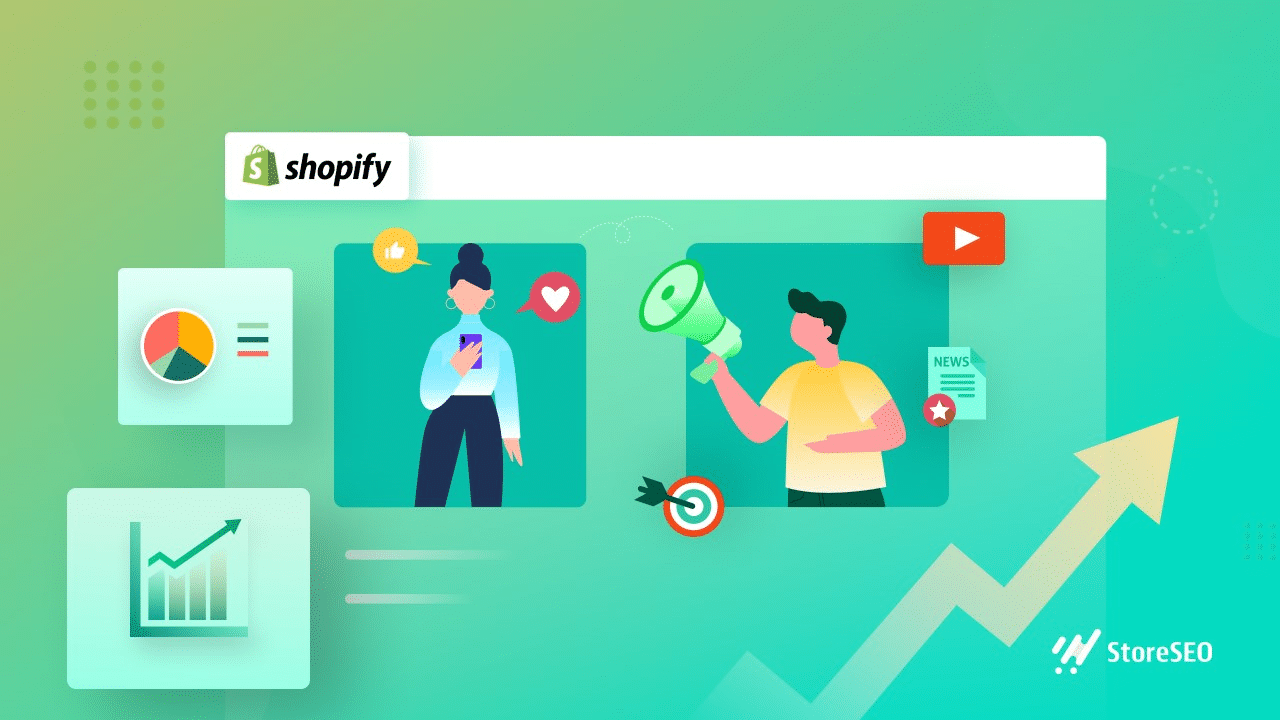 These resources can simplify the process and help you reach your objectives, whether you're an experienced business owner or just getting started. Let's dive in and find out how these Shopify MLM apps will help you expand your company.
💡 Why MLM Apps Matter On Shopify
Let's quickly go over why MLM applications are essential for your Shopify store before we get into the individual apps. Multi-level marketing (MLM) is a business model that relies on a network of independent distributors to spread the word about a product or service.
Shopify MLM apps streamline the process of recruiting, tracking, and rewarding affiliates. For the following reasons, these applications are crucial.
🌟 Automating Onboard: MLM apps make it easy to find and join members, which helps you reach more people quickly. They have features like signup forms that can be changed to fit your needs and different ways to get in touch with potential partners.
🌟 Streamlining Operations: MLM apps give you the tools you need to make affiliate marketing more manageable and automated. Some apps can automatically track commissions and payout associates, which is beneficial to both of you.
🌟 Reporting & Analytics: You can use these apps' detailed stats and reports to keep an eye on how your partners are doing, find affiliates who are doing a great job, and make choices based on data to make your plan even better.
🌟 Fostering Advocacy: Traditional ways of marketing don't always work well when it comes to earning potential buyers' trust. This changes with MLM because it lets loyal customers become business partners. They can market your brand in a real way to their social networks. Being honest builds trust, which is important for turning leads into paid buyers.
🎯 Best Shopify MLM Apps You Need For Building Solid Affiliates
Now that we know how MLM apps can take your affiliate management experience to a whole new level, let's explore the three best Shopify MLM apps that can supercharge your affiliate networking efforts and generate more sales.
1️⃣ UpPromote Affiliate & Referral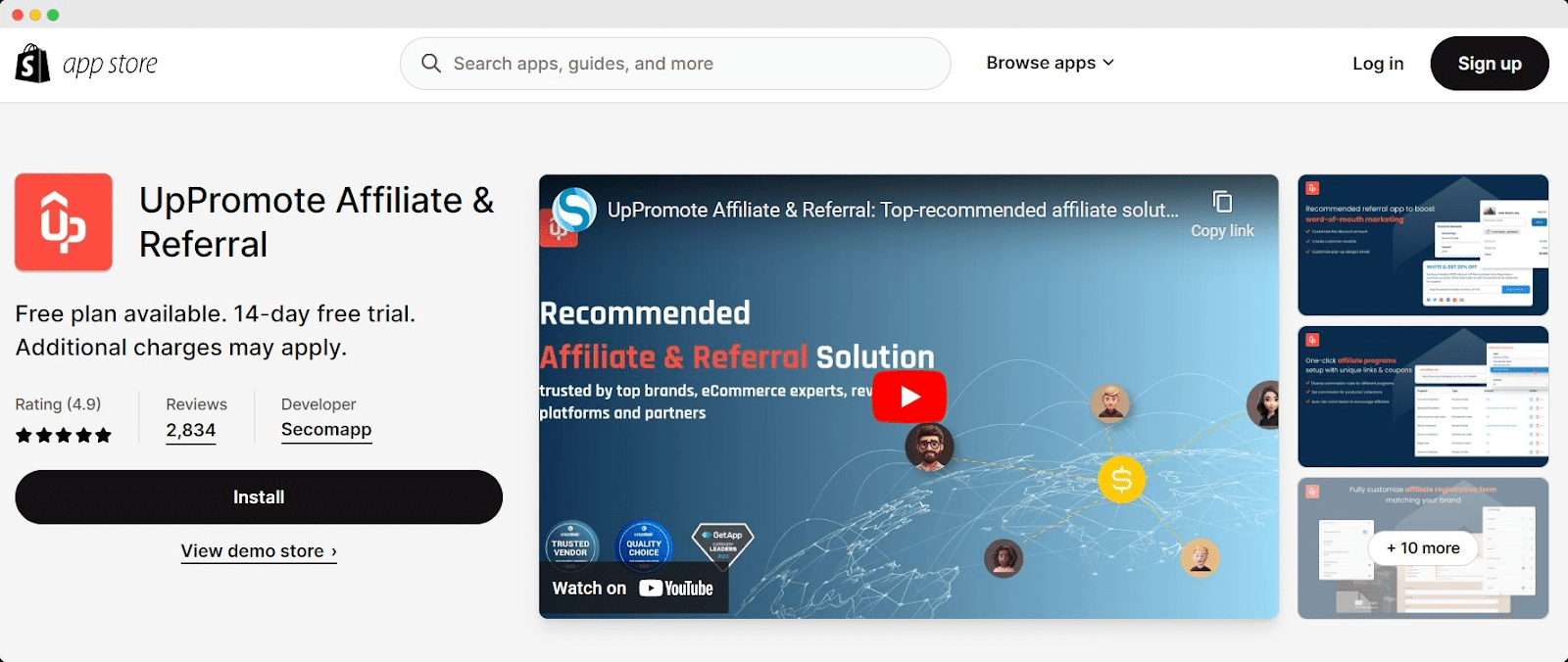 UpPromote by Secomapp is an MLM app that is easy to use and is made to help Shopify businesses grow their partner programs. You can get your store up and running quickly with a simple setup guide. This app has many useful features that can help you create successful marketing campaigns and get in touch with potential marketers.
Key Features:
👉 Customizable registration form
👉 Multiple recruiting methods, including post-purchase popups, marketplace listings, etc.
👉 Different tracking methods, including affiliate links, coupons, SKUs, and emails
👉 Support for multi-language in the affiliate account
👉 Detailed analytics and reporting
Rating: 4.9/5
Pricing: Free plans are available, and premium plans come with a 14-day free trial.
2️⃣ LeadDyno Affiliate Marketing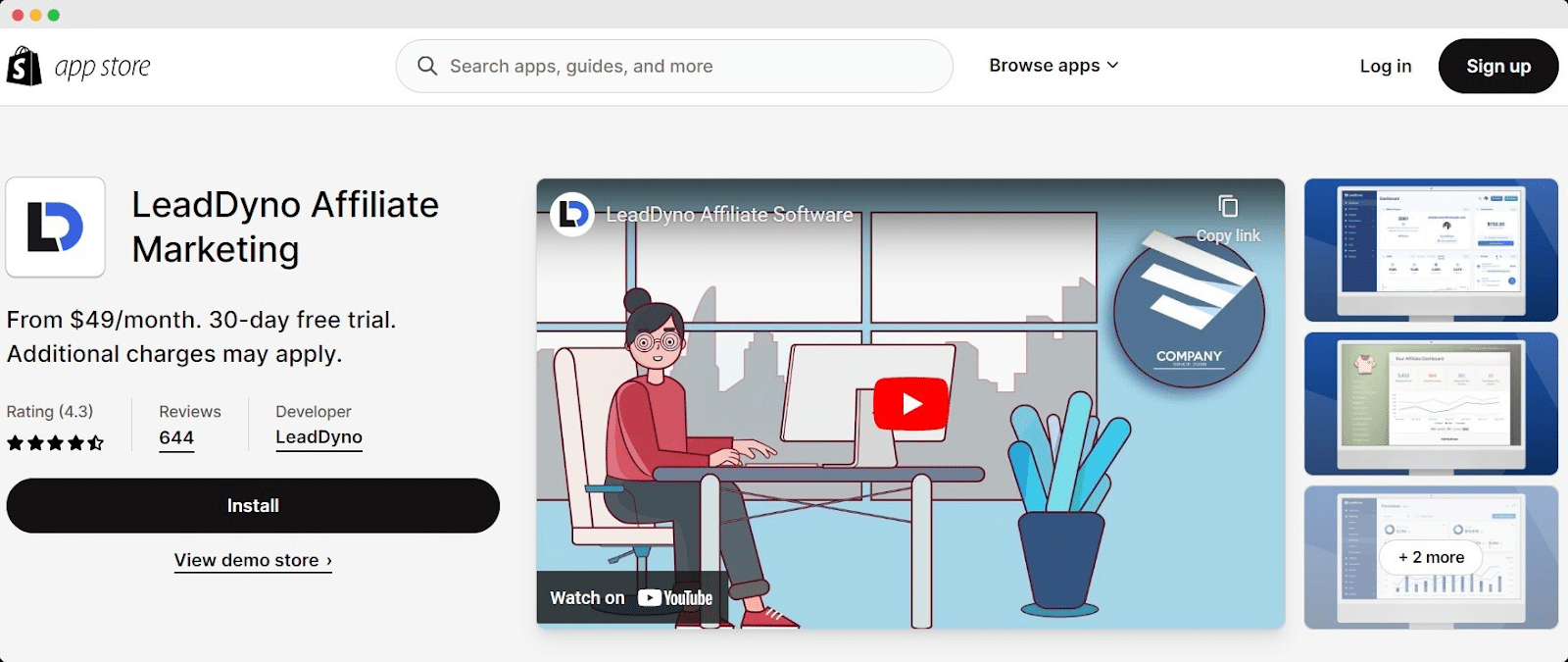 LeadDyno is an excellent option for Shopify store owners who want to make affiliate programs easier. This app makes it simple to start collaborative marketing right away, even if you are a complete beginner.
Key Features:
👉 Easy affiliate recruitment to promote your products
👉 Access to a community of e-commerce affiliates
👉 Customizable affiliate registration pages
👉 Personalized dashboards for affiliates to track their performance
👉 Shopify integration to create coupon codes and track affiliates
Rating: 4.3/5
Pricing: No free plan is available. Premium plans come with a 30-day free trial.
3️⃣ MLM Affiliate Marketing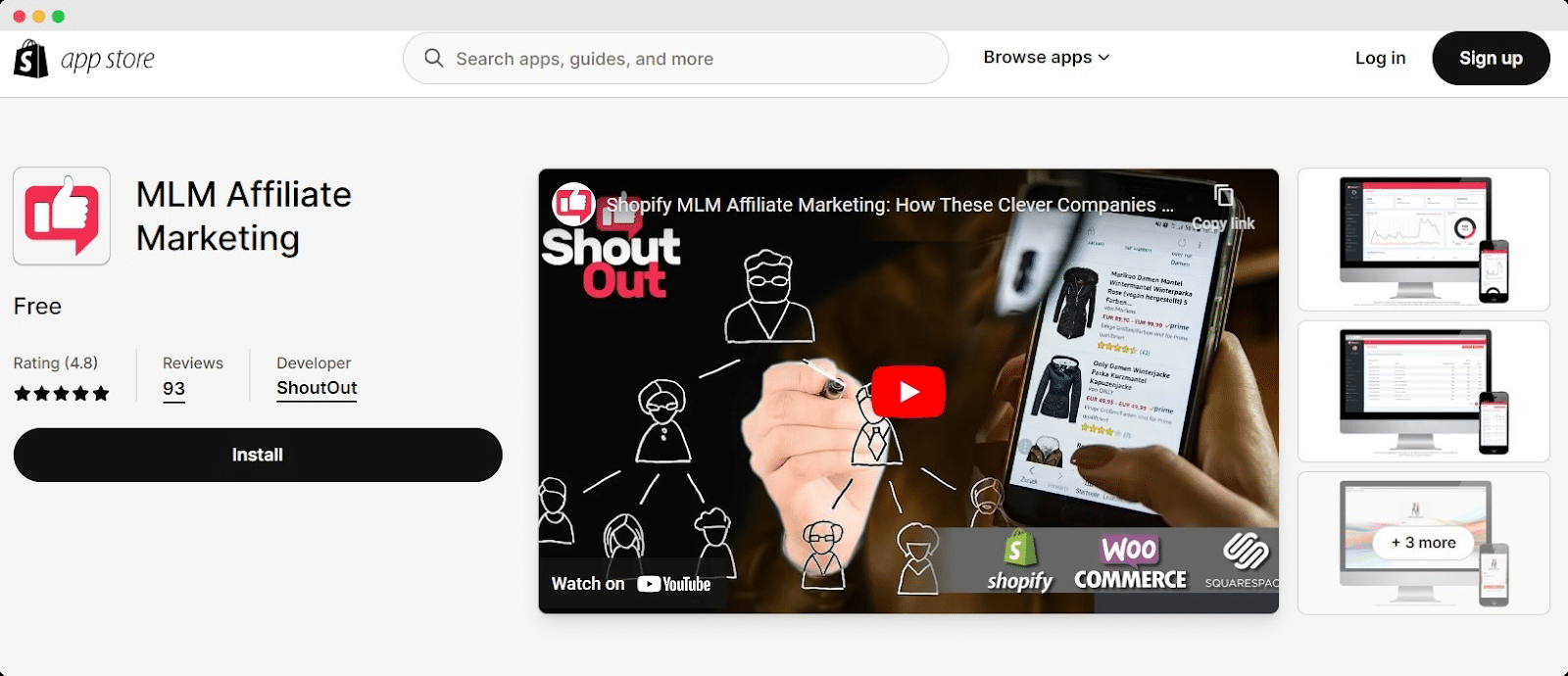 The MLM Affiliate Marketing app is a powerful one that uses the power of influencer marketing. It lets you use influential people to get more visitors and sales without having to pay for them upfront.
Key Features:
👉 Pro-level multi-level marketing (MLM) and affiliate referrals
👉 Integration with influencer networks
👉 Pay affiliates based on actual sales
👉 Flexible commission management
👉 PayPal support for worldwide payments
👉 Auto-invitations to loyal customers to become affiliates
Rating: 4.8/5
Pricing: No free plan is available. Premium plans come with a 7-day free trial.
📝 Choosing The Right MLM App For Your Shopify Store
There are a lot of MLM apps in the Shopify App shop, so it's crucial to pick the right one for your store. Because every app has its features and price, it's essential to compare them based on your needs and budget.
📌 Consider Your Budget & Scalability
Think about your budget and how big your business can grow when picking an MLM app. Some apps, like UpPromote, let companies and small businesses use them for free by giving them free plans or trials. Some, like MLM Affiliate, charge more each month for more advanced tools. Consider your current needs and how you think your business will grow in the future to find the best fit.
📌 Review User Reviews & Ratings
The reviews and scores that users leave on the Shopify App Store can tell you a lot about how well and reliably an app works. Before you decide, take the time to read reviews and think about how happy other users are with the product as a whole.
🎉 Empower Your Affiliate Network With Shopify MLM Apps
Using Shopify MLM apps is a great way to get more people to know about your brand, get people to promote it, and make more money through affiliate marketing. To choose the best MLM app for your Shopify shop, think about your budget, how much space you need, and what other users have said about the app. Your network can be a big part of your e-commerce success if you use the right tools and plans.
Don't forget to subscribe to our blog for more exciting comparisons, in-depth reviews, and expert Shopify tips and tricks. You can also follow our Facebook community for the latest updates to stay ahead of the curve and ensure consistent growth for your Shopify store.