When you are running an online business, especially an eCommerce store, you have to make sure your store is completely SEO optimized. This is all because to effectively be on search engine crawls, rank your website top on your targeted customer's fingertip to boost sales, and many more. Those who have owned an eCommerce store on Shopify can easily configure your SEO for Shopify store and others just by using the right solutions. Get all the details below!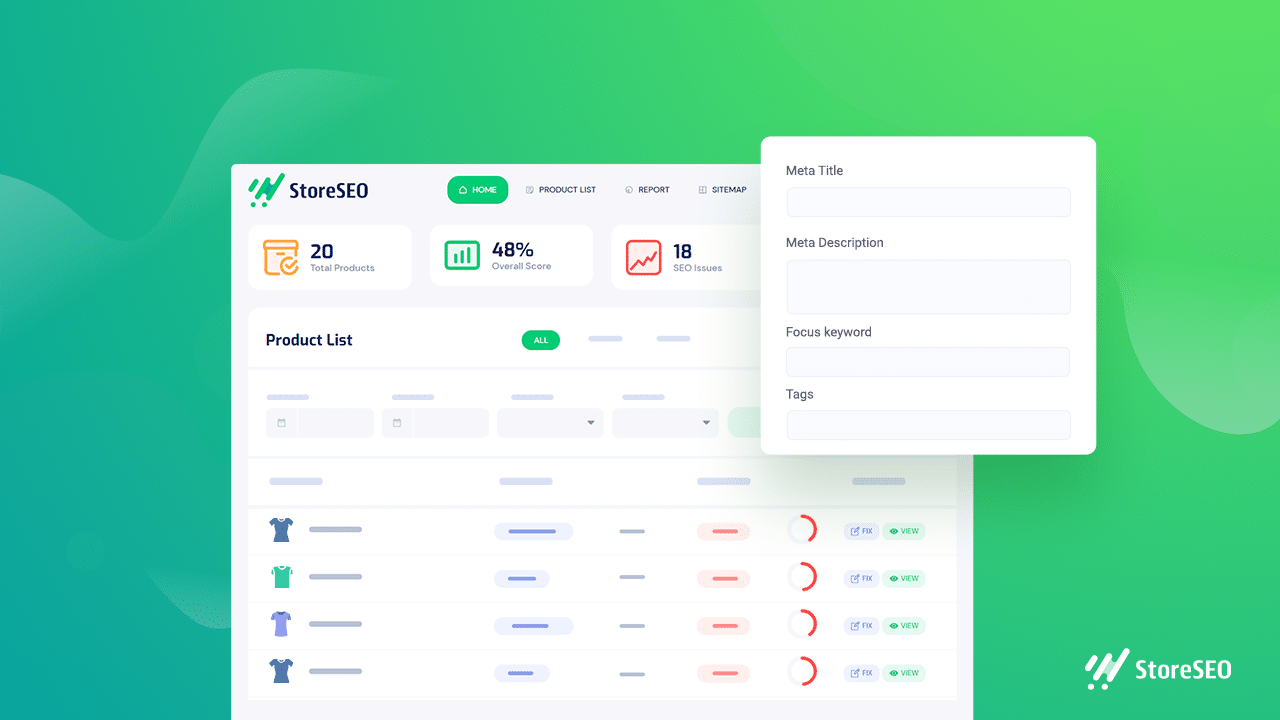 SEO stands for Search Engine Optimization. It consists of optimizing digital content like website internal content, links, and external sources as well. It helps you make your website, web pages, and content ranked on search engines like Google, Bing, etc. When you maintain complete standards your site will easily be available on your targeted customer search.
That helps to increase your site engagement, conversions, and sales accordingly. As a Shopify owner, you have to know where you should start configuring your eCommerce site SEO by adding meta descriptions, meta titles, and others. If you are not aware of this, then this blog is only for you. Take a look!
Basic Terms To Know Before Optimizing SEO For Shopify Store
Before optimizing your SEO for Shopify stores, you should have a clear understanding of some search terms that you have to configure. That will help you rank your eCommerce store products, be ranked on search engines, and boost your website's organic traffic right away. Check out all the details:
Meta Titles:

Meta Titles or Meta Tags stand for the text that is showcased on search engine result pages & browser tabs to specify the meaning of webpage topics. It would be good practice if you could include your focus keyword on your meta title or tag and optimize the content to be 50-70 characters long.
Meta Descriptions:
Meta Descriptions consist of a brief summary of your product that appears under your product meta title on the search engine results page. You should include the focus keyword on your meta description to make it fully configured for SEO and a character count of 150-160.

Keywords:
A keyword is the core of any SEO-based content. If you want to make your website or web page content be ranked on search engines, you should research and fit your copies with the right keywords. It's all about what customers are looking for in a search engine or search bar. It can be one word or a couple of word combinations. According to this, you have to ensure one focus keyword and other related keywords will be used accordingly. Like if you are selling T-shirts, your keyword should be T-Shirts for men, T-shirts for Women, and related. You can categorize and look for related keywords to rank top on SEO.
Tags:
Tags can be considered as keywords or terms assigned with a piece of information that helps to provide information about your website pages or products to search engines. Tags help search engines know which category of product you are selling and help you rank accordingly. This T-shirt for men can help search engines to know these T-shirts are particularly available for men.
Image Alt Text:
Image Alt Text stands for alternative text, alt tags, alt attribute, and alt description that helps your image file to become readable for search engines. It basically represents what your image is created for and describes the proper information. It also helps disabled personalities like blind, visually impaired, or related people to portray the purpose of your image and make it easy for them to understand.
Sitemaps:
Sitemaps are the structure or one can say the complete blueprint of your entire site. It comes with detailed files where you provide information about the pages, products, images, and other files on your store website. Search engines explore and read these files to crawl your store, recognize it, and help you rank higher in search.
SEO For Shopify Store: Things You Should Know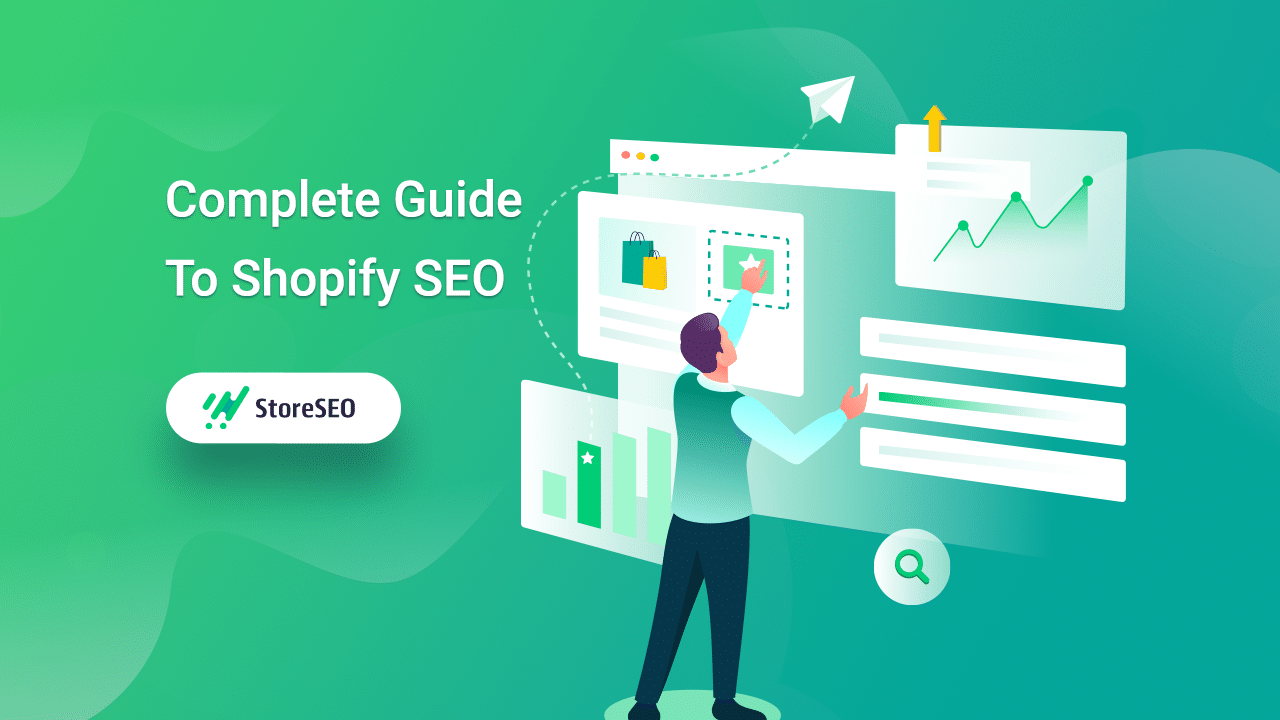 Shopify is one of the popular eCommerce solutions to look at. According to Fundera statistics, "Shopify has more than 2.1 million daily active users". You can easily create, customize, and optimize SEO on your Shopify store and all in detail. By default, Shopify allows you to configure your eCommerce site SEO in advance. Check out all the details below:
Shopify can help you auto-generate canonical tags to pages.
Prevent website duplicate content from being in search results.
Help you auto-generate your website's sitemap.xml and robots.txt files
Shopify themes can automatically generate title tags that align with the store name.
Besides, themes can do social media linking, and sharing options to market your store.
Edit title tags, meta descriptions & URLs for blog posts, webpages, products, collections & others.
Also, Shopify allows you to include image alt text on your eCommerce store products and make it optimized.
Besides these default SEO for Shopify store setups, there are so many other SEO features that you should configure when you are the owner of an eCommerce store. An advanced solution can help you manage all these while using Shopify. StoreSEO is the latest best SEO for Shopify store solution to explore.
Get StoreSEO & Advance Your SEO For Shopify Store Right Away
StoreSEO is a complete SEO optimization solution for Shopify with all the latest features. That can help you rank your eCommerce site to be top on search engines and accelerate your site conversions, and sales accordingly. It comes with an advanced quick setup wizard, a complete analyzing tool to fix all your SEO issues, provide detailed reports, and many more to look at.
Easily Configure StoreSEO With Quick Setup Wizard
StoreSEO comes with a flexible quick setup wizard to configure your eCommerce site just within a few moments. You can personalize the template content of your Shopify store page. This is for how you want to showcase your store page title.
You can easily modify the default templates for your product page title, meta description, and image alt tags. And can edit manually for every individual product to improve your SEO for Shopify stores.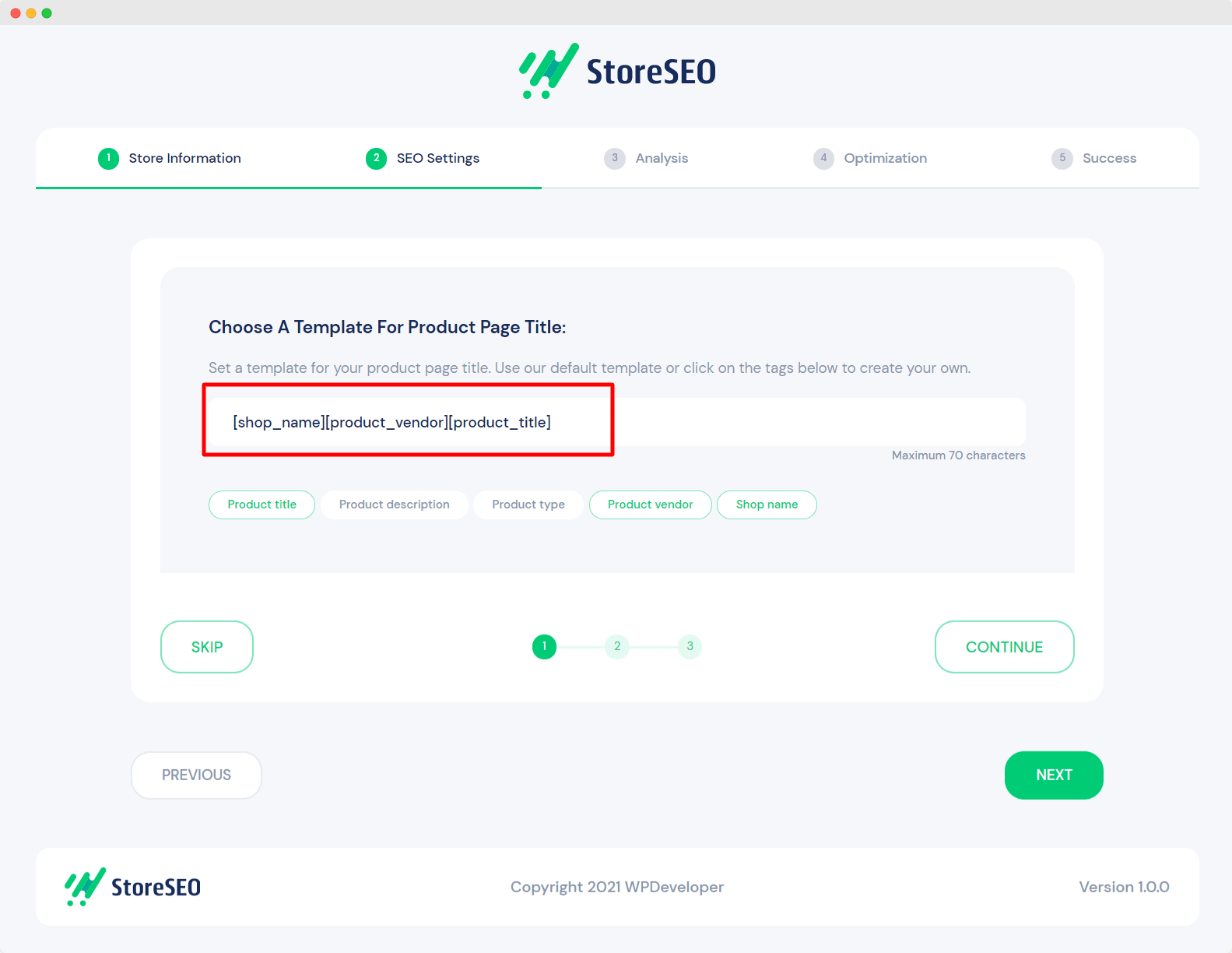 Afterward, from the 'Analysis' tab, you can check all of your Shopify store-listed products' initial SEO scores and get along with where you have to make improvements. The next 'Optimization' allows you to fix all the SEO optimization issues with the excellent 'Auto Fix' button to resolve all issues right away.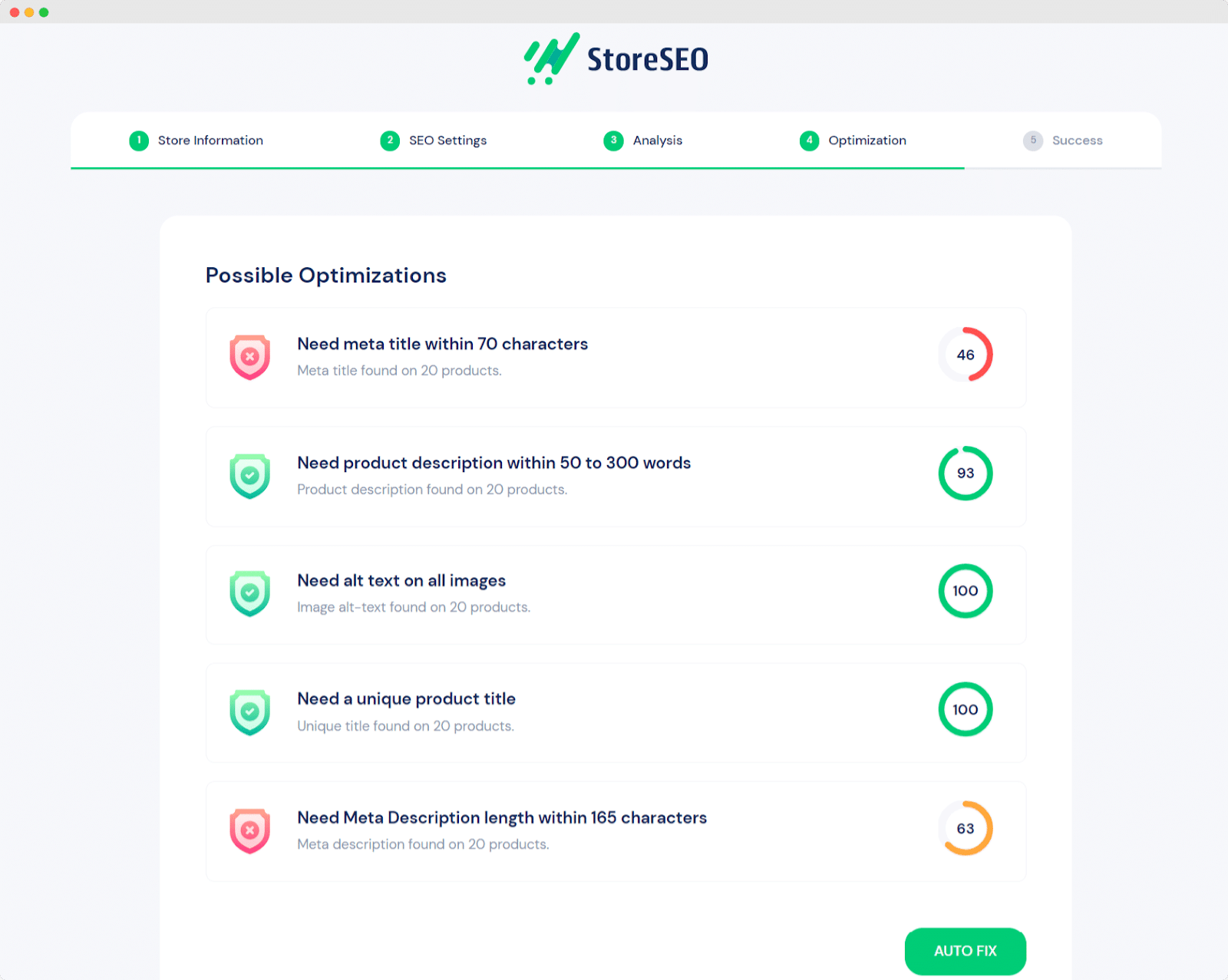 Now that you have made all the changes from the setup wizard, you can check your dashboard to look at the improving score of SEO for Shopify stores.
Analyze & Fix SEO Issues For Individual Products With StoreSEO
StoreSEO dashboard offers you a detailed list of your Shopify products. It provides a complete score of each product, and SEO issue and helps you to fix it individually just by following some simple steps.
You can click on the 'Fix' button to manually improve your SEO issues directly from your individual product dashboard following the StoreSEO right panel options. It helps you to know where you have to give input and where you make it outstandingly. And if you press the 'View' button you can have a look at your detailed SEO status.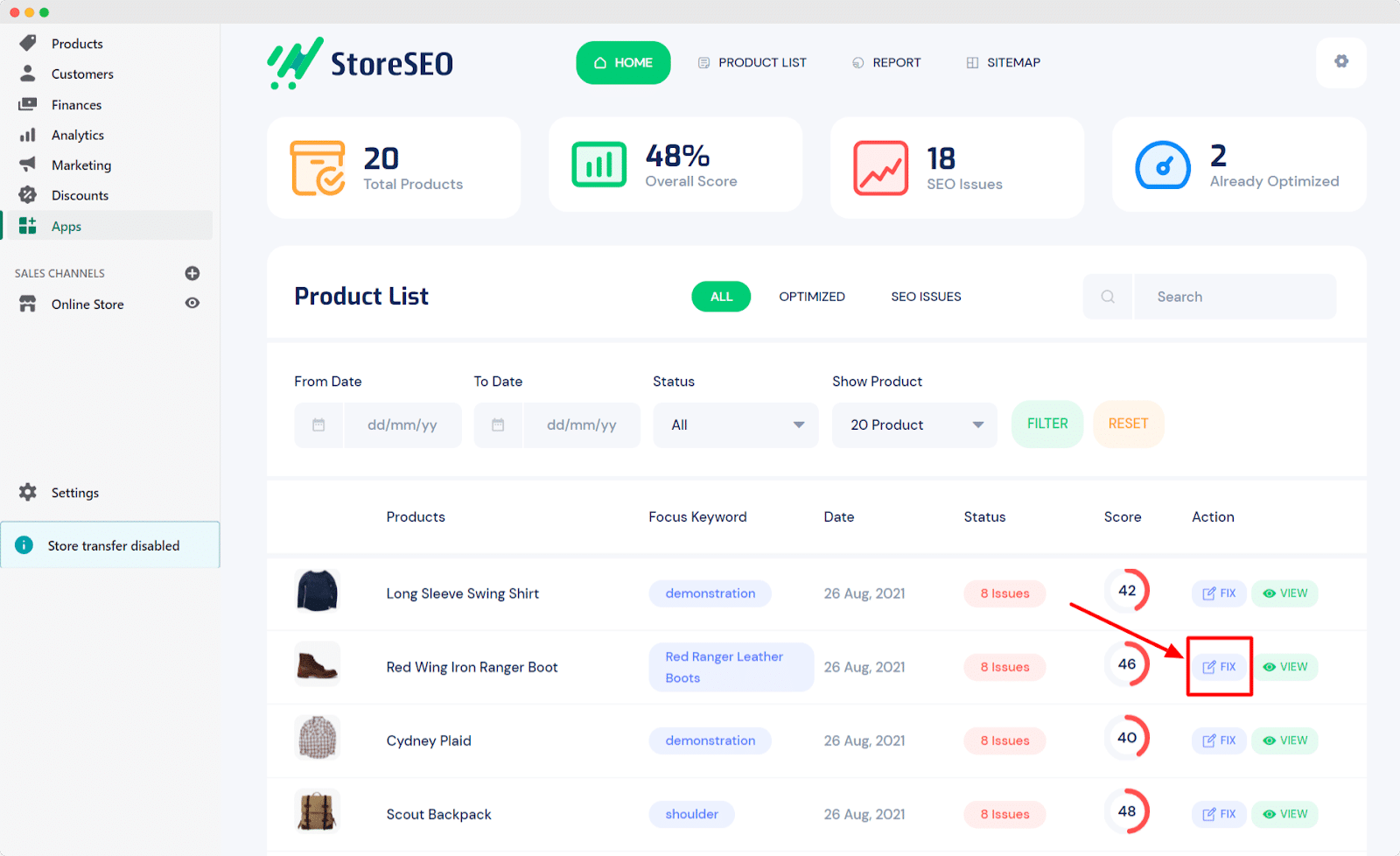 Besides this, you can even search products by specific date ranges or status to fix your all SEO issues or view the SEO status at a glance.
Add Meta Descriptions, Meta Title & More
StoreSEO helps you to add meta titles, meta descriptions, focus keywords, and tags for your individual Shopify products. When you click on your Shopify products to fix their SEO issues, you can have an individual section to add meta titles, descriptions, keywords, and tags to make each product optimized for search engines. That will eventually rank you better in search engine optimization and be more visual to potential customers.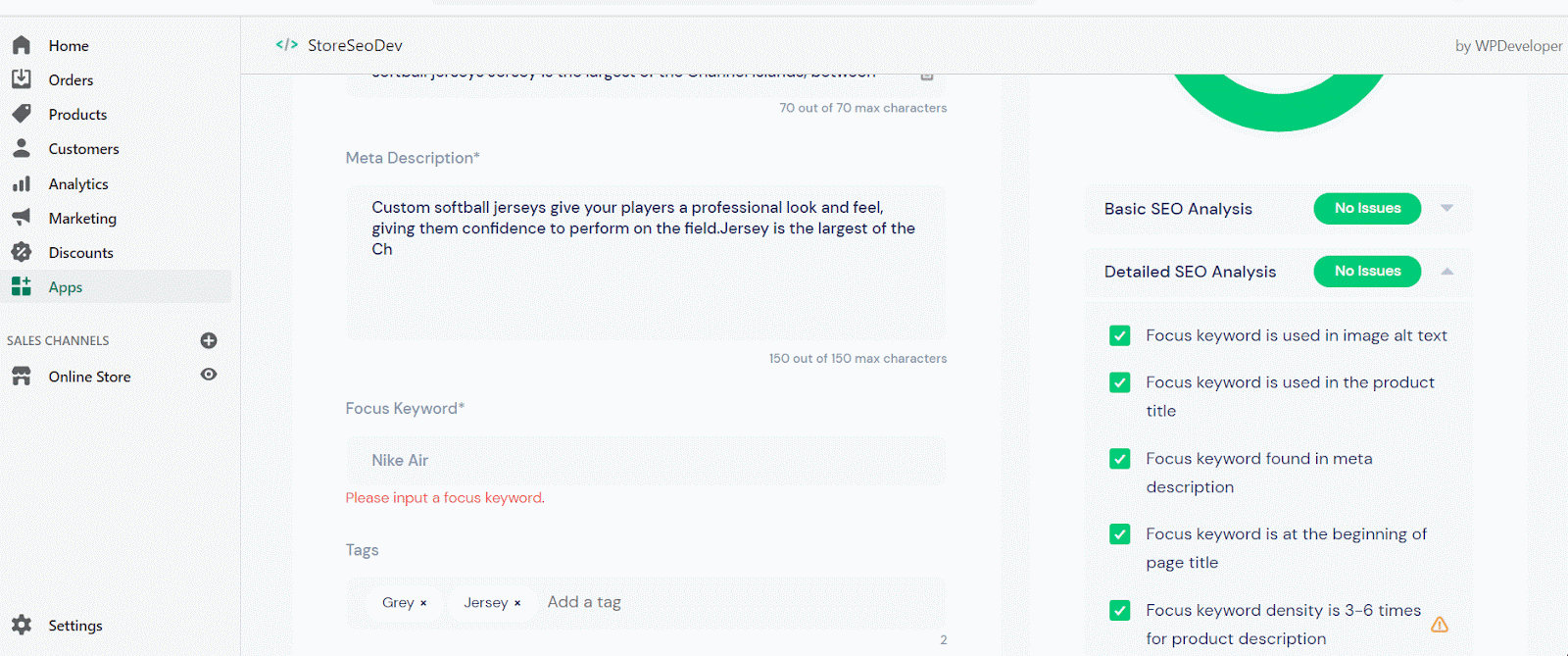 There is something you have to be sure of: you can use one unique focus keyword and add up to 5 tags for each of your products. So when you make your store live, your customer can easily reach out to your store product by searching with the focus keywords or related tags as well. 
Afterward, when you have fixed all the SEO issues of each product, you can see the 100 score which means you have optimized your SEO for Shopify Store products has completely been done.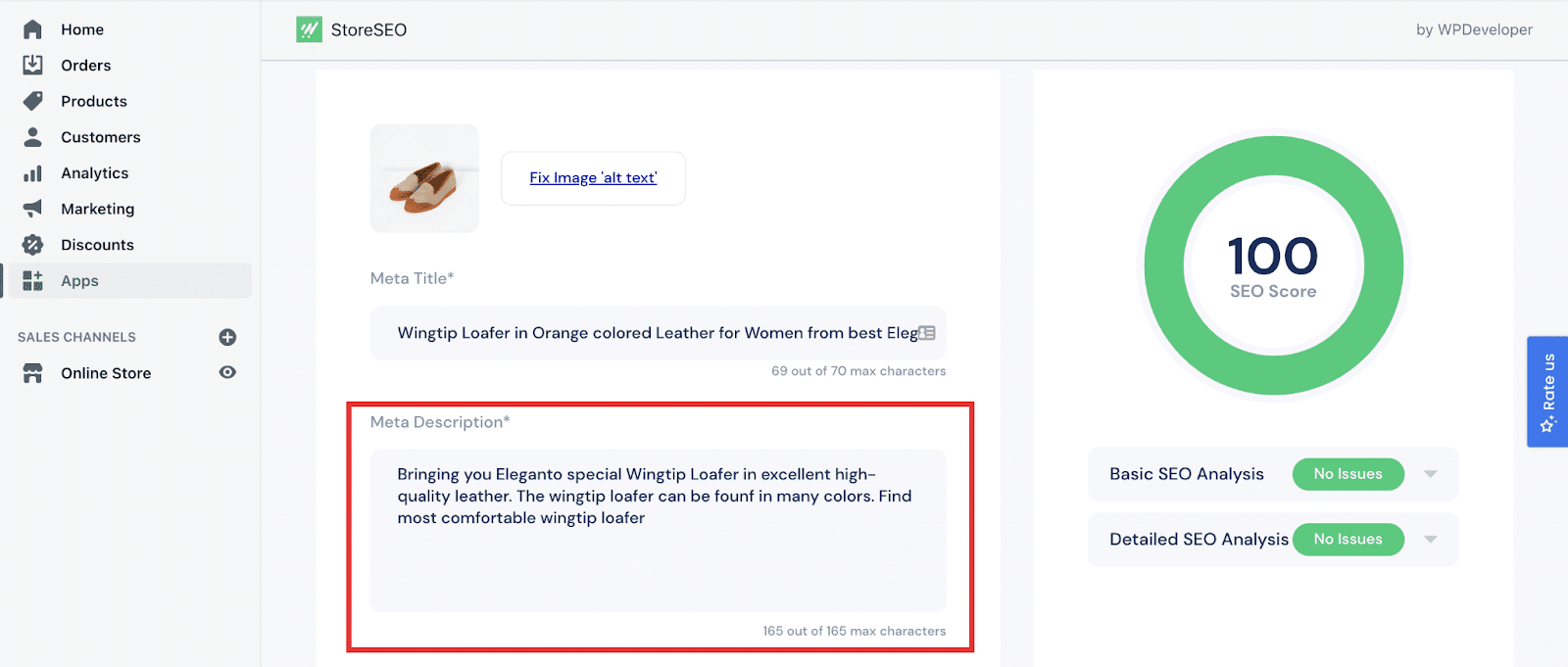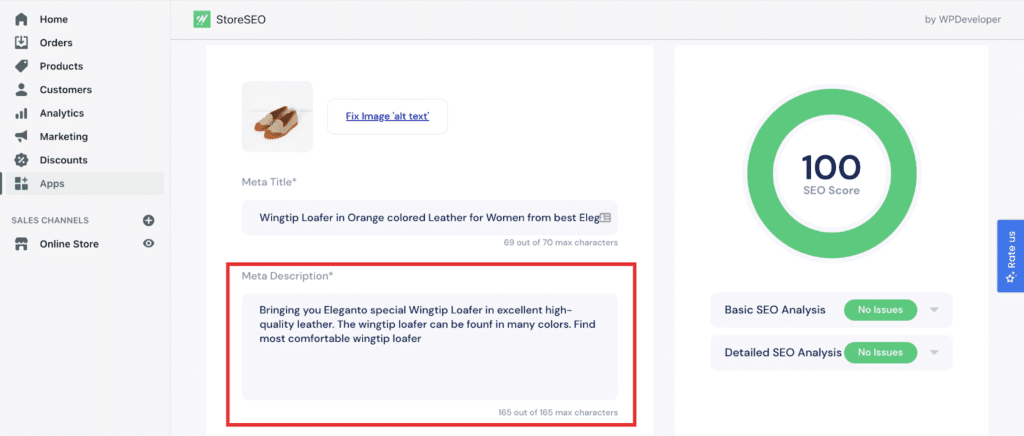 Bulk Add Image Alt Text To Your Shopify Products
StoreSEO app, you can add bulk image alt text that will represent the product motive towards visitors who can't view the product and definitely for getting SEO benefits. StoreSEO can help you rank your Shopify product images by optimizing them with alternative text and ranking at the top on search engines like Google Search. StoreSEO also helps to optimize product images for an improved SEO score as well. You can check out this detailed documentation to know all the details.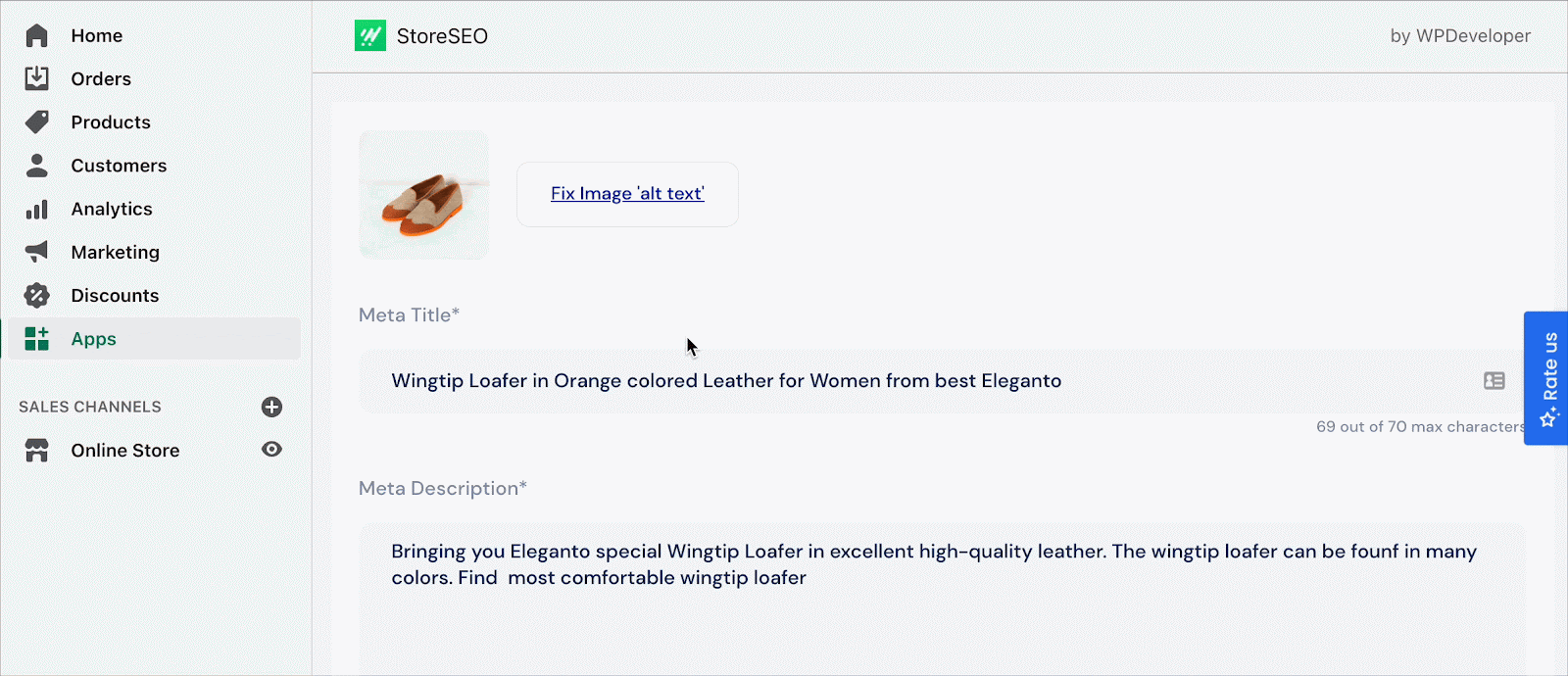 Generate SEO Analysis Report For Your Shopify Store
StoreSEO can help you automatically analyze your SEO for Shopify store performance and provide a detailed report according to this. You just have to click on the 'Report' tab, and there you can check the overall SEO score of your Shopify store. At a glance, know the total number of products you have optimized, your overall score, and more.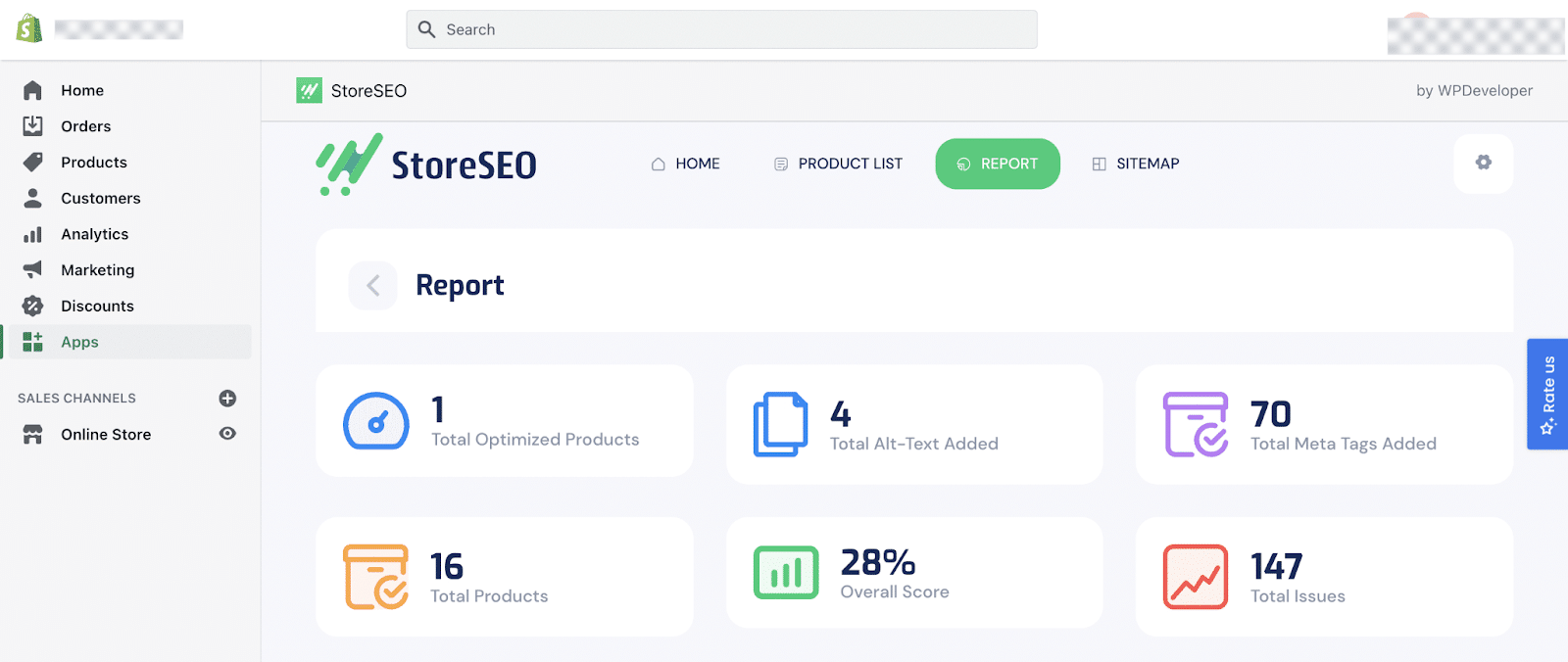 Optimize Your Shopify Store Sitemap With StoreSEO
StoreSEO provides you with this exclusive facility to include or exclude from your store's sitemap. As we already know, a sitemap helps search engines by showing the entire site blueprint or structure to crawl.
StoreSEO for Shopify can make this process much easier to activate or inactivate products from your store sitemap with full freedom. To configure your Shopify sitemaps, just click on the 'Sitemap' tab from your StoreSEO dashboard and make your choices.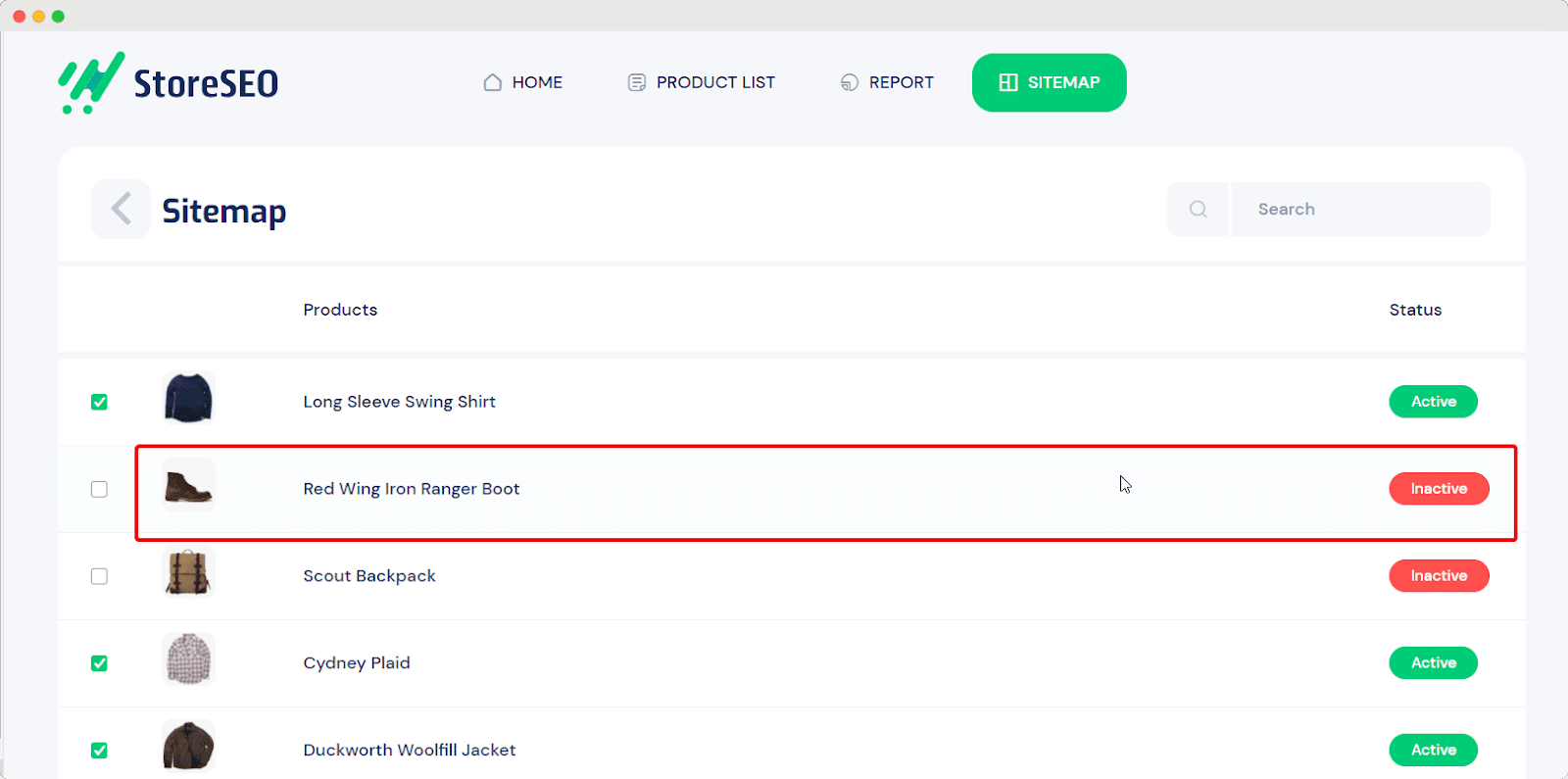 Boost SEO For Shopify Store Products With StoreSEO NOW!
Lots of cool and latest features are included with the StoreSEO app for Shopify. That helps to configure your Shopify product's SEO beautifully by providing detailed SEO issues that can be fixed automatically or manually in both ways to rank your product's top of search engines. Hope you find this blog helpful and let us know your experience by commenting below.
To find out more about this exciting feature, make sure to check out our detailed guide here, and don't forget to join the amazing Facebook community.