Running an eCommerce business on Shopify? To rank your business quickly and set your business apart from the competition, connecting with the right Shopify SEO agency and apps is important. But among the thousands of Shopify apps, choosing one can be hard. But don't worry – we're here to make the process easy for you. In this article, we've listed all the popular SEO agencies and apps that can help you rise to the top on Shopify. Interested to learn more? Let's get started.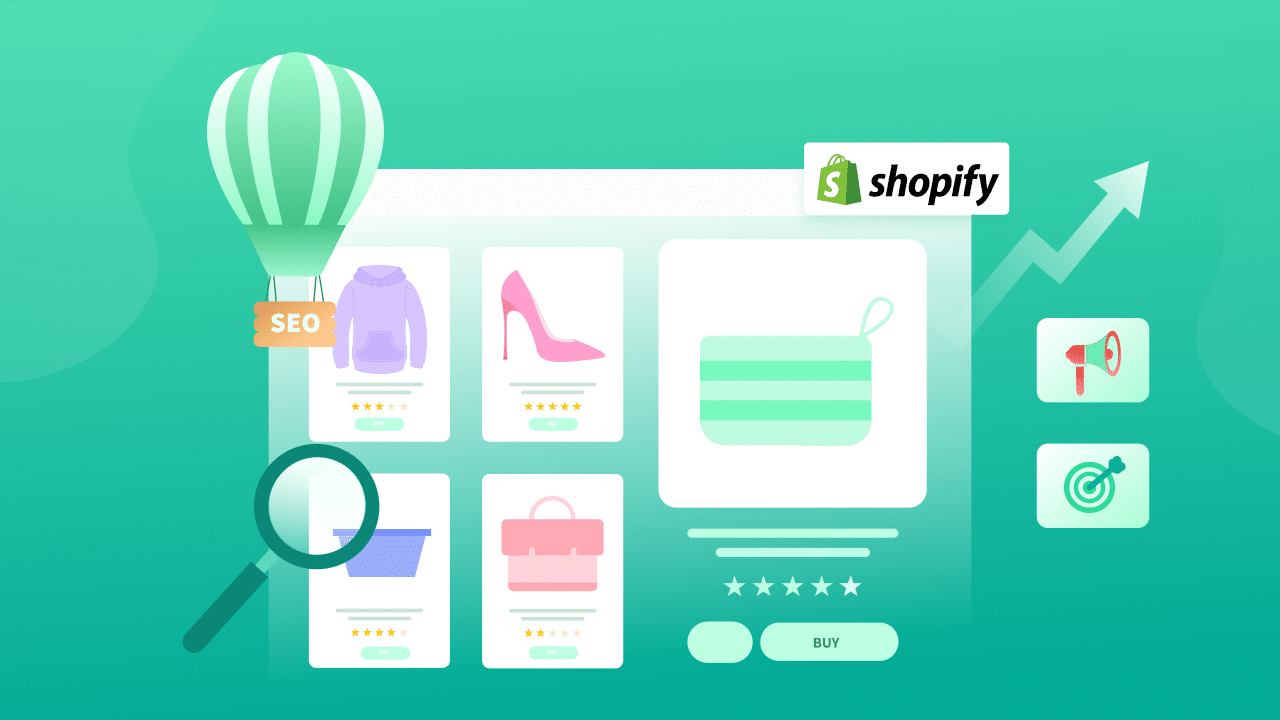 Why Must Your Online Store Have A Shopify SEO Agency Or App?
A Shopify SEO agency or app is essential for maximizing your online store's potential, increasing visibility, and attracting the right audience – ultimately leading to long-term growth and success in today's competitive world of e-commerce. In the current marketplace, where every eCommerce store is trying to gain a bigger customer base, having a Shopify SEO agency or app can help you in many ways:
1. Improved Online Store Visibility
SEO (Search Engine Optimization) helps your online store rank higher in search engine results, making it easier for potential customers to find you. By staying on top of SEO trends and best practices, you can outperform competitors who neglect SEO or its right practices, ultimately gaining a competitive edge in your target industry.
2. Increased Organic Traffic
A well-optimized store attracts greater organic traffic, reducing the need for costly advertising and increasing your chances of converting more visitors into customers. It will also save your time and team investment as well.
3. Adaptation To Algorithm Changes
SEO agencies and apps can optimize your website's structure, making it more user-friendly and ensuring a seamless browsing experience for your customers. Search engine algorithms are constantly evolving. SEO agencies and apps can help you adapt to these changes and maintain your rankings.
4. Keyword Optimization & Content Strategy
Professionals in the field can identify the most relevant keywords for your business, helping you target the right audience and drive quality traffic. SEO agencies and apps can assist in creating and implementing a content strategy that engages your audience and keeps them coming back for more.
5. Measurable Results & Long-Term Investment
SEO efforts are quantifiable, allowing you to track and measure the impact of your optimization strategies, making it easier to refine and improve over time. SEO is an investment that continues to deliver results over time. Once you've established a strong online presence, it can generate consistent traffic and revenue.
Top 10 Shopify SEO Agency And Apps To Rank Your Business Faster
It's time to jump into the list of the top Shopify SEO agencies and apps for your online store business. Analyzing all Shopify SEO agencies and apps, we have short-listed the most popular ones with their user selling point.
1. StoreSEO – Ultimate Shopify SEO Solution
StoreSEO is expertly designed for e-commerce companies, demonstrating a thorough awareness of the particular needs of online shops. StoreSEO emerges as the undisputed winner with a strong focus on improving product exposure, generating organic traffic, and eventually increasing conversions. It stands out as the best option for successful online retail because of its specialized attention to the complexities of e-commerce.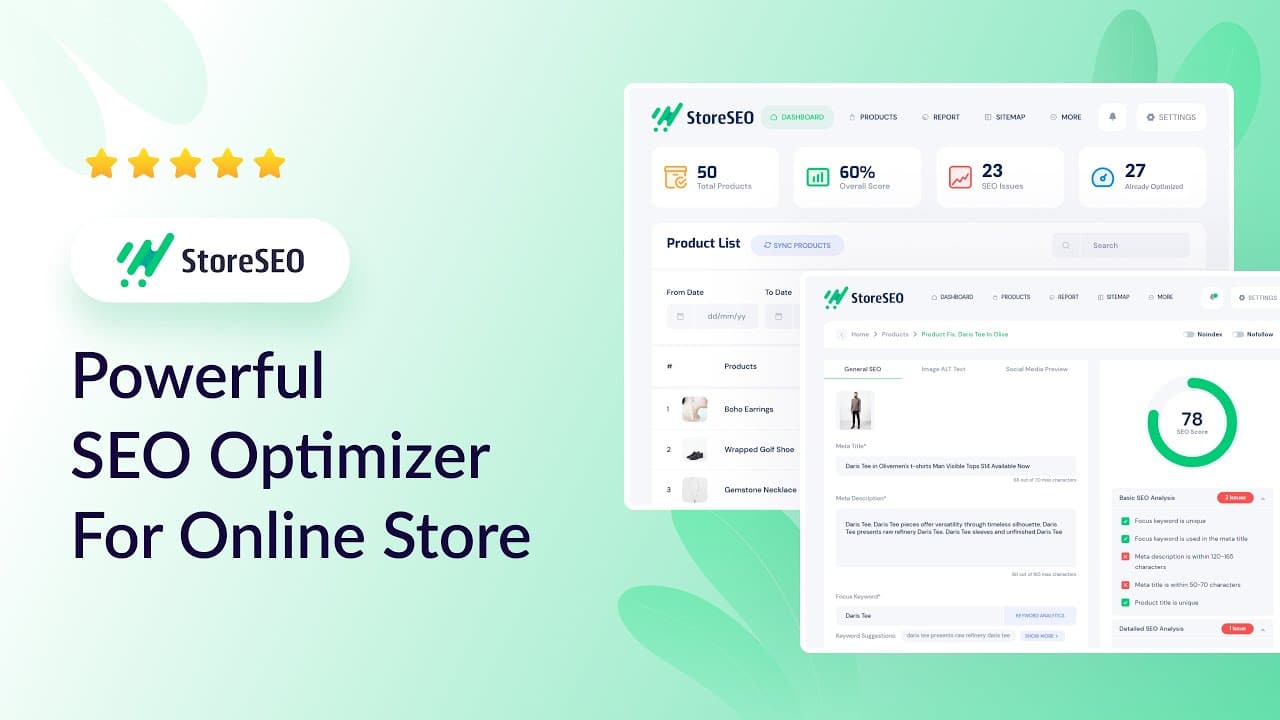 What Makes Store SEO Top In The Best Apps List:
🌟 It knows instinctively that variables like product pages, user experience, and conversion optimization are key to a successful e-commerce trip.
🌟 StoreSEO develops methods that elevate product pages to prominent positions within search results because it recognizes the crucial necessity of captivating product descriptions, appealing visuals, and compelling calls to action.
🌟The keyword strategy used by StoreSEO is quite precise. It dives deeply into the language used by online customers and their search intentions, revealing long-tail keywords that are closely related to certain goods, companies, and categories.
2. Oyova – SEO & Digital Agency
Shopify agency of Oyova's SEO services that spark your company's growth. With the single-word tagline of "empower your business through ingenious solutions," Oyova, a titan in the SEO and digital agency space, prides itself on being a solutionist. With specialized Shopify eCommerce development, unique software, and various marketing services, they turbocharge your business. Oyova's specialized solutions highlight Shopify, a platform renowned for its speed and security, and help your online business reach its full potential.
3. SEO King – Advanced SEO Manager For Shopify Stores
With a reputation for adaptability, SEO King applies its knowledge to various websites, including blogs, corporate platforms, and e-commerce sites. Although it does provide a wide range of SEO solutions, its all-encompassing strategy might not adequately address the complex requirements that online shopping imposes.
While SEO King does provide thorough SEO methods, its approach might not have the specialized knowledge needed to maneuver the complexities of e-commerce optimization.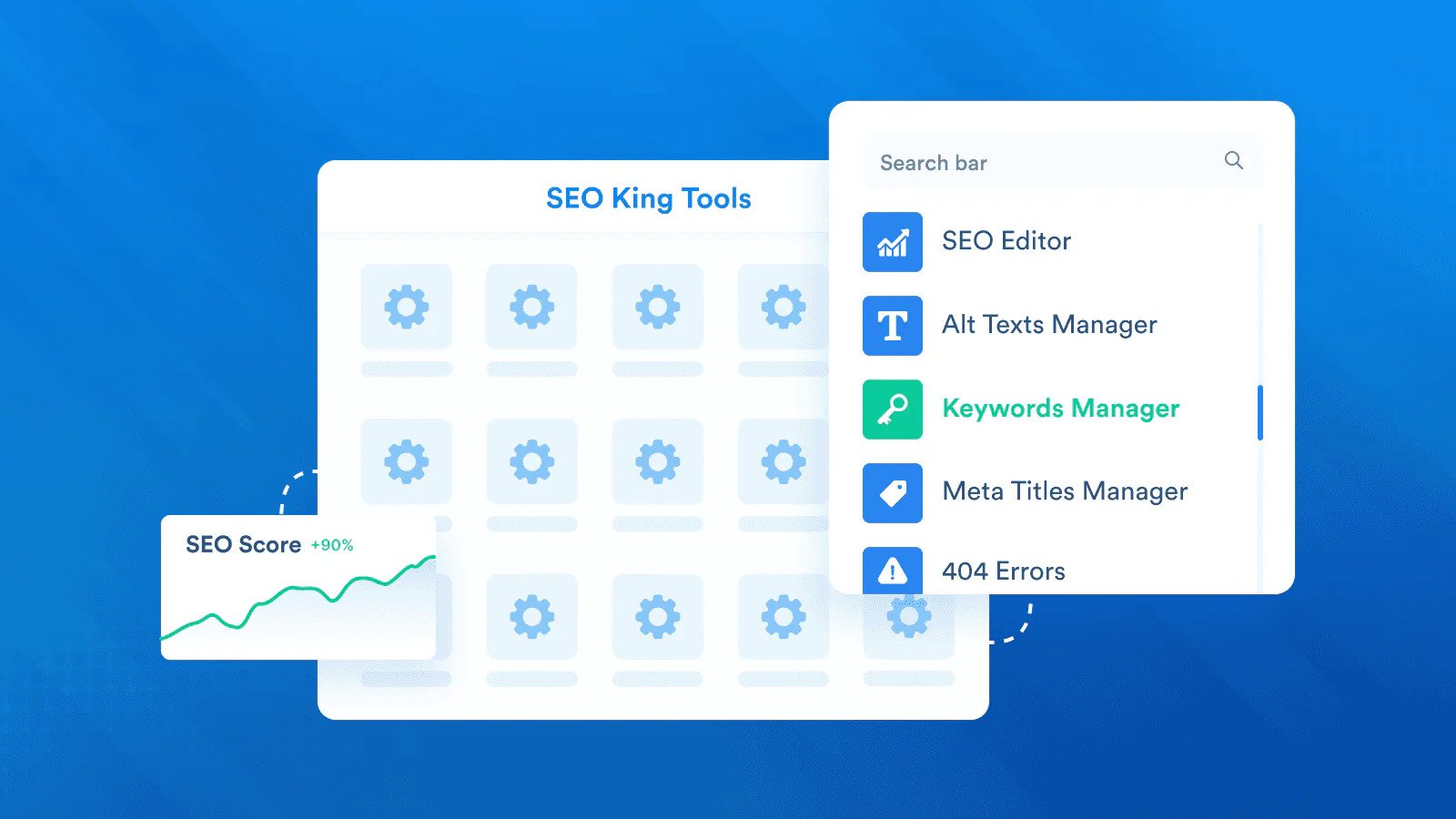 4. Urtasker – Shopify SEO Agency
Utilize Urtasker to travel the e-commerce highway! This innovative Shopify SEO agency, which is based in Long Island, has 200+ masters on staff who specialize in launching online stores into the stratosphere of success. They are a force that brings heavy artillery to Shopify development, Amazon marketing, and SEO mastery with a solid 6-year track record.
5. Smart SEO Shopify Apps
Another effective tool for assisting Shopify store owners in search engine optimization is Smart SEO. By automating and streamlining the SEO process, this application aims to increase user accessibility. Automated SEO tagging is a service offered by Smart SEO that makes it easier to add meta tags, alt tags, and Google snippets to your business. By providing keyword ideas, this tool makes it easier for you to include the most profitable and highly-ranked keywords in your product listings and content.
6. eStore Factory – Shopify eCommerce Endeavor
With the outstanding suite of services provided by Shopify SEO agency eStore Factory, you can scale up your Shopify eCommerce endeavor. This organization, which specializes in creating outstanding Shopify stores, goes into the specifics of SEO to achieve extraordinary brand promotion. Your brand will truly resonate with customers because of eStore Factory's skill in creating mesmerizing product photos and interesting infographics.
You can enhance the exposure of your products on Amazon by managing your account skillfully. The wizards of eStore Factory will put your seller or vendor central account in auto-pilot mode to maximize sales. The low ACOS advertising rates that support your revenue growth are the cherry on top.
7. Avada Shopify SEO Apps
The Shopify app Avada SEO can help you improve your search engine rankings. Avada SEO ensures your store shines with tools like image compression, page optimization, and sitemap production. The free plan, which offers image optimization for up to 50 products, an HTML sitemap, and an SEO checklist, is where you should start. Let's investigate Avada SEO more.

One of Avada SEO for Shopify's biggest advantages is how simple image optimization is. You'll find everything there, from image size and quality to ALT tag optimization. The ALT tag is crucial for image labeling since it makes it simpler for Google Search to locate your photographs efficiently.
8. Webential – SEO Shopify Agency Service
Webential can be said to be the powerhouse of Shopify SEO agency services for digital and SEO that accelerate brand building! With a history spanning more than ten years, Webential has carved out high-impact tactics, boosting businesses online while painstakingly customizing web development solutions.
Impress clients with Shopify's countless customization options to boost sales. Webential creates scalable, intuitive, and sales-driven online retailers that do more than transact business. They are experts in designing online stores to pique interest and cultivate devoted patrons.
9. Outerbox – Powered Pack Digital Agency
OuterBox, a Shopify SEO agency, is a titan of SEO and a formidable digital agency. Since its founding in 2004, OuterBox has paved the way for other businesses by boosting online sales and growth. This Shopify SEO agency is the best in the business because it focuses on SEO tactics for Shopify. It's an all-in-one hub for SEO, paid marketing, website design, and much more, with more than 125 digital marketing specialists on board.
10. Yoast SEO ‑ SEO For Stores
Another Shopify SEO solution with a ton of helpful features is Yoast SEO. You can benefit from its astute suggestions for improving your Shopify store. You can raise your store's visibility and increase customer traffic with the help of our Shopify SEO software.
Additionally, it offers real-time feedback on your SEO efforts and aids in customizing and resolving SEO problems. Yoast SEO will handle the technical side of things once it is installed on your store. Yoast SEO may also work effectively as a Shopify SEO solution.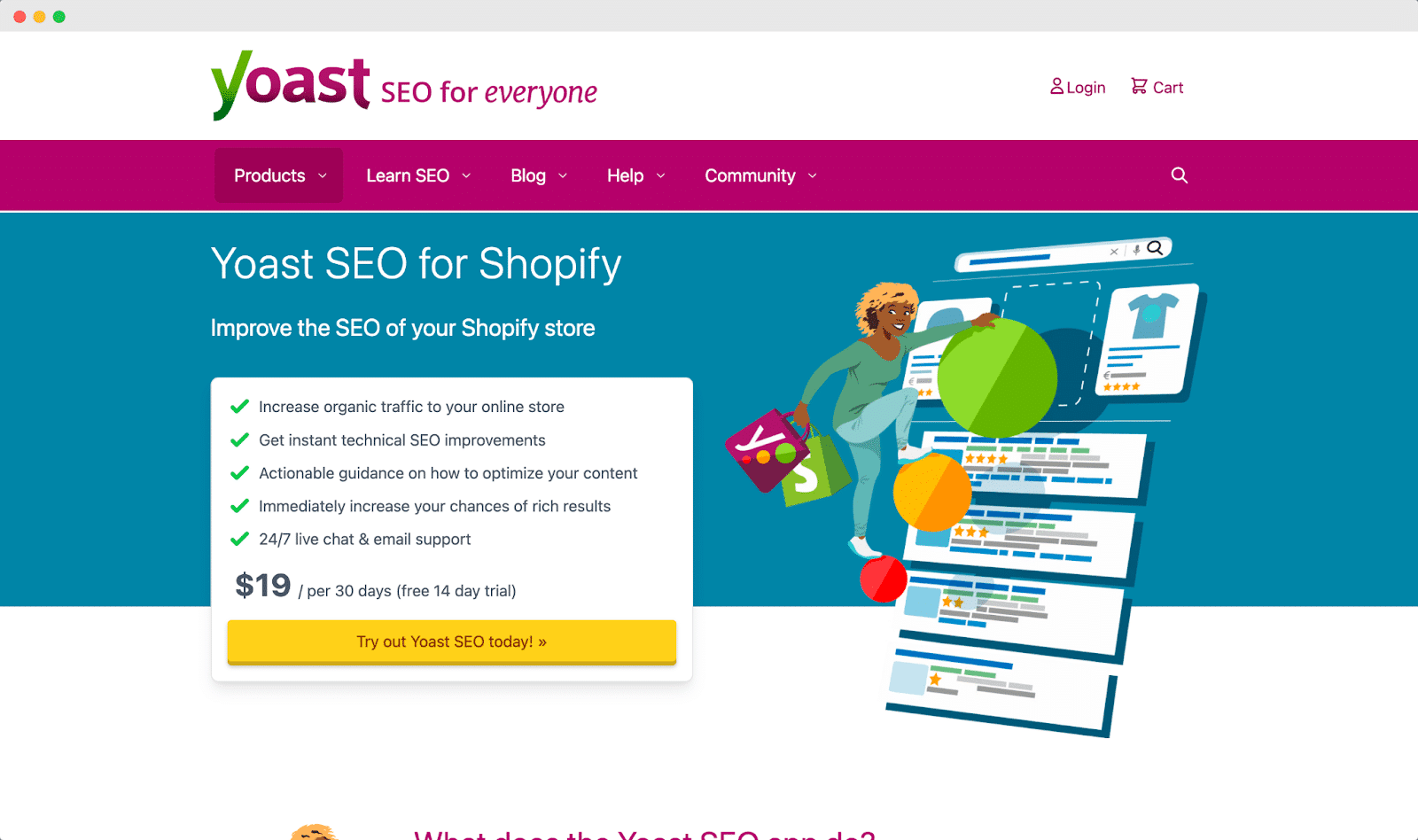 Rank Your Business Faster With The Right SEO Tools 🚀
In the fast-paced world of e-commerce, staying ahead of the competition is crucial. With the top 10 Shopify SEO agencies and apps at your disposal, you have the power to supercharge your online business and propel it to new heights. From optimizing your website's performance to boosting your search engine rankings, these tools and experts have covered you. So, why wait? Take action today and watch your business soar to the top of the digital marketplace.
Remember, in the world of e-commerce, the sky's the limit, and with the right SEO strategies, your success knows no bounds. Get started now and set your business on the path to lasting success. Want to read more such helpful blogs or find out the latest news? Then subscribe to our blog now.