Did you know Shopify is powering up more than 4.6+ million eCommerce stores from around the world? It has become the most popular platform to create eCommerce websites to boost your sales. It is an advanced solution that comes with some of the best Shopify apps to add extra features to your online store. Let's dive deep to find out the suitable ones for your online store.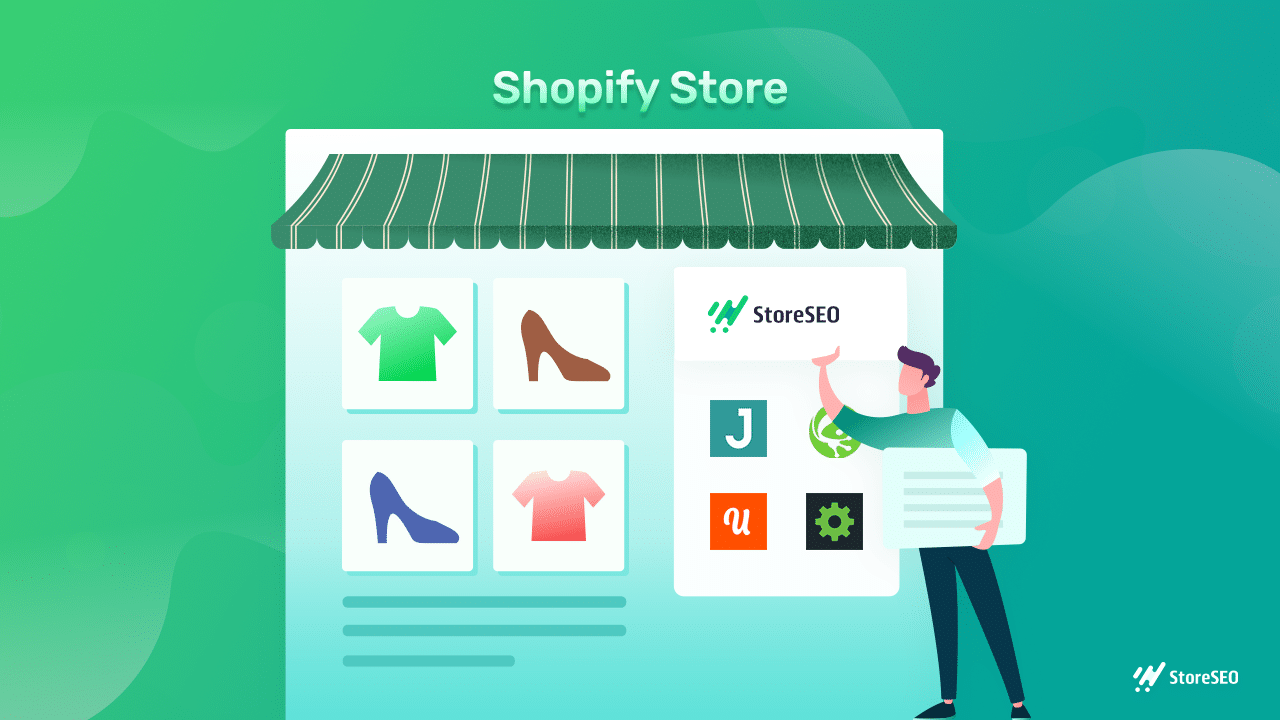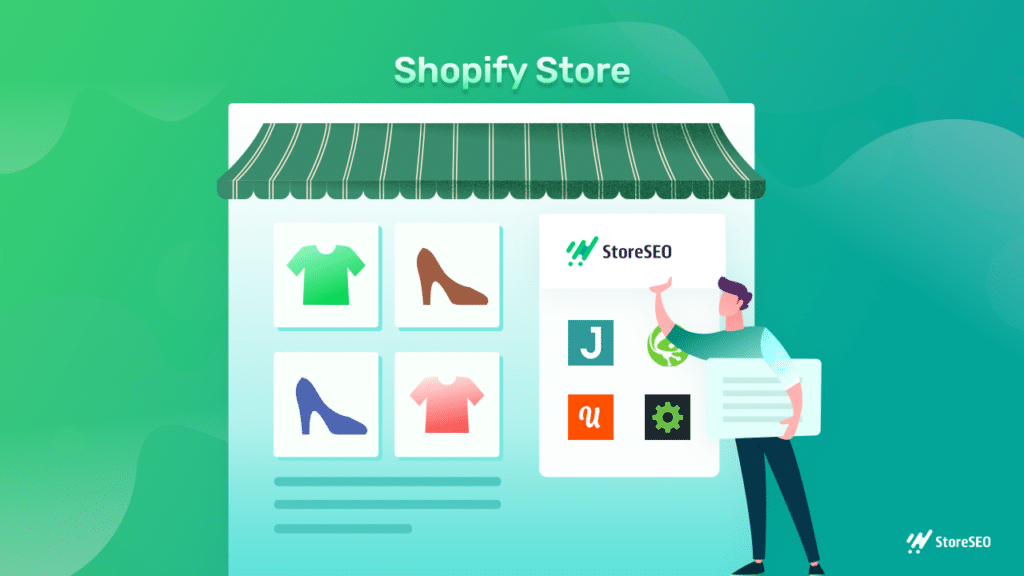 Shopify platform offers a free trial period so that you can easily check out all the features this platform has to offer. It is a reliable and scalable platform that helps you improve your online sales and secures every transaction. Shopify lets you promote your products through different channels like Facebook, Instagram, Amazon, or Walmart marketplace.
Shopify comes with marketing automation and campaign creation tools that can help you attract your potential customers easily. Besides these, store insights are also a vital part of any Shopify store. You can gradually upgrade your sales using real-time detailed data of your marketing sales. Most importantly, Shopify comes with various SEO-related tools that are useful for any online store. You can optimize your store according to the current SEO trends and make sales organically as well.
How To Choose The Best Shopify Apps For eCommerce Stores?
As you already know that Shopify has a large ecosystem of various kinds of apps and tools from which you can choose any app you want, but first you need to know how to choose the best Shopify apps for your eCommerce store that suit your needs. These apps will help you to automate your marketing process, design the store, or increase your store sales. We will go step-by-step to learn how you can choose the best Shopify apps for your store from this huge ecosystem of applications. 
👉 Make A List Of Your Priorities
If you have ever gone shopping with a required wishlist, you already know how planning can save you time and money. Just like that, before you explore all the amazing Shopify apps, you need to make a list of priorities that will help you select the best Shopify app. While setting up your priorities, you need to evaluate what you need for your store right now. In that case, ask some basic questions to yourself like: 
What are the goals for your Shopify store
How to measure Shopify store performance
Will the Shopify app create hassles for your store?
Does the app fit your budget for Shopify?
👉 Create Shortlisted Best Shopify Apps
As you have created a list of priorities already, now you need to search for Shopify apps that will serve your store the best. For example, if you want to increase the SEO performance of your Shopify store, you need to search for the 'SEO' keyword in the search box. Shopify has a collection of different types of applications. That's why creating a shortlist of the best Shopify apps is important. 
👉 Check Usability Of Shopify Apps
This step is important for any user before they get started with any Shopify app. It will save you time and money as well. So check some aspects of each shortlisted best Shopify app and decide whether it goes with your budget and store or not. 
First, you need to check the usability of the app that you want to use. Check their tutorials, documentation, and features thoroughly. If possible, try the free trial version of these apps to see what else they are offering to you. If you are planning to opt for any paid app, research the pricing plan. You can compare the free and paid features beforehand and see if the paid version is worth it or not.
👉 Check Shopify App Performance
The most important part of choosing the best Shopify app is checking out the app's performance. After installing the app, check if the app is solving the problems accurately. You can evaluate your user experience as well with the Shopify app. You can also check the reviews from other people as well. Another final and crucial point is that the app is helping you to increase your online store sales. 
Now that you know how to find the best Shopify apps for an eCommerce store step by step, we'll offer some of the best Shopify apps for you to choose from so you can start building your own eCommerce store with more sales.
Shopify Apps For Inventory Management
For your growing eCommerce business, you need to choose an inventory management Shopify app that will help you maintain your eCommerce shop products. Here we have mentioned the best listing and inventory management Shopify apps below: 
DataFeedWatch – Multi-Channel Listing

DataFeedWatch is the most user-friendly multi-channel listing software for Shopify merchants, allowing them to build, optimize, and manage product feeds for 1000+ sales channels and marketplaces in over 50 countries.
Connecting your store to DataFeedWatch is simple because it has easy integration with Shopify. It enables you to improve your listings and track product effectiveness across all of your preferred sales channels, including Google Shopping, Amazon, Facebook and Instagram, Criteo, Shopzilla, and others. All of this is included under a single, user-friendly, and unified platform.
TradeGecko – Shopify Inventory Management App

As your industry expands, TradeGecko is a popular inventory management app that allows you to manage orders and inventory. It enables you to handle retail channels while providing you with a variety of customization choices. From the dashboard, you can easily modify your branding and price lists without any hassle. Another important feature is TradeGecko's ability to link with accounting software as well.
Shopify Apps For Collecting Review
Collecting reviews for your Shopify store is important because it will increase your credibility in front of any potential customer. Customer reviews work as social proof about how your product or service quality actually is. That's why we have brought you some of the best Shopify apps for collecting reviews for your Shopify store.
Fera Product Review app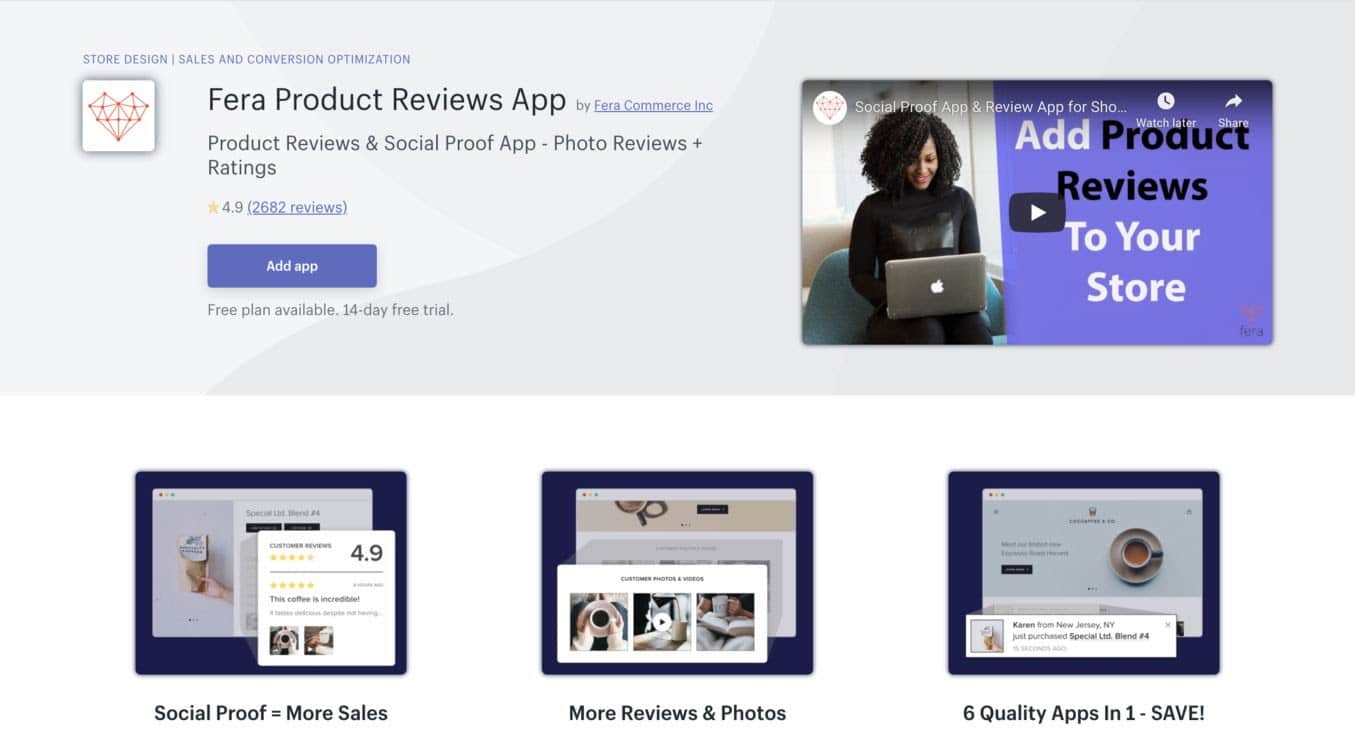 With product reviews, photo reviews, video reviews, and testimonials, the Fera Product Reviews app helps you to earn your consumers' confidence and increase conversions by showing them how fantastic your product is. Using this app, you can send automatic review requests to your customers. Besides collecting reviews of different forms, you can also offer customer incentives for reviews as well. If you are searching for Shopify apps to collect dynamic feedback, this is the app you are looking for.
Judge.me Product Review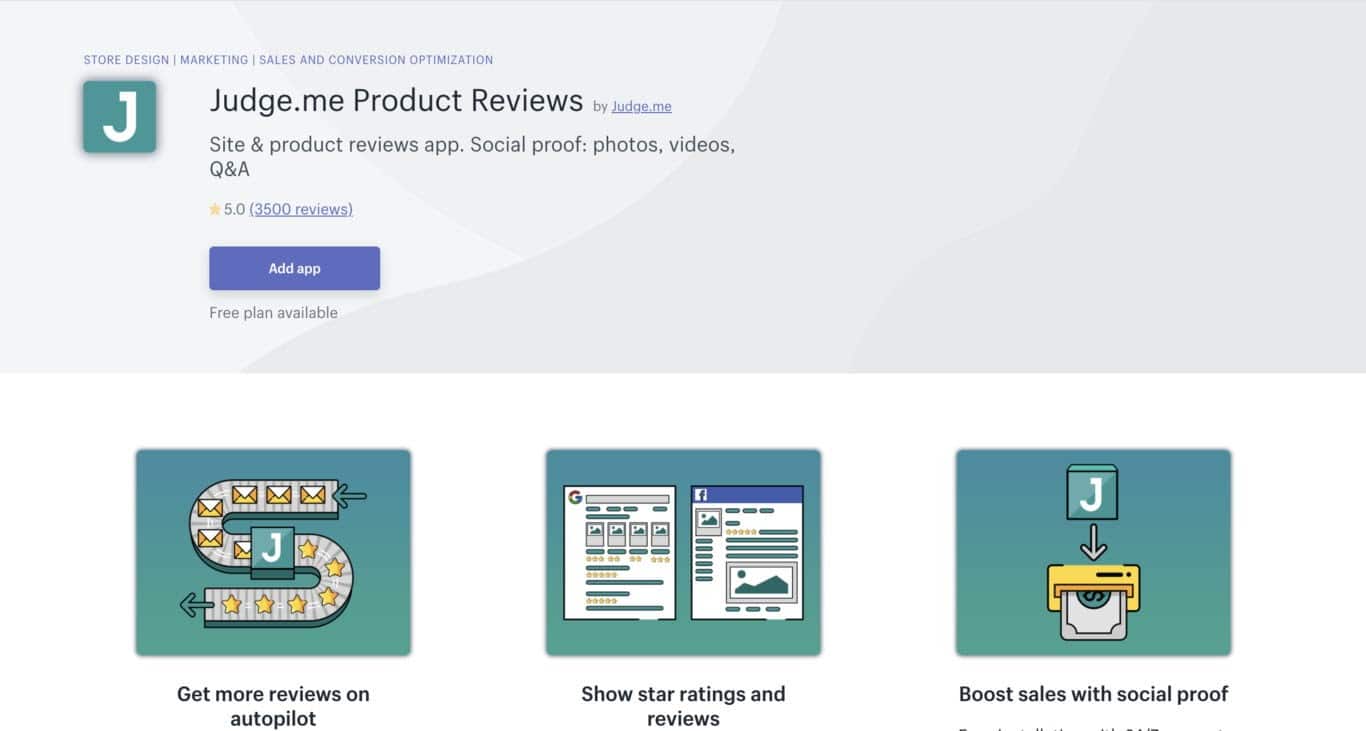 If you want to display star ratings of each of your Shopify products, and reviews, with an unlimited review request plan, Judge.me Product Reviews app is the one. If you want to start with a free plan, this app comes with a free version as well. You can also offer customized coupons to your customers using this amazing and handy Shopify app.
Shopify Apps For Affiliate Marketing
Conducting affiliate marketing on the Shopify platform is an amazing way to enhance your business. Affiliate marketing is a reward-based marketing strategy by which you can promote others' products and get a commission. Shopify apps have made it easier for any affiliate marketer to enhance their productivity and step up their business. Let's see some of the best Shopify apps suitable for you.
Affiliate Marketing & Tracking

Using Affiliate Marketing & Tracking apps, you can easily manage affiliate programs and make deals as much as you want with varied fee structures. You can create lucrative registration forms emphasizing available affiliates. You can track the orders from the affiliates, using links, vouchers, and so on. You can also expand your affiliate network with free listing opportunities.
Affiliatly Affiliate Marketing

With the help of the Affiliatly Affiliate Marketing app, you can track and manage all kinds of transactions that are going on in your affiliate program. From showing the descriptions of appointments to boosting your sales, you can monitor all of these using this simple app. If you want to explore any app for test purposes, this app gives you a 90-day free trial as well.
Shopify Apps For Better SEO Performance
When it comes to operating your Shopify business, there are a few hard truths that you can't avoid. To achieve a high Google ranking, a lot of SEO work is required. Also, SEO takes time and knowledge. You won't receive enough visitors until you invest effort in SEO. Thankfully, Shopify has its own SEO features and options, but if you want more flexibility you can explore Shopify SEO apps from the app ecosystem. Let's explore all the Shopify SEO apps that can be useful for you.
StoreSEO – Drive Traffic To Your Business

Maintaining SEO can be difficult but StoreSEO has made it easier for anyone who wants to boost their sales organically. As mentioned earlier, SEO can be very tricky and hard to maintain but while using StoreSEO for your Shopify store, you can optimize all of your products one by one for better SEO scores and keep them ready to rank better in search results. Using this app, you can add alt texts to product pictures, SEO-optimized product descriptions, get in-depth SEO analysis reports, or add high-ranking keywords. It also has free and premium plans that can offer varied services to you. 
Plug In SEO – Optimize & Fix Broken Links

Plug In SEO is a great time-saving Shopify app that can help you to detect which search engine terms you need to use for your store. Starting from page titles, headings, meta descriptions, speed, or even article structure and content, you can optimize all using this simple yet handy app. If you are looking for a Shopify SEO app, this can be the one you're looking for.
Shopify Apps For Shipping Products
It takes a lot of effort to run a Shopify eCommerce store. You've prepared your goods, fine-tuned your branding, and personalized your shipping container. The only thing left to do now is delivering your product to your clients. Shopify includes a number of apps that can assist you with shipping. With so many options, we've compiled a list of the best Shopify shipping apps below:
ShipperHQ: Shipping Experience

You can customize your shipping prices based on your items, geographic zones, warehouse locations, and other factors using the ShippingHQ app. You can create custom and real-time shipping rates for defined groups of products, set shipping costs for specific geographic zones, set product weights, price thresholds, and cart quantities, offer special discounts, surcharges, and promotions, and enable table rates, flat rate shipping, and dimensional weight-based shipping costs easily. Even though this app comes with multiple functions, using this app is very straightforward and easy.
ShipStation

ShipStation is one of the best Shopify apps that streamlines the process of importing, managing, and shipping orders. With ShipStation, you may get reductions on shipping costs from USPS, UPS, and FedEx for your store. In-app price comparisons with real-time rate information are also available. Smaller businesses can now provide free delivery thanks to ShipStation's discounts.
Subscribe to our blog to read more blogs like this if you found this blog helpful in creating a Shopify store from the ground up and selecting the best Shopify apps for a fully functional store. Join our Facebook community to connect with other Shopify fans.