Search Engine Optimization or SEO is vital to ace digital marketing and this has undoubtedly been stressed a hundred times over. For any digital marketer, learning SEO is essential. Here in this blog, you will know about the top 8 self-learning SEO sites that can help you in 2023.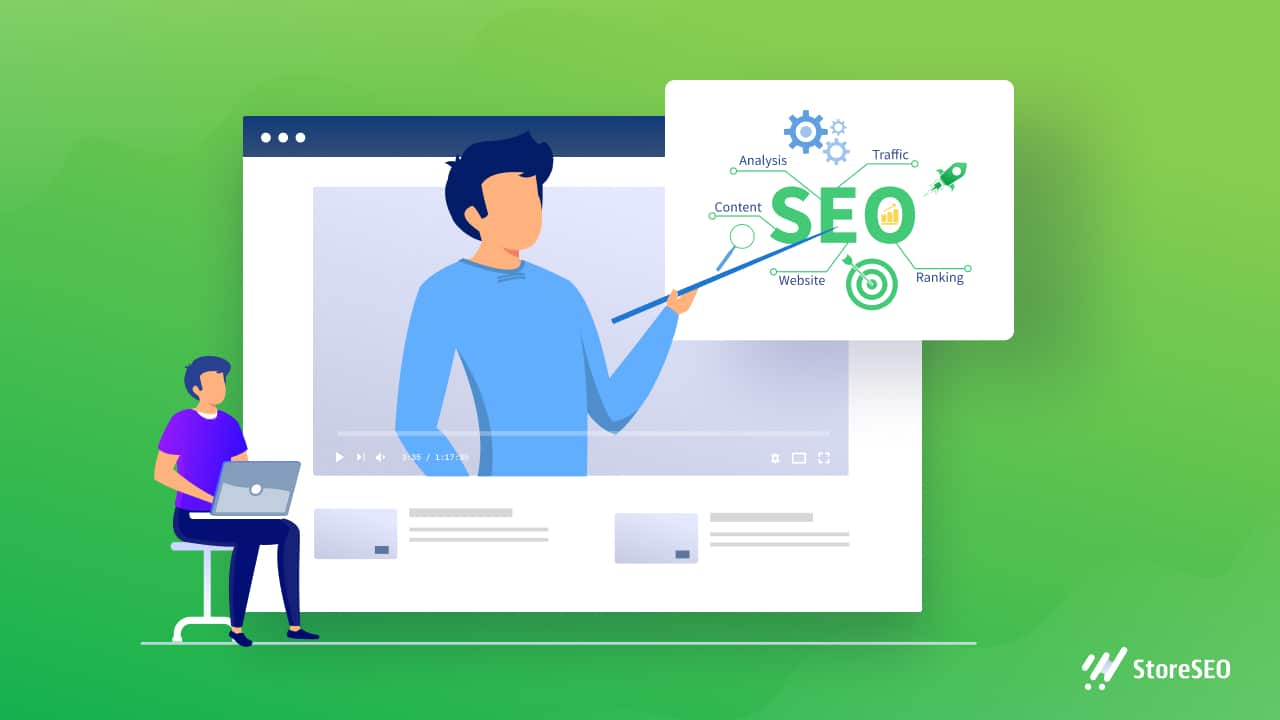 Key Reasons Why SEO Is Important For Digital Marketing
From increasing brand awareness to driving traffic, the benefits of SEO are enormous. Below is the reason why SEO is important for digital marketing.
🚀 Drives More Organic Traffic
One of your first tasks should be to fully optimize your website for search engines. Because a website that has been properly designed for SEO may quickly get you to the right audience base and help you rank higher on search engines. This is important to drive organic traffic to your website.
🤝🏻 Helps Build Trust & Credibility
For any website to perform well, it needs to have a sound SEO score. A website that has a better ranking is likely to gain more trust and credibility from the audience and SEO is the reason behind a website's rank on search engines.
🎯 Helps Understand Consumer Behaviour
SEO helps marketers to understand customer behavior. Understanding customer behavior is important to plan and executing your marketing strategies. SEO reveals what consumers want and need, from identifying macro market movements to pinpointing consumer intent. Based on that, you can work on enhancing user experience.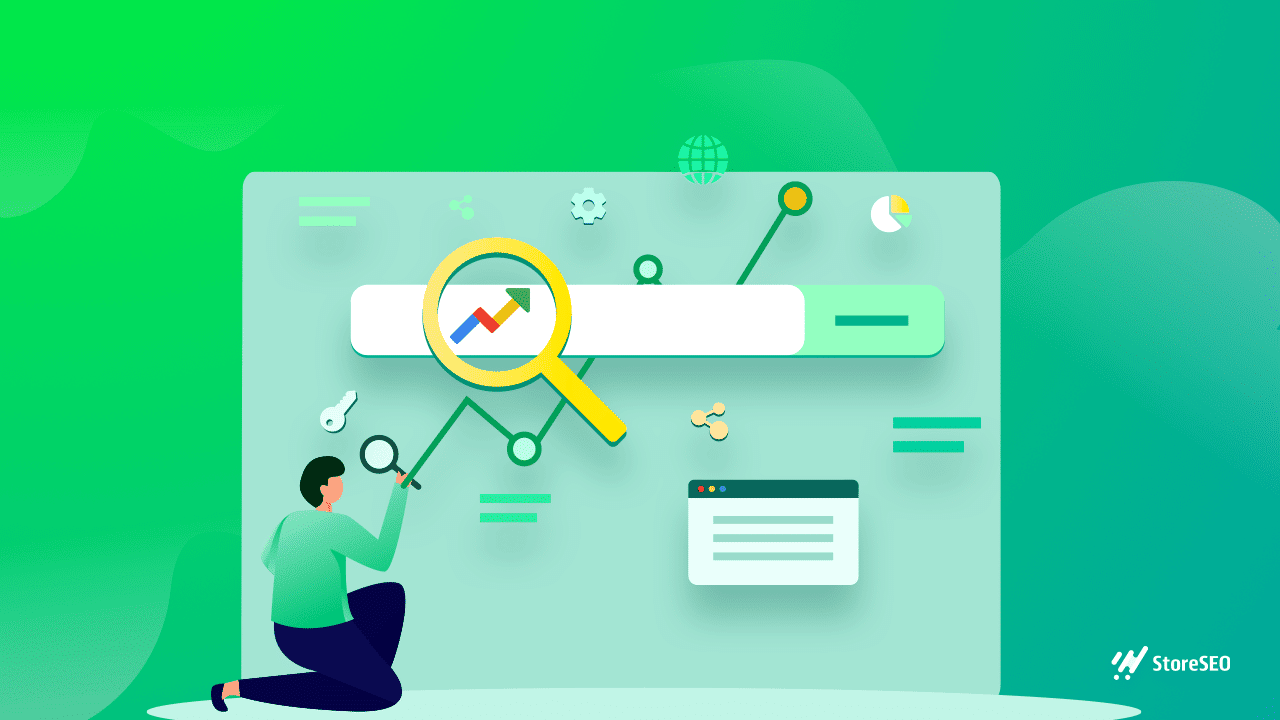 ⚡ Increase Engagement, Traffic, & Conversions
Local SEO helps in increasing engagement and conversions of your site. You can ensure more targeted Local searches when local SEO strategies are properly implemented. Local searches are made to find a certain store or area. So when properly, your company will likely be in a better position to market the goods or services it provides.
These are just a few of the major reasons for doing SEO for your websites. There is a lot more to reap from an efficient SEO strategy that keeps your business ahead of the competition. So, you should consider Search Engine Optimization.
Top 8 Self-Learning SEO Sites That You Can Help You In 2023
The importance of SEO is evident from the discussion above and for marketers learning SEO is a must. Let's dive deeper into the blog to know about the top 8 self-learning SEO sites that can help you in 2023.
Moz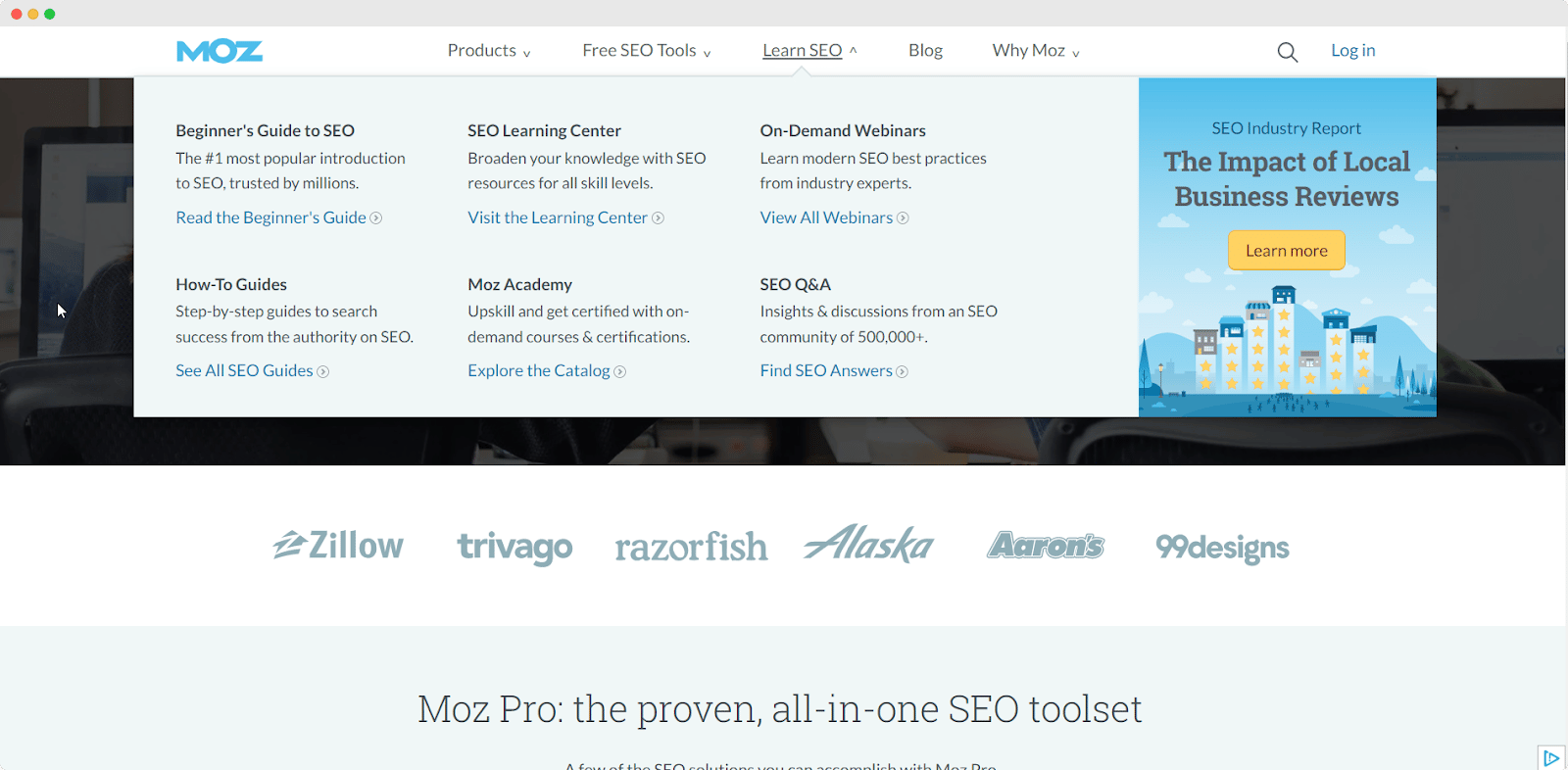 A popular and well-known self-learning SEO site is Moz. It is a search engine optimization firm that focuses on research and education. Moz offers many free tools and information that are highly effective. It is a great platform for beginners to learn about impactful SEO strategy, and local SEO factors, get on-page SEO tips, and more courses related to search engine optimization. The classes consist of 5-10 lessons. By attending the webinars, reading articles on their website, and taking free classes, beginners can know a lot from the courses.
SEMrush Academy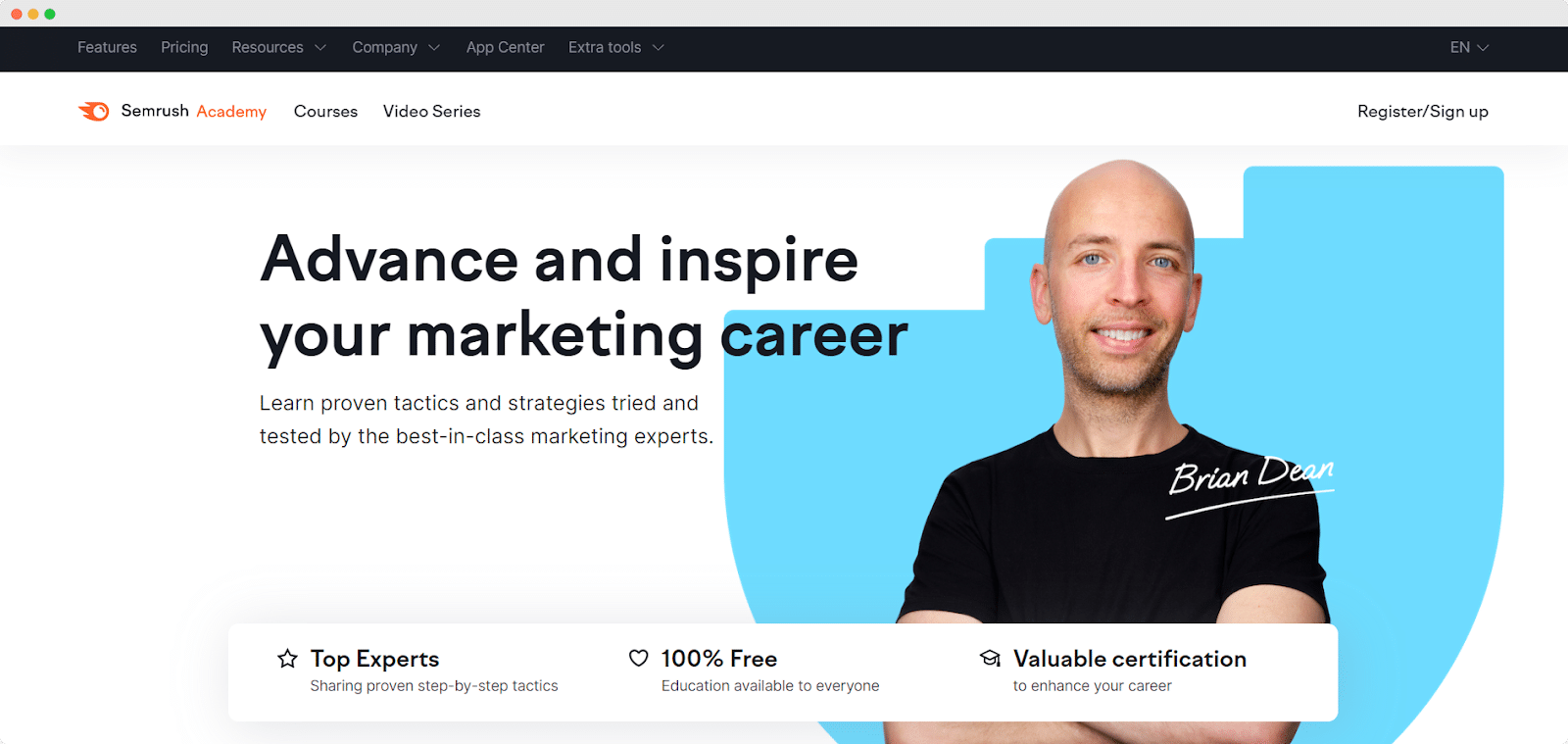 Next, among the top self-learning SEO site, one that we are going to mention is Semrush, a company trusted by renowned brands around the world. It is popular for its SEO suite and award-winning toolkits that aid professionals in the field in analyzing website traffic, boosting ranks, and honing their digital marketing techniques.
That's not all. Semrush standouts for its highly effective SEO resources. It offers everything you need to build expertise in SEO and broaden your insights, from downloadable manuals, and eBooks to impactful webinars and podcasts.
Google Analytics Academy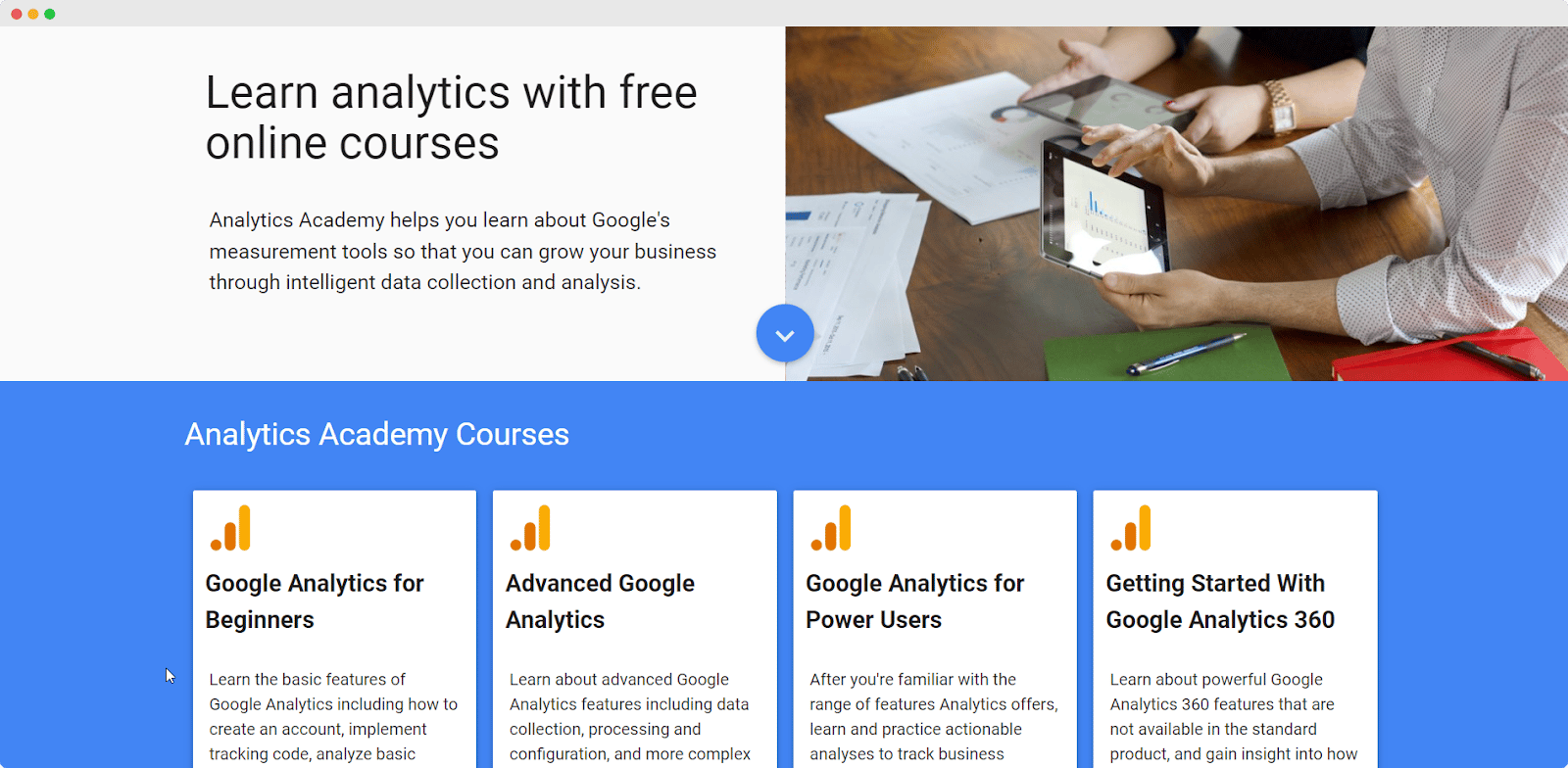 Google comes first as the most popular search engine today. Therefore it is important to learn Google's search engine optimization and the best platform for this would be Google's own Analytics Academy. With the help of Google's free online classes, you can have a broader view of SEO and enhance your analytics skill.
In addition to being a specialist in SEO, Google Analytics Academy's Analytics IQ Exam is an industry-recognized certification. Here you will learn about Google's measurement tools and get deeper insights into how to make your marketing efforts better.
You must complete the Google Analytics for Beginners and Advanced Google Analytics courses before taking the certification exam. Additionally, you can access reading materials, enroll in short courses on YouTube, and learn about industry trends and best practices.
HubSpot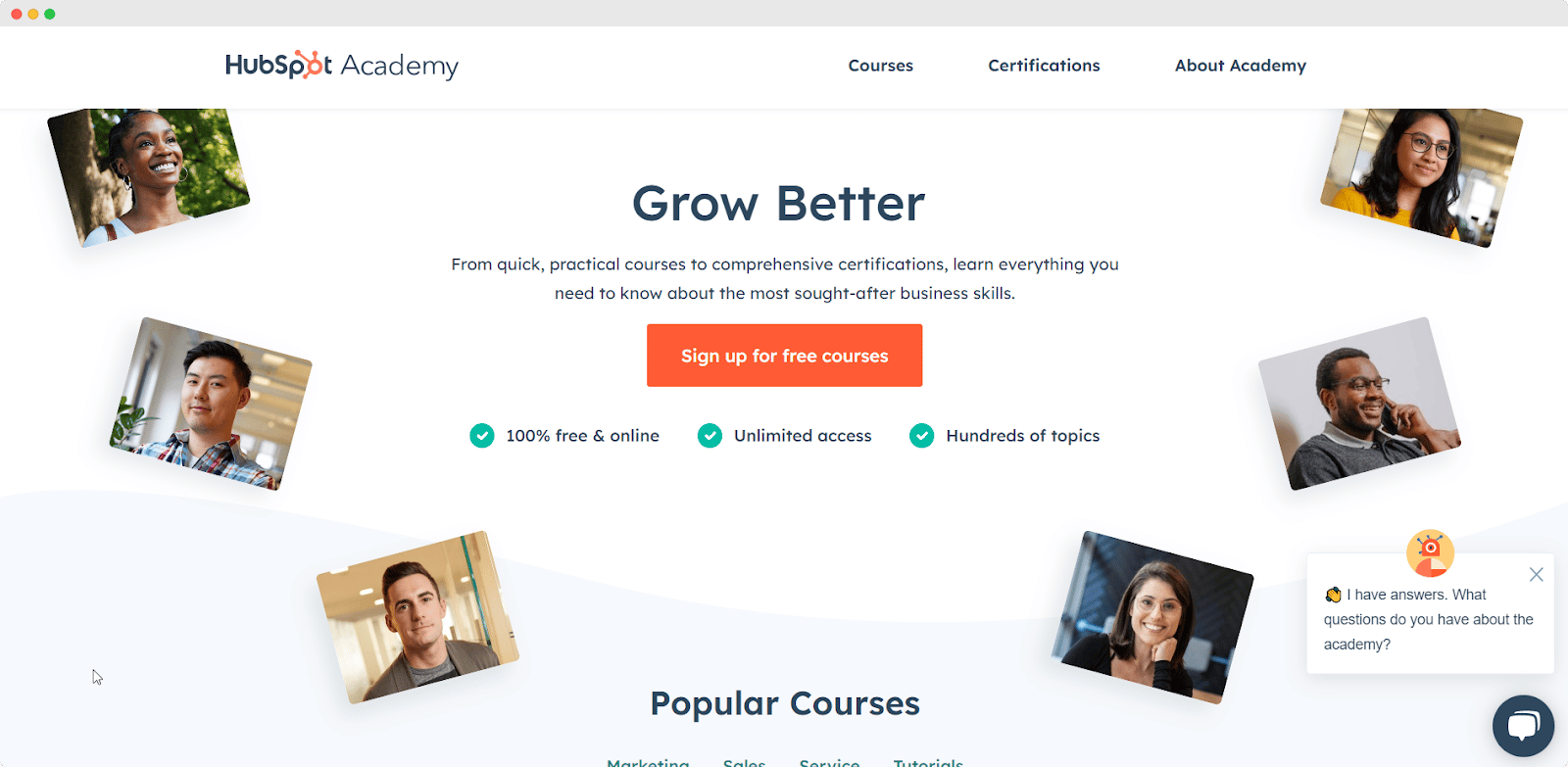 The next self-learning SEO site that we are going to recommend for learning SEO is HubSpot Academy. HubSpot is not only a global leader in the fields of marketing and sales but also a good platform to learn about SEO in detail. There is a wide range of online courses from comprehensive certification to methodology training programs along with easy, quick, and practical free courses.
The courses are suitable for marketers, content creators, and those who want to enhance their knowledge of SEO and improve their strategy with the best SEO practices. In addition to that, there's no deadline! You can watch them whenever you want at your convenience as you get unlimited access to these online courses.
The course curriculum is visible to anyone. So, you can skim through the course before enrolling in it. The course material includes lectures, interactive videos, lesson plans, quizzes, and exercises that make learning interesting, engaging, and fruitful.
StoreSEO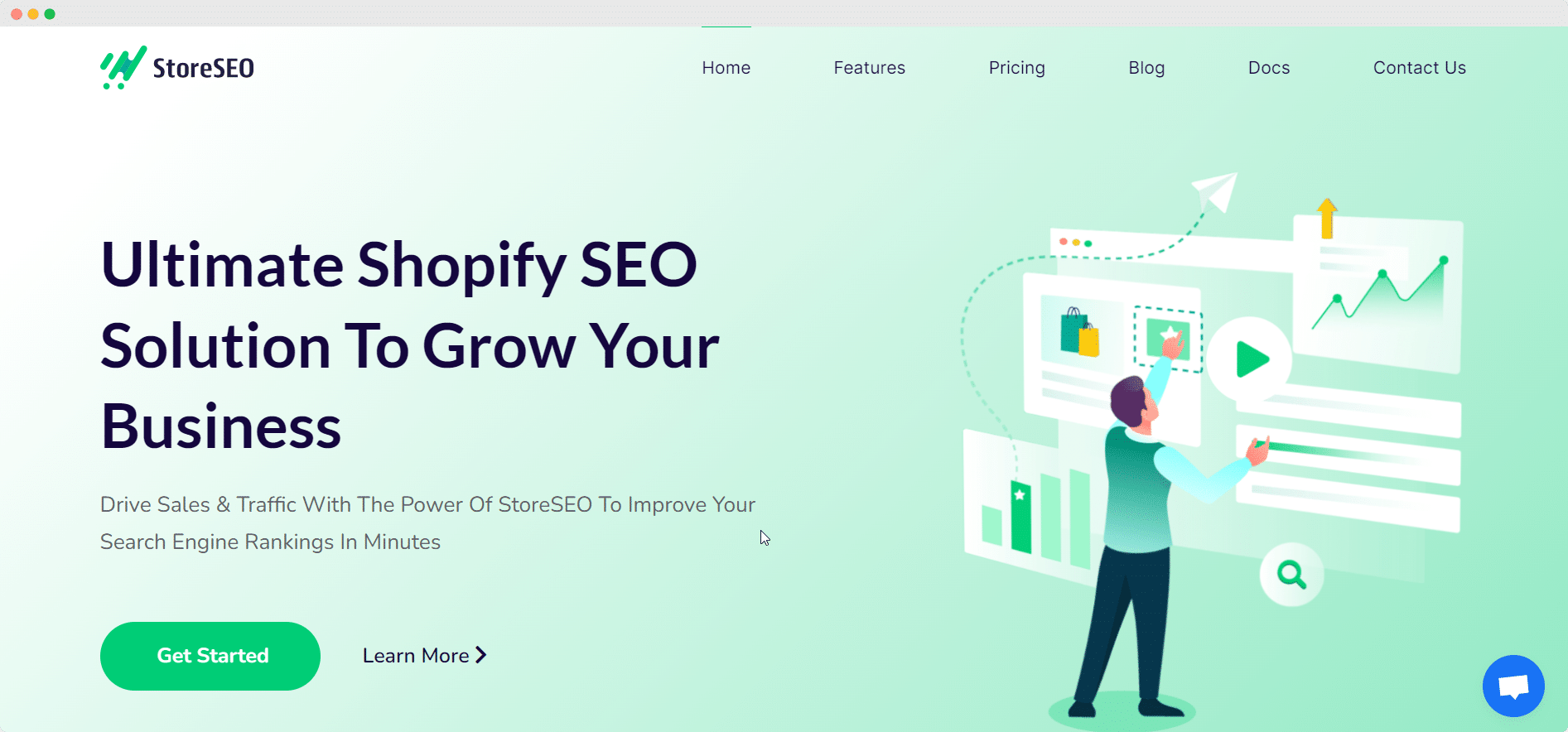 Another website that we are going to mention for learning SEO yourself is StoreSEO. Those among us running a Shopify store know very well how important SEO is for any Shopify store to get traffic and increase engagement. StoreSEO is a good resource for anyone who wants to improve their Shopify SEO. So, it can be a useful self-learning SEO site for those willing to learn about Shopify SEO.
LinkedIn Learning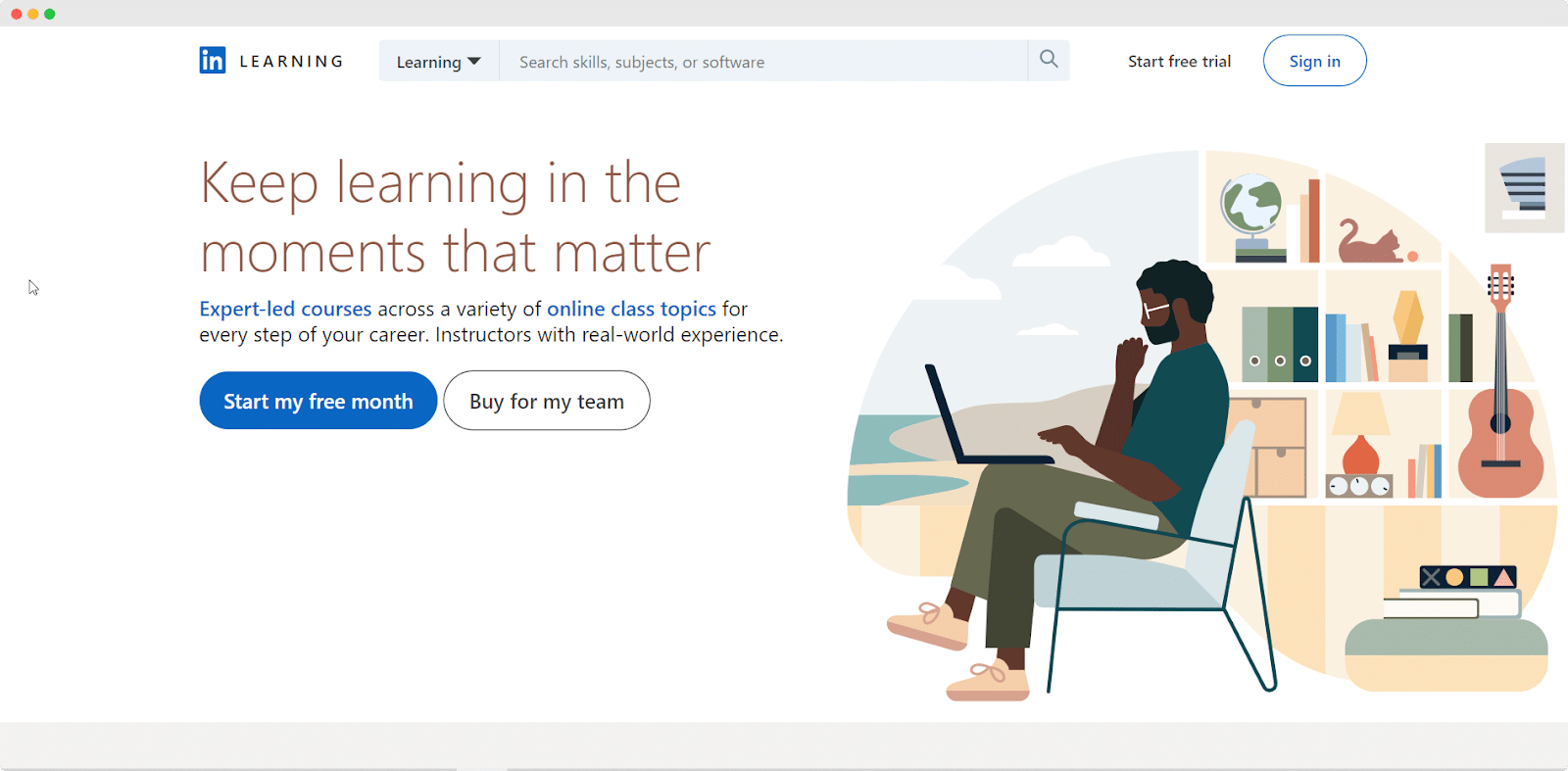 LinkedIn Learning enables you to advance your skills by providing free access to more than 16,000 courses taught by professionals in the field. The extensive SEO study resources provided by LinkedIn Learning are available as stand-alone online courses or pre-designed learning paths.
To have a systematic and comprehensive learning experience, this platform is truly effective. If you want to be an expert in digital marketing and SEO, the learning path will direct you toward that. The study pathways on SEO encompass all you need to do to obtain maximum visibility on search engines, from fundamental SEO tactics to marketing tools. On successful completion of the courses, you will be eligible to get the certificate or receive the badge.
LinkedIn Learning will be a perfect self-learning SEO site for you to learn how to conduct keyword research, create inbound and outbound links, create a long-term plan, use the fundamental tactics and strategies of optimization, and much more.
Udemy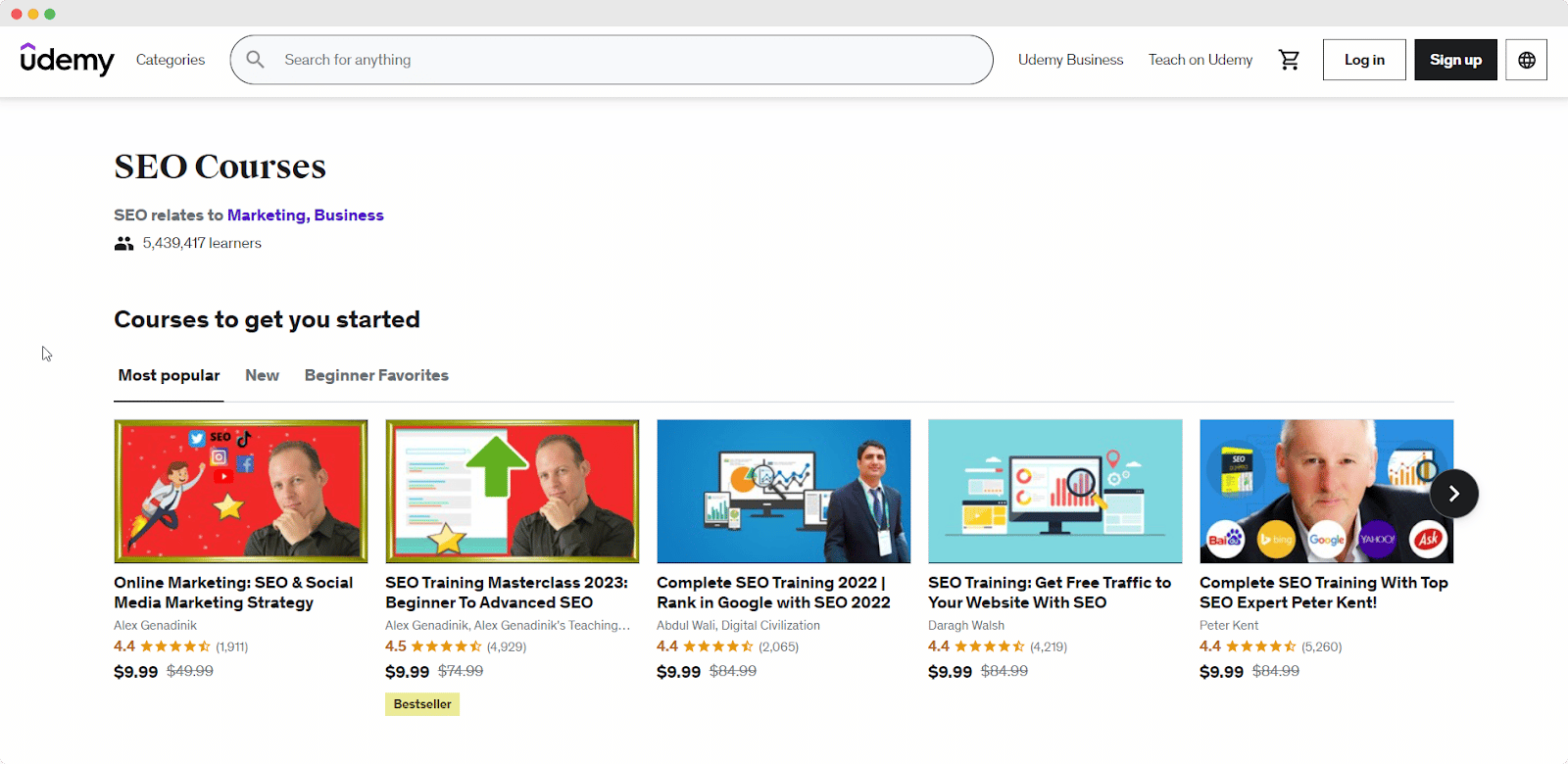 Some of the finest options for learning SEO are provided by Udemy. SEO can sometimes be puzzling for you as there are multiple factors to consider from link building to title tags. Udemy's courses on Search Engine Optimization are thorough and give you the opportunity to take charge of your education in a manner that is simple to understand. So, Udemy is another self-learning SEO site that you can look up to.
Coursera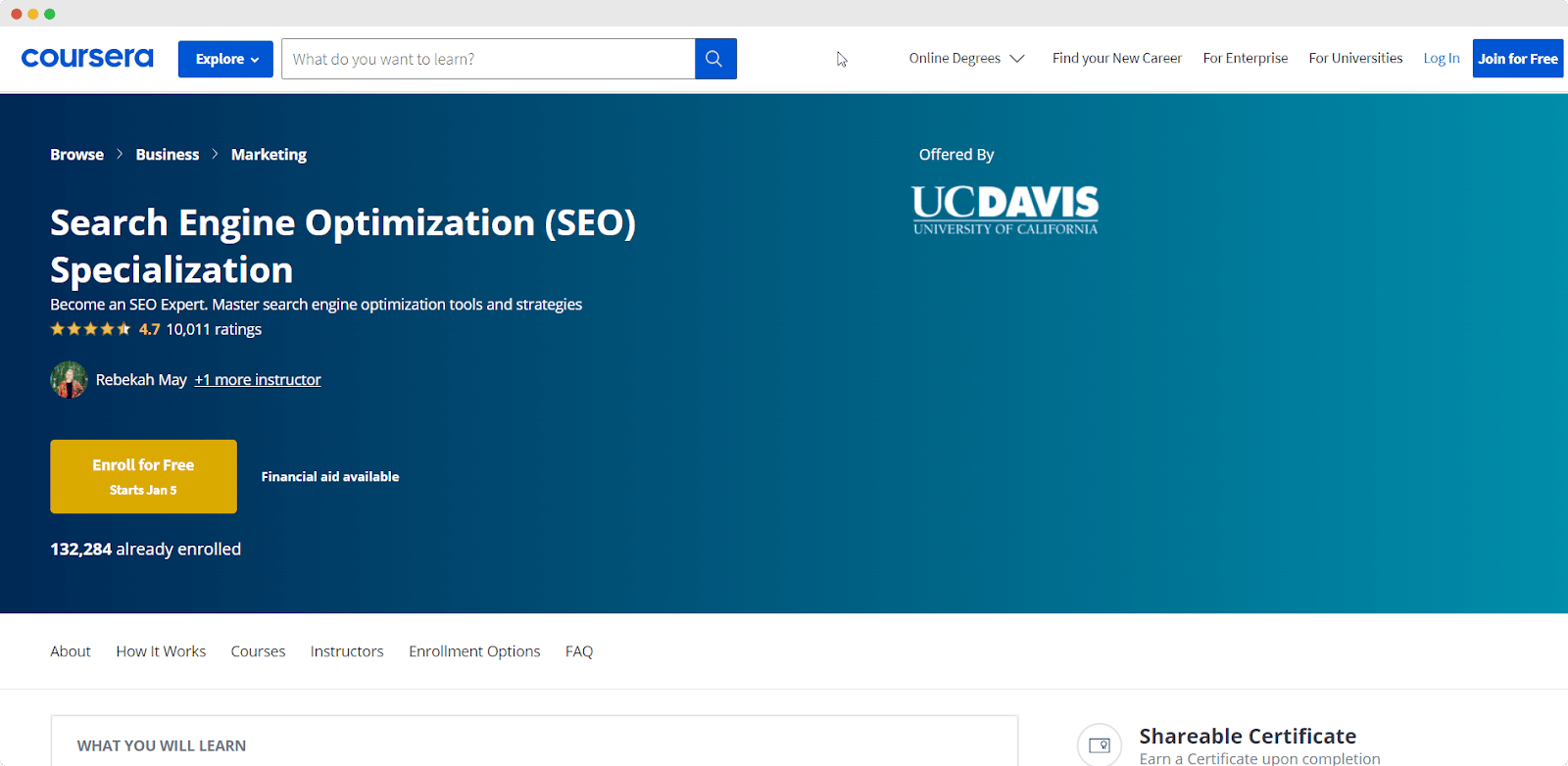 Coursera's Search Engine Optimization Fundamentals is good for you if you seriously want to learn about SEO and are dedicated to it. Website optimization, keyword analysis, and link-building strategies are some of the topics covered in this course. Professor Eric Enge, a renowned search expert, and entrepreneur is the course tutor and the classes include lectures and homework.
All course materials are given in high-quality video format, as well as in additional formats including Excel spreadsheets, and for quick download as PDF files. Due to its length, SEO Fundamentals often require several months to finish; therefore, it is recommended to finish the course in three or 4 months and divide your learning plans accordingly.
Strengthen Your Digital Marketing Strategy With The Best SEO Practices
So, here we end with the top 8 self-learning SEO sites that can help you grow your SEO skills in 2023. The best thing about all of these websites is that you may advance your knowledge of SEO and digital marketing at your own pace. The majority of the courses available on these websites are completely free and accessible at any time from any place. Additionally, you can begin your journey to being an SEO expert without any prior expertise.
Was this blog helpful for you? Feel free to share your thoughts in our Facebook Community and subscribe to our blogs for more insights and SEO guidelines.