Want to be a Shopify SEO expert? You might wonder which apps can help you strategize for effective SEO optimization and enhance your online presence. With so many options available in the market, you might have a hard time picking the right solutions for yourself. But don't worry anymore. Today, we will tell you which Shopify apps you should use to craft your magic in boosting search rankings (expert's pick edition). So, without further ado, let's get started.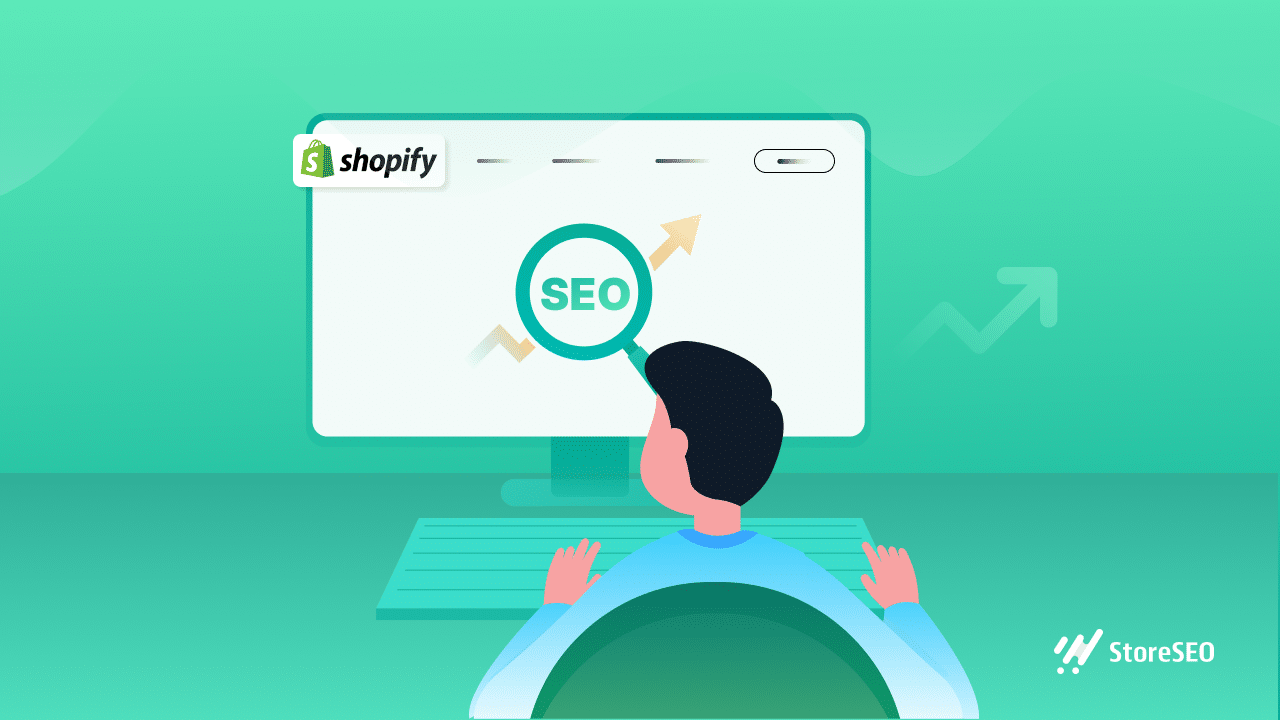 🏆 Recommended Apps For Shopify SEO Experts
When it comes to ensuring the online presence of a Shopify store, you have to follow a checklist for optimizing your store for search engines. With SEO apps, you can easily check off the tasks on these lists and make life a little easier while boosting your search engine visibility and reaching for higher organic traffic.
Here, we have compiled a list of SEO apps that will help you to expertly improve your SEO performance without much hassle. Let's get to exploring:
1. StoreSEO
Shopify has many SEO solutions that can help you optimize your store for search engines. Out of them, StoreSEO stands out as being an all-in-one SEO solution. It ticks all the checklists that a Shopify SEO expert needs to follow to ensure every aspect of your store is optimized for all the popular search engines available. From optimizing your product for search engines to creating a proper sitemap to connecting your store with Google Search Console, this app will make your work easier.
💡 Why Should You Use StoreSEO
StoreSEO can effectively help you to rank your store on search engine result pages. It has super useful features that align with the best SEO practices. Here are some of the most noteworthy ones:
Powerful SEO Scanner: StoreSEO comes with an advanced SEO scanner, which will analyze your store and show your product pages' performance with complete breakdowns. In addition to that, you will get detailed SEO fix instructions to improve your SEO score without any hassle. As a Shopify SEO consultant, this feature can save a lot of your time.
Bulk Image Alt Text: For an eCommerce store, image alt-text is extremely important to optimize your images for search engines. StoreSEO will help you not only add image alt text for each image but also it will help you to add alt text for all images in bulk if you have a product gallery on site.
On-Page SEO: StoreSEO has all the features that you need to complete the on-page SEO checklist, such as adding keywords, meta titles, descriptions, tags, canonical tags, etc., at ease. This SEO app can help you create templates for adding your meta titles and descriptions for each product. Besides, you will be able to optimize the on-page SEO for your blogs and different pages with this app.
Enable & Submit Sitemaps: With StoreSEO, you can easily enable sitemaps for your Shopify store. Besides, you can connect Google Search Console with the store and submit sitemaps instantly to get faster results.
In-Built Analytics Dashboard: StoreSEO also helps you connect your store with Google Analytics to track your store data from your Shopify dashboard. With an in-built analytics dashboard, you will be able to see your traffic and engagement data with ease.
Local SEO: StoreSEO also comes with a Local SEO feature that will help you get rank on local search results. You can easily add the JSON-LD schema markup and boost your visibility to outrank your competitors.
2. Hyperspeed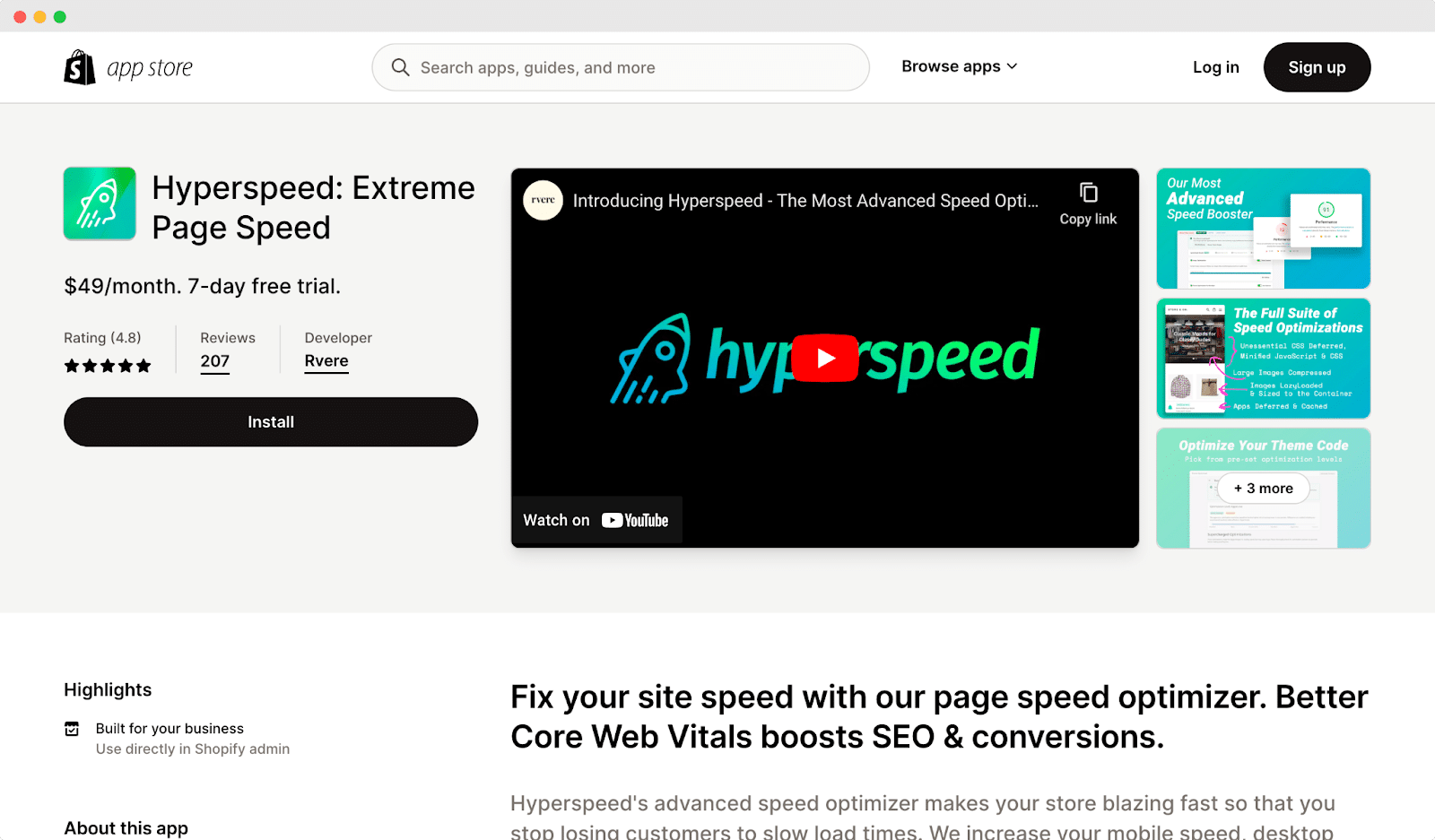 Now, even with a properly optimized website, if your website's load time is too high, you will lose potential customers and clients. And to avoid that, your next concern must be to improve your store's performance.
So, when you are thinking about optimizing your Shopify store for search engines, you have to focus on speed optimization as well. Hyperspeed can help you boost your store speed with its amazing features like a true Shopify SEO specialist. It has all the features that you need to improve your overall Shopify store speed and performance.
💡 Why Should You Use Hyperspeed
Hyperspeed is also an all-in-one solution for you, like StoreSEO, but for different Shopify store needs. You are going to get everything you need for speed optimization in the same app. Let's check out the key features below:
Image Compression: Hyperspeed has an image compression feature that will help you optimize all of your store images and boost load times. It even enables Lazy Loading facilities for your store. So, your visitors will get a better user experience while buying from your store.
JS and CSS Minification: JavaScript and CSS minification can increase your store speed by a huge margin. With Hyperspeed, you will be able to minimize your JavaScript and CSS without any hassle.
App Caching: This Shopify app can help you reduce the impact of the 3rd party apps that are installed on your store by clearing any stored cache. As a result, your store will be much faster than before.
Speed Optimization for Mobile & Desktop: Hyperspeed is a top-notch speed optimization app that will increase your store speed for mobile and desktop. So, no matter which device your customers are using, they will have a smooth user experience.
3. BetterDocs
When you are thinking about optimizing your store for search engine optimization, you need content. In addition to that, you need to add long-tail keywords in your content to get ranks on search engine results. Now, with the rise of voice search, long-tail keywords have become a key thing for getting ranks. That's where BetterDocs comes into play. It can help to add long-tail keywords to your product pages and rank on search engines while improving your user experience.
But is that all? BetterDocs also enables you to add detailed and stunning documentation for your products and services on your Shopify store that users can view for instant self-service whenever they are in need.
💡 Why Should You Use BetterDocs
As just mentioned above, BetterDocs comes with a FAQ builder to easily and stunningly add sections dedicated to FAQs to your Shopify store. It also has a documentation builder. So, adding content to rank on search engines won't be an issue now while using BetterDocs. Let's see how BetterDocs can come in handy for you below.
Build FAQ Section & Add Documentation: BetterDocs can help you create your FAQ sections and documentation without any hassle. You can add the keywords that you want to rank for in the frequently asked questions section or in documentation naturally without keyword stuffing or reducing your user experience.
Magic AI Autowrite: BetterDocs can help you create your FAQ and documentation content with the help of Artificial intelligence. You can easily generate your frequently asked questions and documentation and modify them as you need.
Advanced Analytics Tool: With BetterDocs, you will get an advanced analytics tool that will let you know about the performance status of your documentation. So you can improve your content as needed.
Chatbot Widget: BetterDocs comes with a chatbot widget that will help you connect with your customers. It will help you to integrate with instant messaging apps like WhatsApp & Messenger and get instant customer feedback. This feature will help you boost your customer engagement, which will effectively help you improve your SEO performance, reducing bounce rates.
While many SEO experts may prefer different SEO apps, these 3 best Shopify SEO Apps can help you improve your SEO score like an expert. So, try these SEO apps to enhance your Shopify store's SEO performance.
⭐ 5 Quick Tips To Accelerate Your SEO Performance
Search engine optimization is an ongoing process, and it has many scopes for constant improvement. Previously, we shared a comprehensive guide on how to get an overall 100 SEO score in the Shopify store that you can check out to optimize your store like a Shopify SEO expert. But for a quick overview, here are 5 useful tips that will help to improve your overall SEO performance:
Use Keywords in the headings of your content.
Add related keywords to your content.
Add FAQ sections to rank for long tail keywords & voice searches.
Promote your store on social media
Optimize your content for Google-featured snippets.
⚡ Grow Your Shopify Store Like The Experts
Whether you are perfecting your SEO score like a seasoned Shopify SEO expert already or just getting started, the apps that we have listed on this blog can help any Shopify store grow much faster. These apps come with all the right tools and features that you need to accelerate your SEO performance with ease. So, don't wait any longer. Install these best Shopify apps on your store and elevate your SEO game like never before!
Have you found this blog useful? If you want to read more useful blogs, SEO guides, tips, and more, please subscribe to our blog and connect with us on Facebook.