Looking for the best Shopify SEO apps to optimize your store for the highest rank on search engines? You have come to the right place. Today, we're going to discuss the 20 best Shopify SEO apps that can make your store more visible on search results and speed up your business growth. So, dive into the comprehensive guide below, and choose the perfect app for your business' SEO optimization.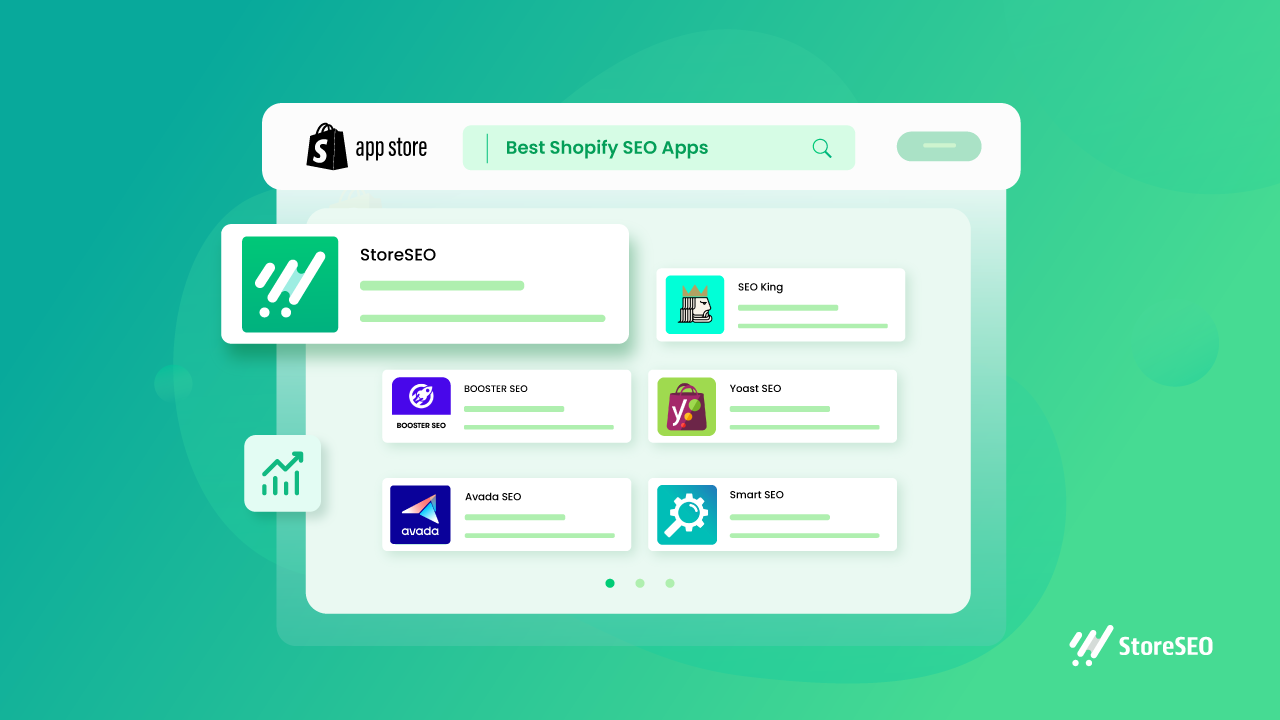 A Brief Introduction: What Is A Shopify SEO App?
In the rapidly expanding world of eCommerce, where around 2.14 billion people bought things digitally in post-pandemic 2021, it's super important for your Shopify store to be easily accessible online now in 2023 when time has progressed even further. That's where SEO (Search Engine Optimization) comes in – the secret to making your store or website show up on search engines like Google for relevant terms each time. However, knowing about SEO is important, but applying it in practice can be a bit tricky.
This is where Shopify SEO apps come into play. These are special tools that help you improve your store's SEO ranking, which determines how high up your store appears in search results and how many viewers come across it. These apps help you to optimize your store for search engines and let the visitors find you while they are looking for the product or service you are offering.
Why Do You Need SEO Apps For Your Shopify Store?
As a Shopify store owner, you're likely aware of the importance of organic search traffic and high search engine rankings. And having a well-designed and visually appealing Shopify store is just the first step toward achieving this success, optimizing for SEO can include many different actions.
However, achieving and maintaining these rankings requires more than just basic optimization techniques. Here's why you need SEO apps for your Shopify store-
Enhanced Visibility & Organic Traffic
SEO apps help optimize your store's content, meta descriptions, URLs, and other elements to align with search engine algorithms. This ensures that your store ranks higher in search engine results pages (SERPs) when potential customers search online, leading to increased visibility and organic traffic inflow.
Keyword Research & Targeting
Most Shopify SEO apps offer valuable insights into the keywords that your potential customers are using to search for products or services. These apps help you identify high-potential keywords and phrases, enabling you to strategically target your content and product listings.
On-Page & Technical Optimization
Optimizing on-page elements like headings, image alt tags, and internal linking structures is a breeze with Shopify SEO apps. These apps address technical aspects such as website speed, mobile responsiveness, and schema markup.
Analytics & Performance Tracking
Many SEO apps integrate with analytics platforms like Google Analytics, and Google Search Console, allowing you to monitor your store's performance. You can track metrics such as traffic sources, user behavior, conversion rates, and more and strategize your content and marketing aspects accordingly.
Best 20 Shopify SEO Apps To Rank Your Store Higher
So by now, you must have understood that to empower and enhance your Shopify store rankings on search engines, using SEO apps is vital. It makes work easy and fast, while also boosting effectiveness. But every business has different needs when it comes to SEO – so which one will be the perfect match for your store? Let's unveil the 20 best Shopify SEO apps that can help you thrive with your Shopify business successfully.
#1 StoreSEO – Smart SEO Optimizer
StoreSEO serves as a potent marketing tool designed to boost your store's traffic and improve its search engine ranking with ease. This Shopify app accurately and automatically detects SEO problems, offers keyword recommendations, optimizes image alt text in bulk, and facilitates the creation of templates for metadata (like tags, titles, and descriptions), saving considerable time and energy.
Additionally, StoreSEO simplifies the process of linking your store to Google Search Console, submitting sitemaps, and integrating schema, all with just a few clicks. While the free version of this Shopify SEO app brings you tons of features already, the premium version introduces advanced facilities that are unmatched.
✅ Get a strong SEO scanner for detailed store optimization insights
✅ Add keywords and make templates for better meta descriptions
✅ Boost image SEO with easy alt text editing, even for image galleries
✅ Connect your store to Google Search Console for sitemap submissions
✅ Use JSON-LD schema markup for better Local SEO visibility
Pricing:
🏷️ Free Plan Available
🏷️ Pro: Starts at $2.99/month
#2 Avada SEO & Image Optimizer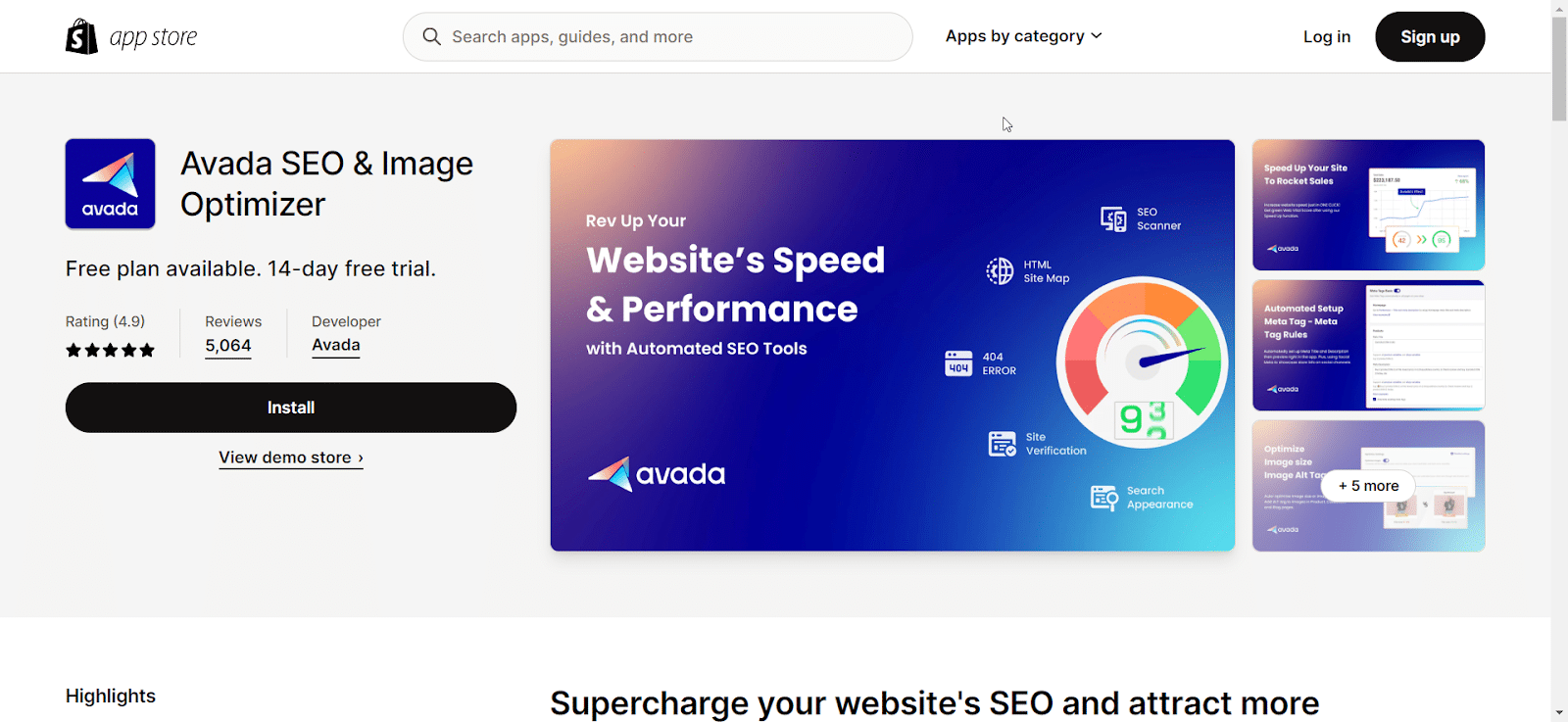 Avada's SEO & Image Optimizer is a top-notch Shopify SEO app too. It ensures your store follows Google's best practices by optimizing alt tags, structured data, and more. This app also speeds up your site by making images smaller and improving Google Core Web Vitals. Their support team is ready to assist if you face any issues. The free trial plan includes an ALT tag, HTML sitemap, and 404-page improvements. However, for advanced features, the PRO plan is a must-have.
✅ Optimize images for faster loading and maintain quality
✅ Automatically add alt tags to product, collection, and blog images
✅ Enhance structured data for key pages
✅ Auto-optimize meta titles and descriptions
✅ Redirect 404 error pages to improve user experience
✅ Preload pages for faster site speed
✅ Detailed SEO analytics to spot problems
Pricing:
🏷️ Free: 14-Day Trial
🏷️ Pro: Stars at $34.95/month
#3 Yoast SEO – SEO For Everyone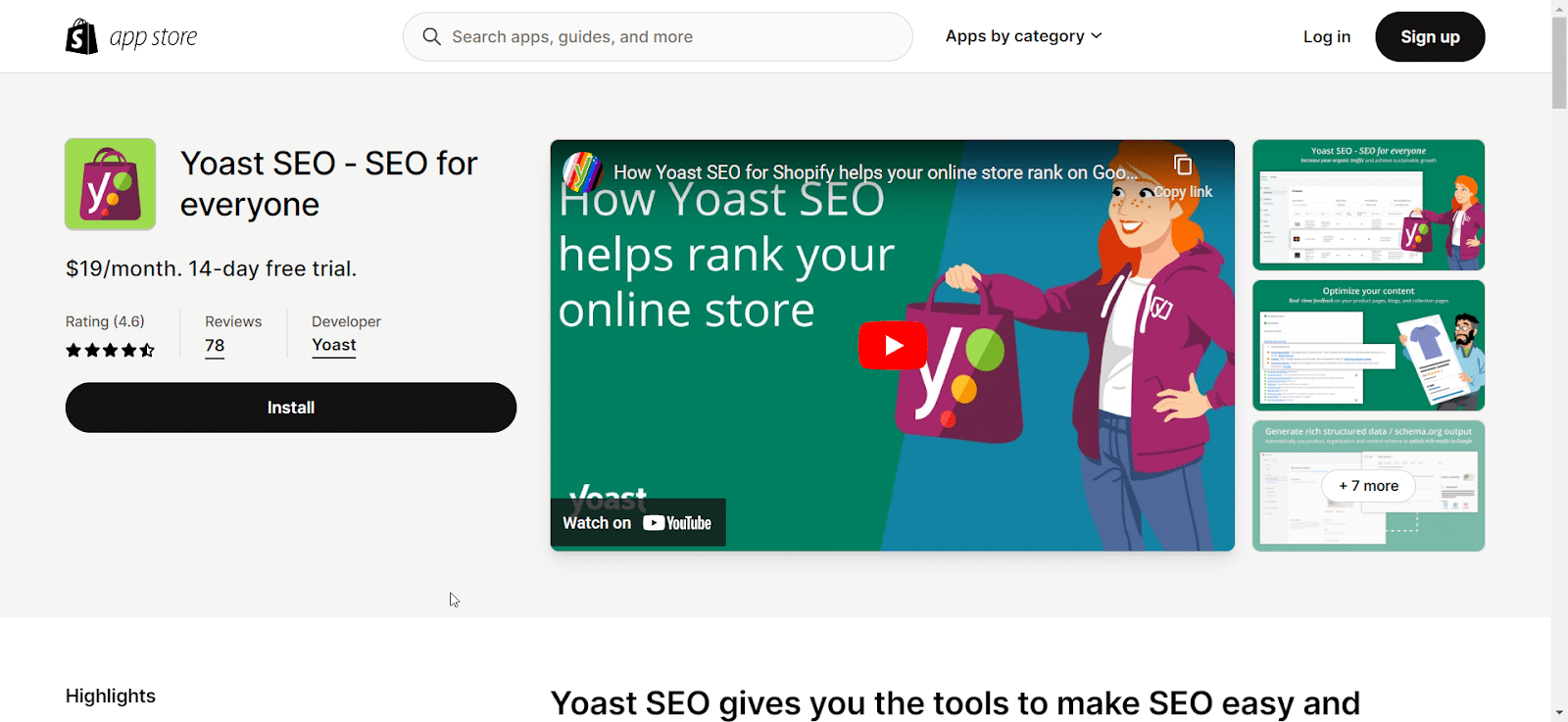 To improve your content's SEO and readability in real-time through well-known analyses, Yoast SEO is one of the most popular Shopify apps. It handles your technical SEO automatically to match best practices and stay updated with Google's changes. For those who want more control, the Yoast team offers guidance for customizing meta tags, templates, and schema. With Yoast:
✅ Boost traffic with practical SEO tips that work
✅ Ensure smooth technical SEO without effort
✅ Enhance content for customer reading ease
✅ Quickly optimize SEO titles and descriptions using templates
✅ Generate structured data for rich results
Pricing:
🏷️ Free: 14-Day Trial
🏷️ Pro: Starts at $19/month
#4 Booster SEO & Image Optimizer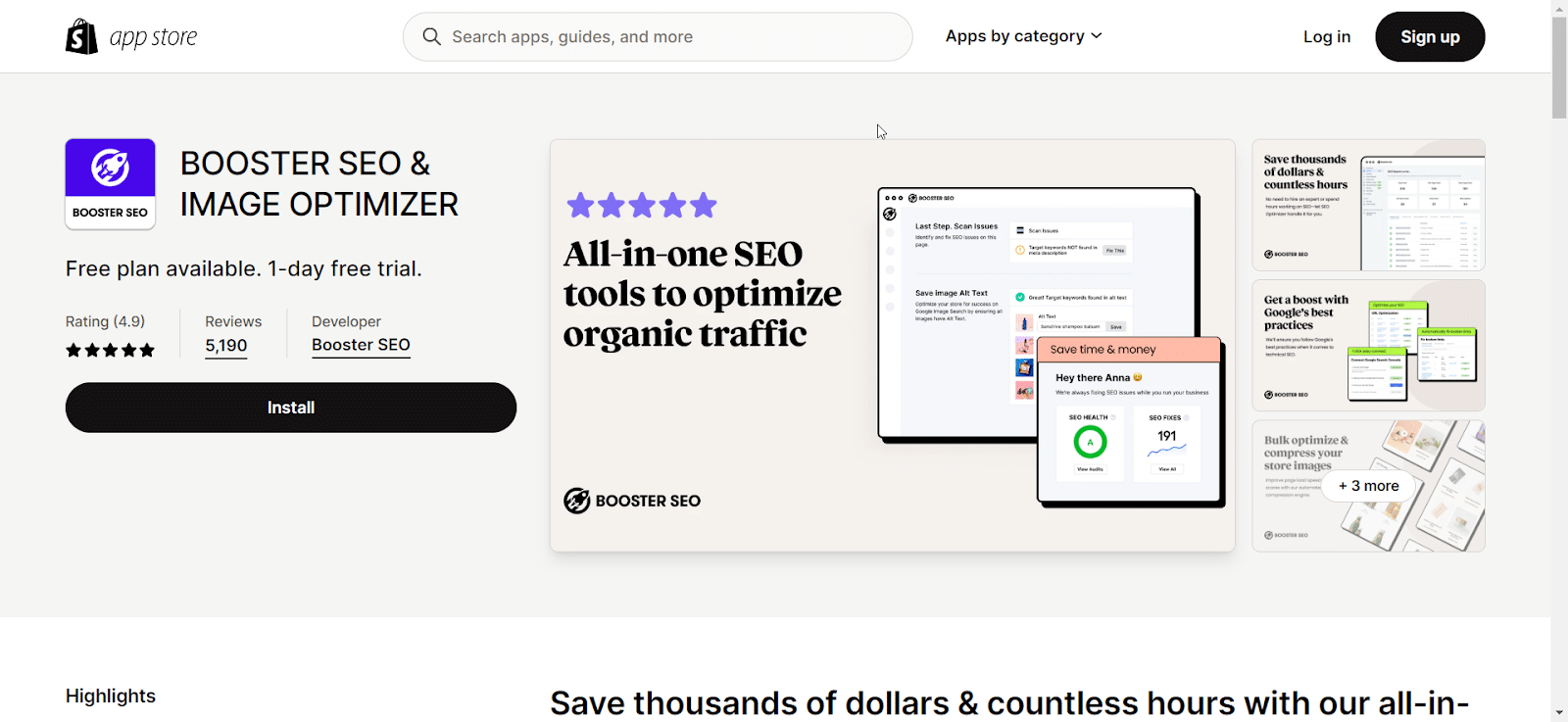 Those working in the eCommerce industry tend to have a good understanding of SEO. When it comes to searching for information, Google Image is the go-to choice for most people around the world. To help online stores increase their sales an app called an SEO image optimizer has been developed. Its main focus is to improve the visibility of products in search results and has been designed with user-friendliness in mind.
✅ Efficiently resolve SEO issues
✅ Enhance image search traffic by optimizing tags
✅ Automatically compress images to reduce file sizes
✅ Optimize URLs using the Keyword Optimization tool
✅ Automatically submit your store's sitemap to Google
✅ Fix broken links and redirect 404 pages
✅ Receive weekly reports on your website SEO health, via email
Pricing:
🏷️ Free: 1-Day Trial
🏷️ Pro: Starts at $39/month
#5 SEO Manager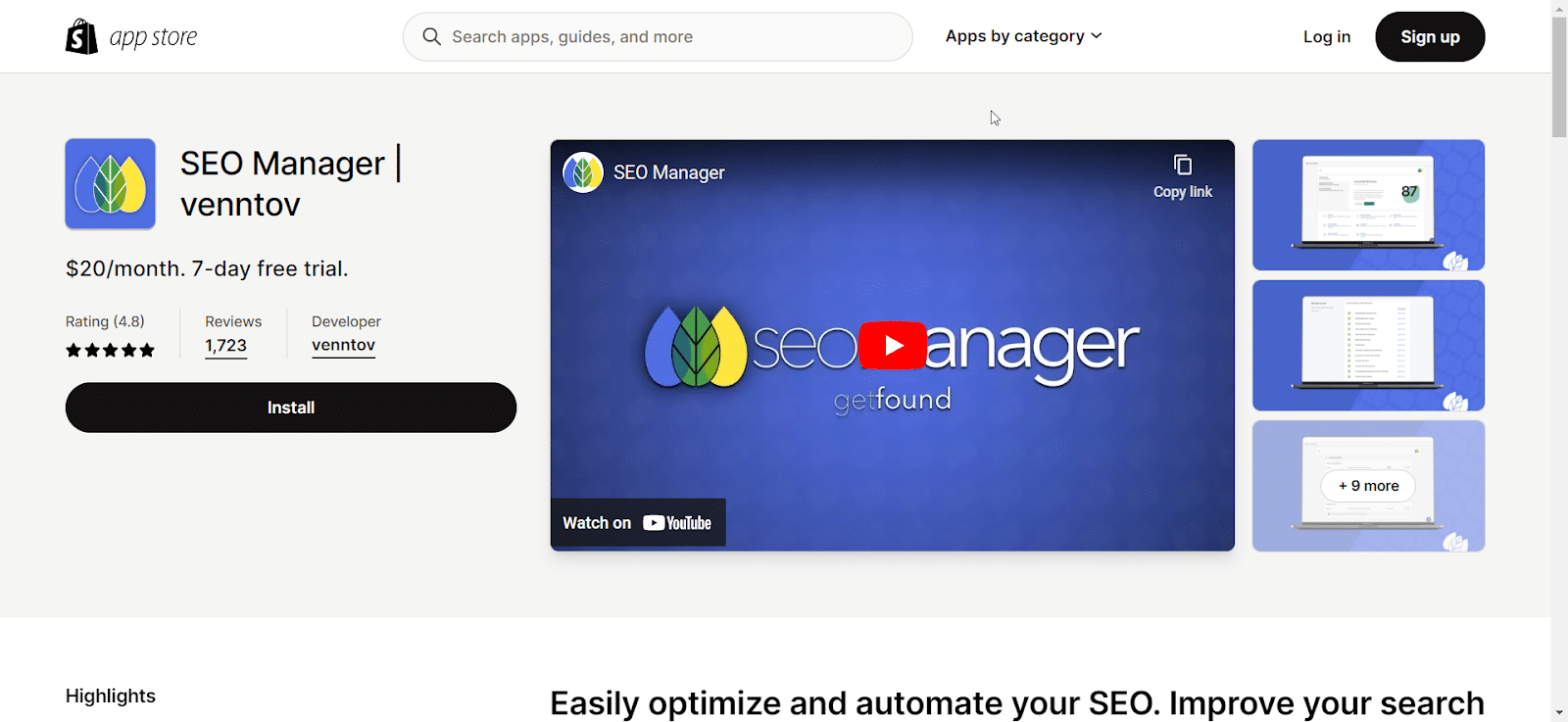 Shopify SEO Manager is the name of the SEO app where you will get all your SEO optimization tools for your Shopify site together conveniently. This versatile SEO app offers a bunch of features. To start, the app gives you a step-by-step tour that walks you through its features, along with comprehensive SEO documents.
Plus, don't worry about any SEO issues, as the app can find and fix 404 errors on your site automatically. You can also keep track of your SEO progress with real-time feedback emails, helping you identify areas for improvement and using its automatic suggestions.
✅ Customize titles and descriptions easily
✅ Spot and fix SEO issues and ALT text problems
✅ Receive automatic suggestions for solving SEO problems
✅ Find and fix 404 errors automatically
✅ Add JSON-LD and local business structured data
✅ Automatically submit your store's sitemap to Google
✅ Seamless integration with Google Search Console, Bing, and Kit
Pricing:
🏷️ Free: 7-Day Trial
🏷️ Pro: $20/month
#6 Smart SEO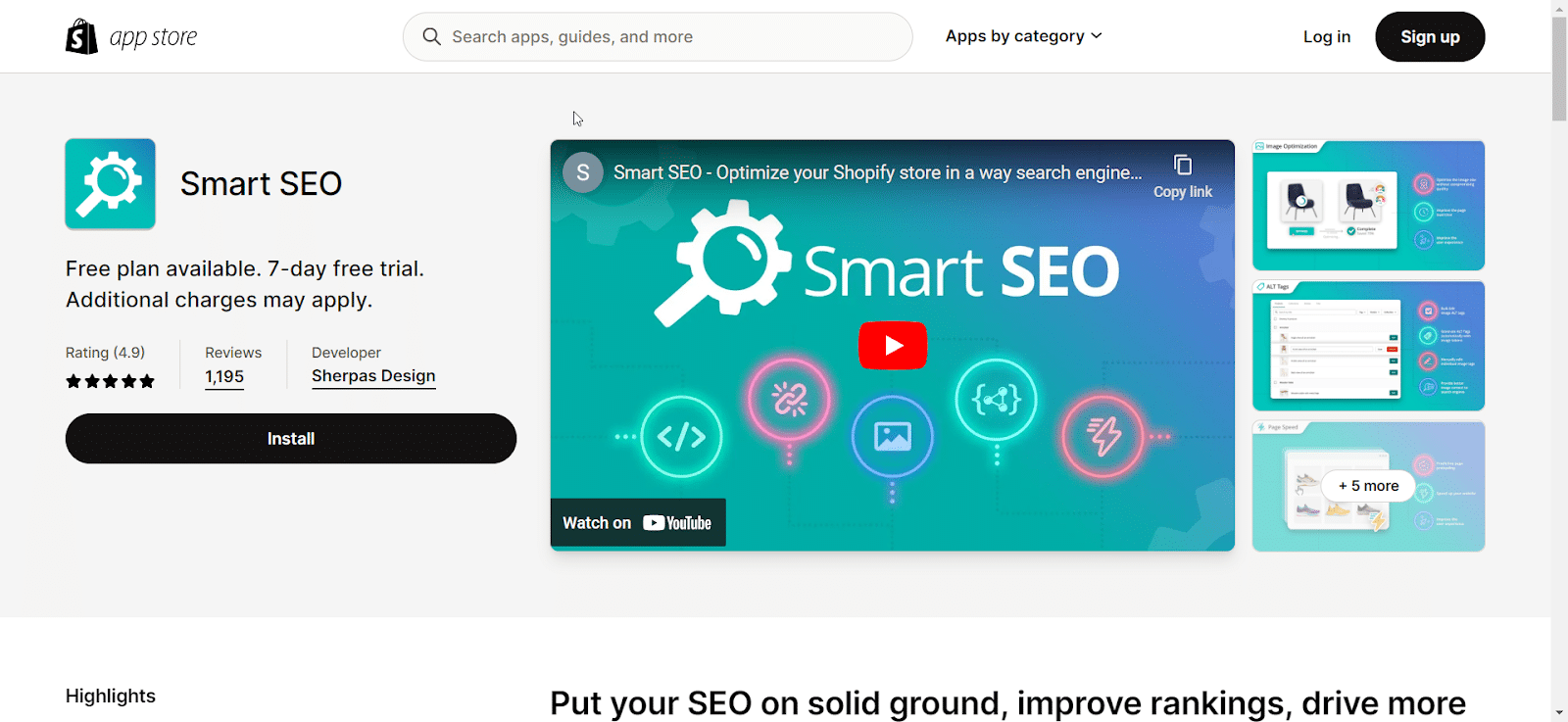 The Shopify Smart SEO app aims to save you time and money by automating on-page SEO for your Shopify store. Instead of manually crafting meta tags and ALT tags for each item you upload to your store, you can relax while the app handles it all automatically.
You'll have the ability to manage your Shopify store's sitemap, including adding or removing pages that can't be done directly within Shopify. Additionally, the app's team ensures that any broken backlinks are pinpointed. This enables you to promptly address the issues and regain your Shopify store's favor with search engines, boosting the rankings.
✅ Streamline on-site SEO for your store
✅ Automatically generate product meta tags and ALT tags
✅ Retain complete control over your store's sitemap
✅ Easily add or remove pages as needed
✅ Instantly identify broken backlinks
✅ Supply structured data using JSON-LD for search engines
✅ Support various languages for meta tags
Pricing:
🏷️ Free
🏷️ Pro – Starts at $9.99/month
#7 SearchPie: SEO Booster & Speed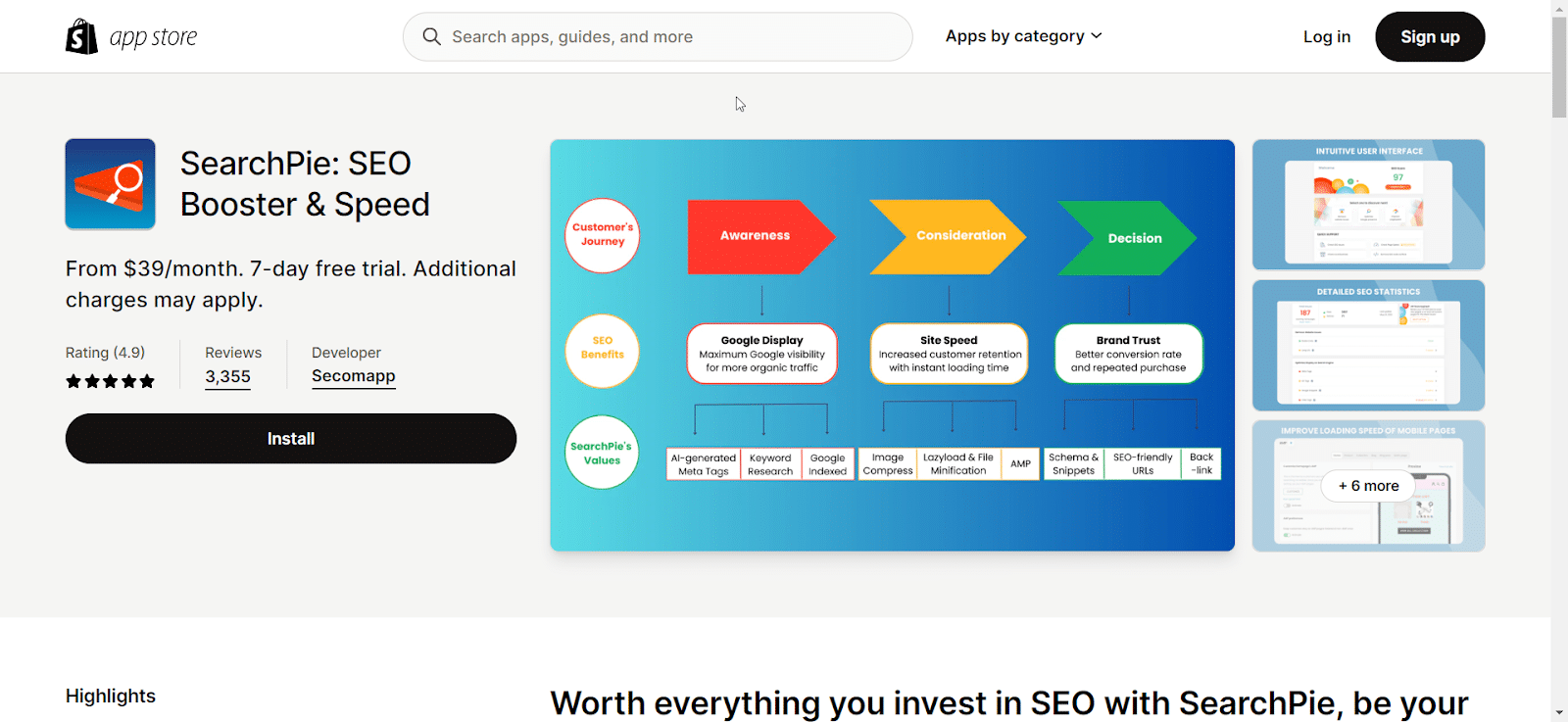 SearchPie can be another one of your choices as a Shopify SEO app which comes with great SEO benefits. When you choose SearchPie, you get access to advanced tools like AI generator, speed boost, keyword research, URLs, meta tags, schema, AMP, and more – to help you rank your store on search engine result pages. These tools will significantly enhance your search ranking as well.
✅ Get smart SEO reports to stay informed about all SEO issues
✅ Optimize SEO with AI-generated content, bulk meta tags, and alt tags
✅ Boost website speed with instant page loading, AMP, and image compression
✅ Enhance website credibility by detecting 404 URLs automatically
✅ Auto-rich snippets in JSON-LD format For Google
Pricing:
🏷️ Free: 7-Day Trial
🏷️ Pro: Starts with $39/month
#8 Tapita SEO & Speed Optimizer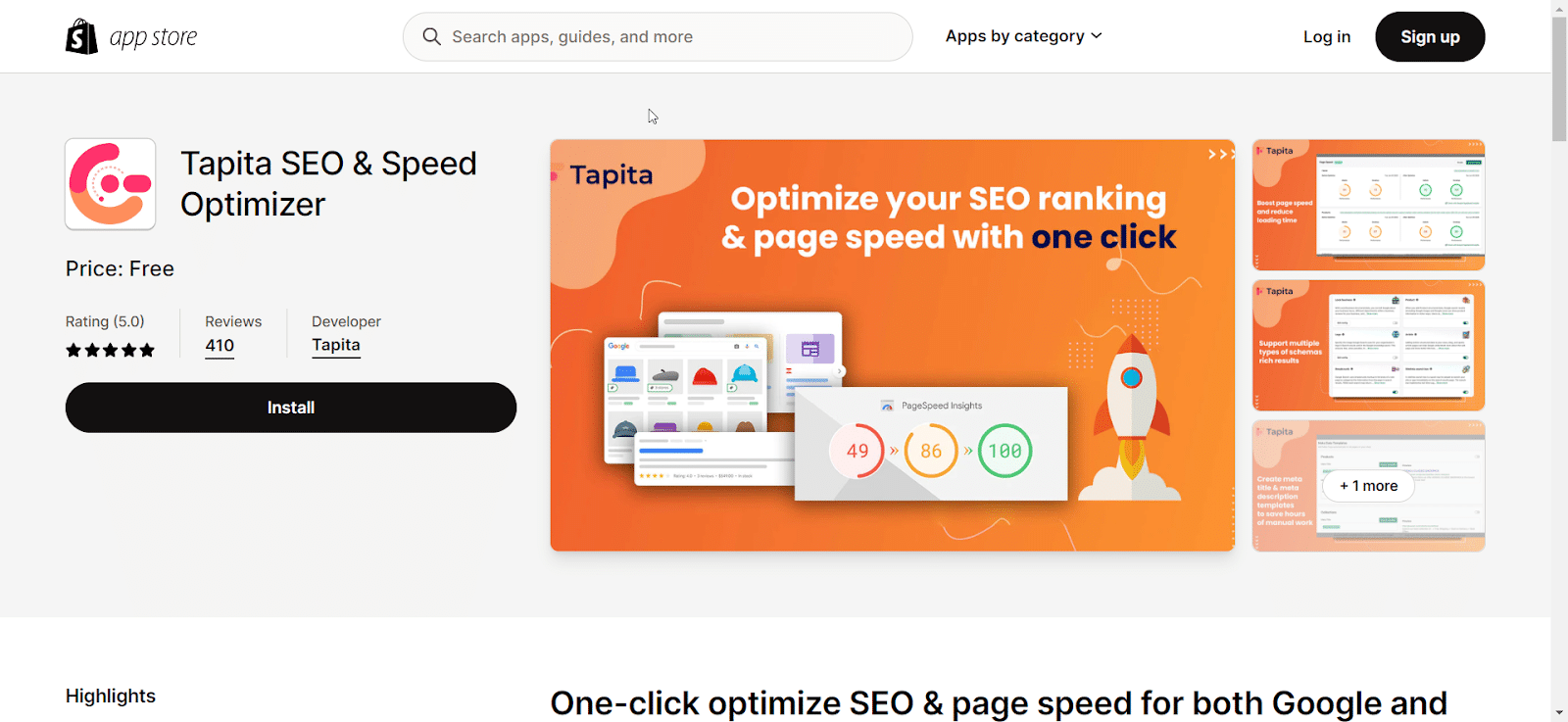 Tapita is a new player in the world of SEO apps, catching the attention of users through its impressive reviews. The Tapita SEO & Speed Optimizer boosts your store's Google ranking by automatically optimizing SEO and page speed.
It makes your pages load faster by getting rid of unnecessary and blocking Javascript. Moreover, it instantly loads links when customers hover over them, making things feel quicker. The app also makes your store shine on Google by seamlessly adding various JSON-LD schema structured data. This is combined with ready-to-use meta title and description templates that make your SEO work smoother.
✅ Get immediate page speed improvements
✅ Enhance your website with schema rich snippets
✅ Easily create templates for meta titles and descriptions
✅ Get help to fix Google Search Console issues
✅ Enjoy live chat support 24/5
Pricing:
🏷️ Free
🏷️ Pro: Starts at $9 /month
#9 SEO King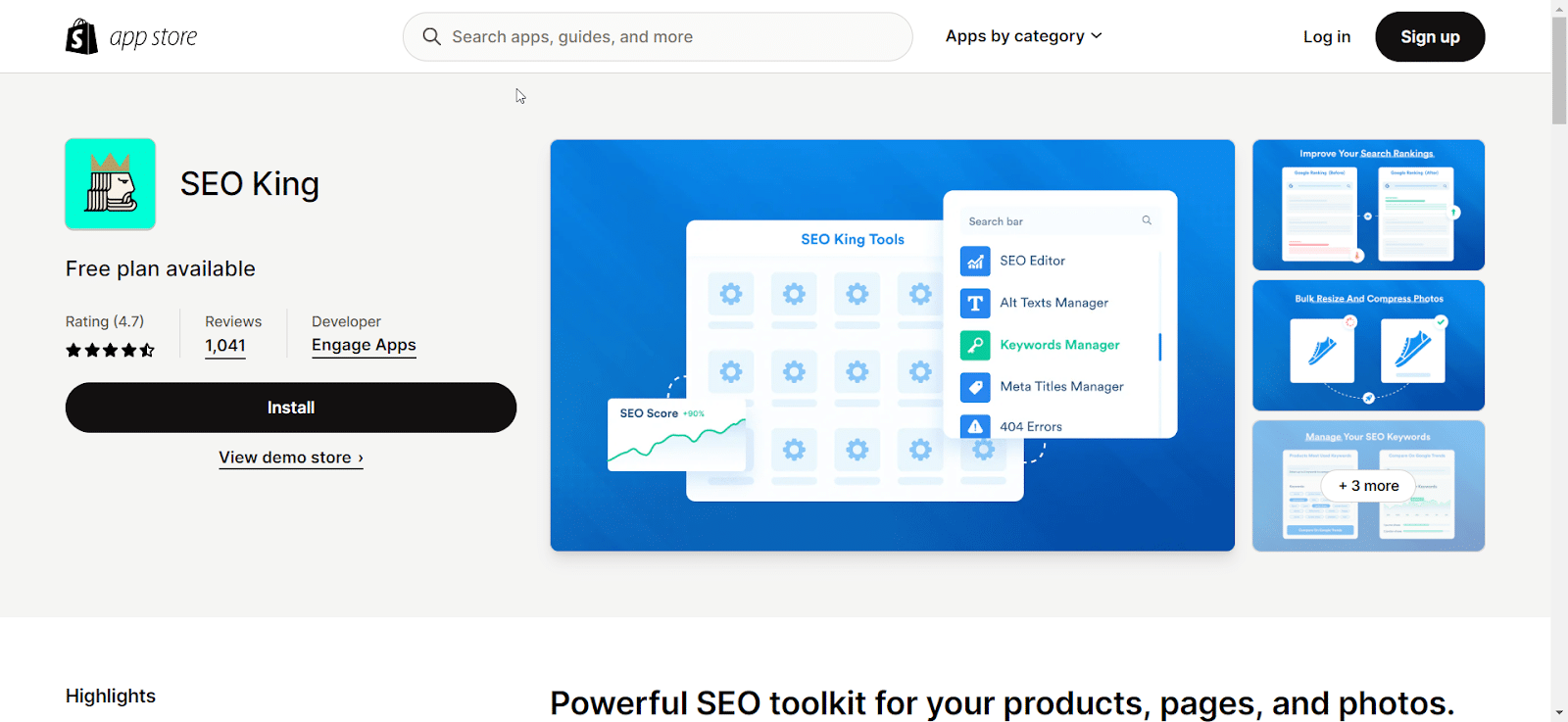 To give your customers a better experience on your Shopify store, you need to make sure faster loading your store images and videos. To do so, SEO King could be your constant companion. The Shopify SEO app makes your website load faster by optimizing product images.
Also, improve your Google search ranking by adding image alt text for your product images. Moreover, the app helps you add metadata to your product pages and helps to customize product image sizes using square, resize, compress, and watermark techniques.
✅ To discover SEO problems, examine all products and pages in your store
✅ You can easily manage alt text for many products at once
✅ Smart SEO keywords help you add tags to pictures automatically
✅ Create unique meta titles and descriptions for each product
✅ Show ratings and reviews directly in Google search results
✅ Use preset SEO settings to improve new products automatically
✅ Inspect your website for the most searched keywords
Pricing:
🏷️ Free: 7-Day Trial
🏷️ Pro: Starts at $9.99/month
#10 SEO Expert Pro – SEO Booster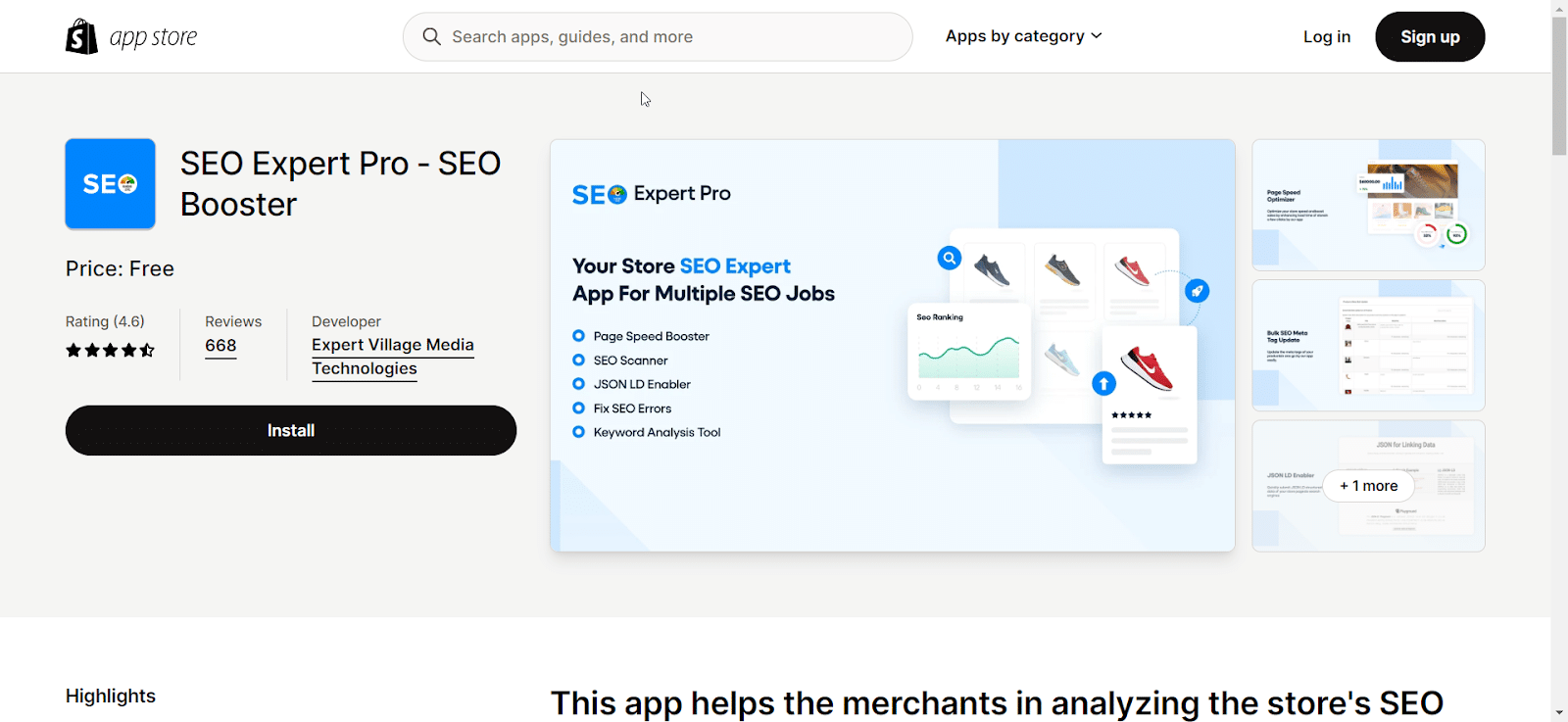 SEO Expert Pro offers essential SEO features for your online store. It reviews each page on your site to locate and resolve on-page SEO problems automatically, saving you time and effort. Subsequently, it will send you a daily report via email to alert you about any SEO concerns in your store.
Additionally, this application enables you to efficiently enhance images in large quantities and promptly modify meta titles and descriptions for all pages. It also provides easy management of structured data. Essentially, it encompasses all the necessary elements for on-page SEO.
✅ Examine all pages to detect and auto-correct SEO issues
✅ Efficiently optimize images in bulk. Swiftly update alt tags for all images
✅ Modify meta titles and descriptions for every page on your Shopify store
✅ Organize structured data in JSON-LD format
✅ Scan the website for broken links and automatically redirect them to other URLs
Pricing:
🏷️ Free: 7-Day Trial
🏷️ Pro: Starts at $9 /month
#11 SEO Doctor For Search Engines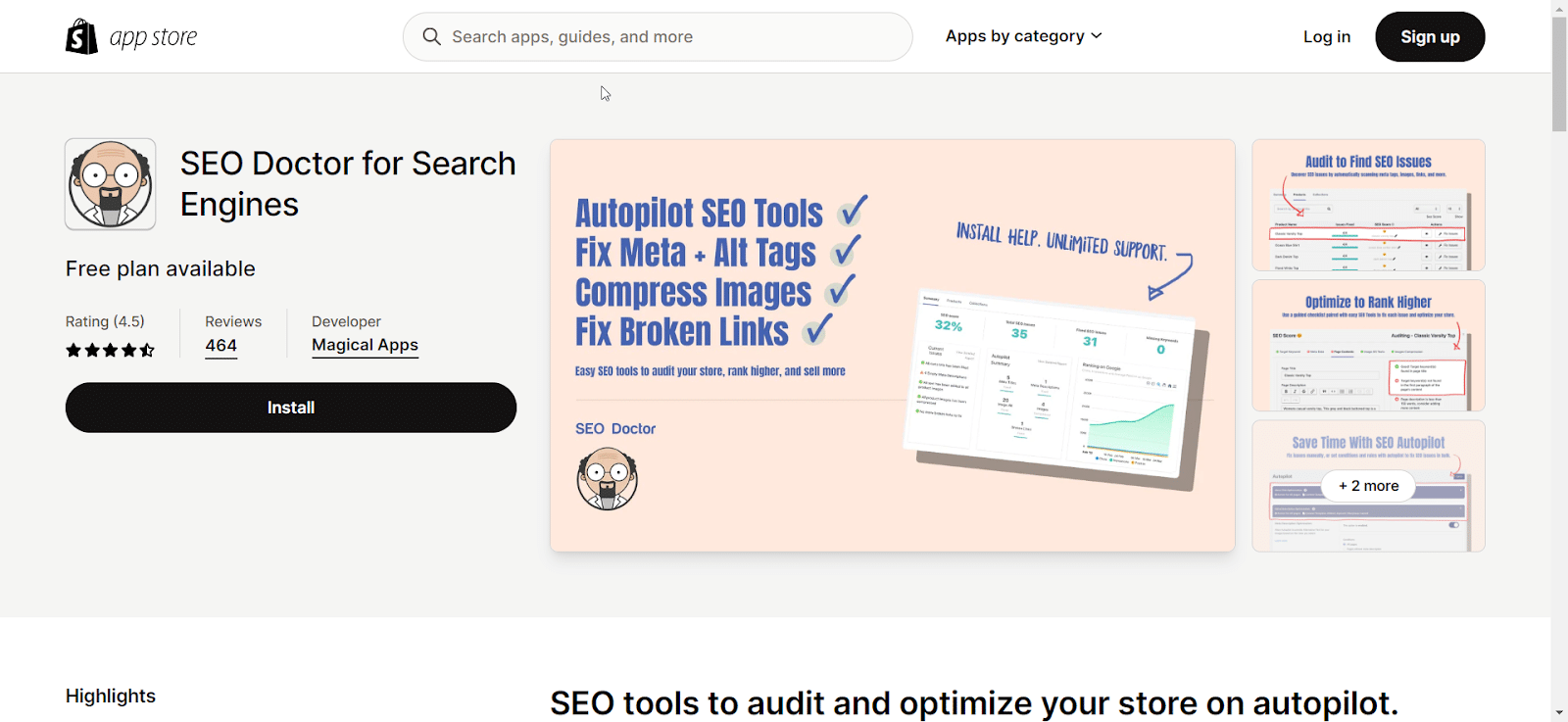 While the app SEO Doctor – Image Optimizer might appear centered solely on refining images, it essentially serves as an all-encompassing solution for enhancing the SEO-friendliness of your Shopify site.
SEO Doctor provides four pricing options, including a free plan, though lacking in automation. Opting for the paid schemes grants access to their advanced automated tools, elevating on-page SEO and site speed.
✅ Effortlessly address various SEO concerns for your Shopify site
✅ Enhance images through renaming, compression, and ALT tag correction
✅ Refine page titles and product descriptions to boost site speed
✅ Submit sitemap dynamically
✅ Automatically detect and mend broken links within your store
✅ Optimize the site for mobile compatibility
✅ Generate organized data using the JSON-LD structure
✅ Establish connections with Google Search Console and Google Page Speed
Pricing:
🏷️ Free
🏷️ Pro: Starts at $14.99/month
#12 SEO Get Clicked!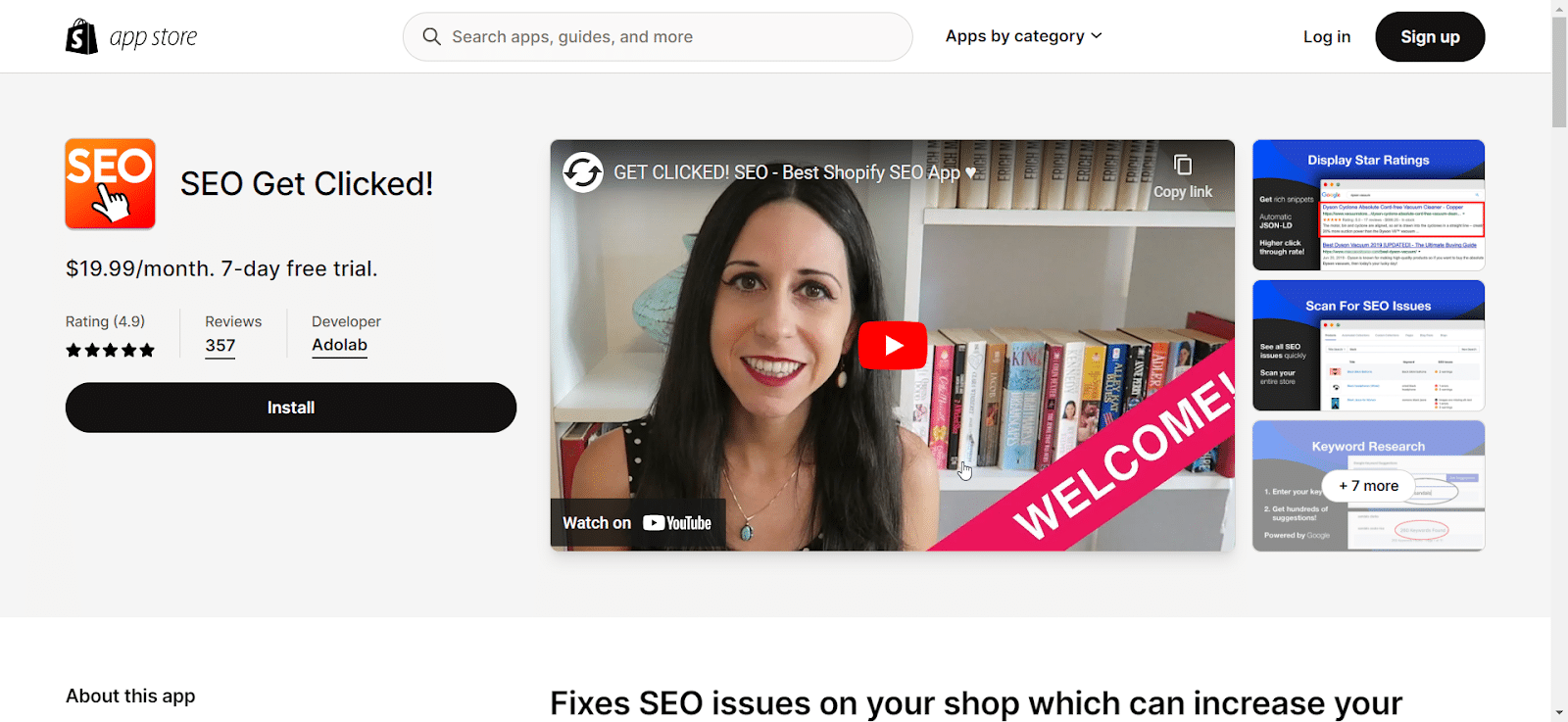 As we have mentioned many times before, if you want to enhance the rankings of your Shopify store on search engines, organic traffic is a must. To get this organic traffic by boosting your clicks, SEO Get Clicked is the best Shopify SEO app so far. This remarkable Shopify SEO app equips you with a comprehensive set of SEO resources necessary for enhancing the rankings of your Shopify store on search engines. From refining prominent snippets to speeding up your site, this application actively assists you with everything.
✅ Enhance your product-rich snippets for Google Search
✅ Access an array of SEO keyword tools for securing high rankings
✅ Modify page titles, meta descriptions, and image ALT tags effortlessly
✅ Shape up your Shopify store to ensure full compatibility
✅ Employ the 404 Error Redirect Tool
✅ Trigger the automated SEO scanner for all your products
✅ Seamlessly integrate with Google Page Speed Insights
Pricing:
🏷️ Free: 7-Day Trial
🏷️ Pro: Starts at $19.99/month
#13 Optim: Auto & All In One SEO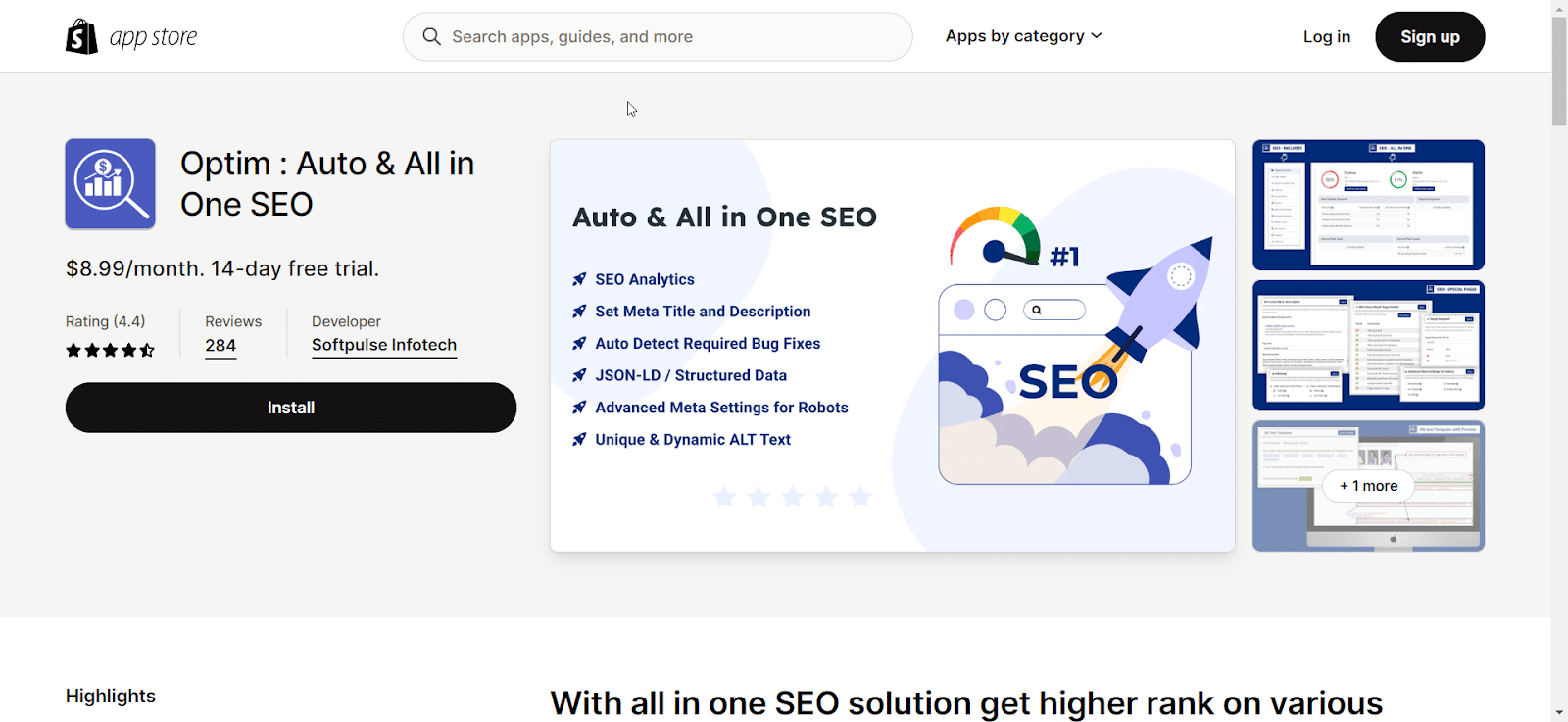 Boost your Google Search Engine ranking with our comprehensive SEO solution – the Optim: All in One SEO app. This tool provides all the essential features to enhance images, on-page SEO, structured data, and more. Keep in mind that SEO yields results over time, so we recommend utilizing the All In One SEO app for a minimum of 4 months to witness impressive outcomes, including a substantial increase in organic traffic.
✅ Identify issues related to SEO effortlessly and receive immediate reports
✅ Enhance traffic from Google image search by utilizing smart image ALT tags
✅ Generate dynamic structured data using the JSON-LD format
✅ Identify broken links and monitor 404 pages using the Google Webmaster Tool
✅ User-friendly interface designed for beginners, complete with FAQs and instructions
Pricing:
🏷️ Free: 14-Day Trial
🏷️ Pro: Starts at $8.99/month
#14 GoSEO – SEO Products Optimizer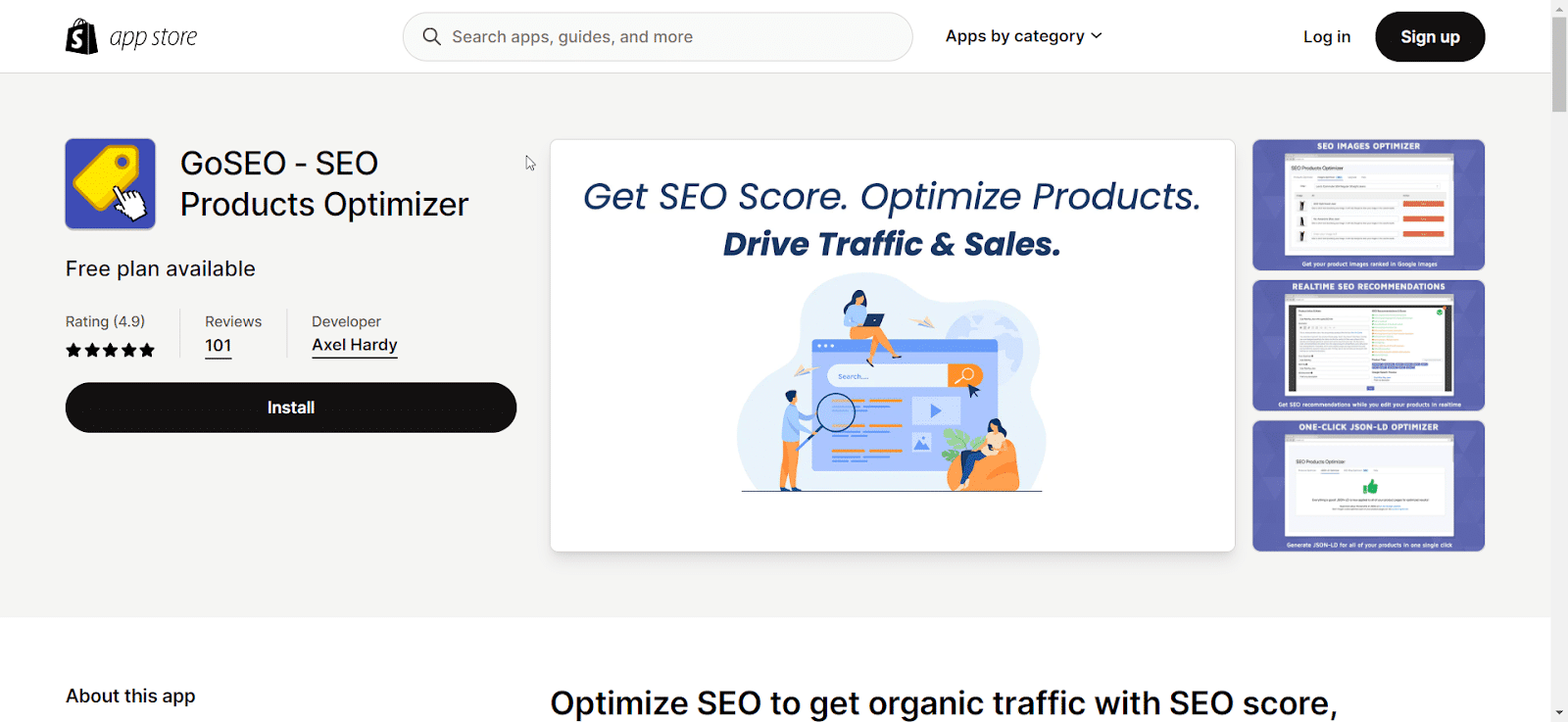 GoSEO is another refined SEO app by which you can easily enhance your Shopify store SEO. The app can swiftly boost your product performance through SEO scores and enhance them. Plus, it can boost organic traffic and sales by refining your product page content, making it attractive for potential customers and easily discoverable- thanks to its SEO optimization. With one-click JSON-LD / structured data code, you can personalize your link's appearance in search engines.
✅ Enhancing SEO is simple with our well-crafted advice
✅ Promptly assess product performance using SEO scores
✅ Optimize SEO automatically with a single click via our JSON-LD code
✅ Rapidly include ALT tags for improved product image ranking
✅ Automatically generate tags and key phrases
Pricing:
🏷️ Free
🏷️ Pro: $14/month
#15 SEO Sitemap Builder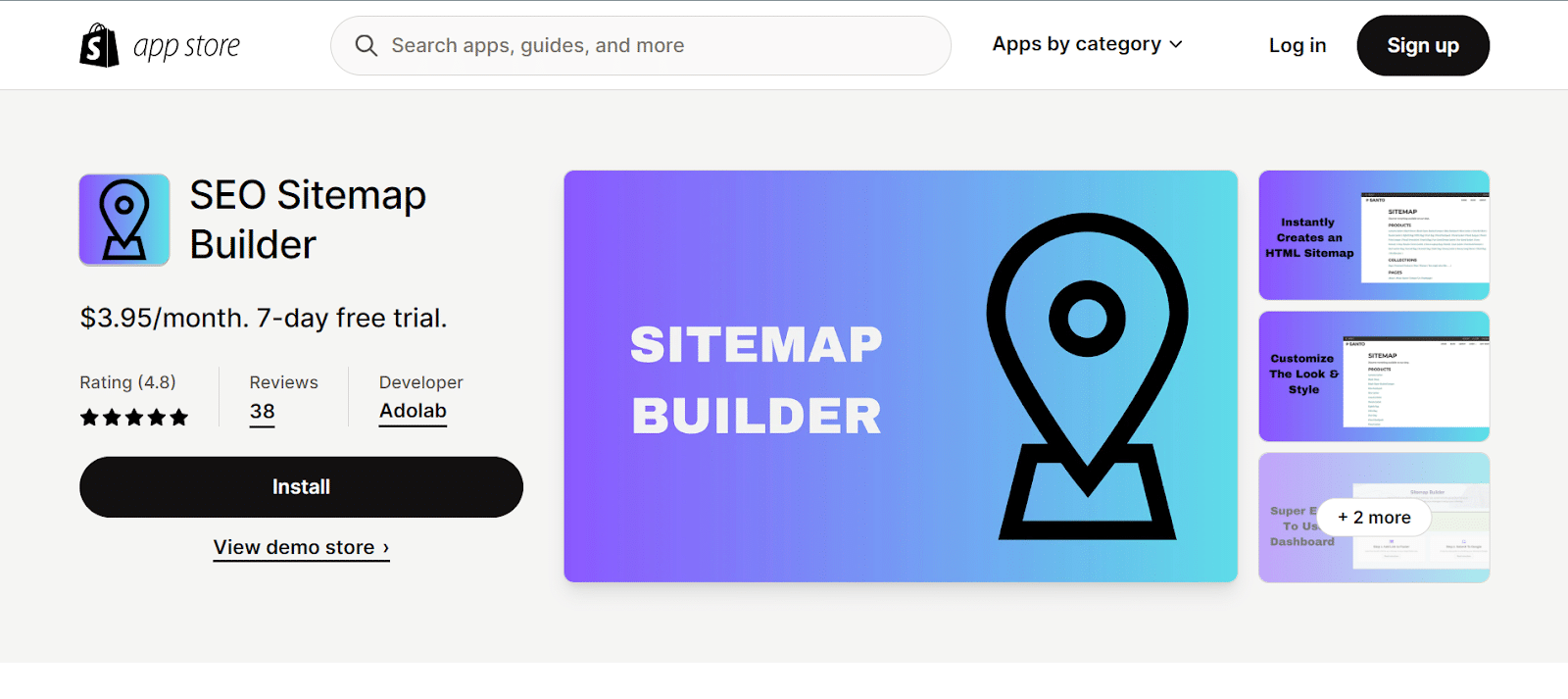 If you're on the lookout for a highly rated Shopify SEO app that offers control over your HTML sitemap configuration, then SEO Sitemap Builder's top-notch option is worth considering. This app not only keeps your HTML sitemap up-to-date with fresh products and items but also empowers you to swiftly modify the sitemap's title, description, and appearance with just a single click. Furthermore, you have the flexibility to personalize the HTML sitemap according to your preferences, ensuring it complements your store's design seamlessly.
✅ Create an HTML sitemap for your store instantly
✅ Automatic inclusion of new products into the sitemap
✅ Advanced choices for inputting customized HTML and CSS
✅ Regular maintenance and future enhancements bundled in
✅ Effortlessly add the sitemap link to your footer
Pricing:
🏷️ Free: 7-Day Trial
🏷️ Pro: Starts at $3.95/month
#16 JSON-LD For SEO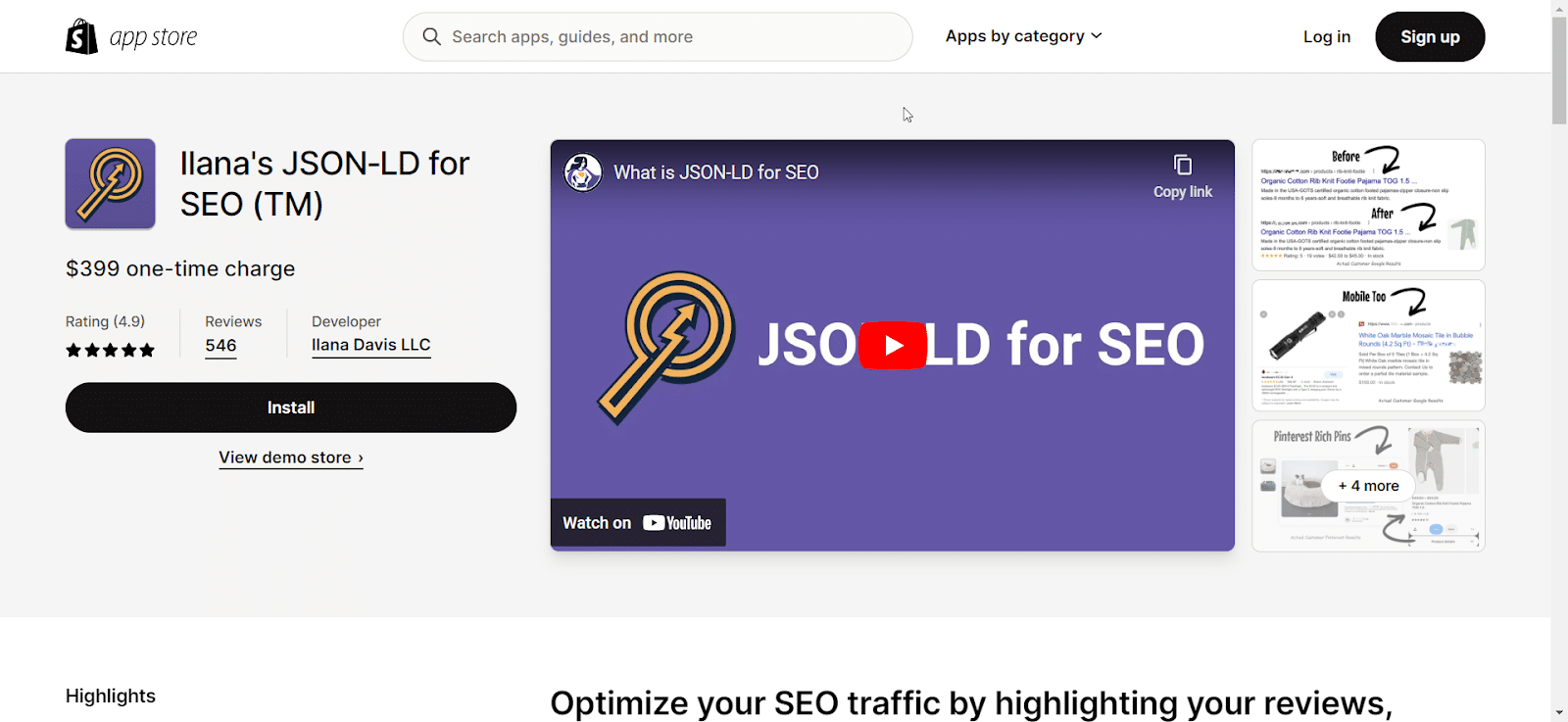 The Shopify SEO app, JSON-LD for SEO, assists Shopify store owners in enhancing search outcomes, leading to improved data quality and more detailed outcomes on Google search engines. Instead of a plain and text-heavy result, your product listing will now encompass images, pricing, availability, and reviews. This extensive data array can make your products stand out in search results without requiring extensive SEO efforts.
✅ Simple to set up. Ready to use in less than 2 minutes
✅ Swiftly gather necessary details for Google's enriched results
✅ Efficiently generate enriched outcomes for your Shopify items
✅ Evaluate store data to ensure proper app integration with your data
✅ Connect with the 20 most popular review applications for Shopify
✅ Receive unlimited app assistance with direct and prioritized access
Pricing:
🏷️ Free: Not Available
🏷️ Pro: $399 For One Time
#17 Schema Plus For SEO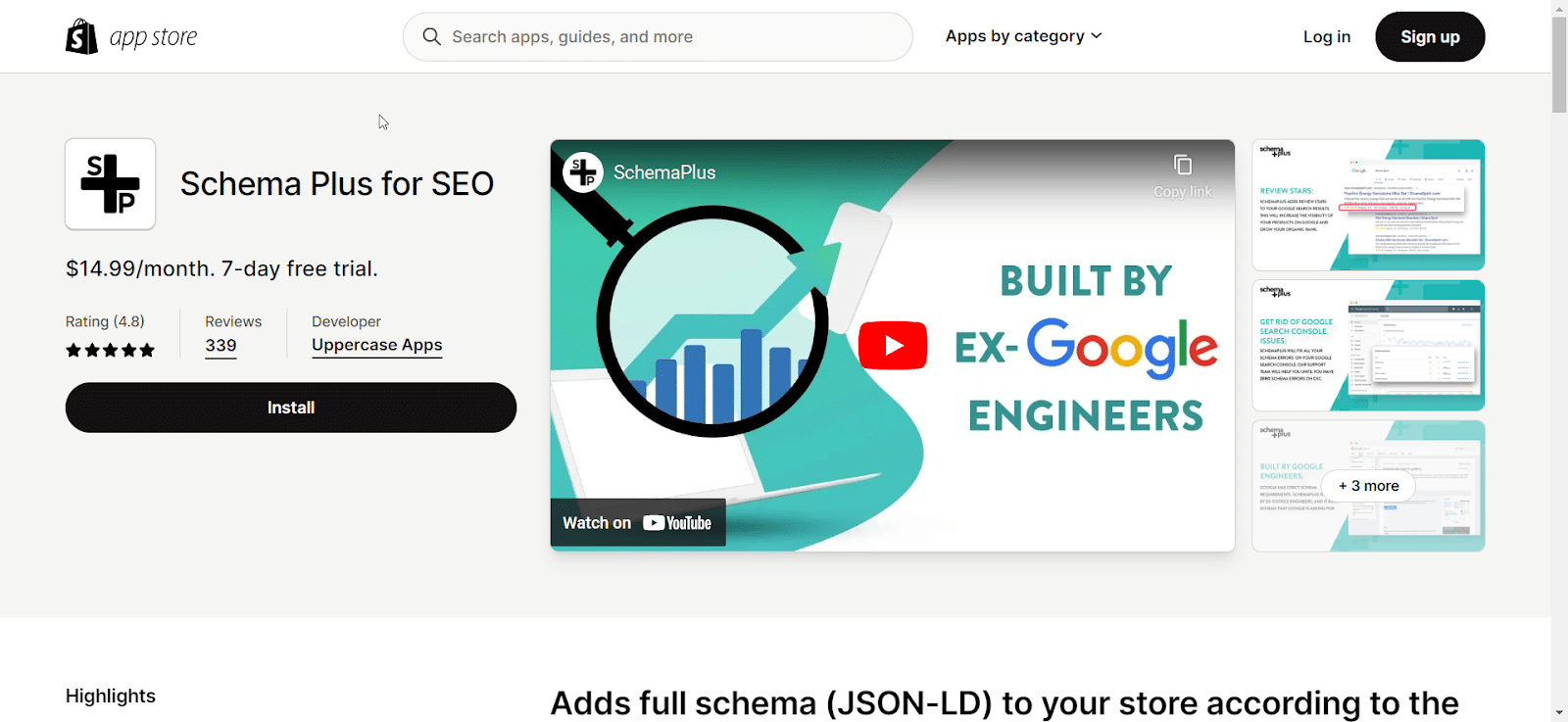 Since Schema Plus was created by ex-Google software engineers, the app is self-assured about being the top-tier schema markup SEO application for Shopify online shops. Adding schema through Schema Plus enhances how search engines and crawlers grasp and index your website's content.
✅ Incorporate Google rich snippets featuring review stars
✅ Rectify schema errors effectively
✅ Modify the status of particular schema types
✅ Resolve problems encountered in Google Search Console
✅ Integration with over ten review applications available on the Shopify app store
Pricing:
🏷️ Free: 7-Day Trial
🏷️ Pro: Starts at $14.99/month
#18 DropInBlog – SEO-Friendly Blog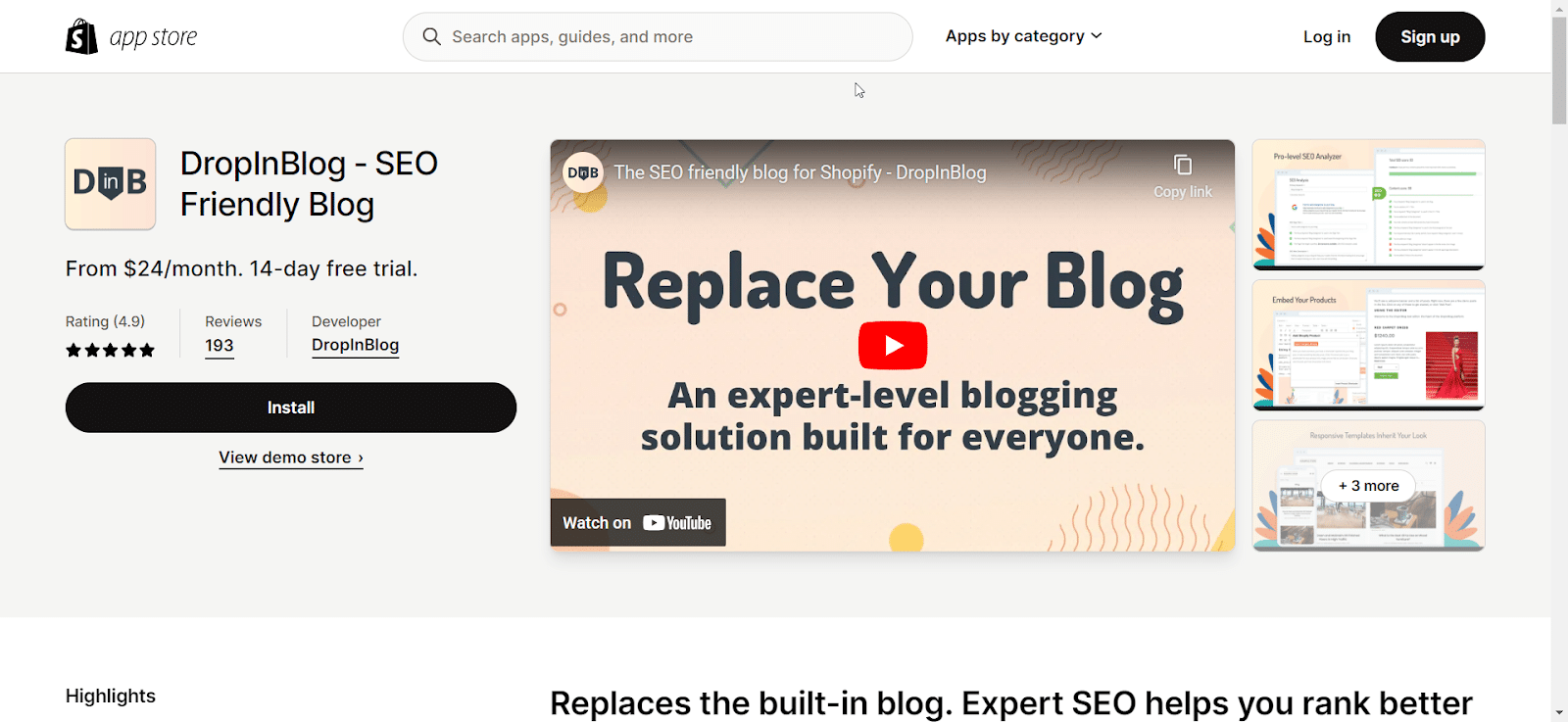 If you've faced difficulties tweaking your Shopify blog using the default blog section and want a fresh design along with SEO features, this application stands as a fantastic choice. DropInBlog empowers you to fashion a speedy, mobile-friendly, and captivating blog through user-friendly drag-and-drop tools. As you craft your posts, this app promptly offers SEO suggestions while you type. Additionally, you can seamlessly transform your blog posts into sales revenue by directly embedding products into your editorial workspace. Allow readers to pop their desired items into their cart while engaging with your content.
✅ Simple drag-and-drop blog editors at your disposal
✅ Effortlessly insert products into posts right from the editor
✅ Incorporate schema for organized data and enhanced excerpts
✅ Shape appealing author pages
✅ Integrate your unique blog styles for a personalized touch
✅ Migrate and seamlessly direct your current Shopify Blog content
✅ Receive instant SEO pointers as you type them out
Pricing:
🏷️ Free: 14-Day Trial
🏷️ Pro: Starts at $24/month
#19 Swift Page Speed SEO Optimizer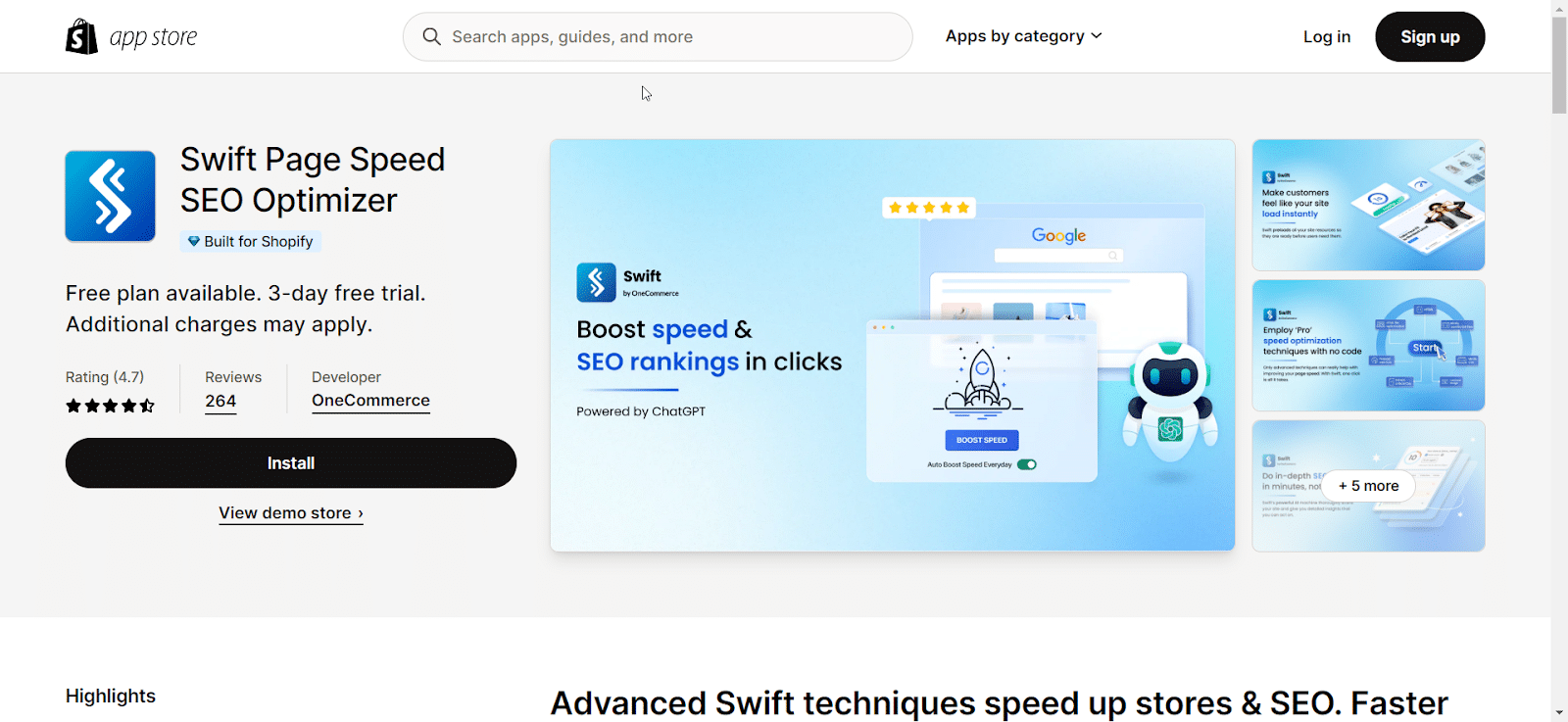 If you're looking to give your Shopify store a significant speed boost, then look no further than the Swift SEO Page Speed Optimizer. This remarkable solution seamlessly merges cutting-edge SEO capabilities with the integration of ChatGPT, working harmoniously to elevate your store's ranking on search engines. Keeping track of your progress is hassle-free with this Shopify SEO app. With the Swift SEO Page Speed Optimizer, you're not just improving speed; you're revolutionizing your Shopify experience.
✅ Load content based on customer behavior through preloading
✅ Swiftly display heavy content by compressing images optimally
✅ Lighten store code by minifying JavaScript, CSS, and HTML
✅ Leverage AI-powered ChatGPT support to optimize SEO
✅ Elevate page speed via store speed analysis and actionable recommendations
Pricing:
🏷️ Free: 3-Day Trial
🏷️ Pro: Starts at $19/month
#20 Hextom: Bulk Image Edit & SEO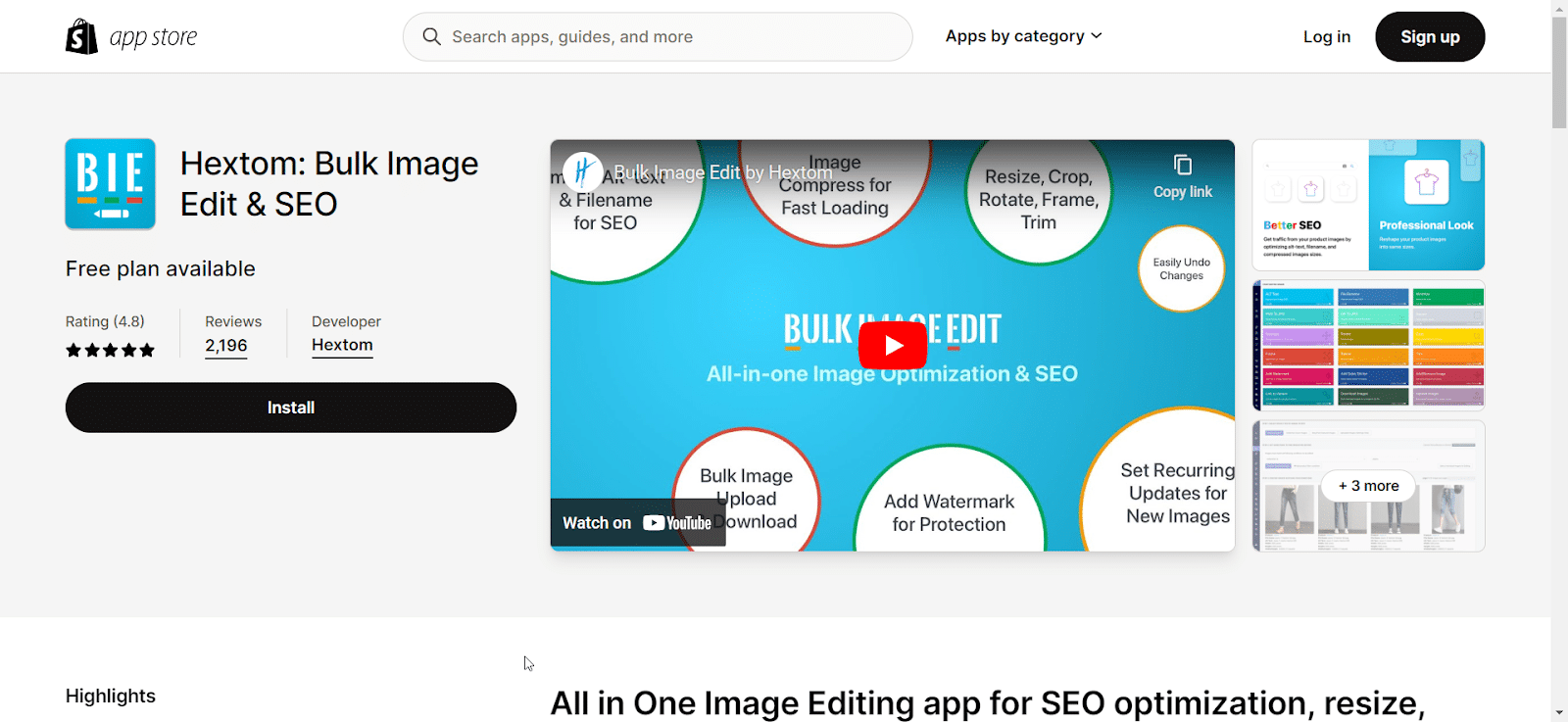 For Shopify stores, this SEO app, Hextom stands as a highly extensive tool for enhancing images. You can make widespread adjustments to your store's pictures easily by altering their sizes, enhancing alt text, and editing filenames with just a few simple clicks.
✅ Apply adaptable templates for refining file names, alt-text, and image dimensions
✅ Resize images collectively to suit various posts on social media or sales platforms
✅ Incorporate a watermark into your theme and product visuals
✅ Diminish the size of product or theme images while maintaining their excellence
✅ Undo any changes made whenever needed
Pricing:
🏷️ Free
🏷️ Pro: Starts at $9.99/month
How To Choose The Best Shopify SEO App For Your Store
Now that you have a list of the 20 best Shopify SEO apps, is it more difficult for you to pick the perfect option for your store? Well, we have got you covered for that too. In this section, we will tell you what are the factors you need to consider while choosing an SEO app for Shopify stores. So, let's explore the things you should look into before committing to an SEO app.
Basic SEO Optimization Features
First thing first. When you are using SEO apps for your Shopify store, you want to optimize the titles, meta descriptions, tags, and all as per the best SEO practices. So, you should choose an SEO app that has all the features included to ease your optimization process.
Detailed SEO Fix Instructions
When it comes to fixing SEO for your Shopify store, you need detailed SEO fix instructions. Some apps provide detailed instructions, while others are quite a bit hard for beginners. Therefore, you should choose a Shopify SEO app that provides clear improvement instructions to enhance your store for search engine visibility. Apps like StoreSEO and Yoast SEO app have detailed SEO fix instructions to help users optimize their stores for search engines.
Image Alt Text Feature
Since eCommerce stores have a lot of images, you need to have an SEO app that can help you with adding image alt text to your product images. In this way, you will be able to rank on image searches and get more traffic to your website. Therefore, you should go for an SEO app that lets you add image alt text to your product images. 
Local SEO Optimization Feature
Shopify stores are widely used for eCommerce websites. And local SEO is the way to boost your search engine visibility and attract nearby customers. When you are choosing an SEO app for your Shopify store, it should include a local SEO optimization feature. So, it will help you to optimize your eCommerce store for the local customers as well.
Google Search Console Integration
When you are publishing a page or product on your Shopify store, you want to get ranked on the search engine as early as possible. Integrating your store with Google Search Console can help you to instantly get indexed on the search results. Therefore, you have to choose an SEO app that can connect your store with Google Search Console without any hassle.
Ease Of Use & Customer Support
SEO apps help to optimize your Shopify store for search engines. However, as a newbie, it would be best for you to choose a Shopify SEO app that has a simple interface and does not make everything complex for you. On top of that, you should check whether the app has a support team to help you with your needs.
Flexible Pricing Plan
When you open a business, you want to minimize your costs and maximize your profit for sure. Thus, while choosing the best Shopify SEO app for your store, you should also consider the pricing plan as well. Some apps have a few features in the free plan while others are paid. Therefore, you should take a closer look at the pricing plans as well before making your final decision. 
Advanced SEO Tips To Optimize Your Shopify Store
SEO apps for Shopify can be a great help when you want to optimize your store for search engines. However, some other factors can help you to rank higher in your store. By implementing these factors with the best SEO app, you can find the desired result for your store. So, let's go below and check out these advanced tips to optimize your store for search engine optimization.
Speed Up Your Shopify Store
If you want to rank your store for search engines, one thing you must do is speed up the store. The more loading time you have, your bounce rate will go higher and you will lose your visitors as well. As a result, even if you use an SEO app, you won't be able to rank higher on search engines.
Enhance Your User Experience
User experience in a Shopify store is not only important to convert your visitors into customers but also helps in SEO. When you optimize your user experience, search engines will rank your website higher than your competitors. Therefore, to improve your ranking opportunity, you should also enhance your user experience as well.
Get Backlinks For Your Store
Backlinks can help to give a huge boost to your SEO campaigns. With proper backlinks, it will be easier and faster for you to outperform your competitors. In addition to that, you will get more traffic to your store and accelerate your business growth. So, while using SEO apps for optimizing your store, you should also try to acquire backlinks for your website.
Encourage Your Visitors For Reviews
User-generated content like reviews & ratings can help to improve your trustworthiness to your visitors and search engines. It will also enhance your SEO efforts and increase your visibility on search engine result pages. Thus, you should encourage your visitors to leave reviews after purchasing your products or services from your store.
Frequently Asked Questions Best Shopify SEO Apps
Before wrapping up this blog, we want to answer some of the most common questions regarding Shopify SEO. So, let's go below and take a glimpse of these answers.
Which SEO App Is Best For Shopify?
There are many SEO Apps available in the Shopify app store. All of these SEO for Shopify have different features and functionalities to enhance your store's search engine visibility. We have picked up the 20 best SEO apps for you. Now, you can pick from any considering your needs.
How Quickly Can I See Results?
Search engine optimization is an ongoing process, and you need to be realistic about your expectations. While quick results are possible in some cases, a strong online presence takes time and continuous effort.
Can I Use Multiple SEO Apps Simultaneously?
To answer this question, you can use multiple Shopify apps in your store. However, we would recommend you choose an SEO app that can serve all kinds of SEO needs.
Which Shopify SEO App Can Help With Local SEO?
All the apps we have listed here can help you with Shopify Onpage SEO. However, a few SEO apps like StoreSEO can help you with local SEO as well.
Is There Any Free SEO App For Shopify?
Yes. You can find many free SEO apps for Shopify in the app store. Even some of the paid apps have free plans that can solve your SEO issues.
Do I Need Shopify SEO Plugin?
It depends. If you are a PRO and you can manually optimize your Shopify store the answer is no. However, if you are a beginner, or you don't have enough time to fix everything manually then you should go for additional Shopify SEO tools.
Pick The Best Shopify SEO Apps & Rank Your Store
All the best Shopify SEO apps listed above have different features and prices to improve your store's SEO rankings. Some apps are complete SEO tools with lots of features, while others concentrate on specific SEO areas for maximum optimization. Now picking the right Shopify SEO apps for your store will be your decision.
Hope you find this blog helpful. To know more tips, tricks, and detailed insights for your Shopify store subscribe to our blog and keep in touch with us.