In the ever-changing landscape of search engine optimization, you need to keep up with trends to masterfully adapt your SEO strategies. And when it comes to seasonal SEO trends, it is no different. Being on top of all the trending SEO searches and queries and tailoring your web content according to them will help you reach a larger audience during special occasions and seasons. Dive into this blog to learn what's trending and how you can implement them in your SEO strategy.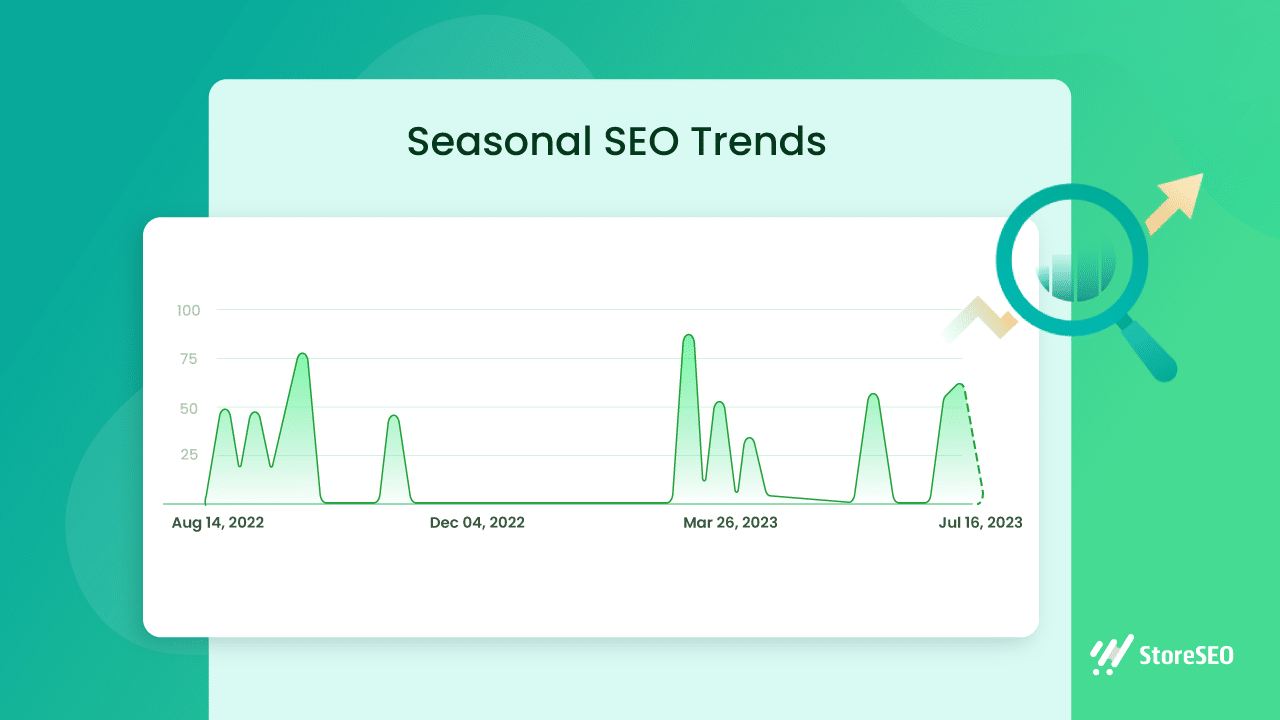 📖 Understanding The Dynamics Of Seasonal SEO
Seasonal SEO is not too different from traditional search engine optimization. Instead, it is when you take advantage of seasonal trends in search results and optimize content and keywords to maintain a competitive edge. For instance, during the summer months, people search more for summer clothes. Taking this into consideration, optimizing your content for summer clothes-related keywords can be called seasonal SEO.
In order to maximize the seasonal traffic and convert more, you need to find the right keywords and publish or update your content accordingly. These keywords are called seasonal keywords and they have a high demand during specific events or times of the year.
Understanding the change in the search trends over the years, if you can proactively take advantage of search intent, you can easily maximize your traffic and boost your conversion rates.
When we are talking about seasonal SEO, you can find two categories of seasonal SEO widely used by digital marketers. Now, let's have a look at the types of seasonal SEO below.
Time-Based Seasonal SEO: This category focuses on the different seasons of the year or any specific months or time frame. For example, search engine optimization focused on winter or summer can be called time-based seasonal SEO.
Event-Based Seasonal SEO: When you are focusing on specific events like Black Friday, Christmas, Summer festival, or any specific event, this can be categorized as event-based seasonal SEO.
💡 Why Seasonal SEO Matters In Optimizing For Search Engines?
When it comes to building a winning SEO strategy, you need to have a clear understanding of seasonal SEO. With the knowledge of keyword seasonality, you could predict the performance of your SEO and content strategy before implementing it. In addition to that, when you have knowledge of seasonal SEO, you will have accurate insights into what works and what doesn't on your hands and take advantage of the seasonal trends.
Besides, search engine optimization strategies are taken to drive traffic from the search results. When you know how the traffic behaves over specific periods of time or any event, you can easily take different actions and drive more visitors to your website. Now, let's have a quick look at why seasonal SEO is a crucial factor in search engine optimization.
Seasonal SEO can help to increase traffic to your website.
You can boost your revenue from any specific event of the year.
Seasonal SEO affects key SEO metrics like ranking, impressions, and clicks.
With seasonal SEO, you can plan ahead to run successful SEO campaigns
Seasonal SEO strategy makes it easier to rank on SERP at specific times or events.
🔍 How To Analyze Seasonal Trends For Your Business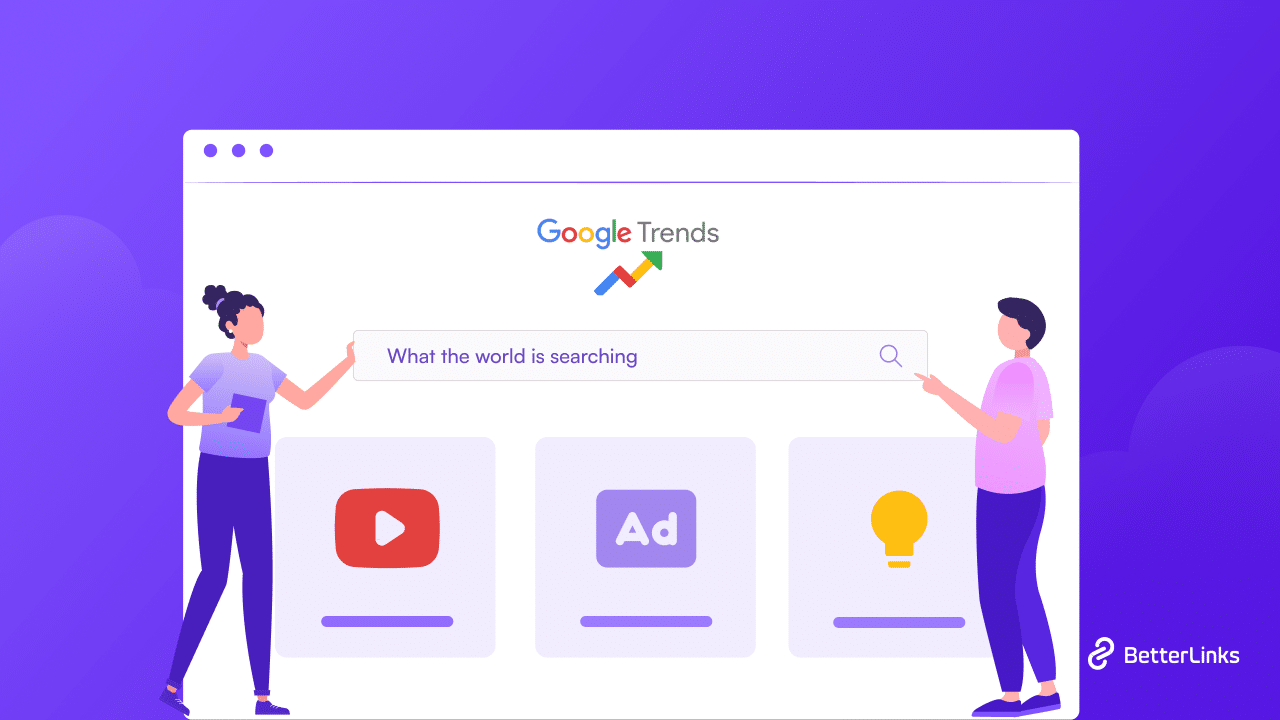 We are talking about seasonal SEO and how search trends can fluctuate over different periods of time. But, is there any way you can find the keyword behavior for your business? Yes, there is – there are plenty of SEO tools that can help you find the seasonal trends of your keywords but our top pick will be Google Trends.
With Google Trends, you can easily analyze seasonal trends and plan your SEO strategy accordingly. From this free SEO research tool, you will be able to identify the best time to make SEO plans for any keywords. For instance, using Google Trends, you can check out in what period of time any keywords are mostly searched on Google and you don't have to guess but make calculated decisions for your SEO strategy.
To do that, just head over to Google Trends and search for any keyword that you want to analyze. For example, we have searched the 'Snowboard' keyword and you can see this keyword has the most search volume during December, January, and February. And in the other months, the search volume is very low. Analyzing this information, you can target these three months and make an SEO strategy to find the maximum output.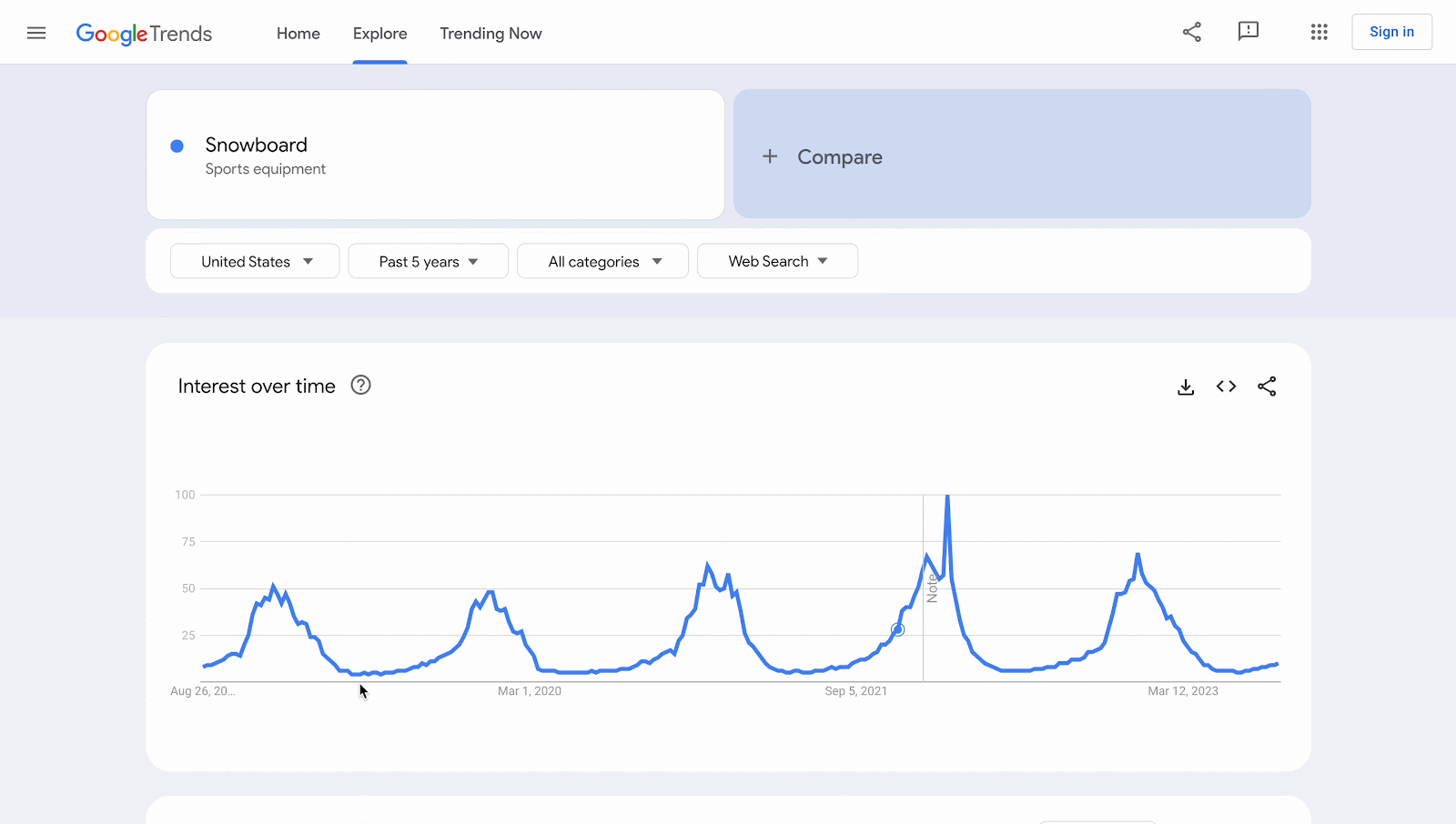 ✨ Latest Seasonal SEO Trends You Should Know
Over the years, seasonal search engine optimization strategies have been changing on a regular basis. If you want to stay ahead of the competition, you need to learn the recent trends in seasonal SEO and take the necessary steps.
⭐ Voice Search Optimization
In this modern era of voice assistance, voice search optimization is the latest trend you watch out for. Therefore, when writing your content, you should include long-tail keywords and use natural language keywords. In this way, you can enhance discoverability on search engines for voice searches.
⭐ Mobile-First Indexing
When you are thinking about achieving success with your seasonal SEO strategy, you can not ignore the importance of responsive websites. Nowadays, most of the search traffic is from mobile devices and if you want to rank on search engines, you must make a mobile-friendly website for your visitors.
⭐ Visual Search Advancements
Video and image searches are also gaining popularity in the digital world. Therefore, you need to optimize your image and video for search engines to make them easily accessible for search engine bots and your visitors.
⭐ Featured Snippets Optimization
Earning a spot in the featured snippets can significantly boost your traffic from search engines. Therefore, nowadays, seasonal SEO strategists also focus on optimizing content for featured snippets as well. Long tail keywords and no search volumes are also being tailored into content to win the featured snippets.
⭐ User Generated Content
The user-generated content can increase your credibility and relevance both to search engines and your visitors. Your user reviews, testimonials, and social media interactions can come in handy to rank seasonal keywords at ease.
💡 How To Implement Seasonal SEO Strategies
Now that you know the ins and outs of seasonal SEO, you are now ready to unlock the true potential of seasonal SEO trends, you can follow these actionable strategies below. With these proven strategies, you can easily get a rank for your desired keywords.
⭐ Conduct Keyword Research
First of all, for seasonal SEO, you need to find out the seasonal keywords. With any keyword research tool, you can easily find the seasonal keywords that you are looking for. After keyword research, you should add short-tail and long-tail keywords to your content to maximize the impact of your effort.
⭐ Strategize Content Calendar
While planning your content calendar, you should keep seasonal SEO in mind as well. You should be prepared to craft informative, engaging content that addresses user queries and requirements of seasonal traffic to easily get ranked for seasonal keywords.
⭐ Optimize Existing Content
If you are planning to rank on seasonal keywords, you can optimize your content with current seasonal trends. You should optimize the titles, meta descriptions, and headings to make your content fresh and relevant to your seasonal audiences.
⭐ Build Internal Links
Link link-building strategy can give a huge boost to your SEO campaigns. You should interlink between your evergreen content with seasonal content to increase the relevancy of your content. This strategy increases your user visit duration and also increases your rank as well.
⭐ Share On Social Media
Promoting your seasonal content across multiple social media platforms can accelerate your SEO strategy. While you are sharing your content on social media, it will enhance the visibility of your content and extend your reach.
⭐ Optimize For Local SEO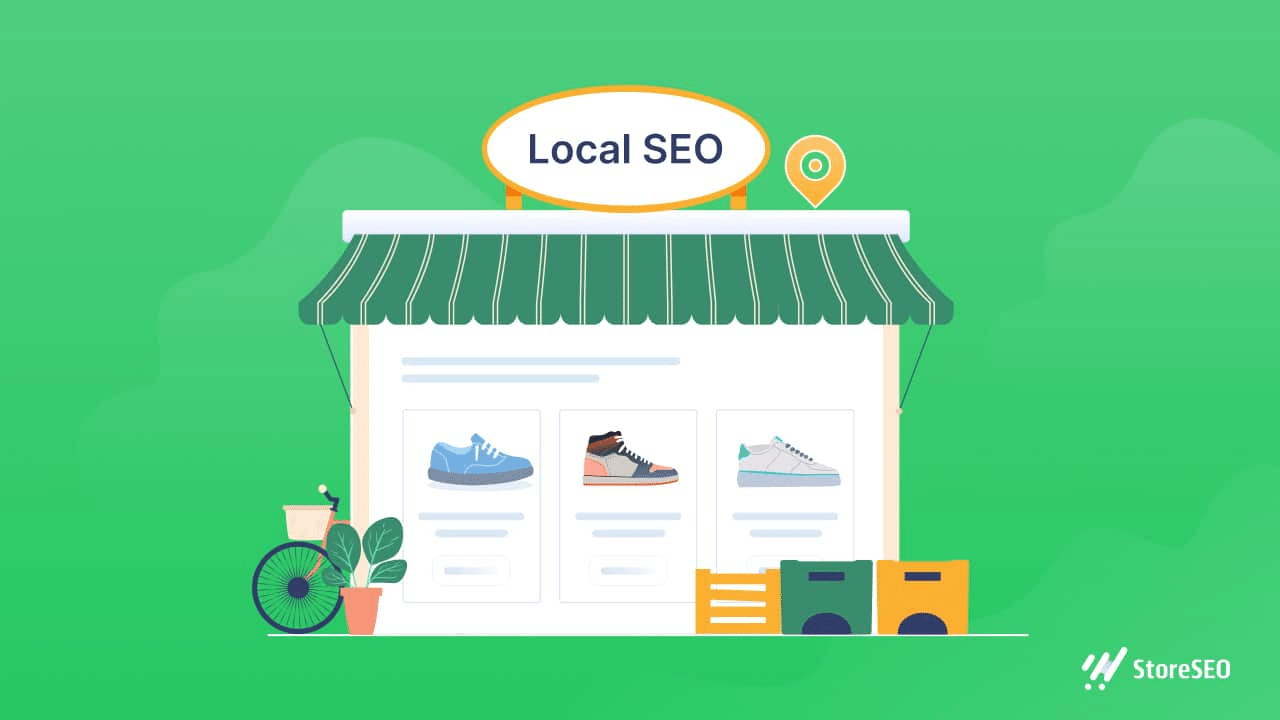 Local SEO can add more power to your seasonal SEO strategy. Also, it can improve your brand credibility as well. Therefore, you should target location-specific keywords and information and add them to your content for maximum output.
⭐ Fix Technical SEO Issue
When you want to rank your content on a search engine, you have to fix all the technical issues you have on your website. Therefore, you should conduct a technical SEO audit and make sure page speed, mobile responsiveness, and user experience are up to the mark as well.
🔍 Thrive In The Digital Landscape With Seasonal SEO
Applying the latest seasonal SEO trends, you can stay ahead of the competition and skyrocket your business growth. As you have learned the latest trends for seasonal SEO, now apply these strategies to your website and let us know the results. Good luck.
Have you found our blog useful? If you do, then please subscribe to our blog for more SEO tutorials, guides, news, and updates.