Achieving picture perfection for your Shopify shops is more than just a pixel-deep endeavor. It is the key to giving your loyal customers an amazing shopping experience. And it can only be achieved with images completely optimized for your store. Join us on this blog to learn about the top 5 Shopify image resizer apps that are truly useful, so you can make your images interactive and appropriate for your website. So, without any further ado, let us get started!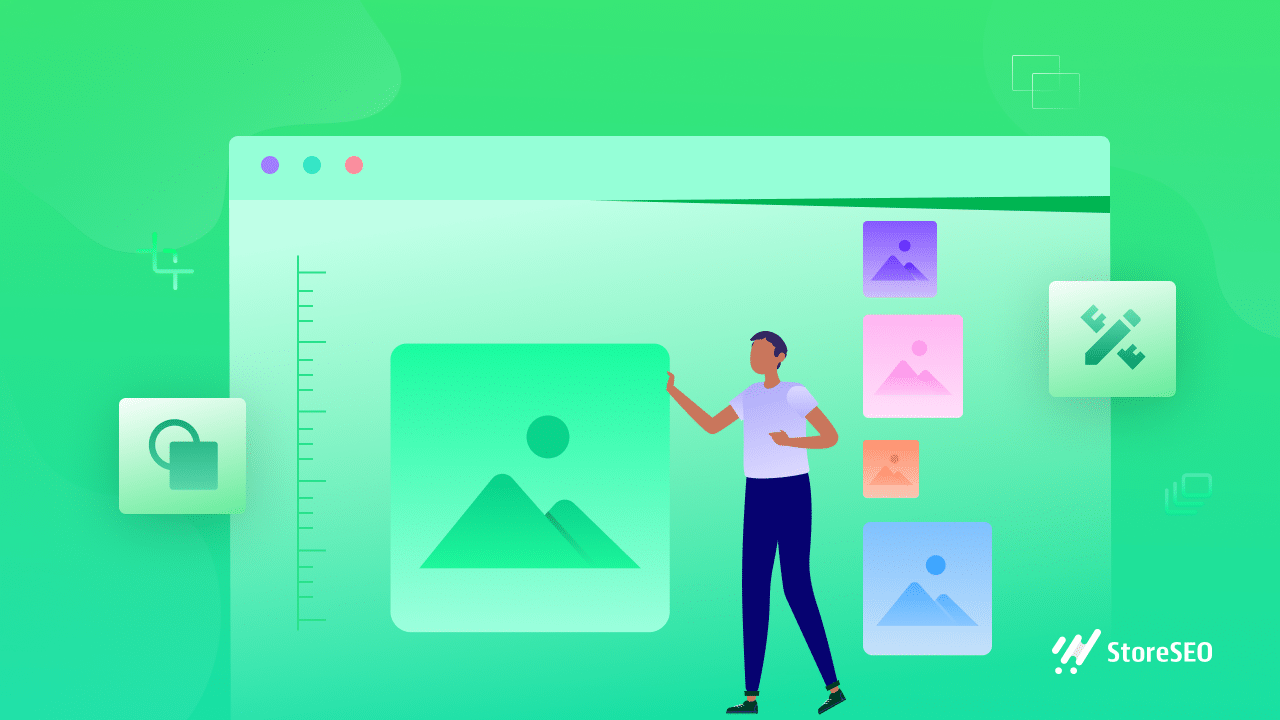 How To Choose The Image Resizer App For Your Shopify Store
Selecting the right image resizer app is not just about picking the most popular one. In this guide, you will go through the essentials to consider when choosing the best image resizer app for your specific needs, including ease of use, pricing, and features. Learn how to navigate this crucial decision:
Ease of Use:
The image resizer app must be highly intuitive. Try to find an image resizer that you can use without any hassle. You can save both time and effort if the interface is simple and easy to use.
Pricing Structure:
Understand the image resizer app's pricing structure. Some have flat-rate or subscription-based pricing, while others offer free basic versions with some premium features. Select a plan that is in line with your budgetary constraints and expected usage.
Image Optimization Features:
'What other features of optimization does the image resizer app offer than resizing?' is a question you should keep in mind when making your choice. Think about compression choices, file format conversions, and any other features that would be useful for your store, and choose the best one for you.
SEO Enhancement:
Choose an app that optimizes photos for search engines if SEO is important for your store. This entails utilizing proper SEO practices, minimizing image load speeds, and adding alt text.
Use these criteria as your compass while you search for the perfect apps. You can get superior image optimization by carefully evaluating your options of image resizer apps for Shopify and comparing them to the needs of your particular store. Your Shopify business will be ready for a visually appealing and customer-focused shopping experience if you have the correct app in your toolbox.
The Top 5 Image Resizer Apps For Shopify
In this section, you will get a detailed overview of the 5 top Shopify image resizer apps available in the market, each with its unique features and benefits. Explore the list below and choose the right one for your business:
Pixc: Photo Resize

Pix is an easy-to-use image resizing app that allows batch processing, ensuring that your product images are consistently and accurately enlarged or reduced in size. Additionally, it offers options for image cropping, enhancement, and retouching. If you're searching for a simple image resizer app that makes image scaling easier while retaining high-quality visuals for your Shopify store, Pixc is a perfect option.
Tiny: SEO Image Optimizer, Speed

The Tiny Image Optimization app can work as an image resizer, and image compressor automatically to speed up page loads and increase SEO rankings. Additionally, slow loading is supported for improved user experience. Tiny is a great option if SEO and site speed are your main concerns. It simplifies image optimization to improve user satisfaction and search engine visibility. With 5-star reviews from 1,500+ users, the app is even listed as an app 'built for Shopify'.
VF Image Resizer+

VF Image Resizer+ is also another image resizer app with the 'Built for Shopify' badge. It has options like mass image editing, image watermarking, and a resizable image gallery. Owners of Shopify stores who desire an all-in-one tool for image resizing, watermarking, and mass editing that makes it simple to maintain a professional appearance for their goods should use this app.
Hextom: Bulk Image Edit & SEO
Bulk editing of images and SEO optimization are available from Hextom. It enables efficient bulk image resizing, cropping, and compression. For better SEO, the program also provides alt-text optimization. Hextom is a top pick for stores with extensive product catalogs. It makes managing numerous photographs easier and guarantees that they are SEO-optimized.
Pixelz: Photo Retouching

Pixelz stands out as a photo retouching app, ideal for enhancing the visual appeal of your product images. It provides expert editing services, such as background removal, color correction, and other editing tasks. Pixelz can help you maintain a high-quality, polished look, making your products more alluring to potential buyers, if your store's product photographs need major editing and professional upgrading.
Now It's Your Turn To Explore!
In the highly competitive world of e-commerce, every millisecond counts, and every pixel matters. By choosing the right image resizer app for your Shopify store and following our optimization tips, you can ensure that your online business is primed for success. Don't delay & optimize your store's images and boost your sales today!
To find out more about this exciting feature, make sure to check out our detailed guide here, and don't forget to join the amazing Facebook community.