Boosting organic traffic and enhancing store visibility are top priorities for every Shopify store owner. Having the right Shopify SEO app can help supercharge their efforts and bring the desired results.  But with thousands of SEO apps in the market, sometimes, it gets difficult to know which one can be the best for your business. So are you looking for an effective SEO solution for your Shopify store? Dive into this comprehensive comparison to discover which SEO app – StoreSEO vs Booster SEO – and find the perfect fit for your store's needs.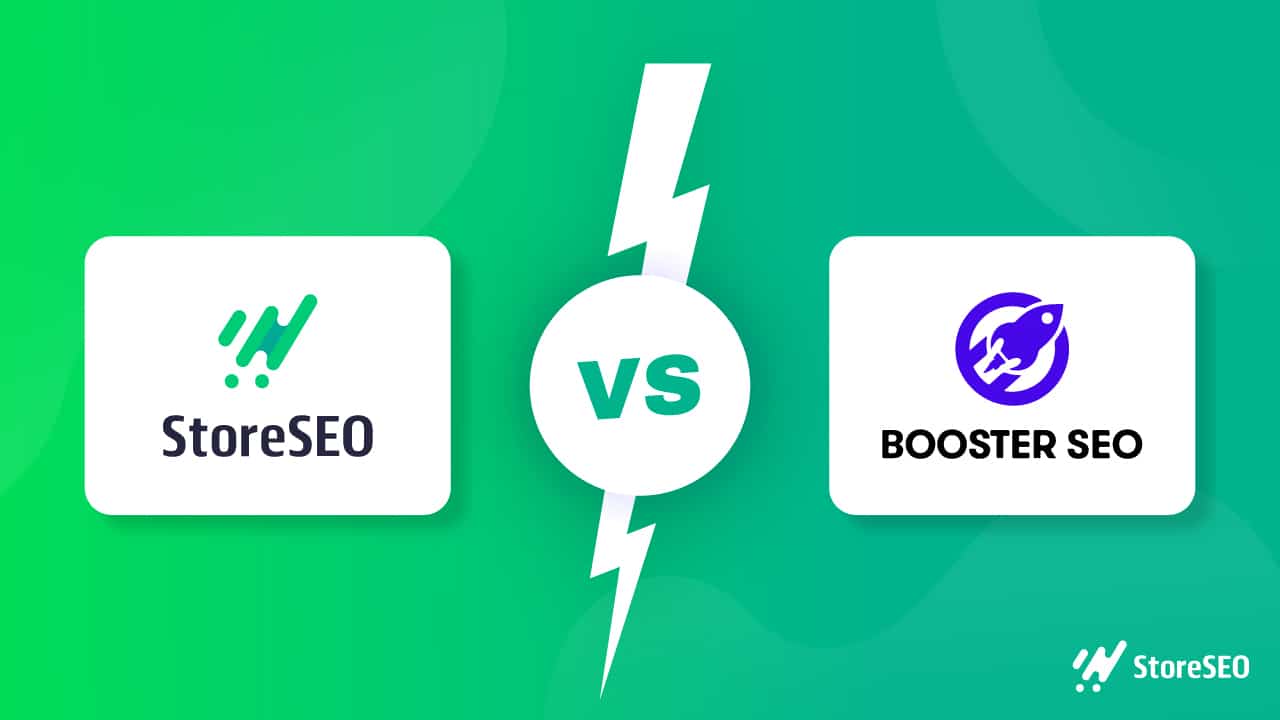 Why Is Having A Good SEO App Crucial For Your Shopify Store?
A Shopify SEO app can help stores drive organic traffic, boost visibility in SERPs, and enhance the user experience. But is that all? Let's discuss some key takeaways about why having a good Shopify app for SEO is important for your store.
🔎 Optimized Site Structure
SEO tools can help you arrange your website to help with search engine crawling and indexing. Careful site architecture may result in a better search engine ranking and a more pleasant visitor experience.
🚀 Boost Search Engine Visibility
If you want more people to find your online shop and products when they search on Google or Bing, you must make the best of search engine optimization (SEO). With the help of a quality SEO tool, you can boost your online shop's search engine rankings and attract more customers through organic traffic.
⬆️ Increased Organic Traffic
Your shop will see an increase in organic traffic if you optimize it for relevant keywords and search queries as search engines will show your products and services on top when users are looking for relevant keywords and tags.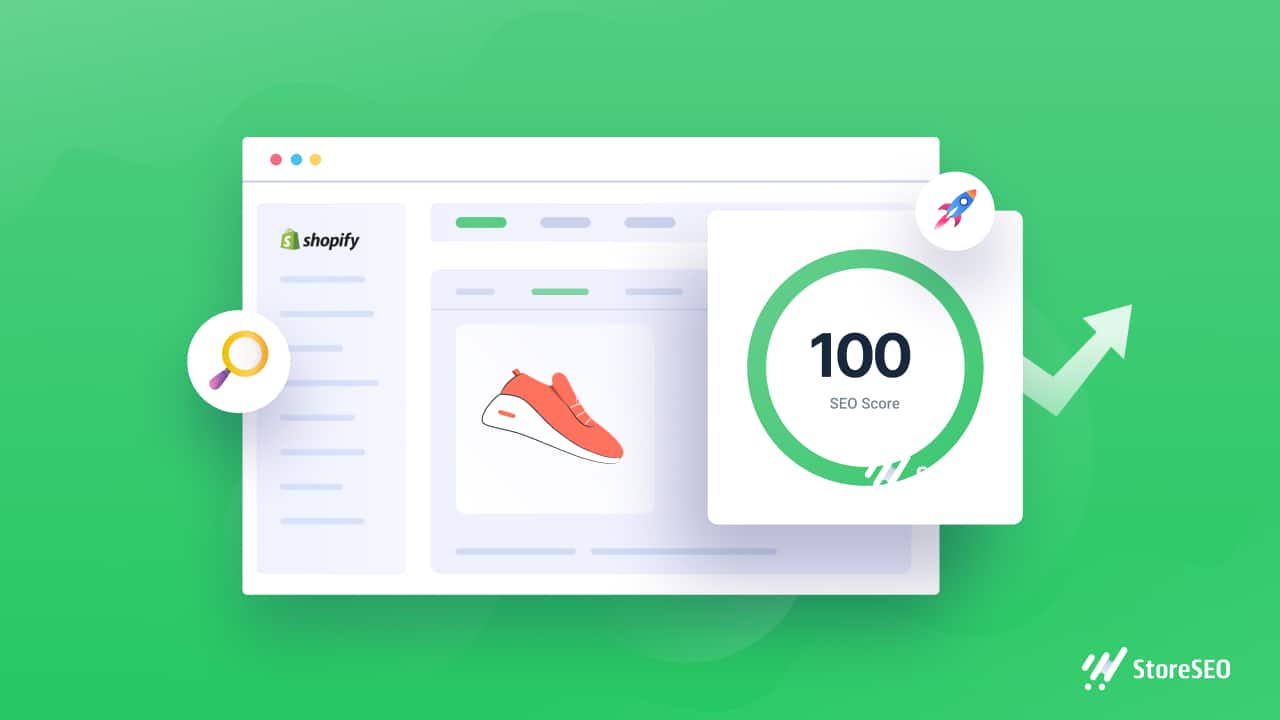 🥳 Better User Experience
A better user experience is the result of optimizing page load speeds, mobile responsiveness, and overall store performance with the help of a quality Shopify SEO app.
📈 Higher Conversion Rates
Your store's conversion rate will improve when it is optimized for both customers and search engines. With heightened traffic and better user experience, you can eventually boost conversions and achieve long-term goals, such as a rise in click rates or sales.
📊 Advanced Analytics & Data
You can track your store's success with the help of the data and analytics provided by several SEO applications. By keeping an eye on indicators like keyword ranks and referral traffic, you can fine-tune your SEO tactics.
🏃 Competitive Advantage
Having an SEO-optimized store will help you stand out from the crowd in the highly saturated e-commerce market. A better search engine ranking means greater visibility and the possibility of more sales.
Overall, the right SEO tool can save you time and effort in applying SEO best practices, guaranteeing that your Shopify shop is search engine optimized and user-friendly. For your online business, this could lead to more visitors, better search engine rankings, and more sales.
StoreSEO vs Booster SEO – A Head-to-Head Comparison
Now that we know why having a good SEO app is essential for your Shopify store, let's check out two popular SEO took, compare them based on their features, and pick the right one for your business. In this blog, we will be looking at StoreSEO and Booster SEO.
So, here's a StoreSEO vs Booster SEO comparison table to help you get an overview:
| | | |
| --- | --- | --- |
| Features | StoreSEO | Booster SEO |
| Free Plan | Yes | Yes |
| Starting Price | $9.99/month | $39/month |
| SEO Report | ✅ | ✅ |
| Detailed SEO Fix Instructions | ✅ | 💰 |
| Meta Tags Optimization | ✅ | 💰 |
| Bulk Edit Meta Tags | ✅ | ❌ |
| Bulk Edit ALT Tags | ✅ | 💰 |
| Meta Title & Meta Description | ✅ | 💰 |
| Optimize Titles & Description | ✅ | 💰 |
| Image ALT Text | ✅ | ✅ |
| Keyword Suggestion | ✅ | 💰 |
| Google Search Console & Analytics Integration | 💰 | 💰 |
| SEO Rich Snippets | 💰 | ❌ |
| Instant Indexing | ✅ | ❌ |
| Index/No Index | ✅ | ❌ |
| Google Snippet | 💰 | 💰 |
| Live Chat Support | ✅ | 💰 |
StoreSEO Shopify App: Take Your Store To New Heights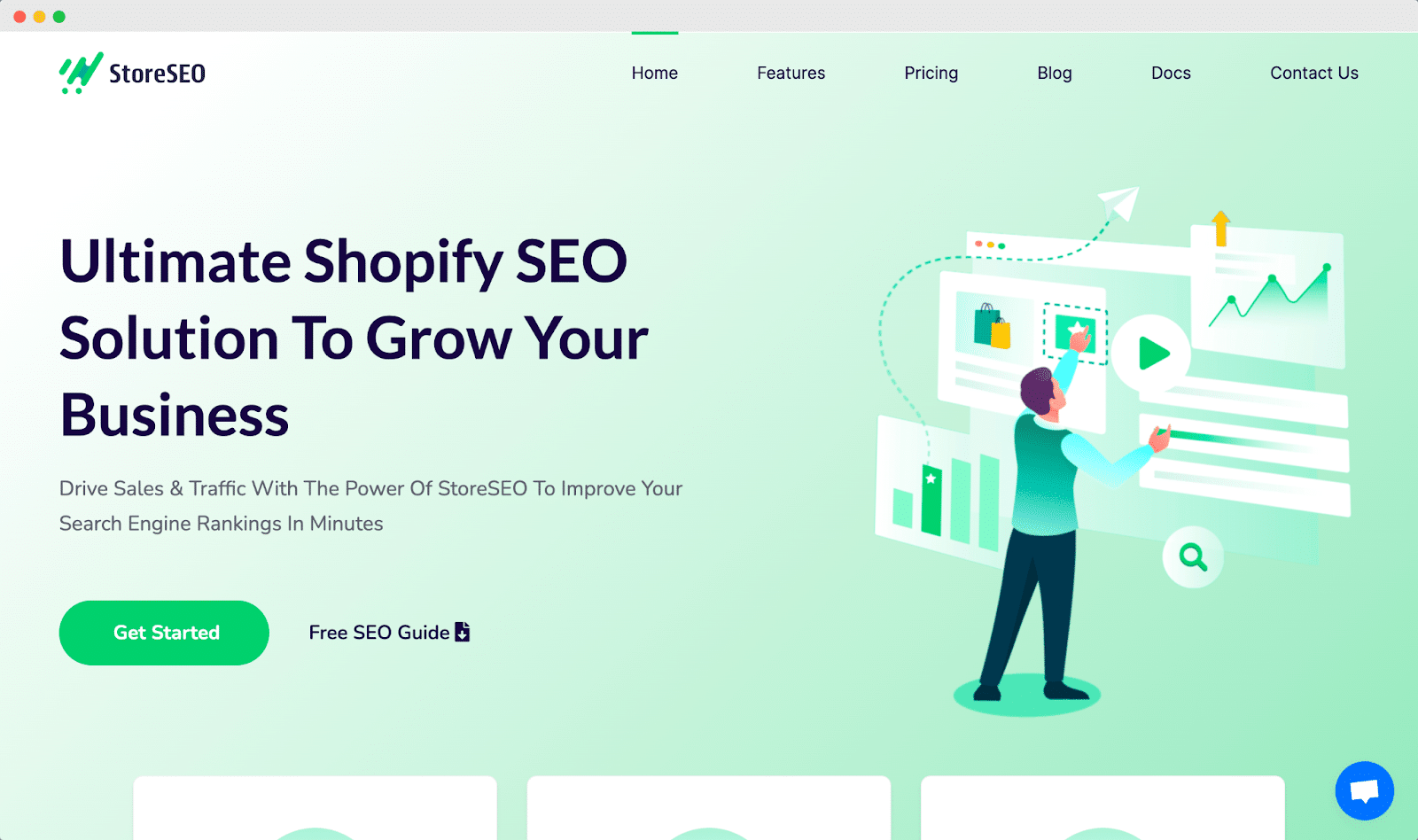 StoreSEO is a smart and intuitive SEO solution tailored for Shopify users that can help you optimize your store in every aspect. With StoreSEO, you can quickly check for SEO problems, add the ideal keywords to raise the visibility of your products in search results, and optimize photos for increased online visibility. And whether you're a seasoned SEO expert or just starting, StoreSEO's user-friendly features have got you covered.
Key Features that Set StoreSEO Apart
So what are the features that set StoreSEO apart from the rest of the competitors in the market? Let's take a look below:
🔑 Keyword Optimization: The backbone of successful SEO lies in keywords. With StoreSEO, you can effortlessly add tags and keywords to individual products and pages, boosting your store's visibility in search engine results.
🔍 Comprehensive Analysis Tool: Empower your Shopify store's SEO journey with StoreSEO's comprehensive analysis. Discover your store's SEO score and get actionable insights to optimize every element of your Shopify store, from product pages to collections.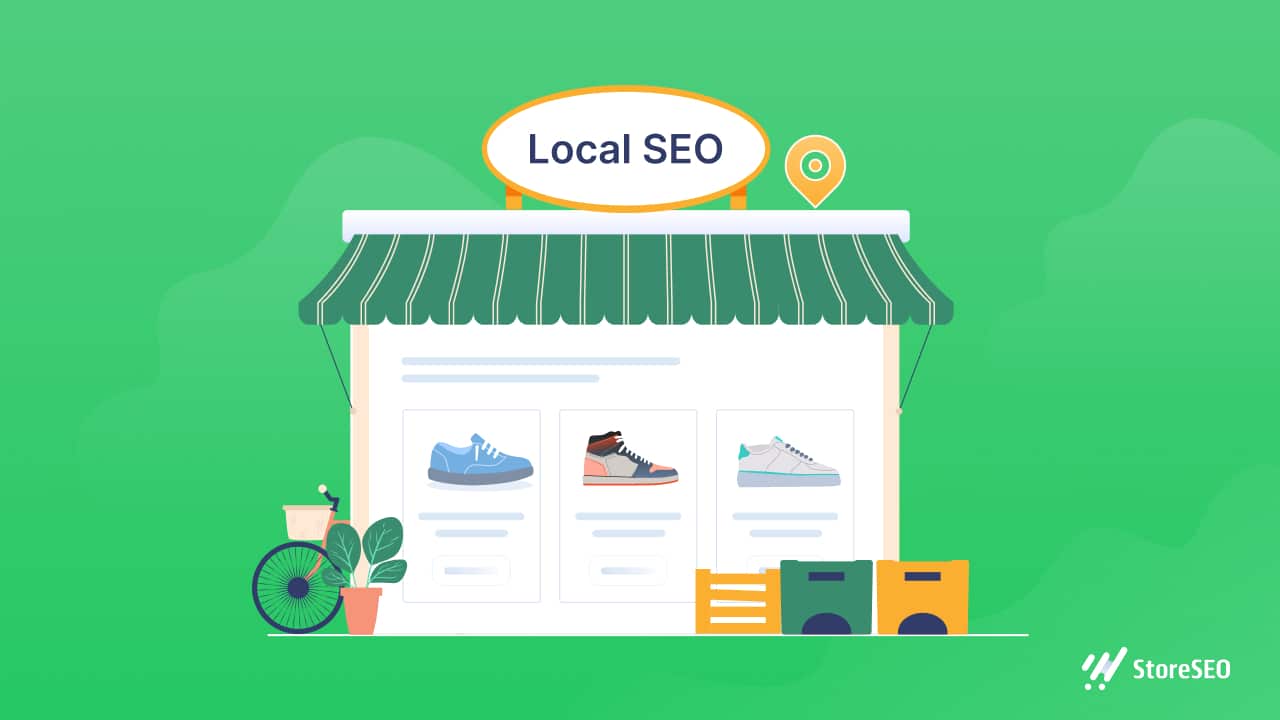 🌐 Boosted Local SEO: Expand your reach to local customers by optimizing your store for local SEO. StoreSEO simplifies the process by enabling JSON-LD schema markup for better local search rankings.
📈 Google Search Console Integration: Keep a close eye on your store's performance in Google Search results with seamless integration with Google Search Console. Indexing your store on Google has never been more convenient.
🖼️ Image Alt Text: Don't let image optimization be a roadblock to your SEO success. StoreSEO allows you to add image alt text to your products, ensuring search engines recognize and rank your store's images effectively.
📌 Sitemap: On top of these, you can choose to include or exclude specific products from your Shopify sitemap using StoreSEO. Thus, allowing you more control over what you want search engines to index.
Booster SEO: Boost Your Shopify Store's Online Presence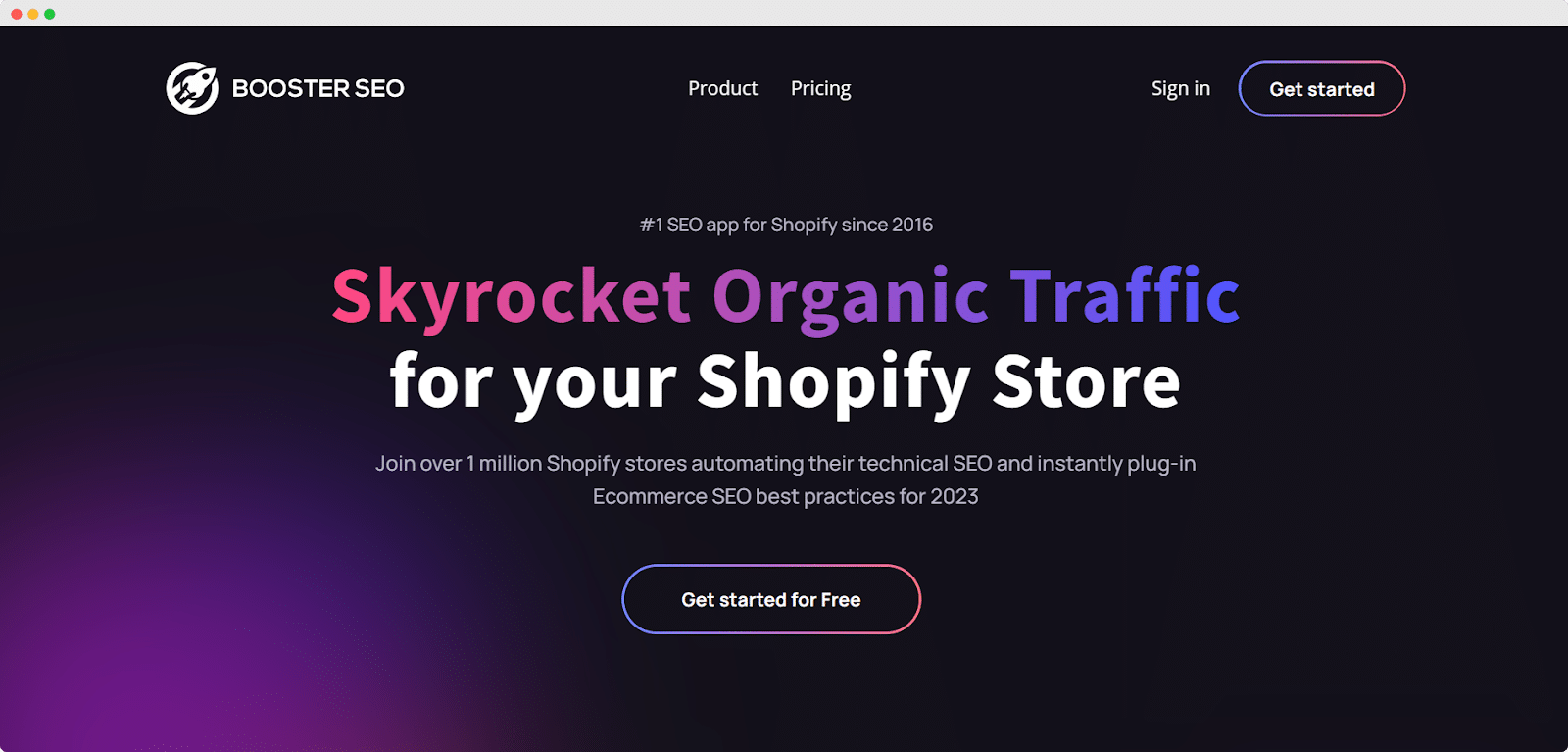 Booster SEO is another powerful contender in the world of Shopify apps for SEO. It offers a wide range of features designed to enhance your store's search engine visibility and provide a delightful user experience.
Key Features That Make Booster SEO Stand Out
Let's take a quick minute to check out the highlights of Booster SEO that users prefer:
📃 On-page SEO: Elevate your online store's search engine visibility with Booster SEO's on-page optimization feature. This helps you identify crucial keywords for your site and streamline navigation for your page, and more.
🖼️ Image Optimization: Unleash fast website loading speeds without compromising image quality with the help of Booster SEO's image compression tool. Plus, you can integrate descriptive alt text and titles, enabling search engines to catch image content effortlessly.
🔍 SEO Analysis: Track your Shopify store's performance, from keyword rankings and backlinks to website speed. It will also provide you with actionable recommendations to refine your SEO strategy.
⚙️ SEO Automation: Revolutionize your SEO workflow with Booster SEO's automation prowess. Reduce repetitive efforts and automatically add the same title tags, descriptions, and other essential elements to your store.
🛡️ Good Customer Support: Elevate your experience with Booster SEO's great customer support. A team of experts stands ready around the clock to address inquiries and troubleshoot concerns.
🤔 StoreSEO vs Booster SEO: Which One Should You Pick?
Both StoreSEO and Booster SEO offer exceptional features to boost your Shopify store's SEO. But when it comes down to the StoreSEO vs Booster SEO comparison, your pick depends on your specific needs and preferences.
If you seek an intuitive, user-friendly app with a focus on local SEO, meta tag bulk editing, indexing, and analytics features, StoreSEO will be your ideal choice. On top of that, you get 24/7 customer support benefits without any cost. On the other hand, if you mainly need SEO automation, image compression, and analytics with recommendations, Booster SEO could be your pick.
Whichever you choose, rest assured that both of these Shopify product SEO apps will help you navigate the competitive online landscape and drive organic traffic to your store. So, gear up and take the leap towards eCommerce success with the right SEO app by your side.
📚 Unlock The Best SEO Potential For Shopify Stores
To keep up with the ever-changing world of eCommerce, you need to constantly keep up with the latest SEO trends and best practices. A perfect SEO app for your Shopify store can be your solution to boost organic traffic & skyrocket your sales. Get insights from this StoreSEO vs Booster SEO comparison, and make your final choice.
Don't forget to subscribe to our blog for more exciting comparisons, in-depth reviews, and expert Shopify tips and tricks. You can also follow our Facebook community for the latest updates to stay ahead of the curve and ensure consistent growth for your Shopify store.