When you launch a brand new website, your website will not rank high in search engine results automatically. To do this, you need to know what is a focus keyword, and how to use them. That's where SEO optimization comes in. By using good SEO practices and using the right focus keywords, you can make your products more visible on search engines.
What Is A Focus Keyword?
A focus keyword is the search term that you want your Shopify products to be ranked for. When a potential customer searches for the specific term or phrase, your product will come up as a result. StoreSEO app will help you to optimize your Shopify products for better SEO ranking in major search engines like Google or Bing.
For example, Karen is searching for "14k Wire Bloom Gold Earrings" on Google and similar kinds of pages will appear. Suppose you sell lacquer painted wooden chairs too and want to appear on her search result. You need to optimize your page with these exact keywords that will eventually pull your website before Karen. For better ranking in the search result, you need to use the correct keywords that your potential customers might use while searching.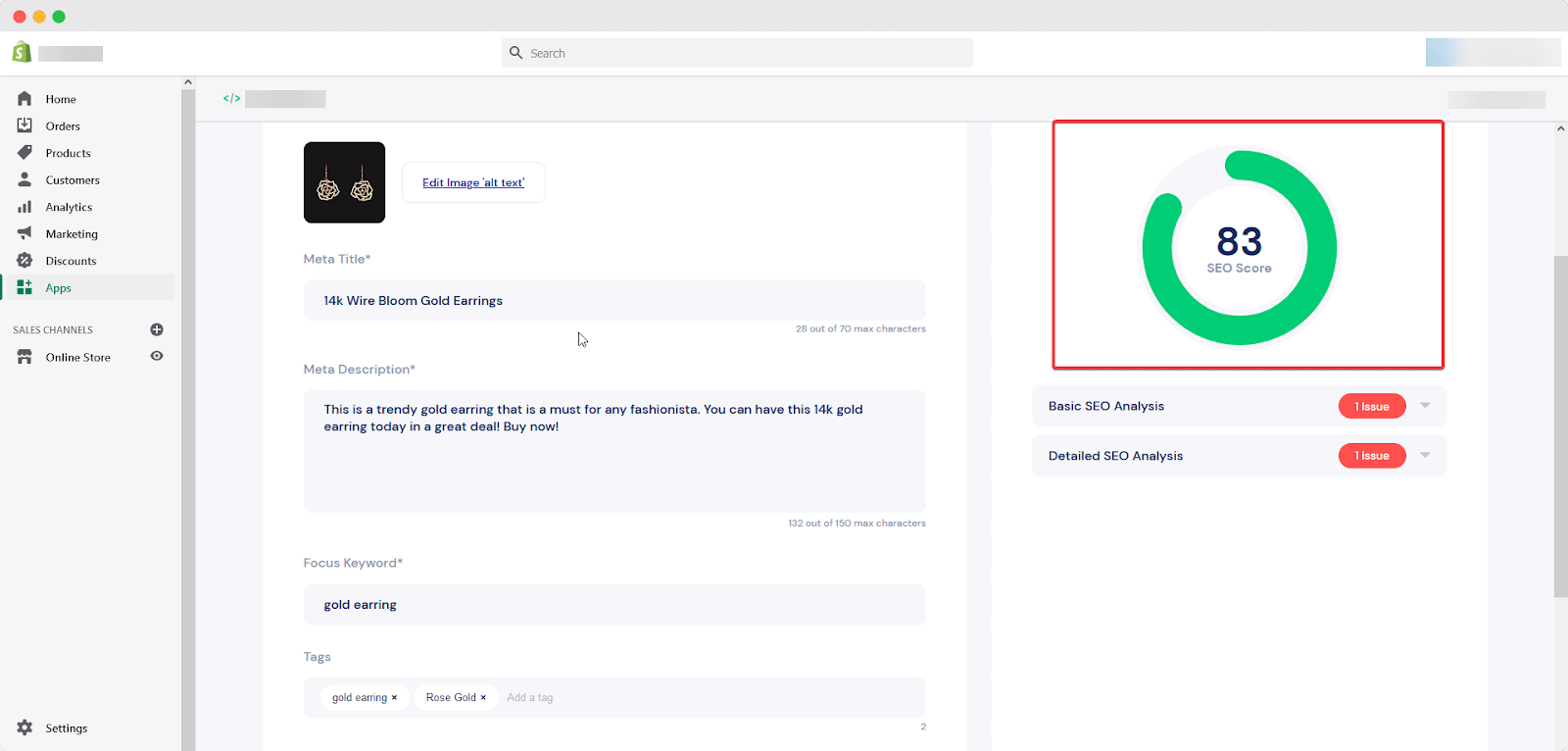 How To Choose A Focus Keyword?
Using keywords and creating content around specific keywords can help your website drive more traffic organically. That's why choosing the right focus keyword for your Shopify products is important. Let's learn how to choose the right focus keyword for your content.
Choose the words that explains your product right and has a good search volume. Take help from keyword research tools to see the volume of each keyword.
Using specific keywords will help your SEO health more than anything.
Avoid "Keyword stuffing" by constantly repeating the keyword in your content. Keyword stuffing is penalized by search engines. A good ratio is for keywords in your content is 1-2%. For example if your product description is around 100-150 words, your keywords should be used once or twice in the description.
Where To Put Keywords For Shopify Products?
As you are interested in inserting keywords in your Shopify content, you can use them in several ways.
Meta title: Use the keyword in the meta title so that your product's click through rate increases instantly.
Meta description: When your product appears on someone's search result, they can have the idea from the meta description that you have written for the product. Inserting your keyword in the meta description is a useful SEO tactic.
Image alt text: Image alt text helps the search engine crawlers to understand what the image is about. That's why to index the correct product picture, you need to input a keyword in the image alt text.
This is how you can easily decide which words to choose as your focus keyword.
Need assistance? Feel free to reach out to our dedicated support team for any type of queries.