Do you want to compare StoreSEO vs Yoast SEO and choose the perfect SEO solution for your Shopify store? Well, today is your lucky day. In this blog, we are going to compare these two Shopify SEO apps to help you take your final choice. Without any further ado, let's get started.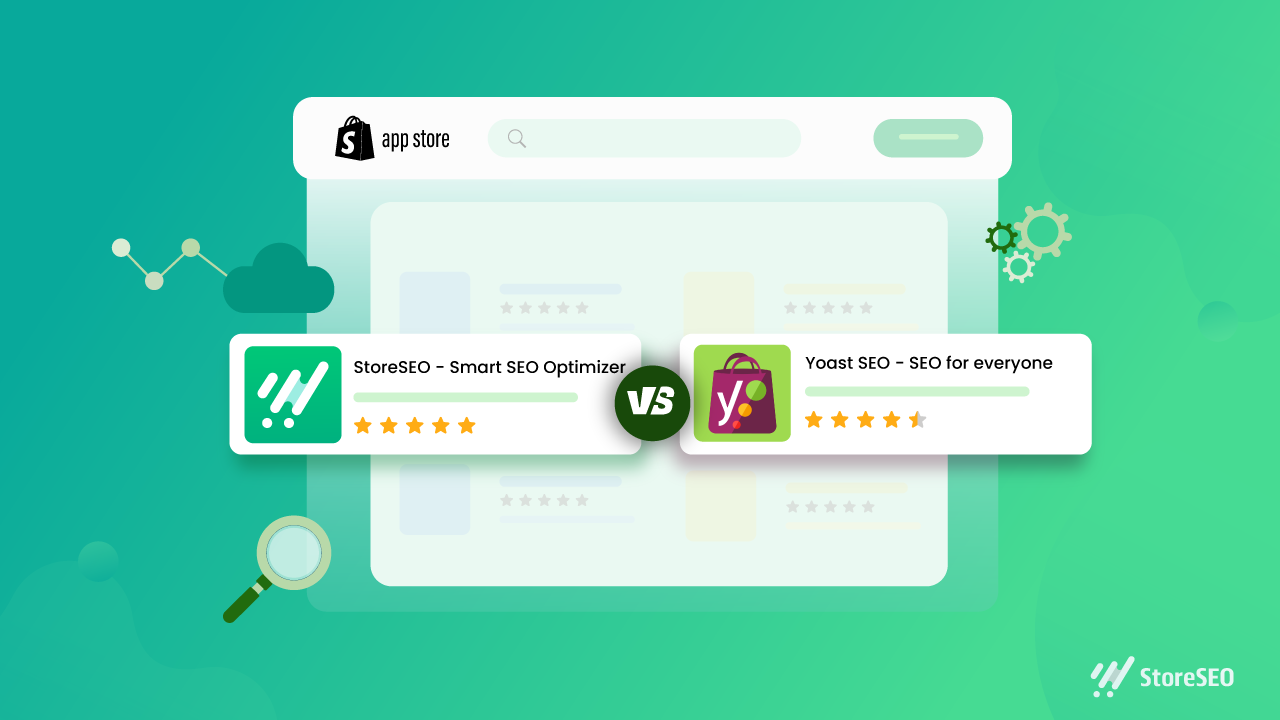 ✨ Head-to-Head Comparison: StoreSEO Vs Yoast SEO
Take a glimpse at the comparison table before going to the main part of this StoreSEO Vs Yoast SEO comparison.
| | | |
| --- | --- | --- |
| Feature | StoreSEO | Yoast SEO |
| SEO Fix Instructions | Yes | Yes |
| Manage Sitemap | Yes | No |
| JSON-LD Data Support | Yes | No |
| Edit Titles & Description | Yes | Yes |
| Live Chat Support | Yes | Yes |
| Free Plan | Yes | Trial Only ( 14-day free trial) |
| Price | $9.99/month | $19/month |
🟢 StoreSEO Shopify SEO App Overview
StoreSEO is a smart SEO solution for Shopify that can help you drive more traffic to your store. It comes with amazing features that will help you accelerate your business growth. Using StoreSEO, you will be able to rank your store on search engines.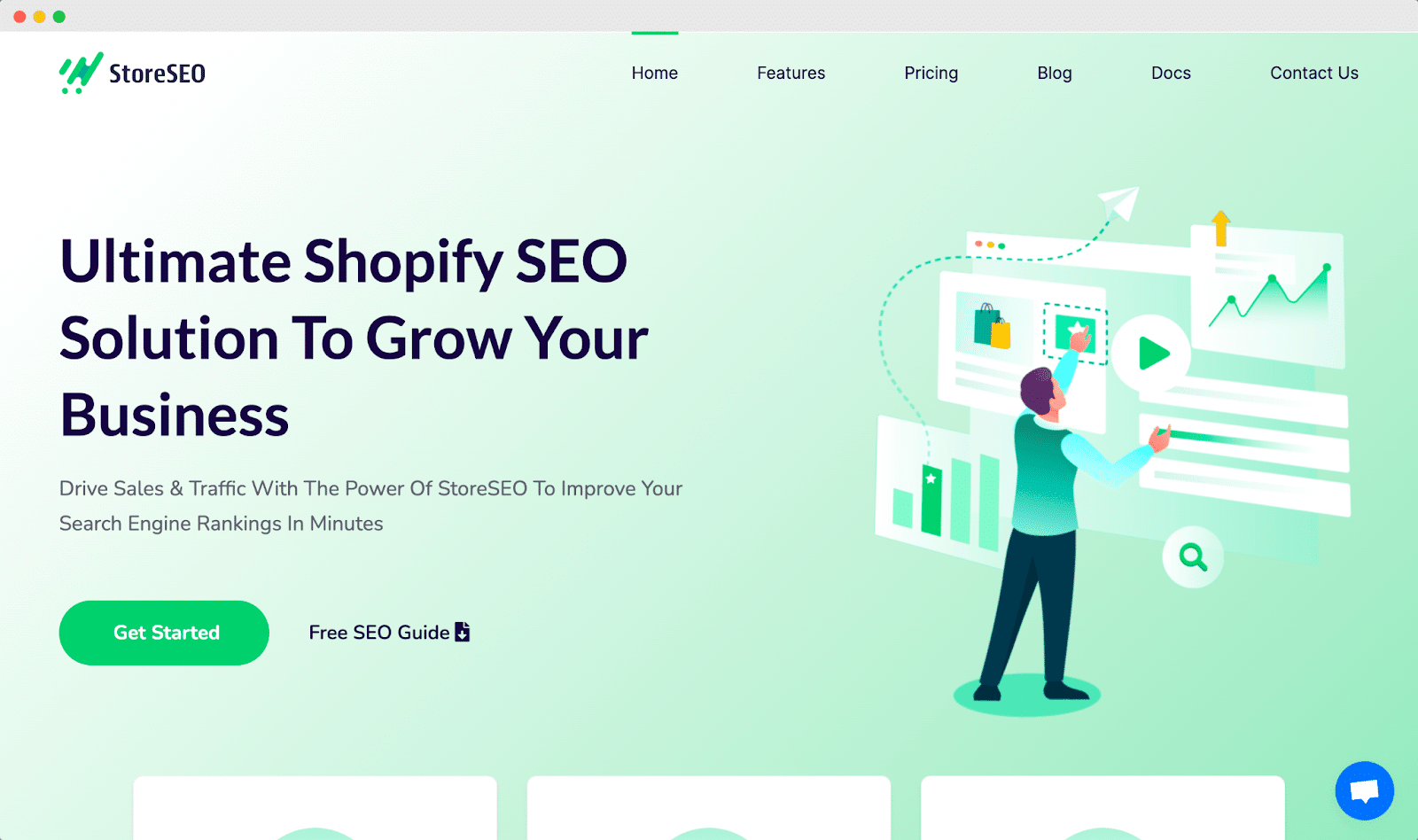 This Shopify SEO app will help you to automatically detect your SEO issues and help you to optimize Shopify stores instantly. You don't have to be an SEO boss to rank your Shopify store while using StoreSEO. With powerful features, StoreSEO can be a great choice for your Shopify store.
⭐ Top 5 Key Features
StoreSEO has amazing features for Shopify users to rank your store. Take a closer look at the key features that will make your store booming high on the search results.
⭐ SEO Analysis
The SEO Analysis feature from StoreSEO gives a clear idea of your SEO score based on how well your store is optimized to rank on search engine results pages. Even if you don't have much knowledge about SEO, StoreSEO can help you optimize your store without any professional help. You can see the SEO scores of your product pages or any other page and improve with provided instructions.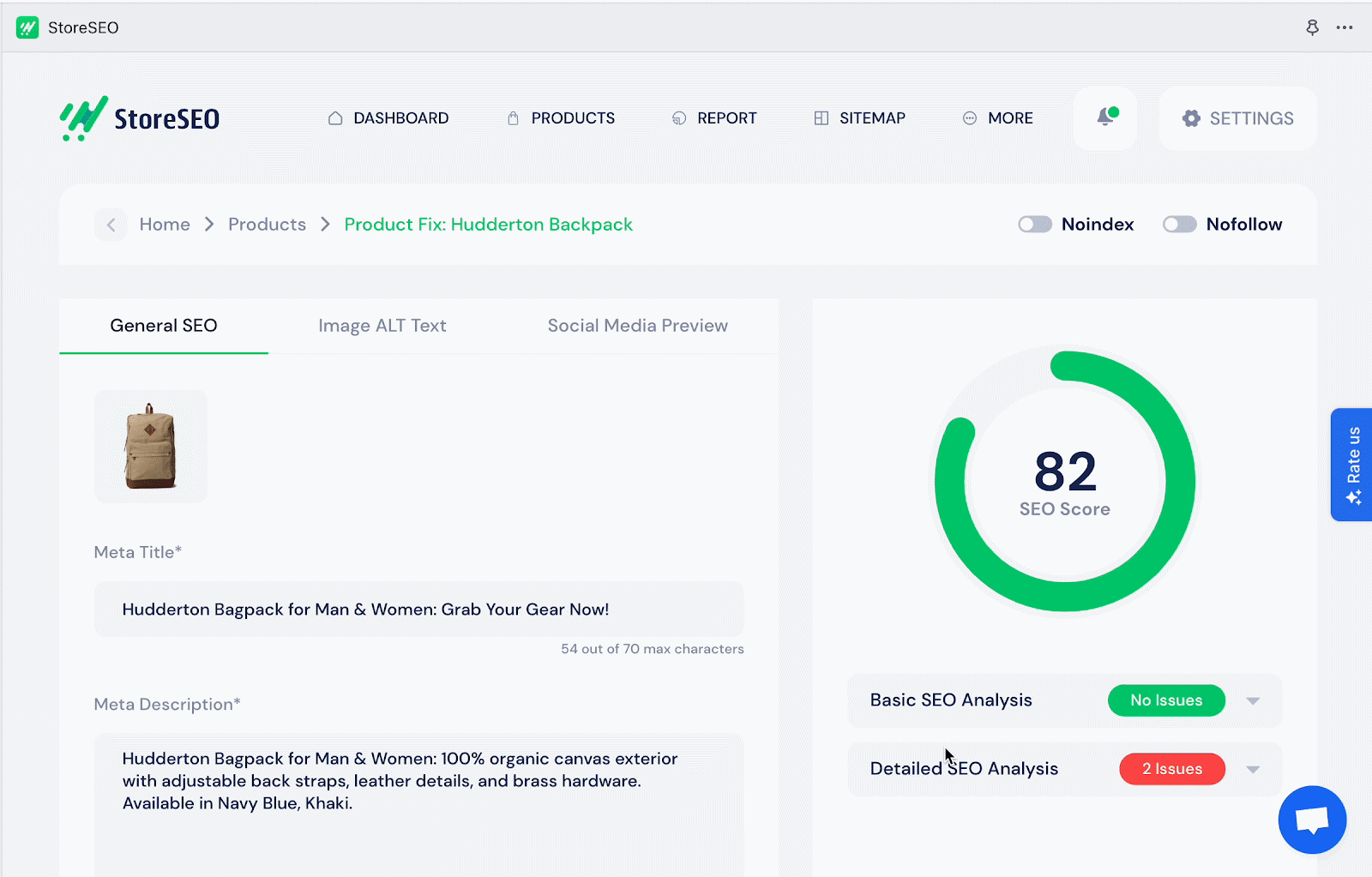 ⭐ Keyword Optimization
StoreSEO lets you add keywords and tags for individual Shopify products. You can add up to 5 tags to enhance your visibility on search engine results. In addition to that, this Shopify SEO app helps to optimize keywords for your different pages. With the help of StoreSEO's SEO analyzer, you will be able to check your keyword density and optimize instantly.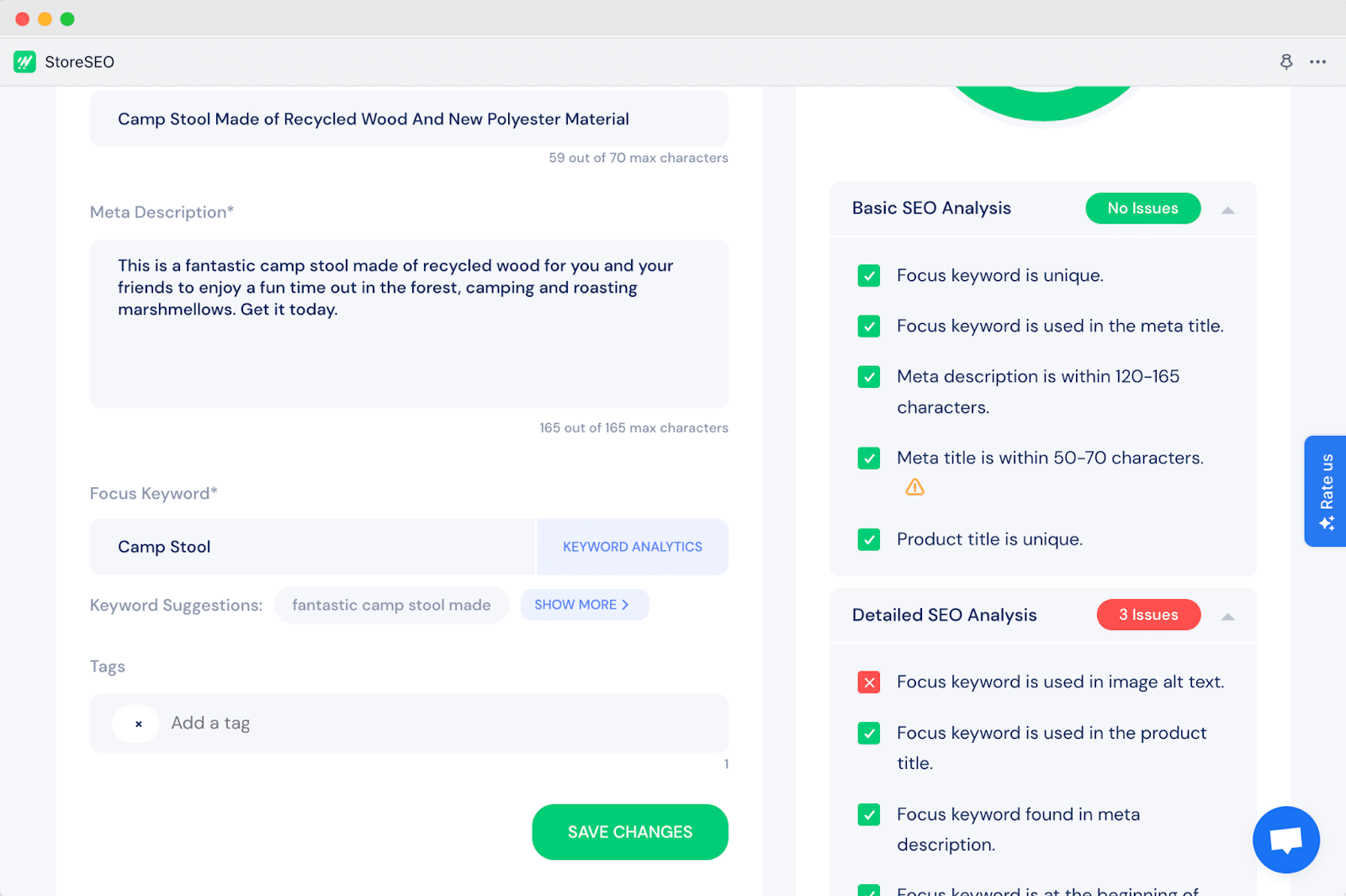 ⭐ Image Alt Text
For eCommerce websites, image optimization is essential to rank on search results. With StoreSEO, you can add image alt text to your products and optimize them for search engines. And the best thing is, this Shopify SEO app will help you bulk-edit your whole store image with ease.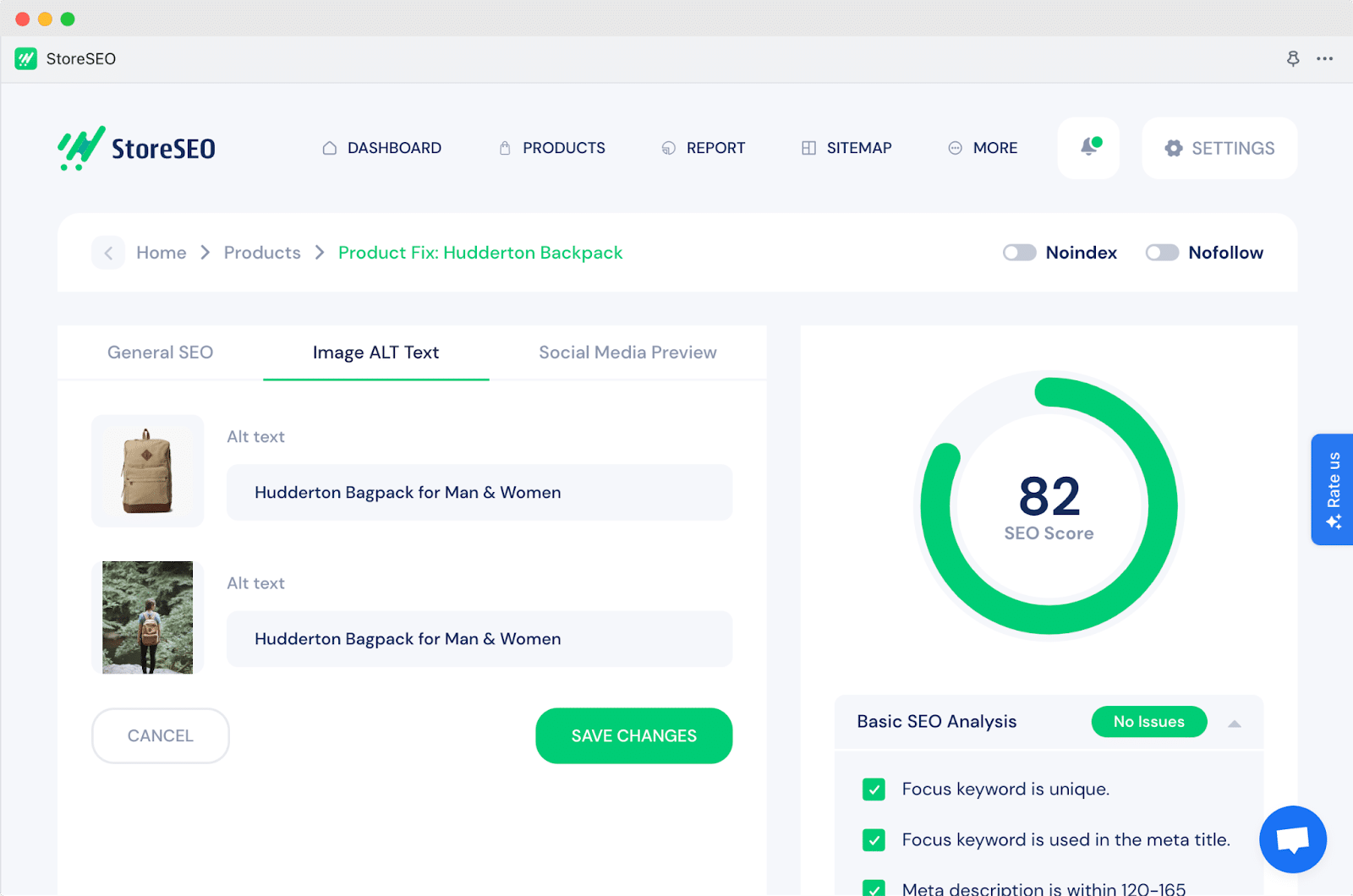 ⭐ Local SEO With JSON-LD
As an eCommerce store owner, you need to optimize your store for local SEO to find more customers and enhance your brand value. StoreSEO makes it easier for you to set up your local SEO. You can enable JSON-LD schema markup and rank your store for the local search results.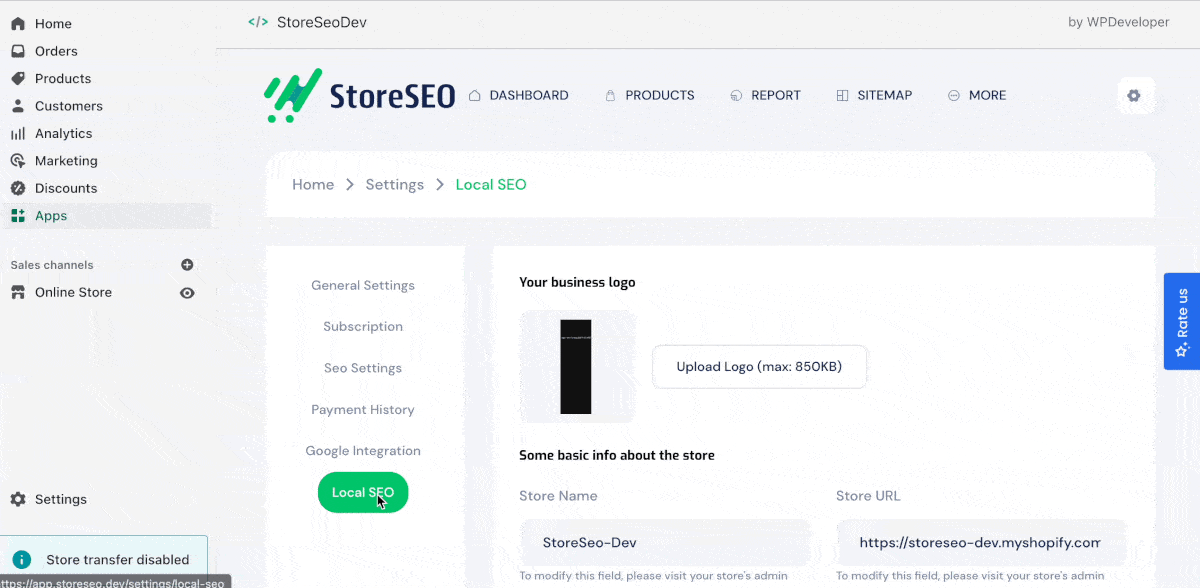 ⭐ Google Search Console
When it comes to optimizing your Shopify store for search engines, you need to constantly monitor, and troubleshoot your store's presence in Google Search results. With StoreSEO, you can connect to Google Search Console and take care of your technical SEO. Therefore, it will be easier for you to index your store on Google search engine result pages.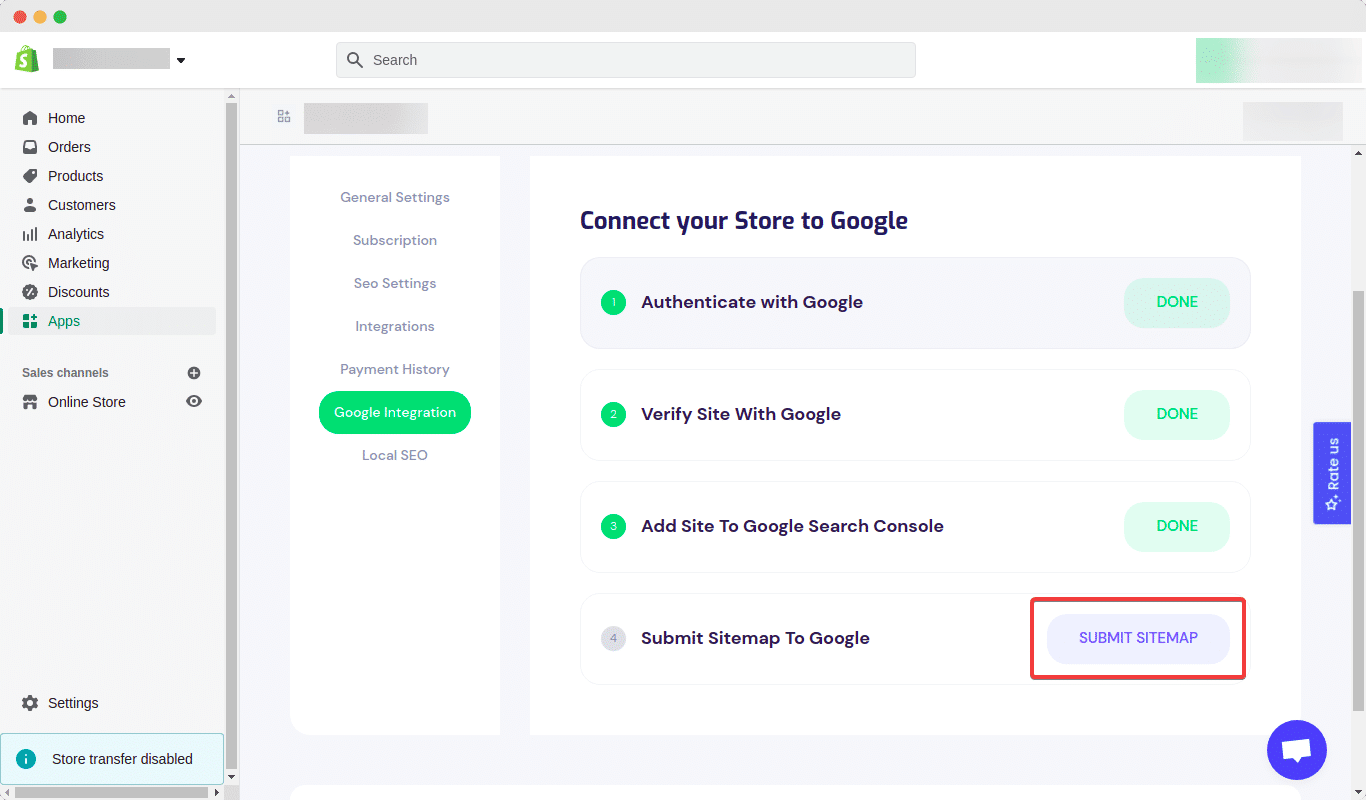 🔵 Yoast SEO For Shopify Overview
Yoast SEO is another Shopify SEO solution that comes with a lot of useful features. It can help you with smart recommendations for optimizing your Shopify store. With this Shopify SEO app, you can improve your store's visibility and drive traffic to your business.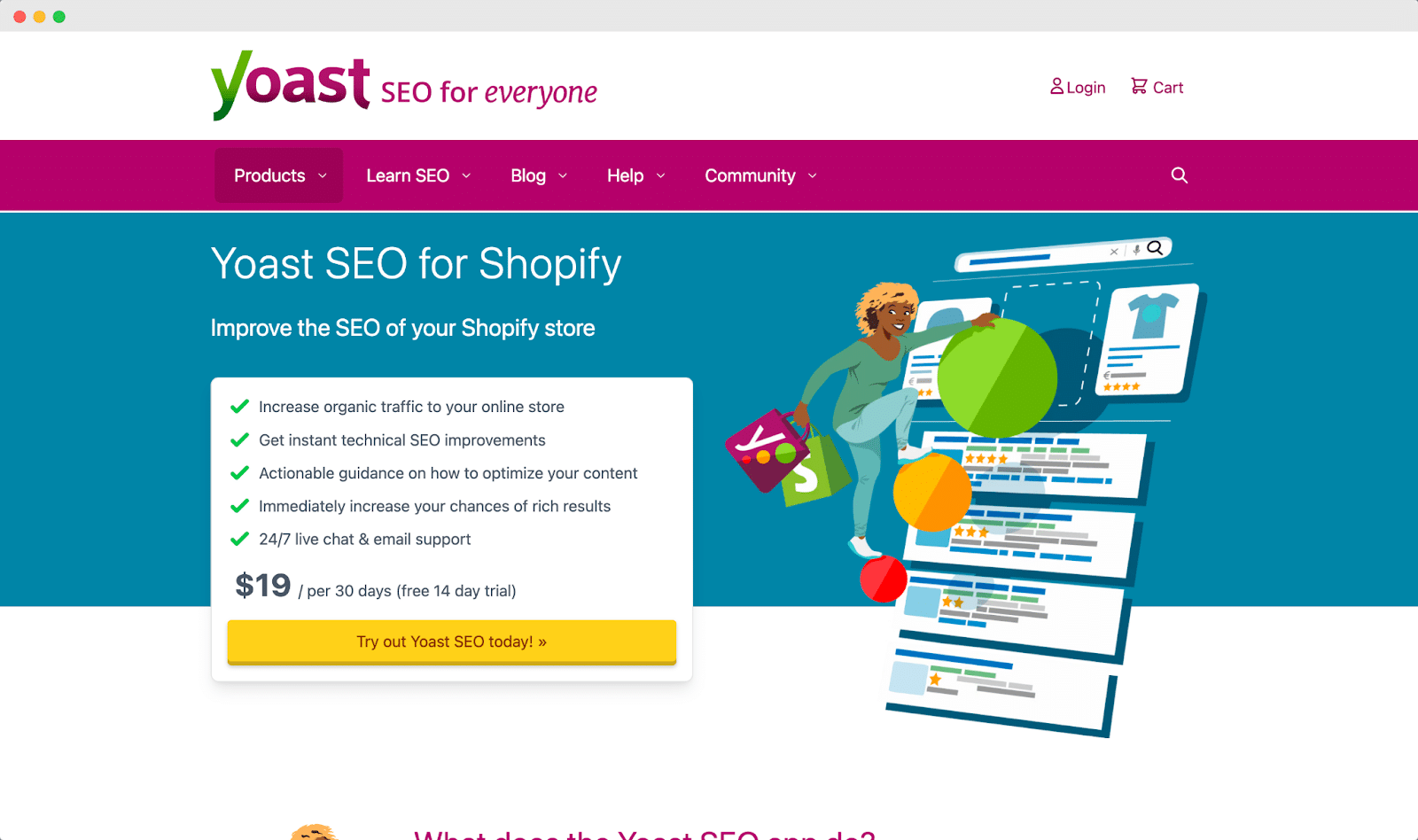 Besides, it provides real-time feedback for your SEO efforts and helps you to customize and solve your SEO issues. Once you install Yoast SEO on your store, it will take care of the technical aspect behind the scenes. As a Shopify SEO solution, Yoast SEO could be a good option as well.
⭐ Top 5 Key Features
The Yoast SEO for Shopify comes with excellent features to make your store visible on search results. Let's dive into the highlighting features of this SEO app.
⭐ SEO Analysis
The Yoast SEO app also has an SEO Analysis feature which will tell you what to improve to rank your product on search engines. Similar to the StoreSEO SEO analysis feature, based on the best SEO practices, the Yoast SEO app will provide actionable guidance to optimize your Shopify Store. Also, it will show you the issues and good results of your Shopify pages.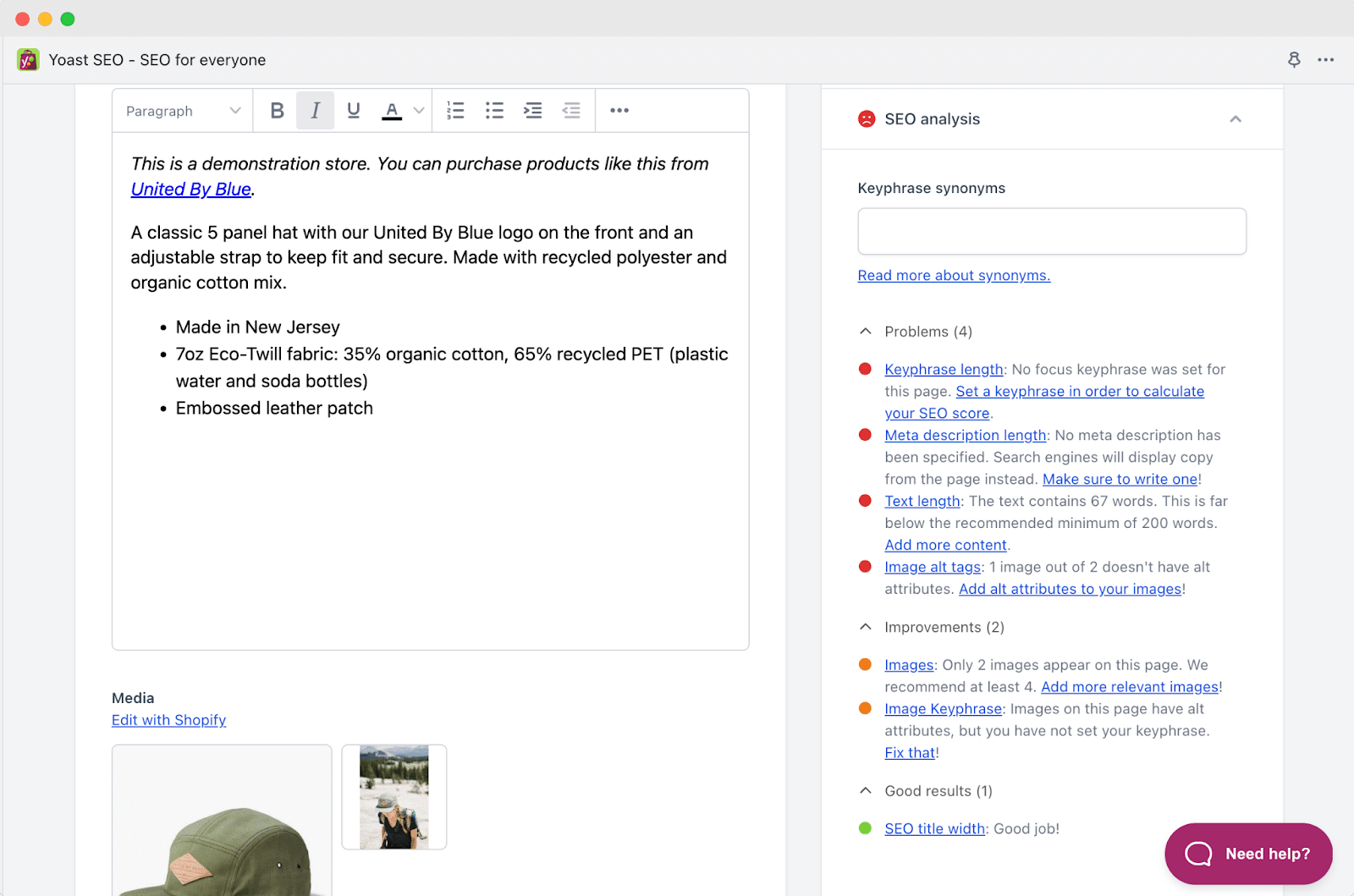 ⭐ Readability Analysis
Yoast readability analysis is a quite useful feature for any Shopify store. It helps to optimize your content for the readers and enhance the user experience. You will get suggestions from the Yoast readability checker to improve your content readability. So, you will be able to craft readers friendly content for your store.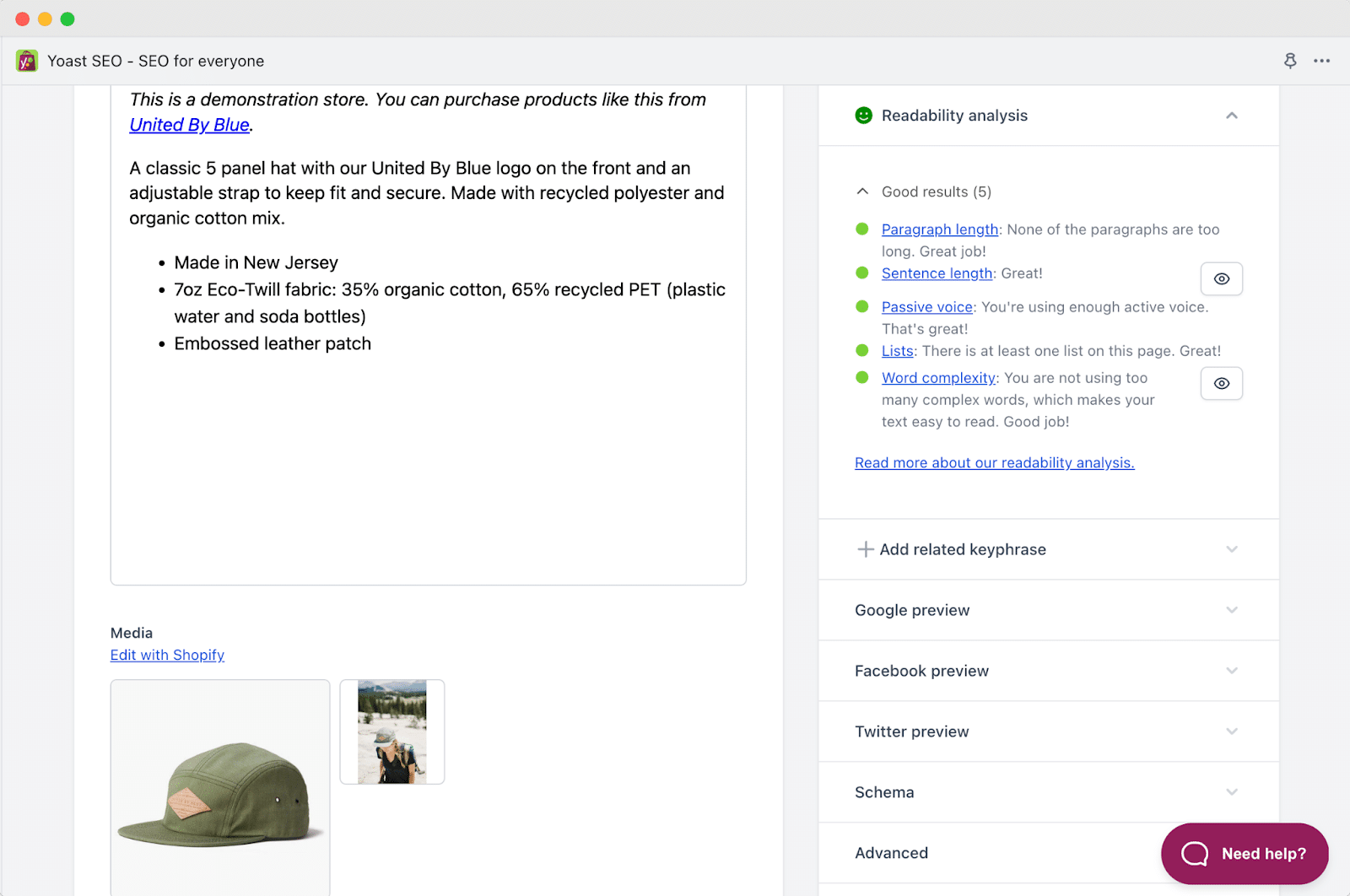 ⭐ Titles & Meta Descriptions Optimization
Just like the StoreSEO Shopify SEO app, the Yoast for Shopify helps to optimize the SEO titles and meta descriptions of Shopify stores. You can easily set meta descriptions or titles for different pages using templates. Thus, it will save you time and also increase your visibility on search engine result pages.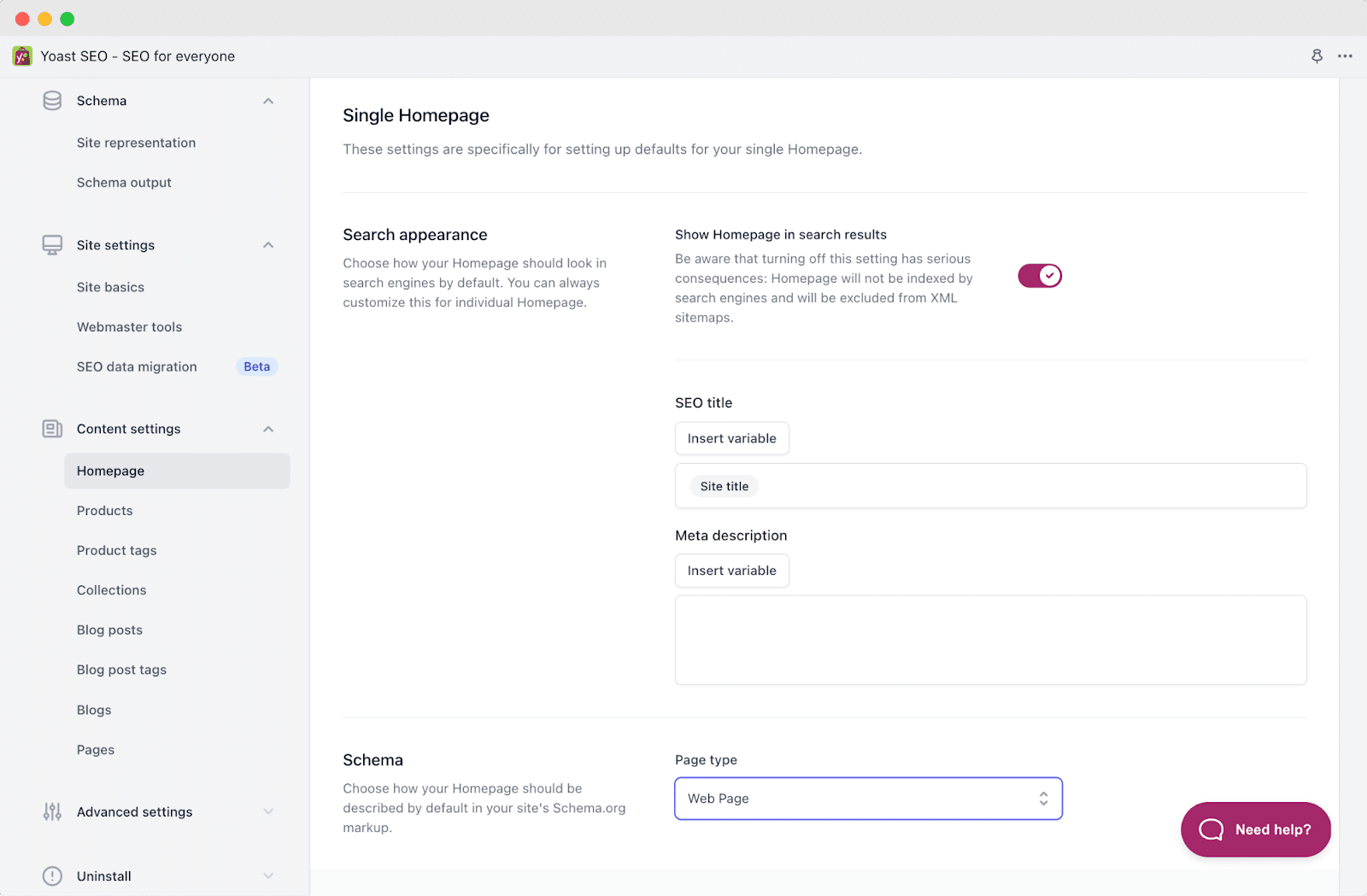 ⭐ Technical SEO
Yoast SEO app ensures your store is always updated with the latest SEO practices. It removes all the conflicting codes from your theme file and keeps your store's technical SEO issues free. Thus, you don't have to worry about the technical SEO part of your Shopify store.
⭐ Structured data/schema
Structured data or schema markups help search engines understand your content. With the Yoast SEO app, you will be able to enable Schema.org markup for your store. You can also enable or disable the schema markup for any specific page. Thus, your store will have a better chance to rank on search engine result pages.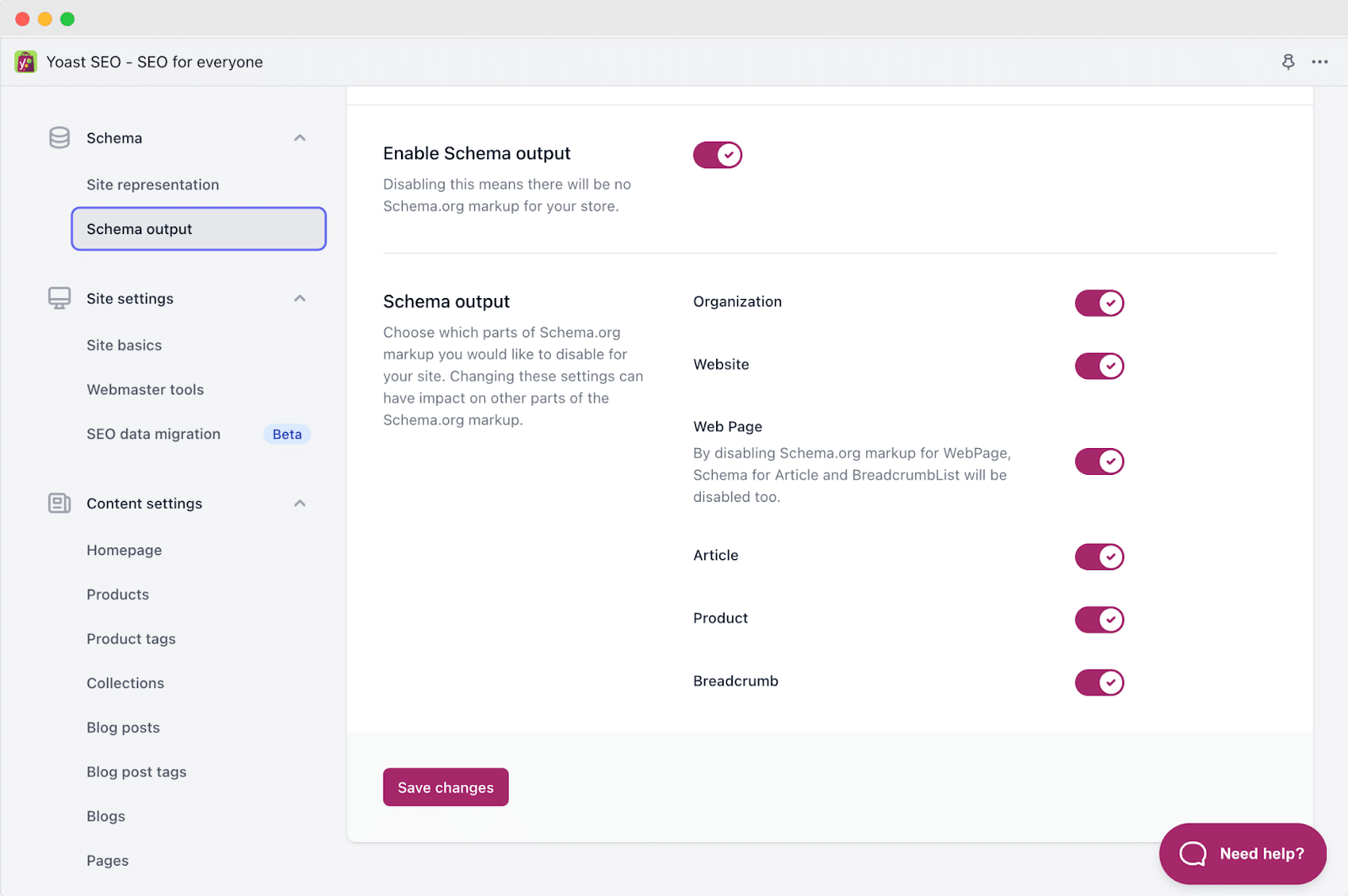 🏆 Skyrocket Your Organic Traffic With Shopify SEO App
We are about to conclude StoreSEO vs Yoast SEO comparison here. Both of these Shopify SEO apps provide solutions to rank your Shopify store. So, which solution do you find most convenient for you?
We hope this blog helps you to compare StoreSEO & Yoast SEO. If you like to read more comparisons, reviews, and Shopify tips and tricks, subscribe to our blog.