If you want to drive more traffic and increase sales for your Shopify store organically, you have come to the right place. Running a detailed SEO analysis for your Shopify store can help you fix all the SEO-related errors and fix them immediately. Let's dive in and learn how to run detailed SEO analysis on your Shopify store.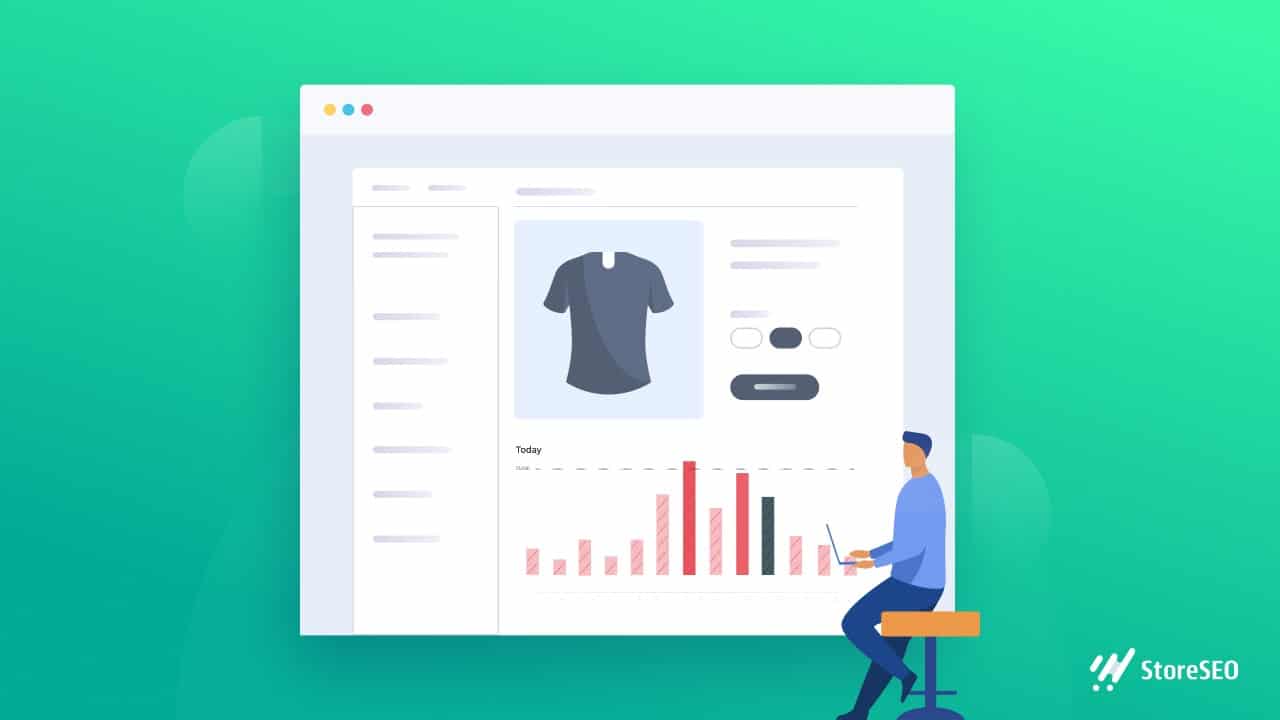 To drive more organic traffic, your Shopify store must be optimized with the right SEO practices. While Shopify provides a built-in SEO tool, you may need to go a step further to identify and resolve SEO issues in your store. Your Shopify store content must be optimized in a way that your potential customers can find your store easily. That involves doing keyword research, on-page SEO analysis, and much more.
How To Do Detailed Keyword Research For Your Shopify Store?
The first and foremost important step towards running a detailed Shopify SEO analysis is to know how to do keyword research. Keywords are the vital information about your content or product that are usually searched by your potential customers online.
When you do thorough keyword research for any of your products and insert them in your product description, blogs, product alt text, etc, your product comes in the search results of your potential customers and your store becomes visible to them easily. That's how detailed keyword research can help you.
To do this, you need to use the topmost keyword research tools as well. There are 3 steps to do your keyword research for your Shopify store:
Find Out The Search Intent Of Your Products
According to HubSpot, a buyer's journey consists of three different stages: awareness stage, consideration stage, and decision stage. And if a Shopify store has the combination of these three, the store becomes successful to grab attention from potential customers easily. Your content must have keywords that target all three kinds of buyers. You need to research the intent of each of your products and present your content as a solution to your customer's problems.
Choose The Right Tool For Keyword Research
As you have determined the search intent of your Shopify products, now it's time to choose the right tool for your keyword research. You can go for free or paid tools if you want. But you need to be efficient while choosing the right one. For example, if you are struggling to find similar keywords, you can choose 'Keyword Everywhere'. Or if you want to see the volume and other details, you can choose 'Ubersuggest'. Thus some of the most effective keyword research tools are 'Keysearch', 'Google Keyword Planner', 'KWFinder', 'SEMRush', and so on.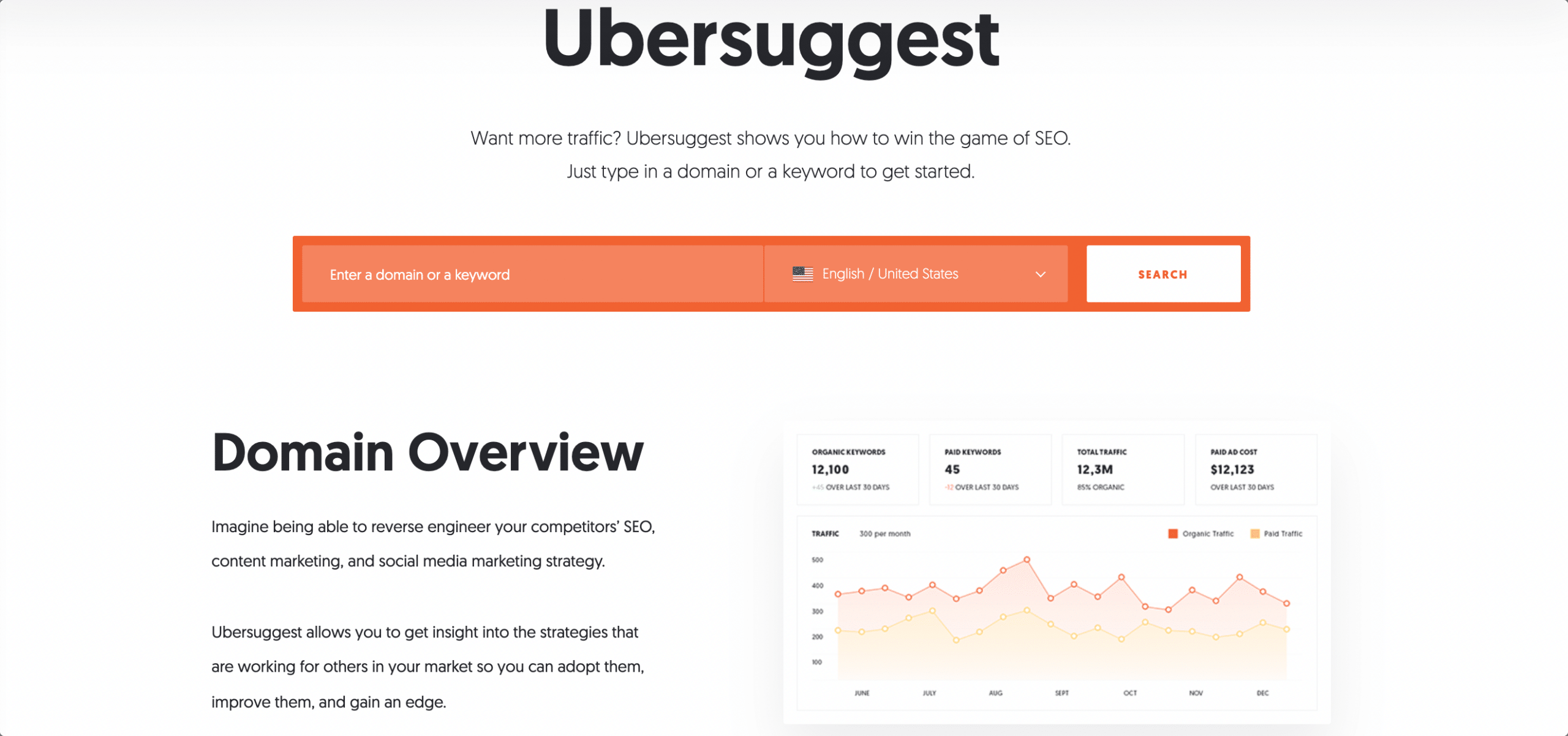 Analyze SEO Keyword Competition Before Use
Analysis of SEO keyword competition is very important while choosing the right keywords for your content. You can't always succeed using the high-volume keyword for your Shopify store. Using middle-tailed or long-tailed keywords can also benefit you to rank higher in the search result. Always give a check on these keywords to appear on your potential customers' search.
On-Page SEO Analysis Checklist For Your Shopify Store
You might find many SEO analysis checklists to maintain a good SEO but this checklist will lead you to have successful conversions if done correctly. Let's dive in and explore the checklist first.
Meta Title And Detailed Description Of Each Products
Shopify uses the product's name as page title and the detailed description you provide as page description. If you think about it, it is a plus point for any eCommerce owner because you do not need to write another description for the page individually. If you can use your related keywords in the title and the description, it will do the work. In the meta title, you need to add keywords that are mostly related to the product. In that case, you need to be more specific at the same time, descriptive. There is a character limit for meta titles or meta descriptions that you must follow.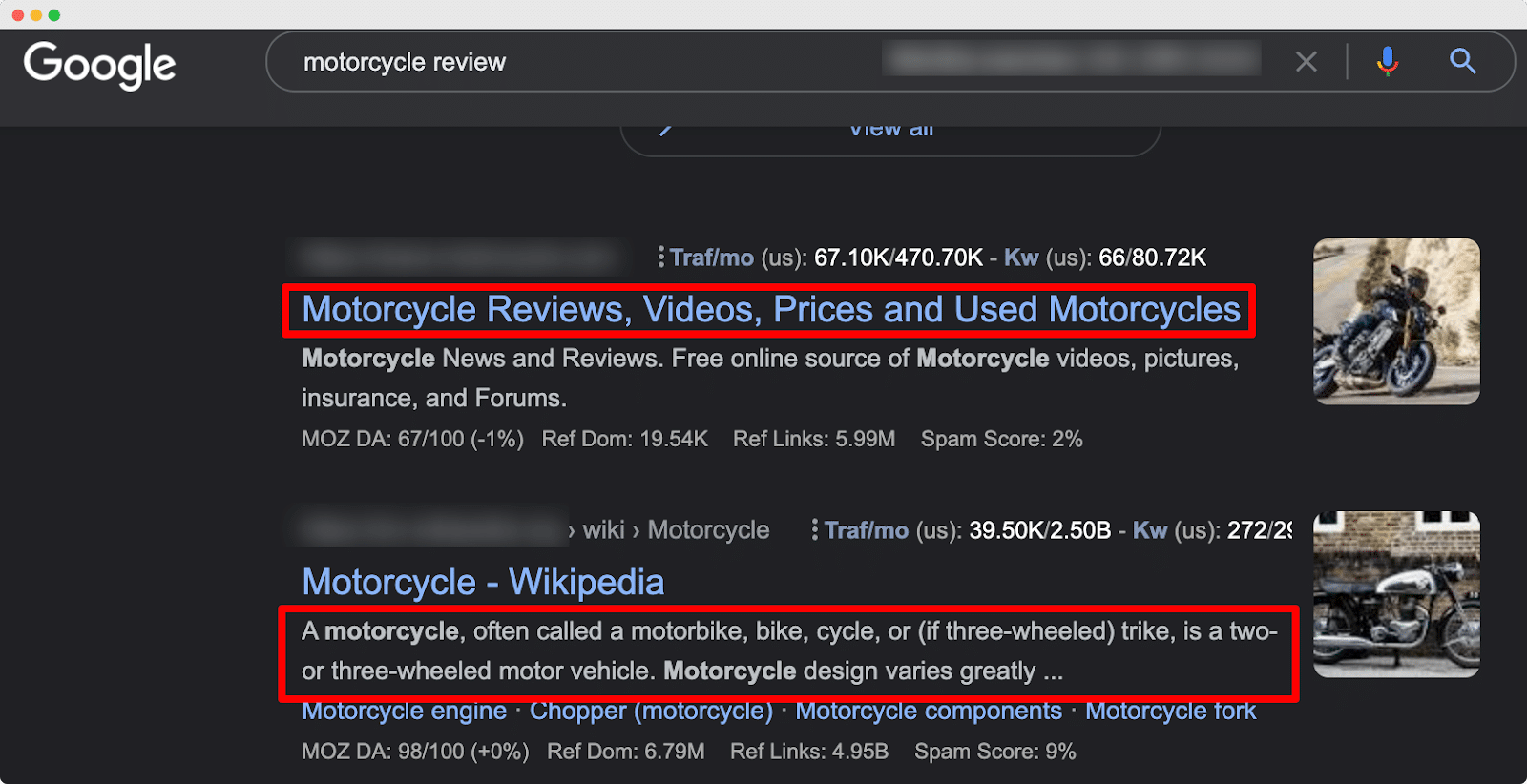 Custom URL For Each Shopify Product
URL handle is also called slug which needs to be different for each of your Shopify products. This is an important SEO checklist for Shopify stores. If you can use the right keywords in your product URL slug, your product will successfully appear on the search engine results page easily. That's why you need to have a custom URL and reap the benefit of it.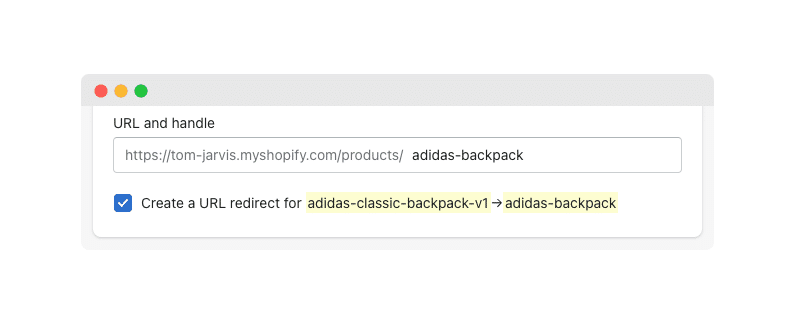 For example, in this picture, you can see how we have customized the URL slug for a backpack. Just like this, you need to be specific about the details of the product. You might mention the color and brand of the product. If you are selling shoes, you might mention the brand and material of the shoe. That's how you can create a clickable URL for your products.
Use Keywords In Heading Of Your Content
As you have done thorough keyword research already for your Shopify store products, you need to use them frequently in your content as well. Your Shopify store product descriptions must have several headers where you can use these keywords. Or even if you have written blogs about these products, you need to have the proper use of keywords in the headers. When search engine crawlers go through your Shopify store content and check the relevance, your keyword-induced headers will help them to guide you through.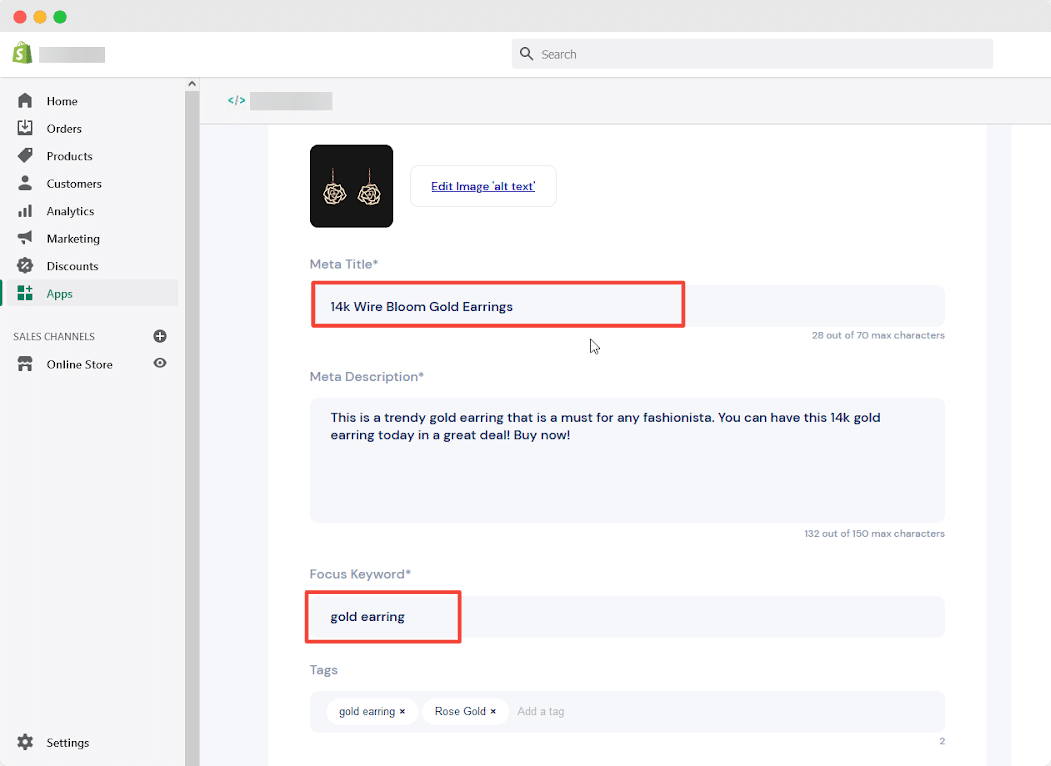 Remove Any Duplicate Content From Your Shopify Store
An important checklist for SEO analysis for any Shopify store is removing all the duplicate content from the website. It will make your website look unauthentic and untrustworthy. Even if you need to create a similar content page, you must use differentiating keywords to tell search engines which page is designated to which type of topics. In that way, your Shopify store website will not be banned to harm in any way.
Detailed ALT Text For Every Shopify Product Image
Another SEO analysis checklist for Shopify stores is to add alt text to every product. The purpose of alt text is to describe the image to the ones who can't see the product image and make sure the search engine understands it too. So to do a detailed SEO analysis for your Shopify store, you must use keyword-infused alt texts to describe the product image.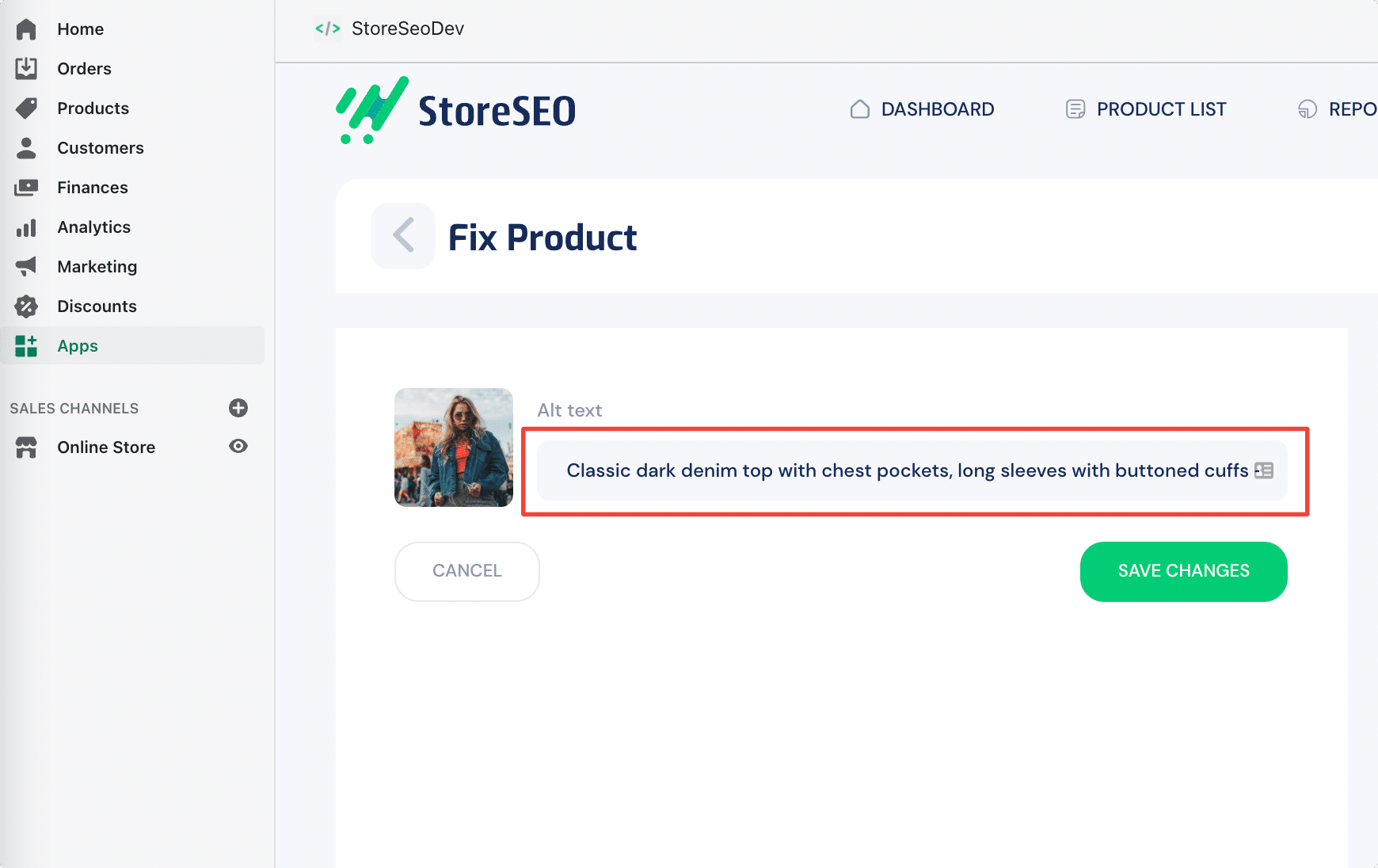 Optimize Shopify Product Image Size
Optimizing Shopify's product image is important to make the site load faster. You need to markup the images and make the size in limit so that your Shopify store does not become slow. For that reason, you need to create small-sized images for your Shopify store. For example, if you want to upload a picture of a product that has the size of 100 MB, it will take time to load. Instead, your ideal image size must not exceed 30kb ideally.
Shopify Tools To Run Detailed SEO Analysis For Shopify Store
If you have already got the idea of how to maintain Shopify store content, you can now choose the right tools to run a detailed SEO analysis for your Shopify store. Shopify gives the opportunity to choose apps for your store to level up. Just like that, you will find multiple SEO tools to find and fix all your SEO issues with your Shopify store. Let's find out the topmost SEO apps for your Shopify store to fix any type of SEO issues.
Store SEO- Drive Traffic To Your Store

Store SEO is a Shopify SEO app with a user-friendly design and simple-to-implement features. You can easily improve the SEO score of your eCommerce store by adding alt text, keywords, tags, meta descriptions, and page titles using this app. With an interactive display, this app shows the end outcome of your SEO condition. The SEO score is updated in real-time.
Furthermore, this app aids in the upkeep of your sitemap. It gathers XML sitemap information and assists you in submitting it to Google Search Console. Using this free and user-friendly best Shopify SEO app, you may not only add keywords or tags but also maintain a complete sitemap.
Smart SEO & Image Optimizer

Another Shopify SEO app, Smart SEO & Image Optimizer, will help you improve your Shopify store products by adding meta tags, alt tags, correcting broken links, and maintaining a sitemap. This app sends JSON LD data to Google to help it rank higher in search results. This Shopify SEO tool also includes multilingual support for the most recent Shopify shop languages. You may now quickly receive multilingual customer feedback and instantly improve your SEO performance.
Store SEO: The Ultimate Solution To SEO Analysis And Fix Any Error
Store SEO is an all-in-one SEO solution for Shopify that can help you improve your search engine rankings. You can quickly scan your store and fix any issues with our Shopify SEO tool. Even if you are not an SEO specialist, it will assist you in optimizing your website and attracting more potential customers to the business.
Instantly Receive An In-depth SEO Report
Store SEO is a fantastic app that allows you to get an immediate SEO report of your Shopify store. After you install this store SEO tool, you will obtain a thorough SEO audit for each and every product in your store. Furthermore, whenever you add a new product to your Shopify store, the Store SEO app will scan it and immediately give an in-depth SEO assessment.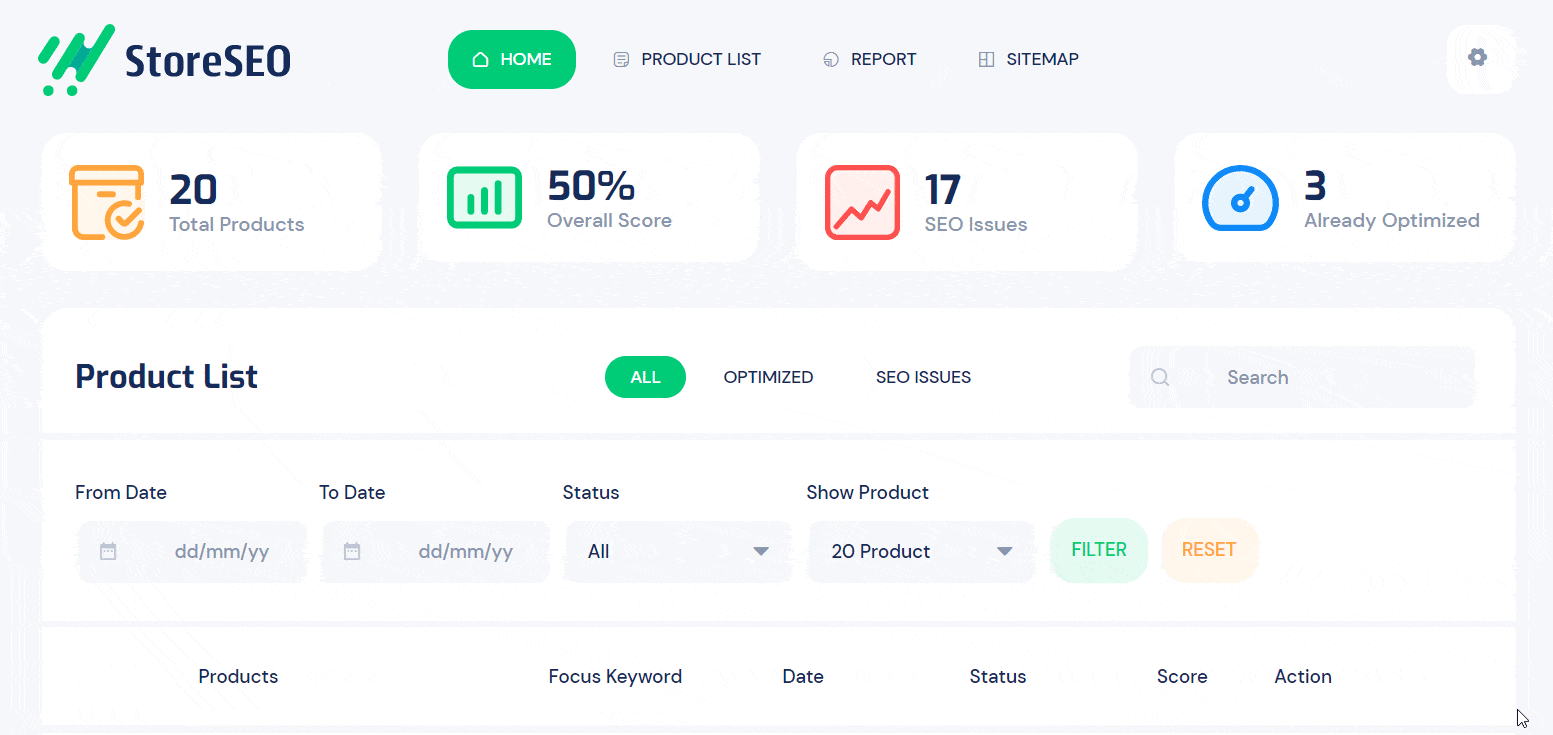 Find Out SEO Issues And Display Success Score
This Shopify Store SEO tool not only does an in-depth SEO inspection but also provides extensive instructions for resolving your store's SEO difficulties. As a result, you will know where to make modifications to improve your search engine rankings. In addition, this Shopify SEO app will display SEO scores after each modification. So, following the guidelines, you can quickly make modifications to the Meta Title, Meta Description, Focus Keyword, and Tags to achieve the optimal score.
Add Image Alt Text To Each Product
As previously stated, image SEO is critical for any online store. Getting ranked on Google pictures can help you bring a lot of traffic to your store. As a result, you must include Image alt text on all of your product images. You can effortlessly add alt text to each image in your Shopify store using this Shopify SEO tool. Furthermore, you can do bulk actions and adjust alt text for all of your products with a single click. So, even if you have a large Shopify business, StoreSEO will make it simple for you to put picture alt text on your products.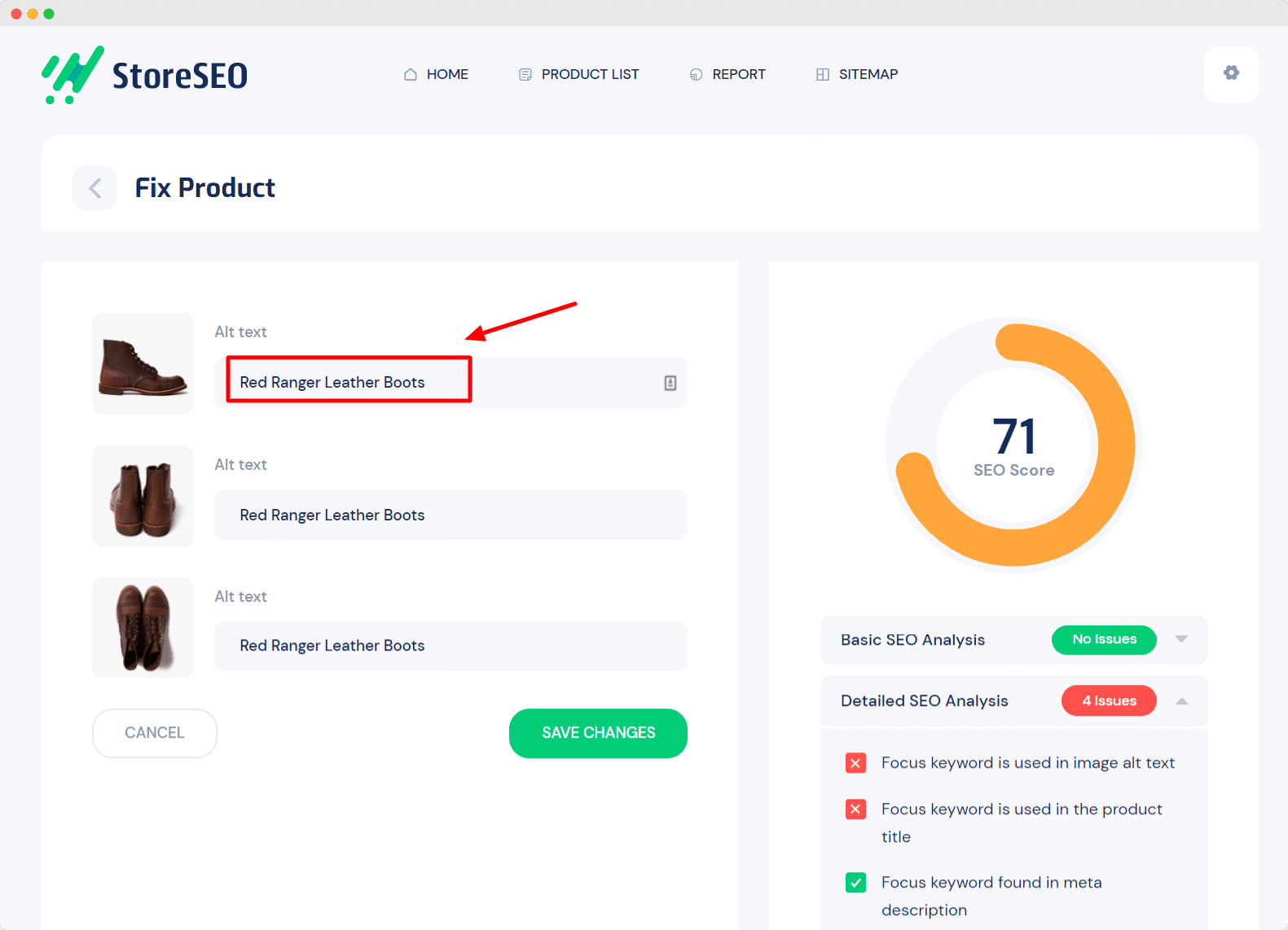 Improve Your Shopify SEO Rankings By Enabling Sitemaps
Search engine crawlers use sitemaps to find your sites and rank them in search results. You can use this Shopify SEO app to add your goods to the sitemap automatically. Furthermore, you can effortlessly delete a product from the sitemap using this SEO tool if you don't want it to appear on the results pages. As a result, you can easily take control of the store and easily rank your products on search engines.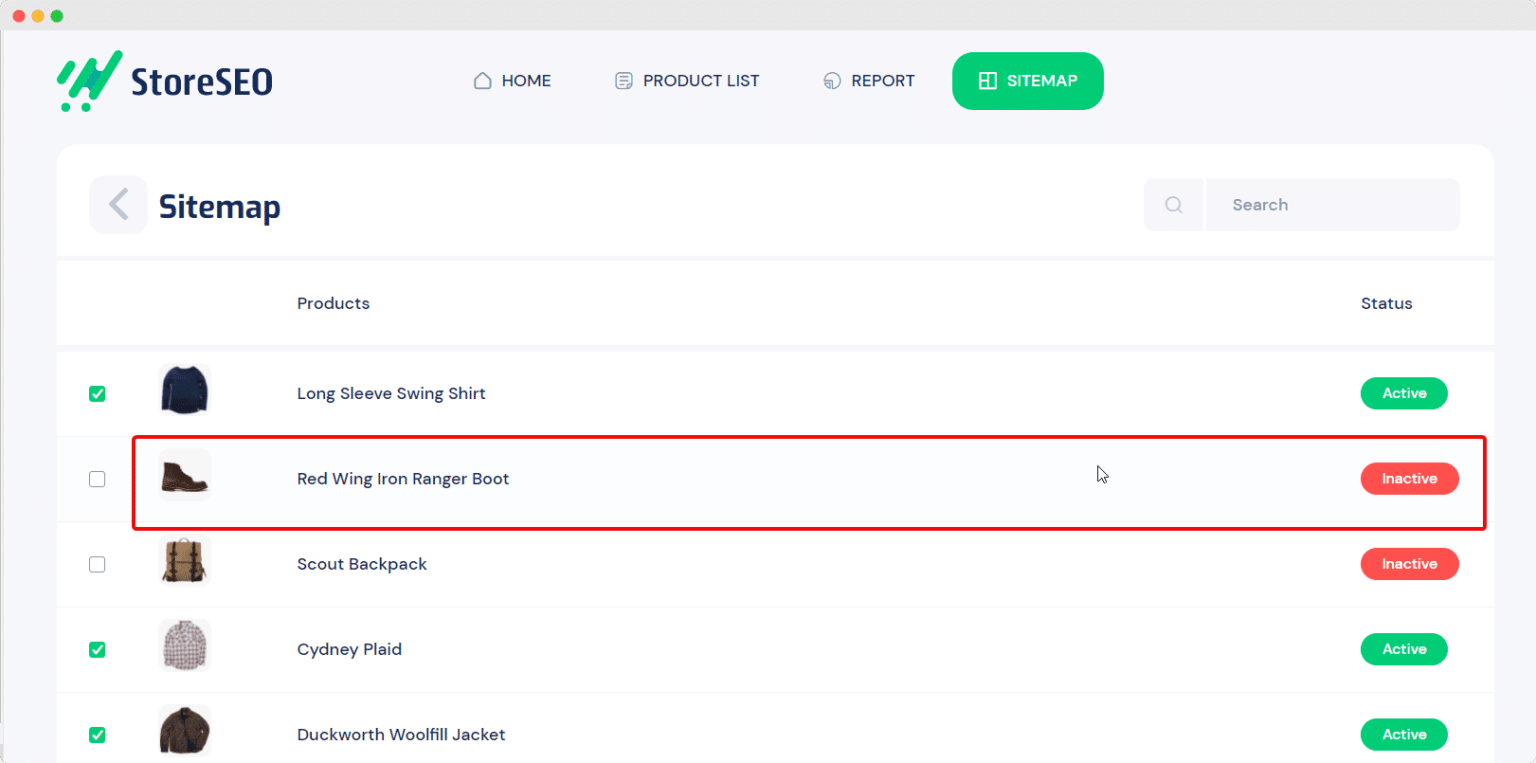 Display Structured Data Using Store SEO JSON- LD
Store SEO can help you set up local search engine optimization for your Shopify store quickly and efficiently. This SEO tool allows you to edit your Shopify store's JSON-LD and display the structure data on search engines. As a result, your store will be listed in Google Near Me as well.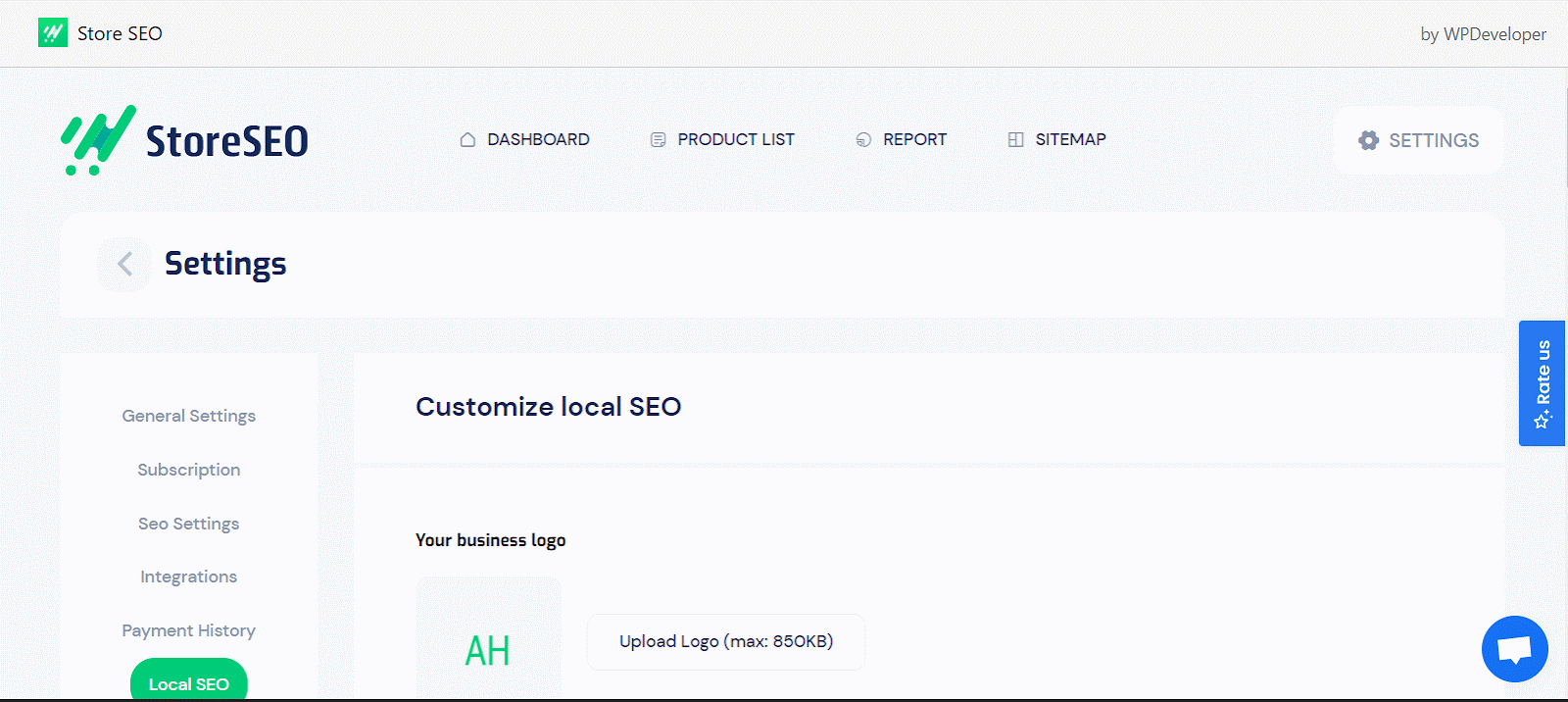 Get Advanced Analytics Using Google Search Console
One of StoreSEO's standout advantages is its integration with Google Search Console. You may connect your Shopify store to Google Search Console and obtain comprehensive metrics for each of your products. You can determine which product pages are successful and which are not. As a result, you may use Google Analytics to make changes to your store that will make it stand out.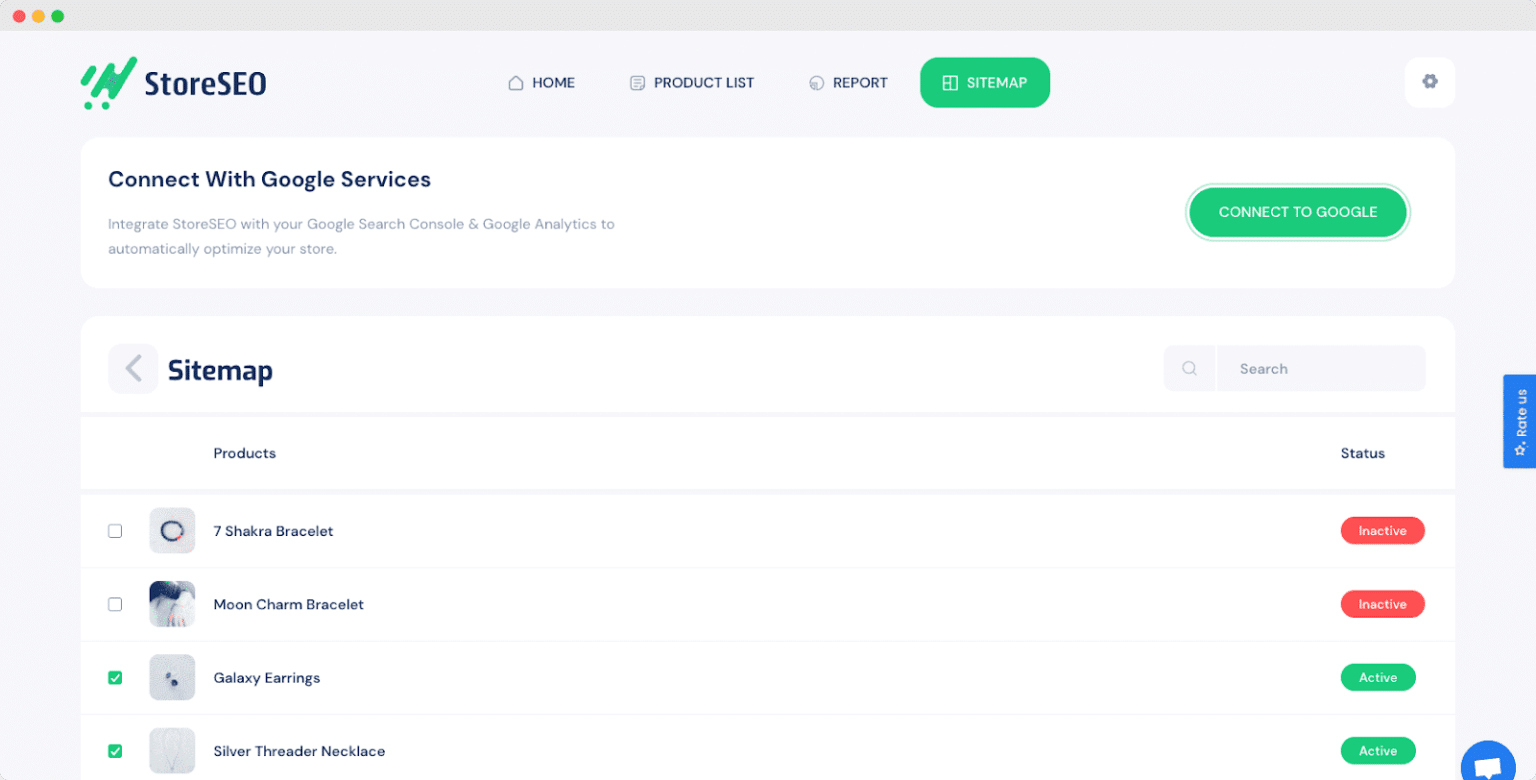 If you find these blogs useful to run a detailed SEO analysis for your Shopify store, read more blogs like this by subscribing to our blog. To share your views, feel free to comment below or join our Facebook community to join other Shopify users to learn more.