Understanding Shopify SEO can be very tricky for any eCommerce business owner. In particular, learning about technical SEO and adding sitemaps for Shopify can seem very confusing if you are not familiar with these terms.
To help you out, we have prepared this complete guide where you can learn everything you need to know about sitemaps for Shopify and how it affects the search rankings of your online store.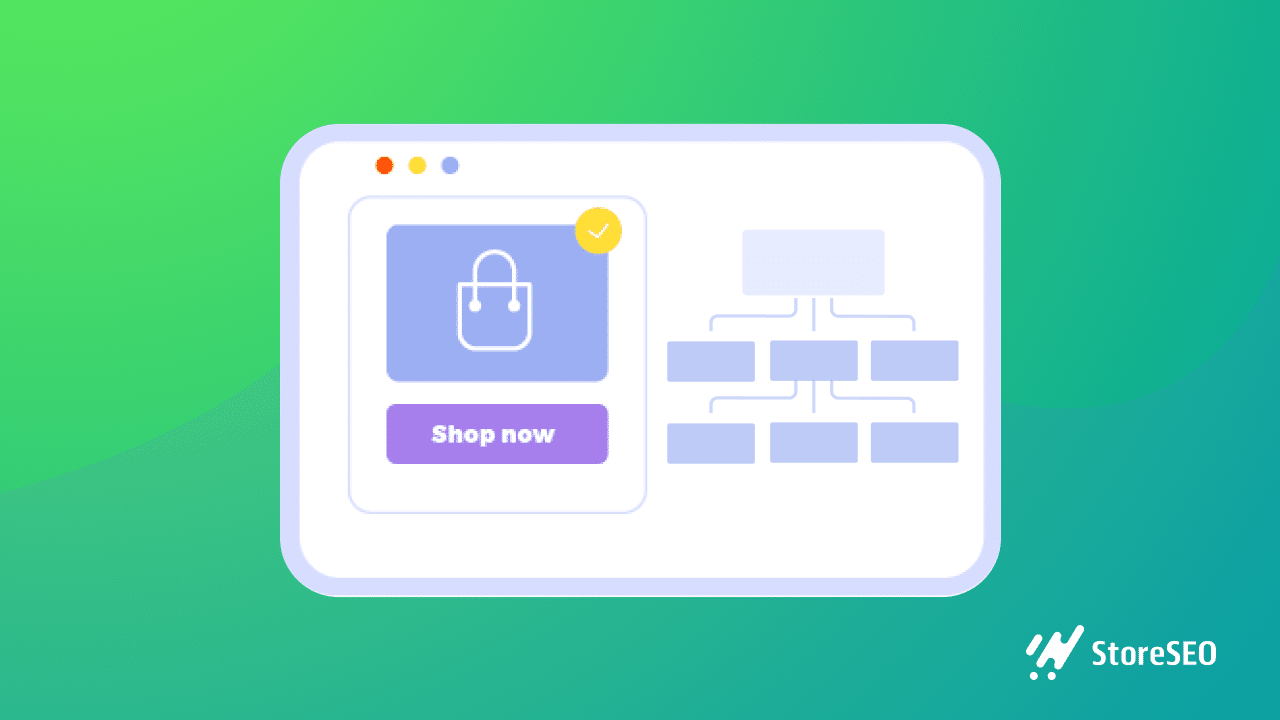 Understanding Shopify Sitemaps: Beginner's Walkthrough
First, we are going to cover the very basics of Shopify sitemaps and look into the things that beginners will need to know. Dive in below to learn what sitemaps are, why they are so important, and the different types of sitemaps you need to know about.
What Is A Sitemap And Why Is It Important For SEO?
Just like a house or a building has a blueprint to help navigate where each room is located, a website sitemap works in a similar way. In this case, it is a blueprint of your Shopify store.
The reason why this is helpful for SEO is that they help search engines like Google to find, crawl and index all the content you have on your website. For your Shopify business, this means that having a Shopify sitemap will help search engines to find your products and offerings more easily and index them so that potential customers can find your store more easily.
There are typically two main types of sitemaps: HTML sitemaps and XML sitemaps.
What Is An HTML Sitemap?
HTML sitemaps are mainly for guiding website visitors to help them explore different pages and content on your website. These types of sitemaps are focused more on making your website user-friendly to help site visitors navigate through the content.
What Is An XML Sitemap?
XML sitemaps are more focused on helping search engine crawlers find every URL of each content on your page and index them properly so that your content is more visible for specific search queries on the search results pages. It helps search engines like Google to understand how your website is structured, and thus pull relevant content more quickly for potential customers.
How Does Sitemap For Shopify Work?
Now that you know the basics about sitemaps and their two main types, let's explore how sitemaps for Shopify work. And how you can manage your Shopify sitemap, and how it will help your online store.
Typically, the larger an online business is, the more important it is to have XML sitemaps for Shopify stores. It will make it easier for search engine crawlers to find all the important information and index them for SEO.
Shopify will automatically generate XML sitemaps for your online store, containing links to all media files, pages, posts, and other content that you have on your eCommerce website. You can easily view your XML sitemaps for Shopify stores by entering the URL of your website in your browser and adding "/sitemap.xml" at the end.
Once you enter this into the browser, you can view your sitemaps for Shopify. This is what a typical sitemap of a Shopify store looks like, with one parent sitemap linking to several other additional sitemaps (also called child sitemaps) for products, media files, blog posts, and pages.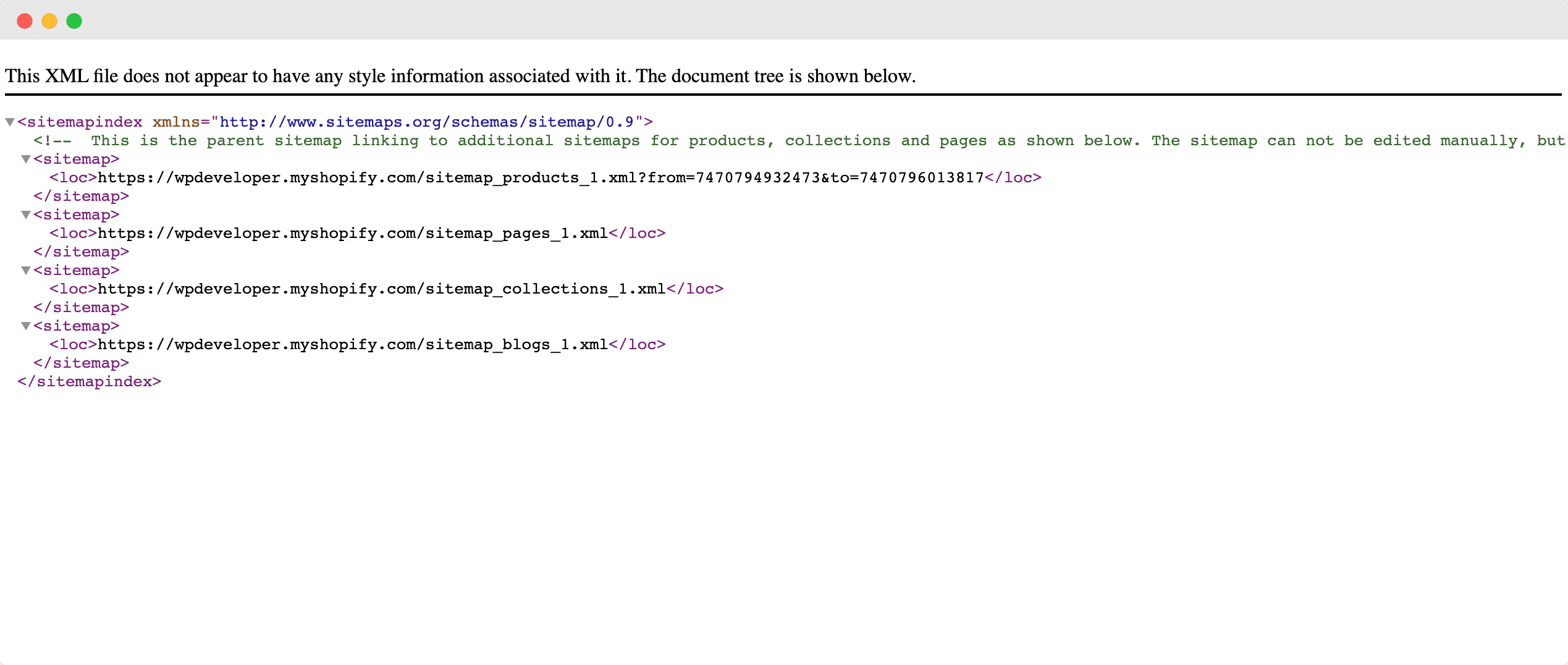 By having this type of organized categorization, search engine crawlers can quickly find relevant content and pull the right information when potential customers enter search queries related to your content or products. These sitemaps also include information about when your website content was last updated, which search engines take into account when ranking your website on search results pages.
The only issue with these automatically generated sitemaps for Shopify is that you cannot edit them yourself; if you want to do so manually, you would have to be familiar with coding and Shopify API.
Thankfully, with advanced Shopify SEO solutions like StoreSEO, managing sitemaps for Shopify stores is easier than ever. Using StoreSEO, you can choose to include or exclude specific products from your Shopify sitemap. Thus allowing you more control over what you want search engines to index.
How To Manage Sitemaps For Shopify With StoreSEO?
Managing your Shopify sitemap with StoreSEO is a breeze. In this section, we are going to walk you through the step-by-step process and show you how you can include or exclude certain products from your Shopify sitemap without any coding with the help of StoreSEO.
Step 1: Set Up Your Shopify Store
Before getting started, of course, you have to create your online store on Shopify. Give your Shopify store a memorable name and get a unique domain for your business. Then add all your products and set up your Shopify store by following this detailed guide.
Step 2: Install StoreSEO App
Next, you need to install this StoreSEO app for your Shopify business. This is very easy to do. Just look for 'StoreSEO' on Shopify Apps Store by logging into your Shopify admin dashboard and navigating to the 'Apps' tab as shown below.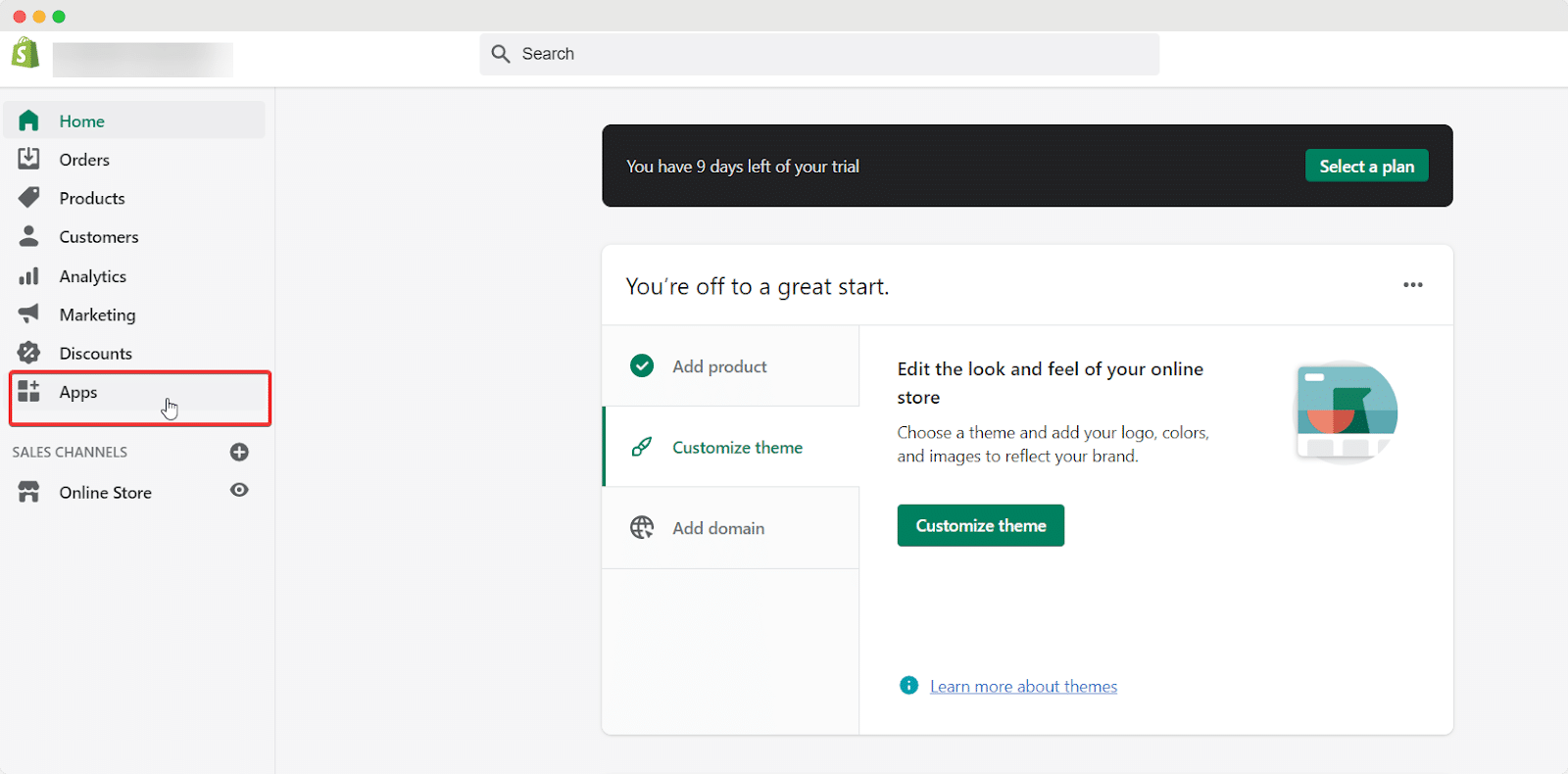 From there you can click on the 'Customize your store' button and it will redirect you to your Shopify Apps Store page.
Here you can search for 'StoreSEO' and then click on the 'Add App' button to install it on your Shopify store.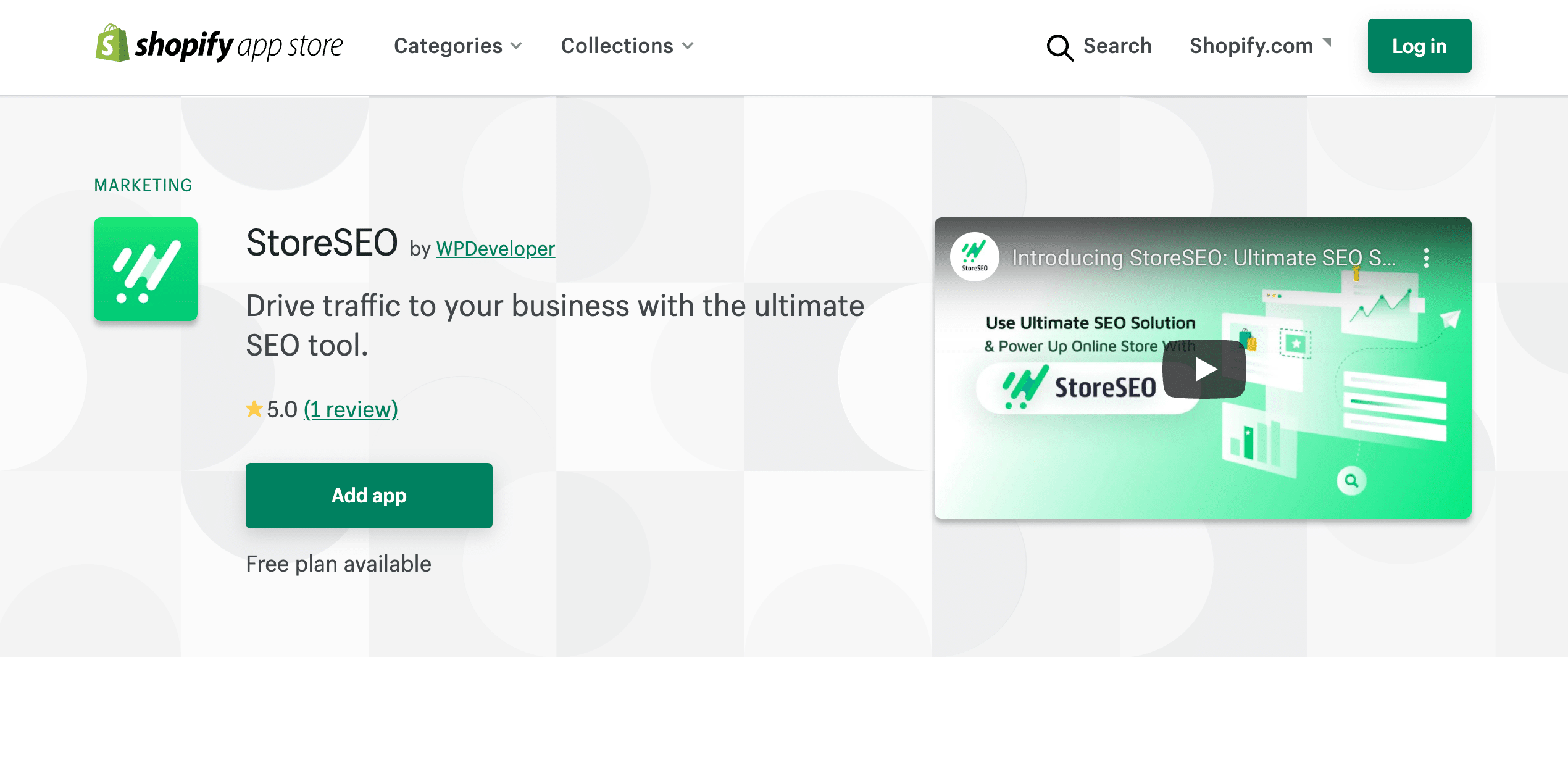 Step 3: Integrate StoreSEO With Google Search Console
After installing StoreSEO, follow the on-screen instructions to optimize your Shopify store and products with the best SEO practices. This will help your products rank higher on search results pages.
You can check out our detailed guide here to find out more about all the features that StoreSEO has to improve search rankings for your eCommerce business.
Once you have set up StoreSEO for your Shopify business, head over to your StoreSEO dashboard and click on the gear icon at the top right corner as shown below.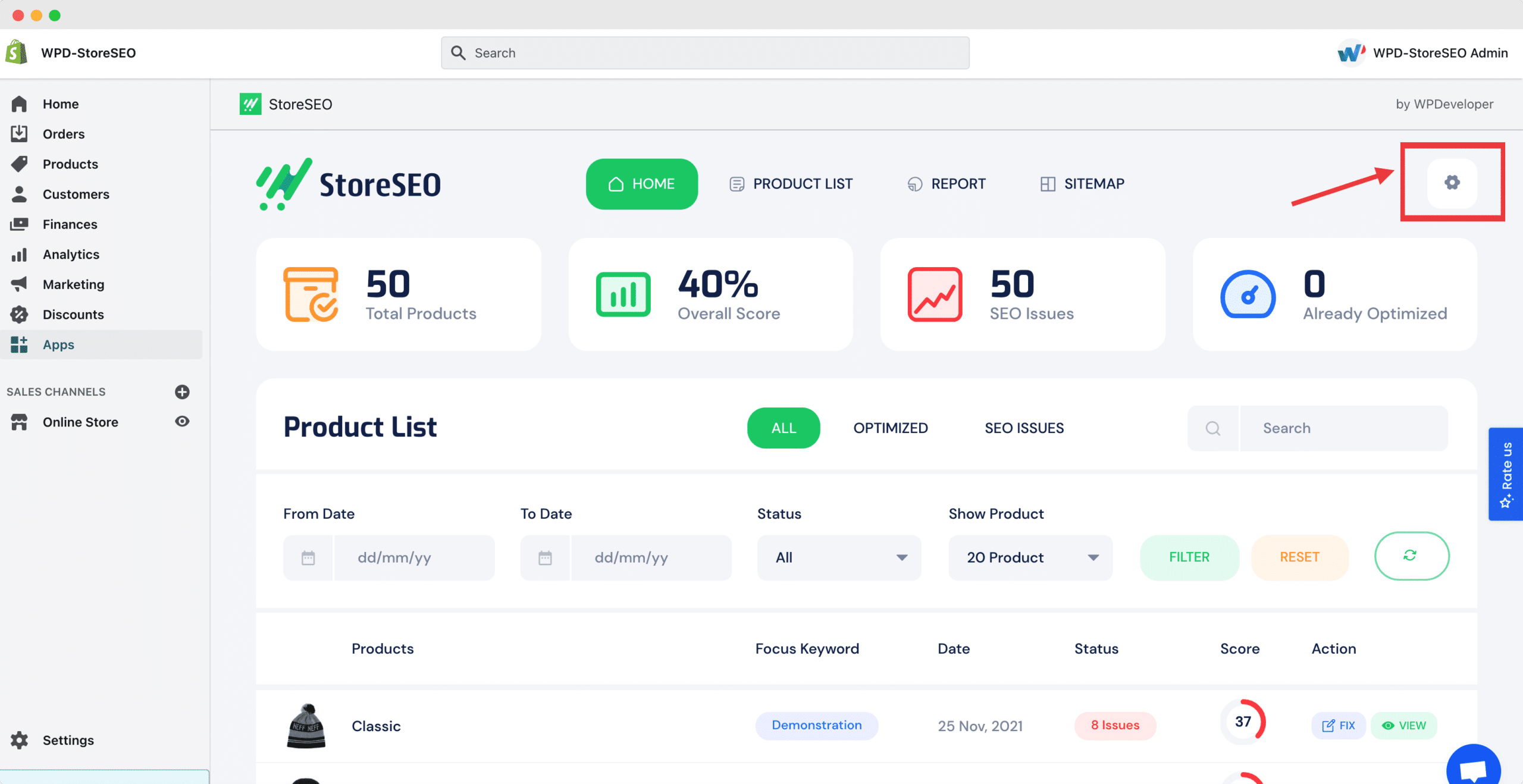 From here, you can choose to integrate StoreSEO with Google Search Console. This is important because, in order to manage and submit your Shopify sitemap to search engines like Google, you need to first integrate your store with Google Search Console.
All you have to do is retrieve your Client ID, Client Secret, and Project ID from Google Search Console and add them to your StoreSEO app. If you are not sure how to do this, make sure to check out our detailed guide here to get the step-by-step walkthrough.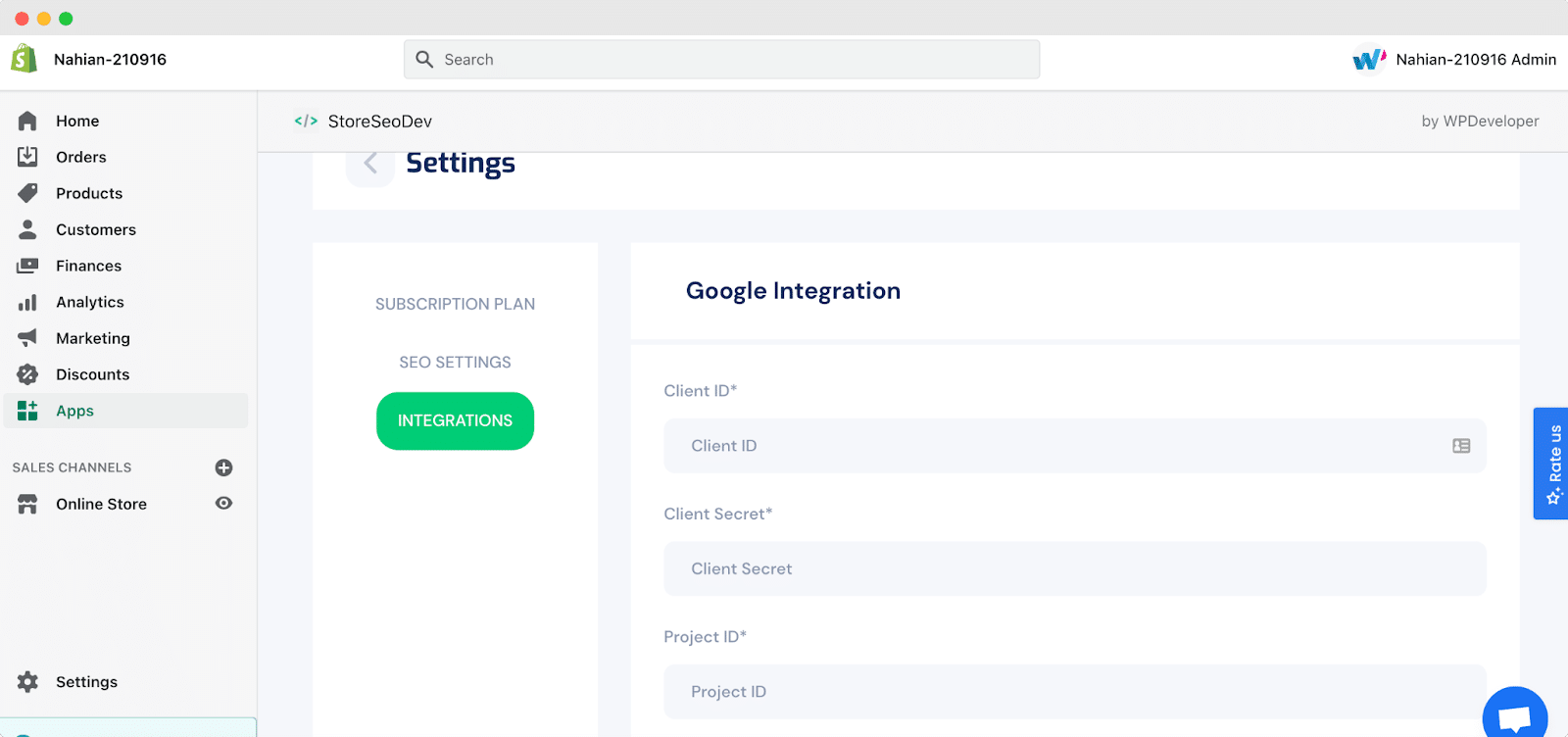 Step 4: Connect StoreSEO To Google
After retrieving your credentials from Google Search Console, simply go to the StoreSEO dashboard and click on the 'Sitemap' tab. Click on the 'Connect To Google' button and just like that your StoreSEO app will be connected to Google.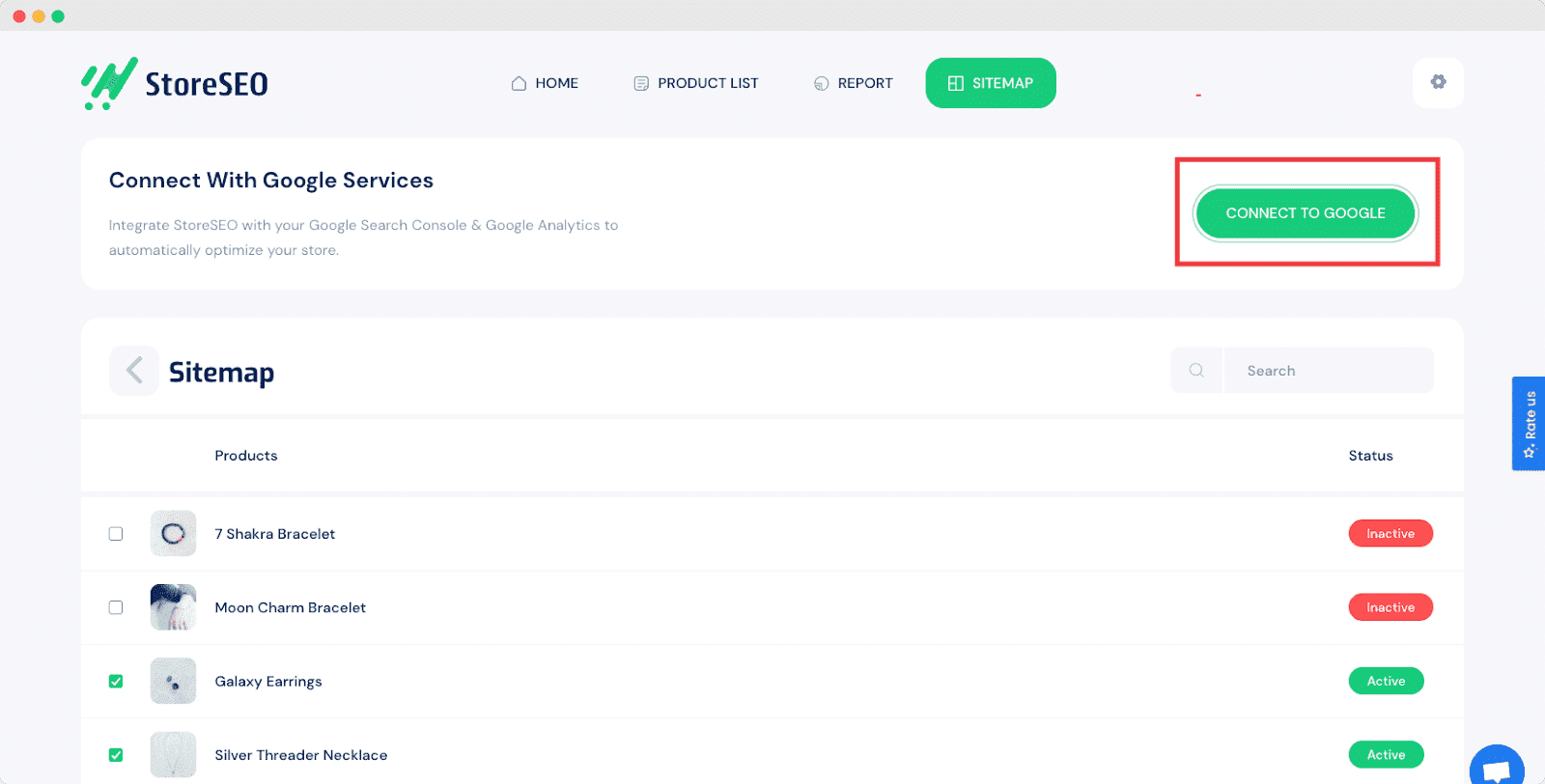 Step 5: Manage Your Sitemap & Submit To Google
After connecting your store with Google Search Console, you can verify your domain name and then manage your Shopify sitemap with StoreSEO. You can select which products you want to include or exclude from your sitemap. When a product is added to your sitemap, it will have the 'Active' status. When you exclude it, it will have the 'Inactive' status.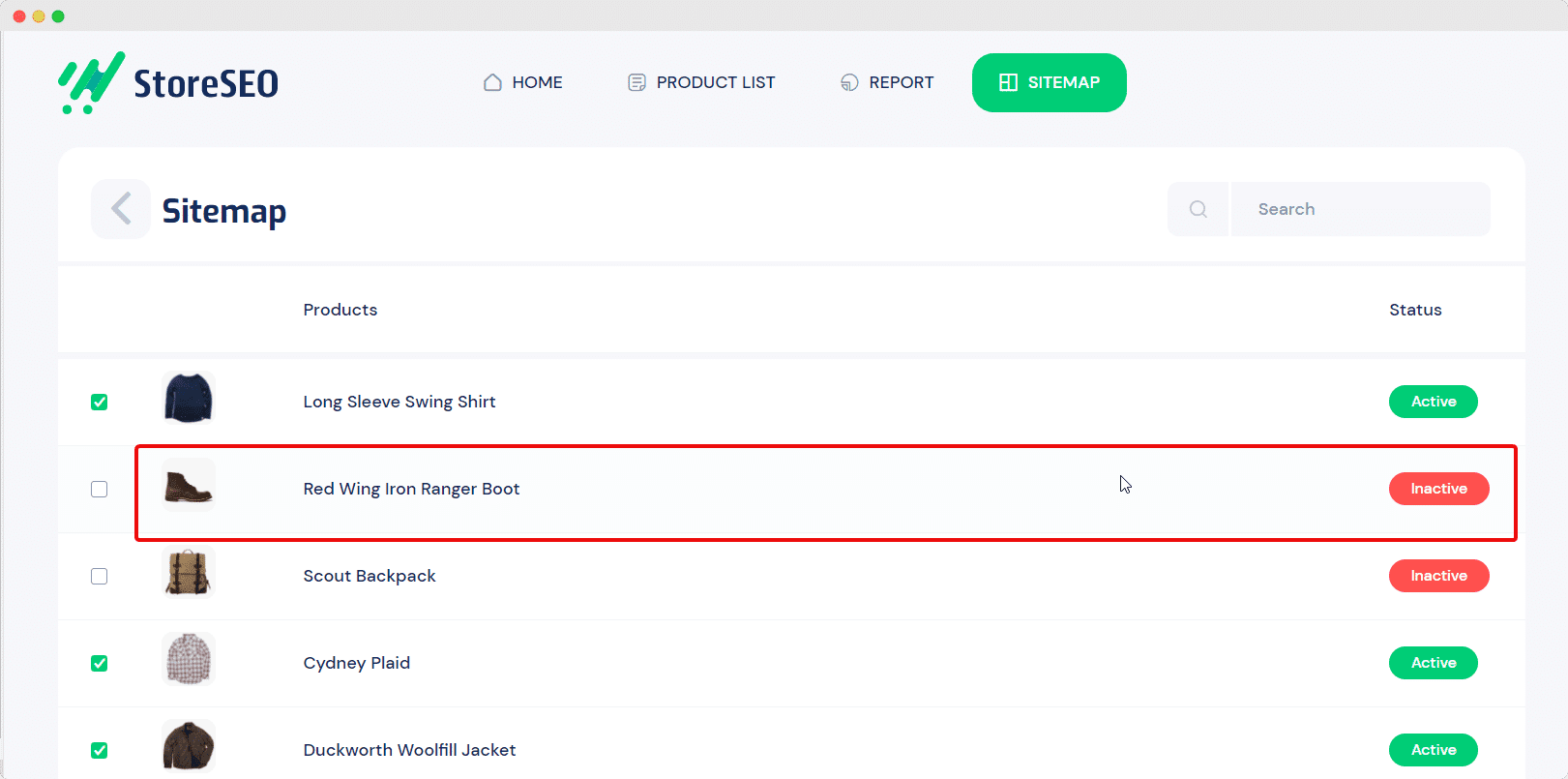 After you are done, you can submit your Shopify sitemap to Google by hitting the 'Submit To Google' button.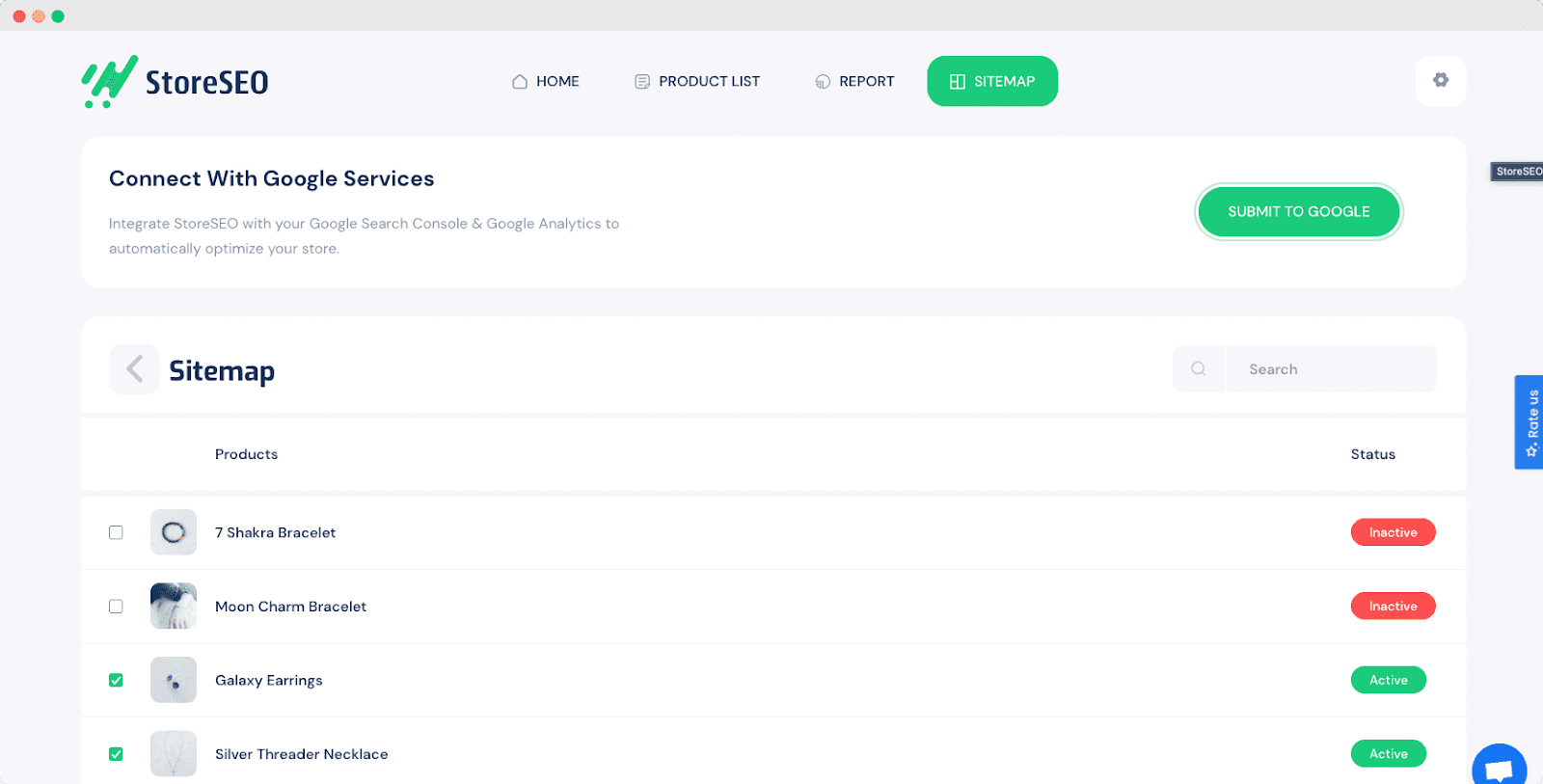 With these simple steps, you can manage your sitemaps for Shopify easily and thus help boost search rankings for your business.
Enjoyed this post? Make sure to subscribe to our blog for the latest updates, news, tutorials, and more.