One of the biggest challenges faced by an eCommerce business is making its products more easily visible to customers online. And that's when you need an easy, quick SEO solution for your online store.
Introducing StoreSEO, an all-in-one complete Shopify SEO solution to help you make your eCommerce business rank higher on search result pages and attract more potential customers.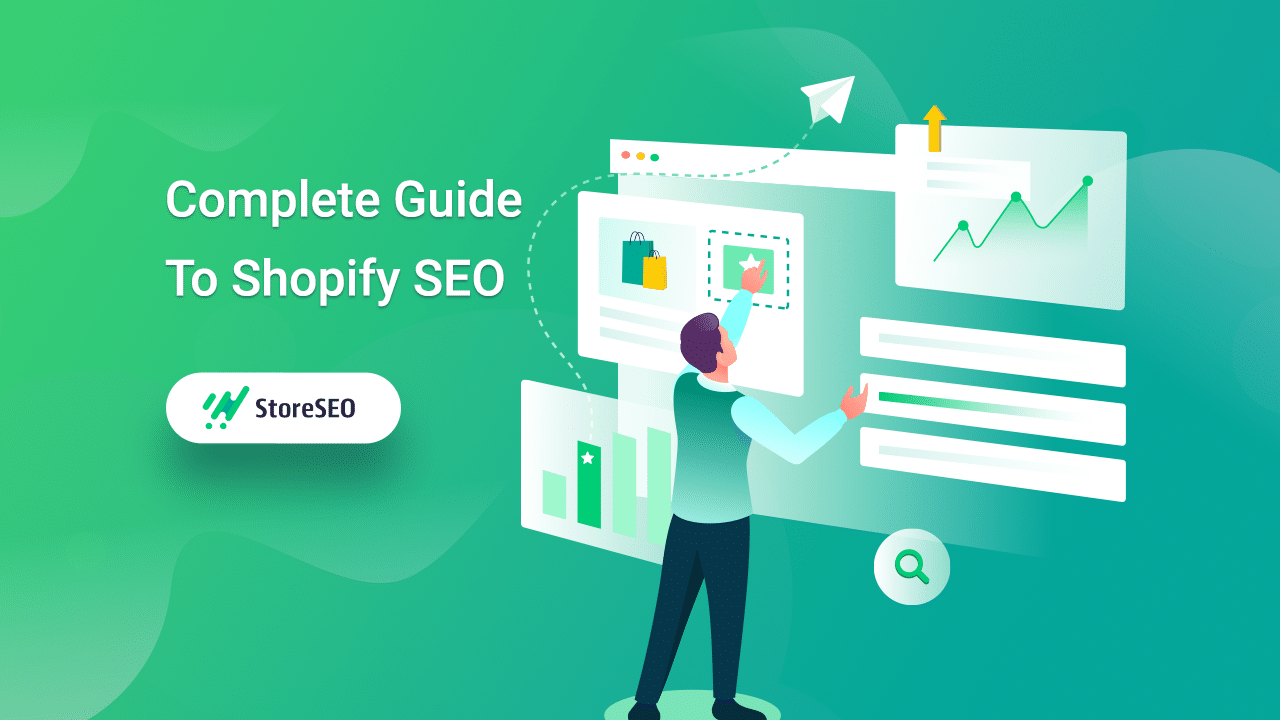 Brought to you by WPDeveloper, StoreSEO is an advanced Shopify SEO optimization tool that can scan your online store for SEO issues and fix them instantly. From adding the right keywords to help your product rank for specific search terms, to making your images SEO friendly for more visibility, there are tons of things you can do with StoreSEO.
But before we deep dive into all that, let's go over some of the basics of Shopify SEO.
Shopify SEO: Important Things To Know For Running Your Online Store
Whether you are running your business fully online, or you have an online presence for your physical brick and mortar store, when potential customers are looking for a product the first thing they will do is search online.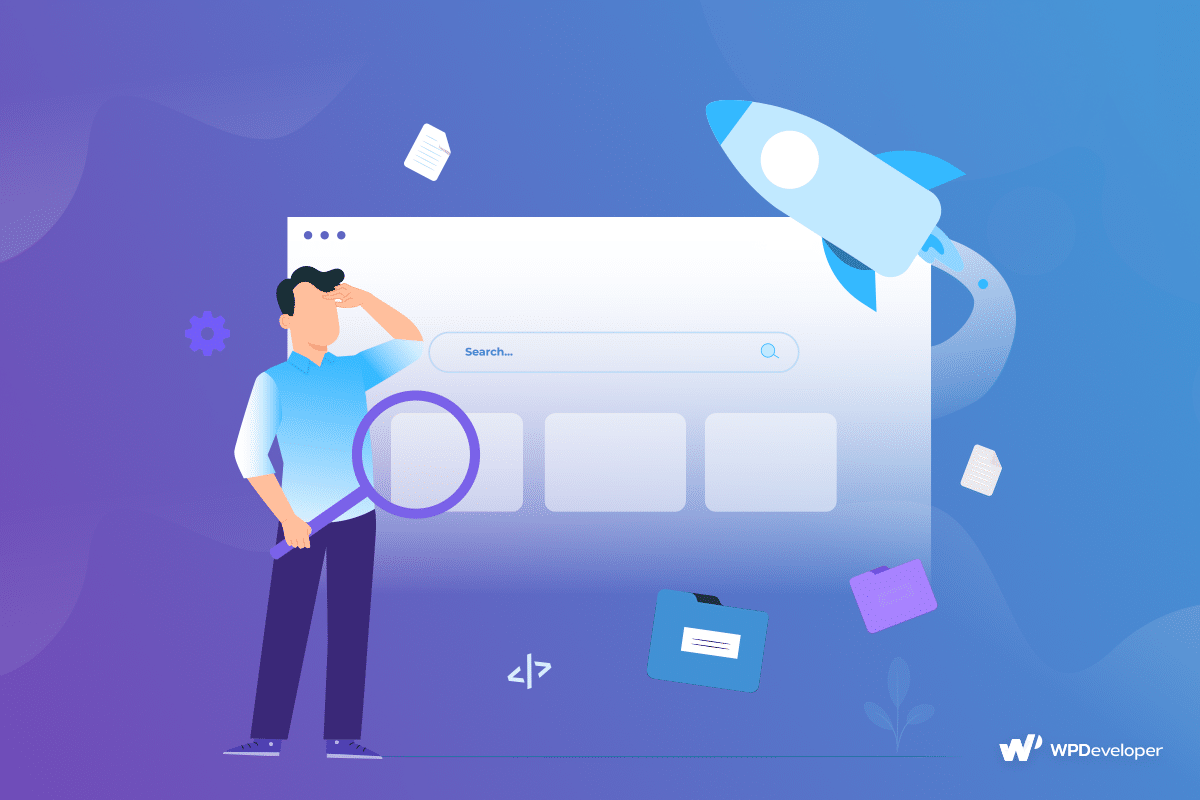 That's where eCommerce SEO comes in; they play a huge role in making your products rank at the top of the search results page. And research shows that potential customers are more likely to click on stores or products that come higher on search results pages. Thus optimizing your online store SEO can help drive more traffic to your eCommerce business, and naturally, lead to more sales.
This is true for your Shopify store as well. As one of the most popular eCommerce solutions, Shopify is very easy to use and flexible for starting your eCommerce store. But understanding how Shopify SEO works can be a bit tricky too.
By default, Shopify comes with some built-in features to optimize your store SEO. These include automatically generating title tags to include your store name, adding canonical tags, so that duplicate content doesn't show up on search result pages, and more.
But ranking high on search engines like Google is quite competitive, and so you may find yourself needing more features to scan and resolve SEO issues for your Shopify store. And that's when you need Shopify SEO solutions like StoreSEO.
Beginner's Guide To Shopify SEO: The Basic Checklist
To get started with optimizing your Shopify store SEO, you will need to have a checklist of tasks that you can tick off one by one. After all, SEO is a long-term investment, and so you need to start by creating a strategy.
You have to make sure that you are following the standard SEO practices for your eCommerce business. Below, we have listed some of the tasks you will need before optimizing your Shopify business with StoreSEO.
Get A Custom Domain Through Shopify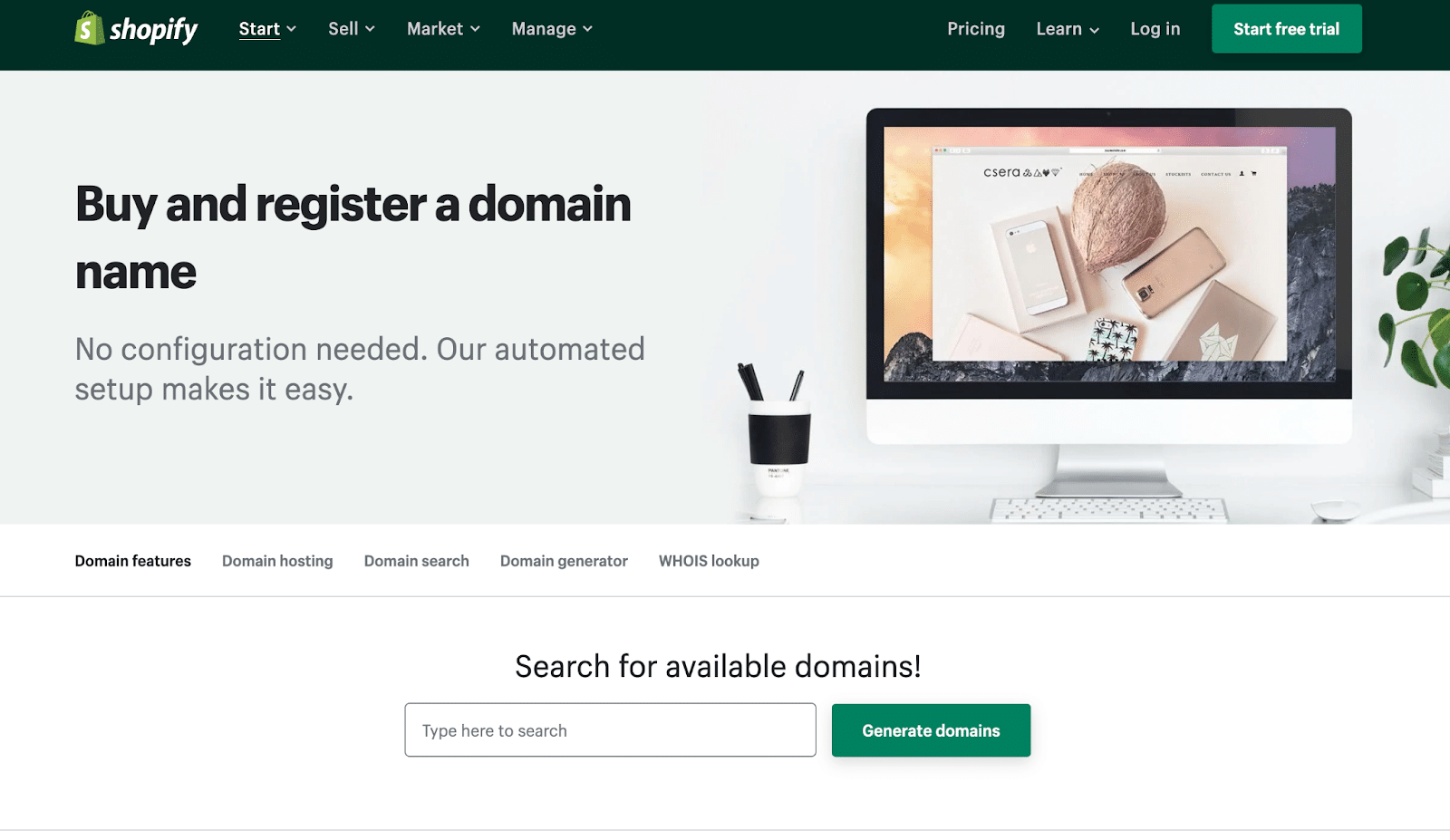 Having a custom domain name for your store is a very important investment to make if you want to get more traffic. It can also help you seem more credible to potential customers and thus it will help you to build trust with them.
One important tip to remember when choosing a custom domain name through Shopify is to make sure your domain name is both related to your industry, and can also help you rank for related keywords.
If you are struggling with choosing a domain name for your business, you can always try Shopify's domain name generator to brainstorm ideas. Getting a domain name with Shopify is very easy, and all configurations and setups are handled automatically through Shopify.
Set Up Google Analytics For Your Store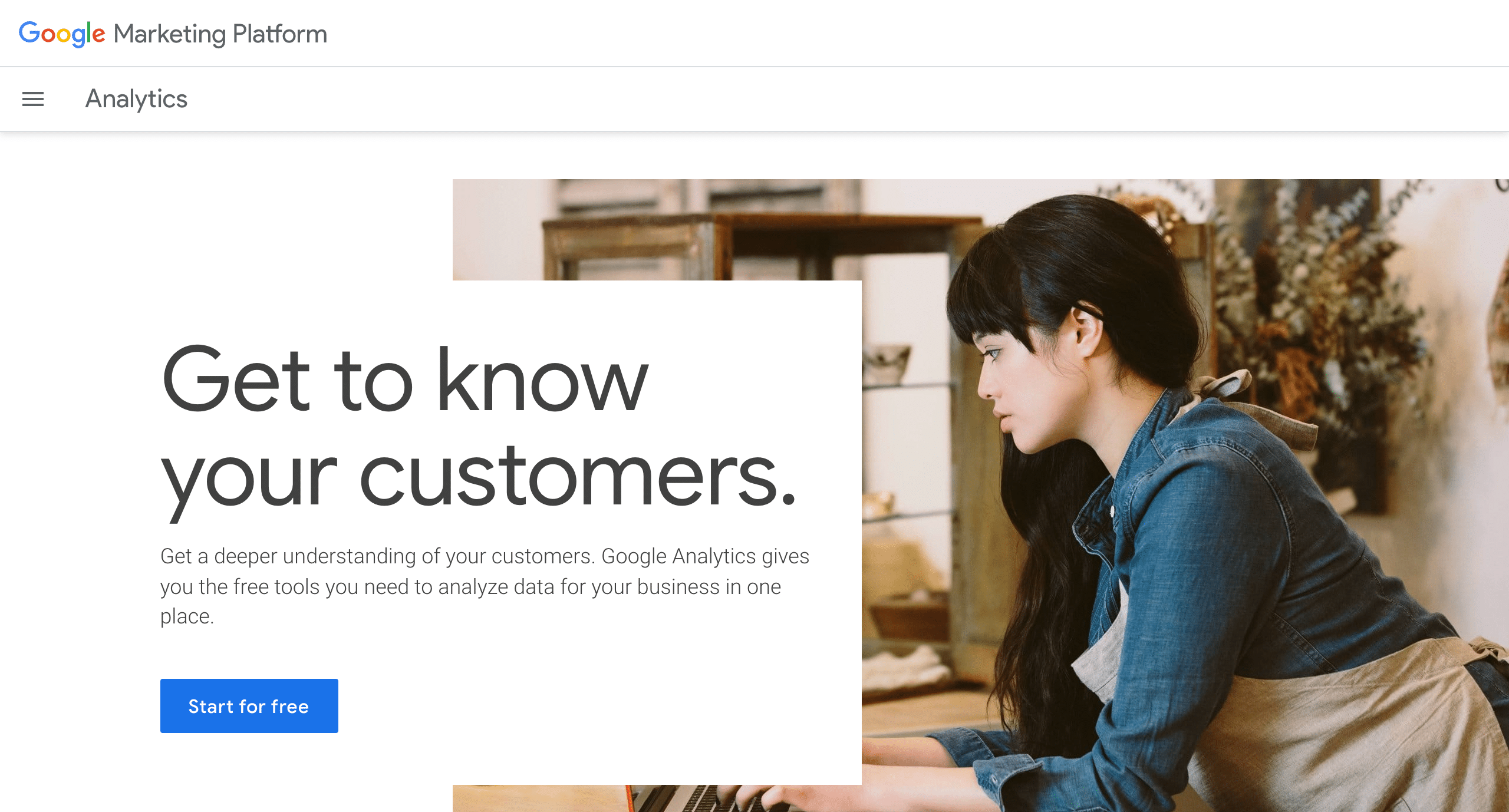 For any eCommerce business, Google Analytics is a valuable tool. With Google Analytics, you can track where your visitors are coming from, what their interests are, learn key information about their demographics and even find out which product pages they are spending most of their time on.
What's more, you can identify which product pages are ranking for which search terms, and that is valuable information for optimizing your store SEO. So make sure to check this guide on how to set up Google Analytics for your Shopify store.
Set Up Google Search Console
To improve your search ranking, setting up Google Search Console is essential. It will help you confirm that Google is able to find, crawl and rank your website and even send you alerts when there are any issues.
Get An Advanced Shopify SEO Solution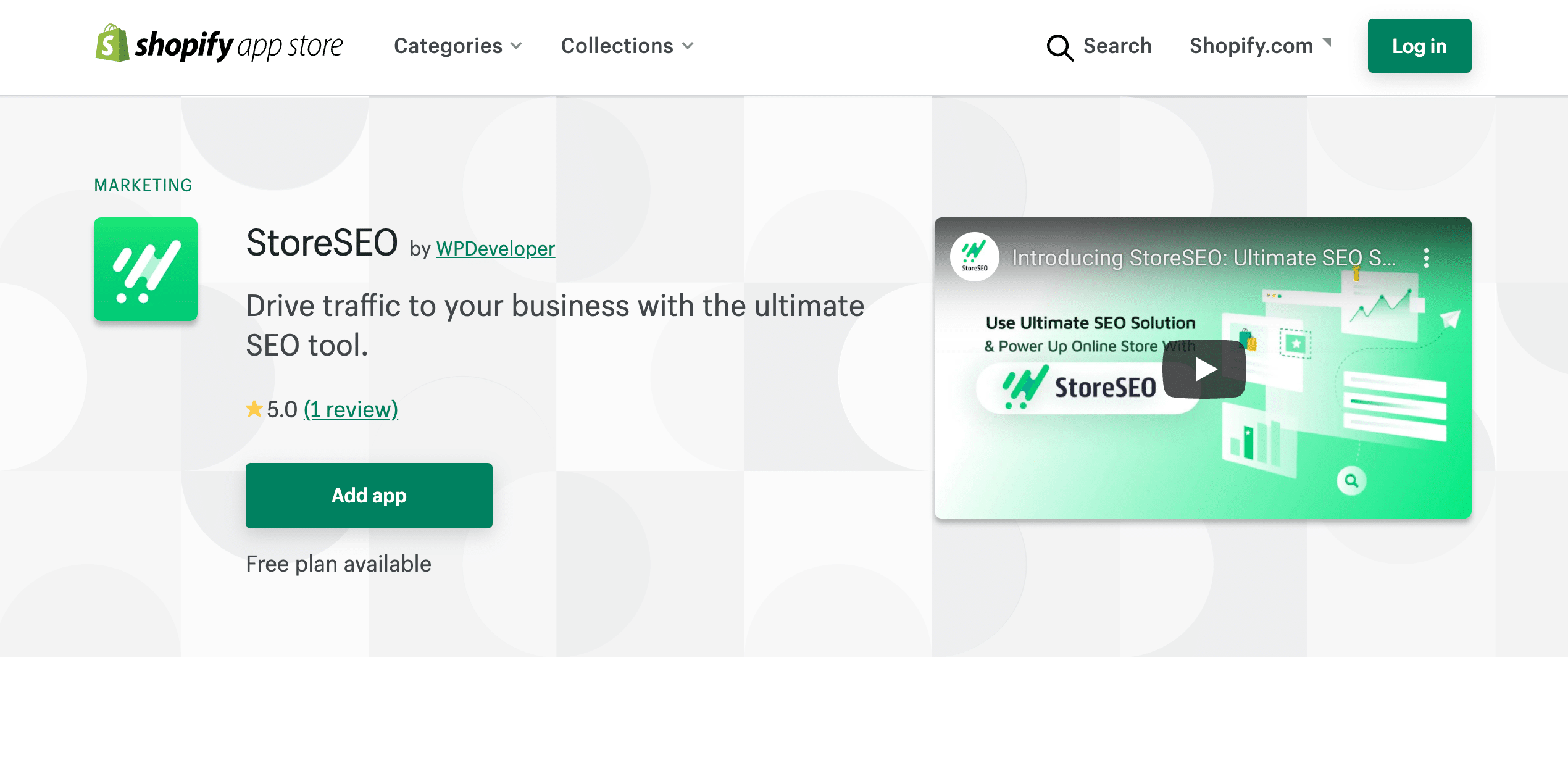 As mentioned before, Shopify comes with its own built-in features for SEO. But to improve your products' search ranking, you may need additional advanced Shopify SEO solutions like StoreSEO. Let's dive in and find out more about it!
Introducing StoreSEO: The Easiest SEO Solution For Shopify
The advanced Shopify store's SEO optimization solution, StoreSEO, comes with tons of features to make your Shopify store rank top on search engines like Google.
Get Started With StoreSEO Setup Wizard Quickly In Easy Steps
With StoreSEO, we bring you a super simple setup wizard to help you get started with your product SEO optimization on Shopify in just a few clicks. Starting from inputting your store's information in the first step, the setup wizard walks you through a few simple steps to lay out the basic groundwork for optimizing Shopify SEO.
For instance, with the quick setup wizard, you can easily create default templates for your product page title, meta description, and image alt tags; afterward, you can edit each of these manually for every individual product to improve your Shopify SEO.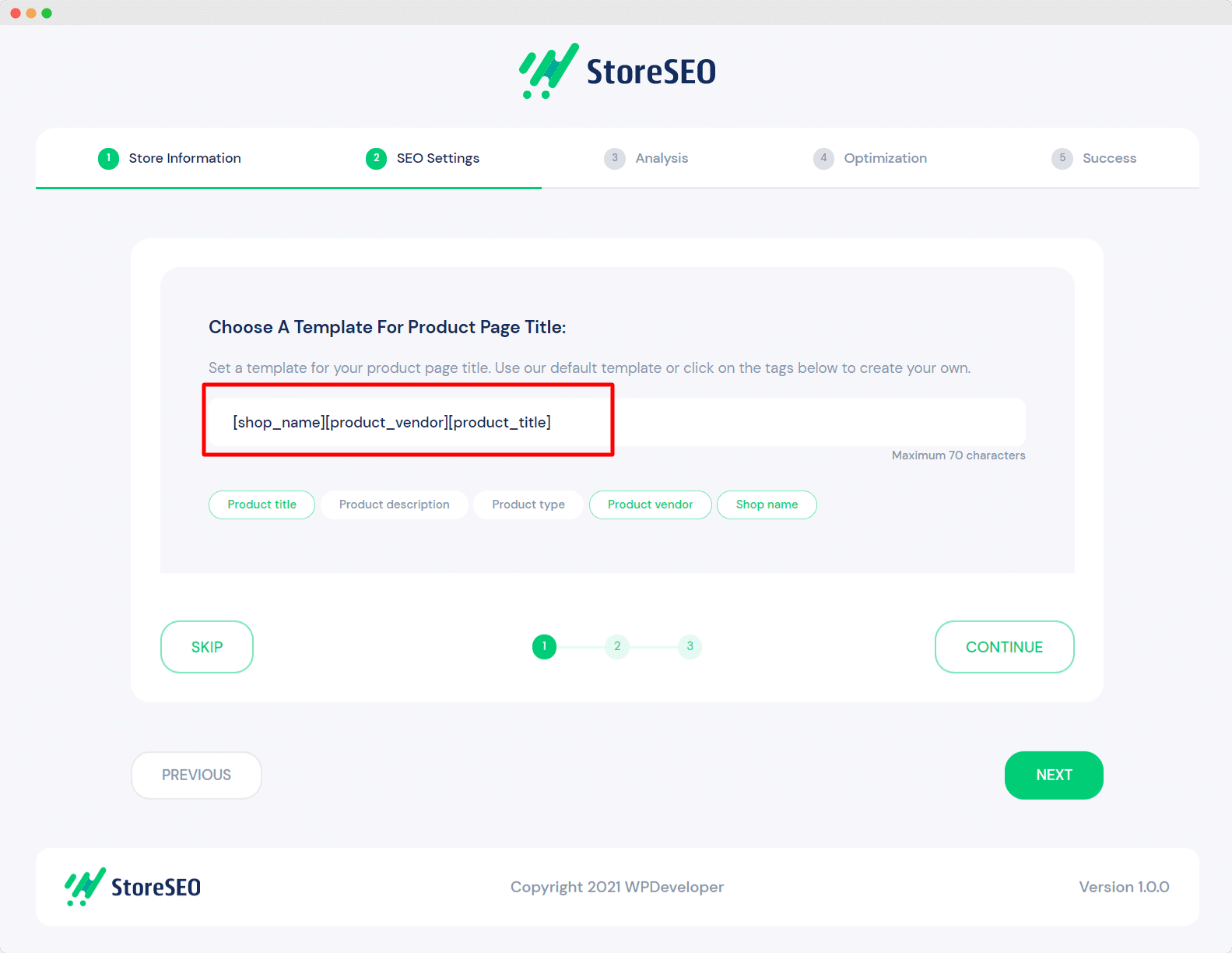 The next step on the setup wizard, 'Analysis', checks all the products listed on your Shopify store thoroughly and shares an overall initial SEO score. And following that comes the next step – 'Optimization', giving you detailed information on all the SEO issues diagnosed in your store and providing a brilliant 'Auto Fix' button that resolves them in a matter of minutes.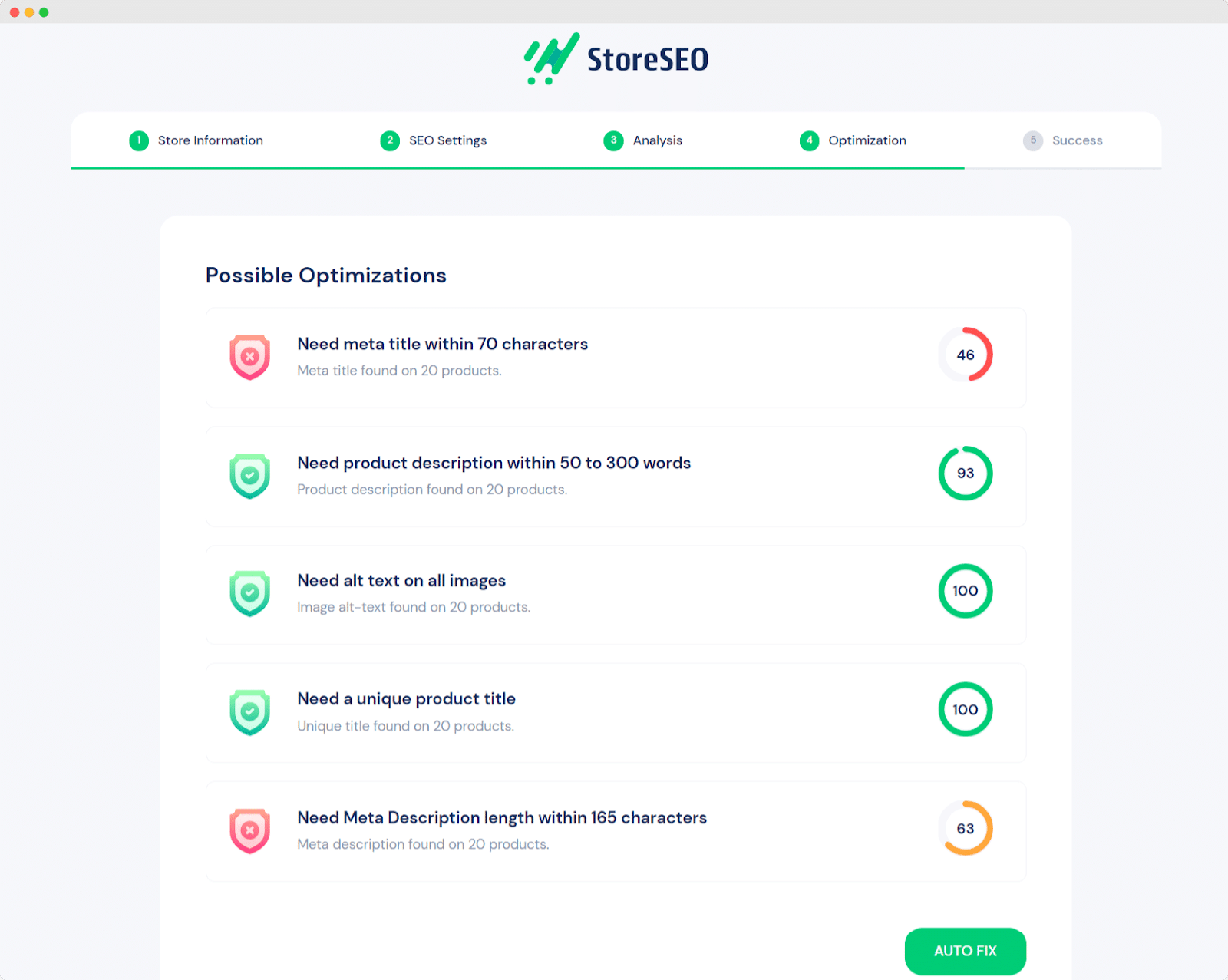 Afterward, you can head over to your dashboard and see that the SEO for your Shopify store has improved.
Identify SEO Issues For Individual Products In Your Shopify Store
But the quick setup wizard is just the first of many outstanding features StoreSEO brings to help optimize your Shopify products SEO, let's take a closer look. Once you've completed the initial setup process, you can navigate to the app's handy dashboard homepage to get a detailed look at all your individual products.

From the product list on your app's homepage, you will be able to view all information related to each individual product, including the focus keyword to help with SEO, the status of the product, its current SEO scores, and more. The app also lets you filter these products by specific date ranges or status.
It is from this page that you can fix individual products' SEO scores by clicking on the 'Fix' button as shown below. This will take you directly to the product page where you can manually alter the product's details and get it optimized. Keep reading to find out more in detail.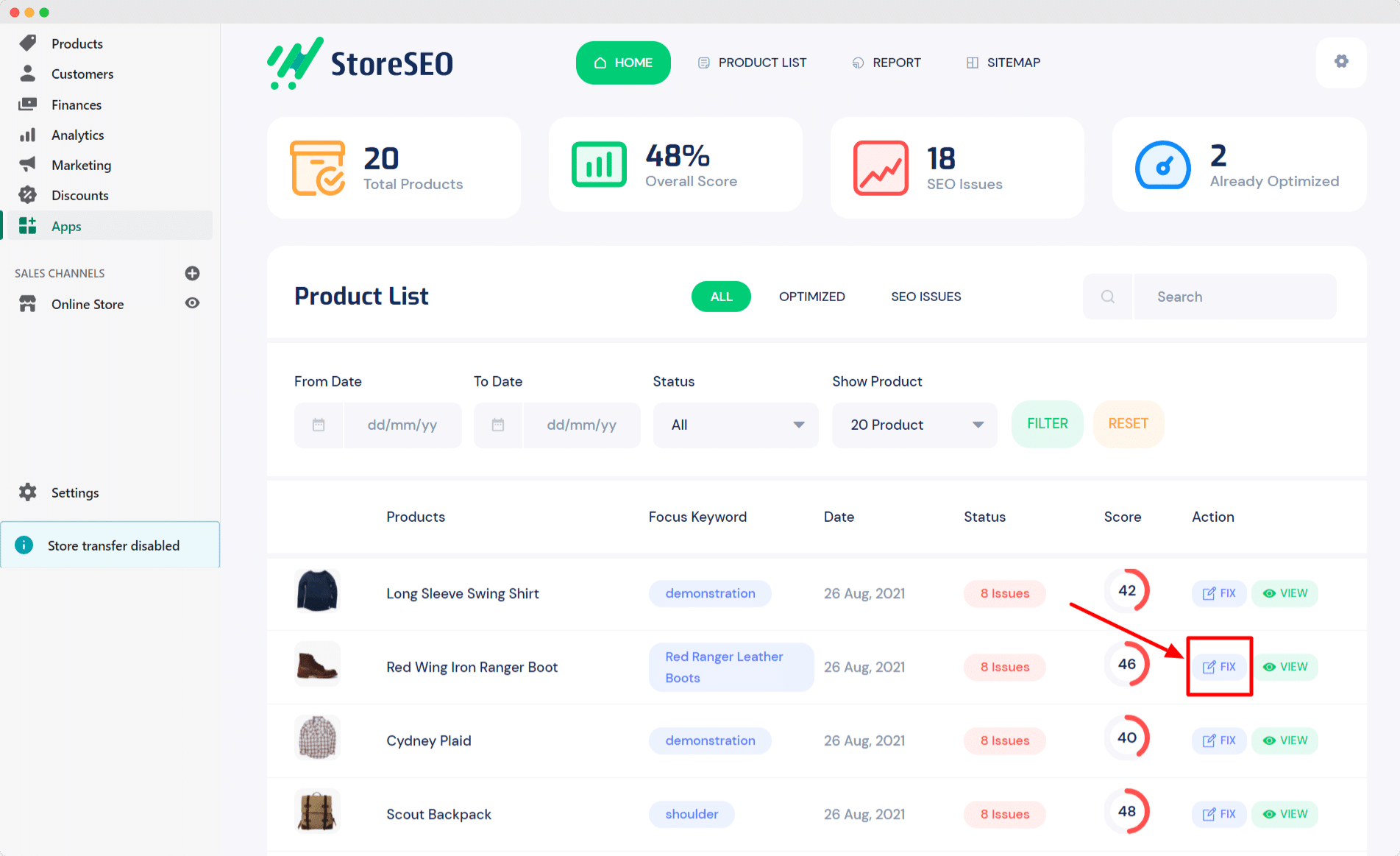 Insert Keywords & Tags To Make Your Products Rank Higher
Following right up, we have StoreSEO's amazing facilities to add keywords and tags for individual Shopify products. This helps to get the items to rank better in search engine optimization and be more visual to potential customers.
A keyword is basically a unique search term set to particular products to help website visitors locate them easily on search engines. And to help ensure every one of your products has a distinctive focus keyword and is instantly visible to potential customers, StoreSEO is here to help guide you with simple instructions.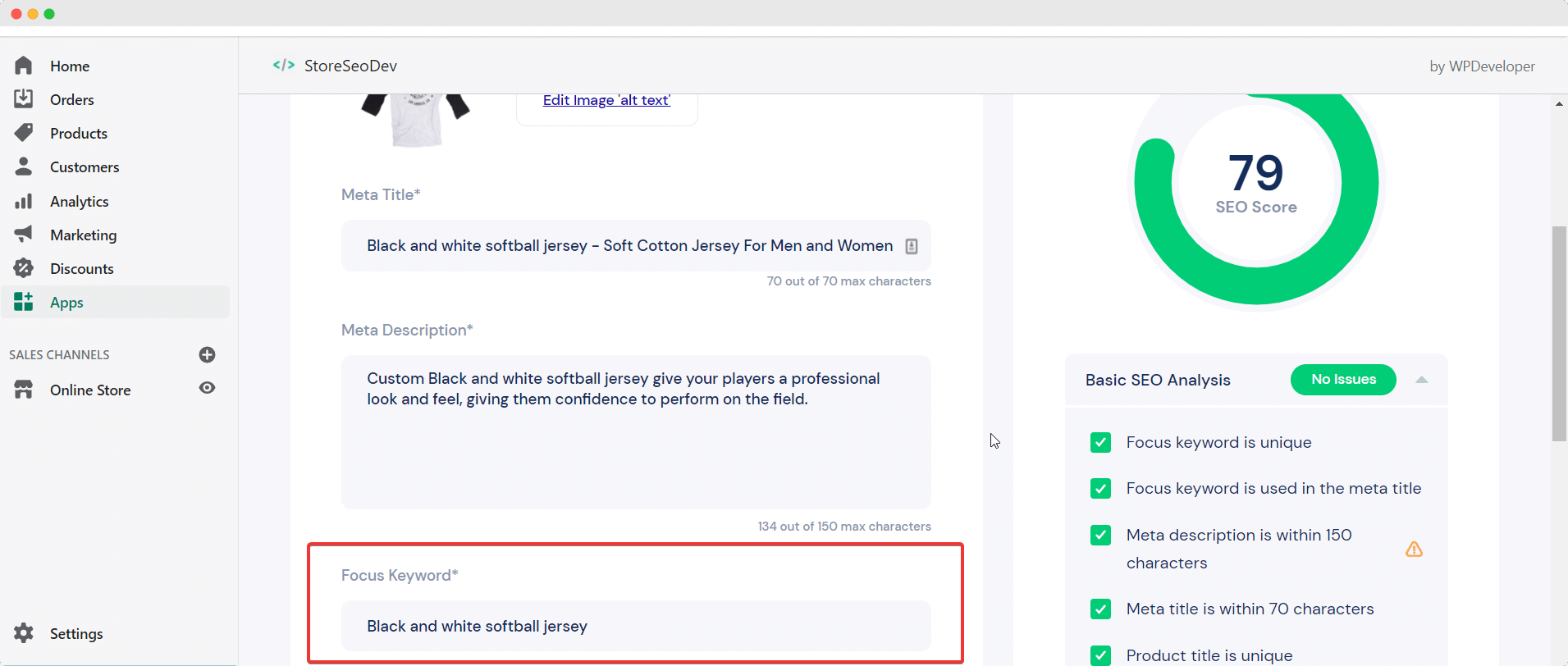 However, just one keyword is not enough to make your product more visible in search engines. But not to worry as StoreSEO comes with another great feature. To increase the probability of the items appearing to users, this SEO optimization tool enables you to insert up to 5 tag words to make your product more optimally searchable instantly.

If you need to understand more about how keywords and tags help with Shopify SEO, make sure to check out this quick yet informative guide here.
Add Click-Worthy Meta Description To Your Shopify Products
Next, we have product meta descriptions. But before we get into how StoreSEO helps to optimize it, let's try to understand what a meta description is. And in the simplest words, a product meta description is a brief summary of your product or the meaningful blurb that appears underneath your product's title on search engines.
For a fully optimized and click-worthy meta description, it needs to be within a character count of 150-160, and 'must include' the focus keyword used for your product. That's the standard recommended by Google, as most search engines do not display more than 160 characters of the meta description. This is where StoreSEO, the ultimate Shopify SEO solution, comes in to help out.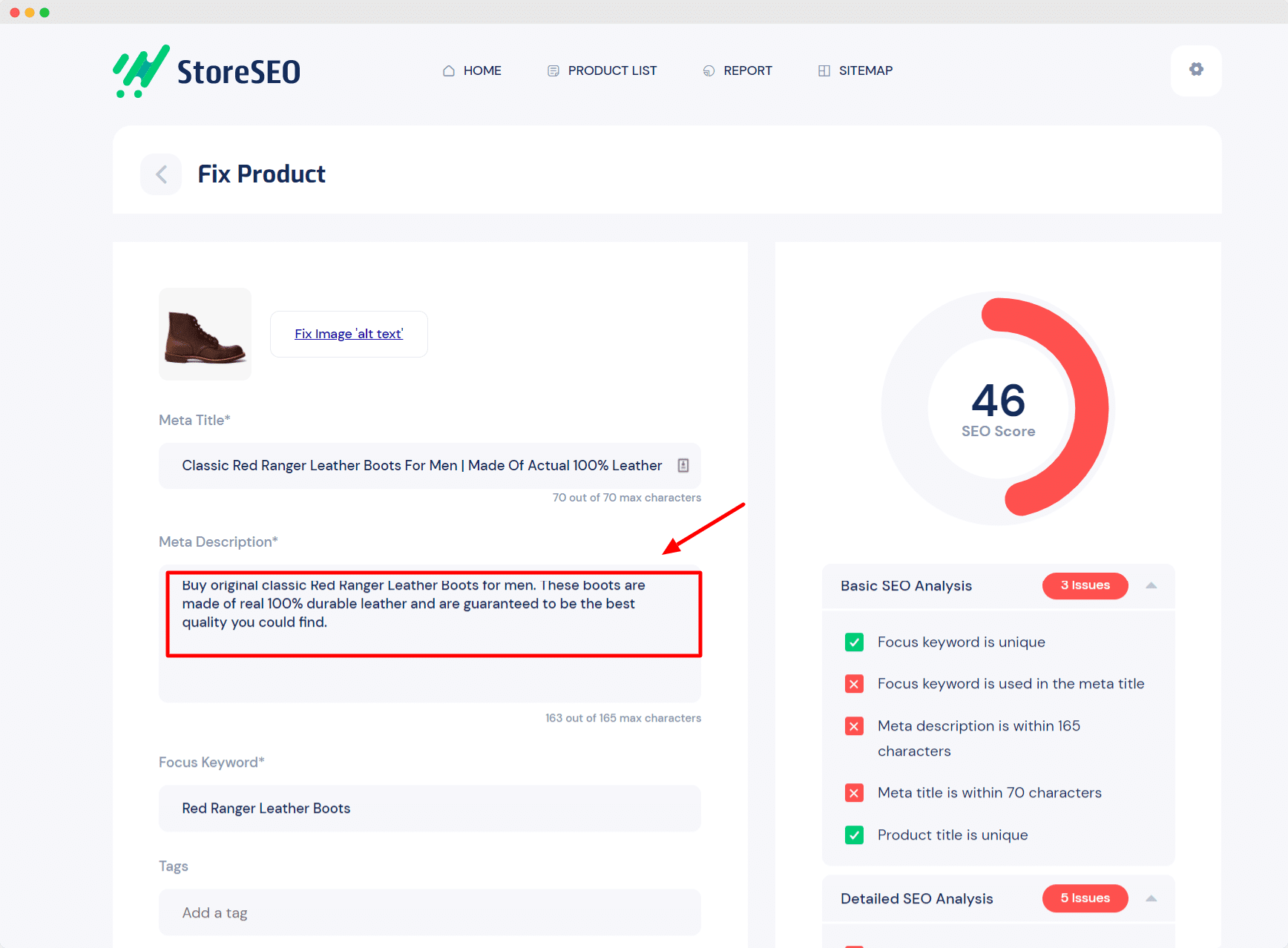 Although this app lets you create templates for a completely optimized meta description, as we have already mentioned earlier, it also lets you customize your meta description manually. It will list all SEO issues that lie within your description and help you fix them immediately.
Bulk Edit Image Alt Text For Your Product Images Instantly
StoreSEO also helps to optimize product images for an improved SEO score as well.
It helps you add image alt texts, which can help increase visibility on search engines. Wondering how it works? When your product images contain descriptive text (including the keyword of your product), search engines can use the image alt text to understand the subject of your image.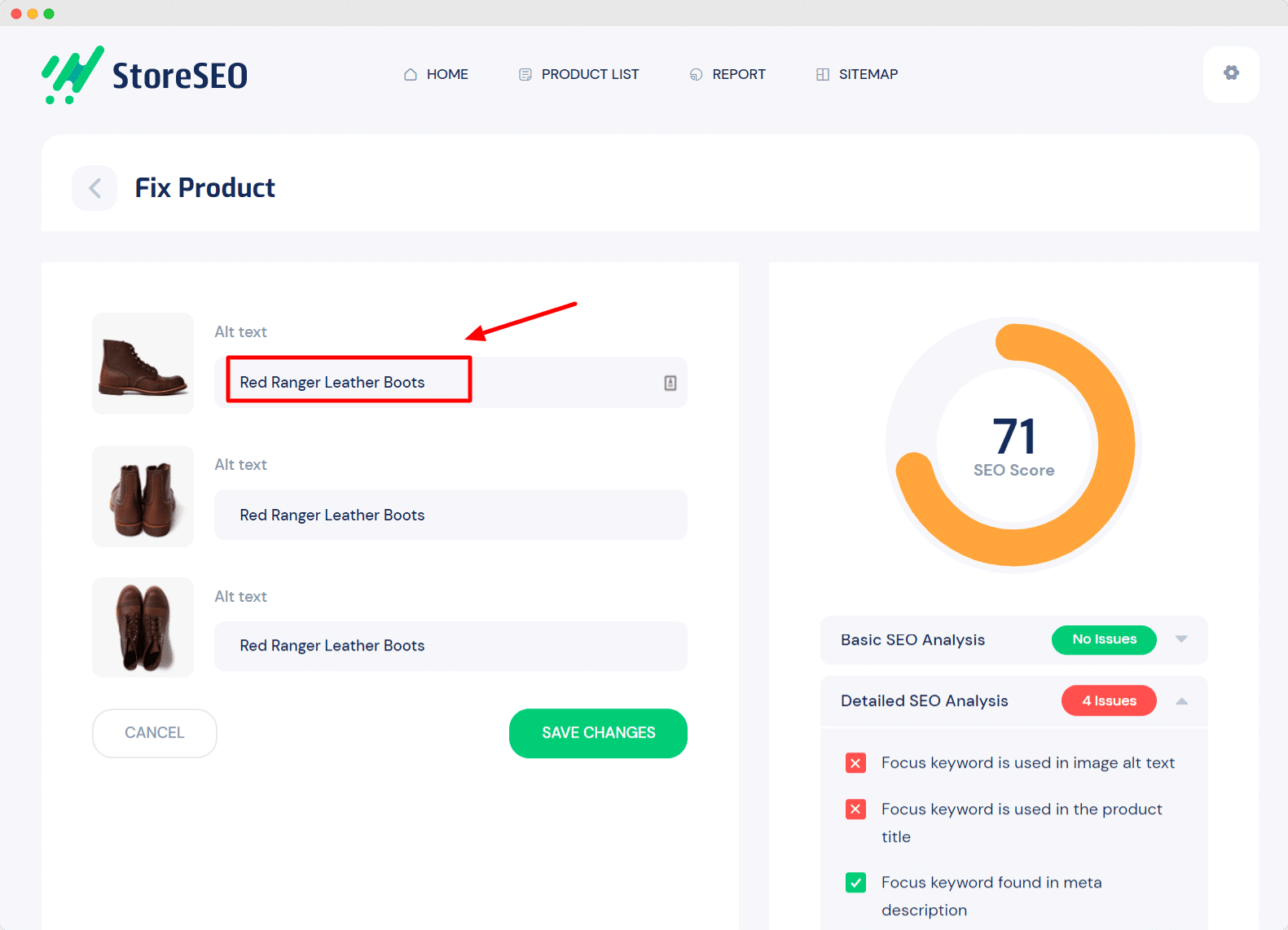 Just like the focus keywords, tags, and meta description, you can effortlessly add descriptive image alt text for each and every product image. To learn more in detail about StoreSEO's image optimization process, check out this detailed documentation.
Generate SEO Analysis Report For Your Shopify Store
We have already mentioned a little about the app's outstanding facility to instantly analyze your store and generate SEO scores during the setup process and from the dashboard homepage. It is also important to analyze the scores again after the SEO optimizations strategies have been implemented. And to help you do both, StoreSEO brings you a detailed SEO analysis report facility.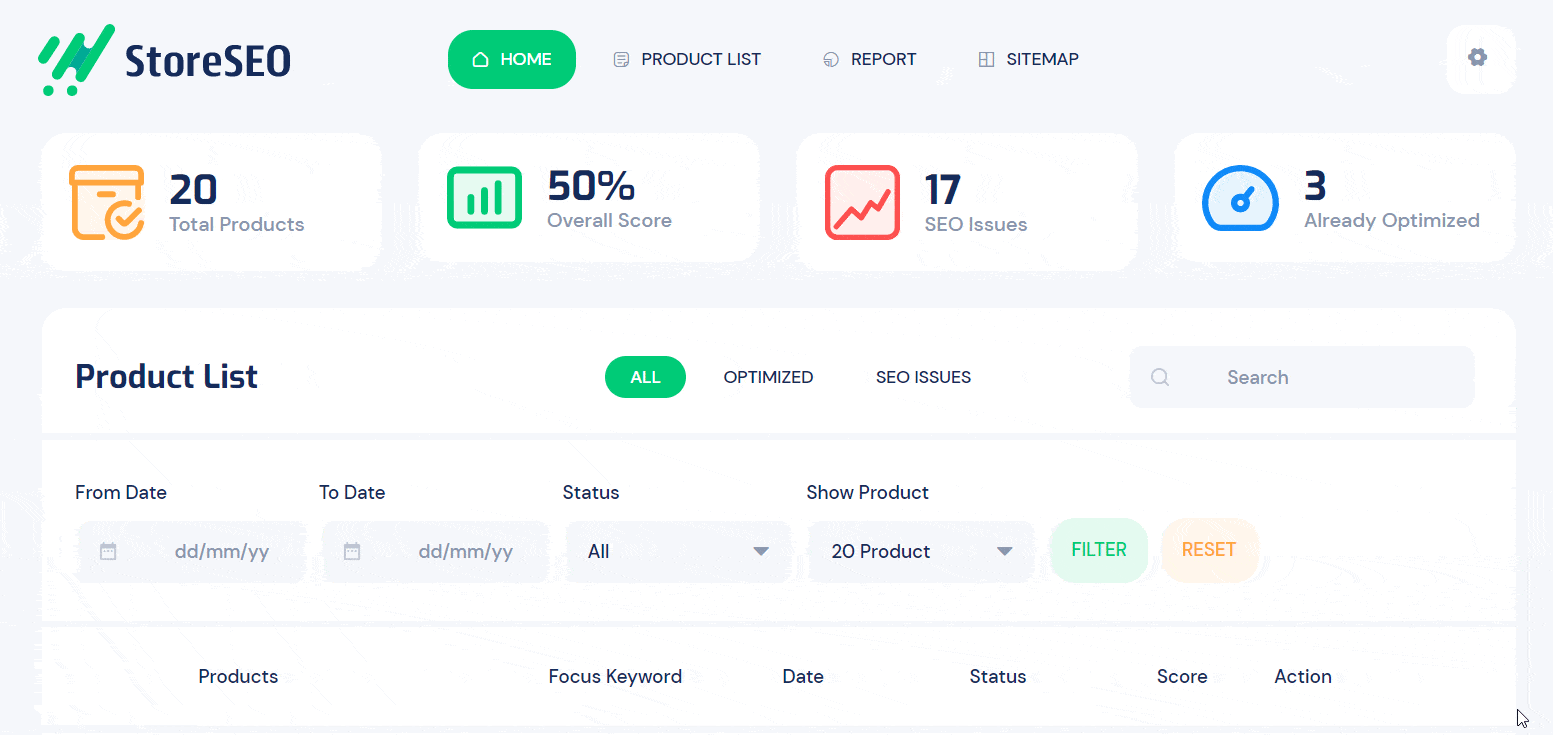 In your dashboard homepage, you will come across a 'Report' tab, where you will not only be able to check the overall score of your Shopify SEO score, but it will come along with a detailed count of the number of products, the different modifications made, the number of products that have been optimized, and more.
Add Or Remove Products From Your Shopify Store Sitemap
Finally, we must mention an exclusive must-have feature of StoreSEO – the newest easiest SEO optimization tool for Shopify enables you to choose products to include into or exclude from your store's sitemap.

Now you must be wondering why the sitemap configuration feature is of such importance when optimizing your Shopify SEO. Well, sitemaps are basically a blueprint of your website that helps search engines to explore your content and display them on search results pages.
With StoreSEO you can easily manage your sitemap and choose which products should be included by clicking on the 'Sitemap' tab, as shown below. This tab will show a list of all your products – you can just tick the checkboxes beside each item to individually add or remove them from your store's sitemap instantly.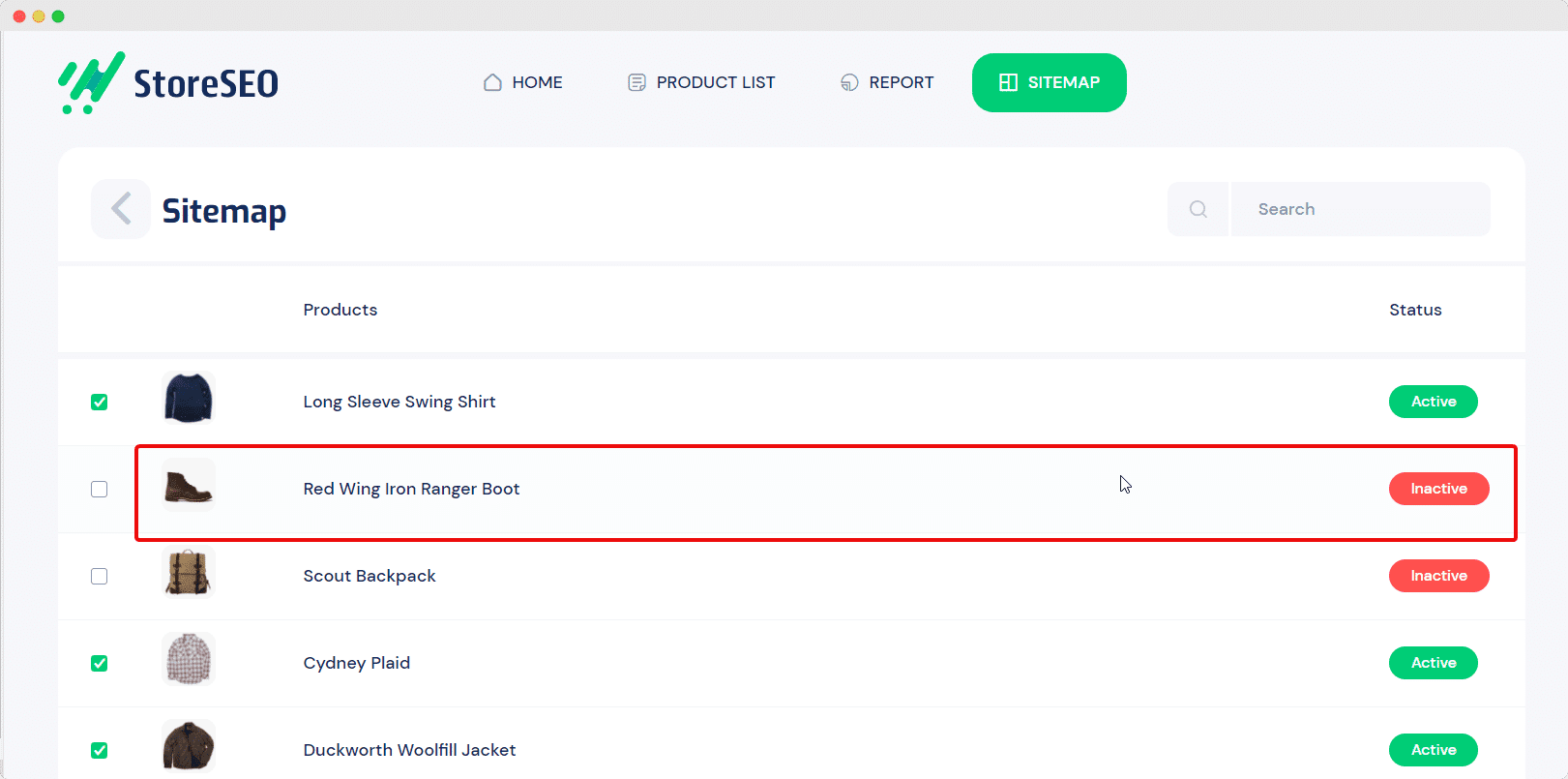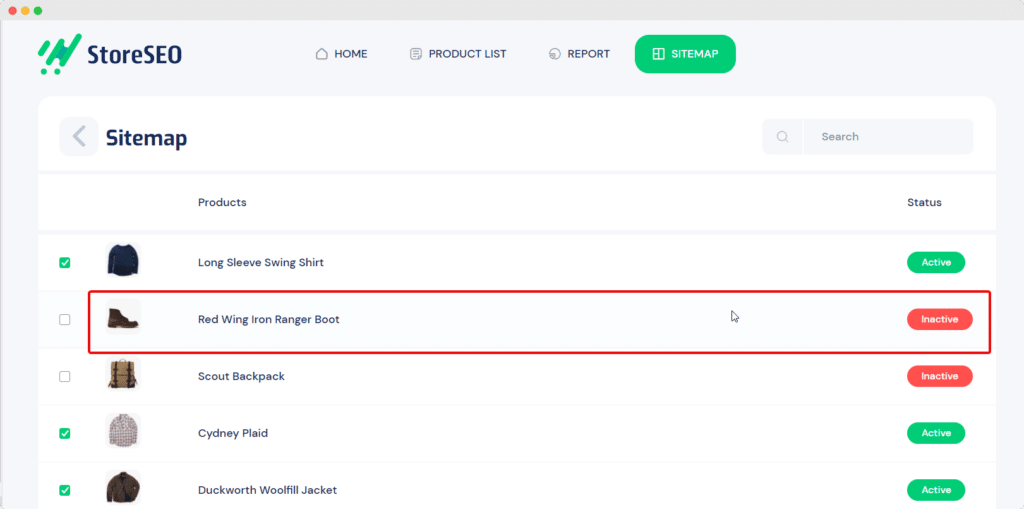 Connect StoreSEO With Google Search Console
To give you even more flexibility, StoreSEO comes with an exclusive feature. With the premium version of StoreSEO, you can connect your Shopify store with Google Search Console and submit your sitemap to Google. This feature is especially useful when you are planning on making changes to your Shopify sitemap with StoreSEO, and can help search engines to crawl your content more efficiently.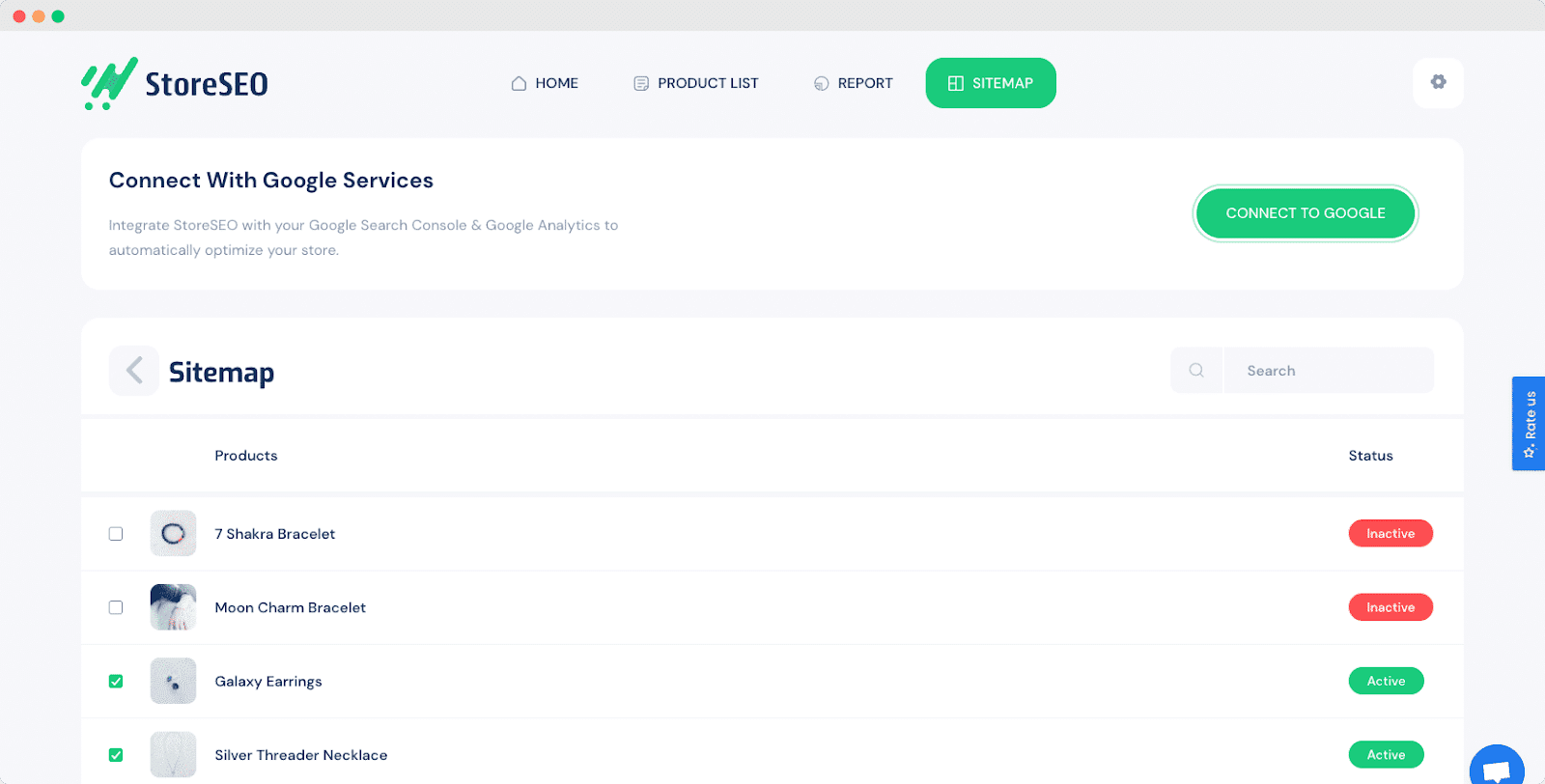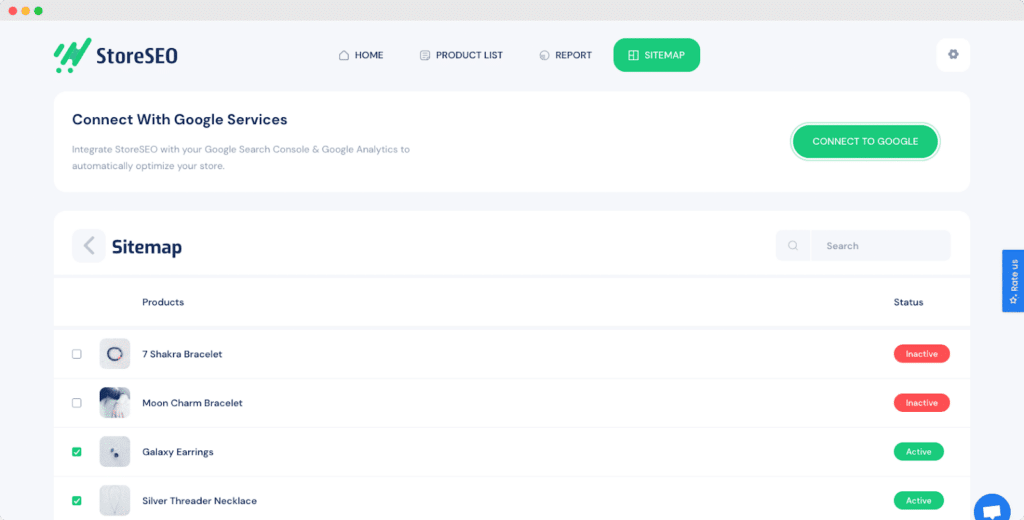 To find out more about this exciting feature, make sure to check out our detailed guide here.
Drive Traffic To Your Shopify Store Today
To summarize, if you want to improve your Shopify SEO, then using advanced solutions like StoreSEO can help you effortlessly rank higher on search engines and thus get more traffic to your online business. Try out StoreSEO today, and share your feedback with us in the comments or with our friendly support team.
Enjoyed this post? Subscribe to our blog today to get more updates, the latest news, and fun tutorials, or join our Facebook Community.