Wishing you could connect your Shopify store with Google Search Console and get your store's products and pages to rank super high on search engines? You could make powerful decisions based on the findings from Google and effortlessly grow your business. Well now you can as StoreSEO, the newest outstanding SEO tool for Shopify, lets you connect and analyze your store using Google's Search Console in just a few clicks!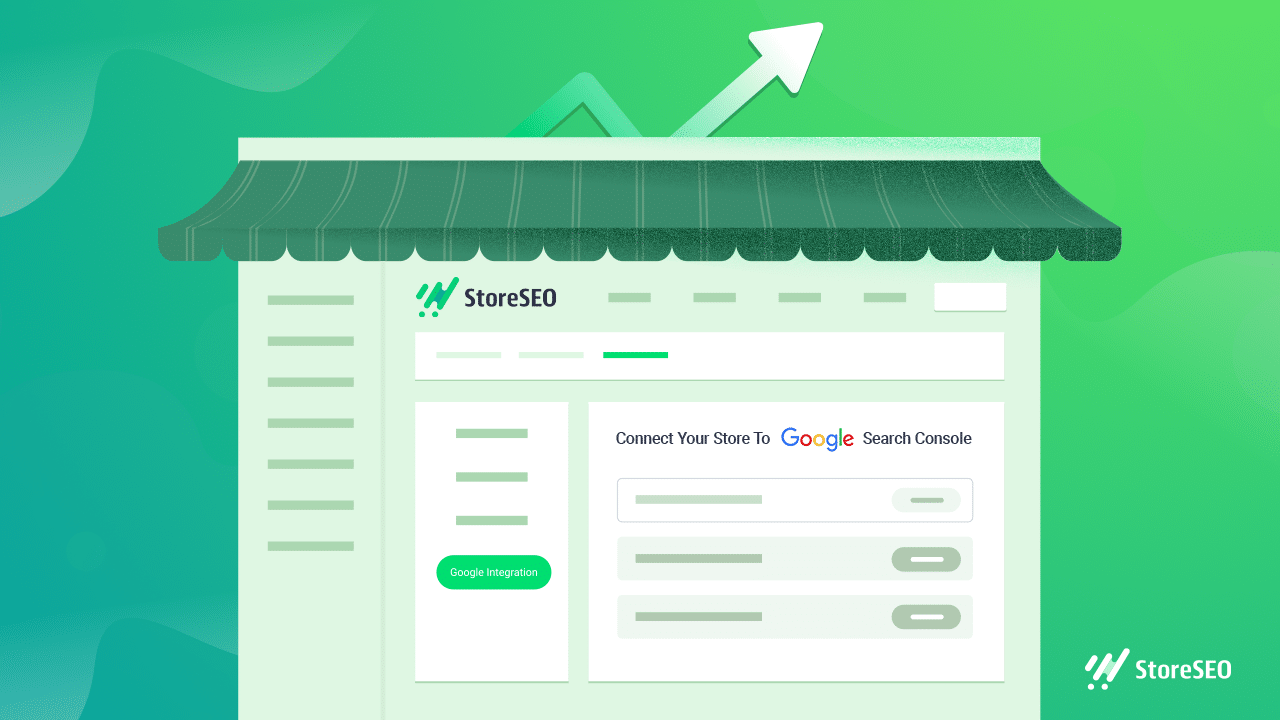 In this blog, we will walk you through the complete guide on how it is done and why it is essential for your business. So without waiting any further, let's dive right in.
A Quick Overview Of What Google Search Console Is
So let us begin with the very basics – Google Search Console, formerly known as Google Webmaster Tools, is a free platform that allows you to connect itself with your website and track how Google evaluates it. The Search Console thoroughly looks through your referring domains, mobile site performance, rich search results, the queries and pages with the most traffic, and more to come up with an overall evaluation of your site's or shop's performance.
But why would you want to connect Shopify store to Google Search Console platform? Well, the answer is quite simple – in order to help optimize your site's or store's organic visibility in search results and boost SEO scores.
What Do We Understand By eCommerce Store Structure & Sitemap?
But before we get into the whole process of how you can connect Shopify store to Google Search Console, you need to have a clear idea of how the process works. And to understand that we need to start by taking a look at what eCommerce store structures and sitemaps are, and how they are important in helping your business gain the right amount of visibility on search engines.
A Quick Overview Of eCommerce Store Structure In SEO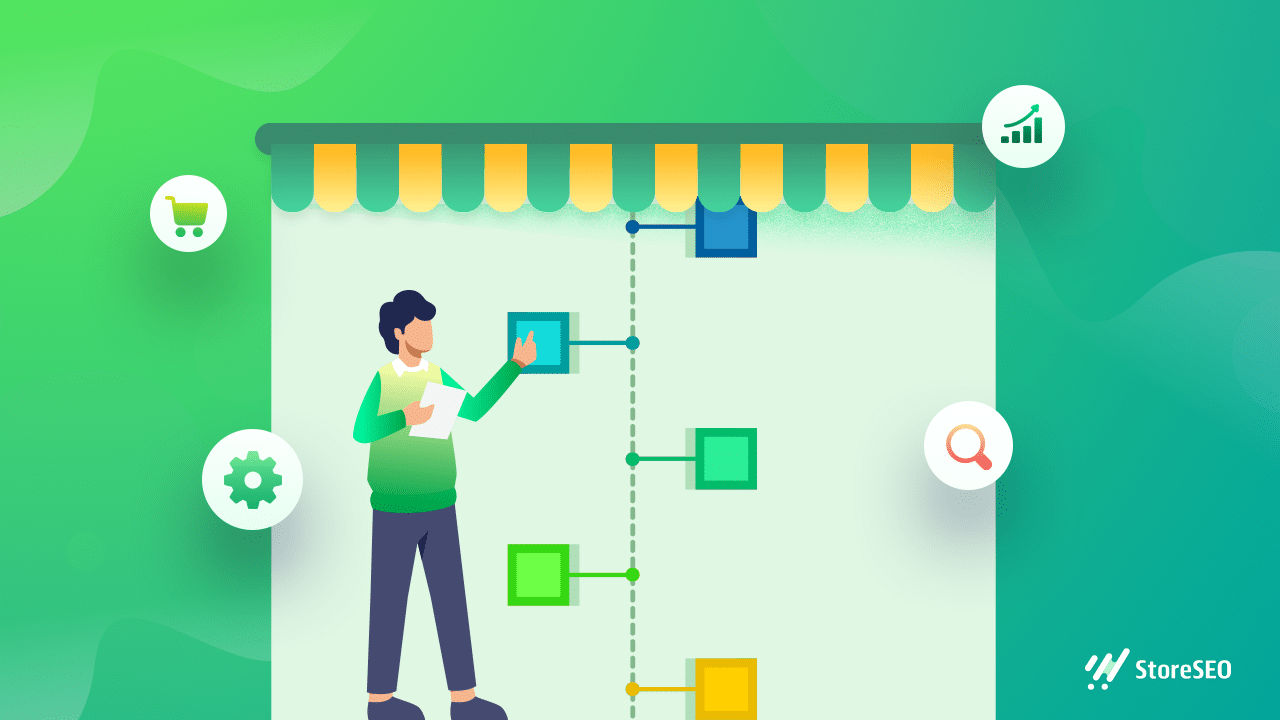 Well, the first thing you need to decide after taking your business online with Shopify, is creating a solid and well-thought-out site or store structure, in order to rank your store high on the search pages. Because it is the store's site structure that describes how information is presented on your site, how it is designed, and how the pages relate to one another.
To put it differently, your site structure tells search engines what your site is about and where the relevant content is located, allowing your store to be found more easily on search engines. Similarly, search engines classify websites as SEO-friendly based on their structure, links, tags, categories, and other factors, and they rank them higher in search results.
This is significantly important for optimizing your Shopify store's SEO because search engines like Google rely on it to determine where the most high-quality content is located. And therefore, it's a key factor in Google Search Console assessment of how search engines crawl and rank your store websites.
Understanding eCommerce Store Sitemaps & How They Work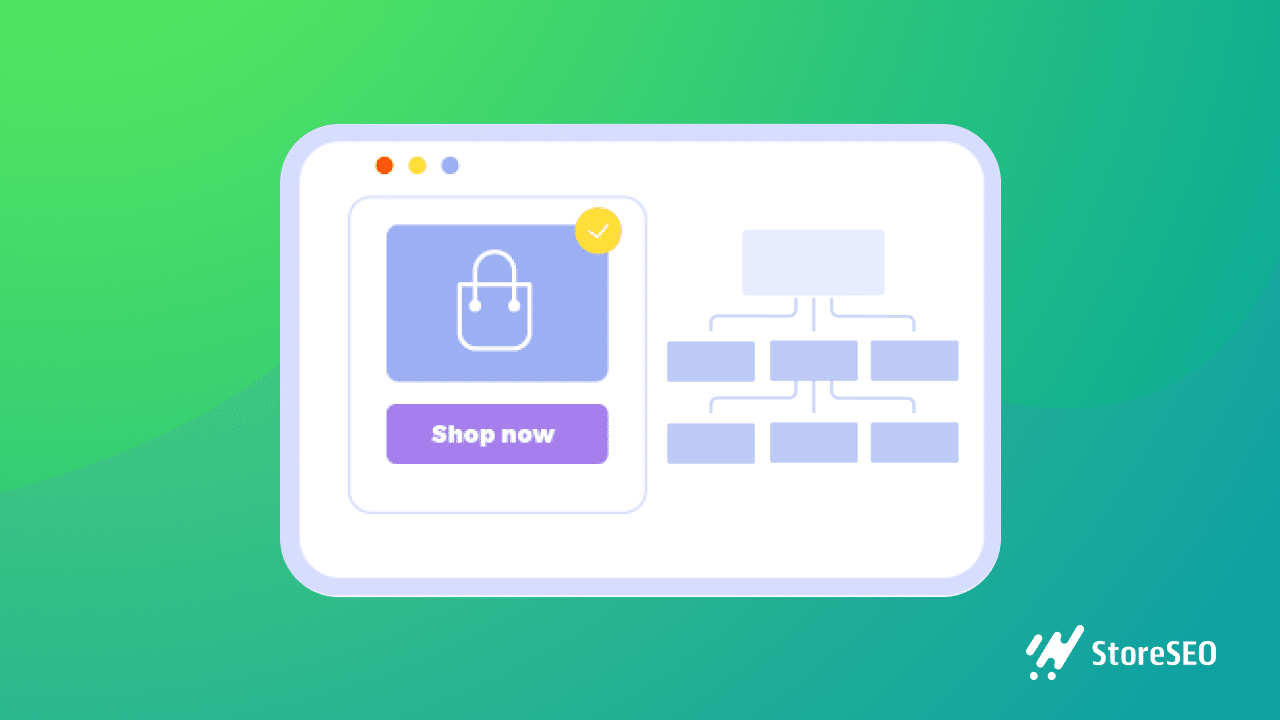 Once you are done creating a powerful structure for your store, the next essential step is to add sitemaps for Shopify. You can think of sitemaps as the very blueprint of your Shopify store and similar to store structures, sitemaps help search engines like Google to find, crawl, and index all the important information and content on your store website for SEO. Shopify will usually build sitemaps for your online store automatically, which includes links to all product media files, pages, posts, and other material on your eCommerce store website.
When potential buyers submit search queries relating to your content or products, search engine crawlers can swiftly identify relevant content and pull the right information owing to this type of organized categorization. These sitemaps also include information about how updated your store is, which search engines consider when determining your website's ranking in search results pages.
And from here you can understand how sitemaps are important when you connect Shopify stores to Google Search Console for proper evaluation of how Google values your website; and the corresponding SEO optimization.
How Does Google Search Console Help Stores Boost Their Visibility?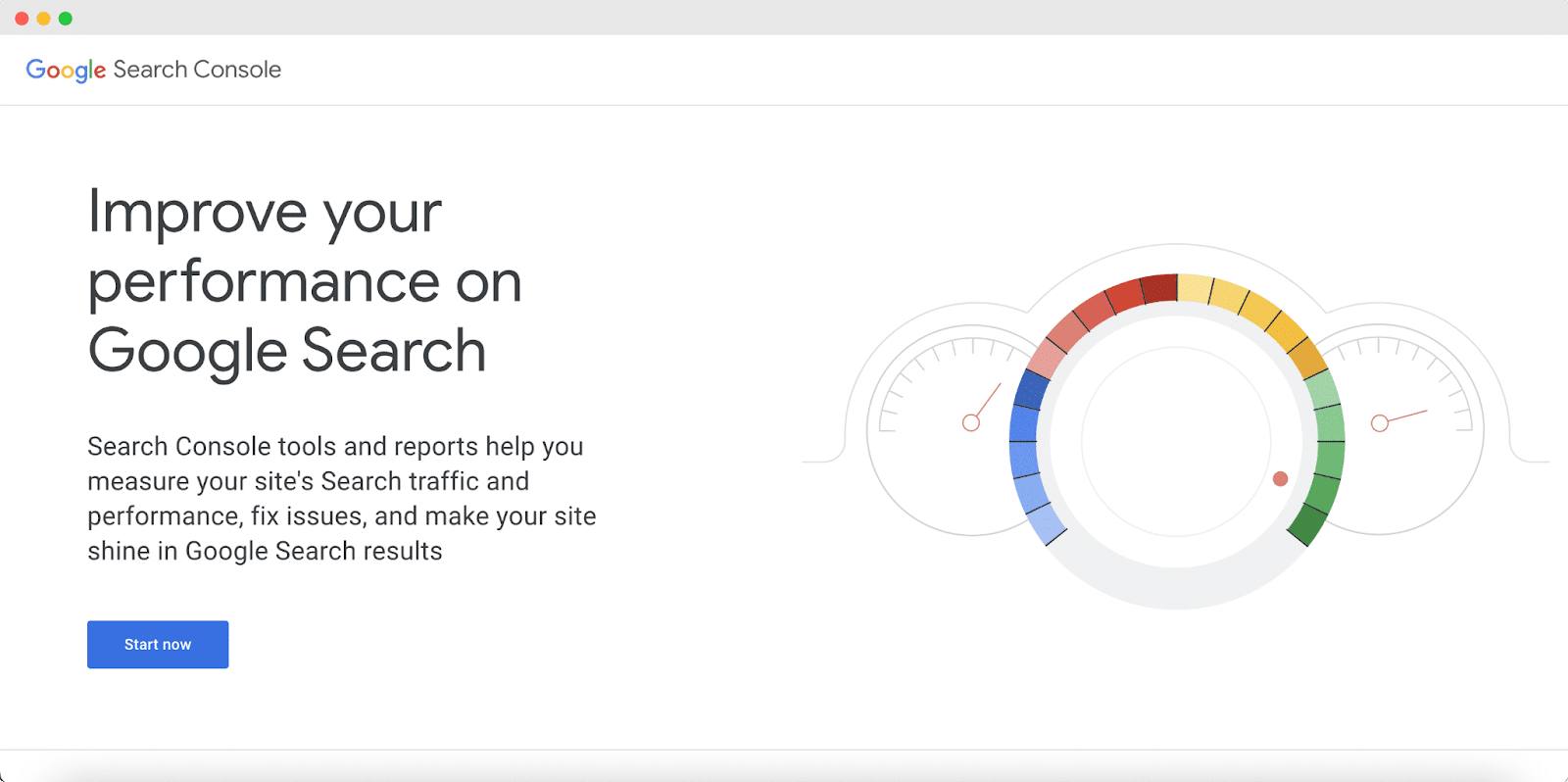 So, let's look a little deeper into how the Google Search Console can enhance your Shopify store's organic visibility and SEO ranking. Well, this Google's own SEO service, on the other hand, helps you in analyzing, maintaining, and enhancing the visibility of your website in search engine results pages (SERPs). It gives you a detailed analysis of your site's visitors, as well as a variety of other performance-related data and information, as we previously mentioned.
The tool's goal is to help website and store owners, like yourself, understand how Google evaluates your sites. So that you can use this data to track and enhance performance, as well as identify and resolve any problems.
Google Search Console offers tools and reports for the following activities among many others: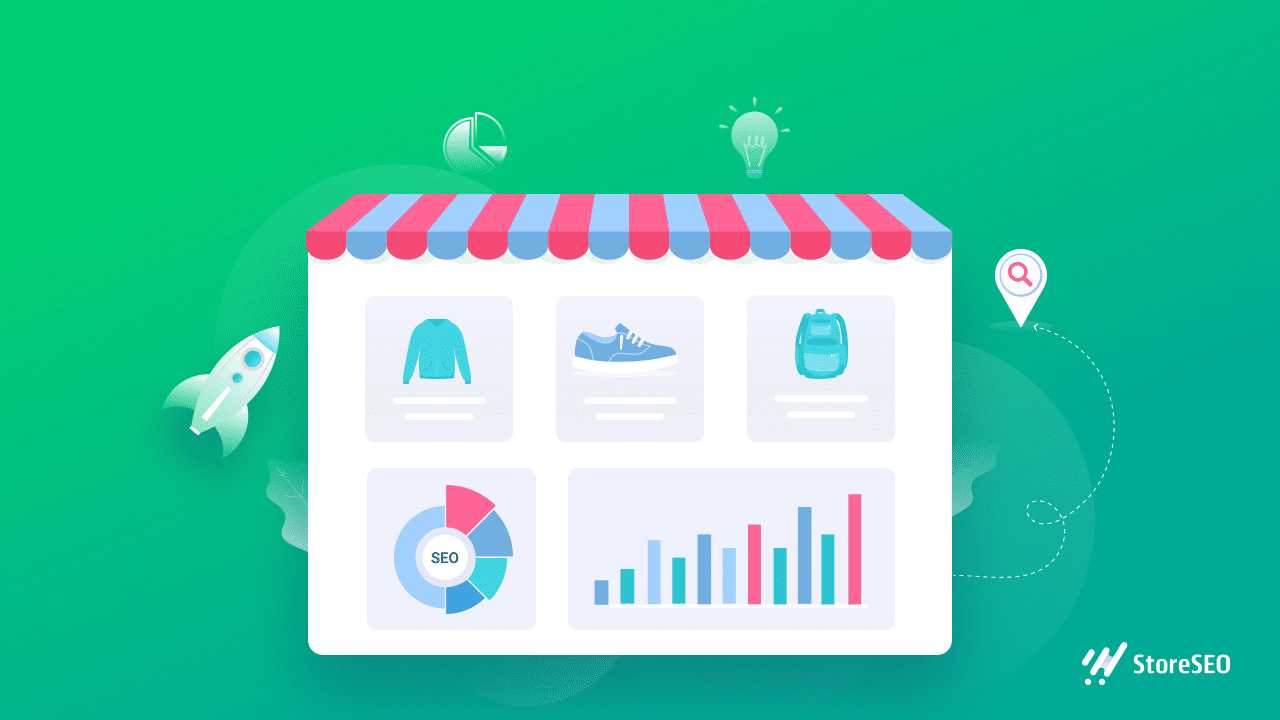 ⭐ Website Health: An overview of your overall statistics and rates of your Shopify store, and whether Google has encountered any issues while crawling through it.
⭐ Google Search, Discover, and News: Detailed evaluation of the performance of your pages on each of Google's platforms.
⭐ Crawling: It analyzes and confirms that Google can locate and crawl your store website easily.
⭐ Indexing: Google Search Console helps to fix indexing problems and re-index requests for new or updated content.
⭐ Organic Traffic: Analyzes how often your site appears in Google Search, which search queries your site appears for, how often searchers click through to your website for those queries, and more.
⭐ Backlinks: It gives you a complete report showing you the sites that link to your website.
⭐ Sitemaps: And connecting back to store sitemaps, Google Search Console provides important information about the current status of your submitted sitemaps.
⭐ But not just these, the Google Search Console provides many other reports about security issues, links, migrations, redirects, mobile usability, troubleshooting various issues, and much more.
Simply put, using the valuable data that this Google-powered SEO platform provides, you can easily optimize your store for better SEO ranking, and make data-driven decisions about the search engine appearance of your site.
Integrate Google Search Console With StoreSEO: The Best SEO Tool For Shopify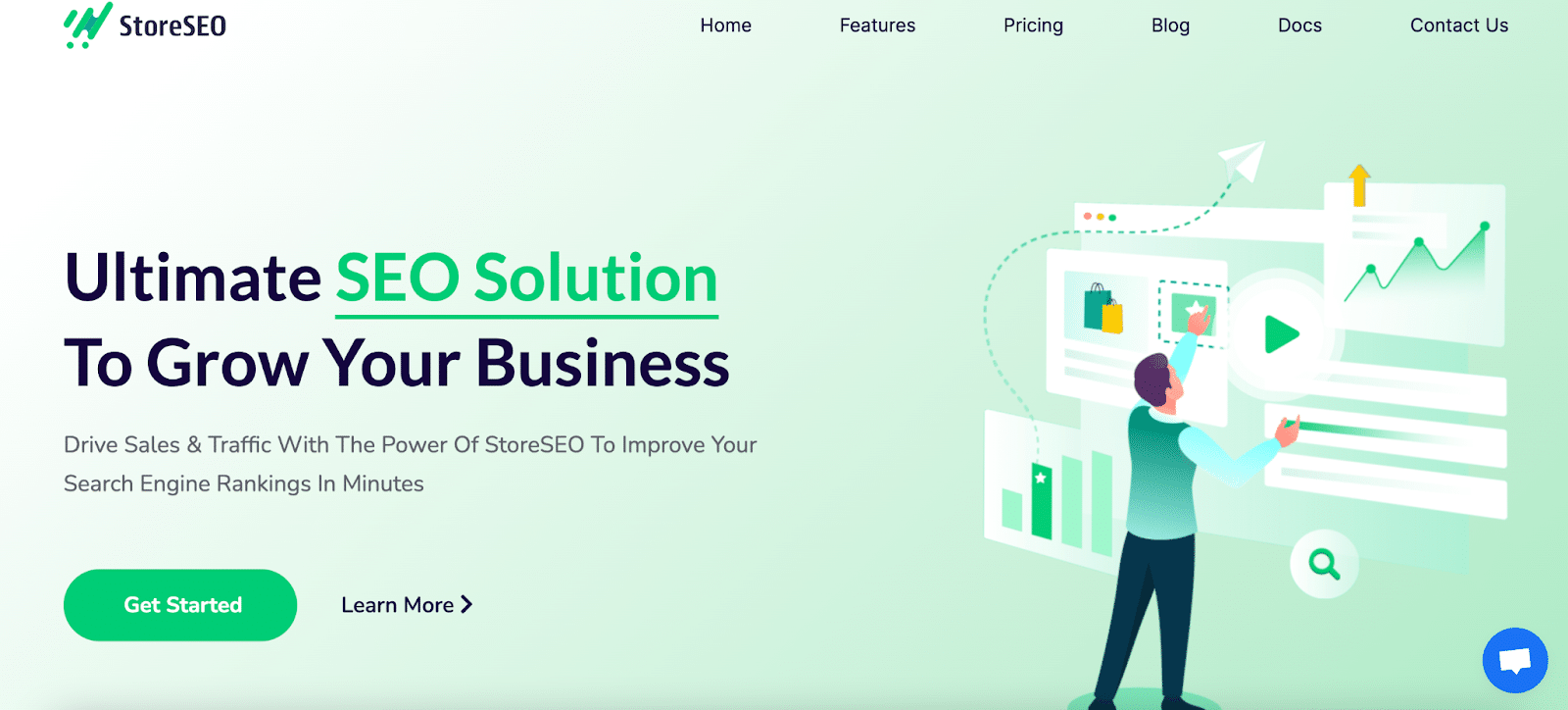 Having understood all that, it's now time to connect Shopify store to Google Search Console. And while it might seem like quite a difficult task to do, we assure you that with our preferred method, you can do so in just a few clicks, within mere 5 minutes!
To help you make this process super easy and simple, we bring you StoreSEO – the best SEO solution for your Shopify stores. Although quite new in the market, it is quickly gaining much popularity among store owners around the Shopify ecosystem who want to grow their SEO scores and business rapidly. And we are simply delighted to inform you that this brilliant tool brings you a quick feature to effortlessly integrate your store into Google Search Console. So, without further ado, let's dive right in and find out how.
Note: Before you start following the complete guide below, make sure you have created a product list inside of your Shopify store and installed StoreSEO in your store.
Step 1: Authenticate Your Store With Google
To start off the process, you need to navigate to the StoreSEO Settings → Google Integration tab. Once there, you will need to verify your Shopify store with Google by hitting on the 'AUTHENTICATE' button, as shown in the image below.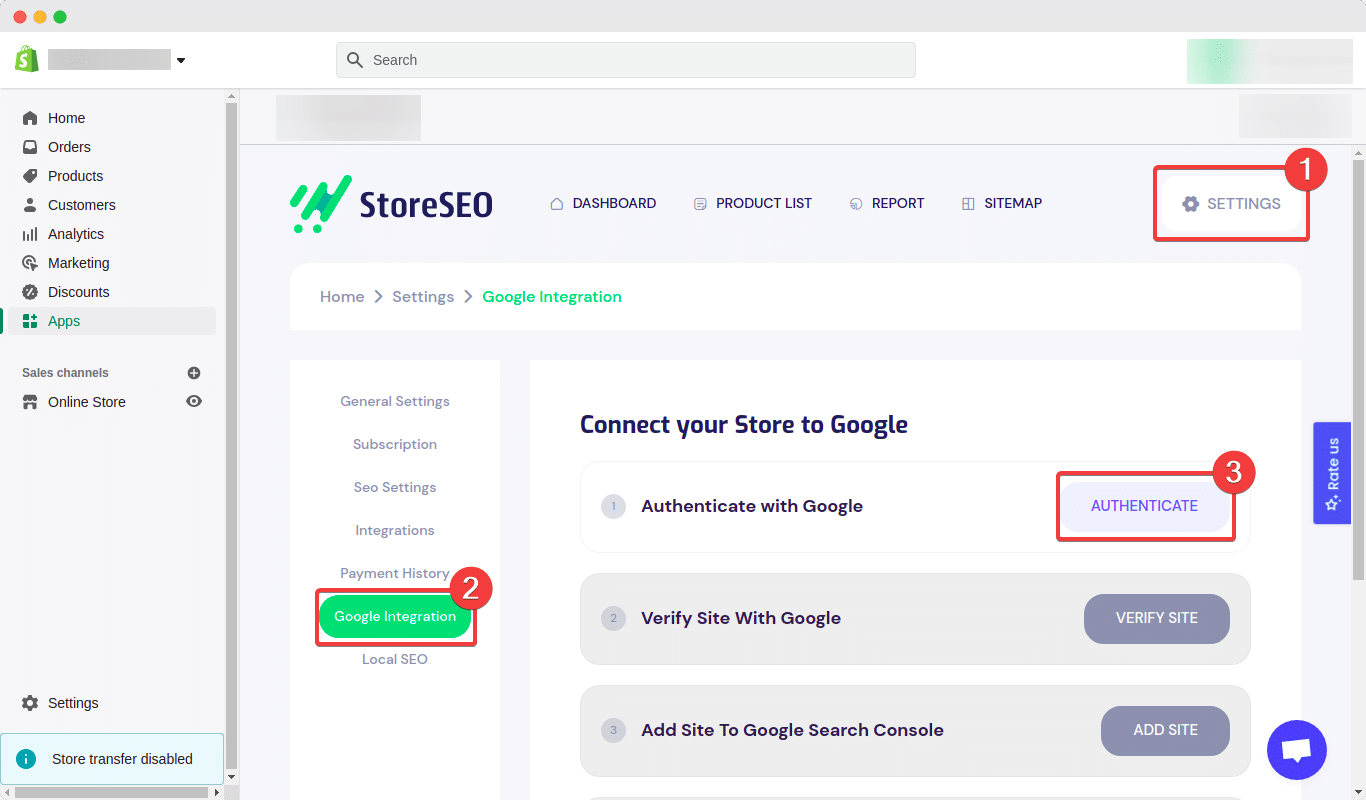 The authentication process is extremely easy, all you have to do is log in to your Google account, and connect in just a few clicks.
Once you hit the 'AUTHENTICATE' button as mentioned just earlier, a new window will instantly open on your screen asking you to sign in to your preferred Google account. Basically, choose the one you want to connect with your store and use it for all analysis purposes.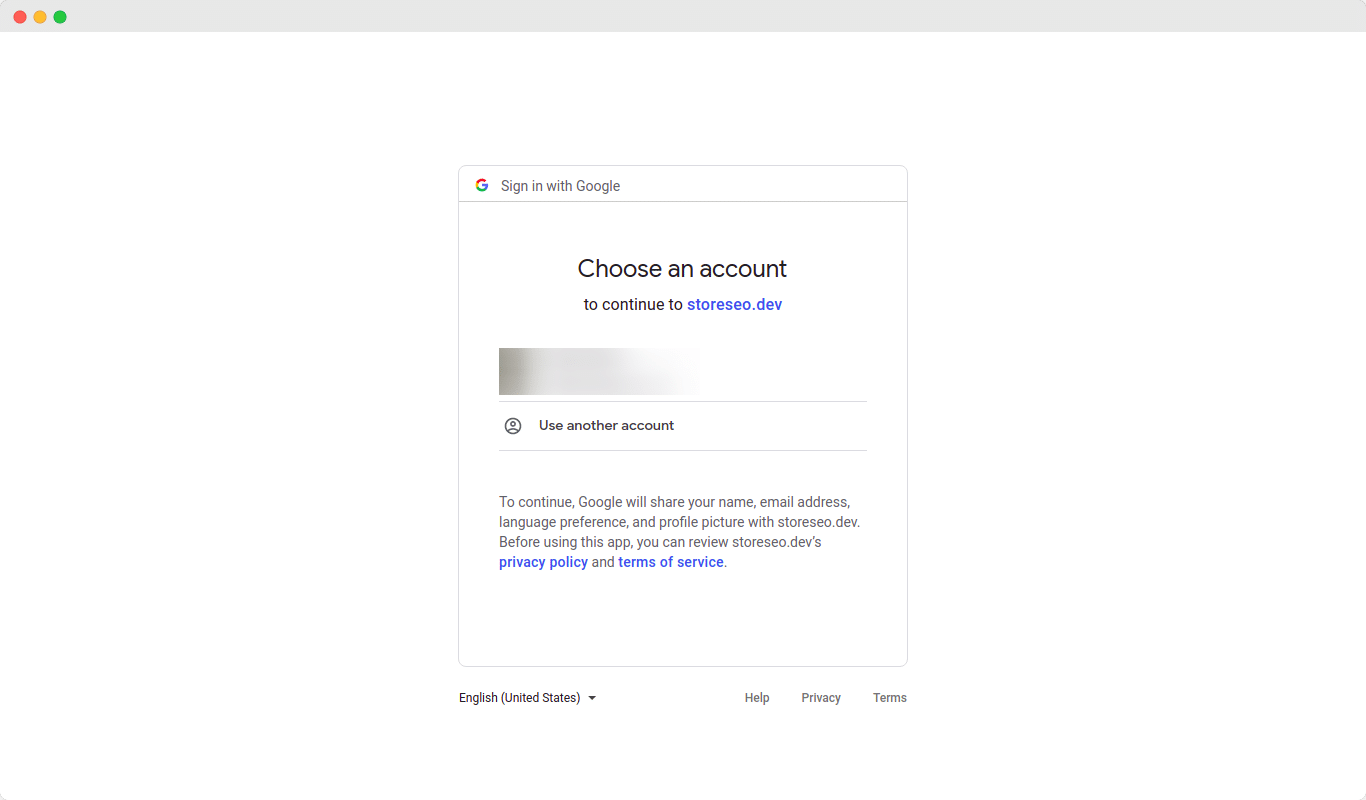 Step 2: Verify Your Site With Google
Once the authentication is done, StoreSEO will instantly update the data and show that it is DONE.
Afterward, you need to verify your site with Google because its Search Console platform will give you access to confidential information about your store's performance. But, the process for this is a breeze because, again, StoreSEO makes it easier than any other platform to do so. Simply click on the 'VERIFY SITE' button to establish a secure connection to your Shopify store website.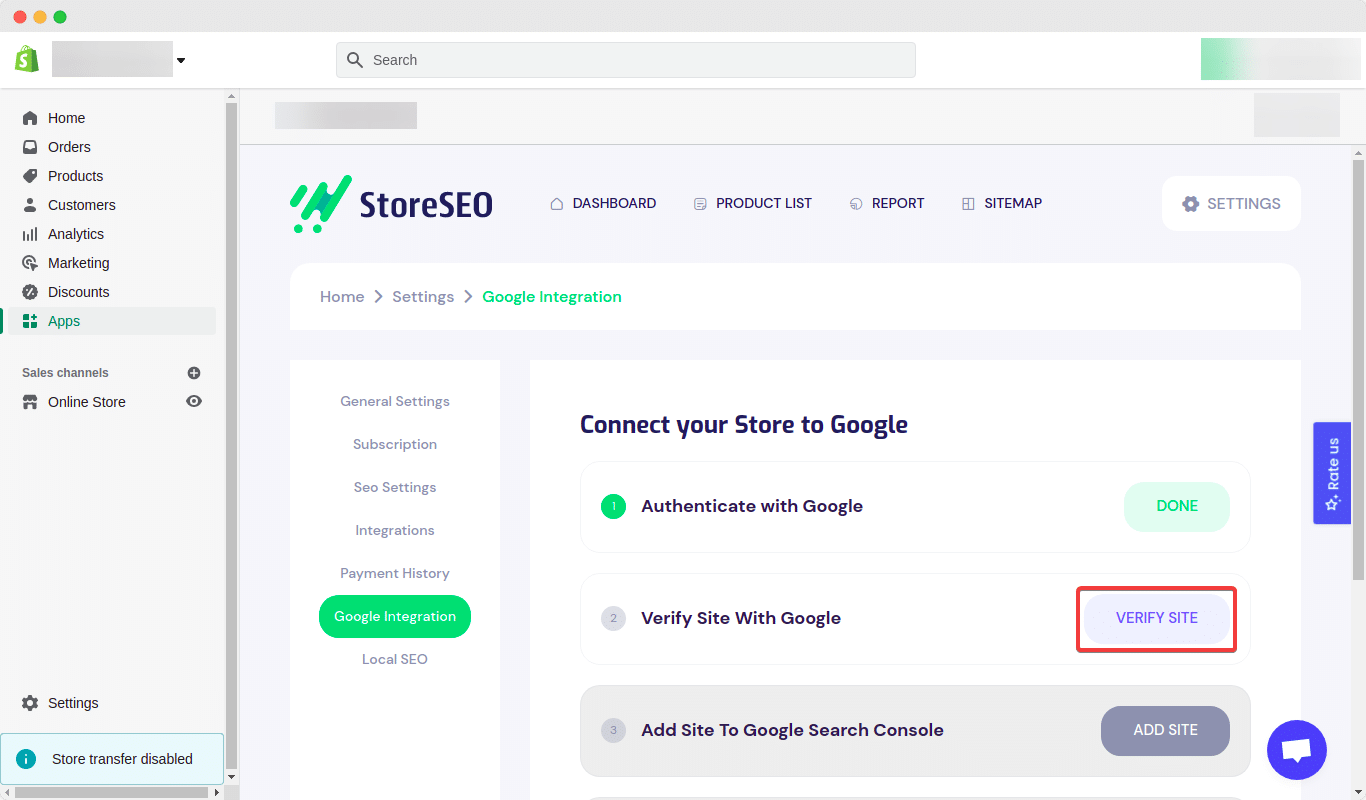 Again, clicking this button will also redirect you to a window where you have to log in to your Google account and then click to 'Continue', as you can see below. Once you have finished these steps, your Shopify store site will be verified automatically. And with that, you will be another step closer to connecting your store to Google Search Console – which is the very next step coming up.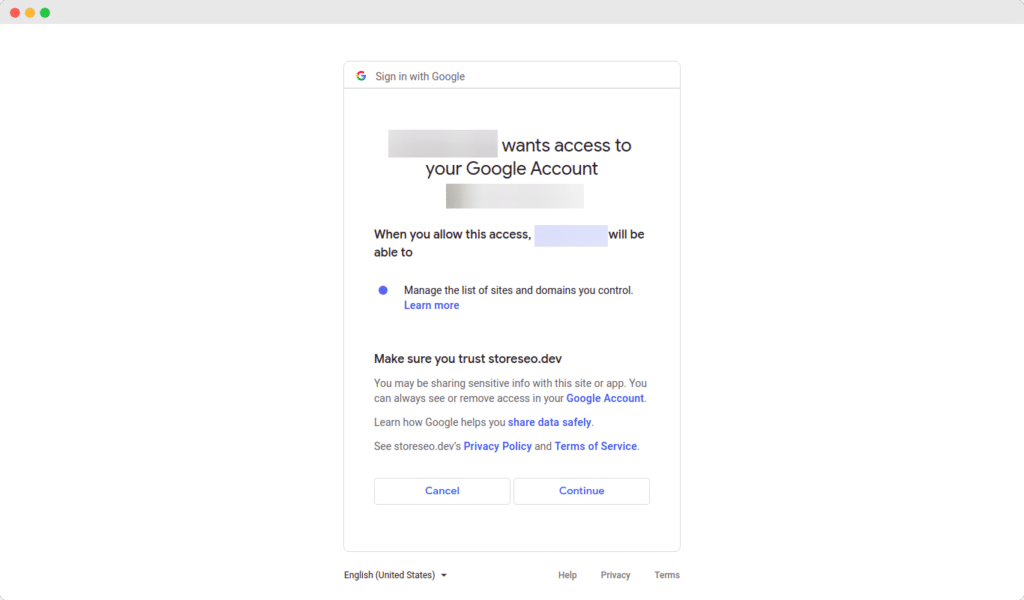 Step 3: Add Site To Google Search Console
So, once verification is done, you can now easily integrate StoreSEO with Google Search Console. Just click on the 'ADD SITE' button from the SEO tool's screen and wait for the next window to come up, and follow similar steps as previously mentioned.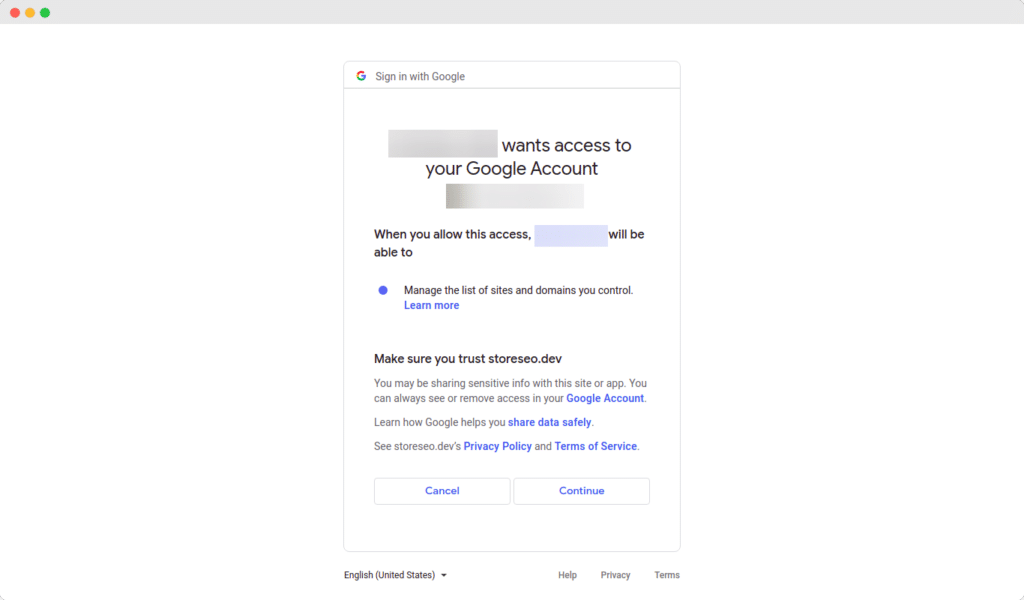 Step 4: Submit Sitemap To Google
And finally, to finish up, you will need to submit your Shopify store's sitemap to google, and as can you already tell, there is a quick step to doing this too. StoreSEO brings you a 'SUBMIT SITEMAP' button to easily submit in a single click.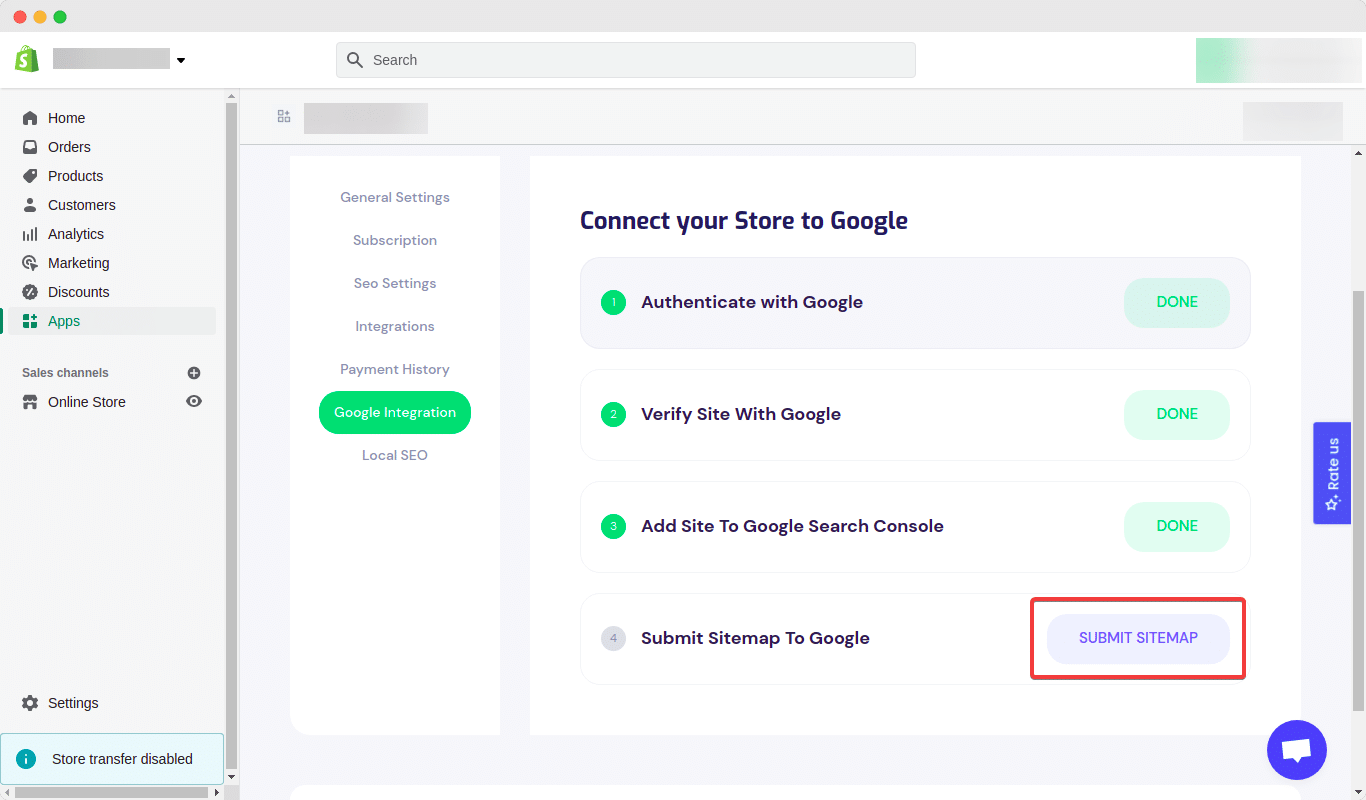 And with submitting your Shopify store's sitemap to Google, you have successfully connected your store website with Google Search Console and can start enhancing your business with ease.
Take Your Store's SEO Scores To Newer Heights With StoreSEO
With that, we come to the very end of our complete guide to help you grow your SEO scores with StoreSEO using the search engine, Google. But it doesn't just end there. StoreSEO brings you many other features and functionalities to optimize every aspect of your business without breaking any sweat. Check out and sign up for our blogs to get many more useful articles and news, just like this. And do not forget to join our friendly Facebook Community to get in touch with many more Shopify store owners and developers, just like you!