Are you in search of the perfect app to take your Shopify store to new heights? Welcome to our comprehensive comparison guide where we shed light on two powerful contenders: StoreSEO vs Avada. This blog will provide you with an unbiased perspective on these two Shopify SEO apps so that you can make an informed decision that suits your store's unique needs. So, let's dive in and explore the features, strengths, and benefits of both StoreSEO and Avada.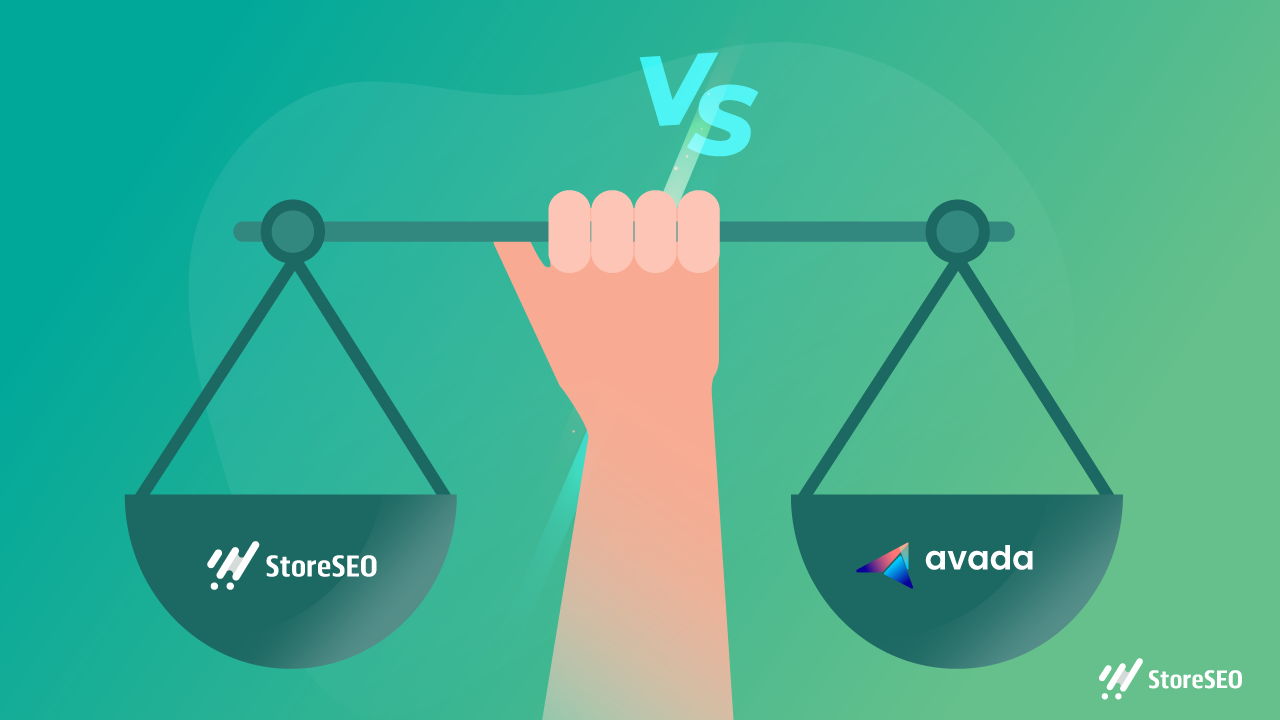 💡Introducing StoreSEO: Best Shopify SEO Solution For Your Store
StoreSEO is the ultimate Shopify SEO tool designed to boost your eCommerce store's search engine rankings and attract potential customers. With StoreSEO, you can easily scan for SEO issues, incorporate the perfect keywords to improve product visibility in search results, and optimize images for better online visibility.
Let's discover the powerhouse of features and functionalities that StoreSEO brings to elevate your online business!
🎯 Easily Spot SEO Issues For Your Shopify Store's Products

After completing the initial setup, head to the app's user-friendly dashboard for a comprehensive view of your individual products. On the homepage's product list, you'll find essential information for each product, including its SEO-focused keyword, status, and current SEO scores. The app also allows you to filter products based on specific dates or status.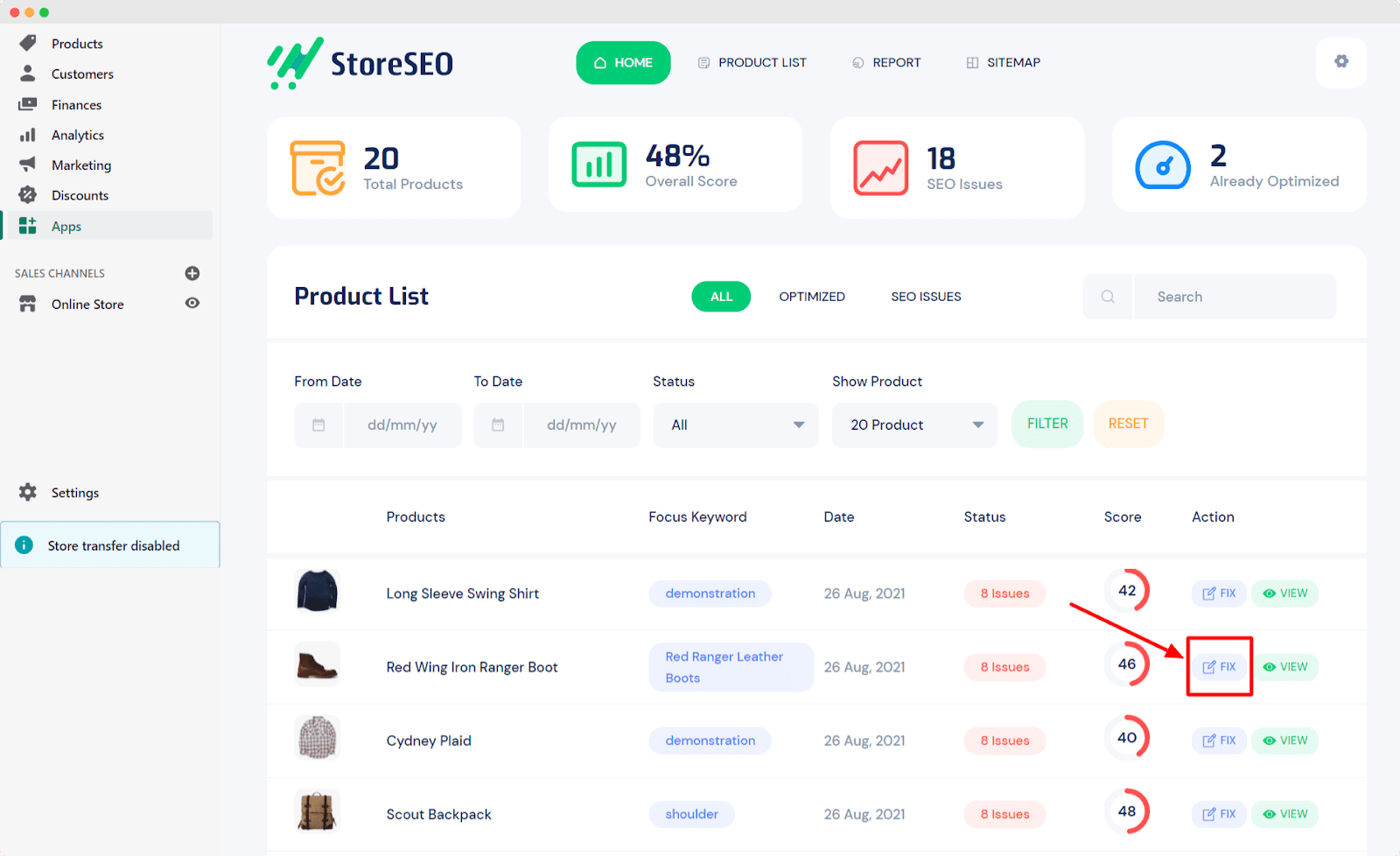 To address any SEO concerns for a specific product, simply click the 'Fix' button displayed above. This will take you directly to the product page, where you can manually optimize its details. Read on to learn more about this process in detail.
🚀 Boost Product Rankings With StoreSEO's Keyword & Tag Optimization
StoreSEO allows you to effortlessly incorporate keywords and tags into each of your Shopify products, resulting in improved search engine optimization and enhanced visibility for potential customers.
Keywords play a crucial role in helping visitors locate specific products with ease on search engines. At StoreSEO, we ensure that every one of your products has a distinct focus keyword, ensuring instant visibility to potential customers through straightforward guidance.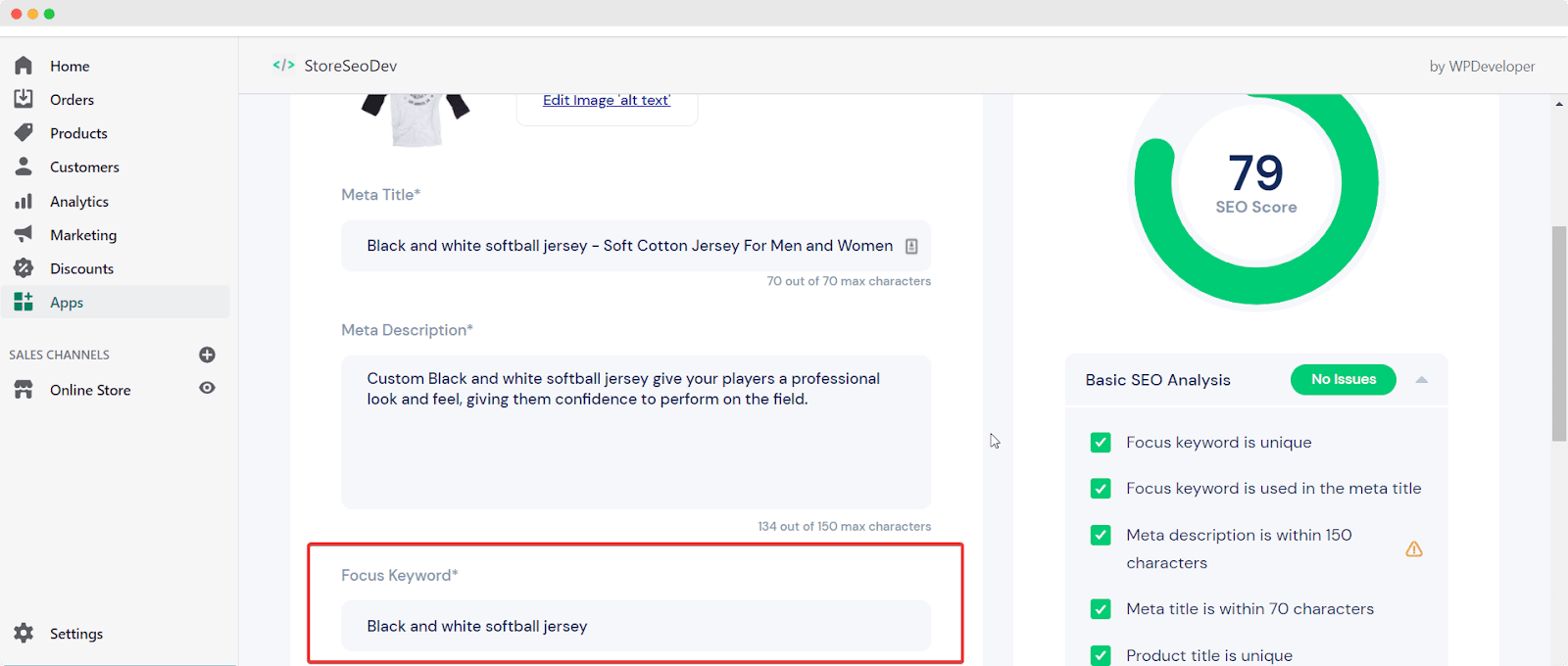 But the power of visibility doesn't end with a single keyword. StoreSEO has an exceptional solution to increase your product's chances of appearing to users. Our SEO optimization feature empowers you to add up to 5 tag words, optimizing your product's searchability instantly.

If you seek further insight into how keywords and tags can significantly impact your Shopify SEO, don't miss this quick and informative guide. It's time to elevate your product's online presence and reach a wider audience!
🌟 Optimize Your Shopify Products With Click-Worthy Meta Descriptions
A product meta description serves as a brief, meaningful summary visible below your product's title on search engines. To ensure an enticing and fully optimized meta description, it should be limited to 150-160 characters and include the primary keyword for your product, adhering to Google's recommended standard.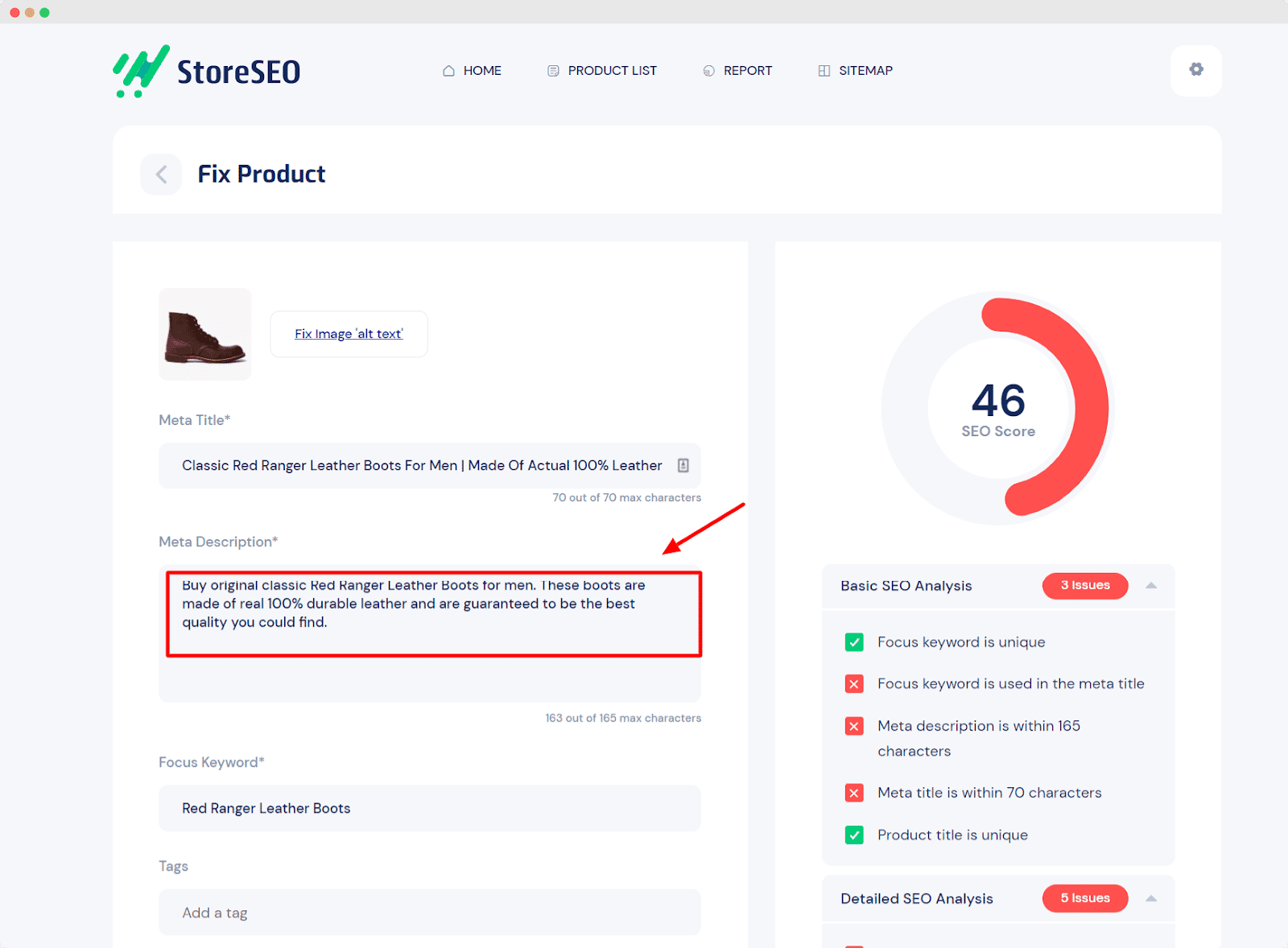 StoreSEO, the ultimate Shopify SEO solution, proves invaluable in this regard, offering the ability to add optimized meta descriptions and allowing manual customization. The app efficiently identifies and addresses any SEO issues within your description, providing immediate solutions for effective optimization.
🖼️ Instantly Bulk Edit Image Alt Text for Your Product Images
With StoreSEO, you can instantly bulk edit image alt text for your product images, optimizing them to improve SEO scores. By adding descriptive image alt texts containing relevant product keywords, you can enhance visibility on search engines, helping them understand the content of your images.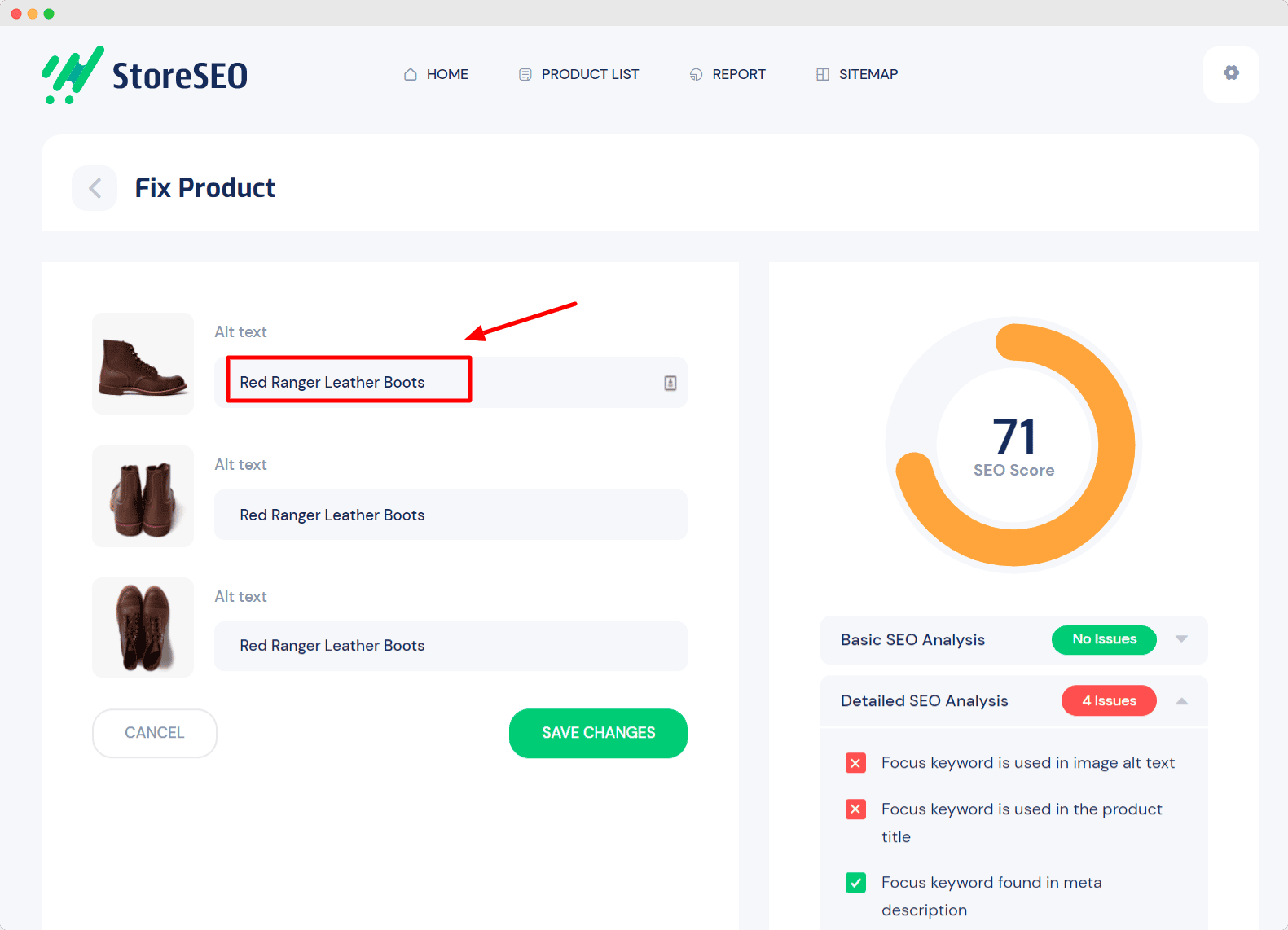 Just like focus keywords, tags, and meta descriptions, you can effortlessly include descriptive alt text for each product image.
📊 Get An SEO Analysis Report For Your Shopify Store
StoreSEO provides a valuable facility for your Shopify store, offering instant SEO analysis and scores during setup and from the dashboard homepage. It is crucial to reevaluate the scores after implementing SEO optimization strategies, and the platform's detailed SEO analysis report helps you do just that.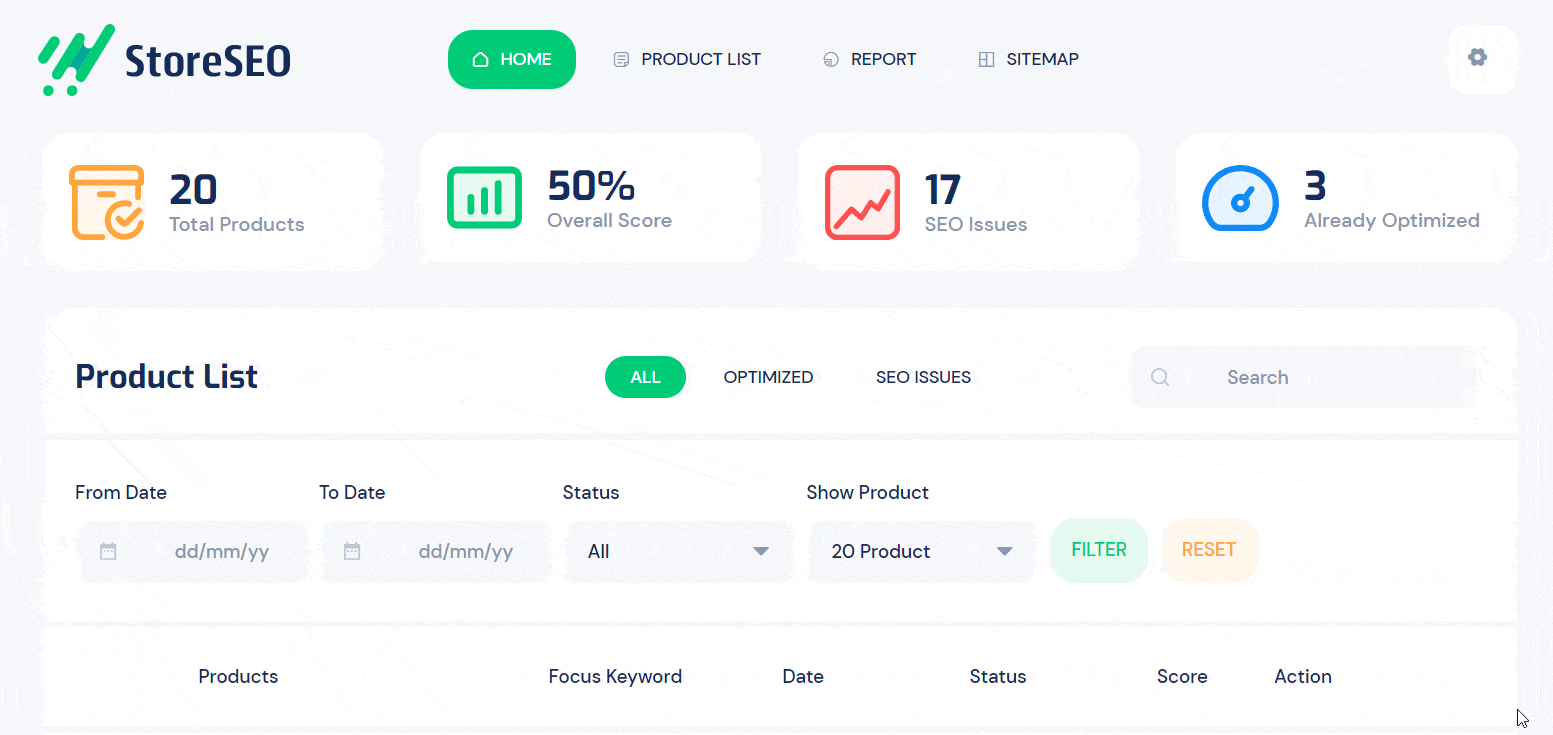 By visiting the 'Report' tab on your dashboard homepage, you can access the overall Shopify SEO score along with specific details like the number of products, modifications made, and the number of optimized products.
🌟 Easily Manage Your Shopify Store Sitemap With StoreSEO
StoreSEO offers an exclusive and user-friendly SEO optimization tool for Shopify, allowing you to easily include or exclude products from your store's sitemap. Configuring your sitemap is vital in optimizing your Shopify SEO as it acts as a blueprint for your website, aiding search engines in navigating and displaying your content on search results pages.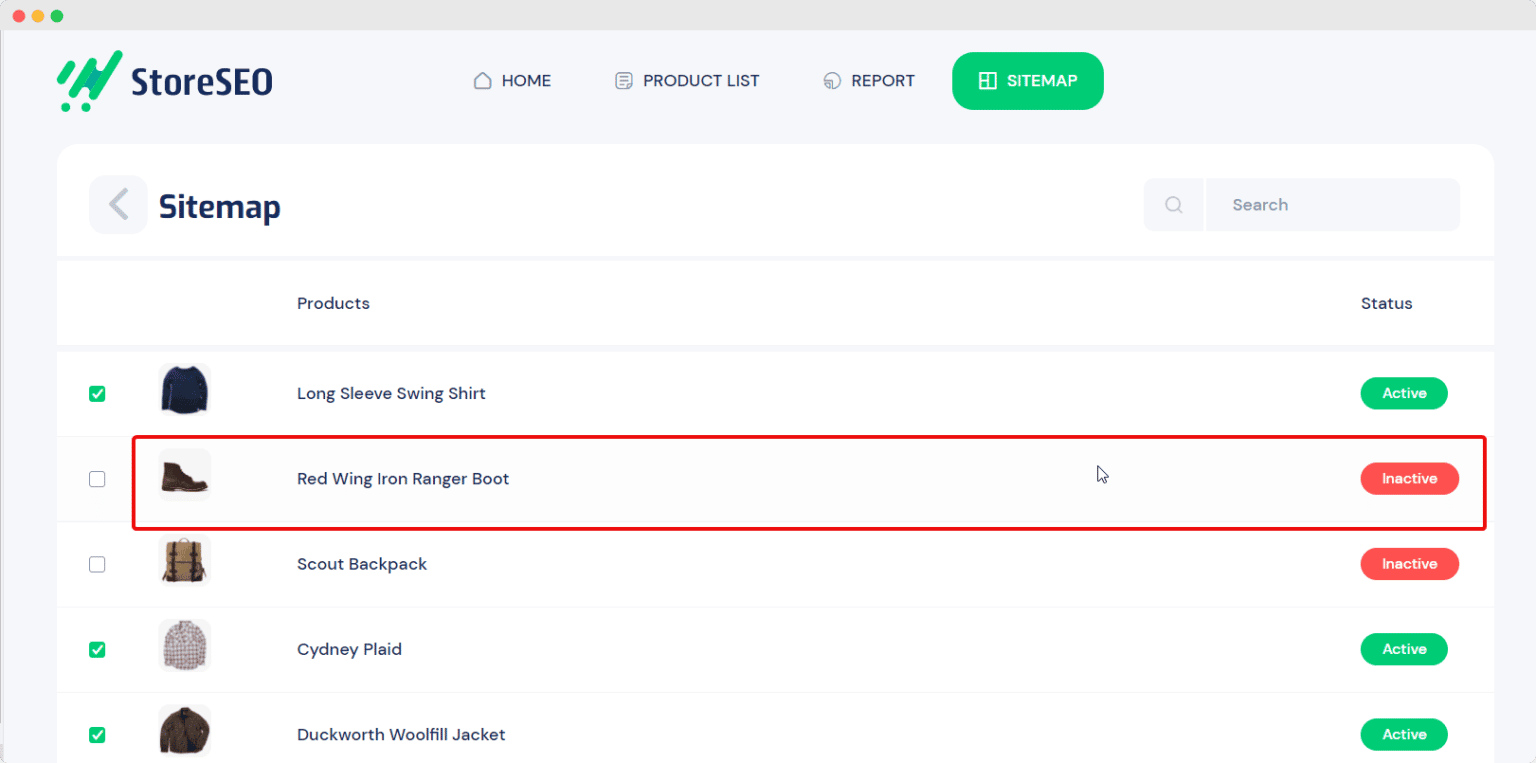 In the 'Sitemap' tab in StoreSEO, you can effortlessly manage your products with a simple click of checkboxes, instantly adding or removing them from your sitemap. This seamless process ensures your store's sitemap stays up-to-date and optimized for better search engine visibility.
🔗 Connect Your Shopify Store With Google Search Console
StoreSEO offers you added flexibility with an exclusive feature. The premium version allows you to connect your Shopify store to Google Search Console and submit your sitemap directly to Google.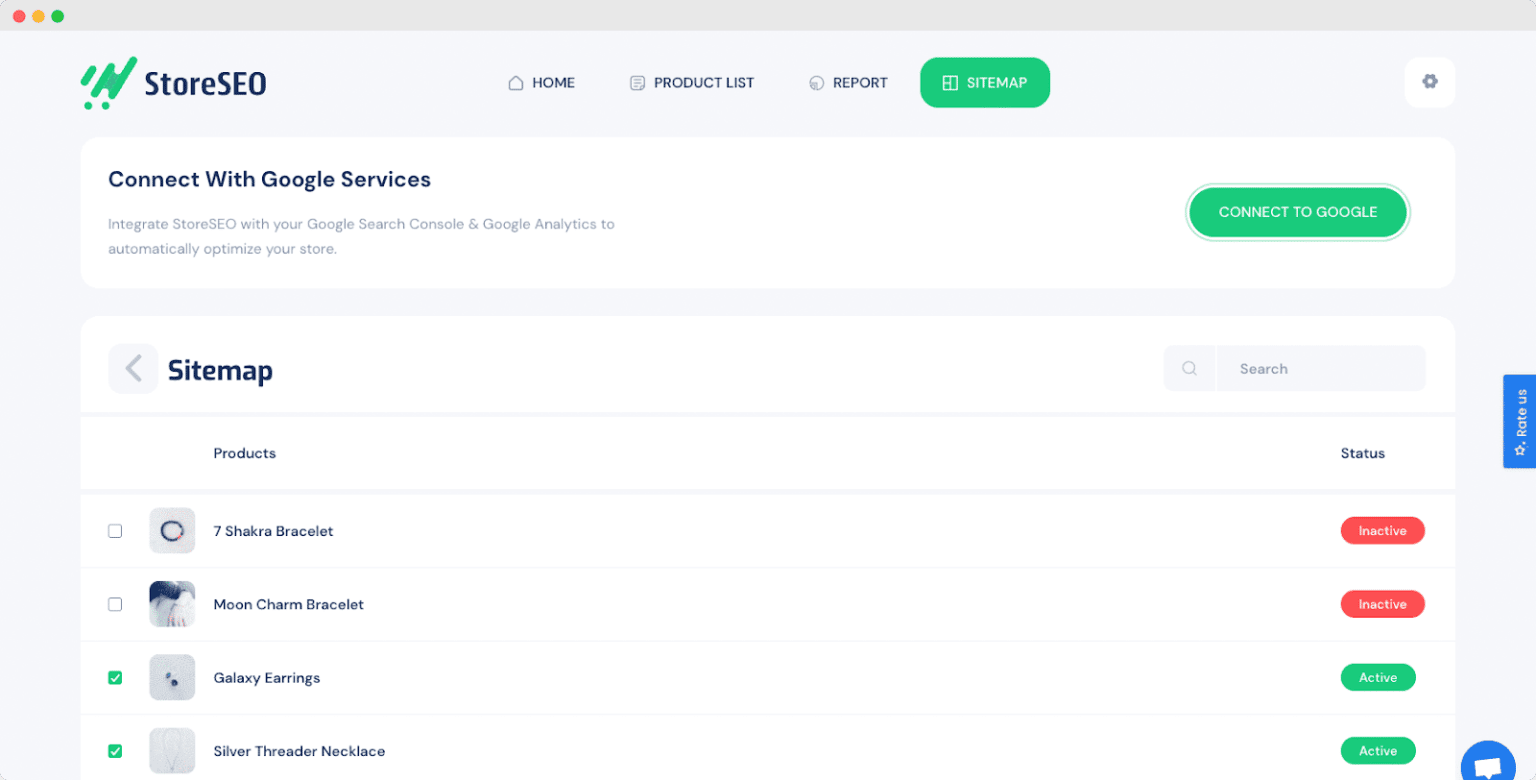 This feature becomes particularly useful when you're making changes to your Shopify sitemap using StoreSEO, helping search engines crawl your content more efficiently.
💡Introducing Avada: A Comprehensive Shopify Solution
Introducing Avada SEO, the Shopify app that can help boost your search engine rankings. With features like image compression, page optimization, and sitemap generation, Avada SEO ensures your store stands out. You can get started with the free plan, which offers image optimization for up to 50 products, an HTML sitemap, and an SEO checklist. Let's explore more on Avada SEO.
There are a bunch of exciting and effective features available in Avada SEO that make it a comprehensive Shopify solution for you. Let's take a look at some of its prominent features and functionalities.
🖼️ Image Optimization With Ease
Easy image optimization is one of the best features of Avada SEO for Shopify. From optimizing the ALT tag to image size and quality, you'll find everything in it.
The ALT tag holds significant importance in the labeling of images, making it easier for Google Search to locate your pictures effectively. With the assistance of the Avada SEO app, ALT tags are automatically added to your images using selected variables like the product name and store name.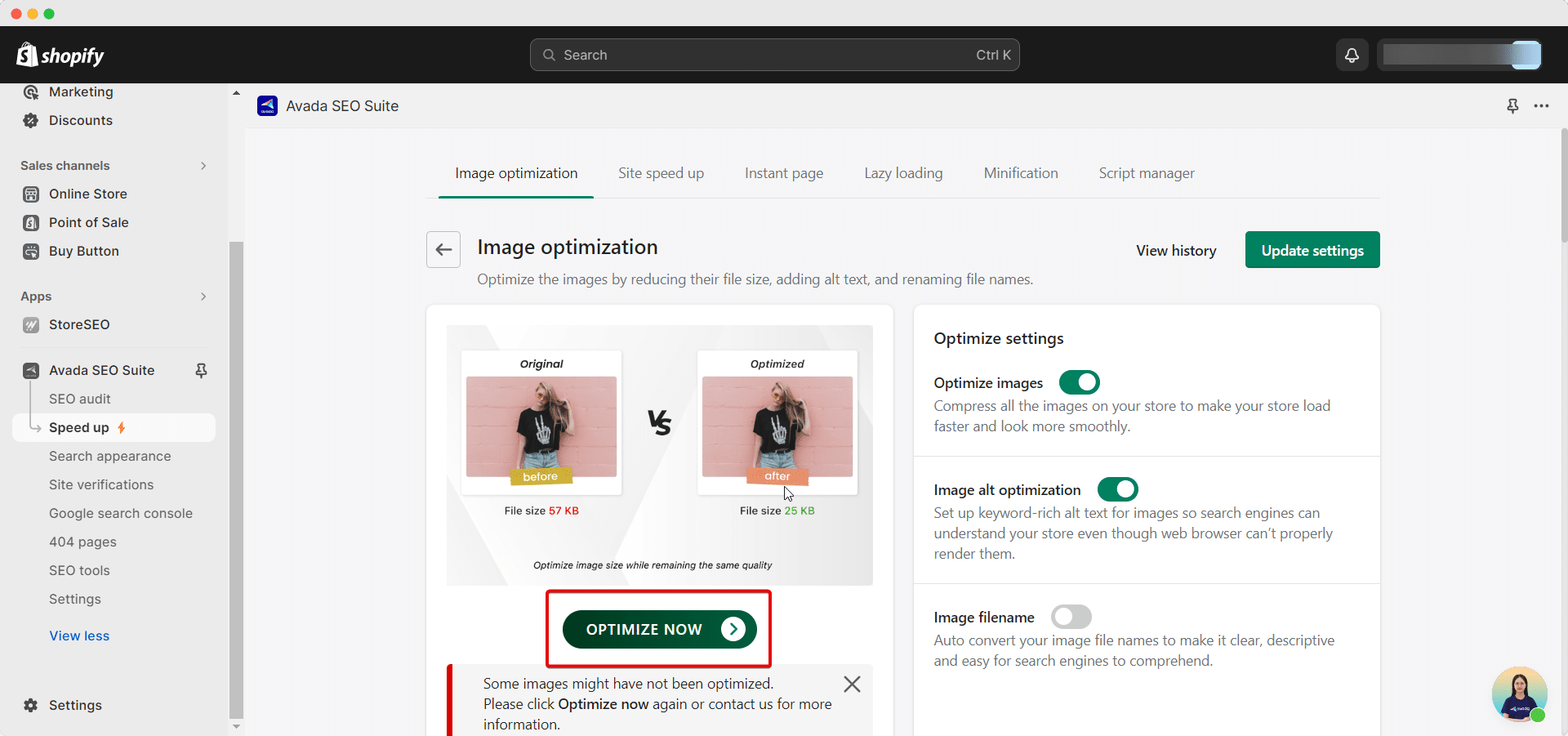 For a faster website loading speed, Avada SEO provides the option to compress image sizes without compromising their overall quality. You can choose from two supported methods: the first is automatic optimization, which compresses image sizes while retaining their original quality, and the second, is custom optimization, which selectively eliminates unnecessary image data while ensuring a specified level of size and quality.
✅ Auto-add Google Structure Data (Rich Snippets)
Google relies on structured data, specifically LD-JSON data, to grasp the content on your website. By doing so, it can present your site in search results with captivating appearances.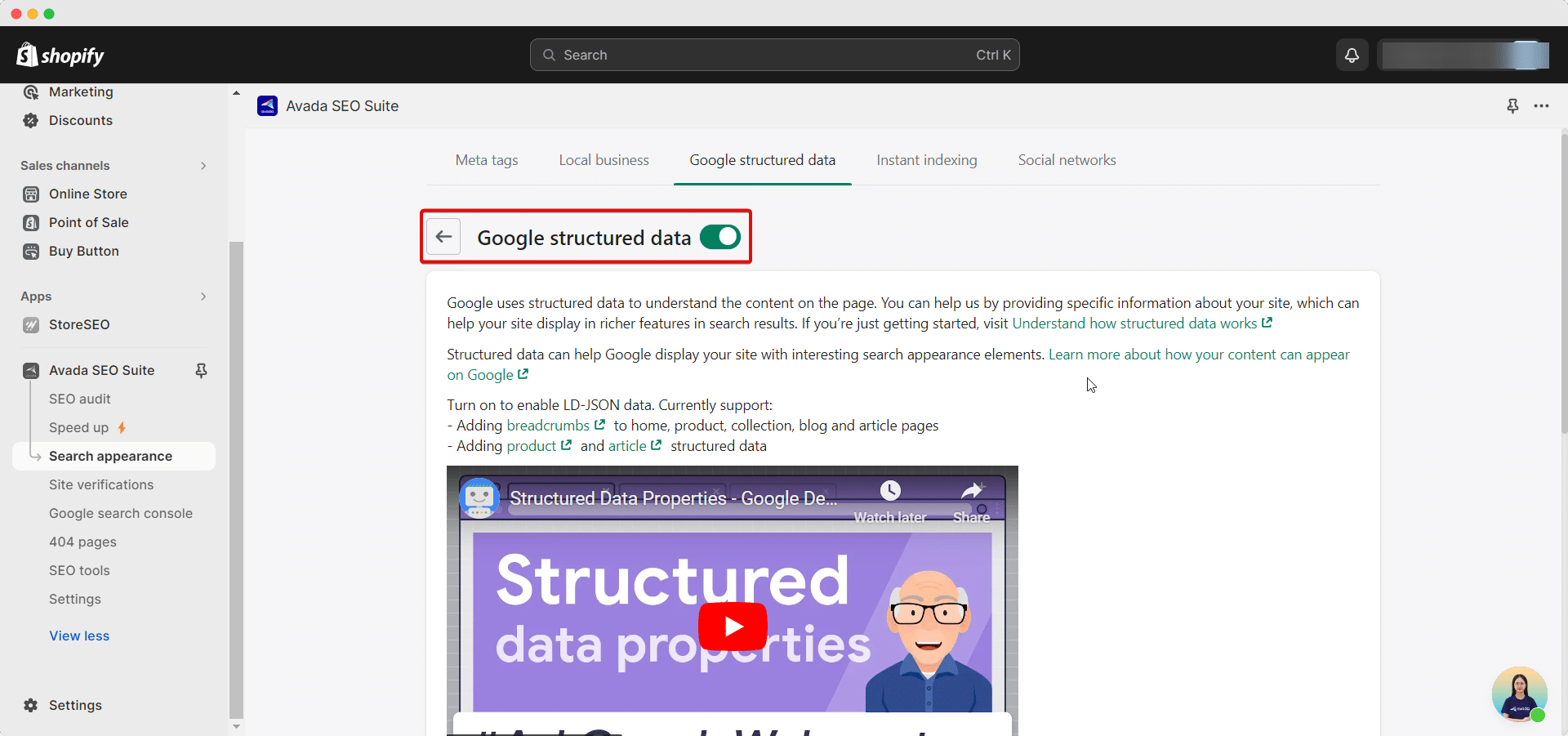 Avada SEO enables effortless integration of standard Google structured data into your website. With just a few clicks, you can automatically add structured data to critical pages such as the product page, collection page, blog listing, and single blog. Additionally, it includes business structured data, review structured data, and Item list structured data.
👨🏻‍💻 Meta Tags Optimization
In every Google search result, the most crucial pieces of information are the meta tags, which encompass the meta title, meta description, and social meta. These tags play a pivotal role in influencing customers' decisions on whether to click on your link.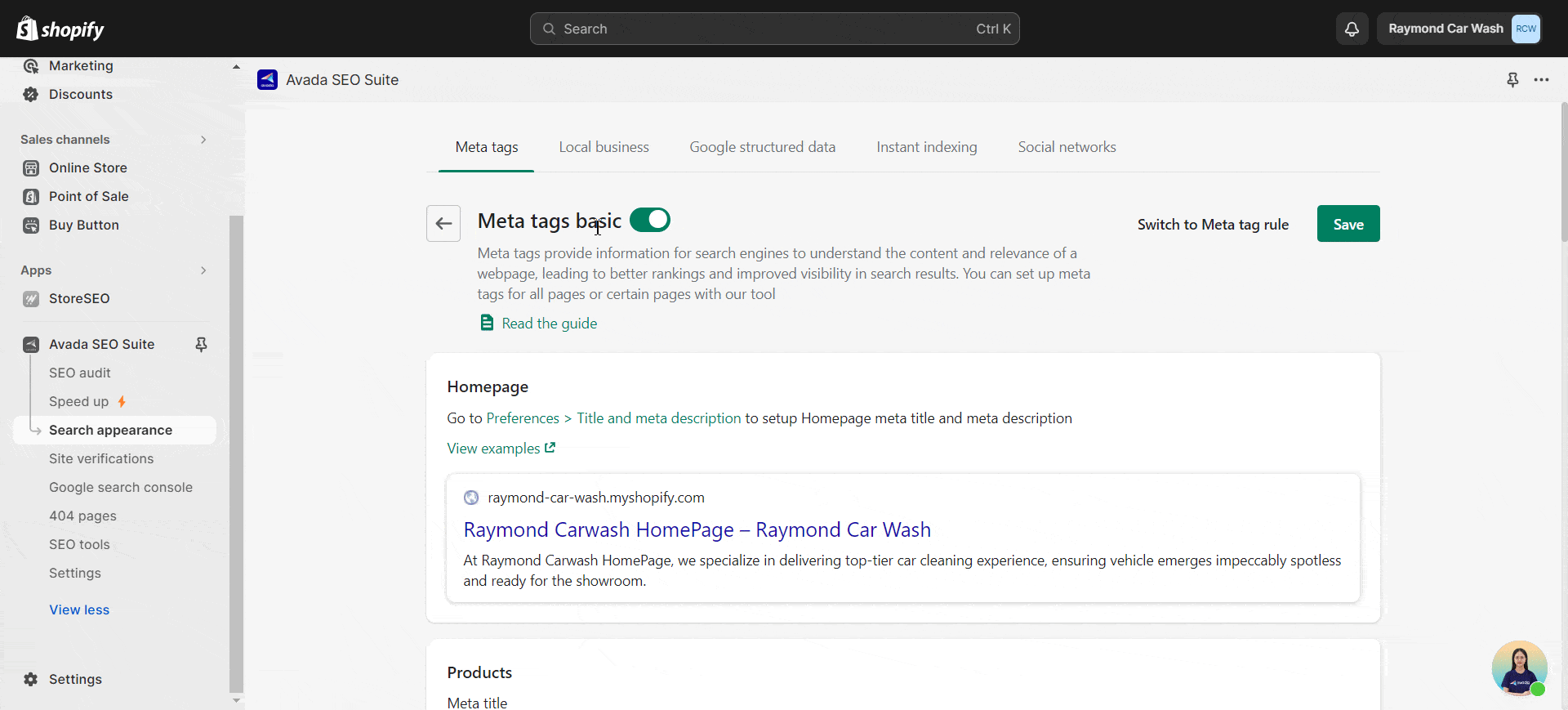 To ensure that your Shopify website displays accurate and informative meta tags, Avada SEO offers the following features:
✅ Ready-to-use formats allow for the automatic addition of these meta tags.
✅ Customizable meta tag rules, including priority, content to display, and location of the display.
This functionality is notably supported across three key pages: the Product page, Collection page, and Blog post.
📊 SEO Analysis
The significance of a product page lies in its ability to convert potential customers into actual buyers. To enhance the performance of each product page, the Avada SEO app offers a comprehensive analysis of SEO issues, suggested enhancements, and positive outcomes for every individual product.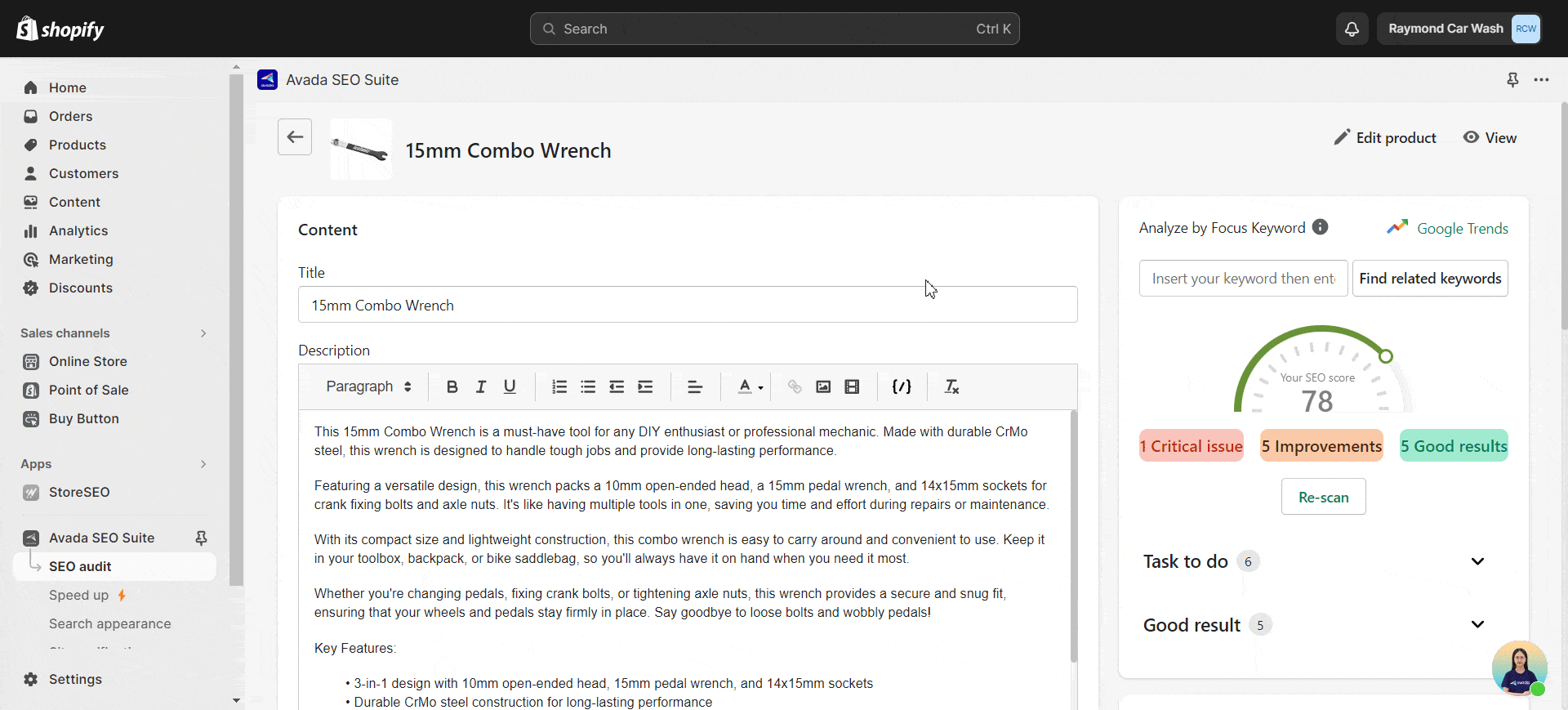 With this valuable feedback, the admin can effortlessly implement the recommended improvements and make timely adjustments to optimize the product pages effectively.
🔎 Google Search Console
Avada SEO seamlessly integrates with Google Search Console, empowering users to monitor and oversee all aspects of their website's search traffic and performance actively. With search reports, sitemaps, and links, you can get insightful data that helps you boost your Shopify sales. For example,
✅ The Search Report function reveals which queries drive traffic to your site, analyzing impressions, clicks, and Google Search rankings.
✅ Submit sitemaps and URLs easily for efficient crawling, keeping Google updated on your website's latest information.
✅ Receive timely alerts from the Links feature if Google finds any site issues, allowing quick fixes and improvements submission.
📈 Weekly Email Report
As a website owner, staying on top of crucial matters affecting your site's performance is paramount. With the convenience of automating weekly email reports to administrators, you gain the upper hand in effectively managing important issues.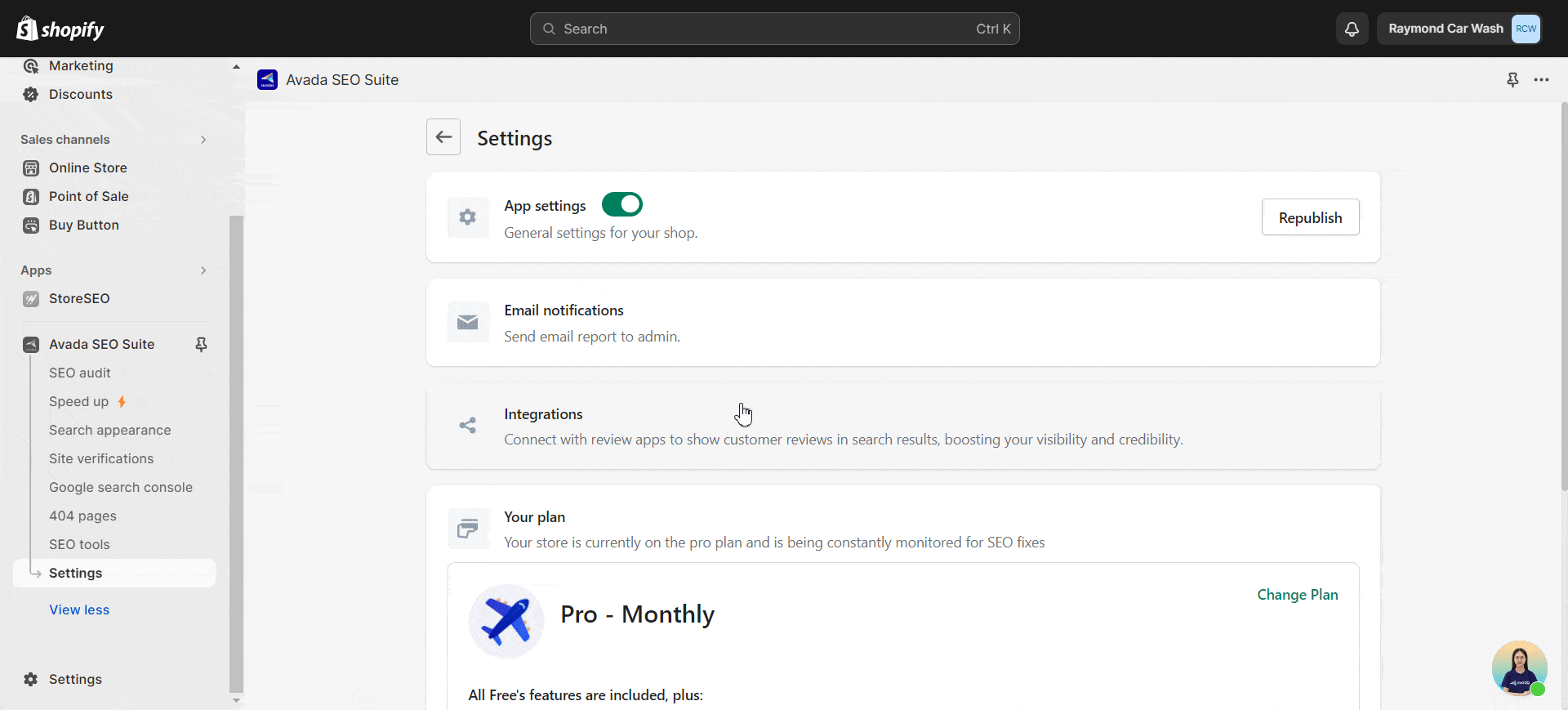 Addressing SEO Issues: Receive a comprehensive checklist of existing SEO issues and resolve errors on your website with each weekly email report.
Analyzing Search Result Performance: Stay informed about your website's search performance through key metrics provided in the automated email reports.
Maximizing Image Optimization: With the weekly email reports, you'll receive valuable information about the number of images on your site.
⚔️ StoreSEO vs Avada: A Head-to-Head Comparison
In the world of website development, finding the right tools to enhance your online presence can make all the difference. Two popular options that cater to different aspects of website management are StoreSEO and Avada.
Both offer unique features and functionalities that can elevate your website's performance and user experience. Let's have a look at an in-depth features comparison along with the pricing plans of StoreSEO vs Avada.
| StoreSEO | Avada |
| --- | --- |
| 14-day trial period with the free version | Boost page speed instantly with image optimization, smart speed, and lazy load |
| Add keywords, create templates for meta titles, descriptions & more | Optimize SEO ranking through meta tags, local business, and structured data |
| Optimize images for SEO using alt text with bulk editing | Automate SEO audits for products, collections, and blog posts |
| Connect your store with Google Search Console for sitemap submission | Detect broken links, manage page redirection, and handle 404 errors |
| Leverage Local SEO with JSON-LD schema markup for a visibility boost | Get detailed SEO reports, automated email notifications, and image optimization |
| 14-day trial period with free version | 14-day trial period with the free version |
| Comes with 3 pricing plans – starts at $9.99/month | Comes with 2 pricing plans: Free & Pro. Pro starts at $34.95/month |
🎯 Final Verdict: Picking The Perfect App For Your Store
StoreSEO vs Avada – choosing between these two ultimately depends on your store's unique requirements and objectives. Both solutions have their respective strengths and limitations, so carefully consider factors like store performance, mobile responsiveness, and available customer support.
We hope that, with this comparison, you're well-equipped to select the perfect Shopify SEO tool that aligns seamlessly with your Shopify store goals. If you found this article informative and helpful, don't forget to subscribe to our blog for more.