According to studies, the stores that appear first on search results pages are the ones that are most likely to receive clicks when people are looking for products or information about new offerings on their desired products. You need to have a decent SEO score for reaching that desired position and it can be difficult. Today we'll show how with StoreSEO you can get 100 SEO score.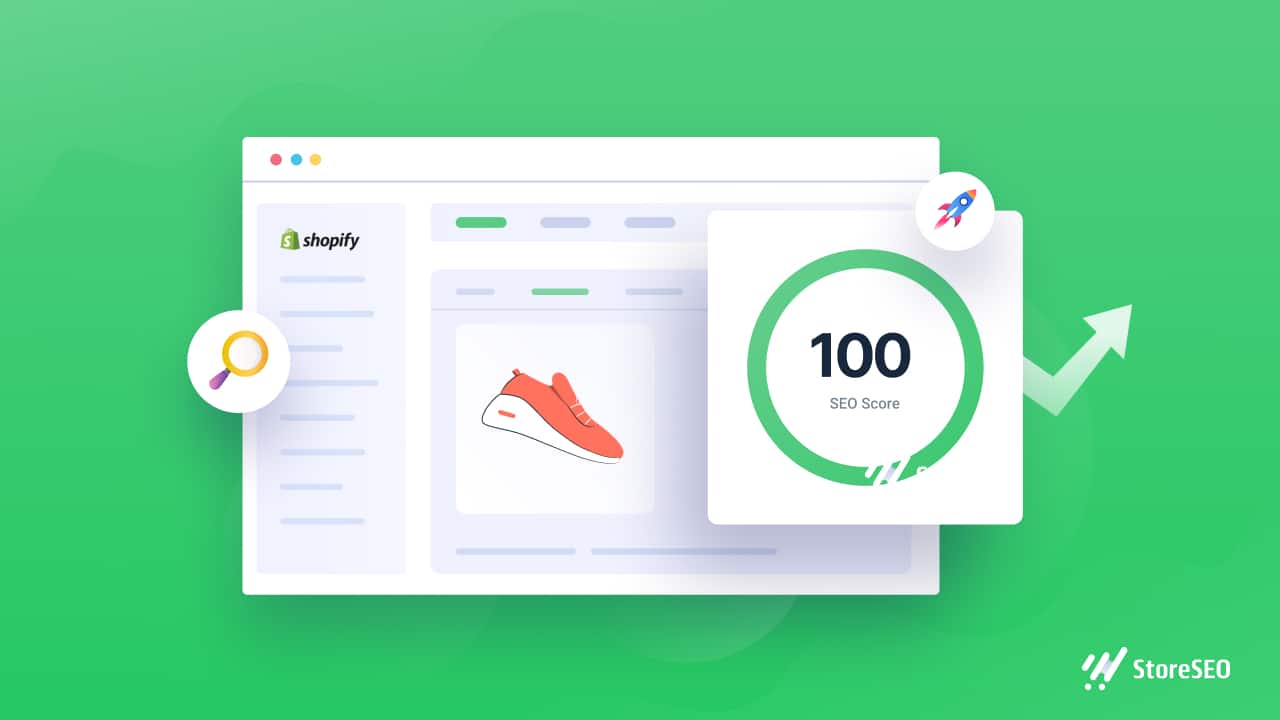 Shopify SEO Basics: Things That You Need To Know
It might be difficult sometimes to find where to begin when trying to learn Shopify SEO. Shopify comes with some pre-built SEO-related features that may help raise your Shopify store's search engine ranking. However, you need to put in extra effort to get a higher ranking, and below are the key SEO factors for your Shopify store,
Keyword: Keywords are words or phrases found in search queries typed into the search box. The search phrase for which you want your Shopify products to rank is known as a focus keyword. Your product will appear when a potential customer searches for the product using that specified term or phrase.
Meta Description: A meta description is a brief text that appears after the title tag in search engine results. The meta description is important for your Shopify products to have a higher click-through rate. You need to add the keyword in your meta description to raise the SEO score.
Image Alt Text: The source text that shows in place of an image on a webpage if the picture fails to load on the user's screen is known as alt text. The focus keyword needs to be in the image alt text to rank the product image.
👉🏻 Why Should You Try To Get 100 SEO Score With StoreSEO?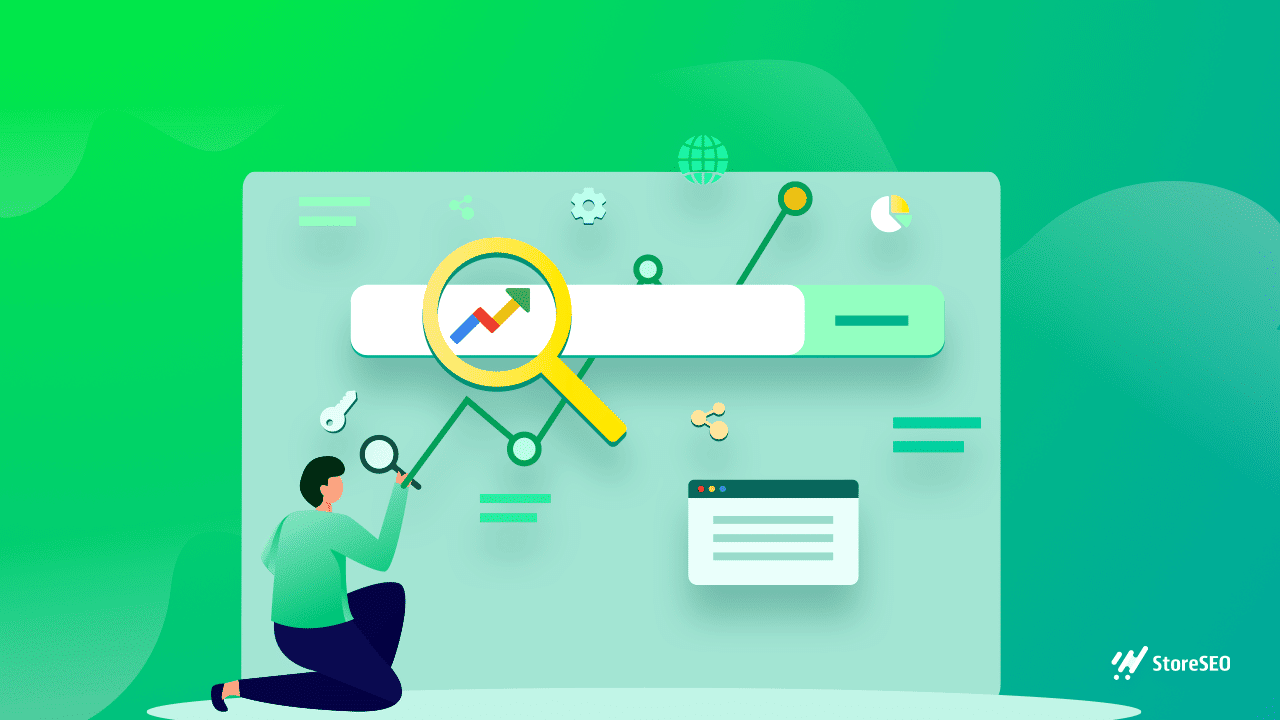 An excellent SEO scoring range is between 80 and 100 SEO points. This means that your site satisfies the highest quality criteria for technical SEO, content, user experience, and mobile usability.
Some SEO specialists recommend aiming for a score of 85 or better. Others believe that a score in the 70s is acceptable. In any case, you want to maximize your SEO score. Even if your SEO score is in the mid-80s, there are still things you can take to increase it.
With a perfect SEO score on your Shopify store, your business will have increased chances to rank higher. By following our proper optimization technique, you can easily a handsome score to skyrocket your profit.
Easy Ways To Get 100 SEO Score With StoreSEO
StoreSEO app improves your Shopify store's SEO rating so that potential buyers can find your business via Google search or other search engines. This tool will make it simple to implement SEO methods in product descriptions, names, and images. In the following section, we will discuss the process of getting a higher SEO score with this tool.
Focus Keyword Must Be Unique
A focus keyword is a search phrase for which you want your Shopify items to rank. Your product will appear as an outcome of a potential customer's search for a specific term or phrase. The StoreSEO app will assist you in optimizing your Shopify items for higher SEO rankings in key search engines such as Google and Bing.
For example, if John searches Google for "Daris Tee In Blackman t-Shirt," comparable pages will surface. Assume you too offer lacquered painted wooden chairs and wish to appear in his search results. You must optimize your page with these specific keywords, which will finally get your website before John. Make sure to maintain focus keyword density 3-6 times for product description
So how do you know which keywords to use? In this guide, you can learn how to perform keyword research for Shopify and target the right search terms to help you drive traffic to your online business effortlessly.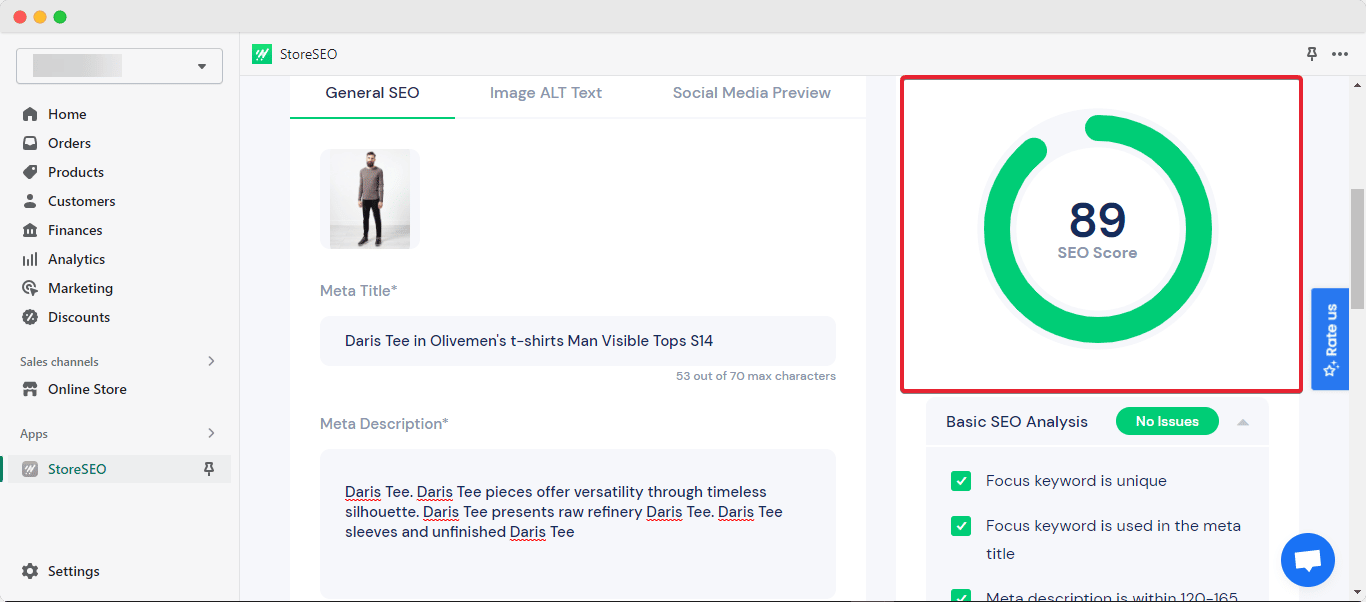 Focus Keyword Need To Be In The Meta Title
One of the most important elements on your Shopify product pages is the title. They are what appears in search results and help shoppers locate your products.
While you are trying to get a 100 SEO score with StoreSEO, you need to make sure that your product title is unique as well as the focus keyword is inside the product title.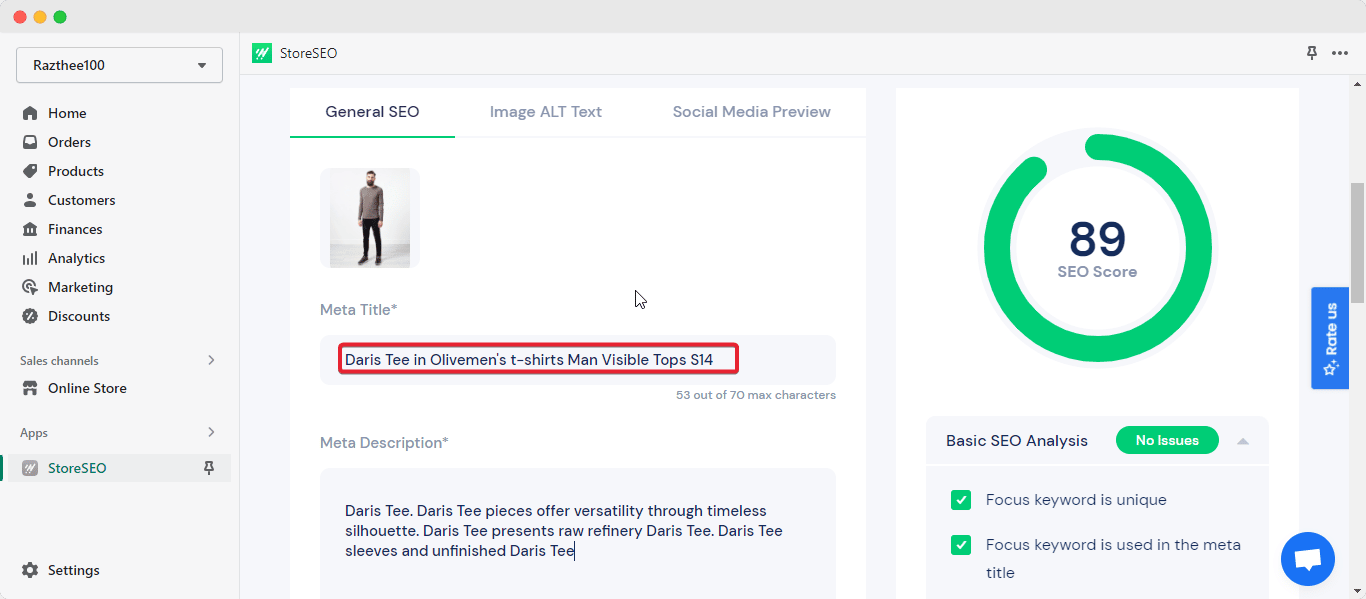 Showcase A Near Perfect Social Media Preview
With the StoreSEO app, you can now configure the social media preview of your Shopify items, allowing you to provide detailed information on Facebook, Twitter, and Google search results in pages more effectively. Using this StoreSEO feature, you can even select which images should be published on Facebook and Twitter.
With StoreSEO, you can see your preview on all the available social media platforms. You can toggle between desktop and mobile view for better responsiveness.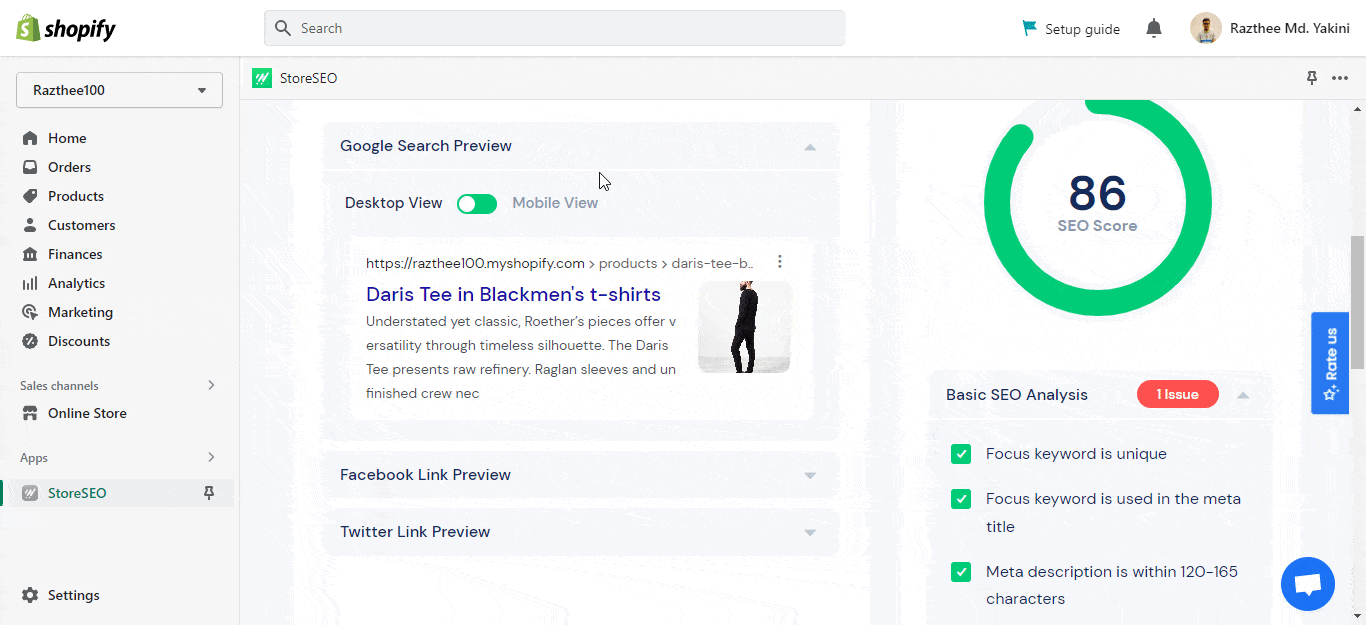 Utilize Keyword Analytics From StoreSEO
Keyword Analytics is a fantastic tool in StoreSEO that allows you to simply analyze keywords and leverage them to enhance your Shopify products, pages, or articles. This feature assists you in locating the appropriate keywords so that your items rank higher in search engines, resulting in a significant number of targeted visitors to your site.
With this excellent feature, you will get the 'Search Volume', 'Cost Per Click', 'Paid Difficulty', and much more relevant information to properly set your keywords. But you have to make sure that you don't face keyword cannibalization problems.
For example, if you have a website for selling bags and optimize all of your pages for the 'bag' keyword rather than using keywords like 'backpack', 'gents bag', 'lady's bag', and so on for separate pages, you will face keyword cannibalization. When it happens, it will hurt SEO rankings.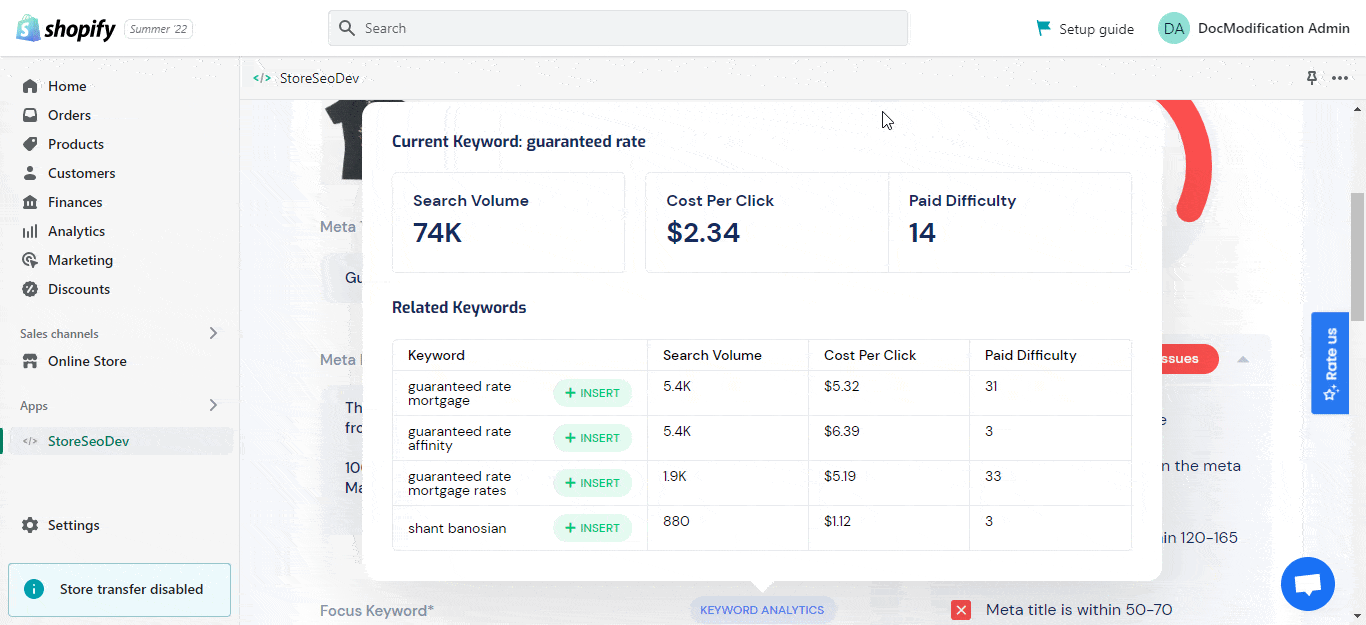 Easily Optimize Your Homepage For Increasing Score
The homepage is critical in the customer's purchasing experience. Visitors are less likely to bounce if you have established an effective home page. They are more inclined to purchase after clicking on a product. You must understand the psychology of your visitors and potential clients in order to optimize the site. A visitor who lands on your product page generally has a stronger purchasing intent.
With the StoreSEO app, you can now simply optimize your Shopify homepage to improve your SEO score. In general, Shopify does not include the homepage as a separate page in its page list. You can now list your Shopify homepage and optimize it for SEO with this app.
From your StoreSEO dashboard, click on the 'More' tab and choose the 'Pages' option from the dropdown menu. Click on the 'Fix' button beside the Homepage.
StoreSEO: Efficient SEO Solution For Your Shopify Store
An effective SEO solution like StoreSEO can be just what you need to increase traffic and revenues for your Shopify eCommerce store. StoreSEO is one of the best Shopify SEO solutions that have advanced optimization features. With this top-notch app, you can quickly increase your search engine ranks and boost traffic and sales. StoreSEO will provide you with,
🎯 Advanced SEO optimization of pages, blogs, and products. You can quickly and easily improve and fix any SEO issues with your products by getting an in-depth SEO analysis for your Shopify store with just one click.
🎯 Bulk image alt text feature for all products. Including appropriate image alt text, will increase the visibility of your store on search engines and make your product photos SEO-friendly.
🎯 Product sitemaps on your Shopify store to boost search engine results. To boost search engine crawling and make your business rank higher in search results, just enable sitemaps for your eCommerce products.
🎯 Connection with Google Search Console to facilitate communication between Google and SEO managers about relevant data. You can quickly verify and authorize your Shopify store to submit sitemaps, provide structured JSON-LD data, and more with this advanced feature.
How To Get 100 SEO Score Of Your Shopify Store With StoreSEO?
With StoreSEO, you can get a 100 SEO score. Now that you know about the Shopify store's SEO, let's take a deep dive into how you can get a 100 SEO score for your Shopify store with StoreSEO. Follow the quick guide.
1. Set Your Unique Focus Keyword
A focus keyword is a word or phrase that best represents your product and is the first step toward getting a 100 SEO Score. Placing the right focus keyword is mandatory and for that, you need to do your keyword research properly. StoreSEO has an in-built Keyword Analytics feature to help you do keyword research.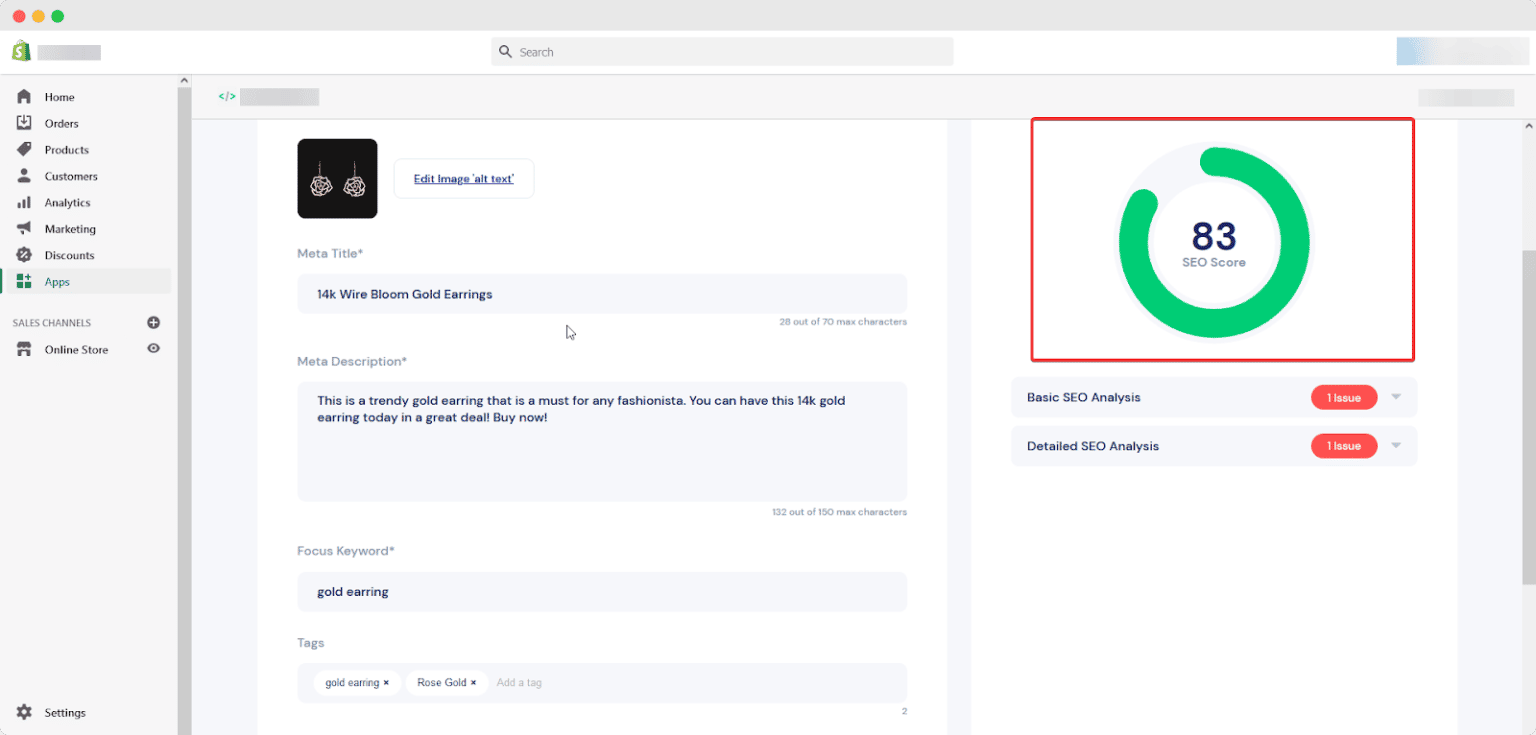 2. Add A Unique Product Meta Title
Product Meta Title is what you want to show as the product's name on your Shopify store. Meta title helps to increase your online visibility and let the users know what they are going to get. It provides a quick idea of whether the product is going to be helpful for them or not.
The maximum character limit for your product meta title is 70. Your meta title should not exceed the character limit. However, your product meta title needs to include the focus keyword to get a 100 SEO score.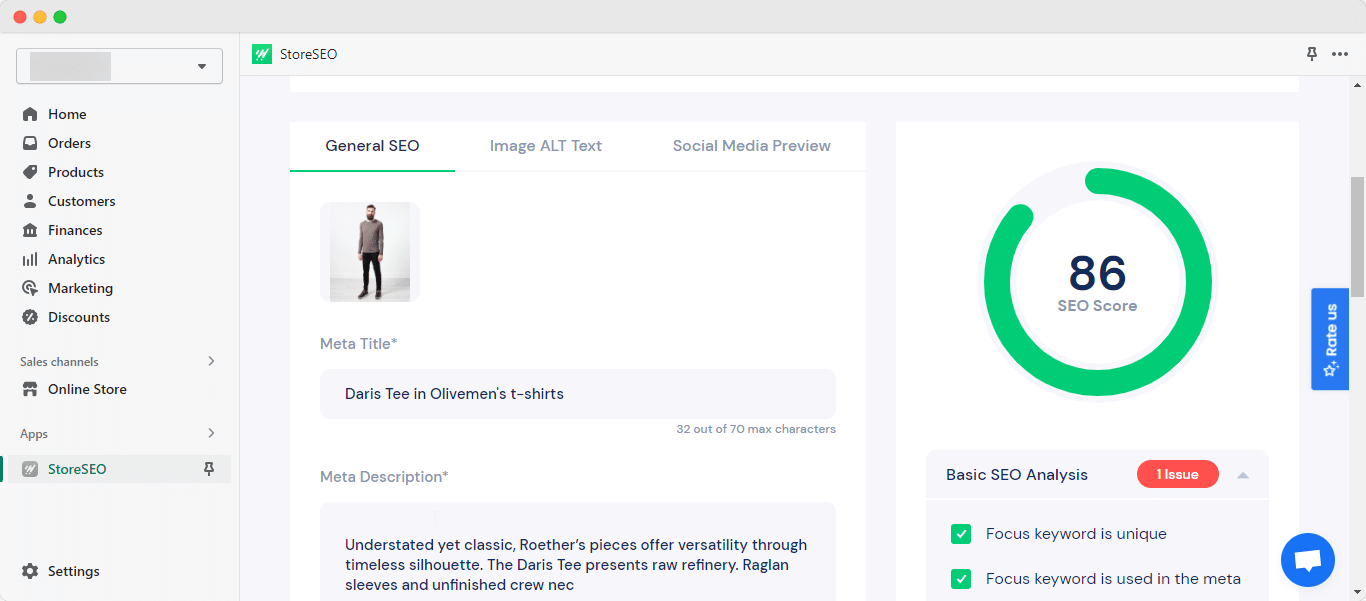 3. Write A Meta Description Properly Within 120-165 Characters
What you need to do next is to write a proper meta description of your product. To uplift your products and place them at the top of search engine results, you need to use product meta descriptions. 
Here you will add a precise snippet of text that has a clear description of your product so that the buyers understand what they are going to purchase. Your focus keyword needs to be on the Meta Description as well.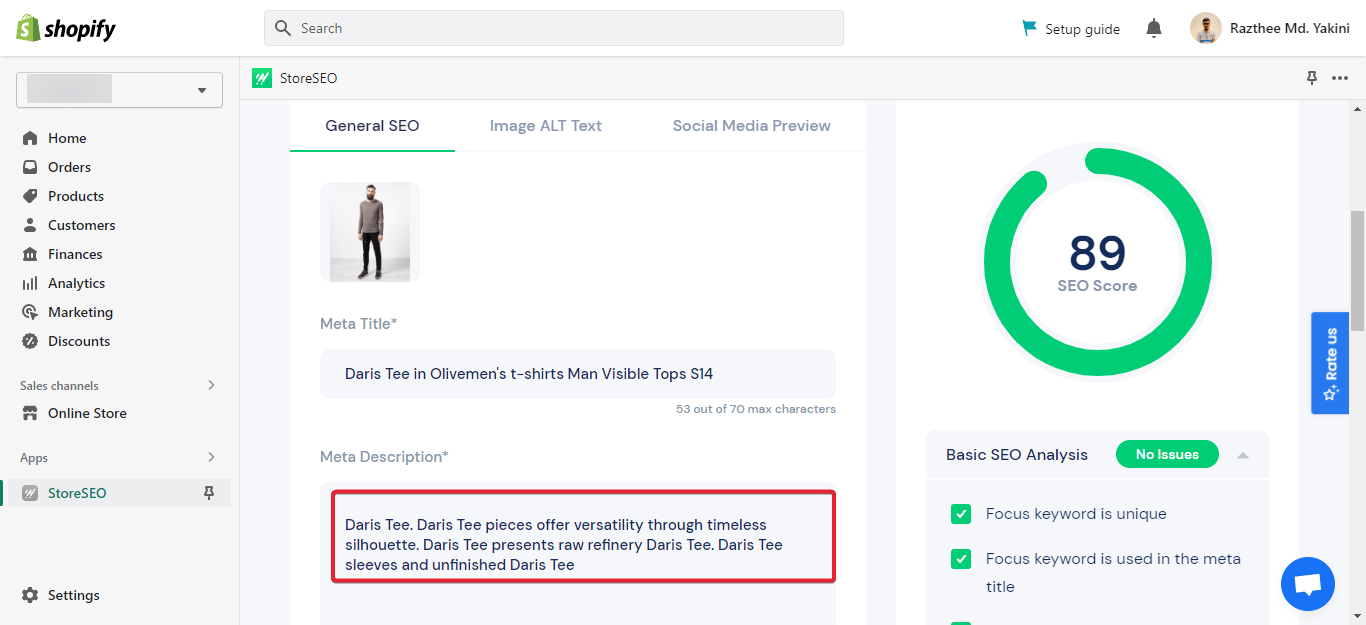 4. Add Relevant Tags As Needed
You need to add tags properly for your Shopify store's products to get a 100 SEO score. Tags are another important SEO factor for your Shopify store. So, do not forget to add the right tags to your products so that your products become easily discoverable. This is also an important SEO ranking factor.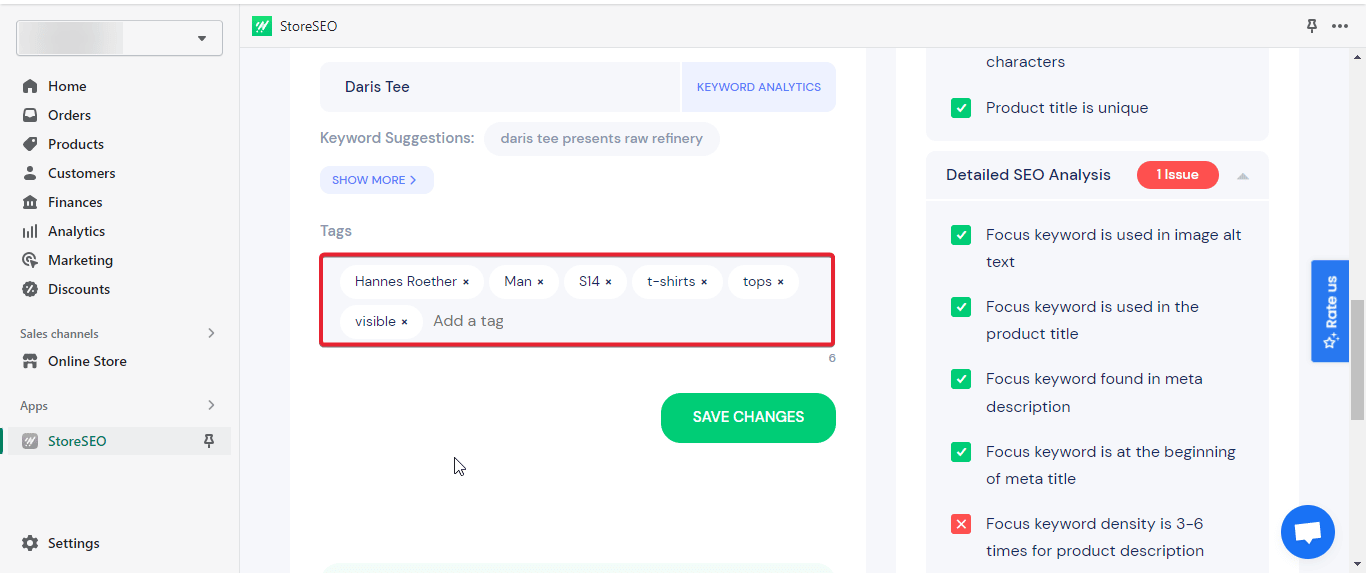 5. Place Image Alt Text For The Product With Focus Keyword
Alt text or alt tags is a short written text representing the product. It appears in place of the product image when it fails to load on the user's screen. This enables search engines to effectively crawl and rank your website and aids in describing the product photos to users who are blind or visually challenged.
Alt text is a vital part of on-page SEO optimization. Proper alt text optimization increases your website's chances of ranking in Google image search. Yes, Google image search uses alt text as a ranking factor.
Once you fixed the 'General SEO' issues, the next thing you need to do is to add the image alt text for your product images. For this, go to the 'Image Alt Text' tab. Enter the alt texts and then hit the 'Save Changes' button. Your alt text needs to include the focus keyword.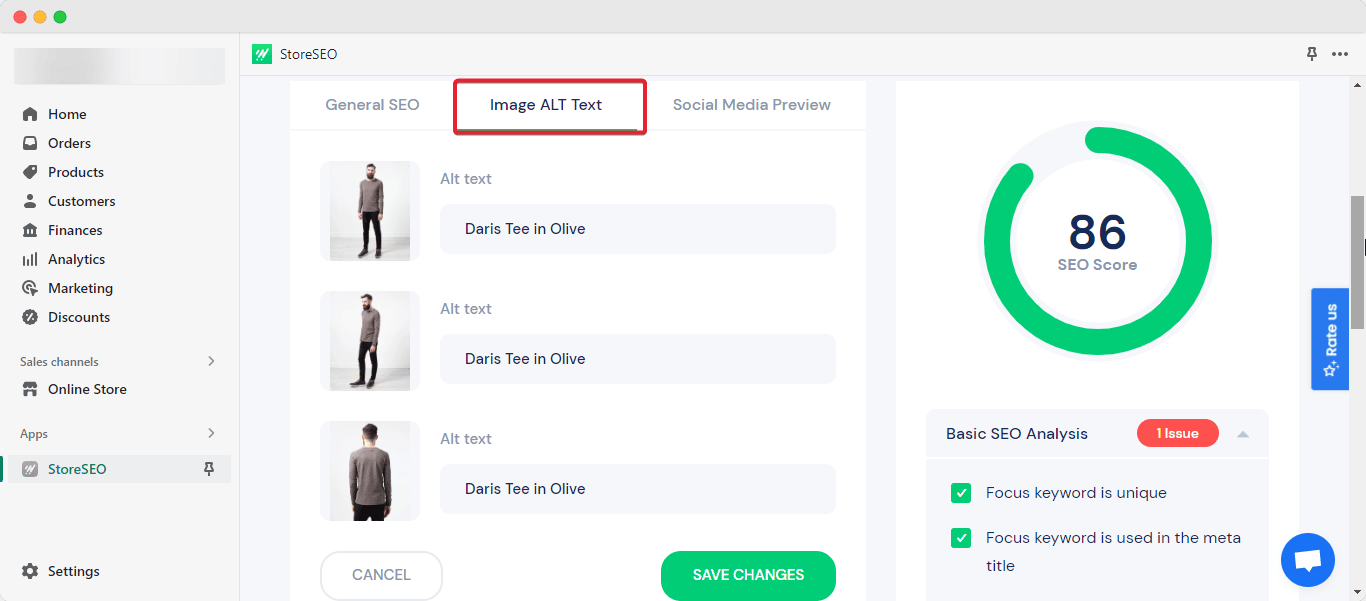 6. Write A Unique Product Description
A product description describes what a product is and why it is worthwhile to buy it. You can use the product description to provide crucial information about the product's characteristics and advantages to encourage people to buy. Adding uniqueness to your product descriptions also increases the engagement of your product pages, leading to increased conversions from casual consumers. 
Make sure your product description is within 50-300 characters. Your focus keyword needs to be in the product description as well.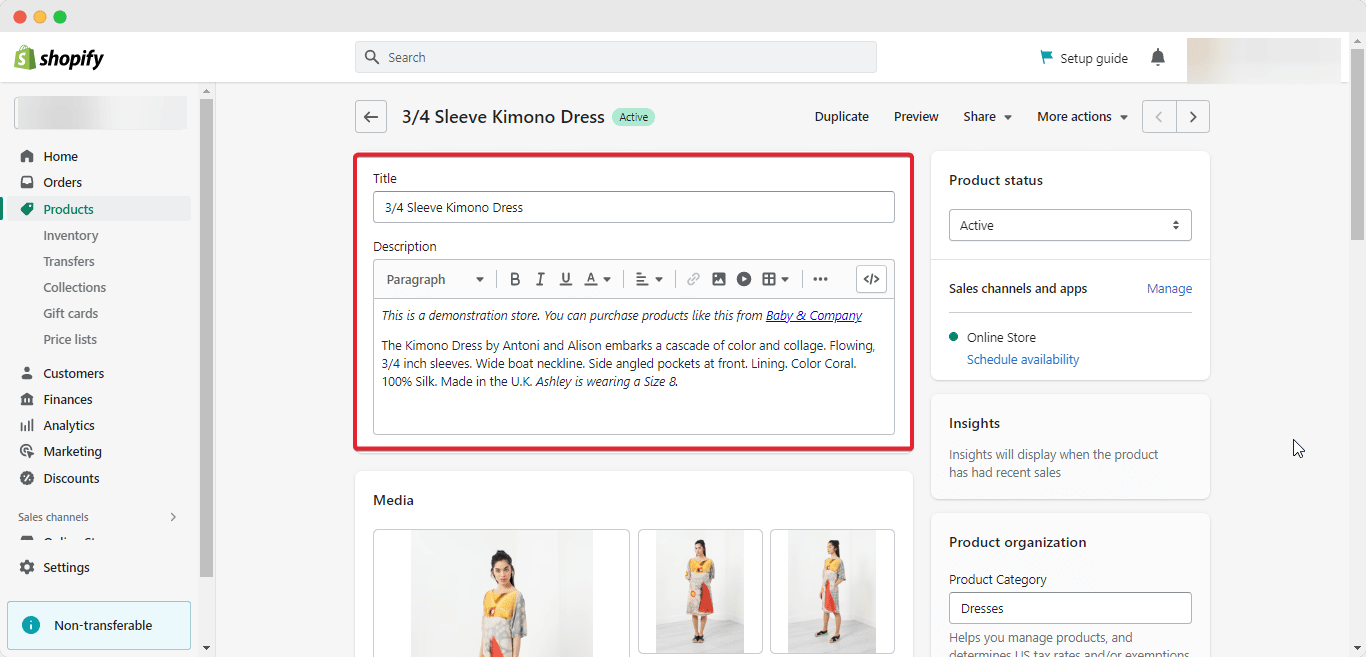 To get a 100 SEO score, you need to write a unique product description. Focus keyword density is another important factor so the focus keyword you selected needs to be 3 to 6 times in the product description. Also, make sure that your product meta title is unique. Fixing these will help you to get a 100 SEO score easily.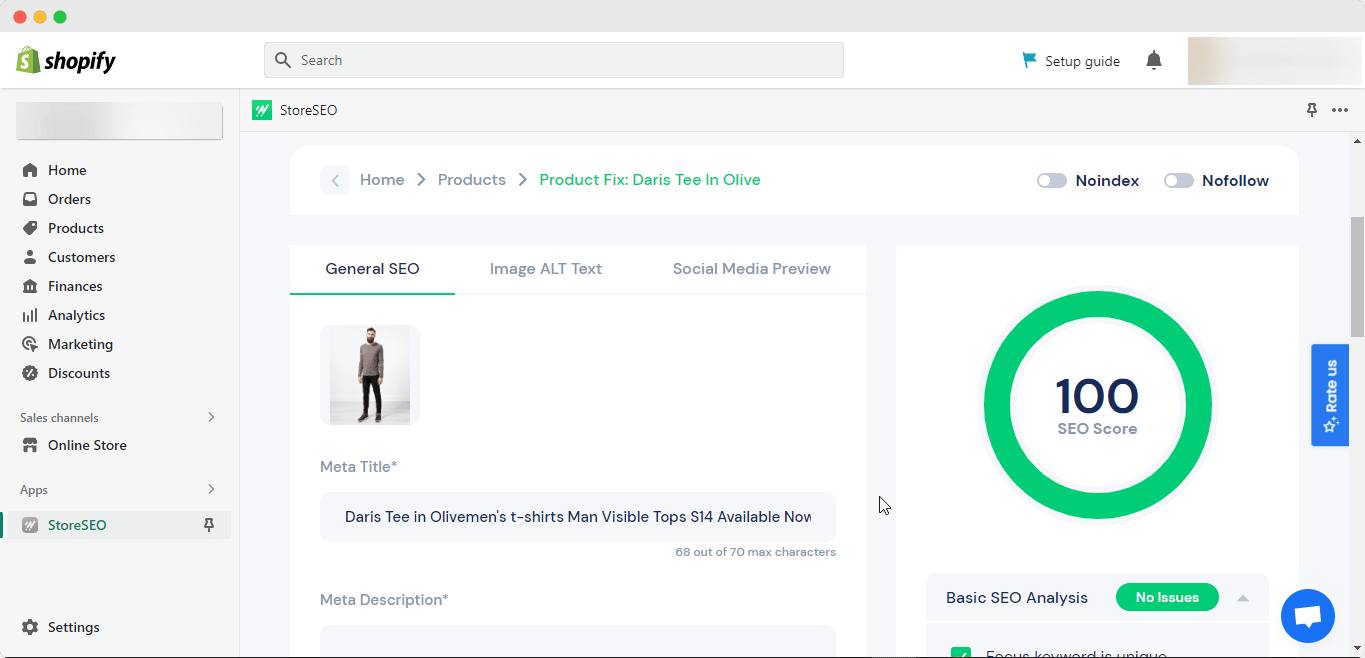 Make Your Shopify Store Rank Higher With StoreSEO & Boost Growth
There's no need to tell you how vital a good SEO score is for your Shopify store and with StoreSEO you can get a score of 100. Using advanced solutions like StoreSEO can help you rank higher on search engines and increase traffic to your online store if you want to boost your Shopify SEO. Try out StoreSEO right away and let us know your feedback in the comments or by contacting our helpful support staff.
Was this blog helpful for you? To receive more updates, the most recent news, and useful tutorials, subscribe to our blog today or join our Facebook Community.