Do you want your Shopify store to climb up in the search engine rankings? This is the most anticipated challenge for any eCommerce store owner. To bring you the solution, we are introducing the StoreSEO app, the ultimate solution for SEO on Shopify. This all-in-one solution can help your Shopify store become more visible to your targeted customers and boost your sales.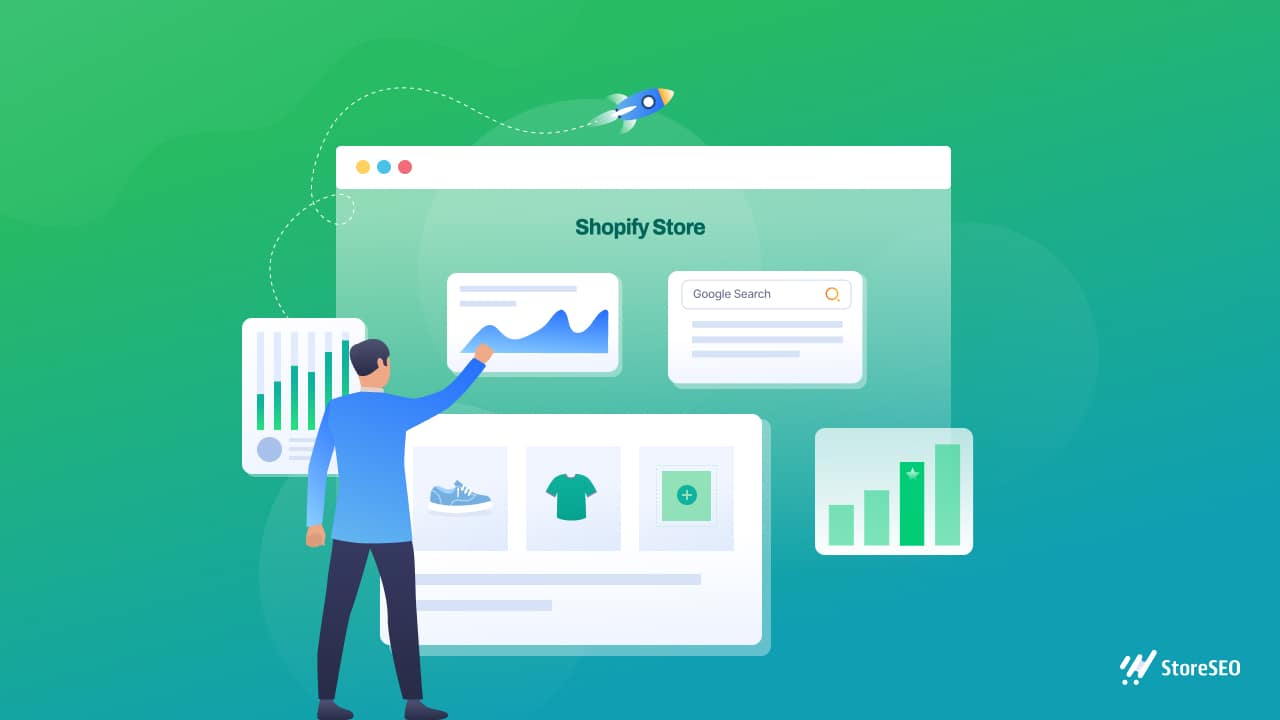 When it comes to optimizing your Shopify store, you might want to have a complete solution to all of your SEO issues. StoreSEO is a powerful Shopify app that can quickly identify SEO issues and provide step-by-step instructions for resolving them. It not only corrects issues with your store's SEO but also with pages and blog posts.
There are numerous things you can do with StoreSEO: from adding the right keywords to help your product rank for targeted search terms, to making your images SEO friendly for increased visibility. Let's explore all the advanced features that make StoreSEO the ultimate SEO solution for Shopify users.
🎉 StoreSEO: An Advanced SEO App For Shopify Businesses
From our research, we know that most customers research online before they make any purchase decision. To make your Shopify store rank better and optimize it for boosting your sales, StoreSEO, developed by WPDeveloper, comes with tons of advanced features.
⭐ Begin With Simple Setup Wizard In 5 Simple Steps
StoreSEO comes with a super simple setup wizard to help you get started with it. You can start by providing all the Shopify store details in the first step and go step by step to lay the groundwork for Shopify SEO optimization.
You can even create templates for product page titles, meta descriptions, image alt text, and so on from the SEO settings tab.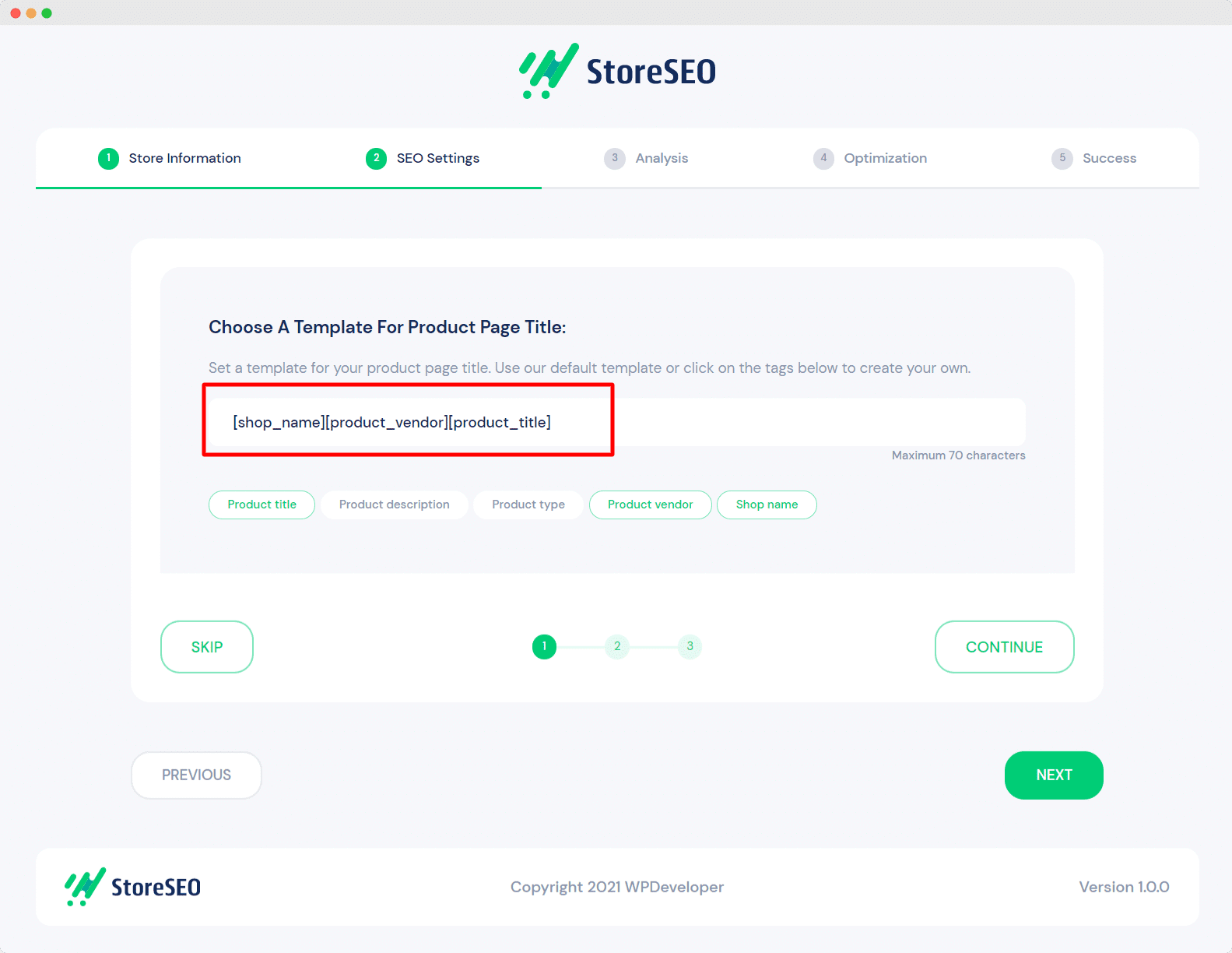 For getting an overview of the initial SEO score of your products, you need to go to the next tab called 'Analysis'. Then comes the 'Optimization' tab that comes with detailed information on all SEO issues with an 'Auto Fix' button that solves it in a moment.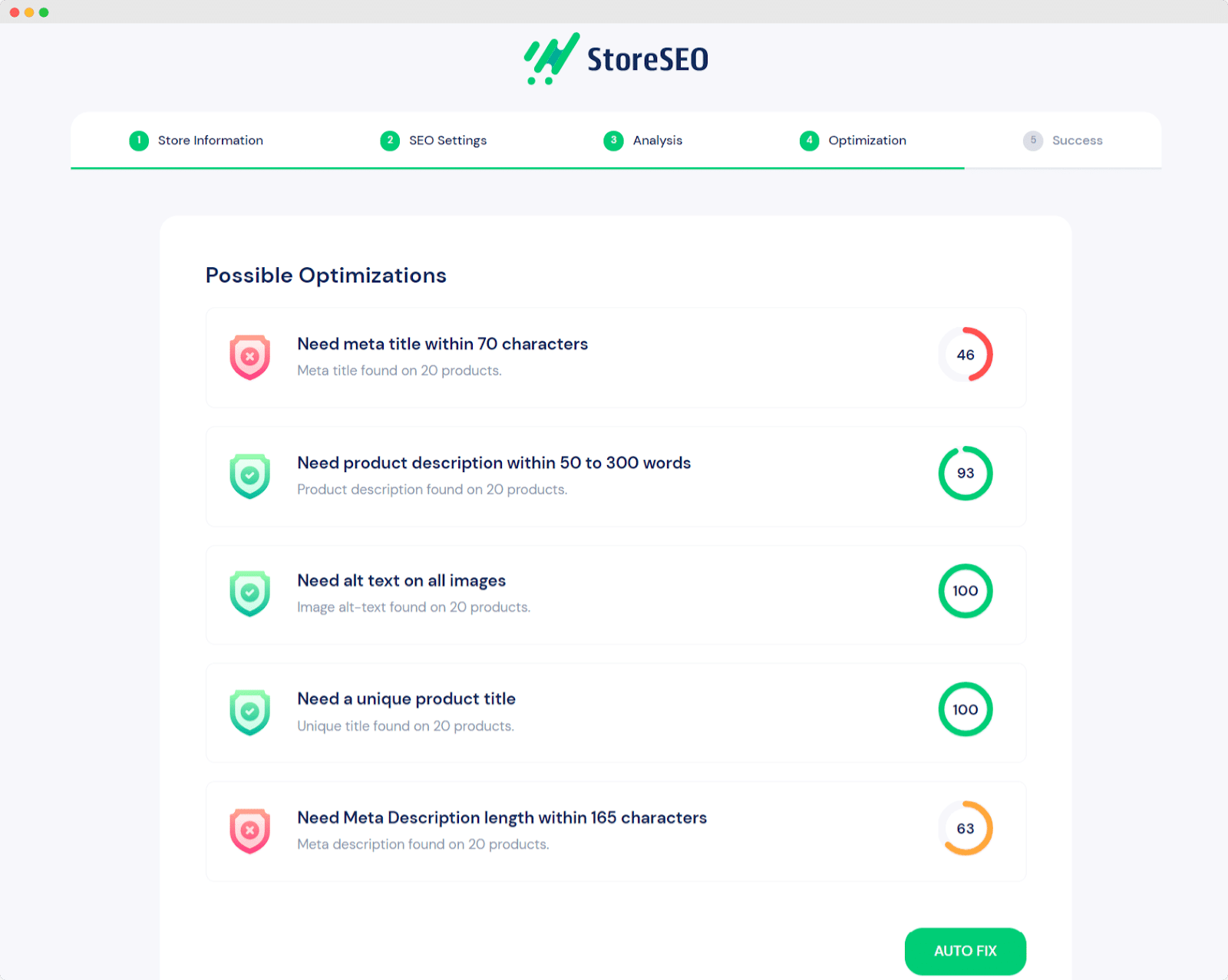 ⭐ Evaluate Your Product, Page & Blog SEO Issues
After the initial setup process, you can navigate to the dashboard of StoreSEO where you will find a detailed breakdown of all products with the number of SEO issues that need to be fixed.
You will be able to observe all information pertaining to each individual product from the list of products on your app's homepage, including the focus keyword to help with SEO, the product's status, its current SEO scores, and more. The app also allows you to sort these products by date ranges or status.

You can fix individual products' SEO scores from this page by clicking the 'Fix' button. This will take you to the product page, where you can individually change the product's specifics and optimize it accordingly.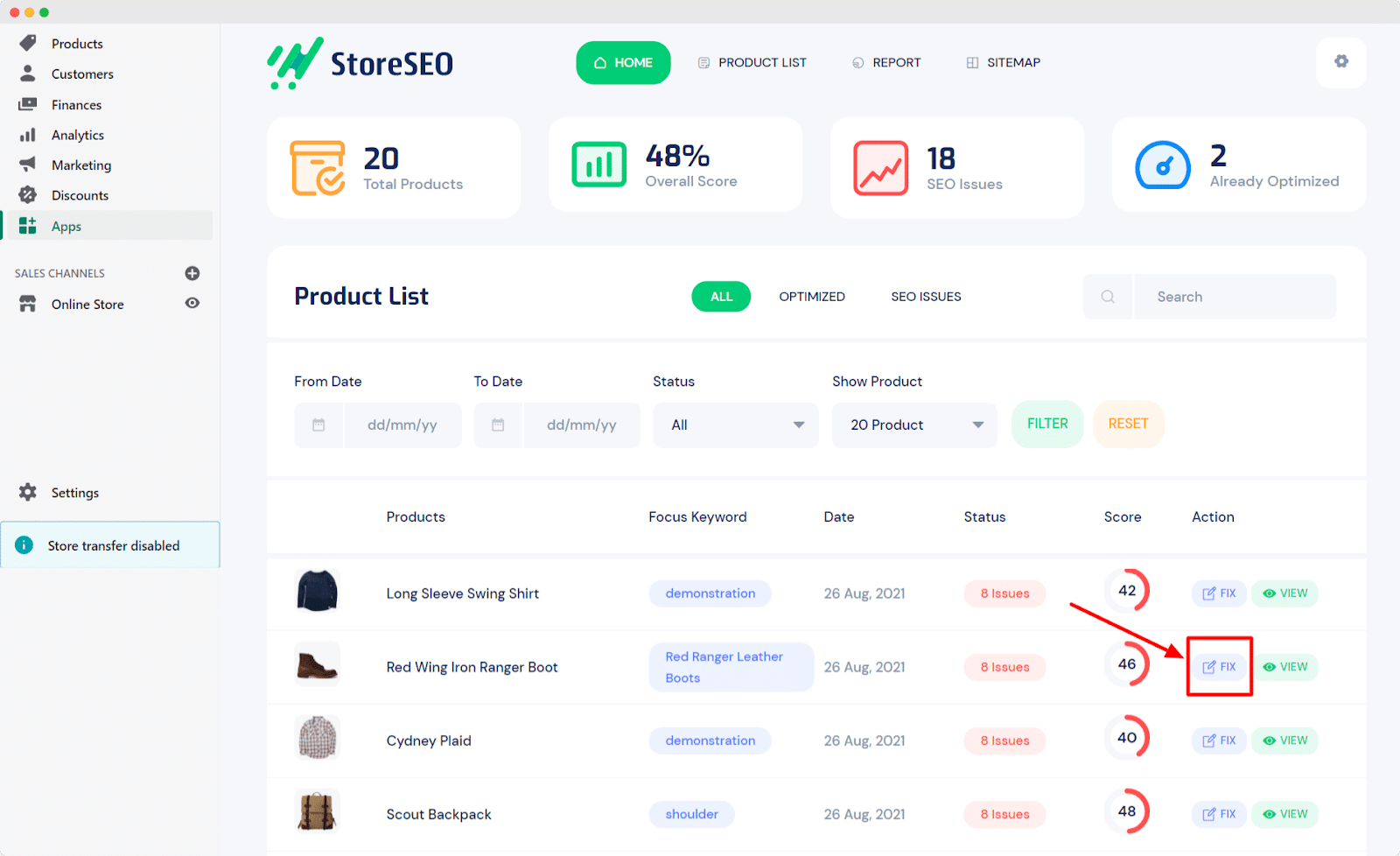 Most of the time people come to visit your Shopify store and check out your documentation at max. They do not usually read your blogs even if you have any. StoreSEO comes with a unique feature to solve this problem instantly. You can now easily rank your eCommerce shop pages and blogs by solving all kinds of SEO fixes. It will also benefit you to let search engines crawl through your entire store content and make it a relevant result for your potential customers.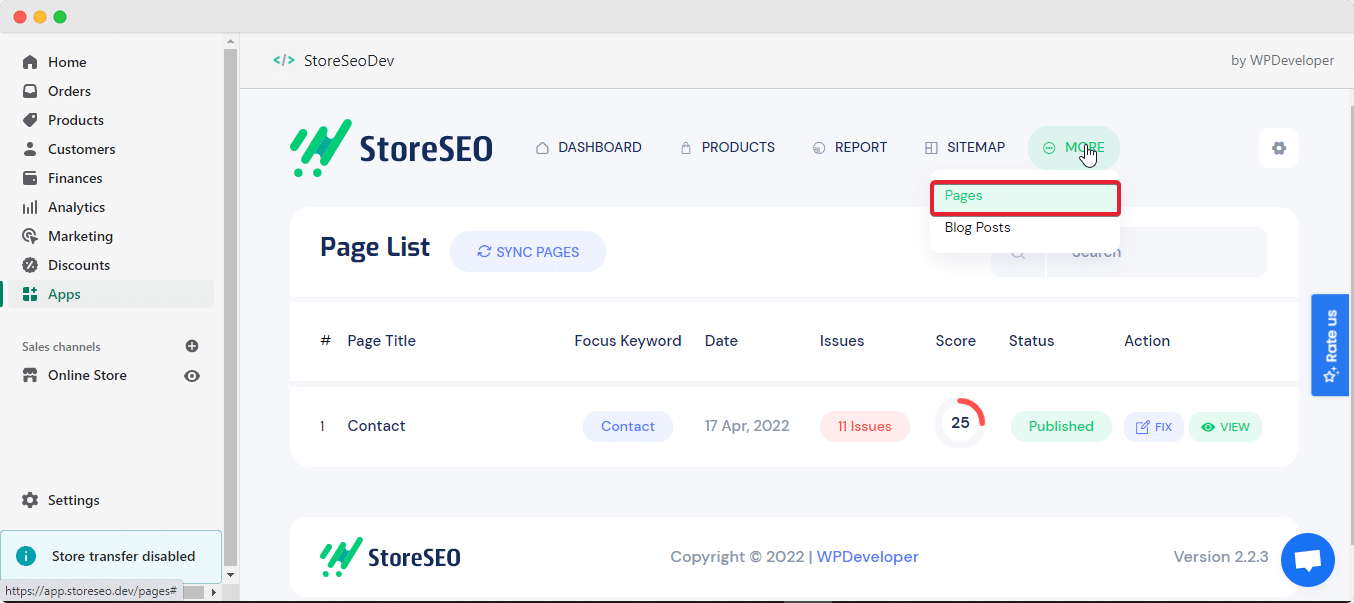 Most interestingly, you can set the focus keywords of your blog that you want to rank for. You need to choose either pages or blog posts from the dropdown and you will find an entire interface to set well-researched keywords, tags, meta descriptions, and so on. This app will help you increase SEO on the Shopify store by indicating all the issues that need to be fixed on the right-hand side.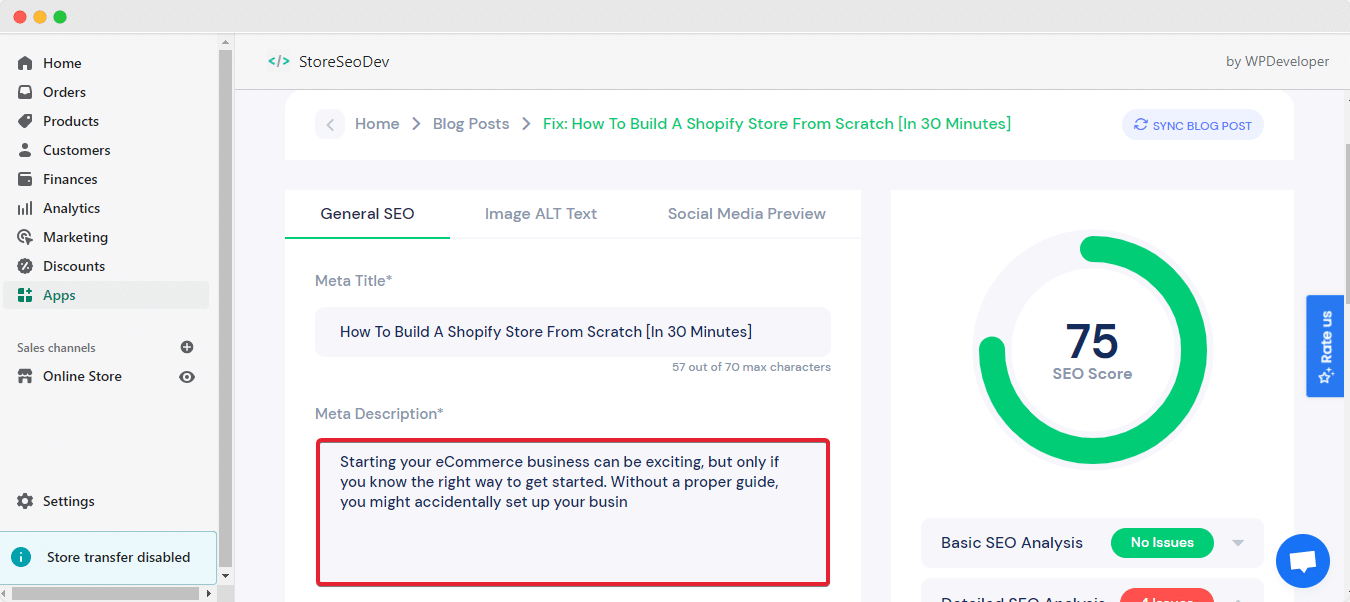 If your blog had multiple images, you can also provide image alt texts to each of the images. StoreSEO has a bulk image alt edit option to make your visual contents crawlable for Google search. It is also another way of ranking your store.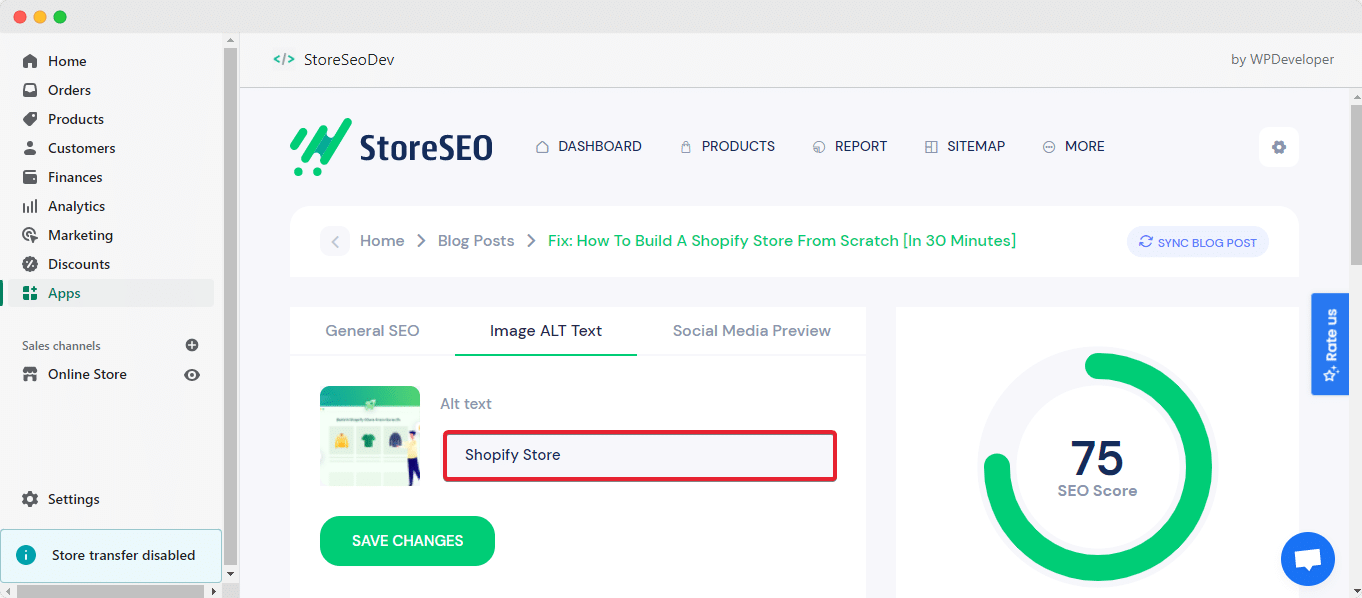 ⭐ Improve Product Ranking With Well Researched Keywords & Tags
Now comes the most anticipated feature of StoreSEO, adding your well-researched keywords and tags in each of the products. It will help your products to rank better in search engine results. Before you start, you need to do enough research to find the unique search term for each of your products to help potential customers to find them online easily. With StoreSEO, you can add distinctive and exclusive keywords to each product for instant visibility.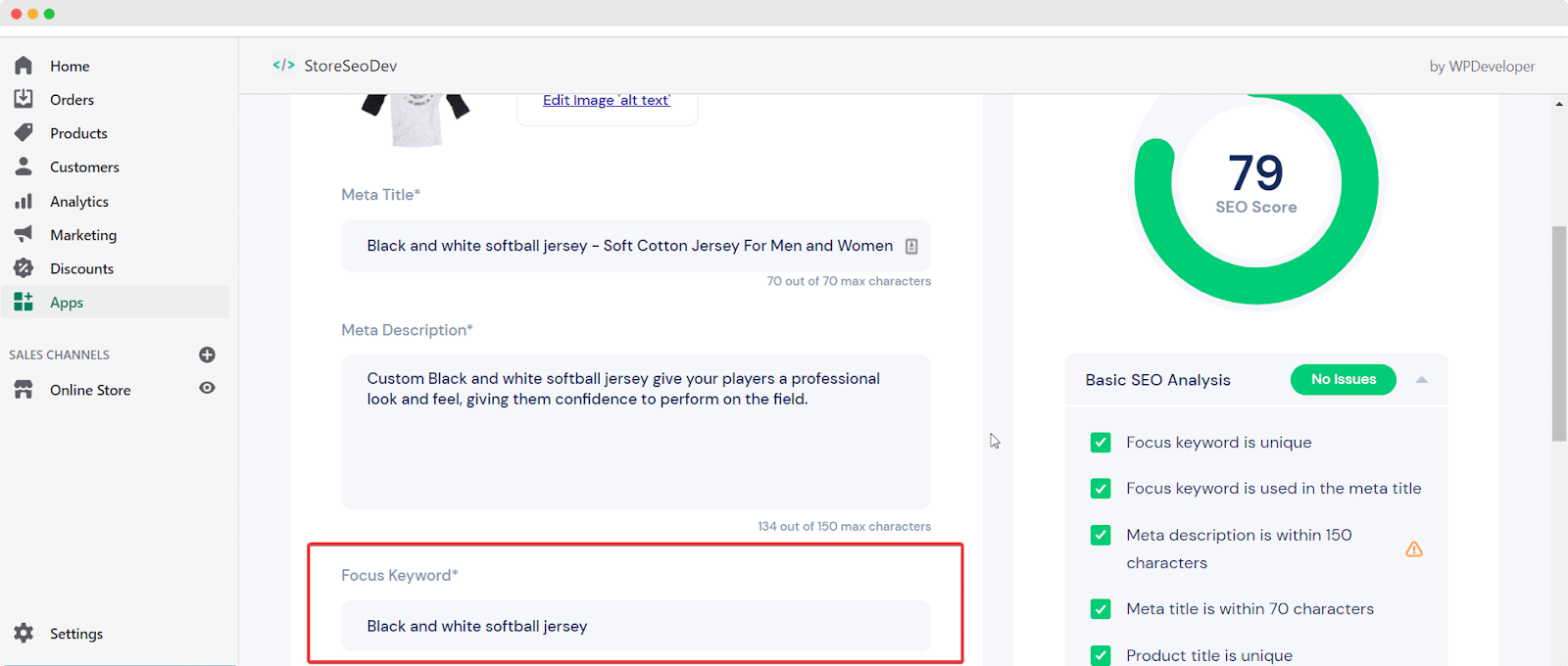 However, one keyword is insufficient to increase the visibility of your product in search engines. StoreSEO lets you include 5 tags to make your product more optimally searchable increasing the likelihood of the items appearing to users. To learn more about the use of keywords and tags, check out this detailed guide on keyword and tag.

⭐ Add Shopify Product Meta Description For More Clicks
Before we get started with this feature, let's get to know what meta description actually is. In a meta description, you need to give a short description of the Shopify product that will appear underneath the product on search engine results pages.
In Shopify, you can provide a meta description within 150 to 160 characters that must have the focus keyword in it. According to the standard of Google, most the product meta description does not exceed 160 characters generally. That's why StoreSEO has kept it this way.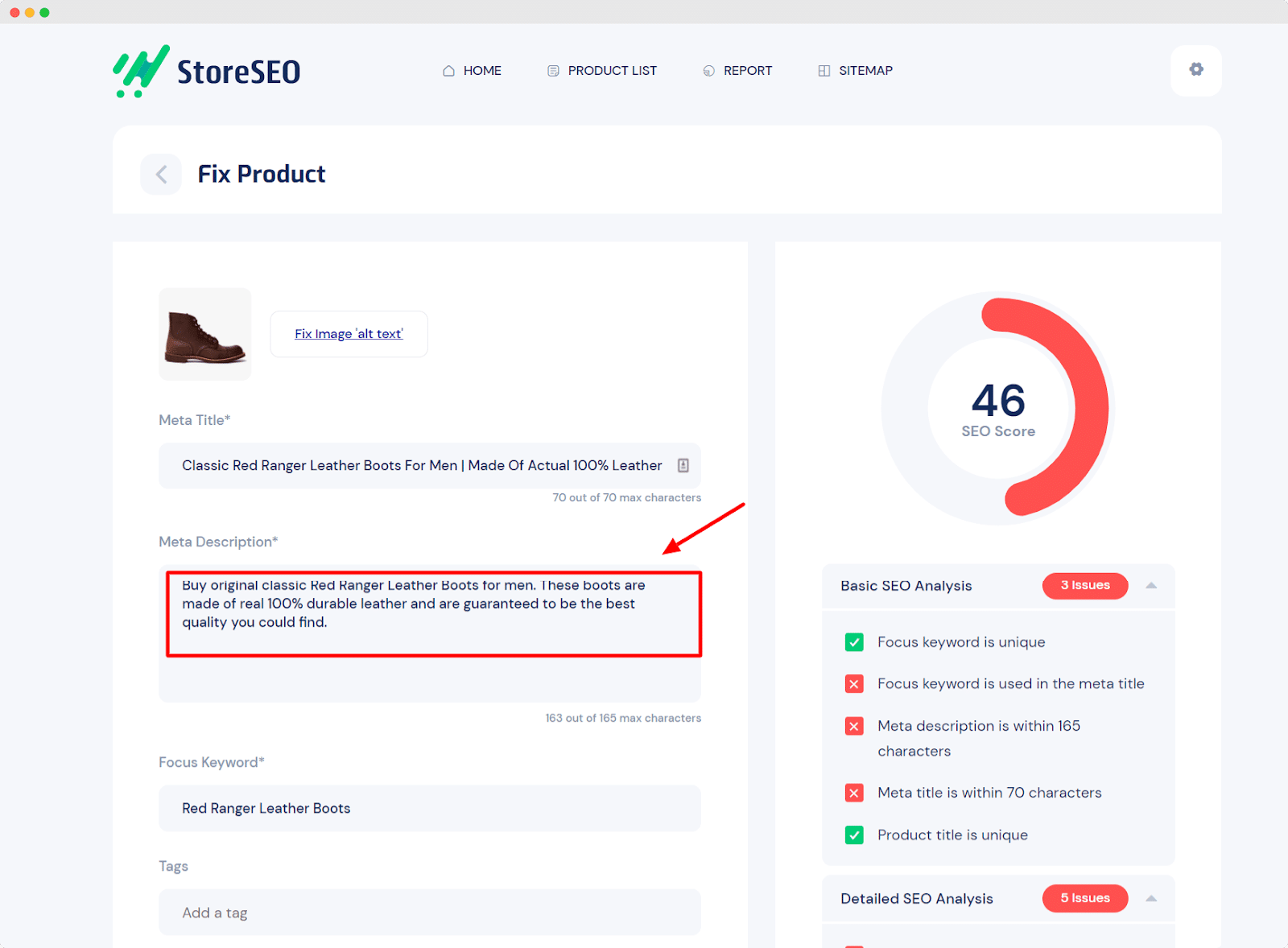 Using this Shopify app, you can create templates for completely optimized meta descriptions, it also allows you to manually customize your meta description. It will identify all SEO issues in your description and will assist you in resolving them as soon as possible.
⭐ Edit Image Alt Text In Bulk For Better SEO
To get even more improved SEO results, you need to add image alt text to each of your images which will increase the chance of appearing on search engine results pages. Once you include descriptive text including the focus keyword, search engines understand the subject of your image. Check out this documentation on how to add image alt text to your products just like keywords, tags, and so on.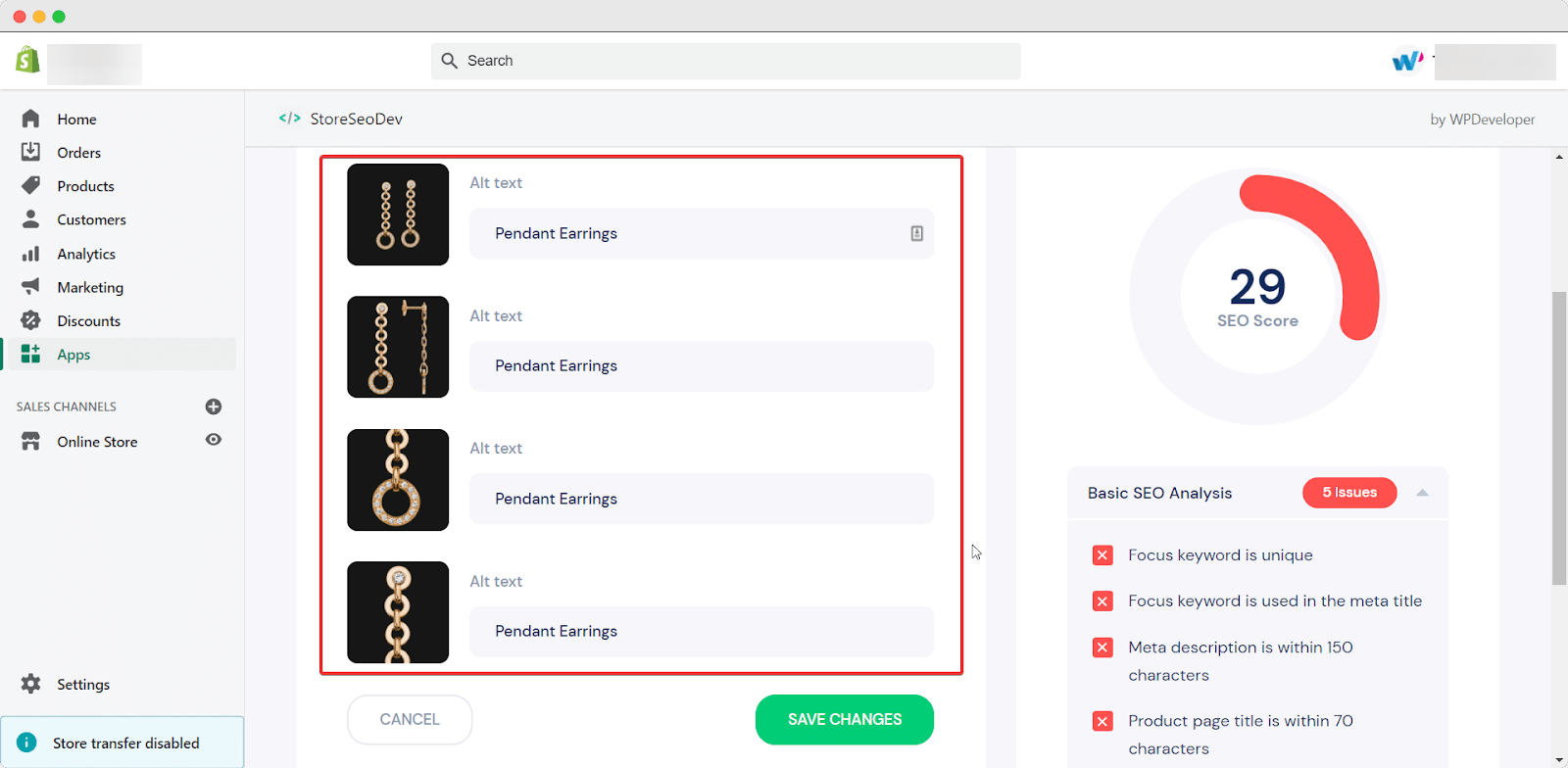 ⭐ Social Media Preview Option With Customization Using StoreSEO
You can now edit social media previews of your Shopify products with the StoreSEO app, which will let you offer detailed information on Facebook, Twitter, and Google search results pages more effectively. Using StoreSEO's feature, you can even choose which photographs should be displayed on Facebook and Twitter.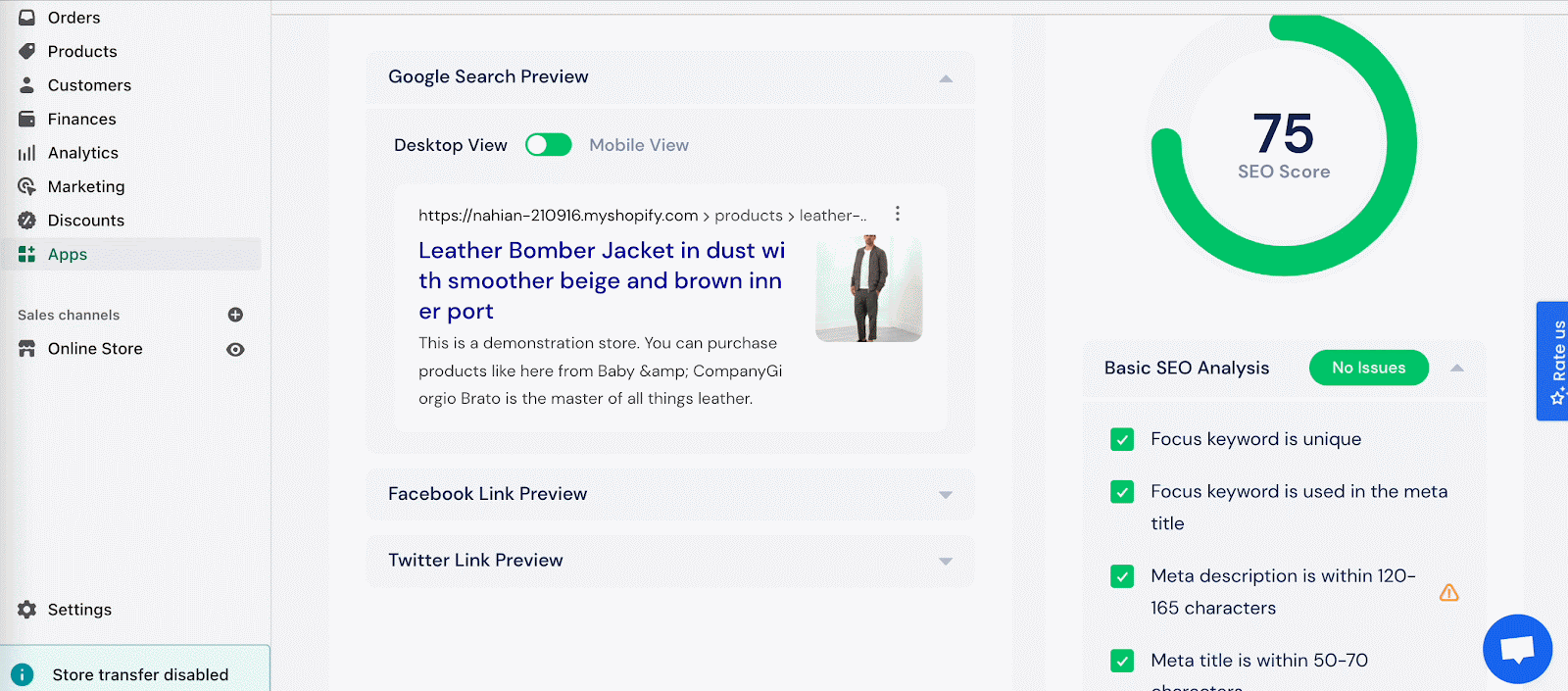 You can also now adjust social media previews for blog posts and pages with the StoreSEO app, allowing you to present more thorough information on Facebook, Twitter, and Google search results pages.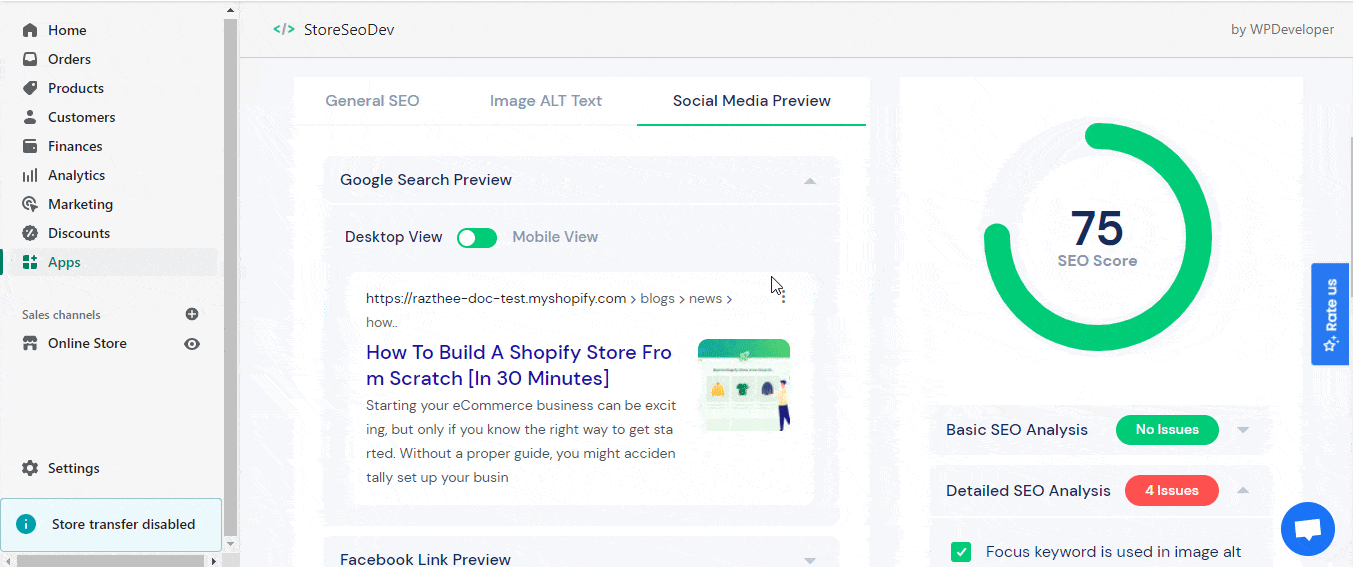 StoreSEO team is constantly adding new features to this solution to make it the one-stop SEO app for Shopify and fix all kinds of SEO issues at once. You will get more advanced features if you opt for the premium package.
🎁 Premium Features That Make StoreSEO More Advanced
Of course, the free StoreSEO plan includes many important features that an eCommerce shop owner will require, but there are many more advanced features that make this app even better. Take a look at all of the premium features listed below:
🔥 Create Sitemap To Submit Shopify Store Blueprint
Every house has a blueprint to help you navigate through. In terms of Shopify stores, you can also create sitemaps that denote every page of your store and create a clear blueprint. This is important for SEO since it allows search engines like Google to find, crawl, and index all of the material on your website.
This means that having a Shopify sitemap will make it easier for search engines to identify and index your products and offerings, making it easier for potential customers to find your Shopify store. Using the StoreSEO app, you can easily submit store blueprint to Google and integrate it with the app.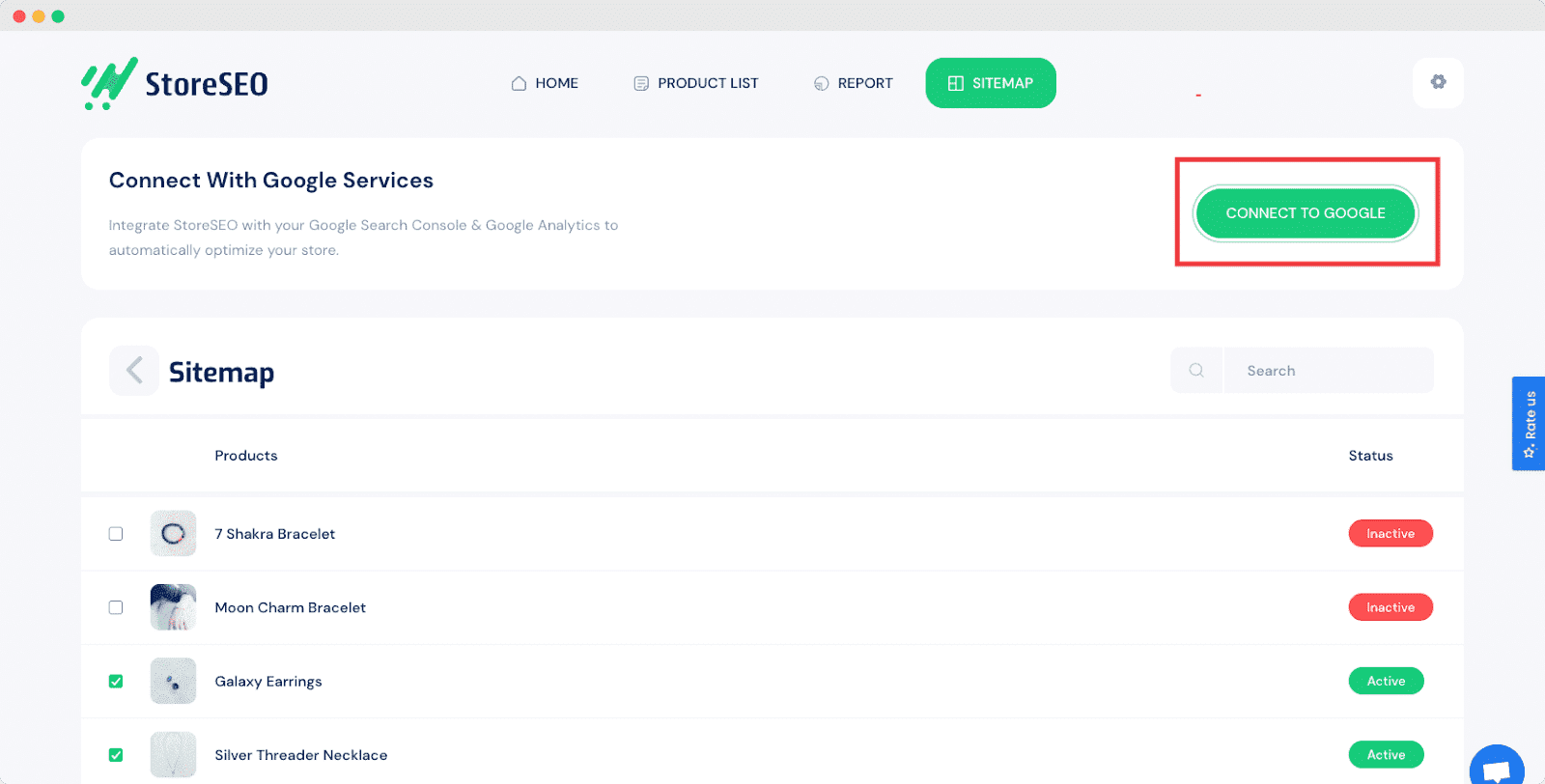 You may connect your Shopify store to Google Search Console and submit your sitemap to Google using the premium version of StoreSEO. This functionality is very helpful when using StoreSEO to make modifications to your Shopify sitemap since it allows search engines to index your material more effectively. You can do this with just one click.
🔥 Sync All Shopify Store Products In One Click
The StoreSEO app makes it simple to sync products in your Shopify store and keep everything updated. You can use the 'Sync' option to ensure that all of your products are SEO optimized as you add more to your store.

🔥 Appear In Local Search Result Using JSON-LD
Do you want to make your store visible to your local potential customer? Integration with JSON-LD with StoreSEO can help you to rank in local SEO and grab more attention. You can customize the information as you want including logo, name address, and social media links. With just a toggle, you can set all these up within a few seconds.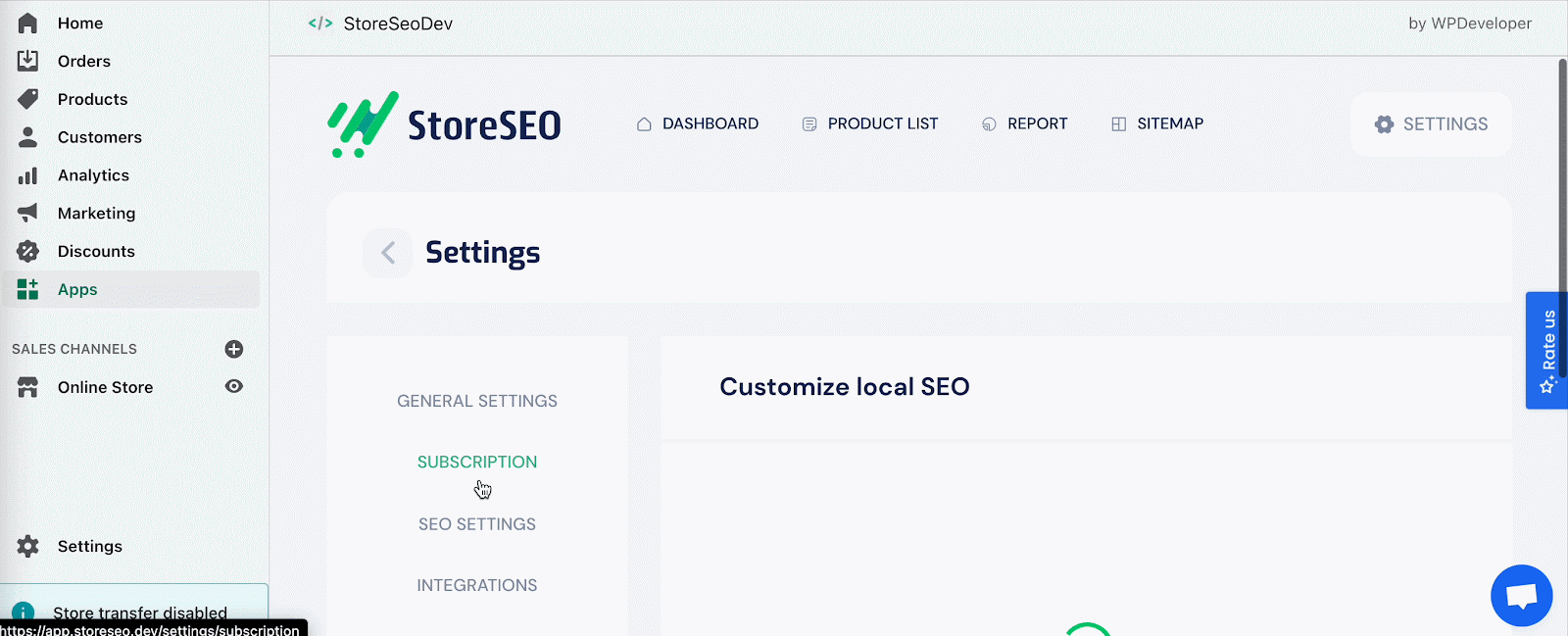 📈 Rank Your Store Higher Today
If you want to increase your Shopify SEO, advanced solutions such as StoreSEO can help you rank higher on search engines more easily and hence drive more visitors to your online store. You can try the StoreSEO app today and if you hit any bump in the road reach out to our support team. Have you enjoyed this blog? Join our Facebook Community or subscribe to our blog for additional updates, the latest news, and fun lessons.